Looking for some streetwear or luxury fashion to spice up your wardrobe? SSENSE has you covered. Since 2003, SSENSE has served as a legit retailer for everything modern and fashionable for casual wear. However, the company gained few friends when it acquired and shut down Polyvore in 2018.
They were originally founded in Montreal, Canada, but now serve customers from over 114 countries worldwide. They also have an e-commerce website, where you can purchase their items online – the site is available in English, French, Chinese, and Japanese.
1. Shipping Policy
As SSENSE is a Canada-based retailer, sales occur in Canada, not in the United States. This means that you are making an international order and that all relevant fees and charges associated with international orders apply in this case.
SSENSE is a legit e-commerce and brick-and-mortar luxury and streetwear retailer based in Montreal, Canada
SSENSE streamlines the process of deliveries to the United States by enlisting the aid of customs brokers and carriers to handle your items (something that you have to agree upon when making an order with them).
In cases where orders exceed $2,500, your assigned broker/carrier is allowed to file a customs entry on your behalf. Express delivery for orders below $200 will cost you $12, and orders that cost more than $200 have free delivery charges. You can expect your order to arrive within 2-3 days (not including the order processing time of 2 days).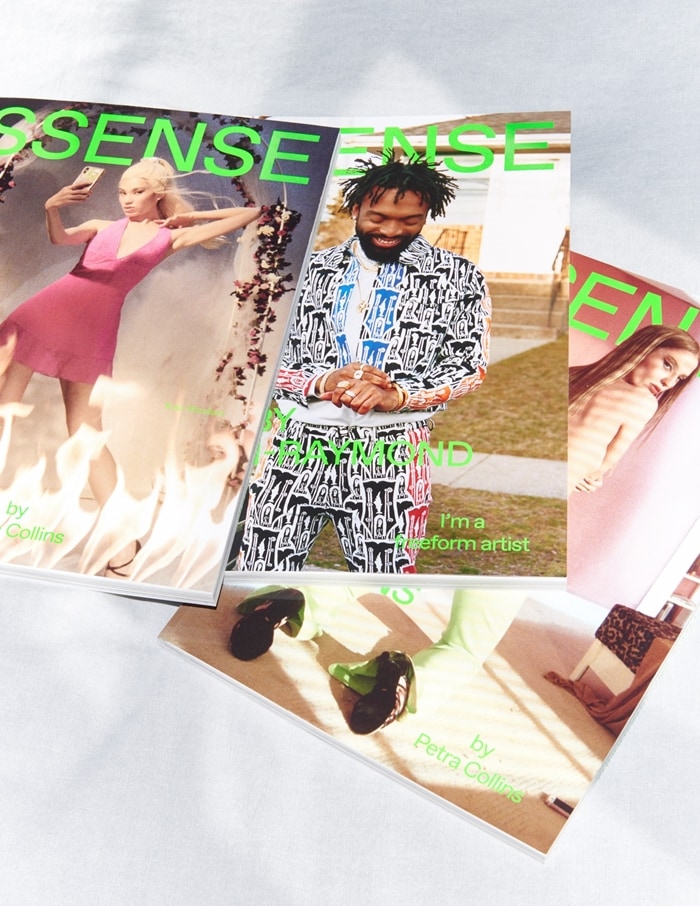 SSENSE publishes a popular fashion magazine and provides physical copies to select members
Canada's shipping policies are a lot simpler. Since it's a local transaction, only federal and provincial taxes apply, and as long as the order doesn't traverse borders, no duties are applied. Depending on where you live, standard and priority delivery fees differ, but items that cost more than $100 have free standard delivery with 3 days of the expected time. Priority delivery fees are the same regardless of order size and have an expected time of 1 day.
SSENSE covers over 40 countries with their international shipping. Fees differ by country due to local laws and regulations, as well as the physical distance between Canada and the destination country. Countries such as Austria, Switzerland, and Malta have shipping costs of €20, whereas other countries have to pay up to $40 USD. Japan is the only international country, other than the United States, that has conditions for free shipping, with no shipping costs for orders exceeding ¥35000.
2. Return Policy
Currently, SSENSE allows returns for items that were owned less than 30 days after being received. Using an SSENSE account, customers can file for returns, which differ in nature depending on where you live.
SSENSE carries both established brands and emerging designers such as Kiko Kostadinov, Stand Studio, and Ottolinger
For example, any orders from the U.S., Canada, and Japan have free shipping for returns. On the other hand, customers from other countries must shoulder all associated shipping costs for the return of the item.
To file a return, all you need to do is access your SSENSE account, request a return authorization (or RA), and wait for instructions to be sent to your email. The refund of the item after it's been returned can take up to five business days to fully process.
3. Why did SSENSE shut down Polyvore?
Launched in 2007, Polyvore was a community-powered social commerce website with approximately 20 million users. Similar to current websites like Fashmates, Urstyle, TrendMe, ShopLook, Bantoa, and Stylevore, members could create and share shoppable looks.
In April 2018, SSENSE acquired the assets of Polyvore from Yahoo for an undisclosed amount. The Montreal-based online retailer was only interested in the account info of Polyvore's userbase and quickly closed down the website and app. Users of Polyvore were asked to download their uploaded content by May 15, 2018.
"We believe that SSENSE is the right community for the Polyvore members, and we're inspired by their commitment to offering a directional mix of the most coveted labels in the world," Polyvore said in a statement on April 5, 2008.
A few days later, the company posted an apology to the Polyvore community on Instagram, saying "While it was not our decision to shut down Polyvore, we handled things badly."
4. Does Ssense sell real Gucci?
Yes, the company sells real Gucci products.
The retailer is also an authorized retailer of authentic bags, dresses, and shoes from designer brands including 032c, 1017 ALYX 9SM, 3.1 Phillip Lim, 6397, A_Plan_Application, A-COLD-WALL*, A.P.C., A.W.A.K.E. MODE, Acne Studios, ADER error, adidas Originals, Áeron, Aesther Ekme, Agent Provocateur, AGOLDE, AGR, Ahluwalia, Alan Crocetti, Alanui, Alexachung, Alexander McQueen, Alexander Wang, Alighieri, All Blues, Altuzarra, Ambush, AMI Alexandre Mattiussi, Amiri, Amo, AMOMENTO, Ancient Greek Sandals, Andersson Bell, Andy Wolf, Ann Demeulemeester, Anne Manns, Anton Belinskiy, Arch The, Aries, ASAI, Ashley Williams, Asics, Aubade, Avgvst Jewelry, Balenciaga, Balmain, Bao Bao Issey Miyake, Bless, Blue Blue Japan, Boris Bidjan Saberi, Bottega Veneta, BOYY, Brain Dead, Building Block, Bunney, Burberry, BY FAR, Byredo, Calvin Klein, Canada Goose, Carhartt Work In Progress, Carven, Cecilie Bahnsen, Cédric Charlier, Champion Reverse Weave, Chantal Thomass, Charles Jeffrey Loverboy, Charlotte Chesnais, Charlotte Knowles, Cherevichkiotvichki, Chika Kisada, Chimala, Chloé, Christian Louboutin, Christina Seewald, Christopher Esber, Christopher Kane, Citizens of Humanity, Clergerie, Collina Strada, Comme des Garçons, Commission, Common Projects, Completedworks, Converse, Coperni, D'heygere, Daniëlle Cathari, Diemme, Dion Lee, Dior, Dolce & Gabbana, Dorateymur, Dr. Martens, Dries Van Noten, Dsquared2, Duvetica, Eckhaus Latta, Edit, Eftychia, Emilio Pucci, Emme Parsons, Enfold, Erdem, Ernest Leoty, Essentials, Études, Eytys, Faris, Fear of God, Fendi, Flat Apartment, Fleet Ilya, Fleur du Mal, Fleur of England, Frame, Frenckenberger, Fumito Ganryu, GANNI, Gauge81, Gauntlett Cheng, Gentle Monster, Georgia Alice, Gianvito Rossi, Gil Rodriguez, Girlfriend Collective, giu giu, Giuseppe Zanotti, Givenchy, GmbH, Golden Goose, Goldsign, GR-Uniforma, Grlfrnd, Haider Ackermann, Haight, Halpern, Harmony, Harris Wharf London, Helenamanzano, Helmut Lang, Henrik Vibskov, Her Line, Heron Preston, Hunting Season, Hunza G, Hyein Seo, I.D. Sarrieri, Ienki Ienki, Implicite, Ingy Stockholm, Isabel Marant, Issey Miyake, Jacquemus, Jil Sander, Jimmy Choo, Jiwinaia, John Elliott, Jordache, Jordan, Joseph, Joshua Sanders, Julia Heuer, Julia Jentzsch, Junya Watanabe, Justine Clenquet, Juun.J, JW Anderson, Kanuk, Kara, Kassl Editions, Kenzo, Khaite, Kiki de Montparnasse, Kiko Kostadinov, Kirin, Kreist, Kwaidan Editions, La Perla, Lanvin, Laura Lombardi, Lauren Manoogian, Le Gramme, Le Petit Trou, Lecavalier, Leigh Miller, Lemaire, Les Reveries, Levi's, Li-Ning, Lido, Lisa Marie Fernandez, Little Liffner, Live the Process, LNDR, Loewe, Louisa Ballou, Low Classic, LVIR, M Missoni, Mackage, Maisie Wilen, Maison Kitsuné, Maison Margiela, Maison Michel, Mansur Gavriel, Marc Jacobs, Marcelo Burlon County of Milan, Marge Sherwood, Maria Black, Marieyat, Marina Moscone, Marine Serre, Mark Cross, Markoo, Marni, Marni Dance Bunny, Marques Almeida, Marsèll, Martine Ali, Martine Rose, Martiniano, Maryam Nassir Zadeh, Matériel Tbilisi, Matteau, Matthew Adams Dolan, Max Mara, Medea, Miaou, MISBHV, Missoni, Molly Goddard, Moncler, Mondo Mondo, Monies, Mou, Mounser, Moussy Vintage, Mowalola, Mr & Mrs Italy, MSGM, Mugler, Myraswim, Namacheko, Nanushka, NAPA by Martine Rose, Nensi Dojaka, NEOUS, New Balance, Nicholas Kirkwood, Nike, Nina Ricci, Noah NYC, Nodaleto, Noir Kei Ninomiya, Noon Goons, NOR, Numbering, Off-White, Opening Ceremony, Oseree, Ottolinger, Our Legacy, Ovelia Transtoto, Paco Rabanne, Palm Angels, Panconesi, Paolina Russo, Partow, Paula Canovas Del Vas, Pearls Before Swine, Perks and Mini, Pierre Hardy, Pihakapi, Plan C, Pleats Please Issey Miyake, Polythene* Optics, Port Tanger, Ports 1961, Proenza Schouler, Pushbutton, Pyer Moss, R13, Raf Simons, rag & bone, Random Identities, Raquel Allegra, Rassvet, Ratio et Motus, Re/Done, RED Valentino, Reebok Classics, Regulation Yohji Yamamoto, Renli Su, Repetto, Richard Quinn, Rick Owens, Rika Studios, ROA, Rokh, Rosetta Getty, Rudi Gernreich, Rui, RUS, Sacai, Safsafu, Saint Laurent, Saks Potts, Salomon, Sapir Bachar, Sara Lanzi, Saskia Diez, Serapis, Shushu/Tong, Sies Marjan, Simon Miller, Simone Pérèle, Simone Rocha, Situationist, SJYP, Skin, SLVRLAKE, Solid & Striped, Some Ware, Sophia Webster, Sophie Buhai, Spalwart, Sportmax, Sporty & Rich, Stand Studio, Staud, Stella McCartney, Studio Nicholson, Stüssy, Stutterheim, Suicoke, Sunnei, Supriya Lele, Telfar, The Loom, The Row, Thom Browne, Tibi, Toga, Tom Ford, Toogood, Totême, Undercover, Unravel, Valentino, Vanessa Schindler, Vans, Vejas, Venczel, Versace, Versus, Vetements, Victor Glemaud, Victoria Beckham, Vier, VIP, Visvim, Wales Bonner, Wandering, Wandler, Ward Whillas, We11done, Wolford, Won Hundred, Wone, Y-3, Y's, Y/Project, Yang Li, YEEZY, YMC, Yohji Yamamoto, Youths in Balaclava, and Yves Salomon.
5. Who is the owner of SSENSE?
The Montreal-based fashion platform is owned by three brothers, namely Rami, Firas, and Bassel Atallah. Before the COVID-19 pandemic, also known as the coronavirus pandemic, the e-tailer was on track to hit 1 billion Canadian dollars (about $800 million) in sales in 2020.
Rami Atallah, who is the company's chief executive, grew up in Damascus and emigrated to Montreal, Canada with his family at the age of 15. He created SSENSE as part of his graduate thesis for his computer engineering degree.