Looking for some streetwear or luxury fashion to spice up your wardrobe? SSENSE has you covered.
Since 2003, SSENSE has served as a legit retailer for everything modern and fashionable for casual wear. However, the company gained few friends when it acquired and shut down Polyvore in 2018.
They were originally founded in Montreal, Canada, but now serve customers from over 114 countries worldwide. The company's popular e-commerce website is available in English, French, Chinese, and Japanese.
1. Shipping Policy
As SSENSE is a Canada-based retailer, sales occur in Canada, not in the United States.
This means that you are making an international order and that all relevant fees and charges associated with international orders apply in this case.
SSENSE is a legit e-commerce and brick-and-mortar luxury and streetwear retailer based in Montreal, Canada (Credit: Ssense)
SSENSE streamlines the process of deliveries to the United States by enlisting the aid of customs brokers and carriers to handle your items (something that you have to agree upon when making an order with them).
In cases where orders exceed $2,500, your assigned broker/carrier is allowed to file a customs entry on your behalf.
Express delivery for orders below $200 will cost you $12, and orders that cost more than $200 have free delivery charges.
You can expect your order to arrive within 2-3 days (not including the order processing time of 2 days).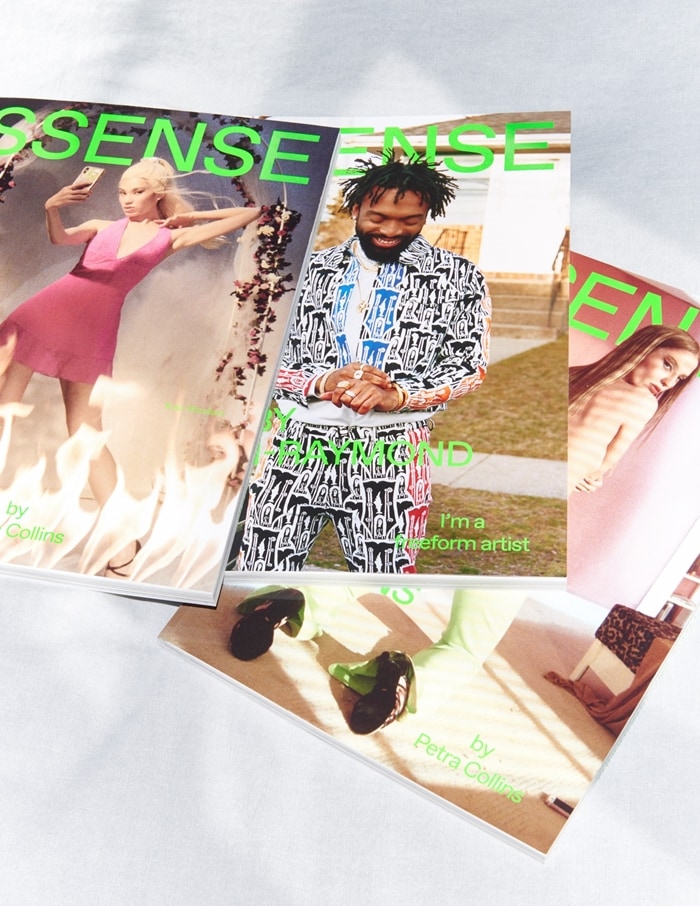 SSENSE publishes a popular fashion magazine and provides physical copies to select members (Credit: Ssense)
Canada's shipping policies are a lot simpler. Since it's a local transaction, only federal and provincial taxes apply, and as long as the order doesn't traverse borders, no duties are applied.
Depending on where you live, standard and priority delivery fees differ, but items that cost more than $100 have free standard delivery with 3 days of the expected time. Priority delivery fees are the same regardless of order size and have an expected time of 1 day.
SSENSE covers over 40 countries with their international shipping. Fees differ by country due to local laws and regulations, as well as the physical distance between Canada and the destination country.
Countries such as Austria, Switzerland, and Malta have shipping costs of €20, whereas other countries have to pay up to $40 USD.
Japan is the only international country, other than the United States, that has conditions for free shipping, with no shipping costs for orders exceeding ¥35000. You can check out their shipping and handling page for more information.
2. Return Policy
Currently, SSENSE allows returns for items that were owned less than 30 days after being received. Using an SSENSE account, customers can file for returns, which differ in nature depending on where you live.
SSENSE carries both established brands and emerging designers such as Kiko Kostadinov, Stand Studio, and Ottolinger (Credit: Ssense)
For example, any orders from the U.S., Canada, and Japan have free shipping for returns. On the other hand, customers from other countries must shoulder all associated shipping costs for the return of the item.
To file a return, all you need to do is access your SSENSE account, request a return authorization (or RA), and wait for instructions to be sent to your email. The refund of the item after it's been returned can take up to five business days to fully process.
3. Why did SSENSE shut down Polyvore?
Launched in 2007, Polyvore was a community-powered social commerce website with approximately 20 million users. Similar to current websites like Fashmates, Urstyle, TrendMe, ShopLook, Bantoa, and Stylevore, members could create and share shoppable looks.
In April 2018, SSENSE acquired the assets of Polyvore from Yahoo for an undisclosed amount.
The Montreal-based online retailer was only interested in the account info of Polyvore's userbase and quickly closed down the website and app. Users of Polyvore were asked to download their uploaded content by May 15, 2018.
"We believe that SSENSE is the right community for the Polyvore members, and we're inspired by their commitment to offering a directional mix of the most coveted labels in the world," Polyvore said in a statement on April 5, 2008.
A few days later, the company posted an apology to the Polyvore community on Instagram, saying "While it was not our decision to shut down Polyvore, we handled things badly."
4. Does Ssense sell real Gucci?
Yes, the company sells real Gucci products.
The retailer is also an authorized retailer of authentic bags, dresses, and shoes from popular designer brands such as Givenchy, Telfar, Chloé, Saint Laurent, Christian Louboutin, Jimmy Choo, and many more.
5. Who is the owner of SSENSE?
The Montreal-based fashion platform is owned by three brothers, namely Rami, Firas, and Bassel Atallah.
Before the COVID-19 pandemic, also known as the coronavirus pandemic, the e-tailer was on track to hit 1 billion Canadian dollars (about $800 million) in sales in 2020.
Rami Atallah, who is the company's chief executive, grew up in Damascus and emigrated to Montreal, Canada with his family at the age of 15. He created SSENSE as part of his graduate thesis for his computer engineering degree.