Gabrielle Union, known for her roles in Bring It On and Bad Boys II, was one of the best dressed at The Fashion Awards 2021 in an electric green dress by Valentino Haute Couture. In a recent interview, she explained why she refuses to use the term "stepparent."
The gown was from the designer's Fall/Winter 2021 'Des Ateliers' collection and it featured a halter top, a cape, and a full skirt. The pleated gown is made from green taffeta and the cape is made from chiffon.
Gabrielle Union in a gown from the Valentino Haute Couture Fall/Winter 2021 'Des Ateliers' collection attends The Fashion Awards 2021 at Royal Albert Hall on November 29, 2021, in London, England (Credit: WENN / MEGA)
The 49-year-old American actress sported a full sculptural bun, similar to a top knot, along with Messika jewelry to round out her look at the event held at Royal Albert Hall in London, England on November 29th, 2021.
Critics agreed that Union looked flawless in her neon Valentino gown. She perfectly completed the dress with her simple jewelry and minimal makeup.
Gabrielle Union wears her hair in an oversized bun with drop earrings by Messika (Credit: WENN / MEGA)
Union's stylist, Thomas Christos Kikis, wanted to make sure her look incorporated "unapologetic glamour and joy." Kikis also shared about Union, "She loves to try new things, she trusts me, she gives credit to her team…she gets it."
Kikis and Union are a match made in heaven, and we can't wait to see how they continue to work together in the future.
Appearing on the We Can Do Hard Things with Glennon Doyle podcast last month, she talked about raising her four kids with her husband Dwyane Wade.
They are parents to 2-year-old daughter Kaavia James Union Wade. Dwyane also has three kids – Zaire, 19, Zaya, 14, and Xavier, 7 – from previous relationships with Aja Metoyer and Siohvaughn Funches. They've also been raising Dwyane's nephew Dahveon Morris.
Gabrielle Union explained why she refuses to use the term stepparent (Credit: Avalon / WENN)
"The stepparent label was put on me by the kids' school because you have to describe yourself: Who are you if you're not their mother? It's very annoying. It's not a word that I use," Gabrielle said about the term "stepparent" and why she refuses to use it.
"When I first started dating Dwyane, obviously I knew he had children. To this day, I'm kinda like, this is wild. You're a single NBA player who got full custody of small children," Gabrielle added.
"It's not common. So all of a sudden, it was Monday and we were just this carefree couple. I'd gotten divorced a few years prior and I was enjoying my life. We were fully enjoying all the things. And then on Tuesday, the kids arrived on a dime."
"The ruling came down and here are these kids. They need guidance and they need parenting. And we weren't married at that point so I was just the additional adult in their life."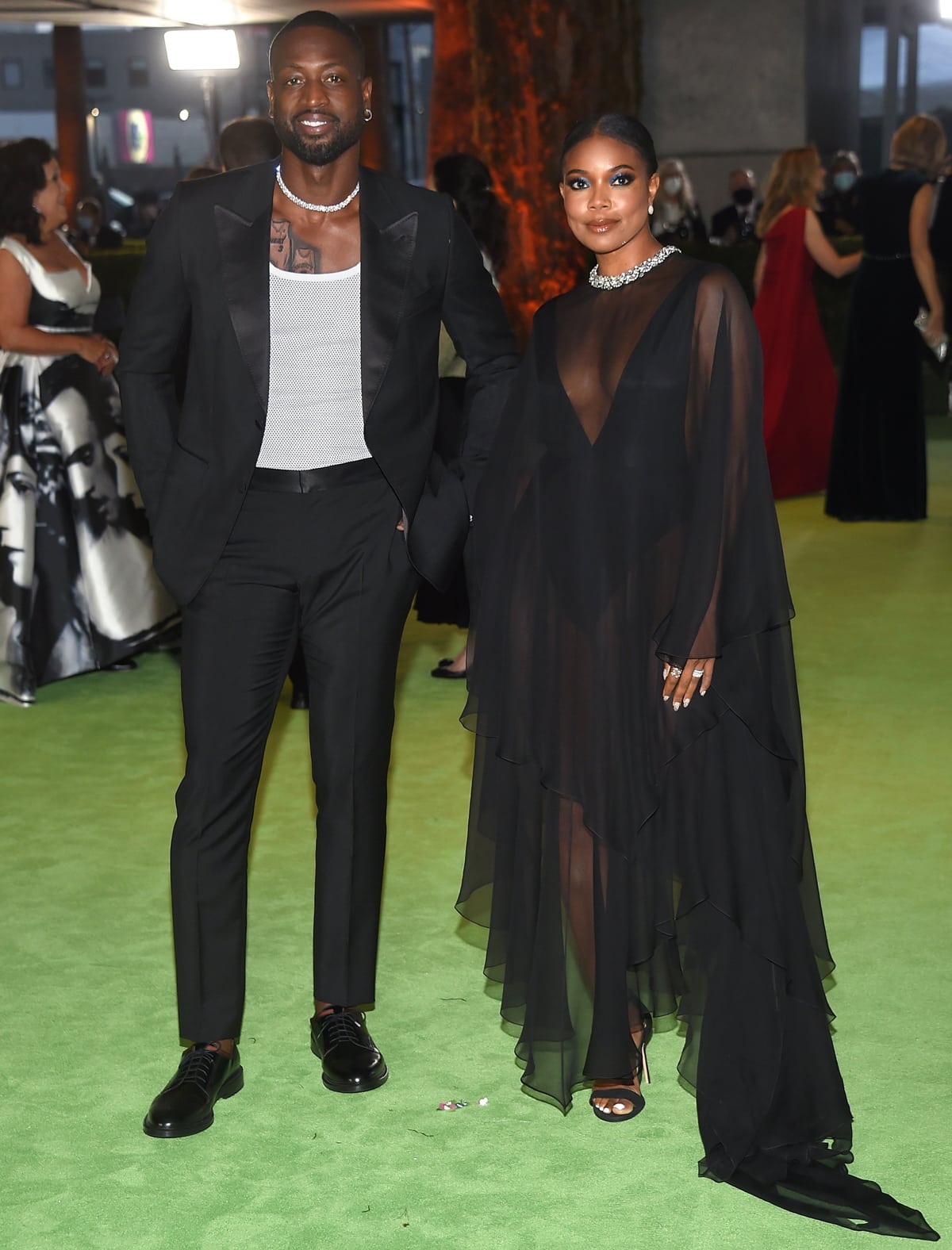 Dwyane Wade and Gabrielle Union share one biological child and are parents to five children (Credit: MEGA / WENN)
"I wanted to make sure I was consistent in their lives," Gabrielle said. "Whatever personality I was trying on that day, or whoever I was, I just needed to be consistent so they can get used to me. They've already gone through so much upheaval, moving states away, not knowing anyone, having gone through a divorce. I knew I needed to be consistent. I just didn't know what my role was," Gabrielle explained.
"I knew that when I married him, I was married to them," she said. "What I realized very quickly is you will never, ever, I don't care if the other parent is dead, you will never be able to replace the other parent/ Don't try to replace the other parent. That is not your job. Your job is to be consistent. If you're a disciplinarian in your own life, continue to be that. Just be consistent so they know who you are… and kids adapt."
Gabrielle Union and Chris Rock at the premiere of Top Five at the Ziegfeld Theatre in New York City on December 3, 2014 (Credit: Joel Ginsburg / WENN)
In December 2014, Gabrielle Union hit the black carpet at the premiere of the 2014 American comedy film "Top Five" at the Ziegfeld Theatre in New York City.
The then 42-year-old American actress and former model donned a double-split "Weaver" maxi dress by Solace London featuring cutout slits.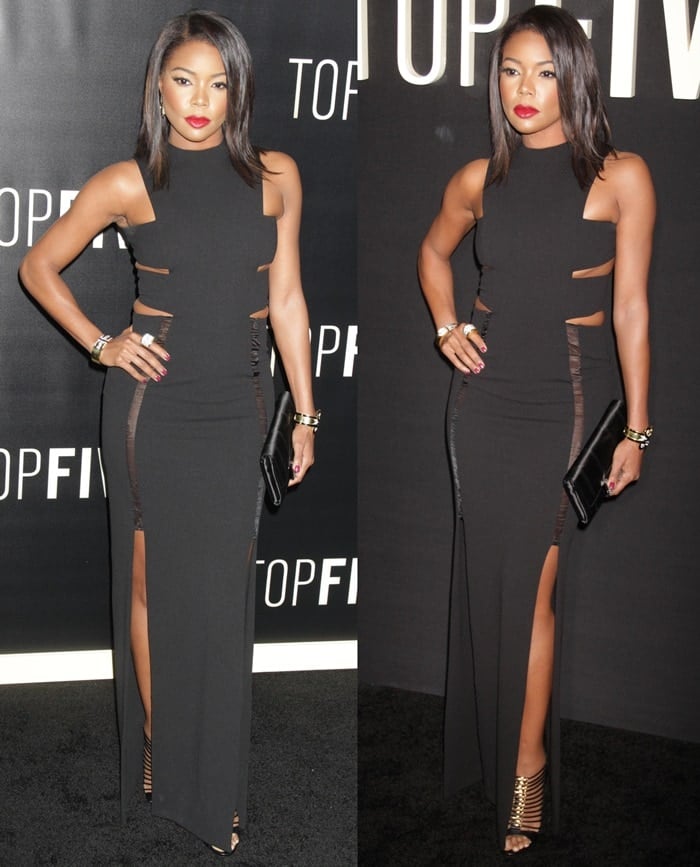 Gabrielle Union in a double-split Weaver maxi dress by Solace London featuring cutout slits (Credit: Joel Ginsburg / WENN)
She styled the dress with a black Judith Leiber clutch, David Webb jewelry, and a stunning pair of Casadei "Cage" sandals in black leather.
How do you like Gabrielle's cutout dress? You can find similar designs from Solace London at Farfetch and Revolve.
The black Casadei Cage leather sandals are available at Farfetch and Casadei. They feature open toes, strappy design, metallic hardware at the front, back zip fastening, brand-embossed insoles, and high stiletto heels.
Black Casadei "Cage" Stiletto Sandals, $924.60