Do you think you can walk in really high high heels? I mean really high.
Even seasoned supermodel Agyness Deyn couldn't. Despite all the practice she's had from working as a model for years, she met her match in a pair of 7-inch Burberry shoes. The insanely high strappy sandals caused Agyness Deyn to fall and almost break her ankle during Naomi Campbell's Fashion For Relief Haiti event during New York Fashion Week last Friday.
Agyness Deyn takes a stumble during fellow model Naomi Campbell's Fashion For Relief Haiti event during Mercedes-Benz NY Fashion Week at Bryant Park's The Tent on February 12, 2010

Walking down a 50-meter long runway is by no means a dangerous affair, but that foot angle looks extremely painful.
Props to Agyness for staying graceful and smiling all throughout her ordeal, and for taking off those ridiculous shoes after her second fall (yes she fell twice!):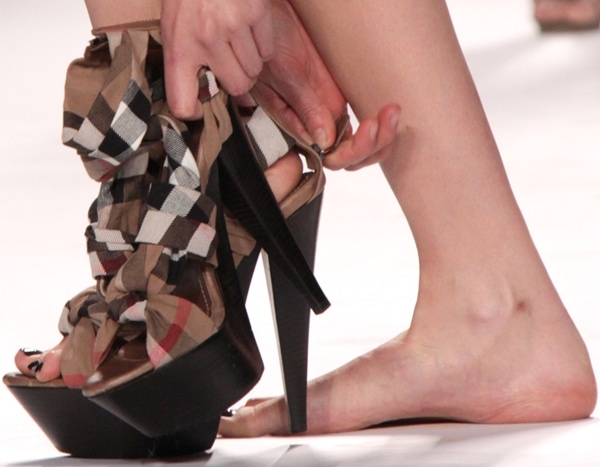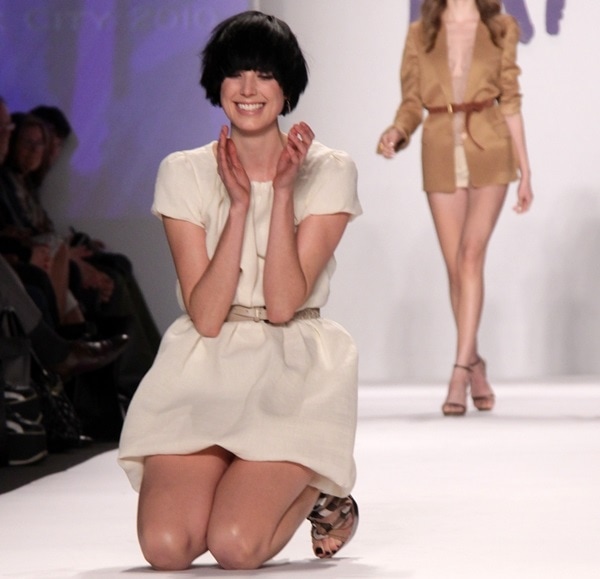 Agyness Deyn's embarrassing situation wasn't all for naught though. Her two-time tumble actually brought more attention to fashion show. Even if sales for those Burberry platform shoes take a nosedive too, hopefully it helped bring in more money for Haiti relief.
Do you think you can wear super high heels better than Agyness can?
Check out these three 5-inch and above high heels:
ZiGi Girl 'Sublime' in Natural and Black, $329.99
Rock and Republic 'Celina' Heels, $134
High heels are beautiful to look at, but even heel expert Victoria Beckham says her feet suffer in them.
Would you suffer for beauty?
Credit: Mr Blue/WENN/Flashpoint