Taylor Swift is one of the most successful female celebrities of all time. She is widely known as an American singer-songwriter.
She began as a country music star and eventually moved towards mainstream pop, becoming one of the biggest names in the modern music industry. Taylor was born on December 13, 1989, making her 32 years old.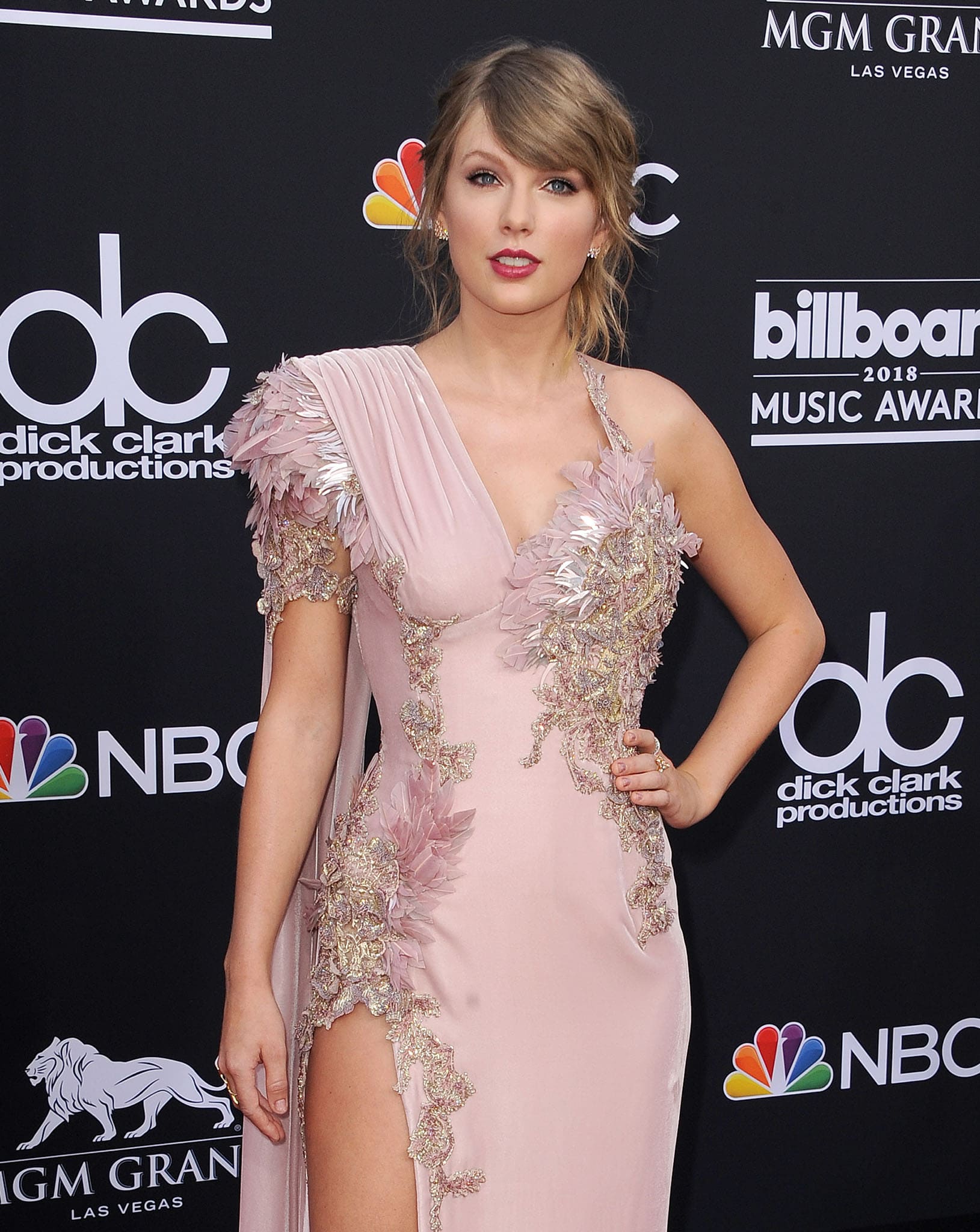 Singer-songwriter Taylor Swift has sold over 200 million records worldwide and has scored several awards, including 11 Grammy Awards, 34 American Music Awards, and 55 Guinness World Records (Credit: Tinseltown / Shutterstock)
Taylor Swift first rose to success in the music industry when she was just 16 years old, meaning that she has spent her entire adult life in the public eye.
She has been famously inspired by her personal life in her songwriting, and up until the release of her album Folklore in 2020, Swift's songs were almost entirely autobiographical.
Who is Harry Styles?
Also an A-list celebrity, Harry Styles is an English singer-songwriter. He was born on February 1, 1994, and is currently 28 years old. Harry Styles first became known for his role in the ultra-famous boy band One Direction.
Even when he was part of a larger group, Harry Styles has always had a certain X-Factor (just like the show he was discovered on) and soon became a fan favorite.
Aside from his hit songs, including Sign of the Times and Watermelon Sugar, former One Direction member Harry Styles is also known for breaking gender barriers when it comes to fashion (Credit: lev radin / Shutterstock)
Although One Direction split in 2015, Harry Styles has enjoyed an extremely successful solo career ever since. To this day, he remains one of the biggest names in pop music, right alongside his ex-girlfriend Taylor Swift.
How Did They Meet?
Although their fame has only grown since, both Taylor Swift and Harry Styles were already quite successful when they met one another.
As they were younger celebrities at the time, Swift and Styles met in March 2012 at the Kids Choice Awards, where she had watched him perform with his then-band One Direction.
View this post on Instagram

The two reportedly hit it off immediately but didn't begin officially dating until much later on.
In fact, Harry Styles was publicly spotted kissing other women while on tour in the spring, and Taylor Swift would first have a summer fling with Connor Kennedy before getting together with Harry Styles in the fall of 2012.
Relationship Timeline
While the exact date of the beginning of their relationship is unknown, Harry Styles gushed about Taylor Swift during an interview in November 2012, and the two were caught on a romantic walk in Central Park by paparazzi in December 2012.
They seemed very happy together, and the ship name Haylor was born.
View this post on Instagram
However, no matter how sweet the Haylor romance was, it was also quite short. Even though they only got together in late 2012, by January 2013, it seemed that the pair had called it quits in a rather dramatic fashion.
Why Did They Break Up?
Taylor Swift and Harry Styles spent New Year's in 2013 together on a joint trip to the British Virgin Islands.
However, by January 7th, it seems that a blowout fight caused the two to end their whirlwind relationship. Swift left early, and Styles stayed on vacation to party his breakup blues away.
View this post on Instagram
Which Taylor Swift Songs Did Harry Style Inspire?
Even before they officially dated, "I Knew You Were Trouble" off of Swift's 4th studio album Red, released in October 2012, was rumored to be about her will-they-won't-they situationship with Harry Styles.
Although the two ironically got together around the time of Red's release, their official breakup in 2013 would inspire even more music.
When Taylor Swift and Harry Styles broke up in early 2013, it's safe to say that Swift put her talent- and tears- to good use.
Whether it be relationships, bullies, or days spent with her family, Taylor Swift has always had a knack for turning her personal experiences into music that resonates with the masses. This breakup was no different.
Harry Styles has always had a rather laissez-faire attitude towards Swift's songs about him and has always been quite complimentary of her talent, even after their breakup.
In August 2013, Harry Styles told Us Weekly that he wouldn't be surprised if Swift or he himself wrote songs about their relationships. When two brilliant artists date, it isn't such a shock that they would create art out of the fallout.
Harry's premonitions were proved even more correct a year later in October 2014 when Taylor Swift's fifth studio album 1989 dropped, and several songs hinted directly at their relationship.
The most obvious songs that Swift wrote about her time with Harry Styles are "Style," which was aptly named, and "Out Of The Woods".
Although neither Swift nor Styles has ever confirmed this, the songs contain direct imagery to their relationship, such as the paper airplane necklace they were both seen wearing.
Other songs on 1989 such as "All You Had to Do Was Stay," "I Know Places," and "Wonderland" are also rumored to be about Styles, but the references to their relationship in those songs aren't quite as crystal clear.
How Does Harry Feel About The Songs?
Unlike some of Taylor Swift's other ex-boyfriends, Harry Styles has always been a good sport about her songwriting.
At an appearance on The Howard Stern Show in 2020, he went so far as to call it flattering and reiterated that he thinks she's a great songwriter.
It makes sense that Harry Styles is totally fine with Taylor Swift publicly writing about their relationship since he seems to have done the exact same thing.
His song "Two Ghosts," released in August 2017, has several lyrical parallels to Swift's song "Style," and is assumed to be a response, or at least his perspective on the relationship.
View this post on Instagram
It is important to note that while the songs written by both Swift and Styles were heart-wrenching, they were also quite kind, as far as breakup songs go, especially when Taylor Swift is just so good at using her pen as a sword (looking at you, "Dear John" and "All Too Well").
Following their 2013 breakup, neither artist painted the other as a villain, and their respective works were more of a bittersweet reflection of a failed relationship than a pointed finger.
Are They Currently On Good Terms?
It is likely due to their ongoing respect (despite their initially dramatic fallout) for one another that Taylor Swift and Harry Styles seem to be on great terms as of 2021.
The two were spotted interacting at the 2021 Grammy Awards and seemed truly happy to see one another. Looks like they made it "Out Of The Woods" after all.
View this post on Instagram
In April 2016, Taylor Swift and model gal pals Behati Prinsloo and Lily Aldridge were spotted heading out to dinner together at the vegan Mexican restaurant Gracias Madre in Hollywood.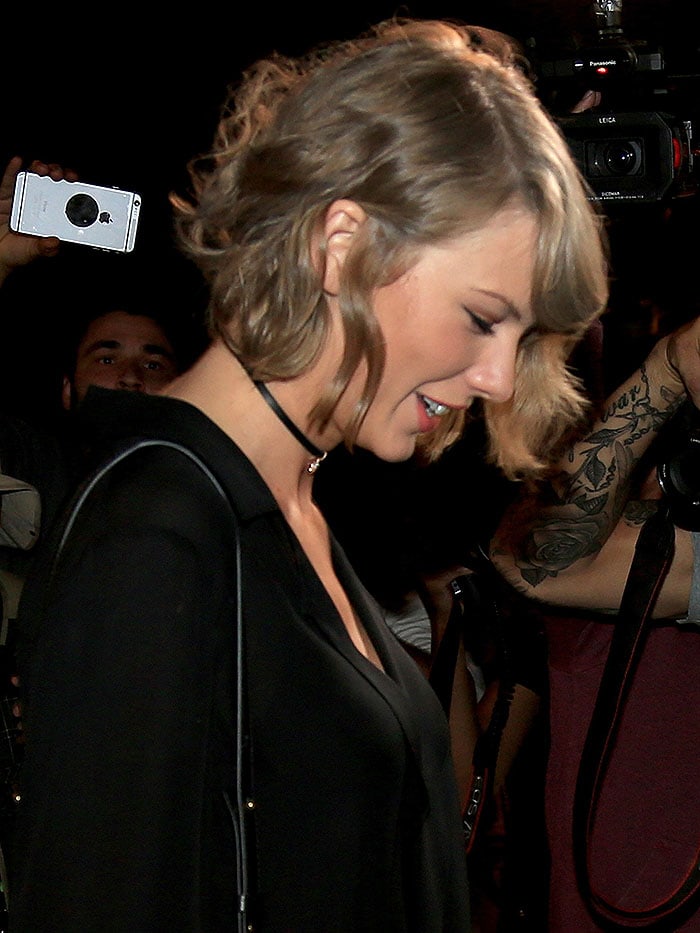 Taylor Swift shows off her new short hairstyle as she leaves Gracias Madre in Hollywood on April 5, 2016 (Credit: Winston Burris / WENN)
The sighting came right after Taylor shared a hilarious pic of her bodyguard, who, despite being on a Disney "Cars"–themed roller coaster, remained as serious and stone-faced as ever.
Talk about taking your job seriously!
Taylor Swift's bodyguard appears unimpressed by the Cars rollercoaster at Disney California Adventure Park (Credit: Taylor Swift's Instagram)
Lily Aldridge and her daughter Dixie joined the then 26-year-old pop star in the front seat of the roller coaster car.
Behati, who completed the trio, was not with them on the high-speed ride — presumably because of her pregnancy.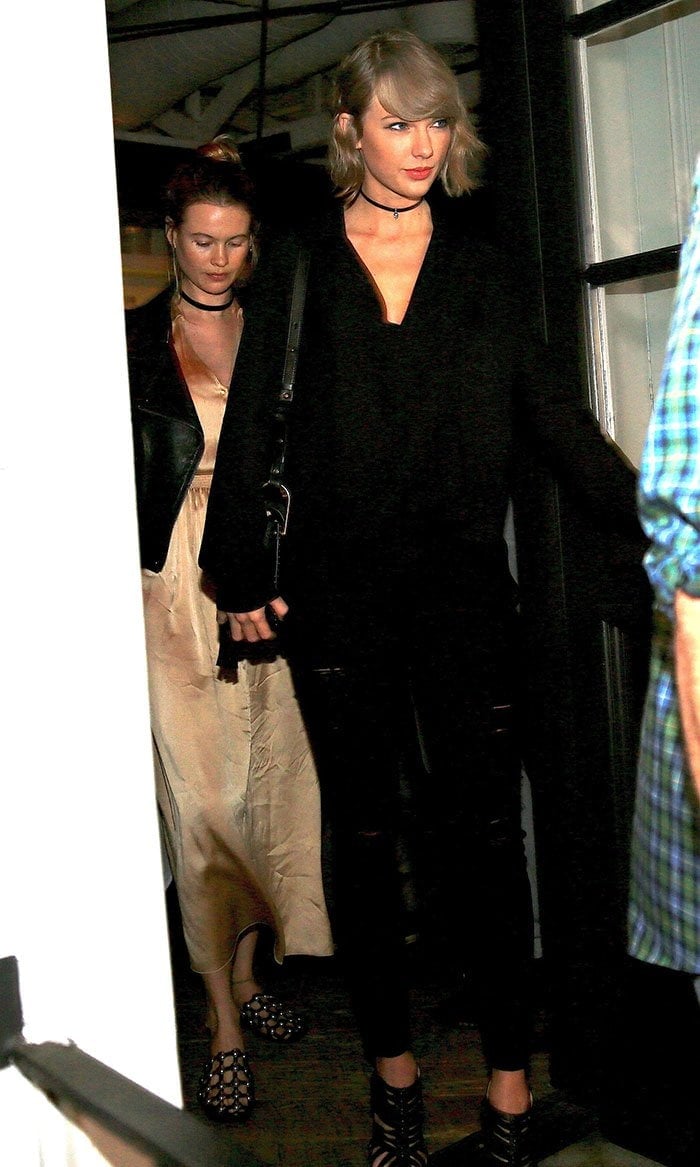 Taylor Swift wears a black L'Agence blouse and Frame jeans for a dinner with friends (Credit: Winston Burris / WENN)
Behati was able to join the roller-coaster-riding duo for the much calmer dinner and looked comfortable in a nightgown-like satin dress paired with net slides.
The look was honestly bordering dowdy, but we'll forgive her since she was several months pregnant.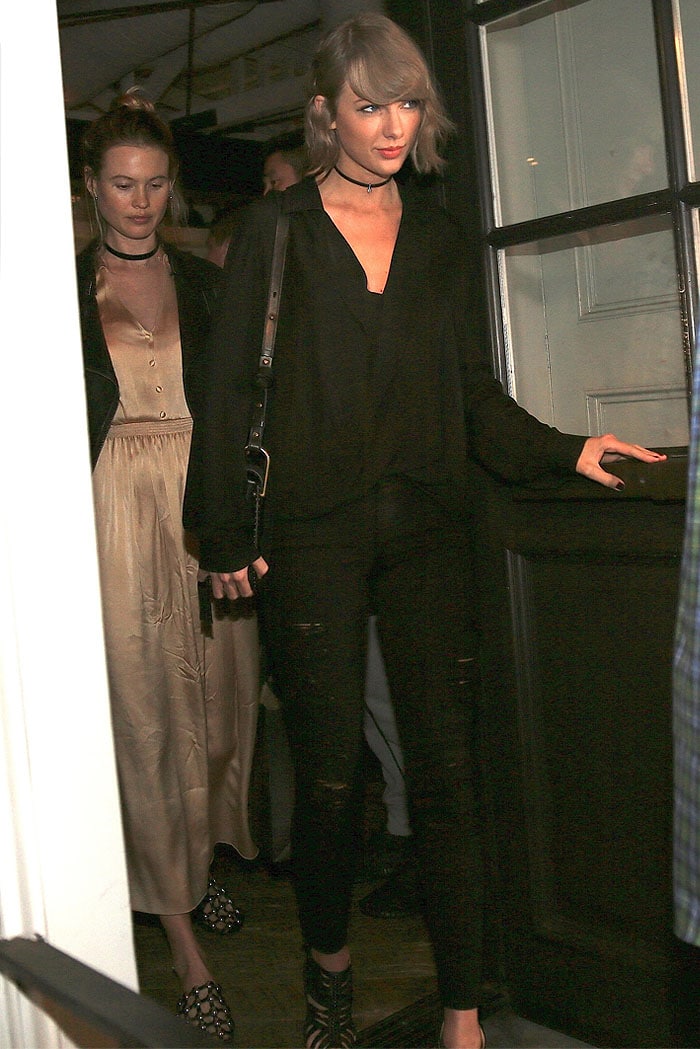 Taylor Swift carries a Chloé shoulder bag during a night out in Hollywood (Credit: Winston Burris / WENN)
Taylor, however, kept up with her normal appearances and was dressed to nines even for the quiet night out.
The "Wildest Dreams" singer was decked out in all-black in a L'Agence "Rita" drape-front blouse and Frame "Le Color" ripped skinny jeans.
She accessorized with a $2,000 Carbon & Hyde"'Reign Hide" choker, a $2,350 Chloe "Hudson" braided shoulder bag, and a pair of $1,195 Christian Louboutin "Karina" cage booties.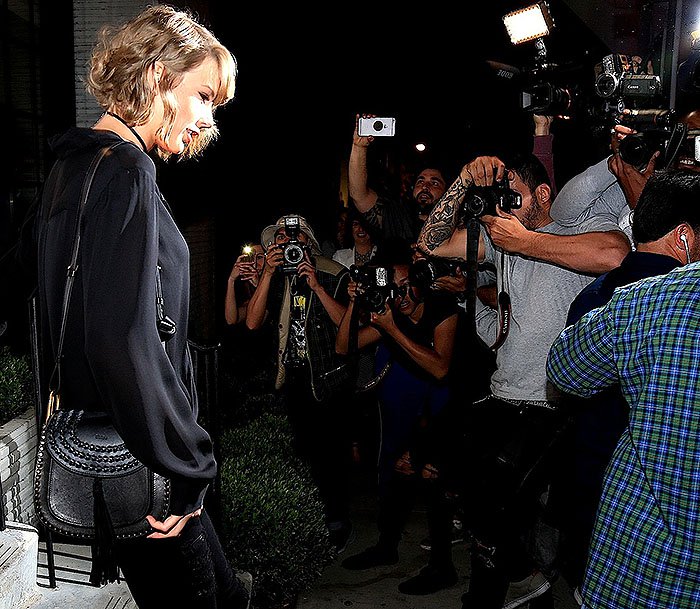 Taylor Swift smiles for paparazzi as she leaves Gracias Madre in Hollywood (Credit: Winston Burris / WENN)
Here's a closer look at Taylor's shoes.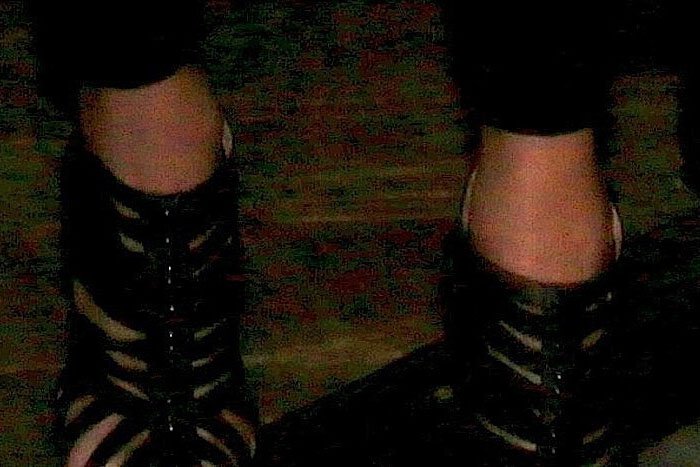 Taylor Swift's feet in Christian Louboutin cage booties (Credit: Winston Burris / WENN)
If they look very familiar to you, you have a good eye.
The booties are one of Taylor's old pairs. We first spotted them on her at the 2013 MuchMusic Video Awards and then again while out and about with her parents in Manhattan.
The "Karina" is sold out but you can shop popular Christian Louboutin shoe styles at Nordstrom and Mytheresa.
Christian Louboutin "Karina" Cage Ankle Booties