I think I'm not the only one who sometimes thinks about the potential careers of stars had they capitalized fully on their success.
For whatever reason the case may be, sometimes great performers decide to leave Hollywood behind, for better or for worse.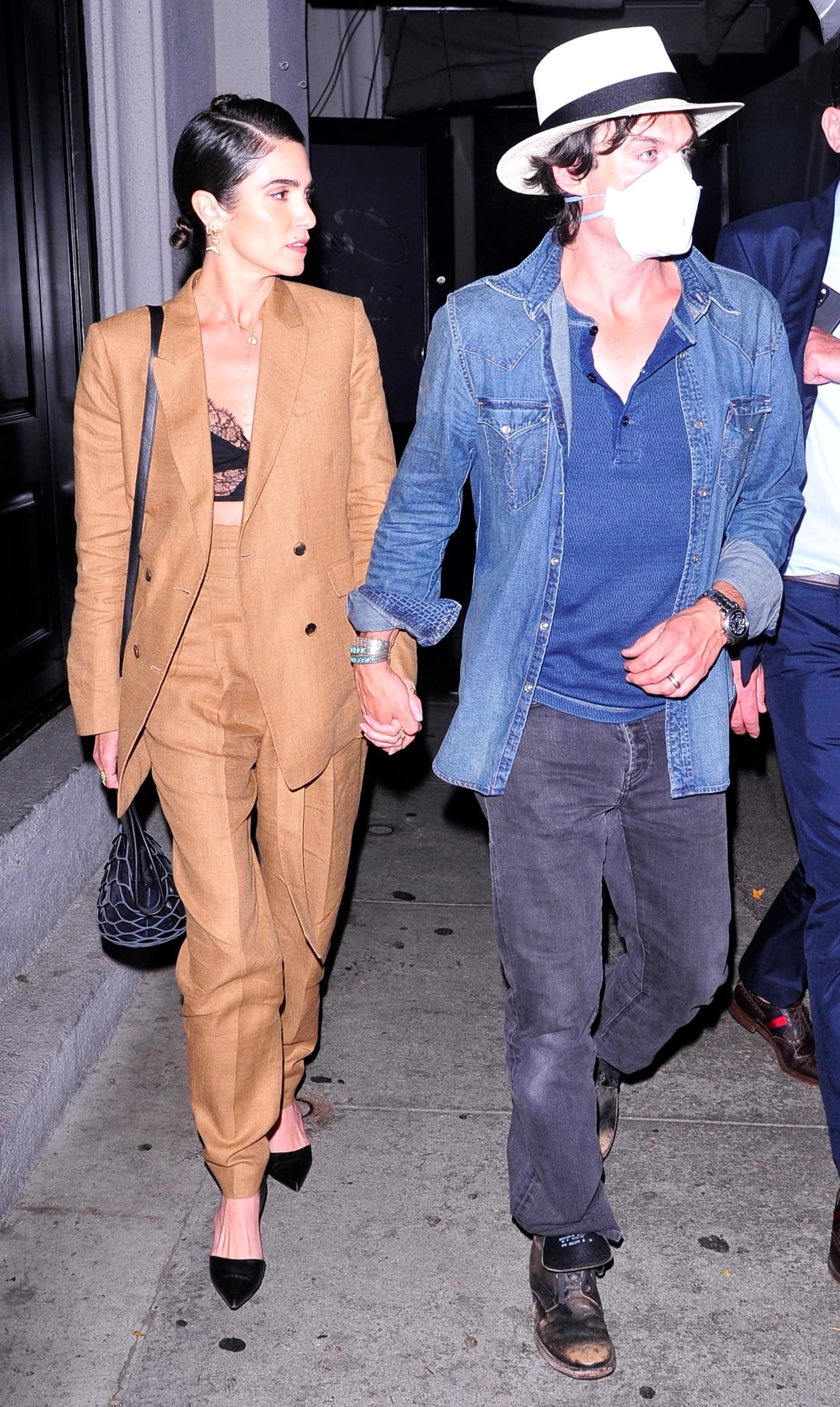 Ian Somerhalder and his wife Nikki Reed hold hand at Craig's after dinner on March 24, 2022 (Credit: MEGA / WENN)
Such is the case for Nikki Reed, a once-promising young starlet fresh off starring in one of the most popular film series of the late 2000s.
For reasons we'll discuss in this article, Reed's career didn't quite take off as well as we would have expected, based on the incredible successes she experienced early on in her acting career.
Nikki Reed's Difficult Upbringing
It seemed like the silver screen was almost destined for young Nikki. She hails from West Los Angeles, California, right in the epicenter of the Hollywood film industry.
Born to a beautician and a production designer, Reed has described her childhood and upbringing as "complicated." Her parents divorced when she was only a toddler, and her mother had raised her from then on.
Her father, Emmy nominated production designer Seth Reed, started dating screenwriter Catherine Hardwicke after his divorce from Nikki's mother, beautician Cheryl Houston.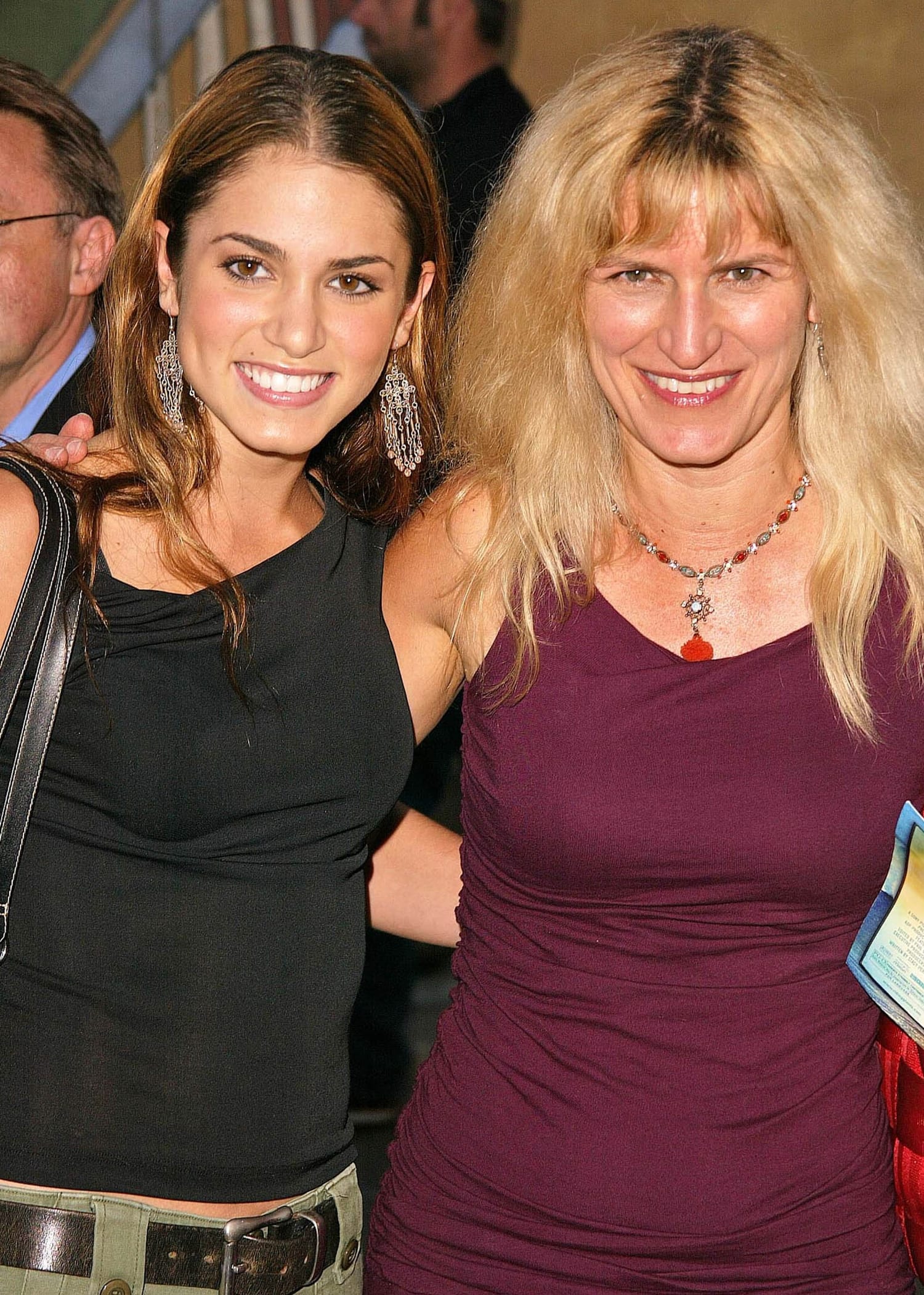 Nikki Reed with her dad's ex-girlfriend Catherine Hardwicke at the Los Angeles premiere of Riding Giants on July 6, 2004 (Credit: Marty Hause / Startraksphoto)
Nikki's relationship with her mother was complicated, and the situation was exacerbated by Reed's experimentation with sex, drugs, and alcohol.
By the age of 14 in 2002, Reed was emancipated by her mother and began to live on her own in various apartments littered across L.A. During this period, Reed had no aspirations of being an actress.
The Beginning of a Promising Career – Nikki Reed in Thirteen
These aspirations quickly changed when Reed became familiar with Catherine Hardwicke, who started dating her dad when Nikki was 5-years-old.
Hardwicke was an experienced production designer in Hollywood, and her resume included work with prominent directors such as David O. Russell and Richard Linklater.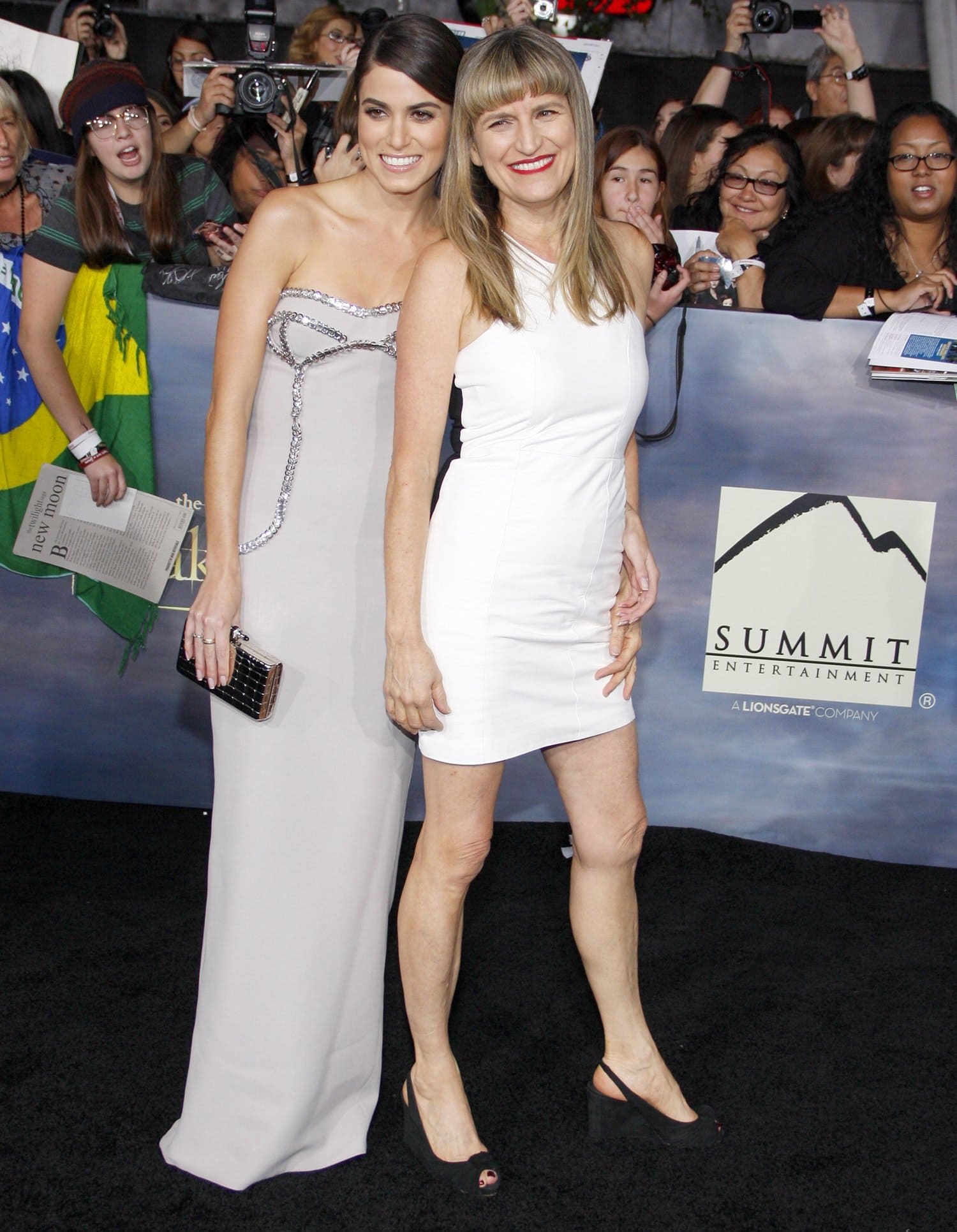 Actress Nikki Reed and her good friend Catherine Hardwicke arrive at "The Twilight Saga: Breaking Dawn – Part 2" Los Angeles premiere at the Nokia Theatre L.A. Live on November 12, 2012, in Los Angeles, California (Credit: Tinseltown / Shutterstock)
While her career as a production designer was already going well, Hardwicke had aspirations of directing her own films and often watched the techniques of the talented directors she worked with while she was on set.
Hardwicke was inspired by the life of her friend's teenage daughter (Nikki) to write a screenplay for a film about teenage girls. Enlisting Nikki's help to finish the project, they both finished writing the screenplay within six days.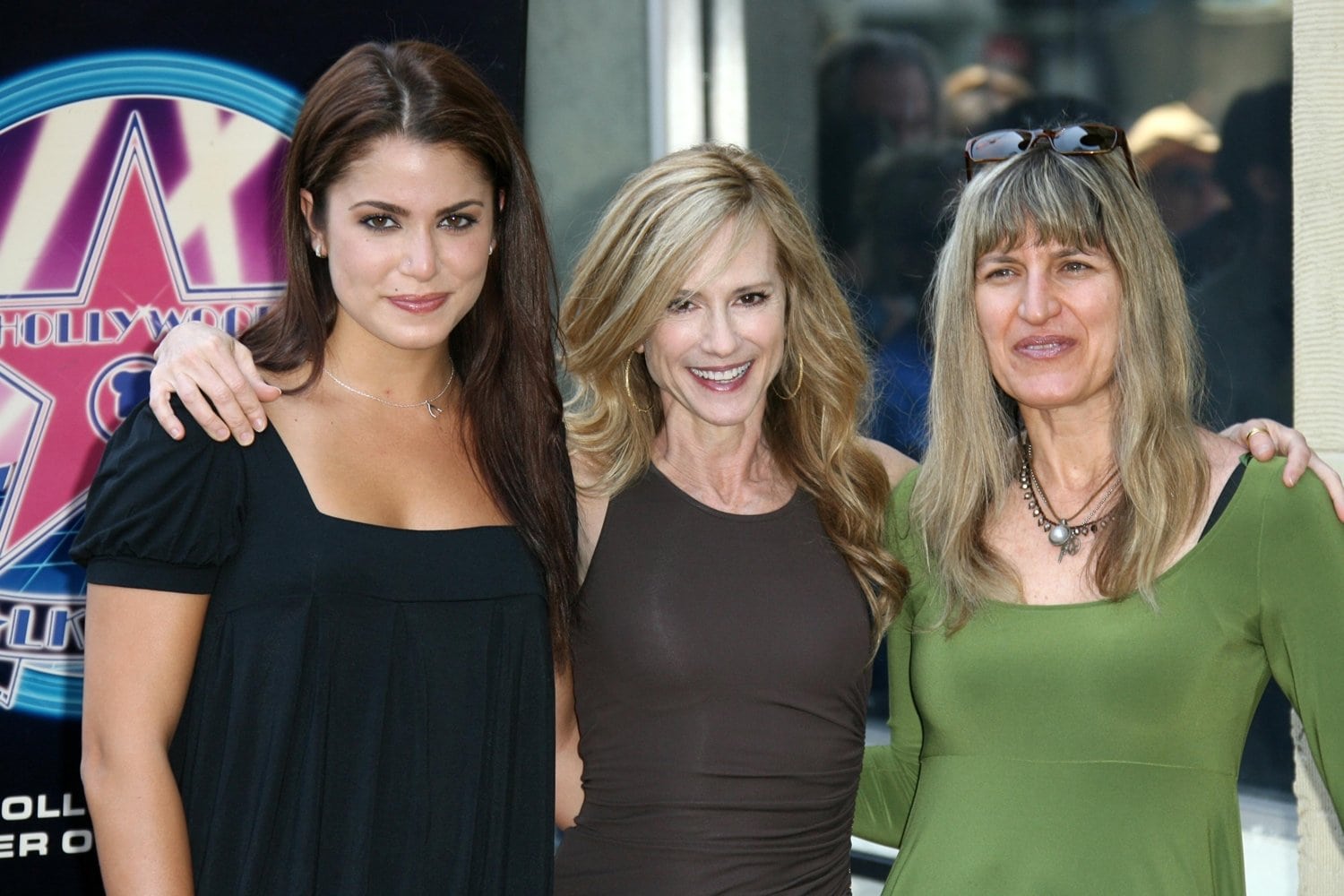 Actresses Nikki Reed, Holly Hunter, and director Catherine Hardwicke attend the Star on Hollywood Walk of Fame honoring Actress Holly Hunter held in front of the Hollywood Roosevelt Hotel on May 30, 2008, in Hollywood, California (Credit: s_bukley / Shutterstock)
Hardwicke began to cast the film in early 2002 and decided to cast Reed herself in the role of Evie Zamora, one of the protagonists of the film. Evan Rachel Wood portrayed her friend Tracy Freeland.
"The scenes and the relationship with my mother were definitely under-exaggerated in the film because it was so much worse in real life," Reed said in an interview with The Sydney Morning Herald when the film was released.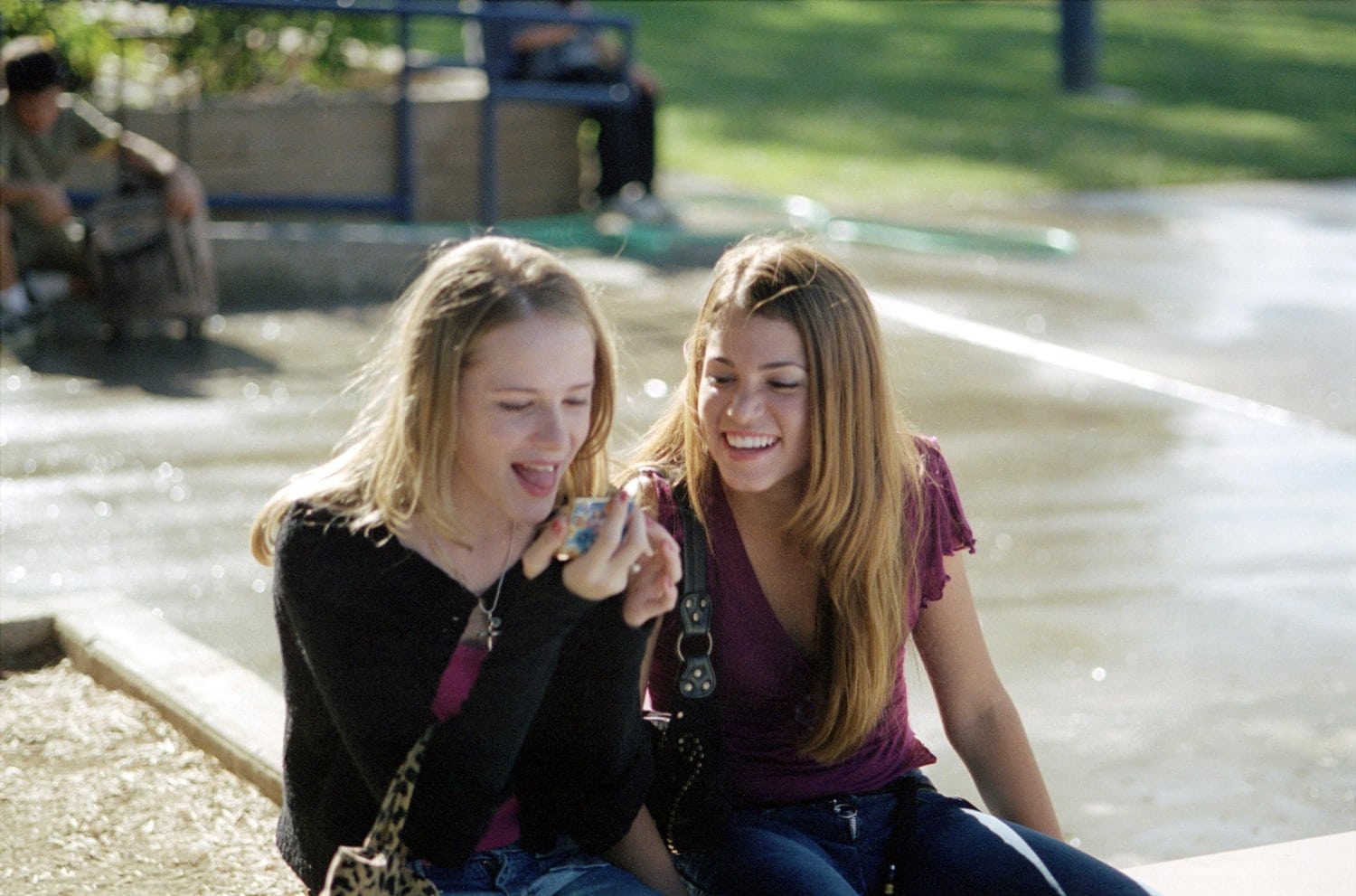 Evan Rachel Wood as Tracy Freeland and Nikki Reed as Evie Zamora in Catherine Hardwicke's 2003 American teen drama film Thirteen (Credit: Fox Searchlight Pictures)
"I was a brutal child to my mother. People are watching this Tracy, going, 'How dare she disrespect her mum like that.' And I'm thinking, 'Well, that wasn't that bad'."
"Every time we show it, my mum sits through it, cries, gives me a hug and tells me she's proud of me. My dad hasn't said one thing. He won't see it anymore, but he's supportive. By looking at them, I can tell they have stuff to say, but it's inside."
The 2003 American teen drama film Thirteen was finally released on January 17, 2003, and its critical praise helped to propel the careers of Reed and Hardwicke. Reed's performance as Evie received notable praise, and Reed's Hollywood career was in full swing.
Nikki Reed's Career Afterwards – Twilight
Despite her talent and potential as a famous actress, Reed initially desired to act in smaller roles – avoiding large-scale Hollywood productions or television series.
This led to her being cast in Lords of Dogtown, a 2005 film that Catherine Hardwicke also directed. Unlike Thirteen, however, Lords of Dogtown received mediocre reviews and grossed a meager $13.4 million against a budget of $25 million.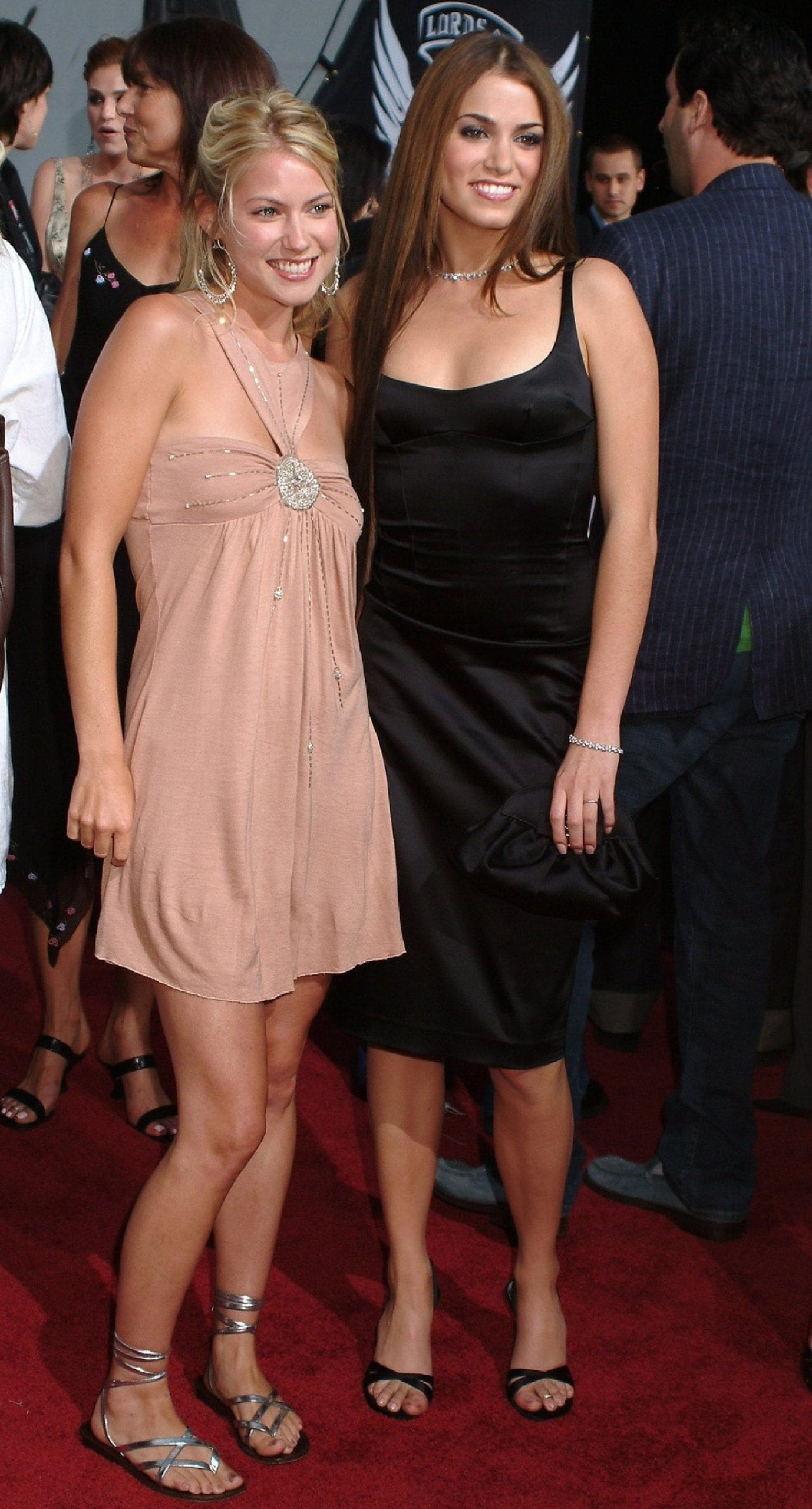 Laura Ramsey and Nikki Reed at the Los Angeles premiere of Lords of Dogtown on May 24, 2005 (Credit: Jody Cortes / WENN)
Perhaps this disappointment caused Reed to reconsider her stance on popular television series and large-scale Hollywood productions – Reed soon decided to take on a recurring role in The O.C., one of the most popular television shows of the early-to-mid 2000s at the age of 18 in 2006.
This increased exposure from her work in The O.C. undoubtedly contributed to her next role, which would be one of the roles that would define her career.
In early 2007, work began to create a film adaptation of Twilight, a sensation within the Young Adult fiction category of novels.
Nicole Houston Reed-Somerhalder, known professionally as Nikki Reed, is best known for her portrayal of vampire Rosalie Hale in The Twilight Saga (Credit: Summit Entertainment)
The film's producers decided to hire Catherine Hardwicke as the director of the film. Hardwicke worked alongside screenwriter Melissa Rosenberg to write the screenplay for Twilight, which they completed in October 2007.
Twilight stars Nikki Reed and Kristen Stewart arrive at the Teen Vogue Young Hollywood Party at the Los Angeles County Museum Of Art on September 18, 2008, in Los Angeles, California (Credit: Carrie Nelson / Shutterstock)
Hardwicke took the opportunity to collaborate with Reed yet again, casting her in the role of Rosalie Hale, one of the vampires in the family of Edward Cullen (one of Robert Pattinson's earliest roles), the lead protagonist of the film.
Twilight ended up being a commercial success and grossed $407 million at the box office, greatly influencing the careers of Christian Serratos, Mackenzie Foy, Dakota Fanning, Ashley Greene, Kristen Stewart and Robert Pattinson.
Nikki Reed in a stunning Marchesa dress, Christian Louboutin shoes, and Brumani jewelry on the black carpet at the premiere of The Twilight Saga: Eclipse during the 2010 Los Angeles Film Festival held at Nokia Theatre on June 24, 2010 (Credit: Revolution Pix / INFevents)
Twilight would eventually spawn a slew of film sequels, including New Moon, Eclipse, and Breaking Dawn Parts 1 and 2, all of which also included the character of Rosalie Hale.
Despite this, however, Reed would never experience the type of success enjoyed by her higher-profile Twilight co-stars.
What Happened to Nikki Reed After Twilight?
Unfortunately, Nikki Reed found difficulty landing prominent roles to the level of the high-profile nature of the Twilight film series.
In fact, Reed would have the misfortune of starring in plenty of movies that have not received any critical success, nor did they turn a profit at the box office.
Actress Nikki Reed attends Summit Entertainment's "Twilight" World Premiere at Mann Village on November 17, 2008, in Westwood, California (Credit: Carrie Nelson / Shutterstock)
In 2010, she starred in a film called Chain Letter, a horror film blasted by critics for being underwhelming and poorly made.
Nikki Reed as Jessica "Jessie" Campbell in the 2010 American slasher film Chain Letter (Credit: New Films International / Shutterstock)
She followed up this role with a role in Catch .44, a 2011 film that boasted a star-studded cast filled with actors such as Bruce Willis and Forrest Whittaker.
Despite the promising cast, however, Catch .44 would ultimately disappoint at the box office.
Nikki Reed as Kara in the 2011 American crime thriller film Catch .44 (Credit: Anchor Bay Films)
In 2013, she would star alongside Dwayne "The Rock" Johnson in Empire State, which followed the same fate as her previous two films.
Since then, Reed has struggled to find any work in Hollywood, and it seems as though her career has lost its spark, fizzling out prematurely.
These days, Reed works as a designer for jewelry companies and has even dabbled in music as well. She has also been involved in multiple humanitarian efforts in recent years.
Nikki Lee, Madison Grace Reed, and Victoria Justice arrive at Darren Dzienciol's CARN*EVIL Halloween Party Presented by Decada and Hosted by Alessandra Ambrosio with Live performances by Doja Cat and BIA Powered by Geojam and Butter Bun held at a Private Residence on October 30, 2021, in Bel Air, Los Angeles
Nikki uses her social media platforms to spread awareness for issues facing animals – and continues to work as an ambassador for the Humane Society of the United States.
Regardless of how her career ended up, we are happy for Nikki and love that she is choosing to pursue the things that interest her the most.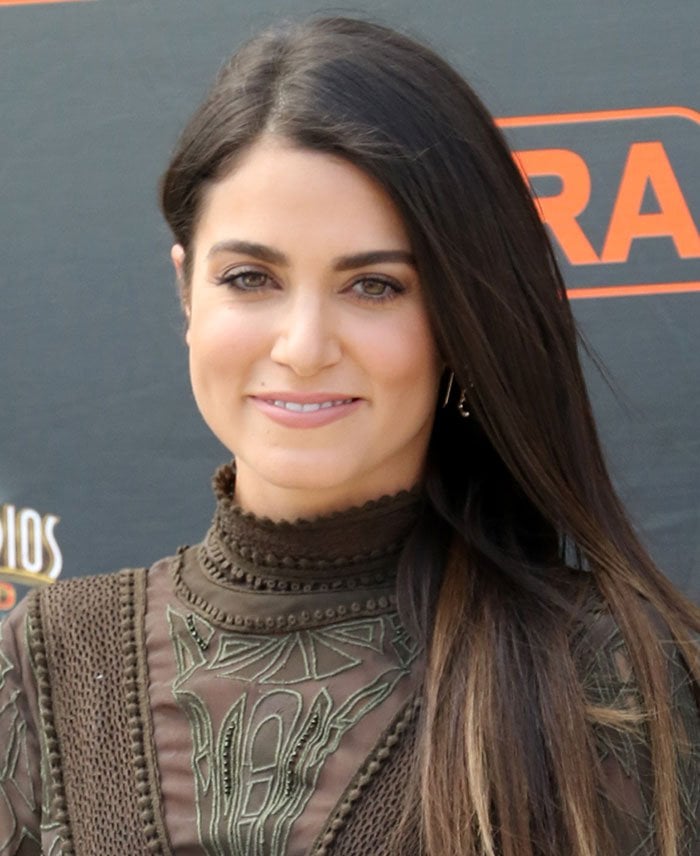 Nikki Reed sweeps her hair to one side as she visits "Extra" to promote Kiehl's Cosmetics on April 13, 2016, in Los Angeles (Credit: WENN)
In April 2016, Nikki Reed made quite a leggy display when she arrived on the set of "Extra" at Universal Studios.
The then 27-year-old actress was at the show to promote her Earth Day partnership with Kiehl's.
The skincare brand's popular Creamy Eye Treatment with Avocado product was redesigned for the occasion to feature Nikki's limited edition artwork label.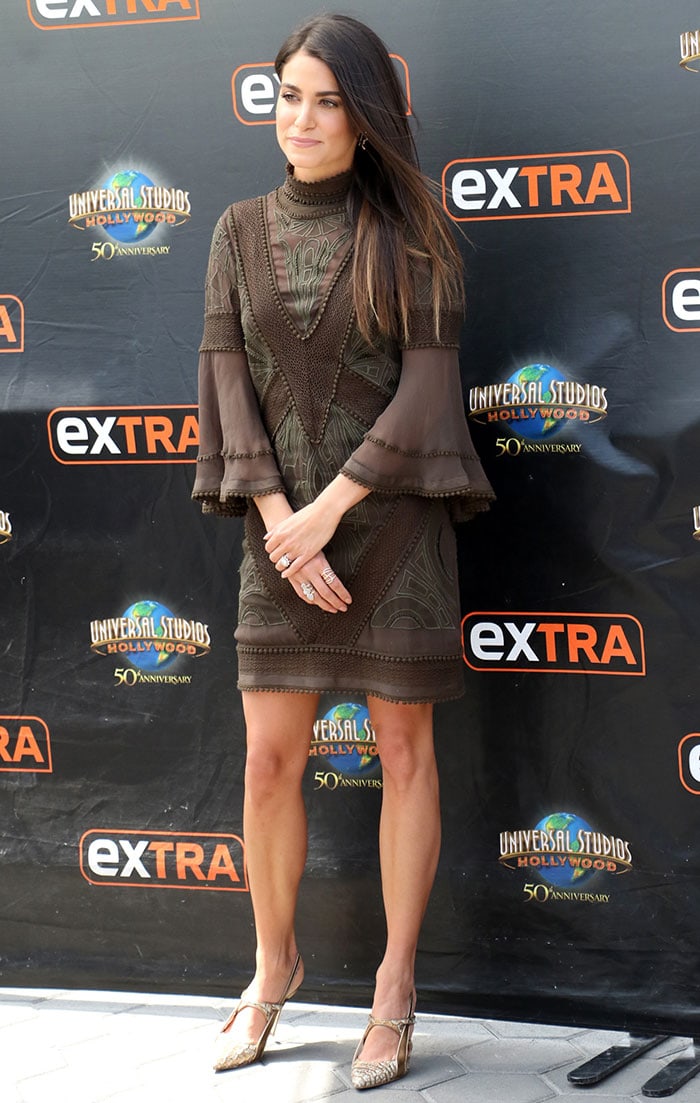 Nikki Reed shows off her toned legs in an Asos dress (Credit: WENN)
Proceeds from the sale of the product will benefit Recycle Across America.
Nikki opted for her signature look, showing only her enviably toned legs in a lace and crochet dress by Asos.
It featured see-through lace panels, embellished trims, ruffled bell sleeves, and a high neckline.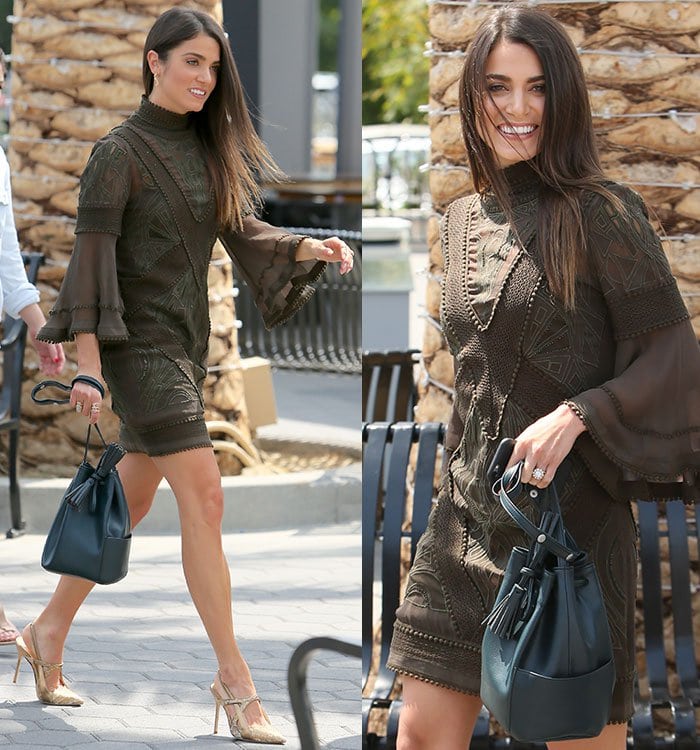 Nikki Reed wears a brown Asos dress on the set of "Extra" (Credit: WENN)
The animal advocate carried a bag from her line with Freedom of Animals and added a hint of edge to the look with gold earrings and a couple of rings.
She wore her brunette locks loose around her shoulders and sported simple makeup with well-defined eyebrows.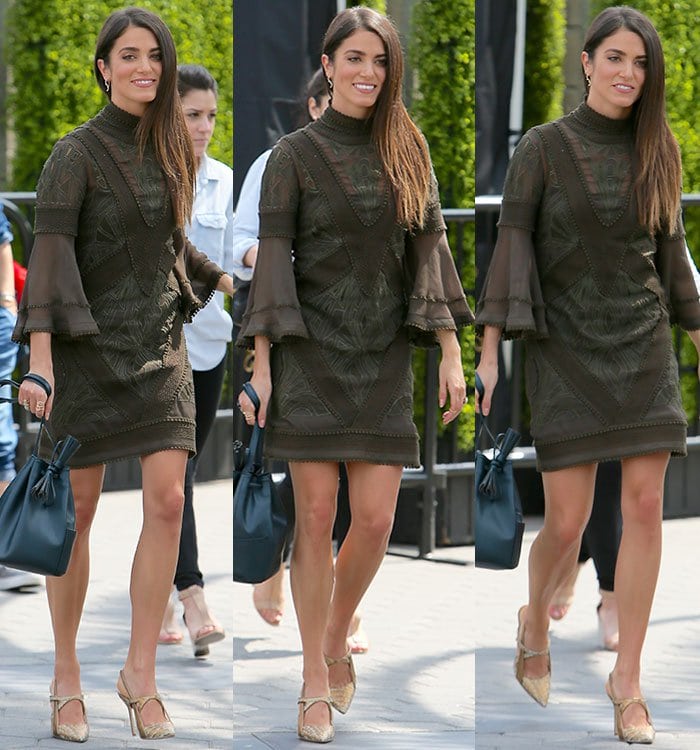 Nikki Reed wears a brown Asos dress and carries a navy blue Freedom of Animals bag (Credit: WENN / Michael Wright / Reflector)
Nikki rounded out her look with a pair of Sarah Flint "Gilda" pumps which feature a crackled design, slingback straps, and about four-inch heels.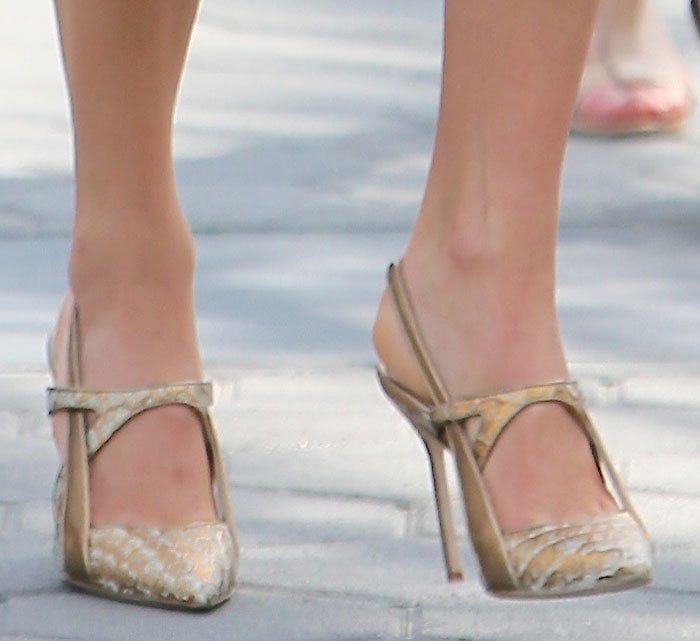 Nikki Reed's feet in Sarah Flint slingback pumps (Credit: WENN)
Nikki Reed's feet in "Gilda" pumps (Credit: WENN)

These pumps from New York City-based shoe designer Sarah Flint are no longer available online.
Crackled Sarah Flint "Gilda" Slingback Pumps, $945