We're not sure what to think of these unique and quirky shoes that we found at Modcloth today. If you're still looking for your next Halloween shoes, perhaps we've found the perfect pair for you!
1. Unique 'Unicorn Light My Life' Slippers, $42.95 at Amazon
Illuminate your path – and maybe even your heart – by snuggling your feet into these light-up slippers.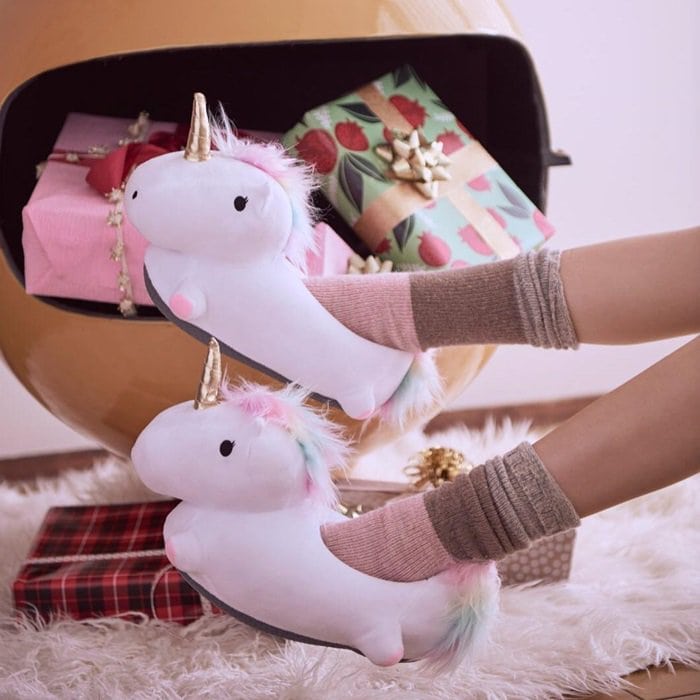 Fashioned into twin unicorns that glow from within in response to your movements, these battery-powered beauties satisfy your want for whimsy in a most 'de-light-ful' way!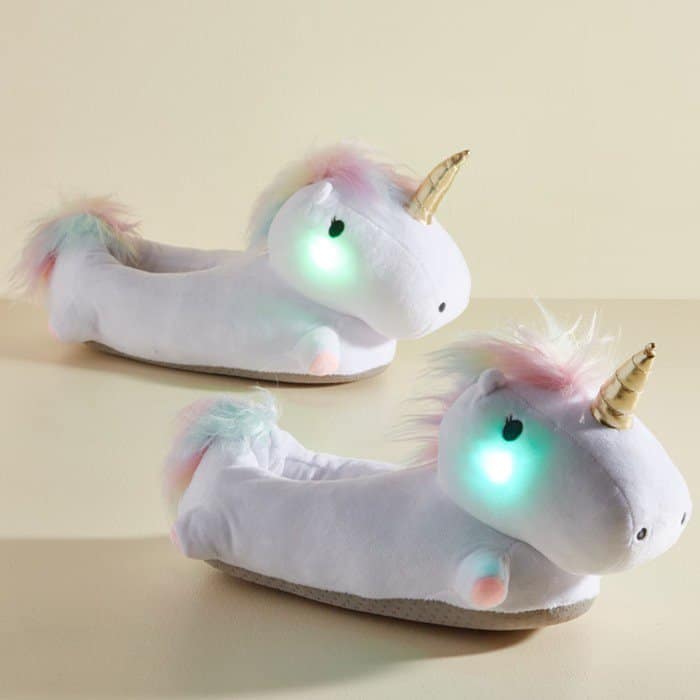 2. Narwhal USB Heated Footwarmers Slippers, $36.95 – $39.99 at Amazon
You're always in the mood for cuddling up, especially with these narwhal-shaped foot warmers.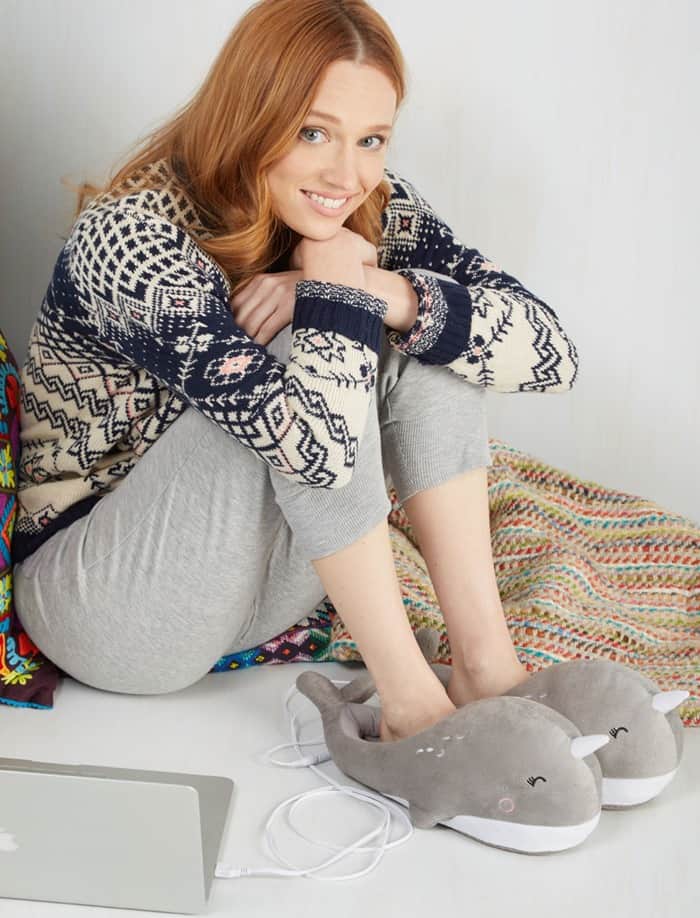 Powered by your Mac or PC through an included USB cord to keep your toes toasty and warm, these adorable plush slippers flaunt the smiling, horn-accented face and body of a unicorn of the sea, while gripping dots on the bottom ensure safe, slip-free steps.
Cozy and cute get along swimmingly when it comes to this precious pair!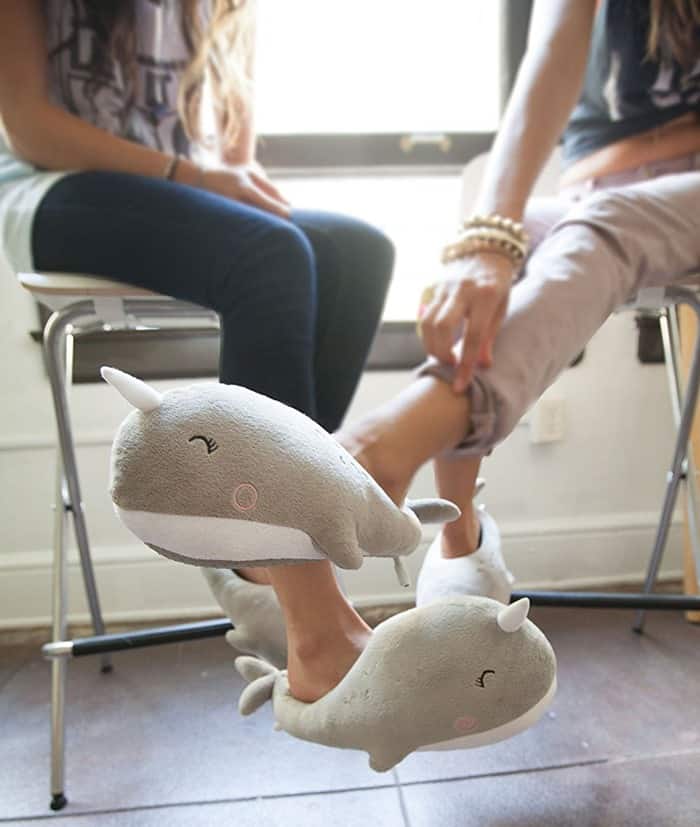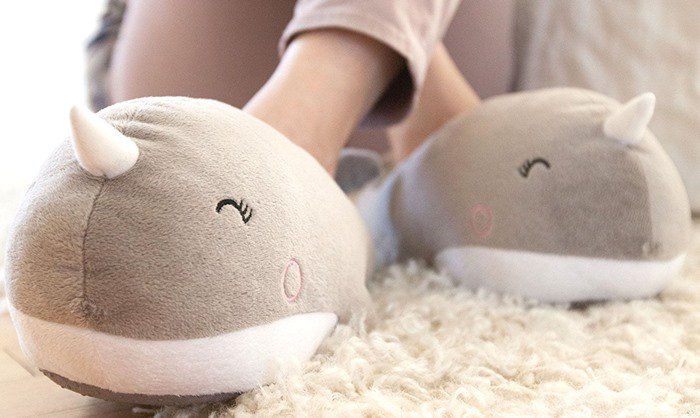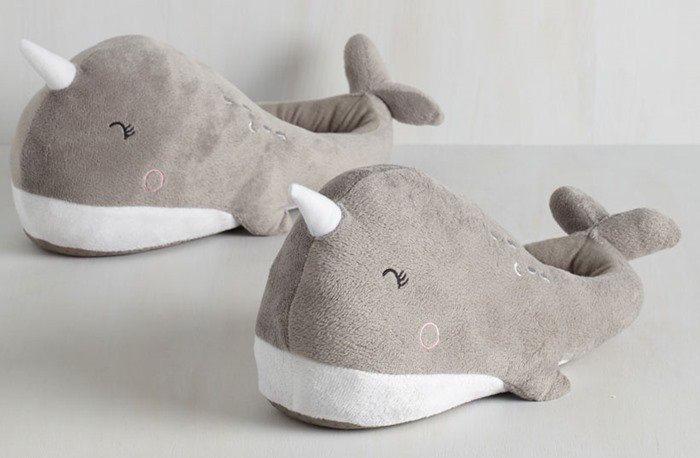 We also love these unique fingerless USB heating gloves ($4.45 at Amazon) that will keep your fingers warm while you're typing. They come in two different colors and are incredibly inexpensive!
USB Heating Winter Gloves, $4.45 at Amazon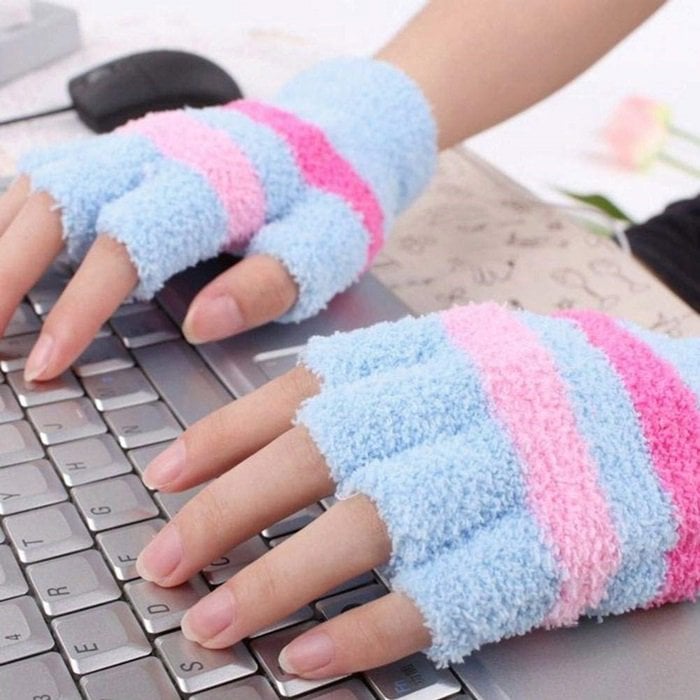 3. Marshmallow Out USB Foot Warmers, $34.99 – $39.99 at Amazon
Treat yourself to toasty toes with these sweet slippers that warm your feet with the power of your computer. Whether they're camped out beneath your desk or chillin' beside the couch, these plush pals keep you cabin-cozy while they ooze with adorable details, including their grinning graham cracker faces, irresistible chocolate drizzle detail, soft, pillowy, footbeds, and snack-run-ready soles with conveniently grippy dots. Just connect the included USB cord to your Mac or PC, and this plug-and-'stay' set will melt your heart and make your day!
4. Seychelles 'Matinee' Suede Block Heel Booties, $99.99 at ModCloth
Thinking about taking these black suede booties from Seychelles along for an afternoon flick? Smart choice! Once the credits roll, you'll emerge from the theater looking splendid in this retro, block-heeled pair – just in time for the cinema lights to illuminate their burgundy and tan floral appliques.
5. Irregular Choice 'Ava's Aviary' Floral Embroidered Wedges, $230 at Amazon
Experience your own aviary, compliments of Irregular Choice. Complete with bird, plants and flowers, the Aviary inside this wedge represents a little piece of paradise.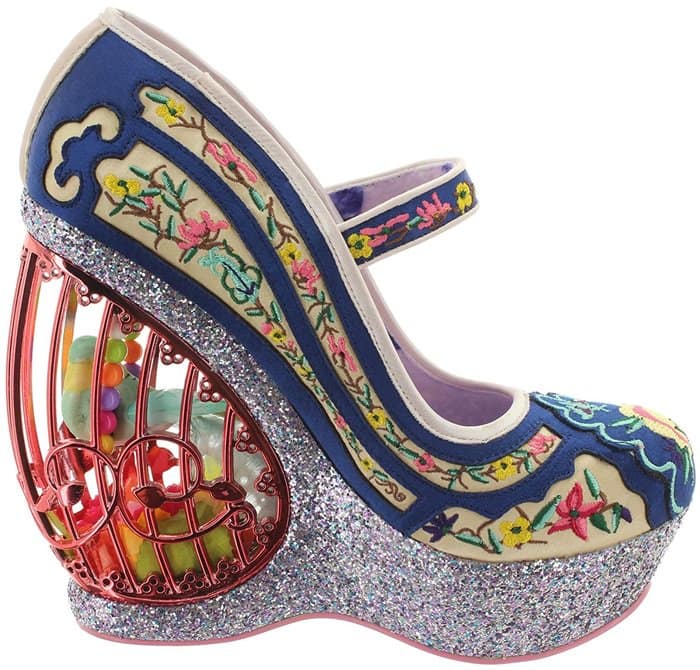 6. Ruby Shoo 'Bow Where the Wind Blows' Heels, $59.81 – $79.25 at Amazon
Don't think too hard – just slip into these red pumps and let yourself wander. Made from a floral brocade fabric, fancied up with faux-suede details, and topped with sharp bows on the toes, this heeled pair is sure to inspire an entertaining excursion.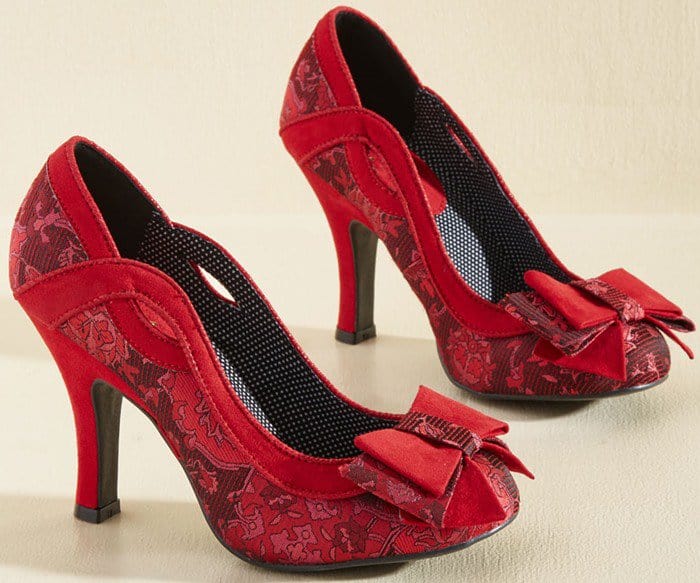 7. 'For Crayon Out Loud' Bootie, $129.99
Color outside the lines of chic fashion by slipping into these black booties! The pointed toes of this faux-suede pair add a polished vibe to your ensemble, while their playful rainbow heels add a dose of fun to the mix, keeping your style proclamation perfectly balanced.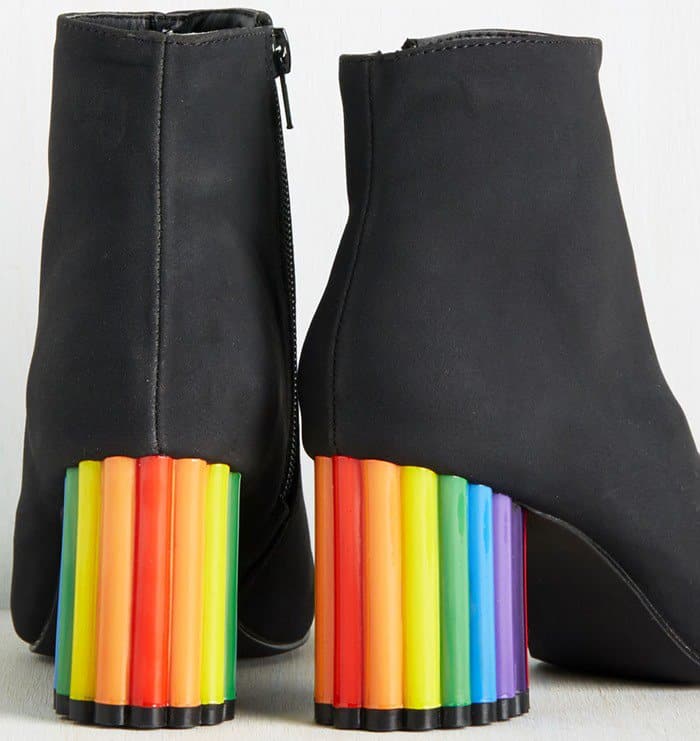 8. Miss L Fire Beaded Treat Slide Sandals, $125 at Modcloth
Set yourself on track for a day of flaunting your foodie identity by slipping into these slide sandals from Miss L Fire. Each toe band touts a beaded bag of popcorn, fulfilling your fantasy of living out a stylishly snack-filled day!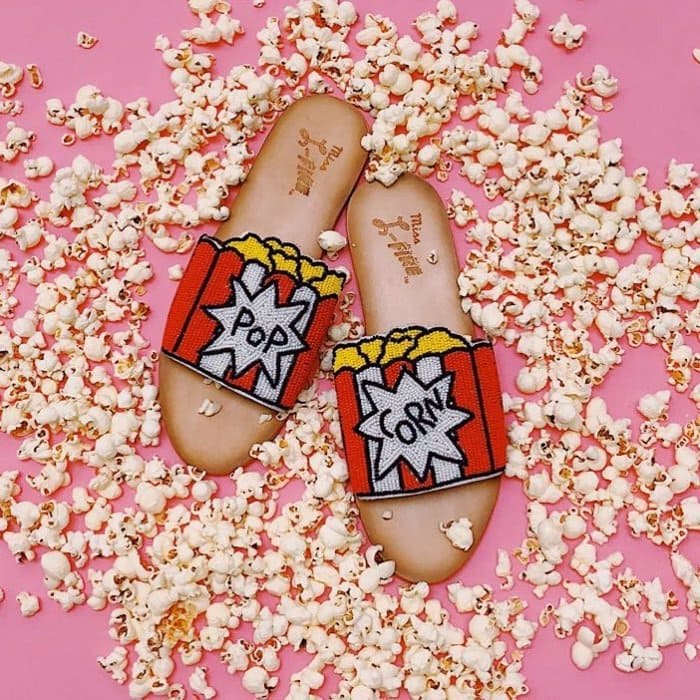 9. Get Some Beauty Sheep Slippers, $25 at Modcloth
In the cozy hours leading up to a lovely slumber, tuck your feet into this sweet pair of sheep slippers, and you'll feel at peace! Flaunting memory foam insoles, fuzzy uppers with pom-poms for ears and tails, and a sleeping lamb face embroidered at each toe, this cloud-like footwear will put you in the proper disposition for imminent dreaming.
10. 'More Showers To Ya!' Rain Boot in Umbrellas, $41.99
With these grey rain boots in your wardrobe, you won't dread the drizzle – you'll look forward to it! Colorfully bedecked in bright umbrellas and patterned clouds, these waterproof kicks give your looks the strength to thrive in the stormiest weather.
11. Dr. Martens 'More Turtle Power to You' Leather Boots, $149.99 at Amazon
Come out of your shell with these boots from the Dr. Martens X Teenage Mutant Ninja Turtles Collection. With flexible leather uppers accented by splashes of glow-in-the-dark goo and your favorite toon turtles, these green boots are the perfect pairing for pizza, pals, and your 'sensei-tional' look, dude!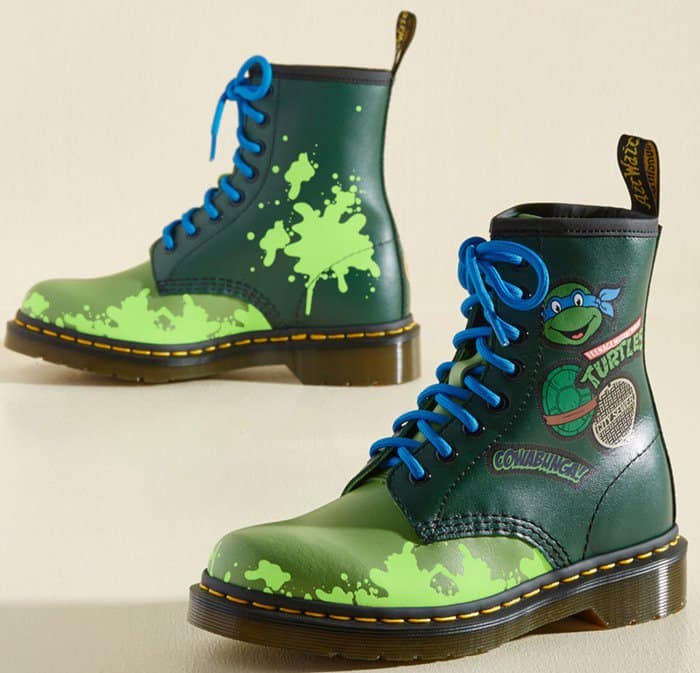 12. Ruby Shoo 'Musical Maven' Heel in Navy, $65.52 – $84.74 at Amazon
Continue shining after the curtains fall by wearing these T-strap heels in celebration of opening night! The star of the after-party, these retro, navy pumps showcase delicate cutouts, bright red trim, and white dots, creating a look that fills the room with delighted praise.
13. Dr. Martens 'Off to a Good Art' Leather Boots, $149.99
Black leather boots as bold as these deserve to have outfits revolve around their distinct profile. In an homage to William Hogarth's "The Rake's Progress", these Dr. Martens richly depict four out of the eight paintings in a collaboration with the Sir John Soane's Museum. Once you step out in their treaded soles, you'll know the day will be a masterpiece!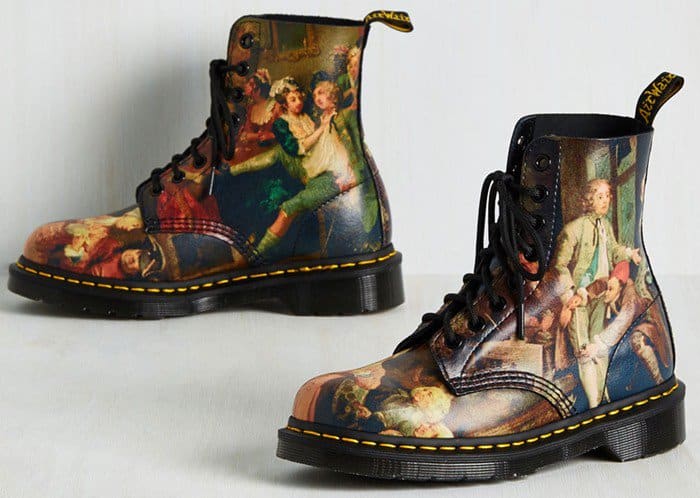 14. Matisse 'Oh for Heaven's Sleek' Boots, $138.99
With their chic silhouette and abstract floral print, these black boots are almost too good to be true. Sharp heels and smooth leather uppers further detail this radically magical pair, easily making them the answer to all of your fashion prayers.
15. Irregular Choice 'Return of the Jaunty' Sneakers, $223.99 at Amazon
Return fashionable footwear to the galaxy by striding out in these hi-top sneakers from Irregular Choice. Each stellar step of this black, Star Wars-themed pair – illuminated by flashing lights in each sole – brings style to this world and beyond. With sugar skull-inspired Darth Vader tongues, glittery-and-iridescent purple patches, and zipper pockets in which to store movie ticket stubs, these rebellious runners attract admiration from fellow fans.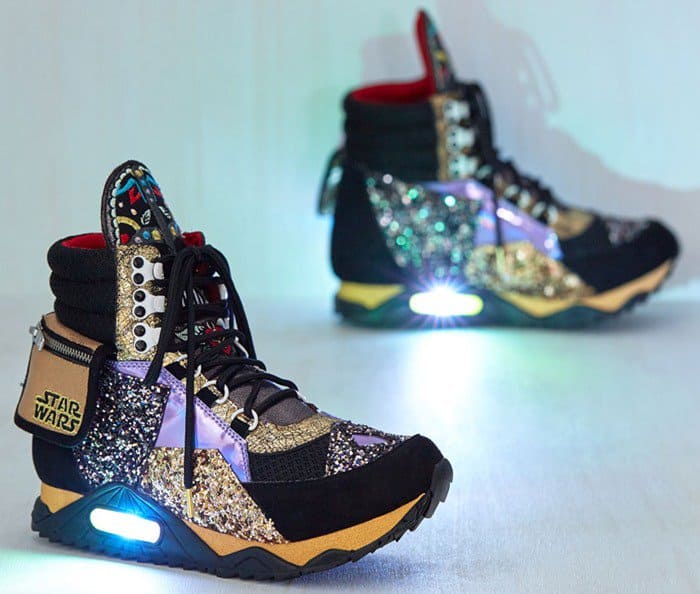 16. Irregular Choice 'The Frills are Alive' Booties, $159.99
With all of their effervescent elements, these grey booties by Irregular Choice will certainly be noticed! With gold-touched brocade uppers, herringbone flower appliques, and smoky, metallic spike heels, one thing is certain – this haute pair and all of its chic components are nothing short of show-stopping!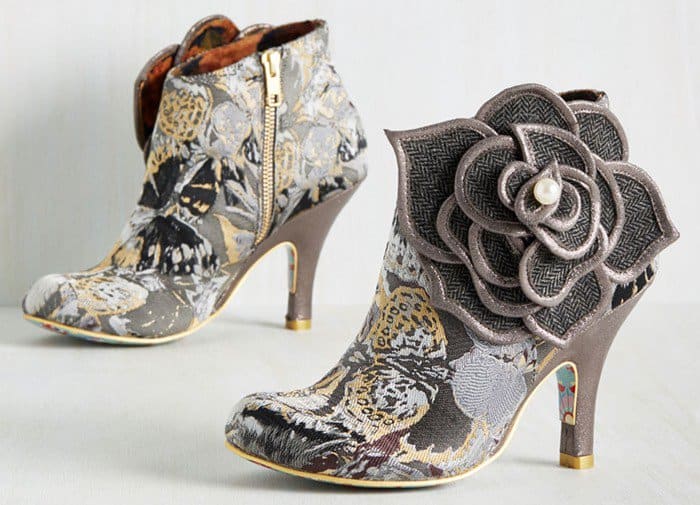 17. 'Wowza 'Bout That?' Heel, $39.99
Though your bold styling has become expected of you, that doesn't mean your red heels won't still impress! Hugged with a velvety faux-suede finish, gathered around the toe caps, and fastened with chic circular buckles, these pumps keep the spotlight right where it belongs – on you!
18. Iron Fist 'Don't Need No Body Else' Boots, $49.99
When you're kicking back on the weekend, your needs are few – but wearing these black and white boots is a must! Crafted with a Fair-Isle-inspired print that includes the occasional skull, this vegan pair from Iron Fist is the 'soul' requirement for keeping your toes extra-toasty.
19. Dr. Martens 'Skelly' 8-Eye Boots, $139.99
Hold on, there's more to these Dr. Martens than the fact that they're seriously stylish? Of course there is! These black boots rock the classic leather uppers and treaded soles that all Docs do, and then then it gets better with a green, glow-in-the-dark skeletal design, making this pair a step above the rest!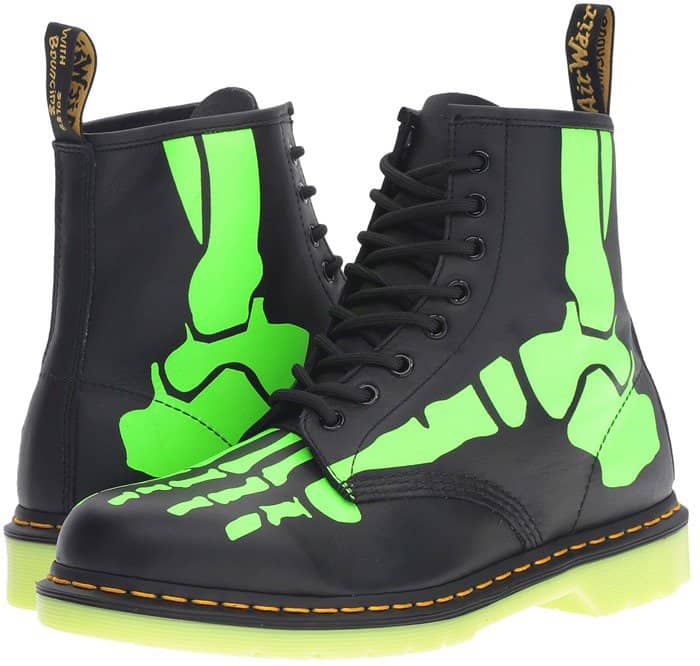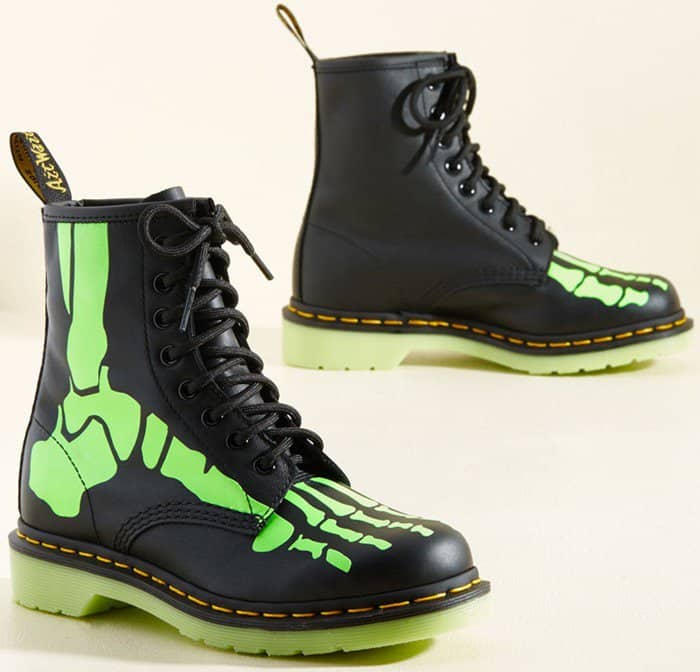 20. 'Vita' Floral Brocade Heels, $59.90 at TeamWardrobe
These gorgeous heels feature a satin upper with a floral brocade design throughout, peep toe silhouette, lace-up front design, and wrapped stiletto heel.