We're not sure what to think of these unique and quirky shoes that we found at Modcloth and some of our other favorite shoe retailers today.
1. Snoopy USB Heated Slippers, $32 at Smoko
Just plug Snoopy in and your toes will be toasty and warm in no time. Anyone without these iconic slippers, as Charlie Brown would say, is a total blockhead.
2. Narwhal USB Heated Footwarmers Slippers, $39.99 at Amazon
You're always in the mood for cuddling up, especially with these narwhal-shaped foot warmers.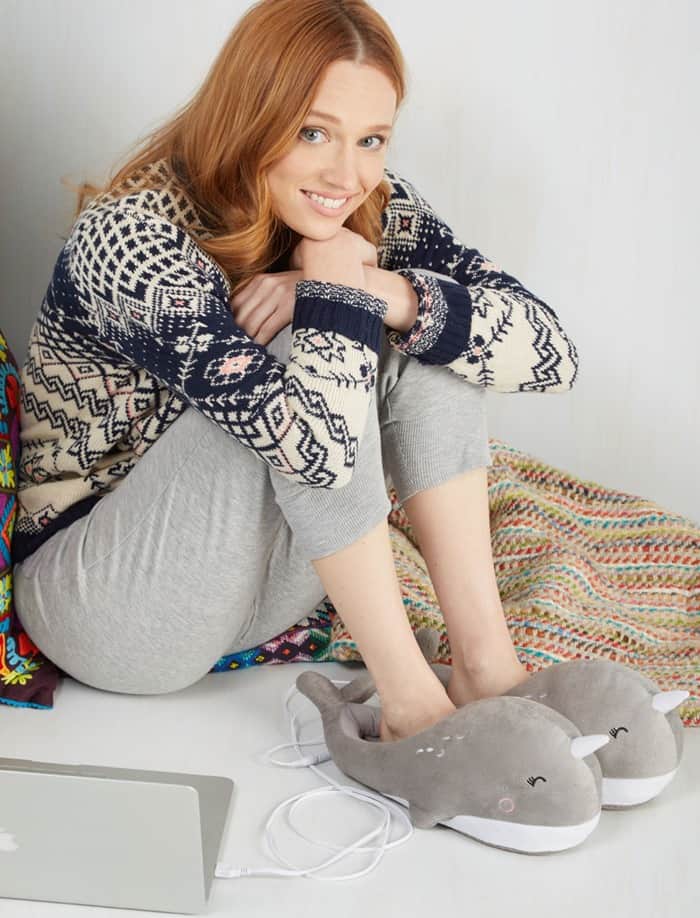 Powered by your Mac or PC through an included USB cord to keep your toes toasty and warm, these adorable plush slippers flaunt the smiling, horn-accented face and body of a unicorn of the sea, while gripping dots on the bottom ensure safe, slip-free steps.
Cozy and cute get along swimmingly when it comes to this precious pair!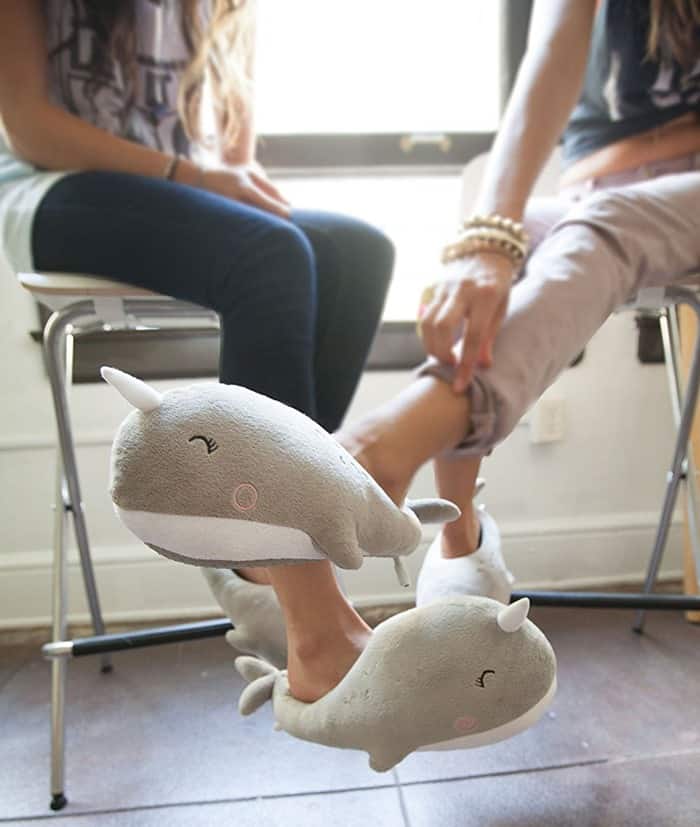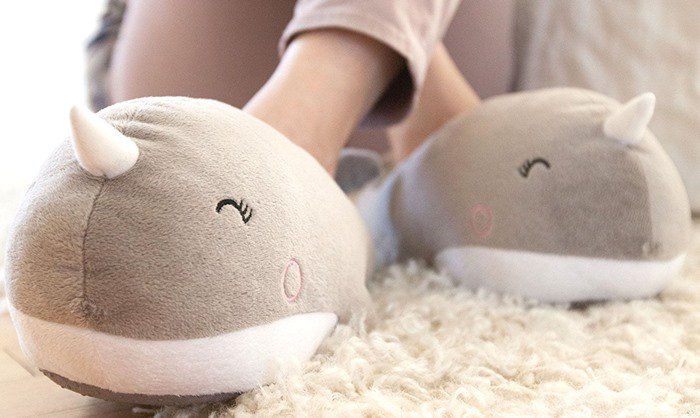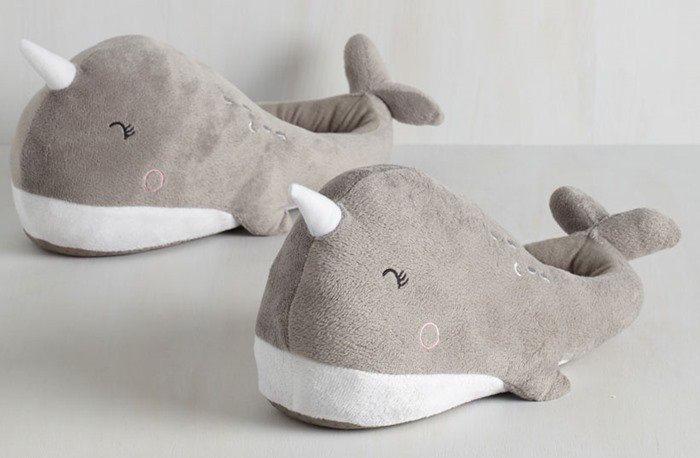 We also love these unique fingerless USB heating gloves that will keep your fingers warm while you're typing. They come in two different colors and are incredibly inexpensive!
USB Heating Winter Gloves, $4.45 at Amazon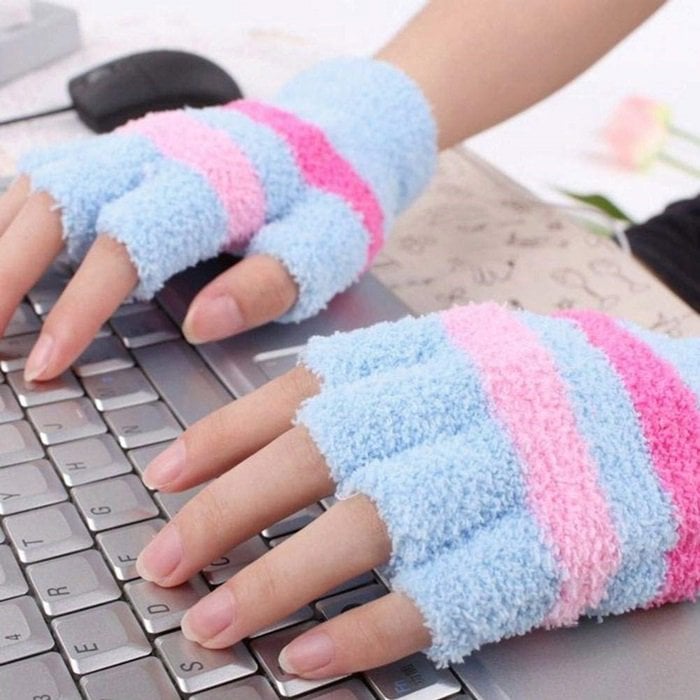 3. Marshmallow Out USB Foot Warmers, $34.99 – $39.99 at Amazon
Treat yourself to toasty toes with these sweet slippers that warm your feet with the power of your computer.
Whether they're camped out beneath your desk or chillin' beside the couch, these plush pals keep you cabin-cozy while they ooze with adorable details, including their grinning graham cracker faces, irresistible chocolate drizzle detail, soft, pillowy, footbeds, and snack-run-ready soles with conveniently grippy dots.
Just connect the included USB cord to your Mac or PC, and this plug-and-'stay' set will melt your heart and make your day!
4. Chocolaticas Snowman Women's Mary Jane Flats, $69.99 at Amazon
Even if you hate snow, how could you possibly resist these adorable Snowman flats from Hot Chocolate Design?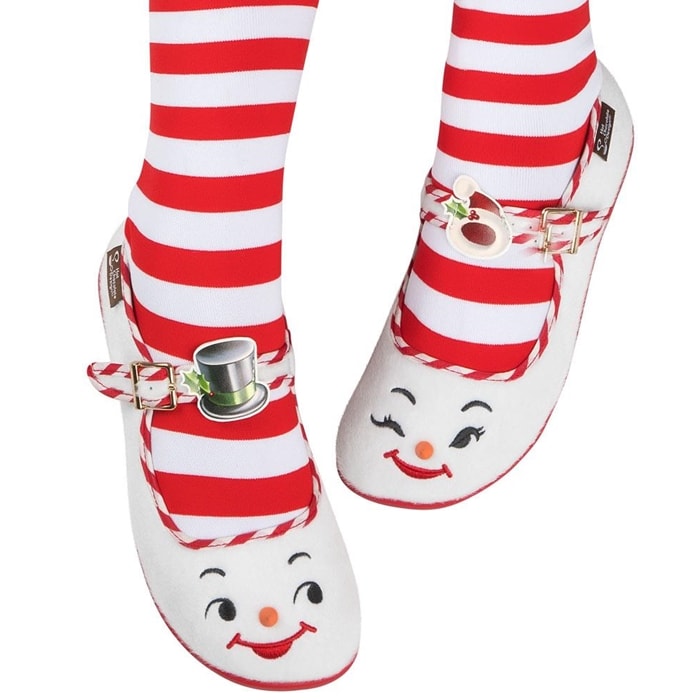 5. Irregular Choice Ava's Aviary Floral Embroidered Wedges, $230 at Amazon
Experience your own aviary, compliments of Irregular Choice. Complete with birds, plants, and flowers, the Aviary inside this wedge represents a little piece of paradise.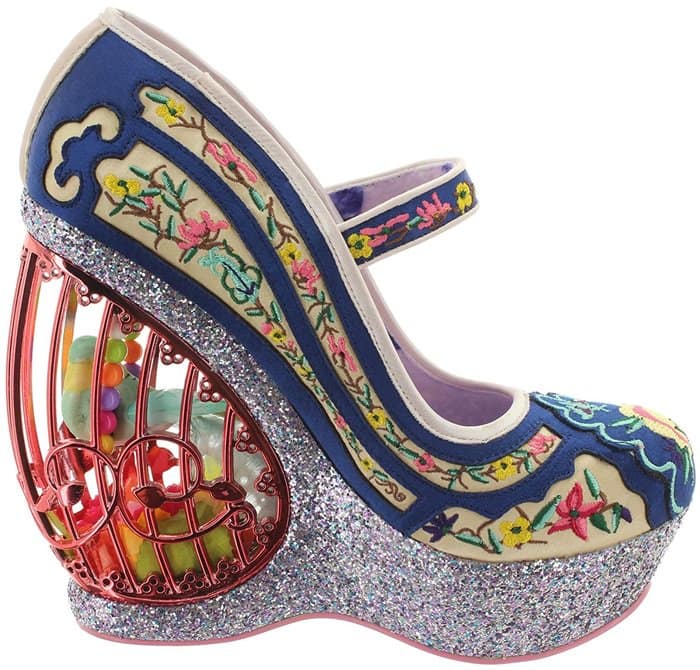 6. Cheer Up Art Painted Canvas Shoes, $70 at Amazon
To bring even more positive energy and cuteness to your life, cover your feet with these feline-inspired kitty canvas shoes.
7. Egg and Bacon Breakfast Mary Jane Flats, $69.99 at Amazon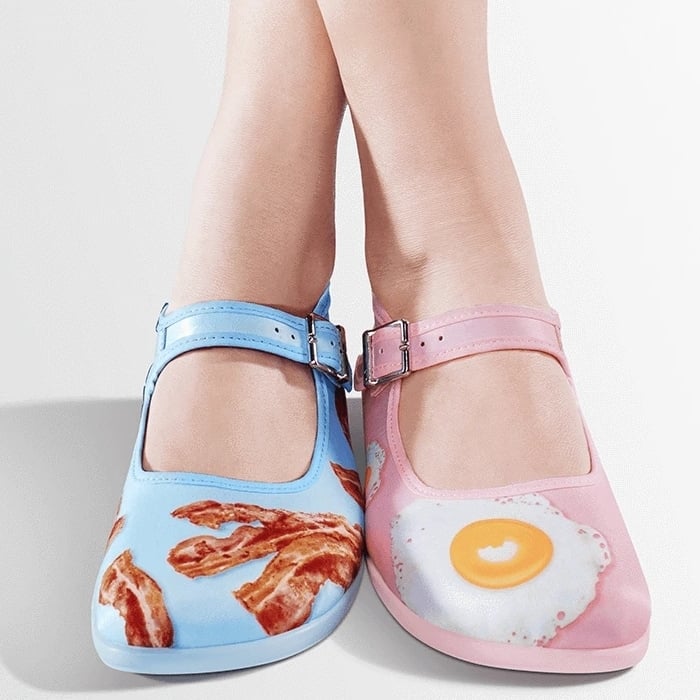 8. Black Unicorn Mary Jane Pumps, $47.49 – $119.99 at Amazon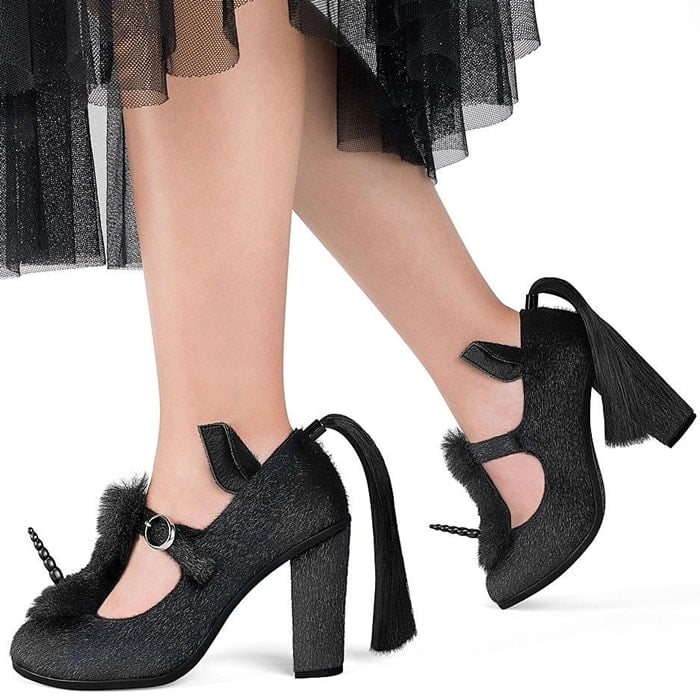 9. Lady Poker Mary Jane Flats, $69.99 at Amazon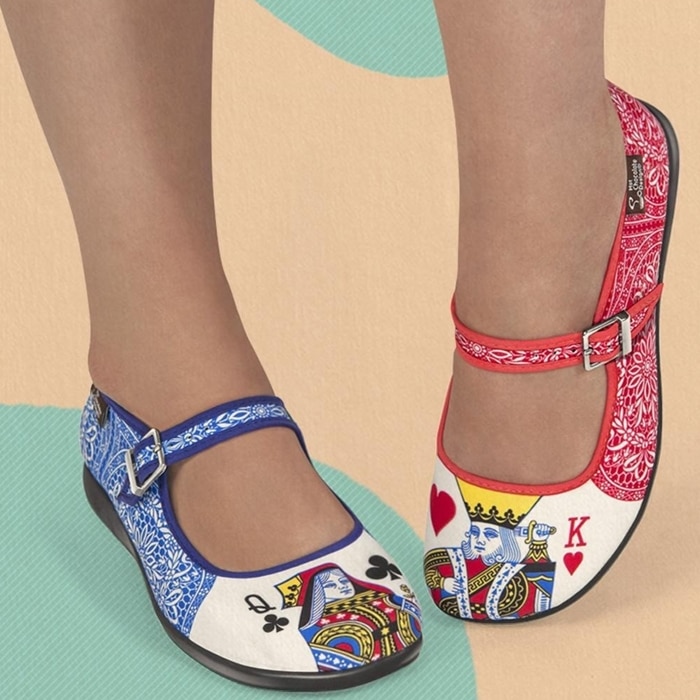 10. Irregular Choice Sleigh Ride Light-Up Christmas Platform Boots, $354.99 at Amazon and Fun
These Irregular Choice Sleigh Ride boots come with a 4-inch heel and a 1-inch platform.
The shoes fit with a zipper along the side. They also feature a light-up function and a rechargeable USB cable, so your feet can light up in style for the holidays.
11. Dr. Martens More Turtle Power to You Leather Boots, $149.99
Come out of your shell with these boots from the Dr. Martens X Teenage Mutant Ninja Turtles Collection.
With flexible leather uppers accented by splashes of glow-in-the-dark goo and your favorite toon turtles, these green boots are the perfect pairing for pizza, pals, and your 'sensei-tional' look, dude!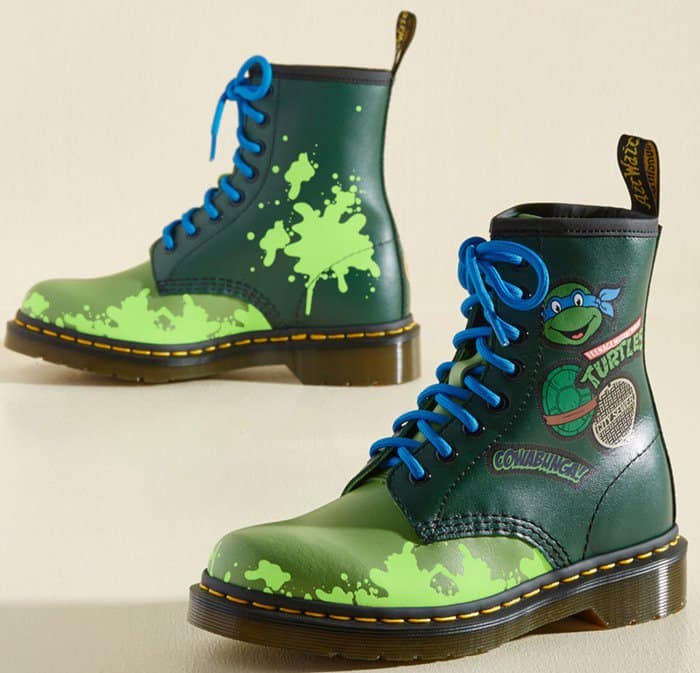 12. Marie Antoinette High Heels, $40.36 – $101.99 at Amazon
These pink heels feature a cameo brooch of the iconic queen, ribbons, flowers, cakes, Marie Antoinette's birth and death dates, and even a guillotine.
13. Dr. Martens Off to a Good Art Leather Boots, $149.99
Black leather boots as bold as these deserve to have outfits revolve around their distinct profile.
In an homage to William Hogarth's "The Rake's Progress", these Dr. Martens richly depict four out of the eight paintings in a collaboration with the Sir John Soane's Museum. Once you step out in their treaded soles, you'll know the day will be a masterpiece!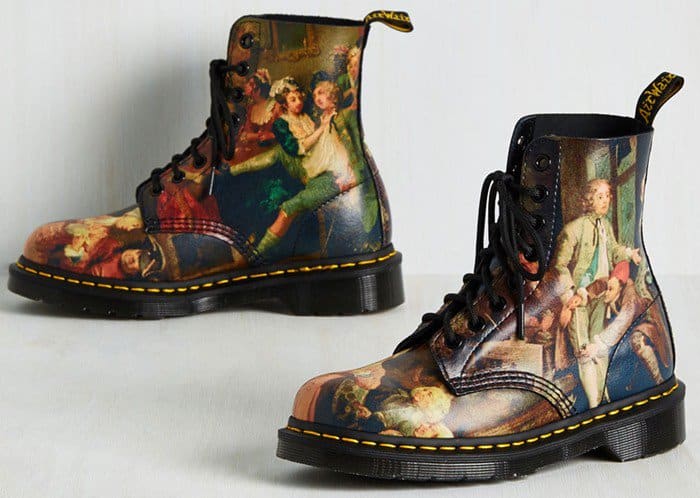 14. Matisse Oh for Heaven's Sleek Boots, $138.99
With their chic silhouette and abstract floral print, these black boots are almost too good to be true. Sharp heels and smooth leather uppers further detail this radically magical pair, easily making them the answer to all of your fashion prayers.
15. Irregular Choice Return of the Jaunty Sneakers, $223.99
Return fashionable footwear to the galaxy by striding out in these hi-top sneakers from Irregular Choice. Each stellar step of this black, Star Wars-themed pair – illuminated by flashing lights in each sole – brings style to this world and beyond.
With sugar skull-inspired Darth Vader tongues, glittery-and-iridescent purple patches, and zipper pockets in which to store movie ticket stubs, these rebellious runners attract admiration from fellow fans.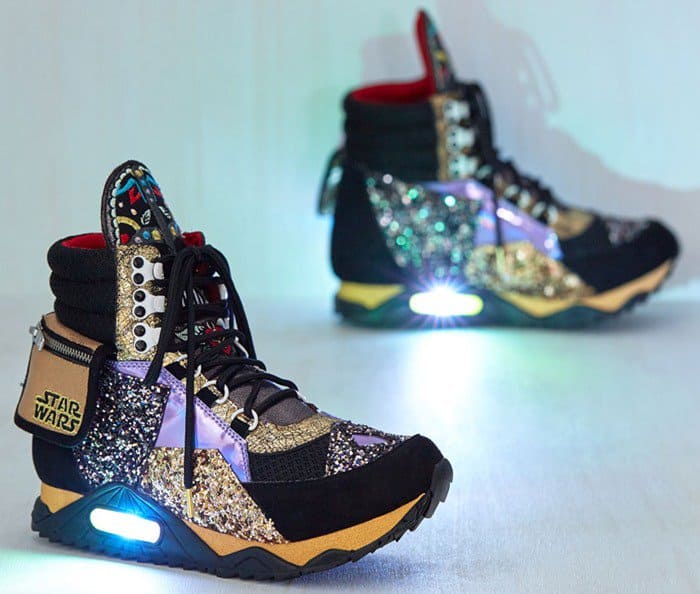 16. Irregular Choice The Frills are Alive Booties, $159.99
With all of their effervescent elements, these grey booties by Irregular Choice will certainly be noticed!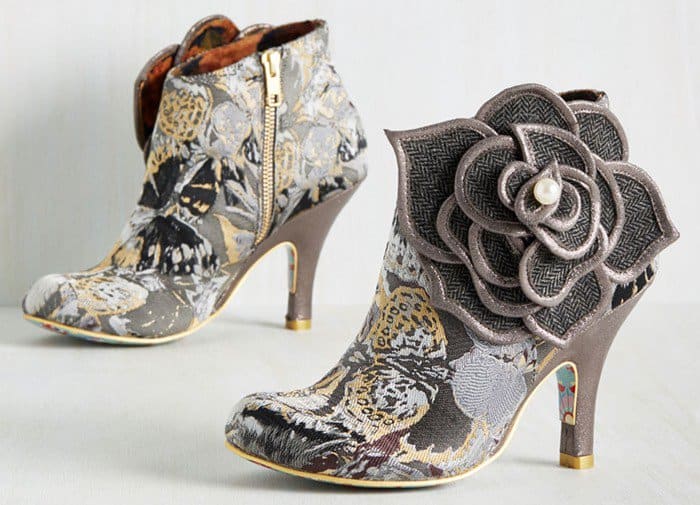 With gold-touched brocade uppers, herringbone flower appliques, and smoky, metallic spike heels, one thing is certain – this haute pair and all of its chic components are nothing short of show-stopping!
17. Wowza Bout That? Heel, $39.99
Though your bold styling has become expected of you, that doesn't mean your red heels won't still impress! Hugged with a velvety faux-suede finish, gathered around the toe caps, and fastened with chic circular buckles, these pumps keep the spotlight right where it belongs – on you!
18. Iron Fist Don't Need No Body Else Boots, $49.99
When you're kicking back on the weekend, your needs are few – but wearing these black and white boots is a must!
Crafted with a Fair-Isle-inspired print that includes the occasional skull, this vegan pair from Iron Fist is the 'soul' requirement for keeping your toes extra-toasty.
19. Dr. Martens Skelly 8-Eye Boots, $139.99
Hold on, there's more to these Dr. Martens than the fact that they're seriously stylish? Of course, there is!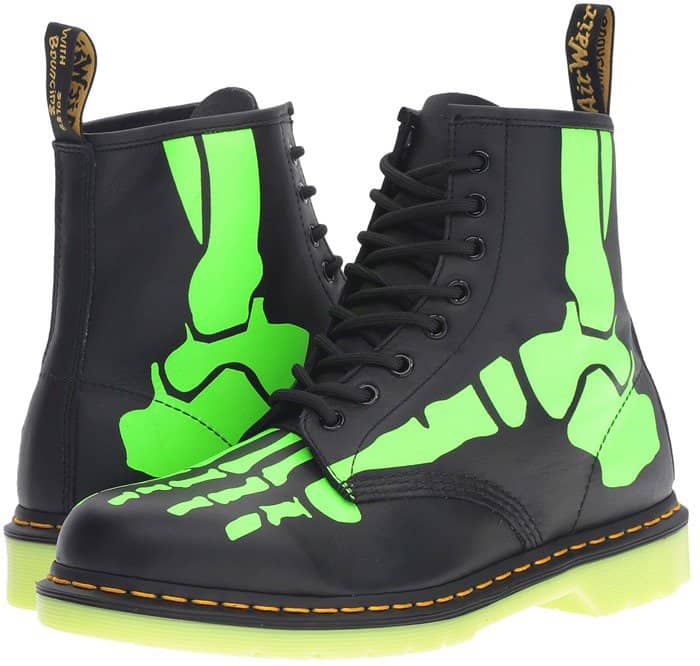 These black boots rock the classic leather uppers and treaded soles that all Docs do, and then then it gets better with a green, glow-in-the-dark skeletal design, making this pair a step above the rest!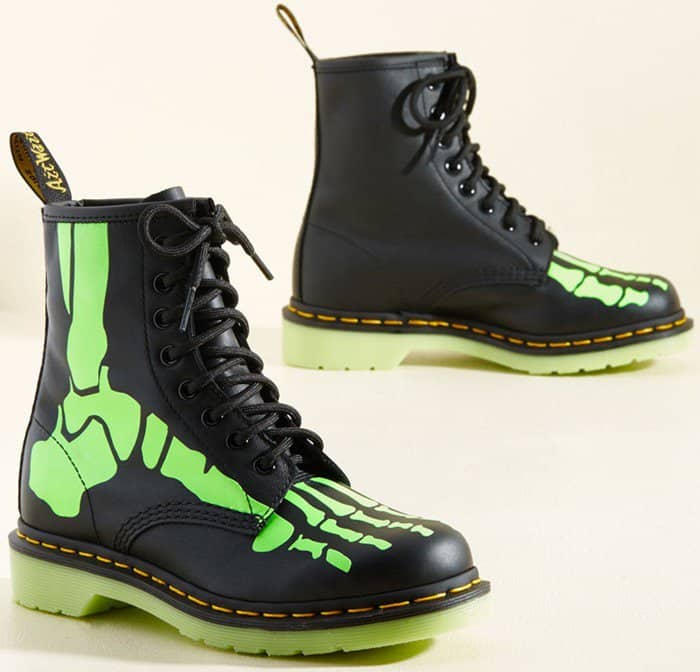 20. Vita Floral Brocade Heels, $59.90 at Team Wardrobe
These gorgeous heels feature a satin upper with a floral brocade design throughout, peep toe silhouette, lace-up front design, and wrapped stiletto heel.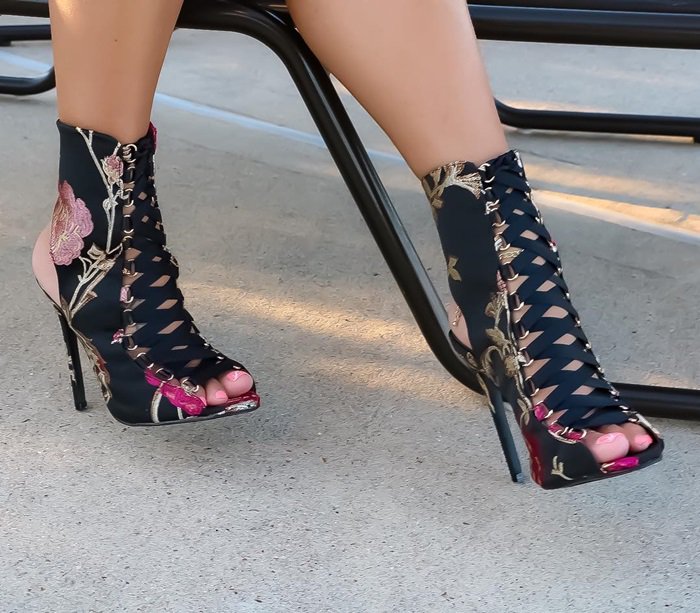 If you're looking for your next Halloween shoes, perhaps we've found the perfect pair for you!