With seven Grand Slam singles titles, 16 Grand Slam doubles titles, and four Olympic gold medals under her belt, Venus Williams has cemented her place in tennis history as one of the greatest tennis players of all time.
But aside from her success as an athlete, Venus has also carved out her name in the fashion industry.
The tennis superstar, who has an associate degree in fashion design, founded the lifestyle brand, EleVen, which provides fashion-forward tennis and everyday outfits.
And just like her sister, Serena, Venus' on-court looks are as amazing as her career highlights.
Venus Williams shows off her chic on-court look during the 2019 Miami Open on March 21, 2019
Off the court, Venus also knows how to serve up winning looks.
Last week, the 40-year-old professional tennis player showed off her fashion credentials as she joined Alicia Vikander at Louis Vuitton's Spring/Summer 2021 presentation during Paris Fashion Week.
Venus Williams attends the Louis Vuitton Spring/Summer 2021 show during Paris Fashion Week on October 6, 2020
Showcasing her fit figure, Venus wore a racing-style black-and-white high-neck Damier mini dress. It features black sleeves with monogram zip detail along the center front, which was slightly unzipped for a sultry look.
Opting for head-to-toe Louis Vuitton, she paired her frock with LV Retro monogrammed oversized leather ski jacket and carried a monogrammed purse also from the French fashion house.
Venus Williams showcases her figure in a Louis Vuitton Damier dress and jacket
Venus accessorized her look further with a pair of large gold hoop earrings and a dainty necklace.
Beauty-wise, the tennis pro wore smokey eye makeup and styled her long, voluminous hair loose with a center parting.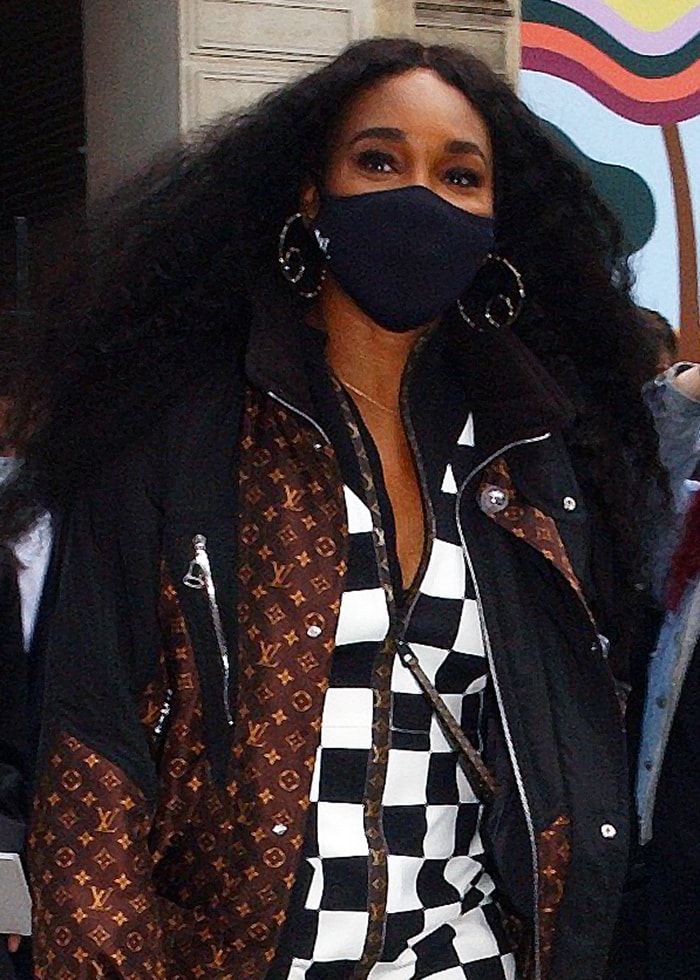 Venus Williams wears her voluminous hair down and stays protected with a Louis Vuitton face mask
Keeping up with this season's combat boot trend, Venus rounded out her look with Louis Vuitton's Wonderland Flat Ranger boots.
These trendy boots feature patent monogrammed canvas with black leather toe caps, heel counters, and wide ankle straps with gold-tone LV Twist buckles. They also have lace-up fastenings with gold-tone eyelets and about 1-inch heels.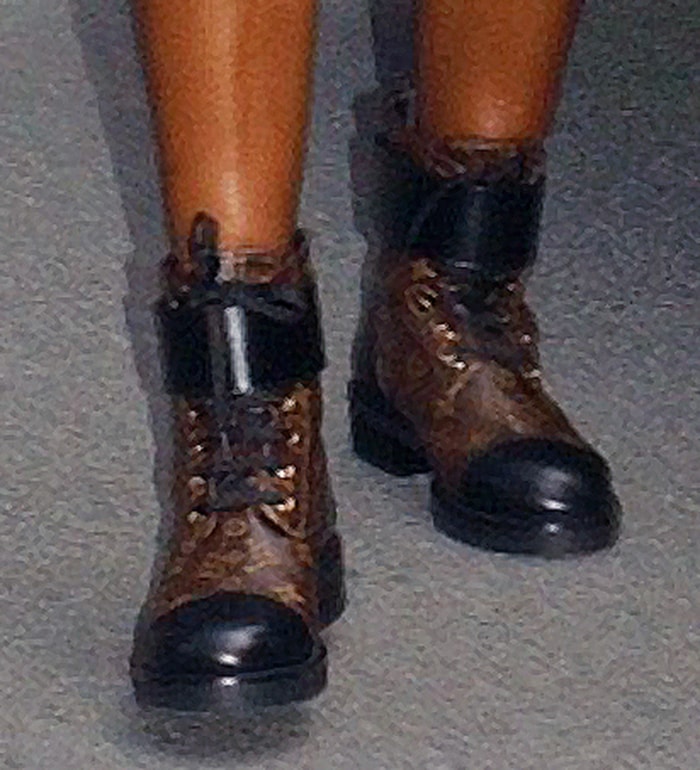 Venus Williams completes her head-to-toe Louis Vuitton look with Wonderland Flat Ranger boots
Louis Vuitton Wonderland Flat Ranger Boots, $1,550
Ranger boot accessorized with the LV Twist buckle seen on leather goods
Is Venus Williams Retiring?
Recently, the champion player sparked retirement rumors, following her loss to Slovakia's Anna Karolína Schmiedlová in the first round of the French Open on September 27.
This was her third consecutive first-round defeat at a Slam after losing in the first round of the Australian Open and the US Open.
Venus said she was "not looking forward yet" to the tennis year 2021.
She told reporters: "I'm going home from here. I'm finished. If there's still a game somewhere, I won't be there."
"It's been a very long year of quarantine. Now I'll get to rest. So I'm looking forward to that."
"I just stepped off the court. So even though it hasn't been a ton of tournaments, it's still been a very long year. So yeah, I'm not looking forward yet," she added.
Credit: Johnny Louis / WENN