Victoria Pedretti is a 26-year-old actress born on March 23rd, 1995 in Philadelphia, Pennsylvania.
She had a relatively normal upbringing (which may be one of the reasons she's still so wonderfully down to earth) but always had an affinity for acting.
The American actress chose to attend the Carnegie Mellon School of Drama to pursue her dreams and graduated in 2017 with a Bachelor of Fine Arts (BFA).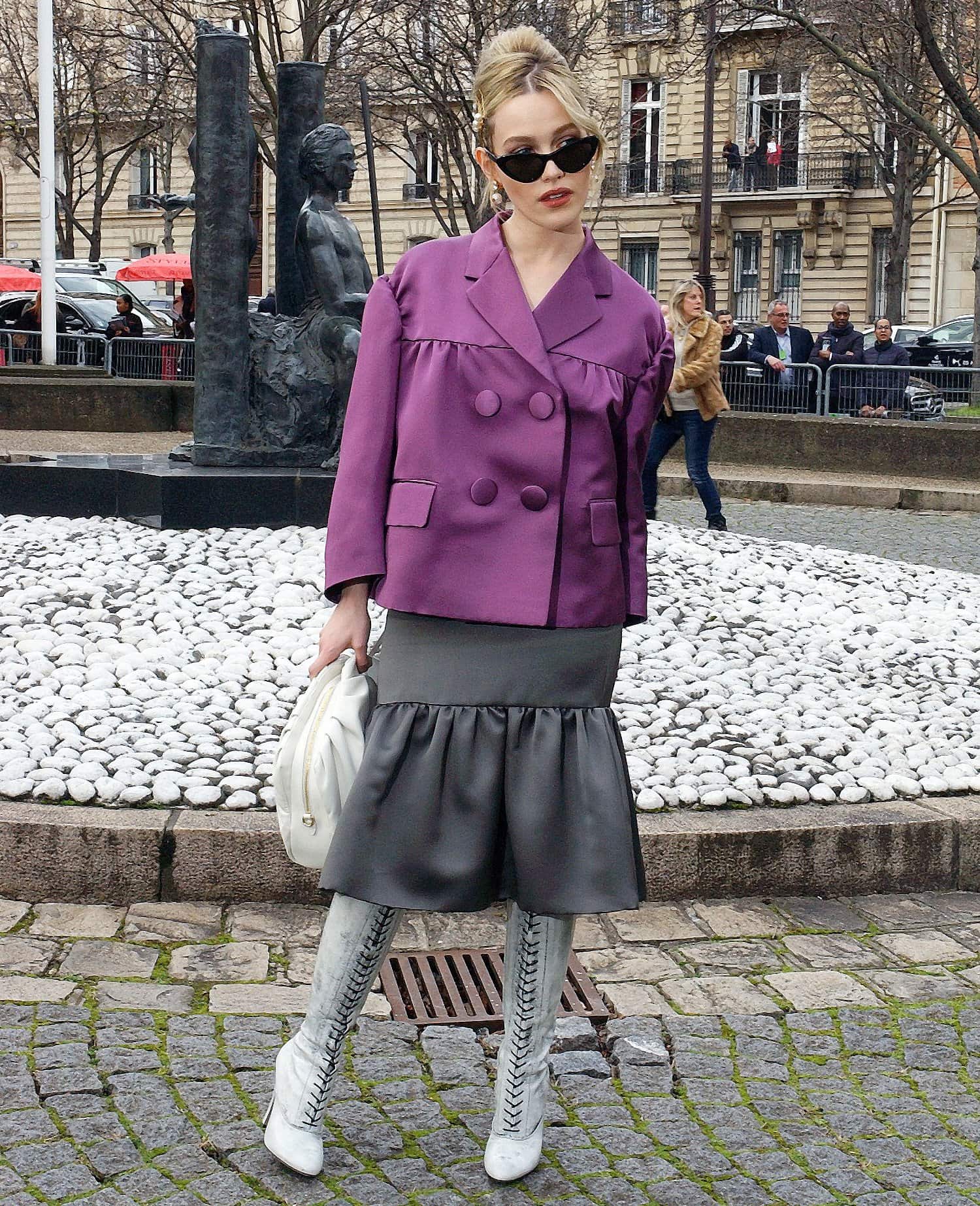 Victoria Pedretti had her breakthrough role as Nell Crain Vance in the Netflix series The Haunting of Hill House (Credit: WENN)
It wasn't long until Pedretti made her mark in Hollywood. Her talent shone, and she got her first big break in the TV world through her role as Nell Crain on The Haunting of Hill House, which came out in 2018.
Her skilled performance quickly gained attention, and it wasn't long before she scooped up other major roles in TV shows.
Most notably, she went on to play Dani Clayton in The Haunting of Bly Manor and Love Quinn on the ultra-popular show You.
Given that both the 'Haunting' series and You are Netflix-specials, the casting department at Netflix is clearly fond of the young actress.
Modern scream queen Victoria Pedretti starred in the Netflix anthology series The Haunting (Credit: Netflix)
However, Pedretti has been strategic in her career thus far and has managed to avoid being stuck in the TV world.
With her casting in Once Upon a Time in Hollywood, she's opened herself up to a whole new level of success when it comes to major motion pictures.
Victoria Pedretti Facts
| How much is Victoria Pedretti's net worth? | She is an American film and television actress with an estimated net worth of $1 million. |
| --- | --- |
| Full Name: | Victoria Pedretti |
| Born: | March 23, 1995, in Philadelphia, PA |
| Is Victoria Pedretti a twin in real life? | No, she does not have a twin sister in real life. She only has an older half-sister who is 25 years older. |
| How tall is Victoria Pedretti? | 5′ 3″ (160 cm) |
| Feet/Shoe Size: | 7 (US) |
| Is Victoria Pedretti related to Hilary Duff? | No, Victoria Pedretti and Hilary Duff are not related. |
| Is Kat Dennings related to Victoria Pedretti? | No, Victoria Pedretti and Kat Dennings are not related. |
| Why is Victoria Pedretti not on social media? | She said in an interview that she feels it's difficult to be authentic on social media. |
| Who did Victoria Pedretti play in the television series You? | She portrayed Love Quinn, the titular deuteragonist in Season 2 as well as the main antagonist of Season 3. |
Who Did She Play in Once Upon a Time in Hollywood?
Once Upon a Time in Hollywood is a Quentin Tarantino film released in 2019 that centers around an aging actor, Rick Dalton (played by Leonardo DiCaprio), and his stunt double slash best friend, Cliff Booth (played by Brad Pitt). The infamous redhead Squeaky Fromme was played by Dakota Fanning in the movie
Rick happens to live next door to Roman Polanski and Sharon Tate. Although the Manson family invariably plays a very large role in the film, in classic Tarantino fashion, the plot is larger than life and puts a new spin on the tragic story.
Victoria Pedretti was cast as Leslie "Lulu" Van Houten in Quentin Tarantino's Once Upon a Time in Hollywood (Credit: Avalon / WENN)
Pedretti plays a member of the Manson family, Lulu, also known as Leslie Van Houten. The real-life Lulu was just 19 years old at the time of the Manson killings.
Victoria Pedretti as Leslie Van Houten in the comedy-drama film Once Upon a Time in Hollywood (Credit: Columbia Pictures)
She was subsequently convicted for murder and has been in prison ever since. Now 72, Van Houten has been denied parole several times- it is unlikely she will ever be released.
How Did She Get Cast?
While the casting process for major movies such as Once Upon a Time in Hollywood (and anything else directed by the famous Quentin Tarantino) is notoriously mysterious, Pedretti gave Collider as much insight as she could during an interview in 2020.
It seems that Tarantino and Pedretti had no sort of relationship prior to her casting in his film, and the actress does not believe he had seen any of her previous work, either.
In fact, Pedretti revealed that she got hired for Once Upon a Time in Hollywood before The Haunting of Hill House had been released, so she had absolutely no mainstream credits to her name yet.
Quentin Tarantino was impressed by Victoria Pedretti's resemblance to the real Leslie Van Houten (Credit: Avalon / WENN)
However, Pedretti stated that Tarantino was seeking a certain level of authenticity when it came to casting the Manson family and was impressed by her resemblance to the real Leslie Van Houten.
Luckily for Pedretti, her looks weren't the only thing she had to offer. The actress joked that her acting skills "didn't suck," so she must have followed up Tarantino's initial interest with a great audition that cemented her in the role.
Victoria Pedretti's Upcoming Roles
So far, Pedretti has had the Midas touch when it comes to choosing acting jobs- from The Haunting of Hill House (and Bly Manor) to You, and, of course, Once Upon a Time in Hollywood, all of her major roles have had worldwide success.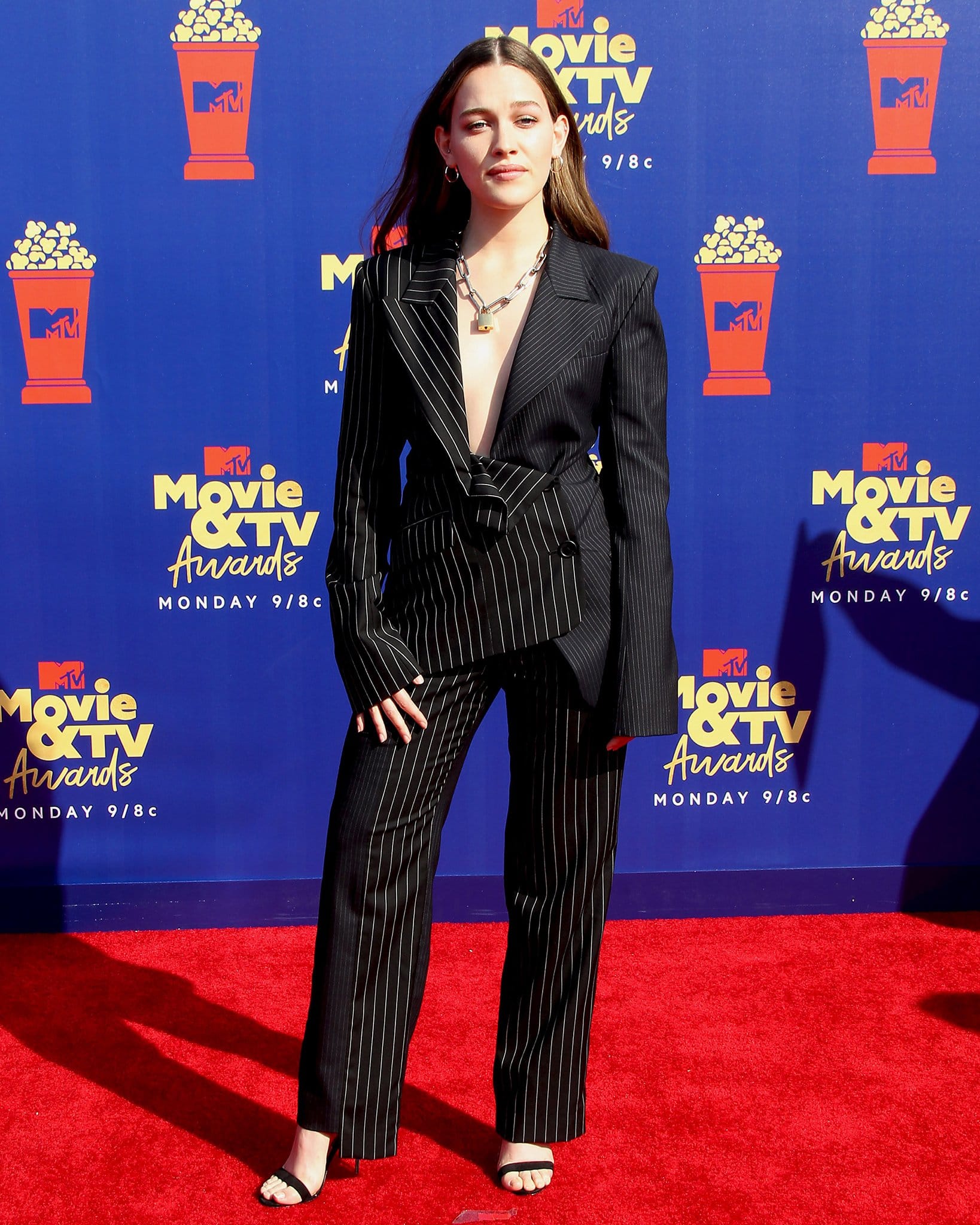 Victoria Pedretti was set to star in Lucky but the film was canceled after losing its funding (Credit: Adriana M. Barraza / WENN)
It seems only logical that she will continue to have the same (if not more) success as she becomes an increasingly household name.
Pedretti was set to star in the upcoming film Lucky, which was to be adapted from Alice Sebold's 1999 memoir. Unfortunately, however, in November 2021, it was announced that the film had lost funding and been dropped.
Although it is unclear what role Pedretti will take on next now that Lucky is canceled, there is no doubt that she will go on to do even greater things than she has so far.
Victoria Pedretti's Newfound Fame
Although Pedretti has certainly made a name for herself thanks to her immense talent, the rising star has seemingly little interest in being known for anything other than her work.
In just three short years since the release of Hill House, Pedretti went from being completely unknown to starring in some of Netflix's largest shows and working alongside A-listers like Leonardo DiCaprio and Brad Pitt.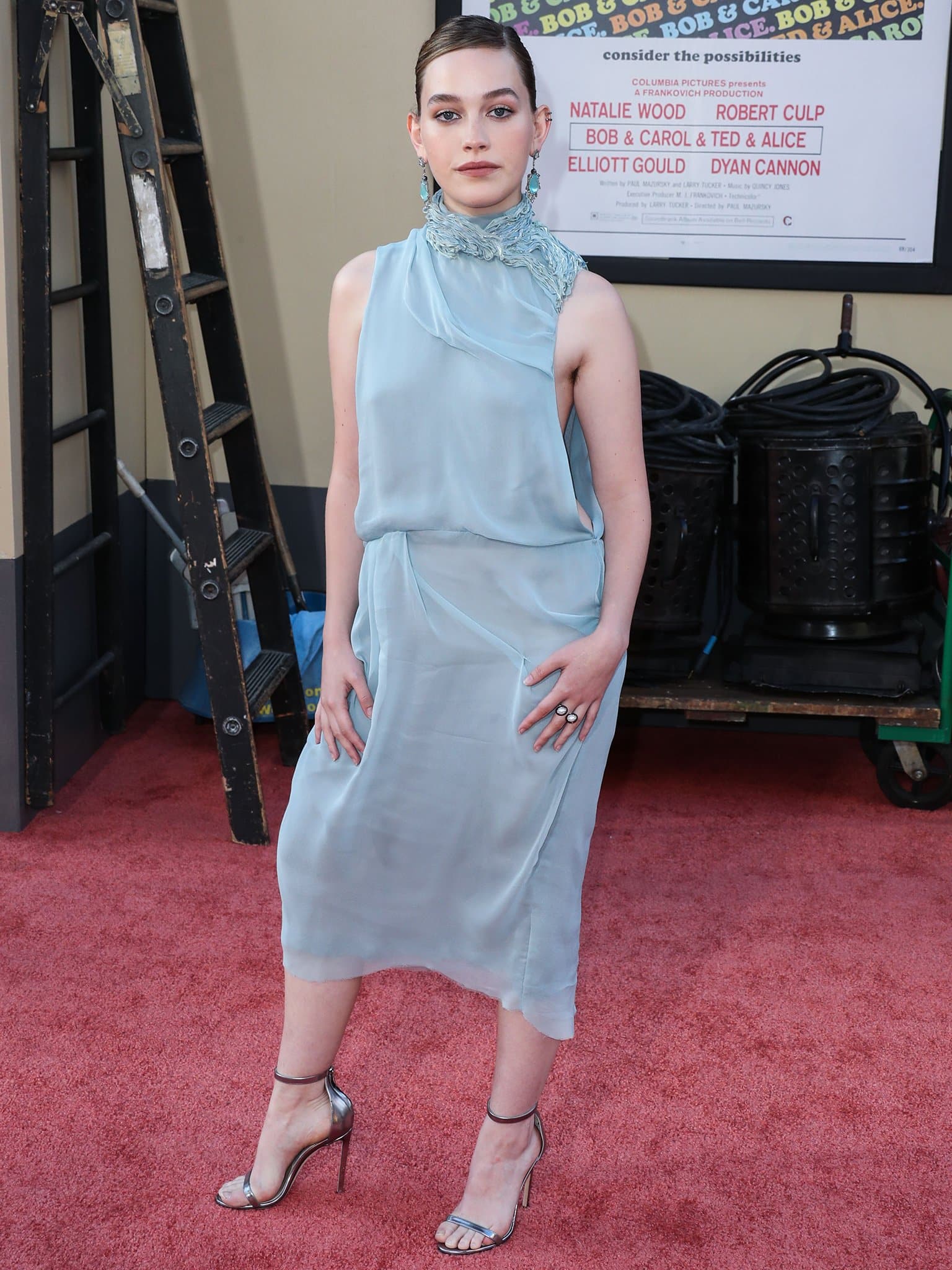 Victoria Pedretti appreciates fans who love her work but hates the poking and prodding some are doing to her personal life (Credit: Avalon / WENN)
However, Pedretti has a refreshingly blunt and logical approach to her newfound fame. In a 2020 interview with InStyle, the actress showed appreciation for the fans of her work, but was not too happy with the poking and prodding some were doing to her personal life.
Pedretti not only shared that she doesn't fall prey to the automatic praise given to celebrities (PSA: do not propose to her on Twitter), but also that she dislikes the constant comparisons made of women- though all women are victims of this, celebrities are particularly vulnerable.
Whether it be Jennifer Garner, Hilary Duff, Kat Dennings, or Rachel McAdams, Pedretti would much rather celebrate individuality than conflate all actresses who vaguely resemble one another. The actresses are not related.
Hilary Duff, Victoria Pedretti, and Kat Dennings look alike but are not related (Credit: FayesVision / Adriana M. Barraza / WENN)
"Again, this inference is a weird thing, that women always get from being children. I get so many [comparisons]. They're not only saying I look like Hilary Duff. They say I look like Kat Dennings, Jennifer Garner, Hilary Swank, Rachel McAdams … And I've been getting all of these things since I was a kid, people have been telling me who I look like," she said about being compared to other talented actresses.
"And I think in a way to compliment me, or make me feel good about the fact that I look like somebody else who is acceptably beautiful in the world. But it's something we generally do far, far more with women. And I think it's worth reflecting on why we do that. Because I don't really look like any of these women. I'm just another white woman with larger lips [who's] very fair. And that is the continuous thing," she added.
"I don't look like these people any more than other people want to say they look like me. And it's just, why is that significant or important or matter at all? Except for your ability to put someone in a box and say, "Well, we've had one of these before. So let's have another one. You're going to serve this role that is being given to you." And it's like, no, I don't want that. Nobody should want that."
Victoria Pedretti shows off her size 7 (US) feet in metallic ankle-strap sandals (Credit: Avalon / WENN)
Pedretti has no interest in being conflated with the characters she plays on-screen, either.
At the end of the day, Pedretti is a talented actress who simply wants to do her job, do it well, and receive praise (when due) for her performance- not for what she ate for breakfast or whomever she may resemble.
To Summarize…
Victoria Pedretti is bound to have worlds of success in Hollywood, as one of the hottest up-and-coming stars. Her role in Once Upon a Time in Hollywood, among others, made sure of that. Time will only tell which role she'll master next.