The reign of sneakers in fashion continues. If you thought it was over, pay a little attention and you'll notice that they've only been de-wedged and restructured in tall, knee-high, and thigh-high designs.
No less than Chanel, Jeremy Scott, and Riccardo Tisci have declared tall sneaker boots as the trend of the current fashion climate, and trendsetters–who are all clearly still in love with comfort–immediately regarded it as the truth.
Ready yourself for this season's hottest shoe trend by taking notes from these trend trailblazers who demonstrate how to wear the difficult-to-style tall sneaker boots:
1. Wear with a t-shirt and denim shorts.
Let's start with something easy: treat sneaker boots just like regular trainers and wear them with your favorite t-shirt and denim shorts. Because sneaker boots are just so hot right now, fashion blogger Chiara Ferragni was able to get away with just wearing a tee and cutoff shorts to New York Fashion Week.
Chiara Ferragni sharing an Instagram pic of her outfit on day 1 of New York Fashion Week Spring/Summer 2015 — posted on September 7, 2014
2. Throw on a pair of tights.
Add a pair of tights to make a shorts-and-t-shirt getup look more dressed up. Miley Cyrus also kept things monochrome for an even sleeker look.
3. Slip on oversized t-shirts and sweaters.
Just how slipping on an oversized t-shirt or sweater is the coolest way to wear thigh-high boots, it's also the easiest way to pull off tall sneaker boots. Jeremy Scott sent a couple of similar looks down the runway of his locker-room-inspired fall 2014 fashion show.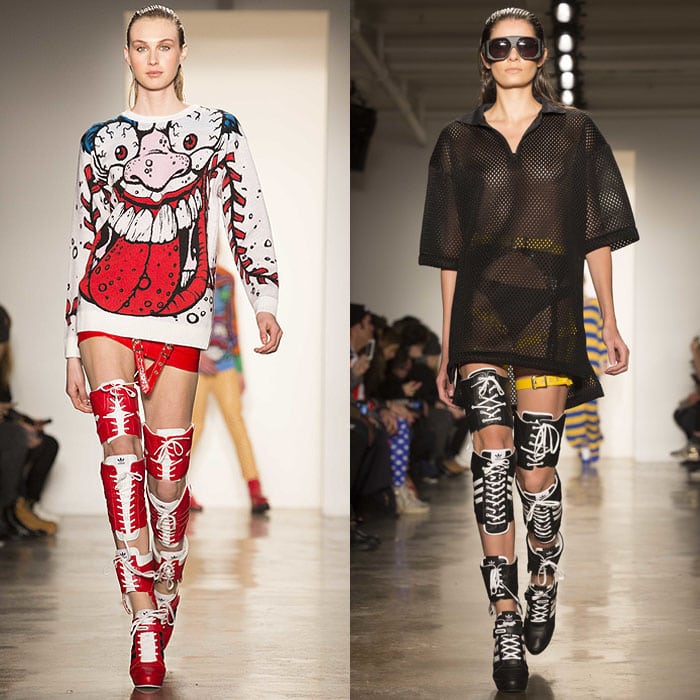 Looks with thigh-high versions of adidas Originals sneakers from the Jeremy Scott fall 2014 fashion presentation shown during Mercedes-Benz New York Fashion Week Fall/Winter 2014 in NYC on February 12, 2014
4. Pair with a sports jersey.
Go along with the sporty style of sneaker boots and pair them with jersey. Wear one from your favorite team or your favorite designer like Fergie.
Fergie arriving to catch a flight out of the LAX Airport in Los Angeles, California, on September 20, 2014
5. Match with streetwear clothes.
Speaking of going along with the style, sneaker boots are also made to be paired with streetwear. Ciara demonstrates in a striped nylon jacket, leather shorts, and Chanel thigh-high sneakers.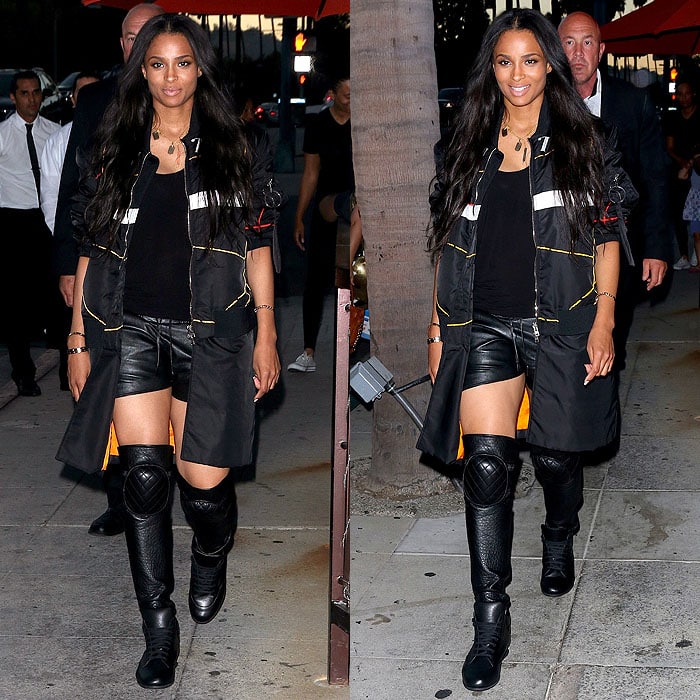 Ciara leaving the Crustacean Restaurant in Beverly Hills, California, on August 28, 2014
6. Go hard in a tough look.
You can even go harder and completely rough it up in sneaker boots. Singer Teyana Taylor styled her Nike x Ricardo Tisci Air Force 1 tall sneakers as if they were combat boots.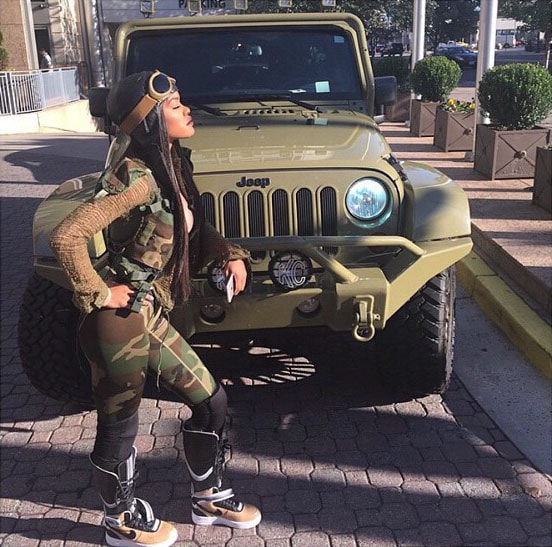 Singer Teyana Taylor sharing an Instagram pic captioned, "Call Of Duty… Howard Homecoming edition." — posted on October 17, 2014
7. Contrast with a sleek and tailored ensemble.
You can also go the complete opposite route. Celebrity stylist Shun Melson contrasts the bulky silhouette and sporty style of her Nike RT Air Force 1s with a slim peacoat, a sleek turtleneck, and black leggings.
Celebrity stylist Shun Melson in an Instagram post captioned, "Somebody forgot to tell NY it's spring now #38degrees: — posted on March 24, 2014
8. Do a 180 and wear with a fancy dress.
Achieve yin-and-yang and contrast sneaker boots with lacy dress. Be convinced by the fact that Riccardo Tisci himself saw his Nike Air Force 1 sneaker designs paired with a Victorian dress in his mind's eye.
Vogue Fashion News Director Chioma Nnadi sharing a pic on Instagram captioned, "Almost destroyed a 100 year old dress over a layup #smh #fashiongirlproblems" — posted on April 2, 2014
9. Experiment with an avant garde style.
Since sneaker boots have that different, alternative appeal, they would blend with an avant garde style like Anna Dello Russo's Rick Owens ensemble.
Anna Dello Russo in Rick Owens at Paris Fashion Week Spring/Summer 2015 in Paris, France, on September 27, 2014
10. Wear with head-to-toe Chanel.
If all else fails, wear tweed sneaker boots with head-to-toe Chanel. Who's to question your style when you're wearing a look straight off the Chanel fall 2014 runway?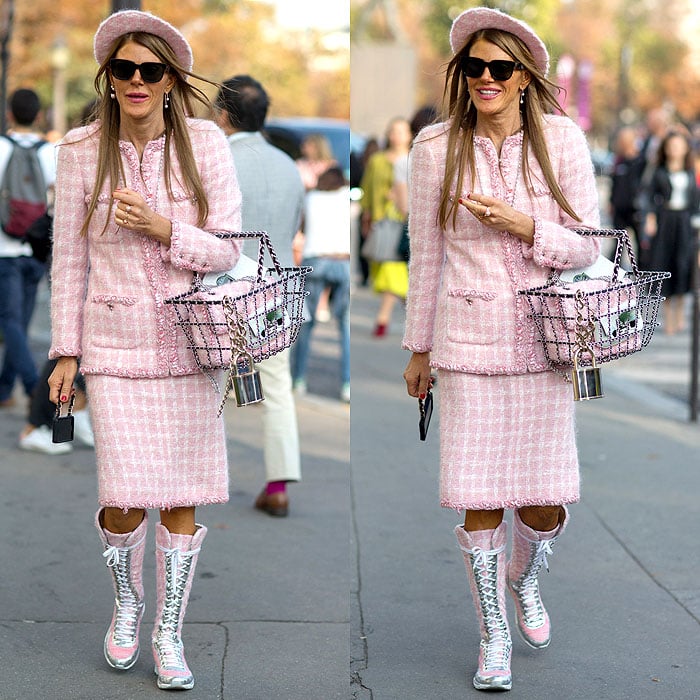 Anna Dello Russo in Chanel at Paris Fashion Week Spring/Summer 2015 in Paris, France, on September 30, 2014
Ready to get styling? Grab your own pair of tall sneaker boots: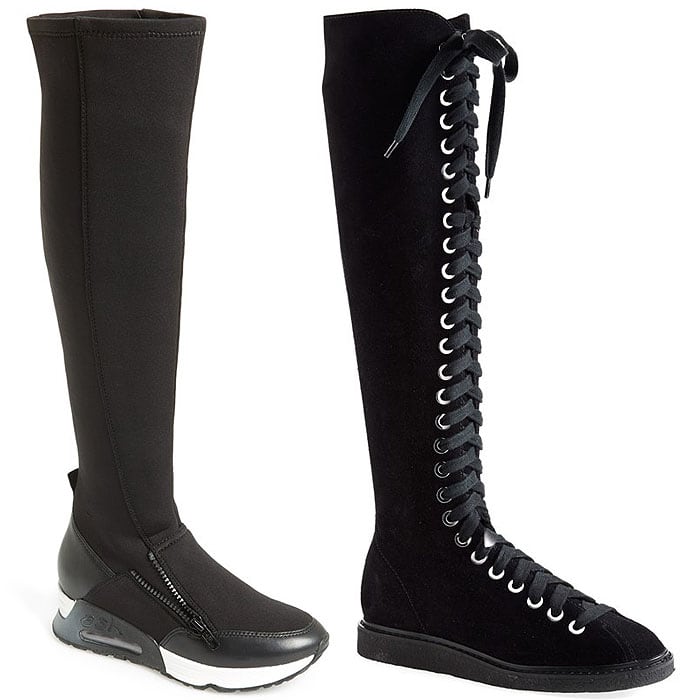 Ash "Lynx" Tall Stretch Sneaker Boots, $179.96 to $295 / Alexander Wang "Emmanuel" Knee-High Sneakers, $950
Credit: Jeff Grossman / Winston Burris / The Styleograph /  WENN