Here's an early review of 2014 … as measured in shoes. Ugly Birkenstocks, Victoria Beckham obsessing over flats, pregnant models walking the runway in heels — these are the bizarre shoe moments that defined the year for fashionistas.
1. Emma Thompson Threw Her Louboutins Over Her Shoulders at the Golden Globes
Emma Thompson ditched her Louboutins and walked barefoot on stage to present an award. A week later at the SAG Awards, she didn't even try wearing heels and just went in flats (although they're still Louboutins).
2. Kate Bosworth helped Your Next Shoes Identify Her Shoes
We asked Kate on Twitter about the gorgeous pair of flats she was spotted wearing at LAX, and she replied that they were Dior.
Kate Bosworth arriving at LAX in Los Angeles on January 21, 2014
3. Kim Kardashian Shared Her, Kanye's, and Baby North's "Famleezys"
Kardashian-Wests: taking coordinating family outfits to a whole new level.
Kim Kardashian's Instagram photo of her family's matching Nike Air "Yeezy II" sneakers captioned "#Famleezys!!!" – posted on February 16, 2014
4. Victoria Beckham Actually Wore Flats
Victoria "I can't concentrate in flats" Beckham said that she was obsessed with her flat Manolo Blahnik oxfords. A month later, Victoria tweeted a picture of herself wearing Casadei high-heeled booties while on a treadmill.
Victoria Beckham heading to an office in New York City on February 11, 2014
Victoria Beckham trying out a treadmill desk while wearing high-heeled booties in a snap she shared on Twitter on March 12, 2014
5. Karlie Kloss also Wore Flats … on the Red Carpet … Twice
Not that she needs the height from heels. Karlie Kloss wore Chanel flats to the amfAR 21st Annual Cinema Against AIDS Gala and Valentino flats to the 2014 Cannes Film Festival.
Karlie Kloss at the amfAR 21st Annual Cinema Against AIDS Gala held during the 67th Cannes Film Festival at Hotel du Cap-Eden-Roc in Cap d'Antibes, France, on May 22, 2014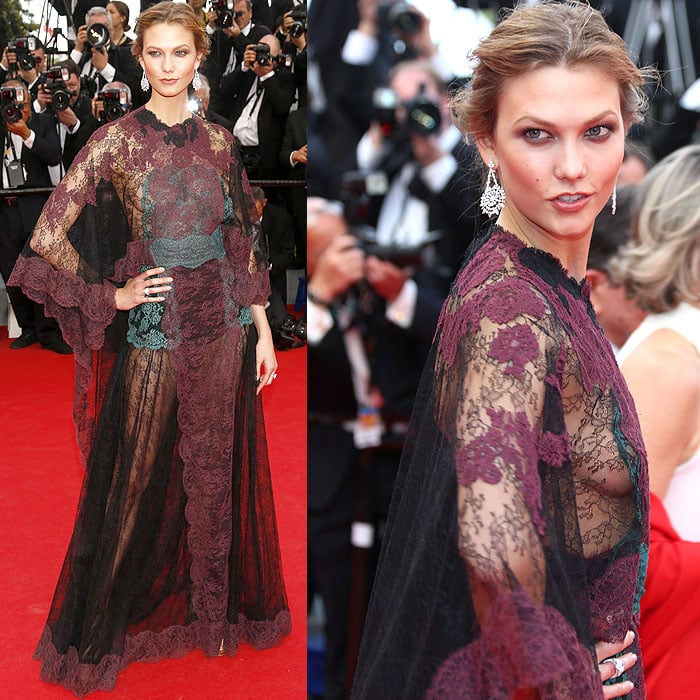 Karlie Kloss at the Opening Ceremony of the 67th Annual Cannes Film Festival in Cannes, France, on May 14, 2014
6. Angelina Jolie Wore Shoes That Were Not Black
Is this for real? Are our eyes deceiving us? Angelina Jolie wore gold Saint Laurent "Jane" sandals for a date night with Brad Pitt in Australia.
Angelina Jolie and Brad Pitt greeting fans before heading to dinner at the Shipwreck Bar & Grill in Airlie Beach, Australia, on February 4, 2014
7. Dita Von Teese Wore Sneakers
2014 was the year when the things we thought were impossible actually happened.
Dita Von Teese's Instagram photo with the caption, "My attempt to look chic in these trainers they made me wear at the detox spa in Sicily." – posted on January 29, 2014
8. Chanel Made Errand-Running Sneakers and Supermarket Shopping Look Chic
We don't blame the models and the fashion show attendees for taking the Chanel-branded cereal, rice, cotton balls, and doormats off the shelves.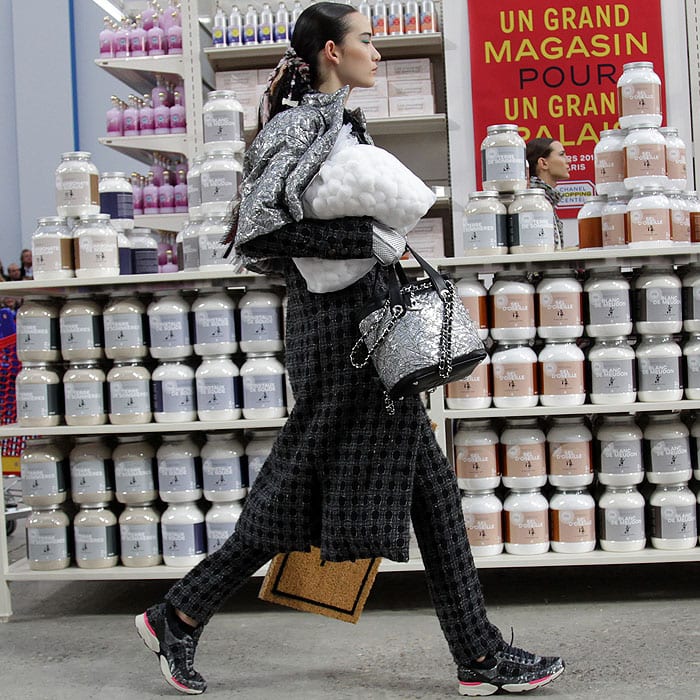 A model walking in the Chanel fall 2014 fashion presentation at the Grand Palais in Paris, France, on March 4, 2014
9. Kate Middleton Managed to Look Regal While Wearing Heels in the Sand
Does becoming a royal give one levitating powers, too? The Duchess of Cambridge and her cork heels just would not sink in the sand.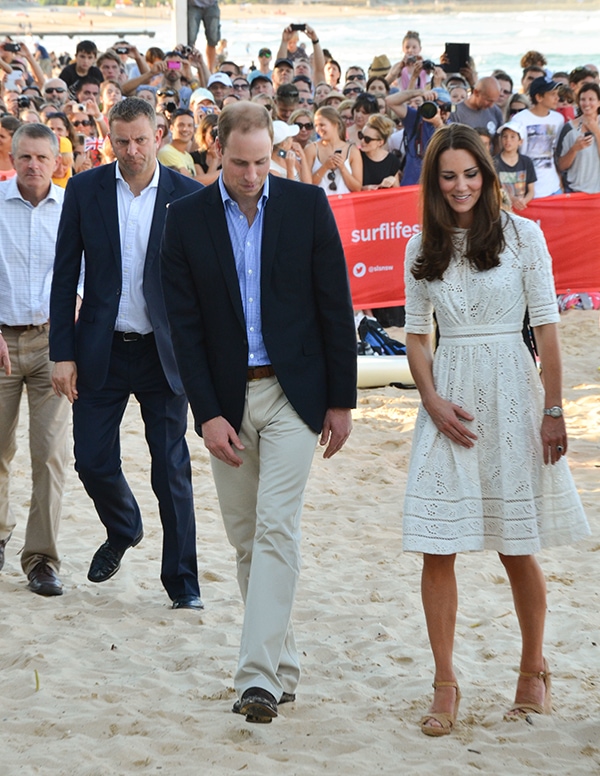 Catherine, Duchess of Cambridge, and Prince William, Duke of Cambridge, visiting Manly Beach on Sydney's north shore during their royal tour of Australia on April 18, 2014
10. Shailene Woodley Went Barefoot on the Red Carpet Again
Recreating the barefooted moment she had at The Spectacular Now premiere in 2013, Shailene Woodley showed the tree-hugger side of her personality once again at the Divergent premiere in Germany.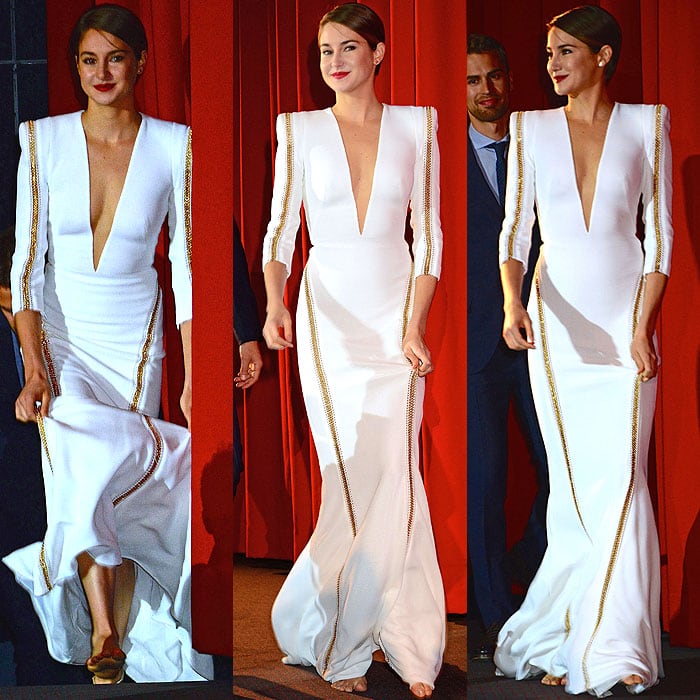 Shailene Woodley walking up on stage at the Divergent premiere held at the Cinestar am Potsdamer Platz in Berlin, Germany, on April 1, 2014
11. Angelina Jolie had 'Maleficent' Shoes Custom-Made by Christian Louboutin
The 'Maleficent' shoes come in white, black, gold, and red, and Angelina, of course, has all the colors.
Angelina Jolie at the Maleficent photocall at the Corinthian Hotel in London, England, on May 9, 2014
12. Mariah Carey Rode the Subway in a Gown and Stilettos
The funny thing was that Mariah Carey changed out of Sergio Rossi heels and into Gianvito Rossi heels as if they were any more comfortable for riding the subway.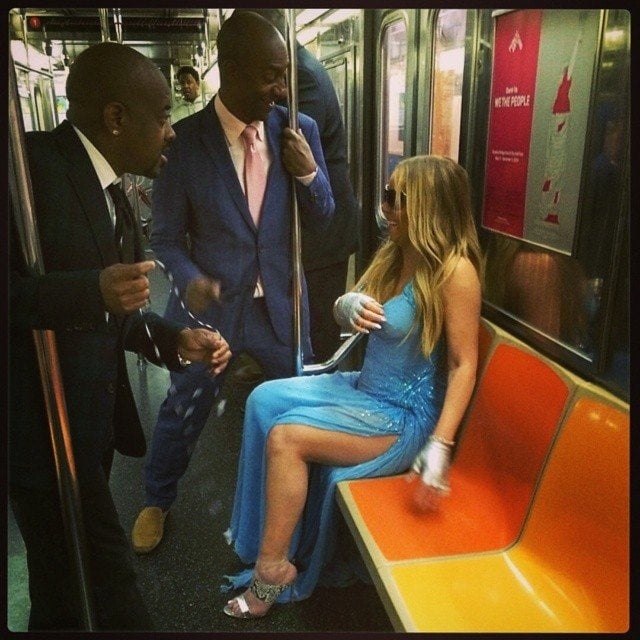 Mariah Carey riding the New York subway in a Versace gown and Gianvito Rossi stilettos – posted on Instagram on May 30, 2014
13. Pregnant Models Sashayed in Lingerie and Heels
Uyo Okebie-Eichelberger, founder and designer of You! Lingerie, introduced her new line of intimates using pregnant (and brave!) models.
Lingerie Fashion Week Spring/Summer 2015 at Center 548 in New York City on October 25, 2014
14. Ugly Shoes Became a Thing
In 2014, the clunkier, the uglier, and the more man-repelling the footwear, the better.
Jeffrey Campbell "Romero" Sandals, $95
Credit: Alberto Reyes / Daniel Deme / Dave Bedrosian / Lia Toby / Patrick Hoffmann / AEDT /
Credit: FayesVision / Future Image / JSB / LJPhotoCorp / PixPlanete / SIPA / VILLARD / WENN
Credit: Kim Kardashian, Victoria Beckham, Dita von Teese, and Mariah Carey's Instagram