Anya Taylor-Joy is one of the most popular up-and-coming actresses in the past five years, as the talented performer has been picking up roles at an exciting rate.
With her dazzling beauty, exceptional grace, and ability to pull off nuanced performances, she's quickly becoming the talk of Hollywood and beyond.
Anya Taylor-Joy in a white Dior Fall 2022 dress with a gold collar necklace and Tiffany & Co. Schlumberger bracelet, rings, and earrings at the Los Angeles Premiere of "The Northman" at TCL Chinese Theatre on April 18, 2022, in Hollywood, California (Credit: DFree / Shutterstock)
Although best known for her role in the Netflix series The Queen's Gambit, Anya Taylor-Joy has had a decent number of parts in feature-length films as well.
Today, we're taking a look at this young starlet as we count down Anya Taylor-Joy's top 10 movies, ranked in order by their Rotten Tomatoes critics score!
Before Anya-Taylor Joy Was a Star
Anya Taylor-Joy was born in the sunny city of Miami, Florida on April 16, 1996. Since her parents were on holiday in the United States, Taylor-Joy received citizenship, despite leaving the country soon after.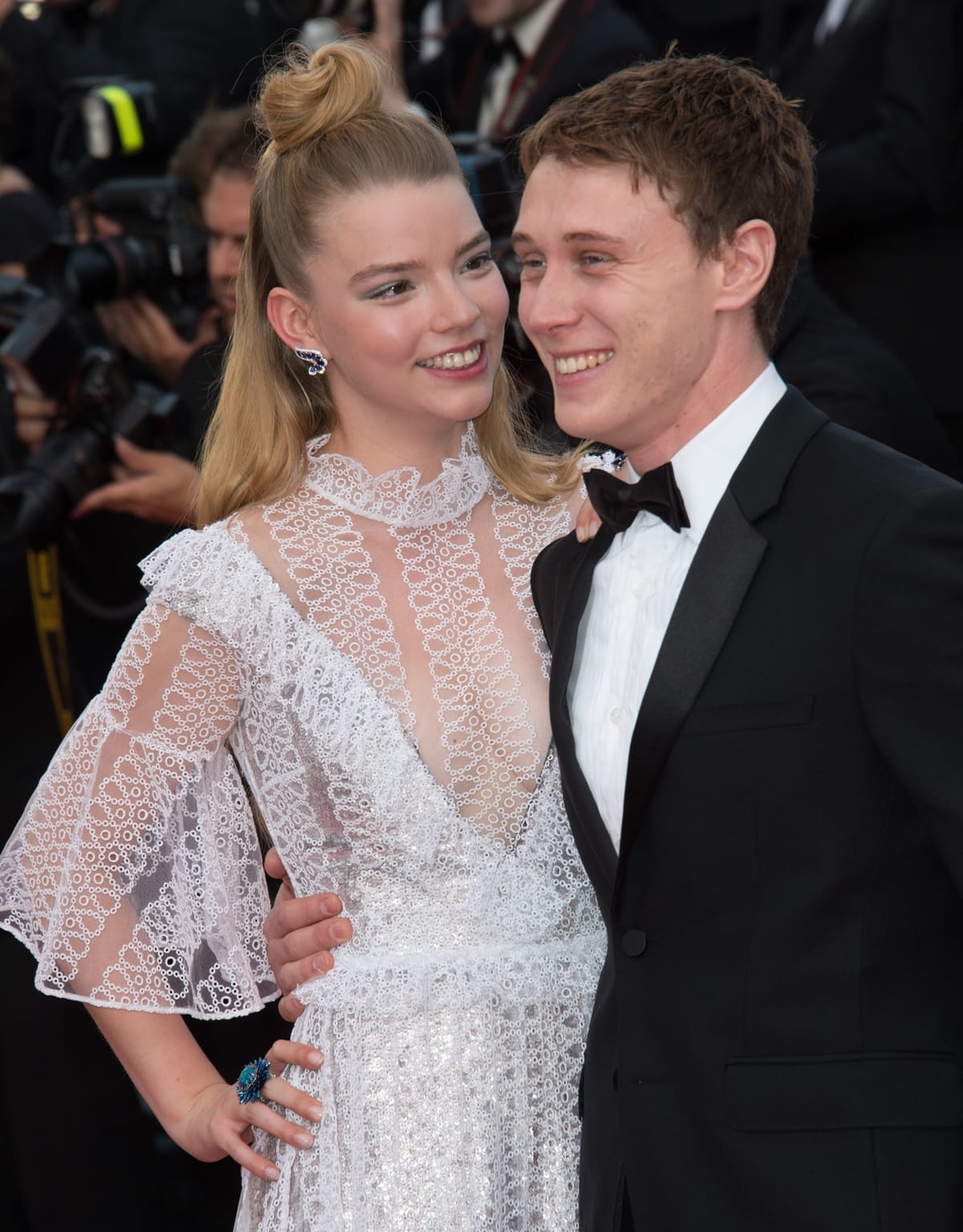 Anya Taylor-Joy and her Marrowbone co-star George MacKay at the "The Meyerowitz Stories" screening during the 70th annual Cannes Film Festival at Palais des Festivals on May 21, 2017, in Cannes, France (Credit: Jaguar PS / Shutterstock)
Before she made a name for herself in Hollywood, the actress lived in Buenos Aires, Argentina, until she was six years old, when her family moved to London.
Growing up in the United Kingdom, Anya was less than happy, as she felt forcibly removed from her home country and desperately wished to return.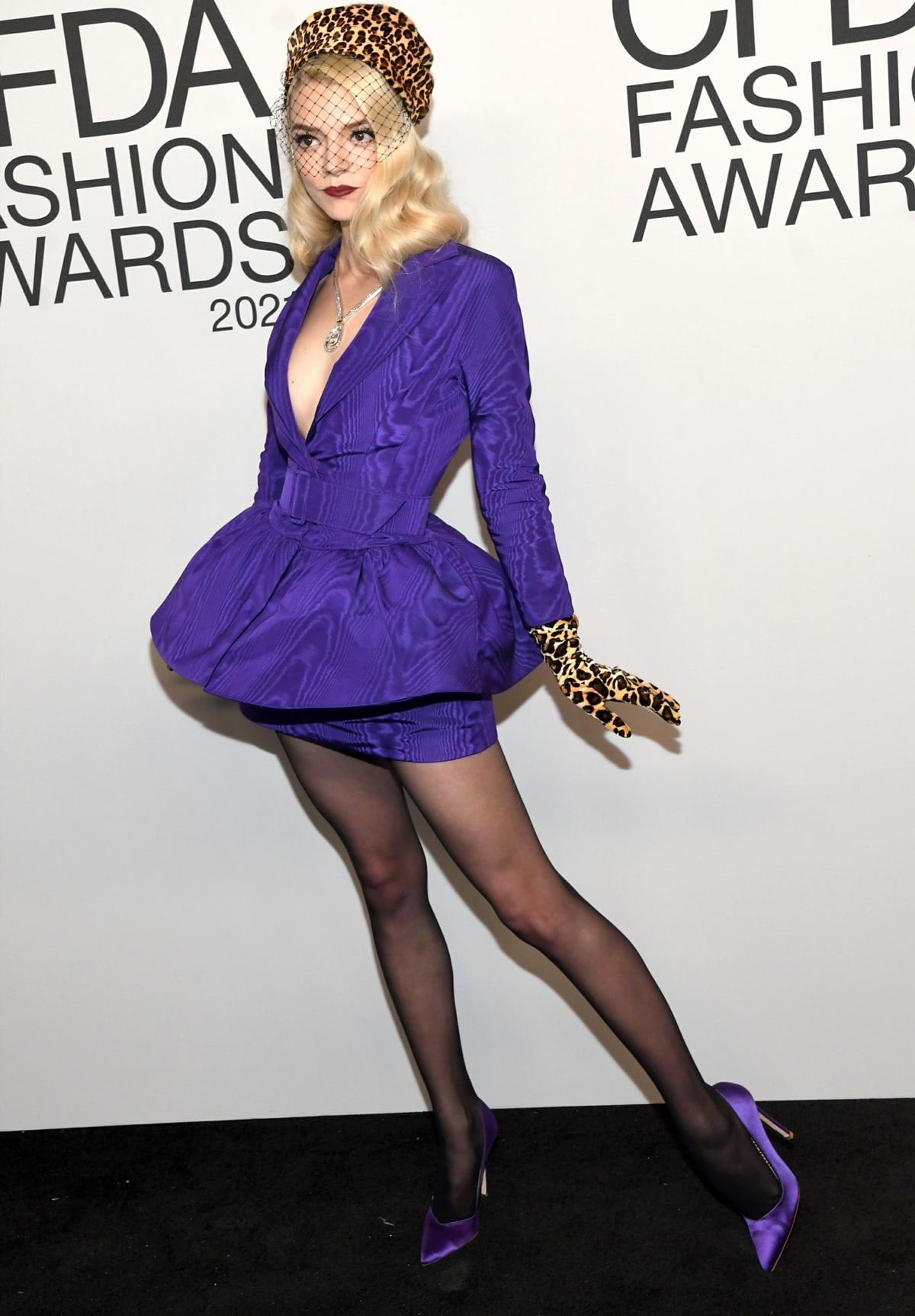 Anya Taylor-Joy flaunts her legs in a purple Oscar de la Renta blazer mini dress paired with an animal print Gigi Burris hat at the 2021 CFDA Awards at The Seagram Building on November 10, 2021, in New York City (Credit: Media Punch / INSTARimages)
She furthered her education at a handful of schools, focusing primarily on acting and dancing, specifically ballet.
At 16 years old, Anya Taylor-Joy dropped out of school after relentless bullying from classmates.
Due to her upbringing and movement from country to country, she was teased by her peers and even shoved into lockers.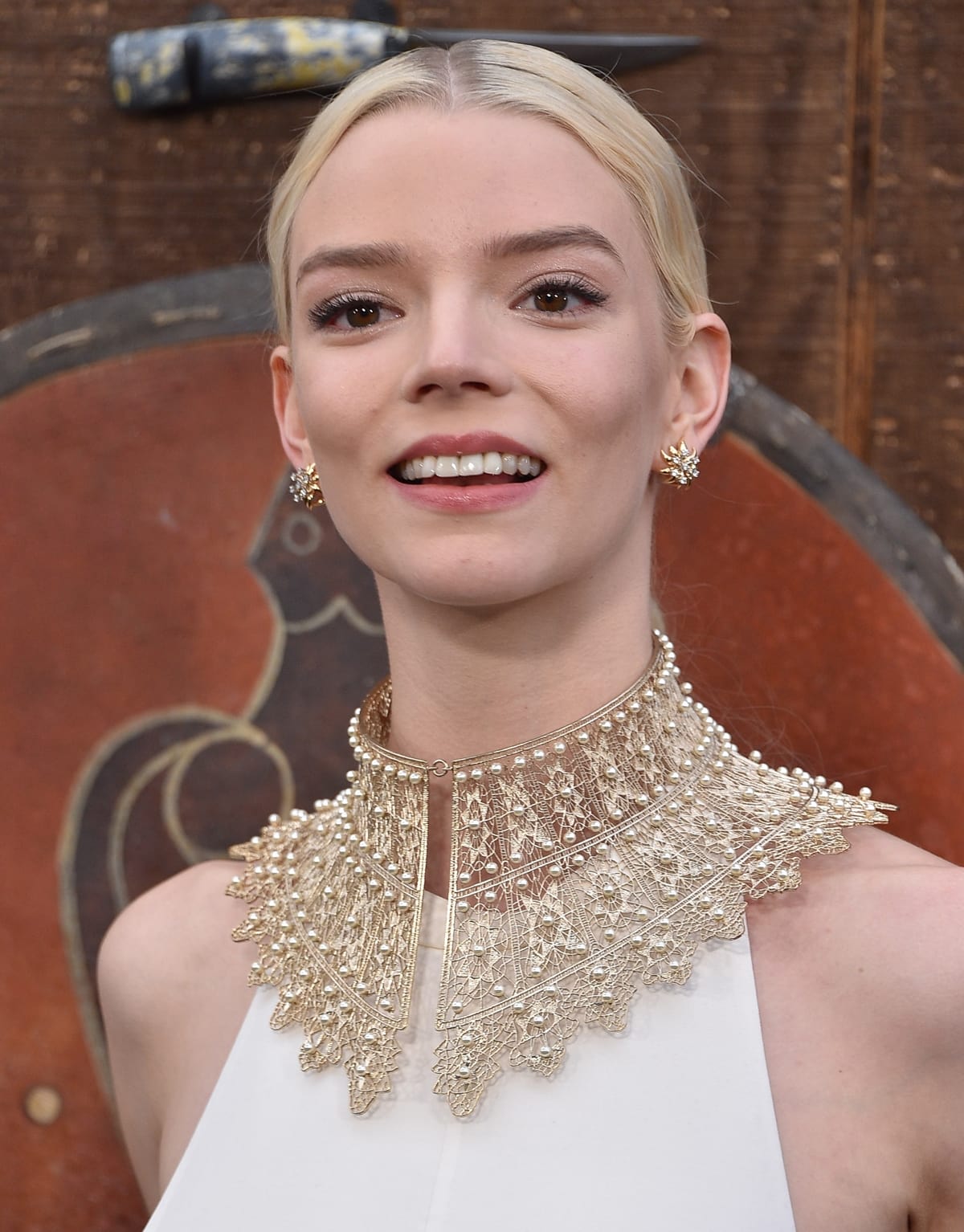 Anya Taylor-Joy became famous for playing Beth Harmon in the critically-acclaimed Netflix series The Queen's Gambit (Credit: DFree / Shutterstock)
One year later, she was recruited to be a model when a scout noticed her walking her dog. By the following year, Anya had already landed her first role in the film Vampire Academy, although her part was ultimately removed from the final cut.
10. Morgan (2016) – 37% Score
Directed by Luke Scott and written by Seth Owen, Morgan is a sci-fi thriller and Anya Taylor-Joy's second feature-length film appearance at just 19 years old.
Set in the near future, the movie follows a group of risk-management consultants who must decide whether or not to end the life of an artificial human.
Despite its hefty themes and philosophical message, the movie was poorly received, regardless of the praise Taylor-Joy received for her role.
Anya Taylor-Joy as Morgan in the 2016 science fiction thriller film Morgan (Credit: 20th Century Fox)
In the film, Anya Taylor-Joy plays the eponymous part of Morgan, a hybrid humanoid who is capable of growing and learning faster than her biologically "pure" counterparts.
Taylor-Joy perfectly captures the deceptive deadliness of the unruly experiment, showcasing an attitude that would eventually dominate her later roles.
Unfortunately, the movie failed to make an impact with critics or casual movie-goers and was ultimately panned by all audiences. After just two and a half weeks, Morgan was pulled from theaters, ending its dismal run at the box office.
9. Marrowbone (2017) – 49% Score
After seeing significant success within the horror genre, Anya Taylor-Joy chose Marrowbone for her second role in 2017, quickly gaining traction as a 20-year-old actress.
The film, directed by Sergio G. Sanchez, follows a group of brothers and sisters who move from England to Maine and begin experiencing paranormal activity in their new home.
Anya Taylor-Joy as Allie in the 2017 English-language Spanish psychological horror mystery drama film Marrowbone (Credit: Universal Pictures)
Anya plays Allie, a girl who works at the local library and the love interest of Jack, one of the siblings from the Marrowbone family. By the end of the film, Allie is the only character of reasonable sanity, left to pick up the pieces of the destroyed family.
While Marrowbone wasn't a huge hit, Anya met some actors on set that she would continue to work with on subsequent films. This includes Charlie Heaton and Mia Goth, with whom she would appear on screen in the movies The New Mutants and EMMA.
"She was the first actress close to my age that I met, and we had a very cool conversation where I was like, 'I love you,' and she said, 'I love you,'" Taylor-Joy told ELLE about her good friend Mia Goth.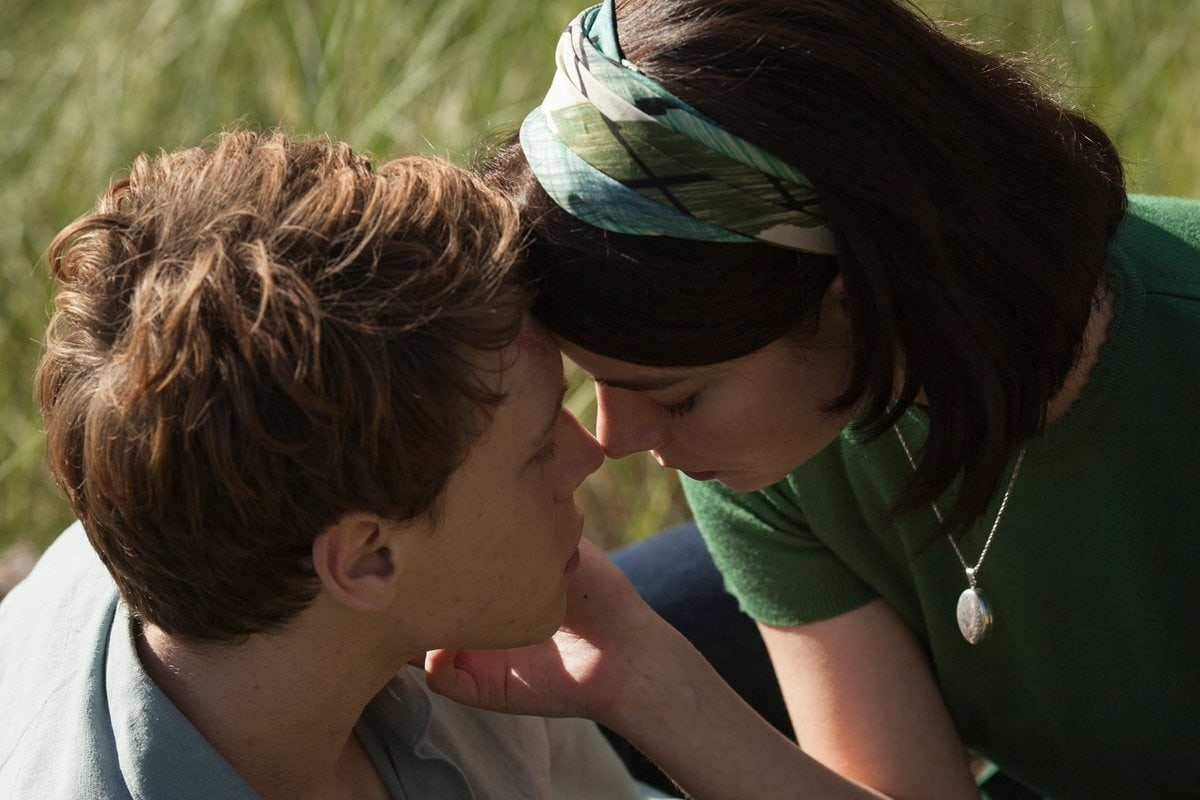 George MacKay as Jack Marrowbone and Anya Taylor-Joy as Allie (Credit: Universal Pictures)
"And I said, 'I'm always going to have your back.' And she was like, 'I'm always going to have your back.' It was like, 'Okay, cool. Let's progress in this very wild industry, knowing that we're going to take care of each other.'"
8. Radioactive (2019) – 63% Score
By 2019, Anya Taylor-Joy had already established herself as a serious actress at the age of 22. Eager to pick up roles in genres other than horror, she accepted a smaller part in the dramatic biographical film, Radioactive.
Based on the true story of Nobel prize winner Marie Sklodowska-Curie (played by Rosamund Pike), Radioactive is set in 1934 and deals with the discovery of radioactivity. Anya Taylor-Joy plays the 18-year-old version of Irene, Marie's supportive daughter.
Anya Taylor-Joy as Irene Curie in the 2019 British biographical drama film Radioactive (Credit: StudioCanal)
As a film produced for the Amazon Prime video service, Radioactive was the first streaming service project that Anya appeared in.
She would later dominate all of television on Netflix's The Queen's Gambit, providing a decent trend of success in the blossoming world of streaming media.
7. Last Night in Soho (2021) – 76% Score
Written and directed by beloved creator Edgar Wright, Last Night in Soho is a psychological horror film that sees a young fashion designer that experiences vivid dreams of the 1960s.
In her nighttime excursions, she meets Sandie (played by Anya Taylor-Joy), a singer who aspires to hit the big time.
With its creepy vibes juxtaposed against the glitz and glamor of 60s nightlife, Last Night in Soho is a beautiful film elevated by Anya's performance.
Anya Taylor-Joy as Sandie/Alexandra "Alex" Collins and Matt Smith as Jack in the 2021 British psychological horror film Last Night in Soho (Credit: Focus Features / Universal Pictures)
Riding off of her newfound stardom, Anya expertly plays the stylish singer with ease at 24 years old, proving she's as mysterious as she is alluring.
Last Night in Soho is also where you can catch Anya showing off her singing abilities. Reportedly, producer George Miller was so impressed with her performance that he immediately offered her a role in the upcoming Mad Max spin-off, Furiosa.
6. Split (2016) – 77% Score
Although she appeared in a handful of films before it, Split was arguably Anya Taylor-Joy's breakthrough role at age 19.
In this psychological thriller directed by M. Night Shyamalan, Anya plays Casey Cooke, a teenager who is kidnapped by a man with a dissociative identity disorder.
Along with her fellow captives, Casey must find a way to appease her kidnapper while figuring out a way to escape. At 19 years old, Anya's performance was a highlight of the movie, only outperformed by James McAvoy in the lead role.
Anya Taylor-Joy as Casey Cooke in the 2016 American psychological thriller film Split (Credit: Universal Pictures)
Overall, Split was a smash hit and considered one of the best films of the year. Not only did it mark a brief return to quality for M. Night Shyamalan, but it also helped propel Anya Taylor-Joy towards stardom.
5. Barry (2016) – 80% Score
Based on the early life of United States President Barack Obama, Barry is a biographical picture that stars Devon Terrell and was directed by Vikram Gandhi.
Released on Netflix, it was also Anya Taylor-Joy's introduction to the streaming service that would eventually solidify her as a bonafide star.
Anya Taylor-Joy as Charlotte Baughman and Devon Terrell as Barack "Barry" Obama in the 2016 American drama film Barry (Credit: Netflix)
In the film, Anya Taylor-Joy plays Charlotte, the early love interest and college girlfriend of Barack. Through examination of their intimacy, the film touches on subjects such as discrimination due to interracial relationships, as well as familial woes.
Although Devon Terrell is fantastic in Barry, Anya Taylor-Joy was the only actress recognized during award season for the film. For her efforts, Anya was nominated for the Breakthrough Film Artist award from the Columbus Film Critics Association at just 19 years old.
4. EMMA. (2020) – 86% Score
Based on the 1815 book by Jane Austen and directed by Autumn de Wilde, EMMA stars Anya Taylor-Joy as a rich socialite who enjoys messing with the relationships of her friends and family.
As a period piece and romance, the film marked a significant leap from Anya's previous roles in the horror genre.
Set during the early 1800s in England, the film follows Emma Woodhouse as she manipulates and meddles with those around her while dealing with her personal problems.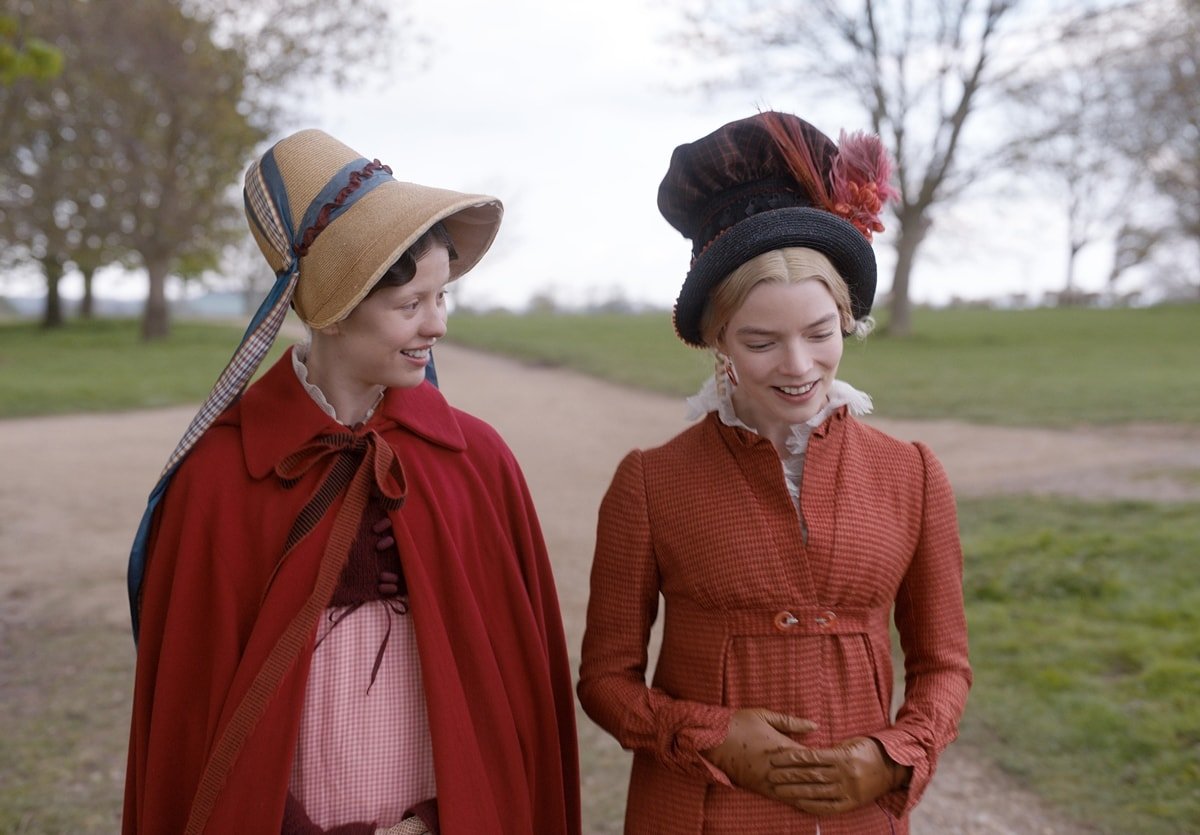 Anya Taylor-Joy as Emma Woodhouse and Mia Goth as Harriet Smith in the 2020 period romantic comedy film EMMA (Credit: Focus Features / Universal Pictures)
Straightforward, funny, and ending on a happy note, EMMA is undoubtedly one of the most fun-loving films that Anya Taylor-Joy has been a part of.
Interestingly, Anya Taylor-Joy initially showed hesitance in taking on the role, as she claimed she was not beautiful enough to portray the lead character of Emma.
"I had been working back to back—just before Emma, I'd done two projects at the same time, and I was going through some emotional relationship stuff," Taylor-Joy told ELLE about starting to film the movie with Mia Goth.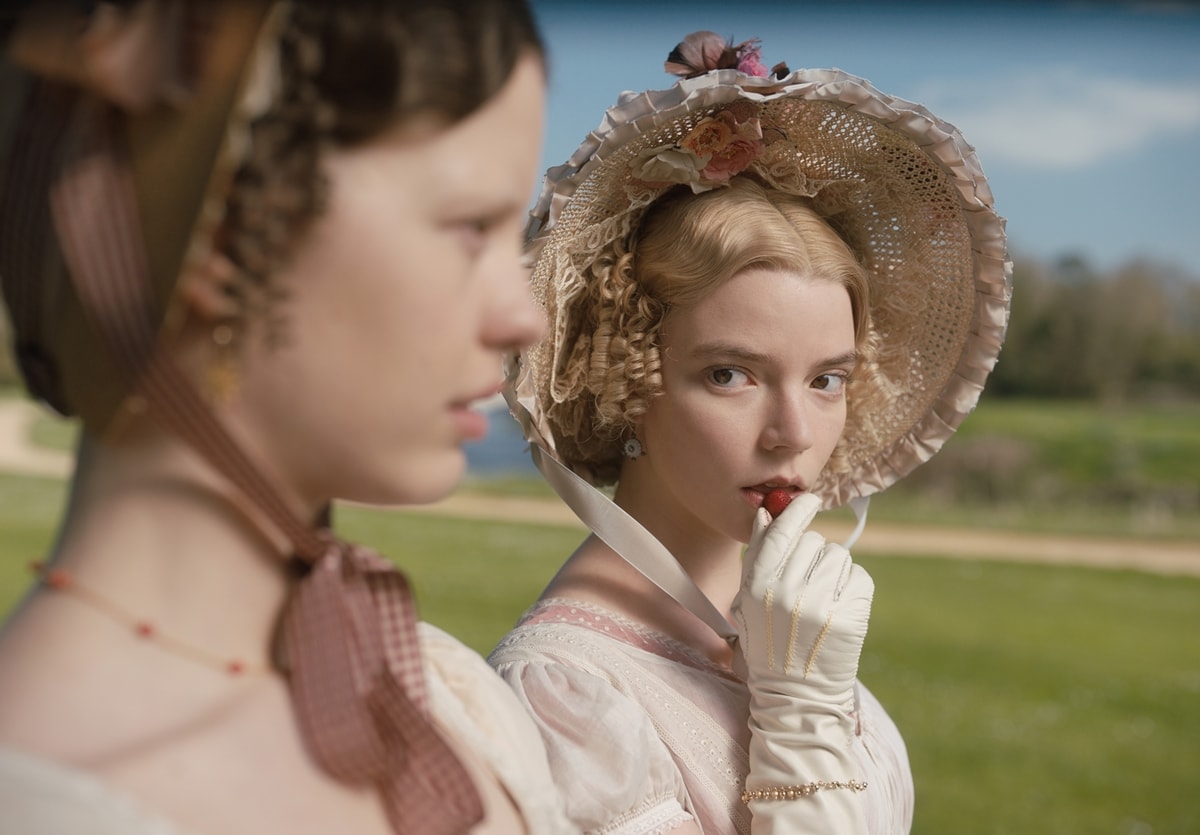 Anya Taylor-Joy and Mia Goth became good friends starring in Marrowbone and later also starred together in EMMA (Credit: Focus Features / Universal Pictures)
"So at the beginning of 2019, I was just really broken and frightened of everything, and Mia and I were driving back from rehearsal. I turned to her and said, 'I think I'm going to quit acting. I don't think I can do this.' And I've never seen Mia look so worried in my life. She was like, 'But…that's what you do. You can't not…what are you talking about?' I was like, 'I think I need to back out now and just let it be and try to take care of my heart.' And she was like, 'No, that would be really bad. You can't not have the thing that is your oxygen.' I'm really glad she said that."
Ultimately, critics disagreed with the 23-year-old's assessment, as the movie received plenty of praise, including two Academy Award nominations.
3. Thoroughbreds (2017) – 87% Score
Although Anya Taylor-Joy has been on a hot streak the past couple of years, one of her most critically acclaimed films came at the beginning of her career. At 20 years old, the actress showed off her ability to perform dark comedy in the indie film, Thoroughbreds.
Written and directed by Cory Finley, the movie tells the story of Amanda (played by Olivia Cooke) and Lily (played by Anya Taylor-Joy), two suburban teens who hatch a plan to kill Lily's stepfather.
Anya Taylor-Joy as Lily Reynolds in the 2017 American black comedy thriller film Thoroughbreds (Credit: Focus Features)
Dark, suspenseful, and ultimately hilarious, Thoroughbreds is often overlooked when compared to Anya Taylor-Joy's other projects.
That's unfortunate, as the film continues to show off Anya's penchant for playing deceptively dark characters in this awesome movie. While the story was initially written as a stage play, we're glad it turned into a feature film, as it helped display Anya's versatility early in her career.
2. The Northman (2022) – 89% Score
Directed by acclaimed director Robert Eggers and set in 895 AD, The Northman is a brutal tale of revenge complete with Viking mythology and intense action.
The film stars Alexander Skarsgard, Nicole Kidman, and more, and follows Viking warrior Amleth as he seeks vengeance for his father's murder.
Alexander Skarsgård as Viking warrior prince Amleth and Anya Taylor-Joy as Olga of the Birch Forest (Credit: Focus Features / Universal Pictures)
In this immaculately shot film, Anya Taylor-Joy plays Olga of the Birch Forest, a mysterious sorceress who Amleth meets while under captivity. Together, Amleth and Olga plan to earn justice and escape their imprisonment.
As Anya Taylor-Joy continues to tackle bigger projects, her talent as an actress grows and grows. That's blatantly clear in The Northman, as the 25-year-old actress exudes personality and power.
Although she's only a supporting character and is not the focus of the movie, she still sticks out as one of the best performances of all. She looked stunning at the premiere in a Dior crystal-embellished sheer mini dress.
1. The Witch (2015) – 90% Score
Surprisingly, Anya Taylor-Joy's most critically acclaimed movie was also her first (not counting Vampire Academy), as the 18-year-old actress got her start with this folkloric tale of horror and magic.
Directed by Robert Eggers (the same mind behind The Northman), the movie is set in 1630s New England and tells the story of a family who is challenged by their community during a time of outrageous accusation.
In the film, Anya Taylor-Joy stars in the lead role as Thomasin, the daughter of a young farmer whose family is banished from their home village over their religious beliefs.
Anya Taylor-Joy as Thomasin in the 2015 period supernatural horror film The Witch (stylized as The VVitch, and subtitled A New-England Folktale) (Credit: A24 / Elevation Pictures / Universal Pictures)
Through a series of tragic accidents, Thomasin is accused of being a witch and is put on trial for her imaginary crimes.
As both Anya Taylor-Joy's debut as an actress and Robert Egger's debut as a director, The Witch was immensely popular and helped establish both in the filmmaking world.
Overall, the film dazzled critics and audiences alike, reportedly even terrifying the undisputed master of horror, author Stephen King.