Get ready to sink your teeth into the ultimate horror-comedy mashup with Renfield.
This new film from Universal Pictures takes inspiration from Bram Stoker's Gothic masterpiece, Dracula, to explore the dark and twisted world of the vampire's most devoted servant, Renfield.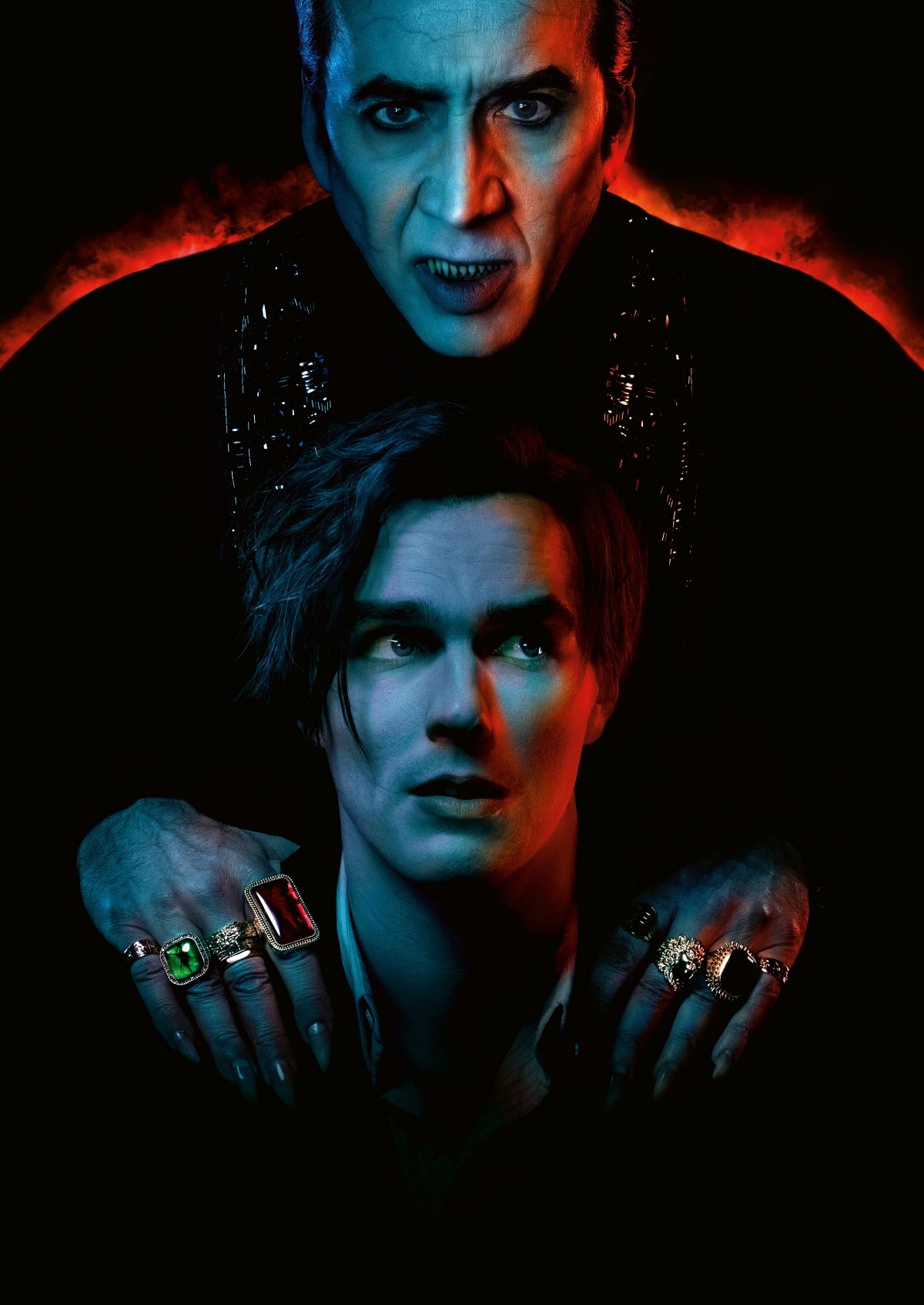 Promotional art for Renfield featuring Nicolas Cage as Count Dracula and Nicholas Hoult as R.M. Renfield (Credit: Universal Pictures)
But instead of a traditional horror tale, Renfield injects a healthy dose of humor to create a fang-tastic experience that will have you screaming with laughter.
Let's delve into what working for the Prince of Darkness in this hilarious and spine-chilling adventure is like.
What Is Renfield About?
At its core, Renfield is a modern-day interpretation of the classic vampire tale, exploring the nature of power, control, and what it means to be truly free.
The film follows the titular character, Dracula's henchman, who is trapped in a toxic relationship with his nocturnal demonic lord and master.
Nicolas Cage as Count Dracula in the 2023 horror comedy film Renfield (Credit: Universal Pictures)
Renfield regrets his decision to gain superhuman abilities in exchange for bringing Dracula human prey to devour. However, his attempt to break free from his master's control becomes even more complicated when he falls for tough traffic cop Rebecca Quincy.
To find assistance to break free, Renfield joins a support group, but his plans are upended when Dracula crashes the meeting.
Nicolas Cage as Count Dracula and Shohreh Aghdashloo as Ella in the 2023 horror comedy film Renfield (Credit: Universal Pictures)
This film is a blood-soaked romp featuring Dracula's off-menu orders of a busload of cheerleaders and a few nuns.
The Walking Dead comic creator and producer Robert Kirkman's initial pitch inspired the movie. Ryan Ridley, whose prior writing credits include Rick and Morty and Community, adapted it for the big screen.
1. Nicholas Hoult (Renfield) – 6ft 2 ½ (189.2 cm)
Nicholas Hoult, one of the most versatile actors in Hollywood, takes on the role of Renfield, Dracula's long-suffering companion, in the upcoming horror-comedy film.
Renfield is torn between his loyalty to his narcissistic master and his desire for freedom from servitude.
The 33-year-old actor brings his considerable acting chops to this role, showcasing his range from the dramatic intensity of his Emmy-winning performance in The Great to his comedic timing in Warm Bodies and The Menu.
Nicolas Cage as Count Dracula and Nicholas Hoult as R.M. Renfield in the 2023 horror comedy film Renfield (Credit: Universal Pictures)
With a career that began at a young age, first appearing in the 1996 dark comedy Intimate Relations, Hoult has proven himself a skilled actor from his breakout performance in About a Boy alongside Hugh Grant and Toni Collette.
The Beast in the X-Men: First Class, Nux in Mad Max: Fury Road, Harley in The Favourite, and author J.R.R. Tolkien in Tolkien are just a few of the many acting roles that Hoult has portrayed.
What Hoult Says About Working With Cage
Nicholas Hoult looked impeccable during the film's premiere in New York City on March 28, where he wore an all-cream outfit of a velour suit, shirt, and shoes. He unfastened the top buttons over his chest, letting the tie go for a more laid-back look.
During an exclusive interview with Entertainment Tonight, Hoult expressed his excitement about working with Cage and what it felt like seeing the well-known actor fully dressed up as Dracula on set.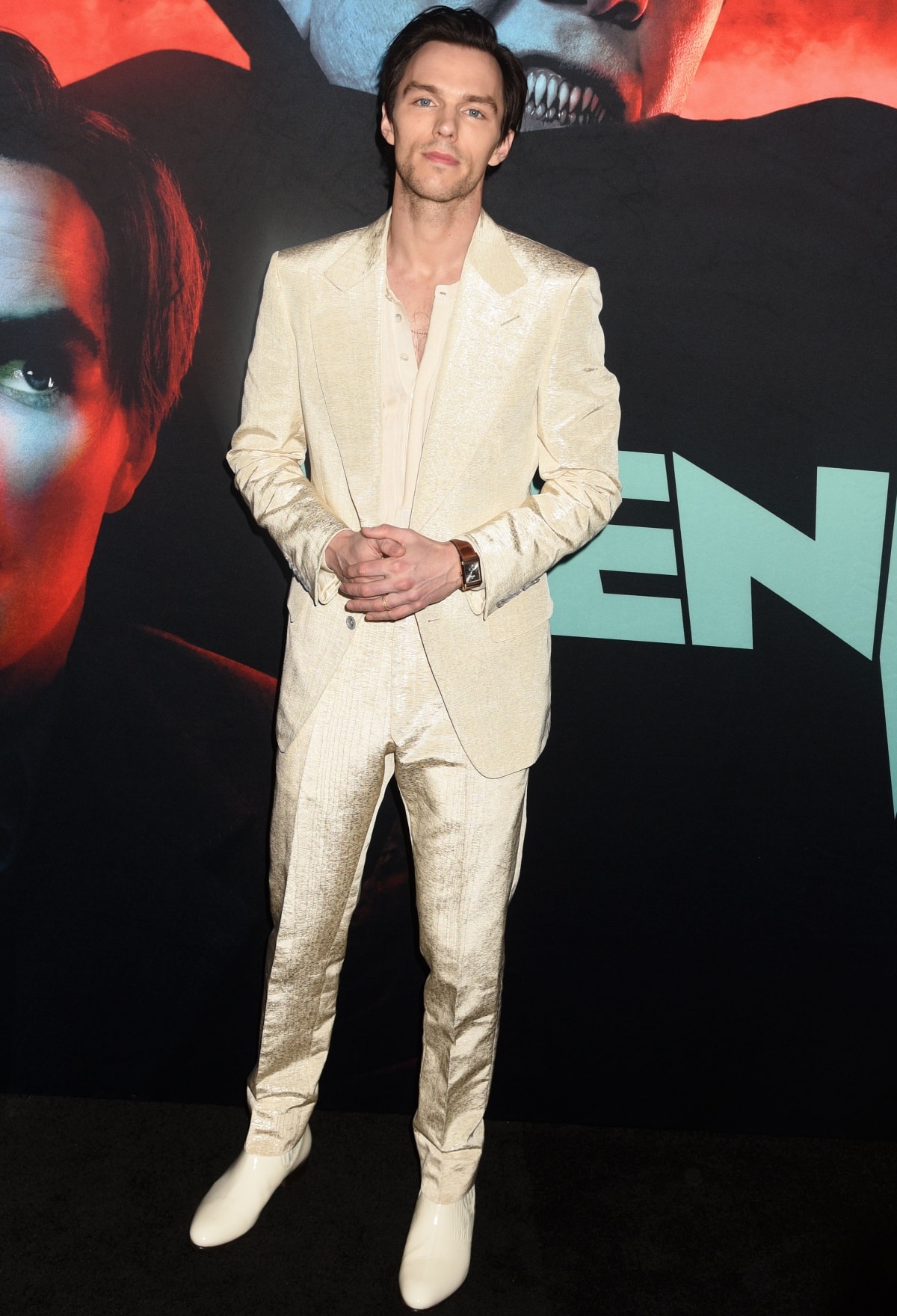 Nicholas Hoult making a bold statement in a tonal look that consists of a cream Tom Ford suit and a pair of ivory Tom Ford Chelsea boots at the premiere of Renfield held at the Museum of Modern Art in New York City on March 28, 2023 (Credit: Darla Khazei / INSTARimages)
Hoult said, "It really was one of the most bizarre scenarios of my life looking glancing over and seeing Nic Cage, dressed fully as Dracula. I mean, it doesn't get better than that. So I was really giddy most of the time on set, and had the best time working with him."
As they filmed Renfield, Hoult was amazed by Cage's ability to inject his unique flair into the famous vampire character.
Hoult added, "The funny thing was, when he switched on to Dracula, all the influences that he was bringing to that character and where he was bringing inspiration from, it was just like, it was really fun. And then occasionally you just see this little Nic Cage-ism within, which is what we love seeing him do in films."
Nicholas Hoult totally enjoyed working with co-star Nicolas Cage in their horror comedy film Renfield (Credit: Darla Khazei / INSTARimages)
The actors had previously collaborated on projects before Renfield. Hoult had a previous role in Cage's 2005 film The Weatherman, which the actor remembered as the first film he had completed in the US after beginning his career in the UK.
Hoult remarked on reuniting with Cage, "Just knowing more of his filmography, and being more of a fan even in some ways, it was even more special to work with him again."
2. Nicolas Cage (Dracula) – 6ft 0 (182.9 cm)
Nicolas Cage, one of Hollywood's most iconic actors, takes on the role of Count Dracula in the upcoming film Renfield.
As the bloodthirsty vampire with a ravenous appetite and Renfield's dominating and frightening lord, Cage embodies Dracula's dark, commanding presence, leaving audiences trembling in their seats.
Nicolas Cage as Count Dracula in the 2023 horror comedy film Renfield (Credit: Universal Pictures)
It isn't Cage's first time portraying a vampire. He previously did so in the 1989 film Vampire's Kiss, which became a cult classic despite being a box-office flop, thanks partly to Cage's unforgettable on-screen eating of a live cockroach.
Throughout his career, Cage has proven himself a versatile actor, appearing in over 100 films spanning multiple genres, including romantic comedies, action movies, and adult dramas.
His performances have earned him numerous accolades, including an Oscar and a Golden Globe for portraying an alcoholic in 1995's Leaving Las Vegas.
Nicolas Cage as Count Dracula in the 2023 horror comedy film Renfield (Credit: Universal Pictures)
He is best known for his roles in action-packed films like Face/Off and The Rock and his unique characterizations in movies such as Adaptation, Honeymoon in Vegas, and Moonstruck.
In recent years, Cage has continued to impress with his performances in the westerns Butcher's Crossing and The Old Way, the sci-fi horror film Color Out of Space, and the mystery drama Pig.
He also starred as a fictionalized version of himself in the action-comedy hit The Unbearable Weight of Massive Talent in 2022.
Red Carpet Date With Wife Riko Shibata at Renfield Premiere
Nicolas Cage and his wife, Riko Shibata, made a stunning appearance at the Renfield premiere in New York City.
The 59-year-old actor flaunted his wild side in glittering zebra print pants, a black leather blazer, and shoes that matched the Gothic theme of the event.
Meanwhile, the 27-year-old and Cage's fifth wife, matched her husband's style with a slinky off-the-shoulder animal-printed dress, while a fringe hooded her eyes and her blood-red lipstick added a pop of color.
Nicolas Cage with his wife Riko Shibata at the premiere of Renfield in New York City (Credit: Darla Khazei / INSTARimages)
The couple, who had met in Shiga, Japan, through mutual acquaintances while Cage was filming Prisoners of the Ghostland, walked the black carpet hand in hand, enjoying their date night together at the event.
They've been married since February 16, 2021, in remembrance of the actor's late father's birthday, through a small private ceremony, at the Wynn Hotel in Las Vegas.
The twosome made their red carpet debut in July 2021 at Cage's movie premiere of Pig and welcomed their first child, a daughter named August Francesca Coppola Cage, in September 2022.
Cage has been vocal about his happiness with his marriage, telling Los Angeles Times in January 2022, "I'm really happily married. I know five is a lot, but I think I got it right this time."
Nicolas Cage captured attention in his Dolce & Gabbana statement look with a shimmery blazer and jacquard pants with a zebra print (Credit: Darla Khazei / INSTARimages)
Before Shibata, Cage had been married four times in the past. He was previously married to Patricia Arquette in April 1995 and divorced in 2001. Three months after getting married in August 2002, he and Lisa Marie Presley filed for divorce, but it was finalized in May 2004.
Cage also married Alice Kim in 2004; their divorce was completed in 2016. After that, the actor wed Erika Koike in March 2019, and in June 2019, he was given a divorce.
The actor also has two sons from his previous marriages: Weston, 32, and Kal-El, 17.
Supporting Cast of Renfield
Renfield boasts a star-studded supporting cast, with Awkwafina leading the pack as Rebecca Quincy, a no-nonsense traffic cop who is an unexpected source of inspiration for Renfield.
The American rapper, comedian, and actress, who is known for her roles in movies such as "Neighbors 2: Sorority Rising" and "Ocean's 8", stated in an interview that she is "like five-foot-three" (160 cm) tall. However, her actual height is believed to be 5ft 1 (154.9 cm).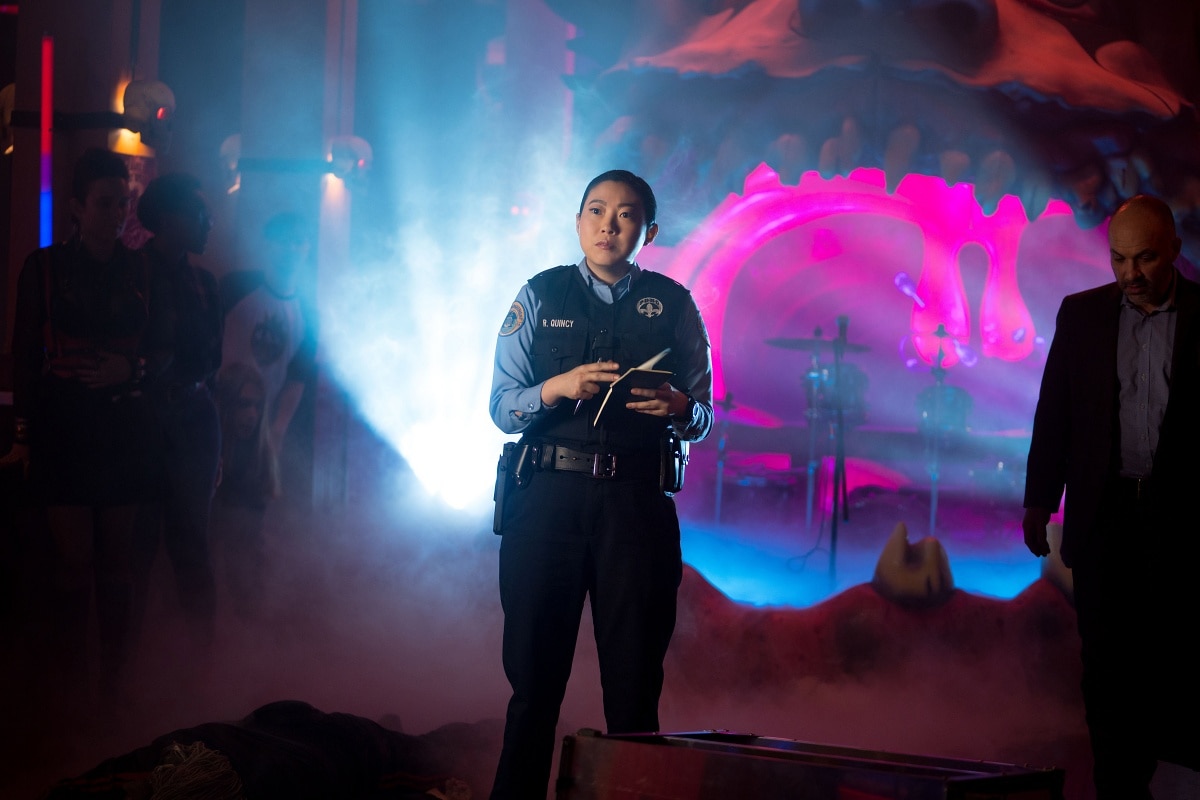 Awkwafina as Rebecca Quincy in the 2023 horror comedy film Renfield (Credit: Universal Pictures)
Before appearing in films like Ocean's 8, Crazy Rich Asians, and The Goodbye, the comedian started her career as a rapper.
Meanwhile, Ben Schwartz of The Afterparty and Shohreh Aghdashloo of The Expanse deliver powerful performances as the film's primary antagonists, bringing their respective talents to the forefront as a pair of menacing figures that stand in Renfield's way.
He is known for his roles in TV shows such as Parks and Recreation and House of Lies and for voicing Sonic the Hedgehog in the film adaptation. According to a casting call for a Ben Schwartz stand-in, the desired height for the role was "5'11"" (180.3 cm), and the weight was specified as "167 lbs" (75.7 kg).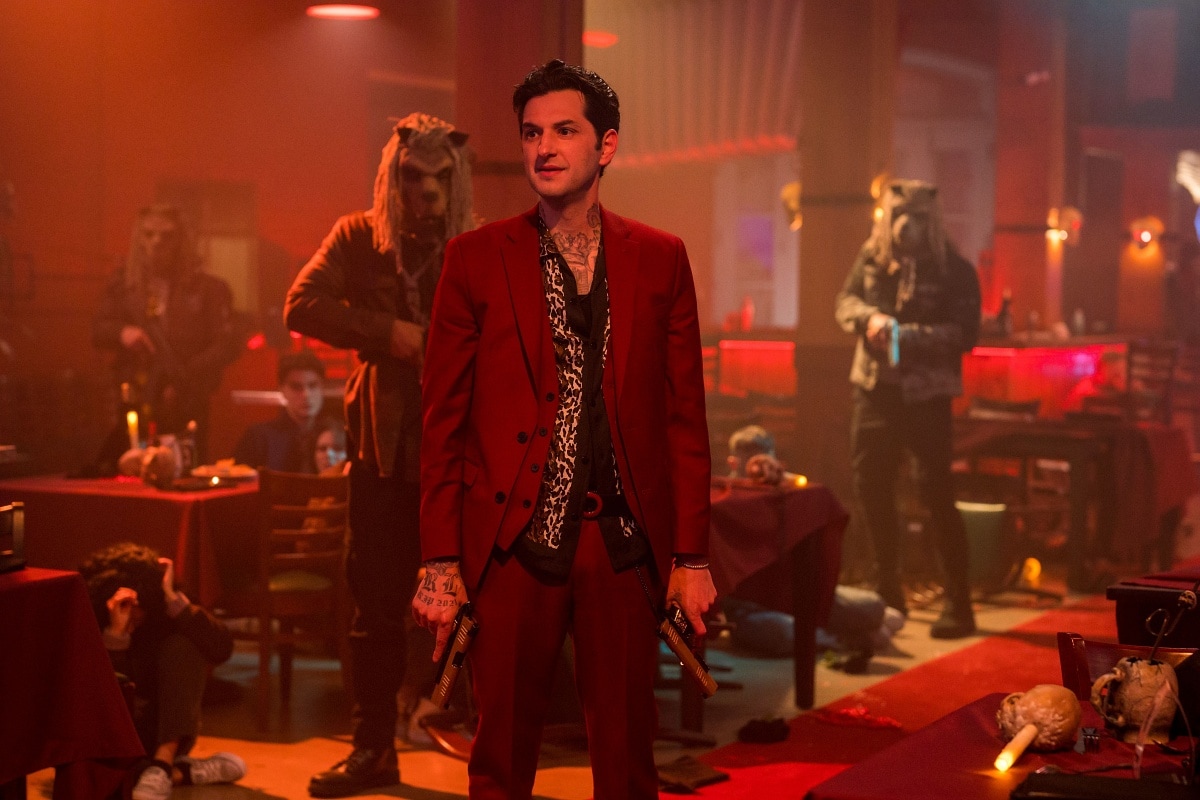 Ben Schwartz as Teddy Lobo in the 2023 horror comedy film Renfield (Credit: Universal Pictures)
James Moses Black commands the screen as Captain J. Browning, while Adrian Martinez adds a touch of fun as Rebecca's fellow traffic cop. He has a height of "6'0" (1.83 m)
Bess Rous as Caitlyn, Caroline Williams as Vanessa, and Brandon Scott Jones as Mark are some of the other actors who appear in the film, each bringing their unique energy and personality to the cast.
Renfield boasts of an ensemble of actors with unique roles and strong personalities that bring color to the film (Credit: Universal Pictures)
The cast of Renfield promises to deliver a hilarious and spine-tingling experience in this new horror comedy film. With a mix of veteran actors and rising stars, Renfield will keep you on the edge of your seat while making you laugh out loud.
Don't miss your chance to scream with laughter in theaters starting April 14!