The 8th highest-paid model on the planet in 2018, Bella Hadid claims never to have undergone any plastic surgery. While many fans believe she has had her nose surgically altered, Gigi Hadid's younger sister has promised to stay au naturel.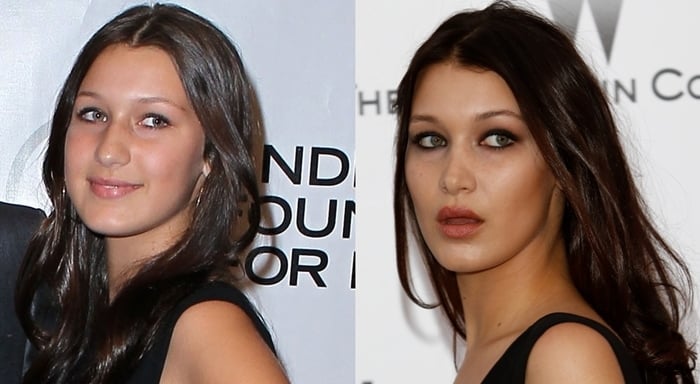 Before and after: Bella Hadid in 2010 (L) and in 2015 (R)
"People think I got all this surgery or did this or that. And you know what? We can do a scan of my face, darling. I'm scared of putting fillers into my lips. I wouldn't want to mess up my face," she told Instyle about staying natural in an interview.
Plastic surgeon Yvoni Kirmanidou believes Bella Hadid has had plenty of work done, including Botox, dermal fillers, and rhinoplasty. Take a look at Bella's before and after pictures and let us know what you think!
View this post on Instagram
Bella's mom, Yolanda Hadid, has also denied that her daughters have turned to cosmetic treatments to improve their looks.
"None of my children have never [sic] done filler or Botox or put anything foreign in their bodies," Yolanda replied on Instagram when asked about her children's plastic surgery, including her son Anwar Hadid. "They know better after seeing what I went through," referencing her years-long battle with Lyme disease.
Bella Hadid's nose before and after rumored plastic surgery
After a brief vacay in Miami with her beau, in January 2016 Bella Hadid jumped right back into the game by jetting off to New York for a photoshoot.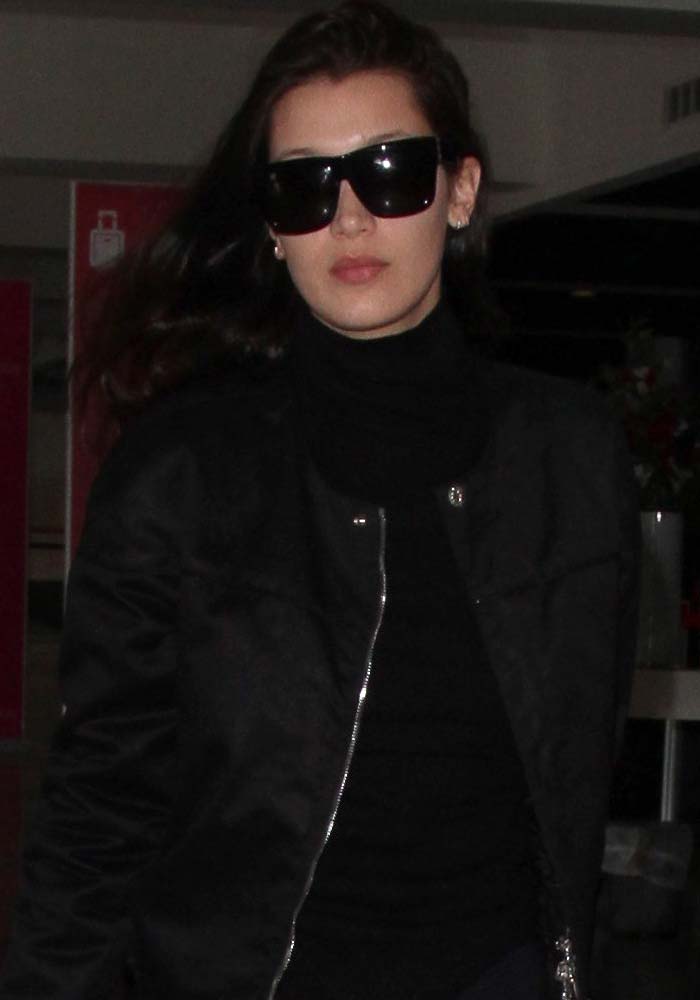 Bella Hadid wears her hair down as she departs from Los Angeles International Airport on January 4, 2016
The wealthy supermodel was photographed at LAX wearing a sleek, all-black ensemble to prove she's not messing around.
Bella Hadid departs from LAX in an all-black ensemble with a bright orange suitcase
Bella was photographed while trailing a small bright orange suitcase behind her. The luggage was the only thing colorful about this brunette bombshell's outfit.
Proud of her Arab background, she wore black pants from David Lerner paired with a black turtleneck and jacket.
Bella Hadid in black suede Stuart Weitzman boots
Bella finished her bad girl look with a pair of Stuart Weitzman "Lowland" boots and blackout sunglasses by Karen Walker.
When she landed in New York, Bella uploaded a photo of her outfit, announcing that she was "ice cold."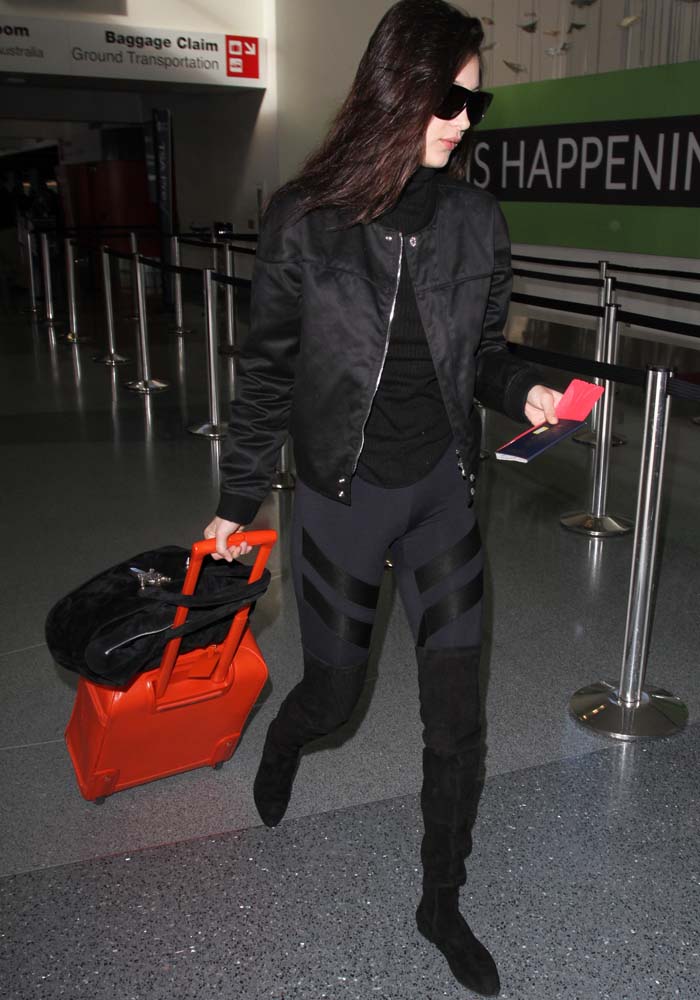 Bella Hadid wears Karen Walker sunglasses with her all-black airport look
One look at this cool chick's outfit proves she wasn't talking about the weather. Bella certainly looked ice-cold in her dark get-up as she hustled her way into the new year to get right to work.
Stuart Weitzman offers two versions of these thigh-high suede boots. You can buy Bella's "Lowland" boots, or the heeled "Highland" version. These ultra-popular boots feature a small bow in the back for added feminine charm.
Interested in looking as icy as Hadid? Grab a pair for yourself at Nordstrom or Zappos.
Stuart Weitzman "Lowland" Over-the-Knee Boots, $640 – $986.05
Credit: WENN / Judy Eddy / Instar