Bella Thorne is an American actress, hailing from the sunny state of Florida. Bella Thorne was born on October 8, 1997, making her a libra!
She has been working in the entertainment industry ever since she was an infant- at just six weeks old, she shot her first pictorial for "Parents Magazine". As a young teenager, she rose to fame for her role in the Disney show "Shake It Up" alongside her co-star Zendaya.
Bella Thorne was supported by her best friend Zendaya at the premiere of her new film, Blended, held at TCL Chinese Theatre on May 21, 2014, in Hollywood (Credit: Ga Fullner / Shutterstock)
Post-Disney, Bella Thorne has held several acting roles in films such as "The DUFF," "Blended," and "Midnight Sun." She is also quite popular on social media platforms such as Instagram and even has a risque OnlyFans profile.
When she first joined OnlyFans, she caused the platform to change its pricing structure, which sparked quite a bit of controversy.
Bella's Role in Blended
In "Blended," Bella Thorne got to act alongside the ultra-famous duo that is Drew Barrymore and Adam Sandler. In the film, Bella Thorne played Adam Sandler's tomboy daughter, Hilary (whom he calls Larry).
The then 16-year-old actress Bella Thorne wore a Zac Posen dress with Charlotte Olympia shoes, jewelry from Shay Jewelry, a vintage Movado watch, and EF Collection and Graziela Gems rings to the premiere of Blended on May 21, 2014 (Credit: Tinseltown / Shutterstock)
Because Sandler's character essentially raised Hilary as if she were a son, Hilary enlists the help of Barrymore's character to get more in touch with her feminine side.
How Old Was Bella in Blended?
Bella Thorne was just 15 years old when she played Hilary in Blended.
Bella Thorne was 15 years old when filming Blended at the Sun City resort in South Africa and on various locations in the United States (Credit: Warner Bros. Pictures)
To be so young working with the likes of wealthy actor Adam Sandler and Drew Barrymore is a huge accomplishment and a very pretty feather in Bella Thorne's cap.
What Bella Said About Blended
Bella Thorne told "Paste Magazine" that she was incredibly impressed when she first read the script for "Blended," stating that "playing a boy" was a role she was very interested in taking on.
She thought the script was hilarious and was excited to embody her character's arc throughout the movie.
Alyvia Alyn Lind as Louise "Lou" Friedman, Emma Fuhrmann as Espn Friedman, and Bella Thorne as Hilary Friedman in Blended (Credit: Warner Bros. Pictures)
The Disney actress also stated that she loved all the animals (specifically, the lion cubs) she got to interact with throughout filming, though she was a little nervous being around industry legends like Barrymore and Sandler.
Because they were filming a comedy, Thorne told "Paste Magazine" that she really wanted the older actors to think she was funny.
Bella's Wig in Blended
In "Blended," Thorne had to wear a less-than-flattering wig to fully showcase her character's initial lack of fashion sense.
Bella Thorne wore a wig for her role as Hilary Friedman in the 2014 American comedy film Blended (Credit: Warner Bros. Pictures)
Although she knew what the role entailed when she took it on, Bella Thorne confessed to "Paste Magazine" that she was slightly shocked at her reflection once she had the wig on.
Why Blended Failed
Because Drew Barrymore and Adam Sandler had such a successful working relationship previously, for films such as "50 First Dates," it was assumed that "Blended" would be no different.
Blended was the third collaboration between Adam Sandler and Drew Barrymore after The Wedding Singer and 50 First Dates (Credit: Kathy Hutchins / Shutterstock)
However, that turned out to be exactly the problem- "Blended" was not distinctive from many of Sandler's other films and seemed downright formulaic to fans and critics alike.
Blended starring Adam Sandler and Drew Barrymore was poorly received yet made a box office profit (Credit: Warner Bros. Pictures)
Unfortunately, the film fell flat both at the box office and in the reviews it received. However, despite the movie's relative failure, "Blended" still provided great exposure and experience for Bella Thorne.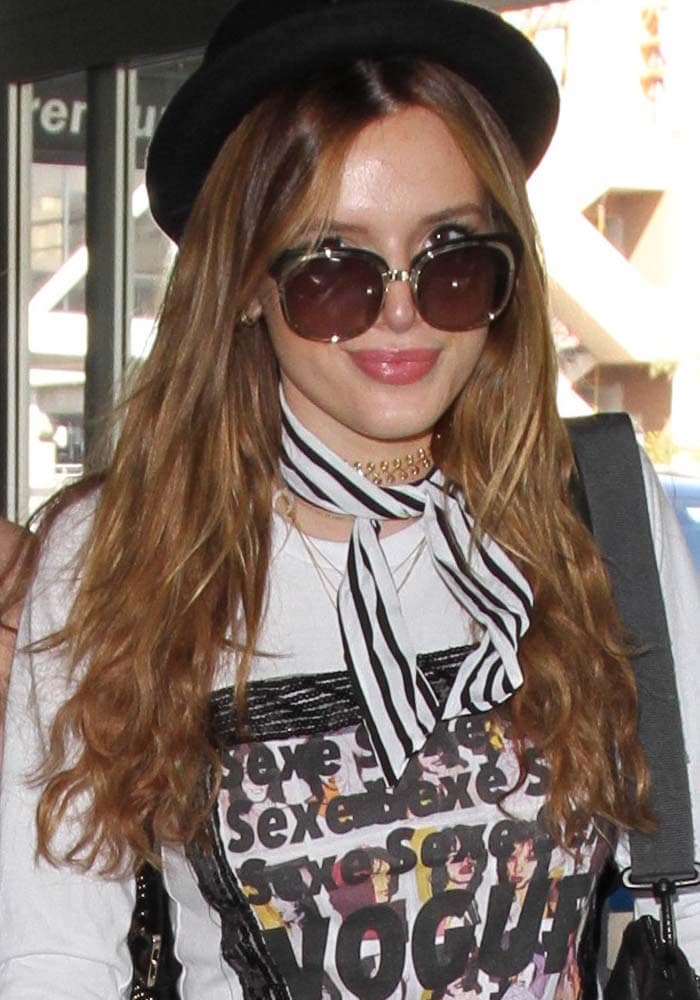 Bella Thorne leaves her hair down as she prepares to depart Los Angeles International Airport on April 6, 2016 (Credit: WENN)
In early 2016, Bella Thorne kept making career moves! The actress had been taking on more and more challenging roles and furthering her acting career, but despite her fierce independence, she still needed her older sister.
Bella and Dani Thorn were spotted arriving at Los Angeles International Airport as the two headed to Miami for some sisterly bonding time.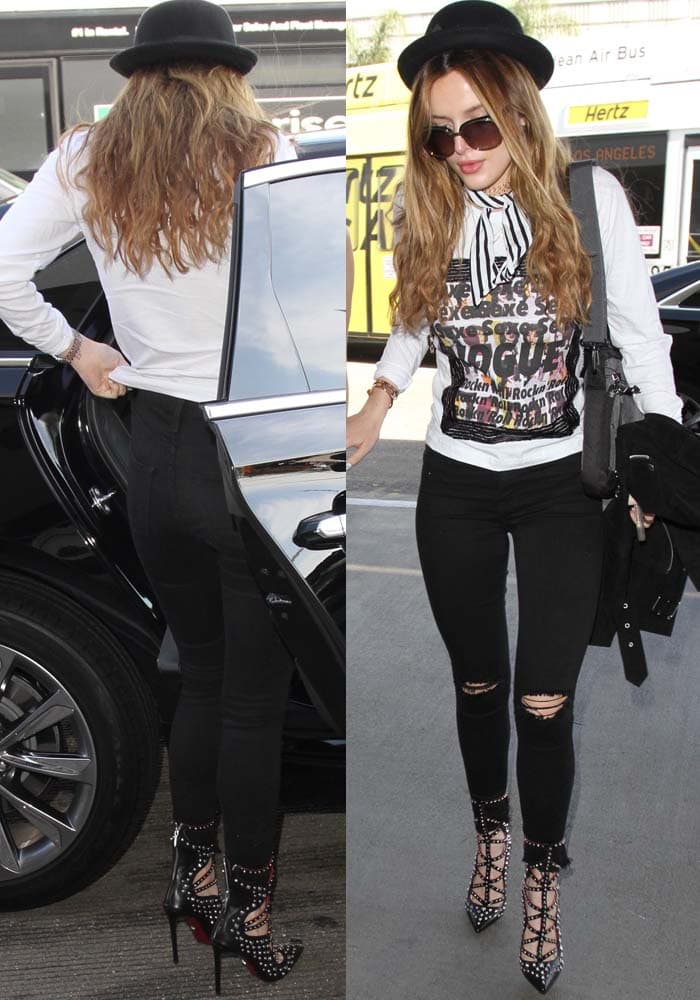 Bella Thorne pairs a graphic Aeneas Erkling t-shirt with distressed jeans at LAX (Credit: WENN)
Bella wore a long-sleeved graphic top from Aeneas Erkling which she paired with black distressed jeans.
The then 18-year-old dressed up her airport look with a bowler hat, oversized sunglasses, a monochrome striped scarf, a "Phoebe" choker from BaubleBar, a studded backpack from Le Petits Joueurs, and studded Cesare Paciotti "Star" pumps.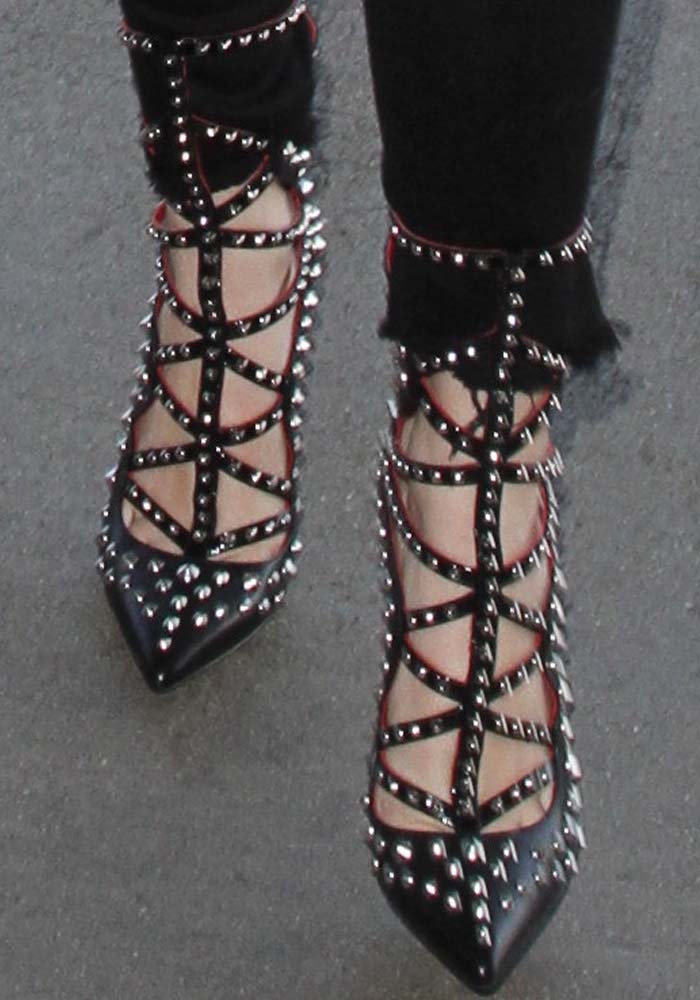 Bella Thorn's feet in studded Cesare Paciotti pumps (Credit: WENN)
The normally independent actress showed off her sister, bragging about their relationship on Instagram.
Dani also uploaded a sweet photo of the two. She captioned it: "#nationalsiblingsday with my right hand lady. So in love with you and your energy @bellathorne They should call you Instant Happiness, because that's what you give to everyone who meets you."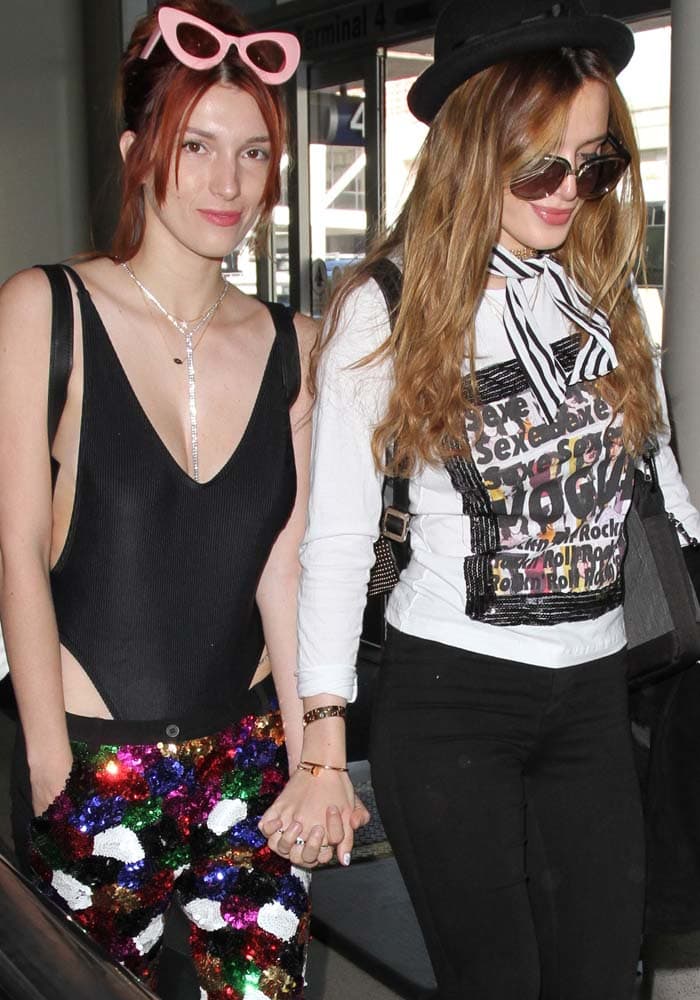 Dani Thorne and Bella Thorne hold hands as they stroll through the Los Angeles airport (Credit: WENN)
The Cesare Paciotti "Star" pumps are no longer available online, but you can find many similar styles at Nordstrom and Zappos.
Cesare Paciotti Studded Suede Strappy Sandals, $692
Cesare Paciotti Jeweled Strappy Sandals, $1,415