What can be said about Bella Thorne? Somewhat of a divisive figure within the Hollywood film industry, Bella Thorne has had an interesting career trajectory (to say the least) since her first onscreen role in 2003.
Born in 1997 in Pembroke Pines, Florida, Bella Thorne is currently 25 years old. Yet, she's experienced various ups and downs during her career, from her breakthrough work as a young actress on the Disney channel to her work in the adult film industry with the PornHub premium film Her and Him (which she also directed) in 2019.
Bella Thorne arrives at the Los Angeles premiere of "Race To Witch Mountain" at the El Capitan Theatre on March 11, 2009, in Hollywood, California (Credit: INFevents)
Regardless of all of these different experiences under her belt, Bella Thorne has had several unfortunate career decisions, particularly when it comes to the films she has starred in.
While normally we can think of most actors' resumes by the strengths of the films they have worked on, in the case of Bella Thorne, we'll be looking at the "least bad" films she has ever appeared in, according to popular aggregate review website Rotten Tomatoes.
If you're interested in watching some films starring Bella Thorne (you're a brave soul), this is the best place to start to ensure the least amount of torture possible. Let's get to it.
1. Assassination Nation (2018) – 74% (55% Audience Score)
A series of hacks causing private information to leak causes a small town to seek violence in Assassination Nation.
This film sees Bella Thorne playing the role of Reagan Hall, a promiscuous and devious young woman who leaks private nudes of her best friend Grace, a classmate of the film's protagonist, Lily (played by Odessa Young).
Odessa Young as Lily Colson, Suki Waterhouse as Sarah Lacey, Hari Nef as Bex Warren, and Bella Thorne as Reagan Hall (Credit: Neon and Gozie AGBO)
In the film, a small town starts to turn against one another after they experience a widespread data leak where all of their dirty secrets are brought to light for the whole town to see.
Combining black comedy with stylish (and oftentimes brutal) violence, Assassination Nation managed to please the majority of critics who took the time to see it, as evidenced by the 74% critical approval score.
Despite this, the film was a box office disappointment and only managed to scrounge a meager $2.8 million against a budget of $7 million.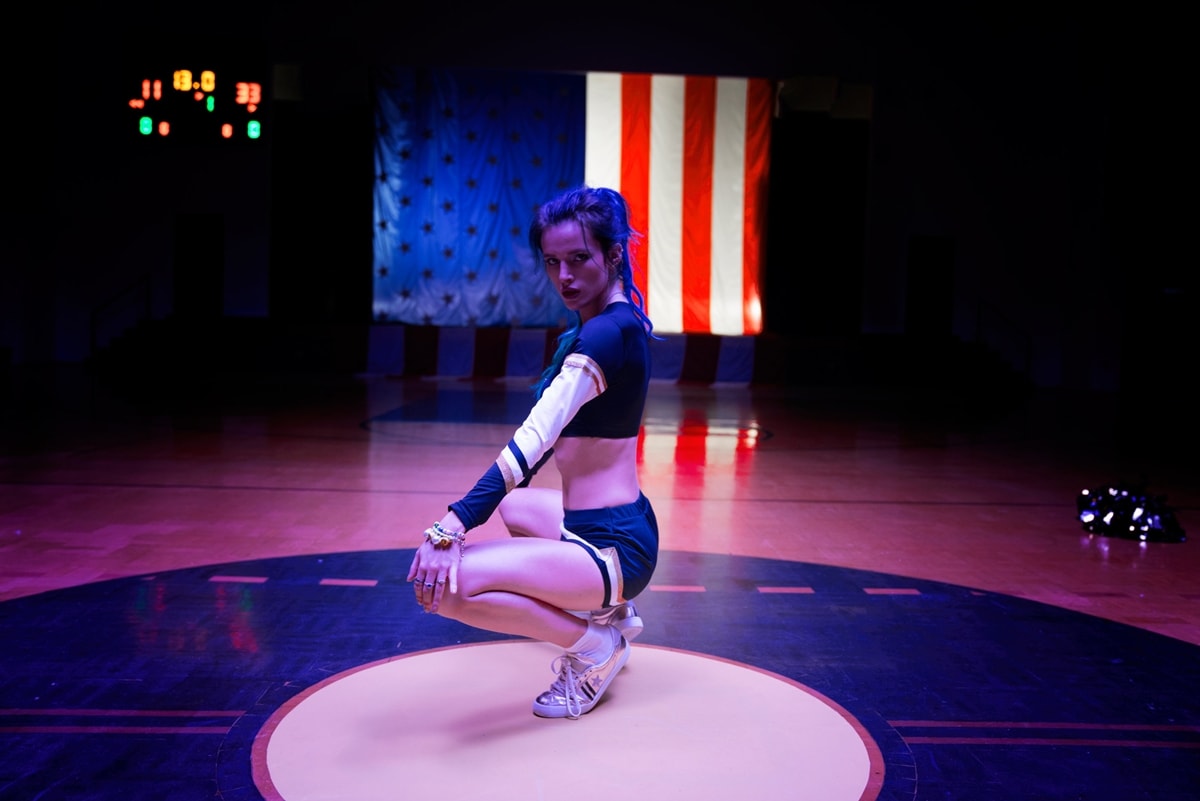 Bella Thorne's 2018 American satirical black comedy thriller film Assassination Nation is one of her rare movies that may be worth watching (Credit: Neon and Gozie AGBO)
It had its world premiere at the Sundance Film Festival on January 21, 2018, when Bella was 20 years old. She turned 21 on October 8, 2018.
Audiences also had a rather tepid response to the film, with only 55% finding it something worth watching – despite the action, violence, and thrills. Tough crowd.
2. The DUFF (2015) – 73% (66% Audience Score)
Shifting from action and thrillers to teen comedy, The DUFF stars Mae Whitman in the titular role of Bianca Piper (the designated ugly fat friend, or DUFF), alongside Robbie Amell as Wesley Rush, and of course Bella Thorne as Madison Morgan – a popular mean girl who acts as an antagonist throughout the film.
In the film, Bianca is the DUFF to two more popular students, Wesley and Jess (played by Skyler Samuels). Upon realizing this, Bianca lashes out against her former friends, drawing the ire and ridicule of Madison, who films an embarrassing video of her and posts it online.
Bella Thorne as Madison Morgan in the 2015 American high school teen comedy film The DUFF (Credit: Lionsgate / CBS Films)
At the end of the film, Bianca learns to accept herself and tells Madison off, gaining the confidence to not care about popularity.
Released on February 20, 2015, when Bella was 17, the film was a success with critics and the box office, although most critics unfavorably compared it to teen comedy classics like Easy A and Mean Girls. Audiences likely felt the same, as only 66% gave the film a positive review.
3. The Babysitter (2017) – 72% (62% Audience Score)
Now for some films in the genre that Thorne is most known for, horror. Released in 2017, this horror film sees Bella Thorne in a supporting role, with Samara Weaving and Judah Lewis taking starring roles as Bee and Cole, respectively.
In the film, Bee is the cool and young babysitter of Cole, an awkward pre-teen boy. While Bee often acts as a protective figure to Cole, she harbors a deep, dark secret: she's a member of a murderous demonic cult.
Bella Thorne as cheerleader Allison in the 2017 American teen black comedy horror film The Babysitter (Credit: Netflix)
Bella Thorne plays the role of Allison in the film, a friend of Bee and a fellow member of the demonic cult who seeks to use Cole as a blood sacrifice for one of their dark rituals.
Critics enjoyed this unique blend of horror with hints of comedy, and the majority of critics found the film enjoyable overall, although many did say the concept of the film wasn't very original.
Perhaps audiences found it a little stale, as evidenced by the lower audience score for this film. It was released by Netflix on October 13, 2017, just five days after Bella's 20th birthday.
4. Alexander and the Terrible, Horrible, No Good, Very Bad Day (2014) – 62% (58% Audience Score)
Yet another film in which Bella Thorne portrays an antagonist (we're noticing a trend here) – Alexander and the Terrible, Horrible, No Good, Very Bad Day is loosely based on the popular 1972 children's novel of the same name and features an ensemble cast including Steve Carell, Jennifer Garner, and Dylan Minnette.
Interestingly enough, this is the only film produced by the Jim Henson Company to not feature any puppetry.
In this film, Bella Thorne plays the character of Celia Rodriguez, the ex-girlfriend of protagonist Alexander Cooper (portrayed by Ed Oxenbould).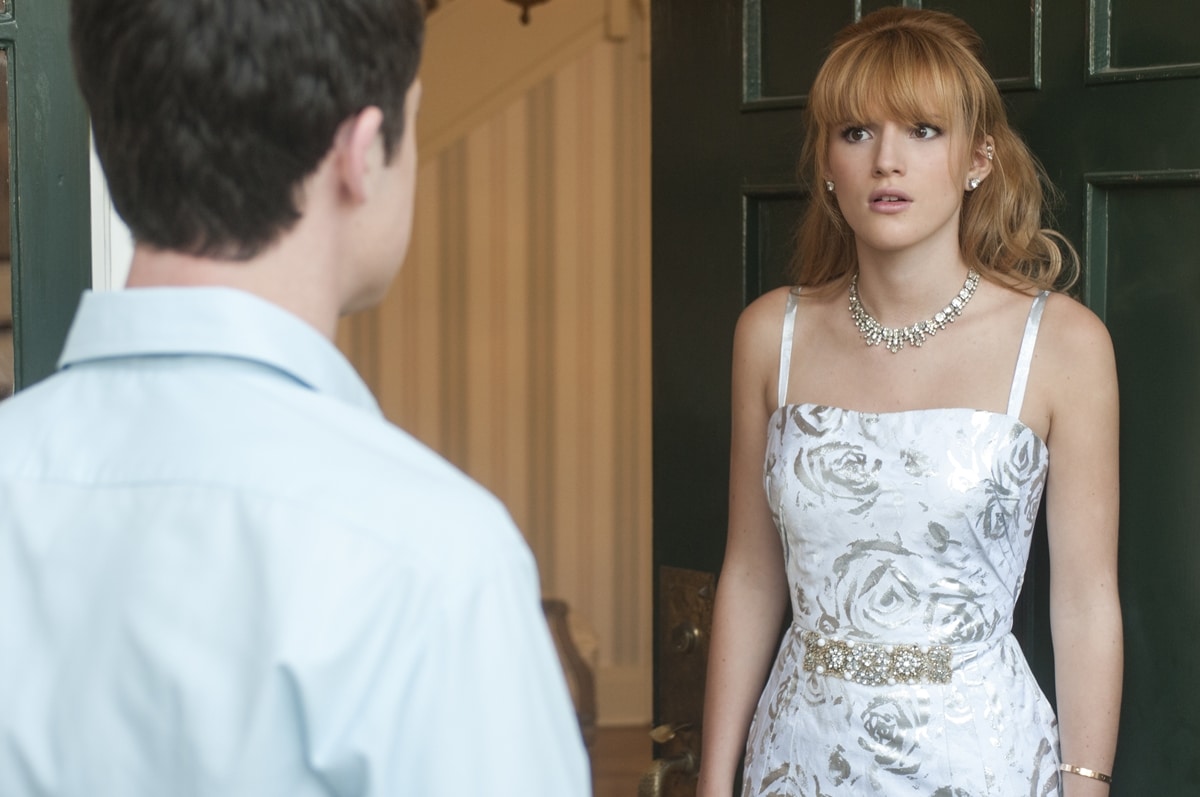 Bella Thorne as Celia Rodriguez in the 2014 American comedy film Alexander and the Terrible, Horrible, No Good, Very Bad Day (Credit: Walt Disney Studios Motion Pictures)
The film explores a particularly horrible day in the life of Alexander, including being dumped by Celia – his sassy, high-maintenance girlfriend. By the end of the film, Alexander actually decides to leave Celia, finding her vapid, shallow, and downright rude.
Critics appreciated the hijinks of the film as a whole, finding it suitable (and perhaps forgettable) entertainment for children. Audiences agreed as both scores are rather middling for the film.
It was released in North America on October 10, 2014, two days after Bella's 17th birthday. It was filmed during the summer of 2013 when she was 15.
5. Girl (2020) – 57% (34% Audience Score)
Now we are starting to venture into some of Thorne's more recent (and unfortunate) filmography with Girl, a drama film where Thorne portrays a character only known as "Girl".
The story is one of revenge, as the girl return to her quaint hometown seeking to murder her abusive father, although she discovers someone has already beaten her to the punch.
The film features a small cast including actors Chad Faust (who also directed the film) and Mickey Rourke. Fans of Bella Thorne herself may find themselves pleasantly surprised by this film, as the acting by Thorne is perhaps her finest to date.
Bella Thorne as a young woman known only as Girl in the 2020 thriller film Girl (Credit: Screen Media Films)
Unfortunately, the screenplay and direction of the film make those efforts all for naught, and critics overall thought the film compared unfavorably to others in the female-lead revenge genre.
Audiences were particularly turned off by the film, with a pitiful 34% audience score really driving that point home. It was released on September 25, 2020, just weeks before her 23rd birthday.
Despite her rather mediocre filmography to this point, Bella Thorne is indeed an interesting figure within the Hollywood film industry, as she does have legitimate acting talent yet is often pigeonholed into low-quality, typecast roles.
However, we hope she can eventually break out of that trend and eventually find herself in better films. Only time will tell!
Bella Thorne's Barely-There Christian Louboutin Sandals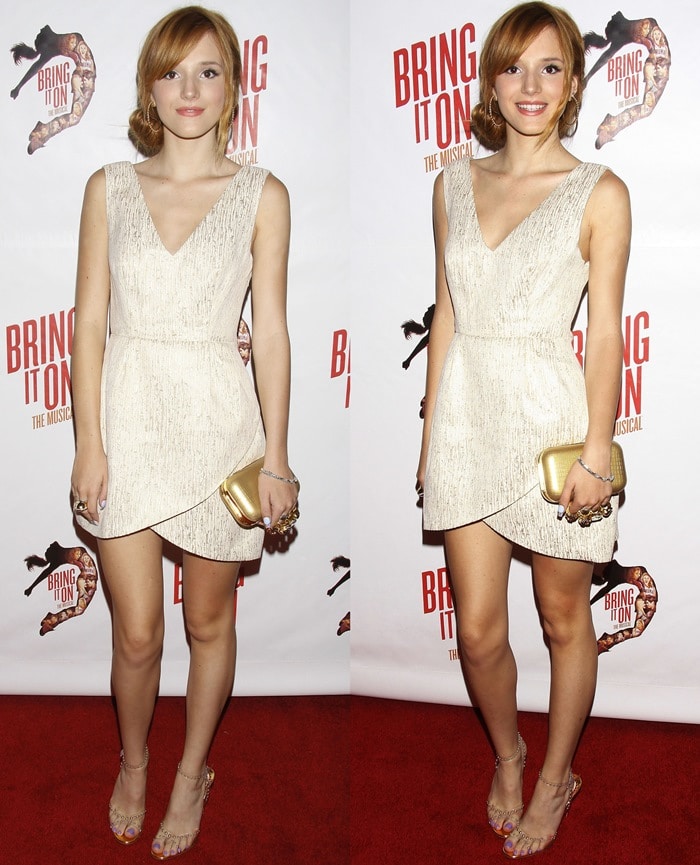 Bella Thorne flaunts her long legs in a Keepsake tulip skirt dress
In August 2012, Disney star Bella Thorne of the "Shake It Up" TV series attended the opening night of "Bring It On: The Musical" in New York City.
Bella Thorne attends the "Bring It On: The Musical" Broadway Opening Night at St. James Theatre in New York City on August 1, 2012 (Credit: Joseph Marzullo / WENN)
The then-14-year-old actress was glittering in gold from her Keepsake tulip skirt dress, her Alexander McQueen knuckle-duster clutch, down to her Christian Louboutin Icone A Clous sandals: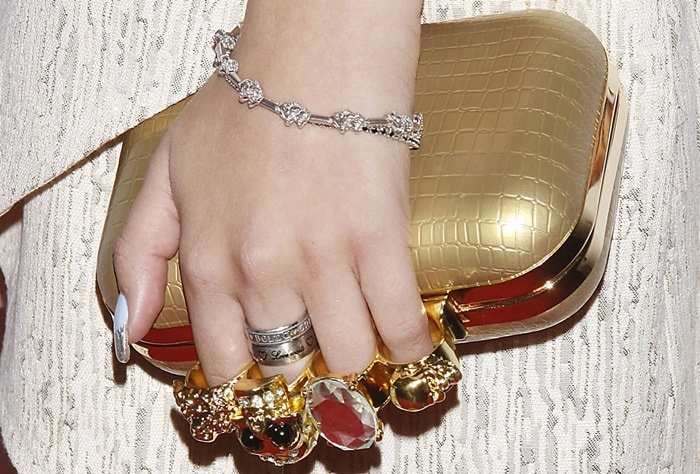 Bella Thorne's Alexander McQueen knuckle-duster clutch (Credit: Joseph Marzullo / WENN)
Christian Louboutin achieved the barely-there look for these sandals by placing the small gold studs on clear PVC straps.
The effect is reminiscent of delicate strands of golden beads gracefully adorning the feet, creating a captivating sight, particularly when admired from a distance.
Like the Christian Louboutin Bow Bow sandals we spotted on Rachel Weisz, Bella Thorne's Christian Louboutin 'Icone A Clous' sandals are clear plastic shoes we'd wear in a heartbeat.
Bella Thorne shows off her feet in Icone A Clous sandals (Credit: Joseph Marzullo / WENN)
We don't know how he did it, but the popular women's shoe designer managed to make plastic shoes look classy and elegant.
Here are the Christian Louboutin 'Icone A Clous' sandals you can buy at Nordstrom, Ssense, and Mytheresa.
Gold Metallic Christian Louboutin Icone A Clous Sandals, $995