Many fans who've seen Victoria's Secret angel Karolina Kurkova on the runway have been surprised to see that her belly button is missing.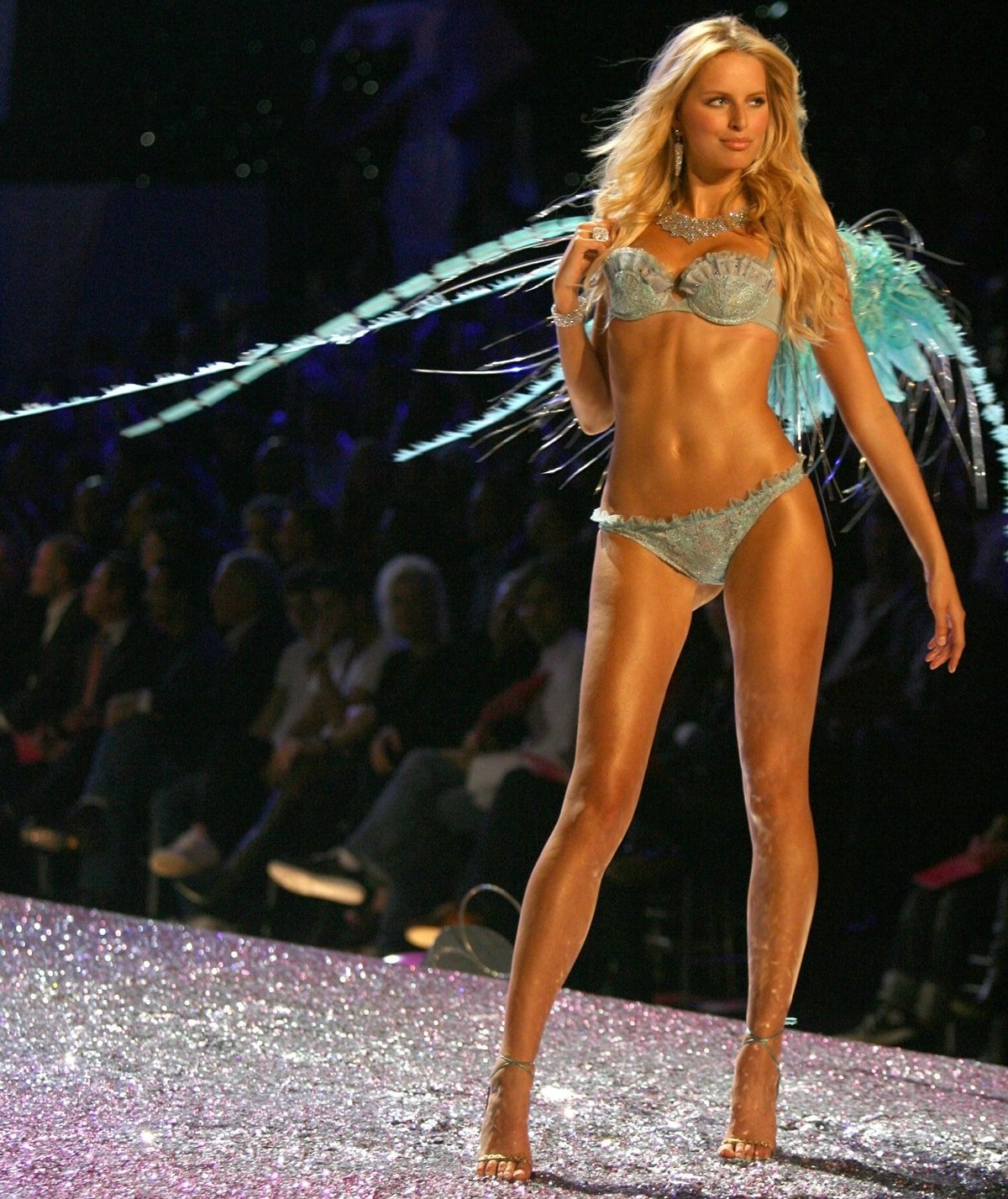 Karolina Kurkova with a missing belly button during 10th Victoria's Secret Fashion Show – Runway at The New York State Armory in New York City, New York, United States (Credit: PNP / WENN)
A fashion insider told Page Six magazine, "Karolina's body is amazing, but her belly button is unusual. It disappears in photos, so we keep a collection of belly button shots in different positions, and Photoshop them onto her whenever she's doing a bikini picture."
Karolina Kurkova's belly button is in fact not completely missing but it's almost non-existent.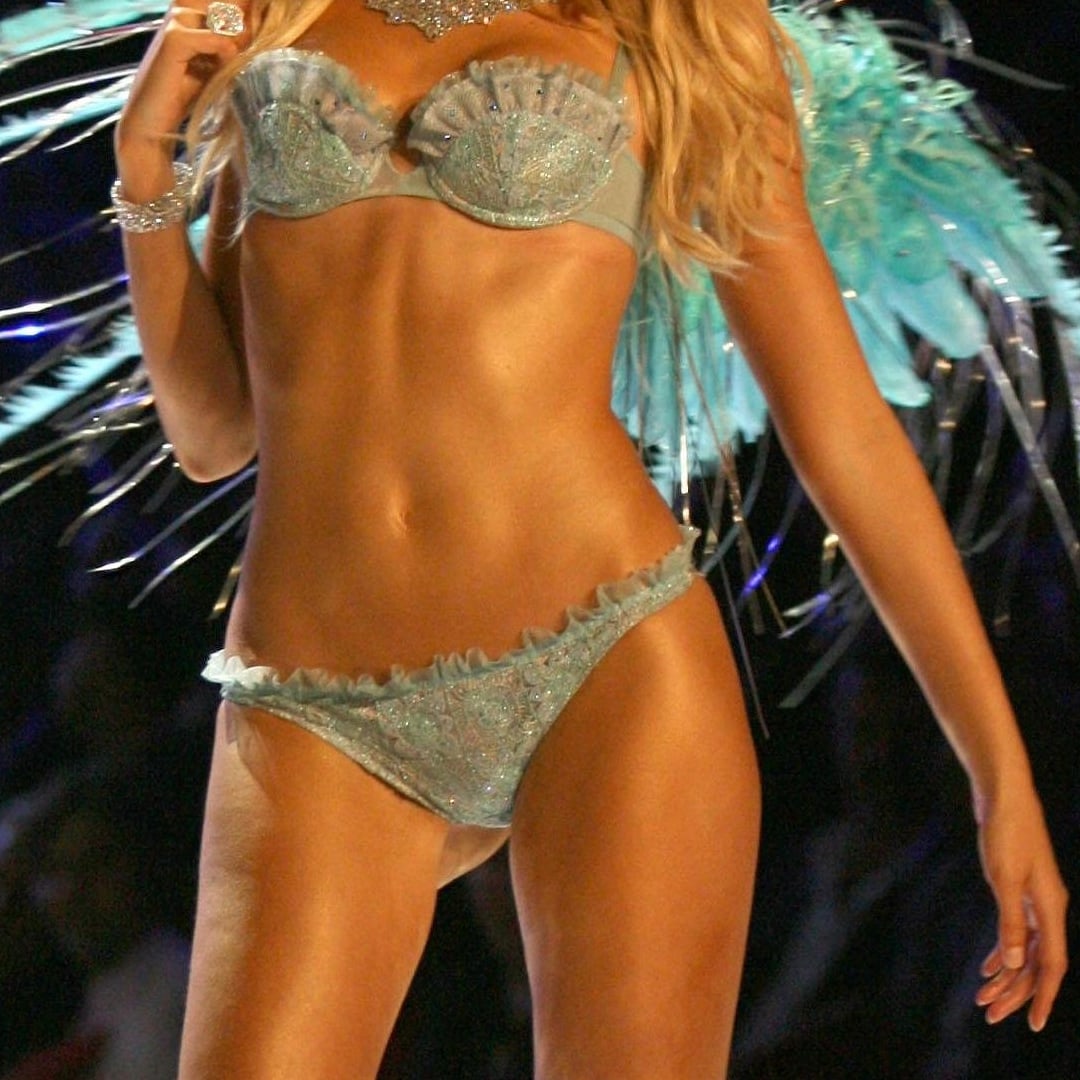 Karolina Kurkova has an unusual belly button due to surgery as a child (Credit: PNP / WENN)
According to BBC, there could be medical reasons that explain her missing belly button: "Some have no belly button as a result of the surgery needed to correct abdominal problems at birth, often either an umbilical hernia, or a condition known as gastroschisis–born with the stomach and intestines poking through a hole in the abdominal wall."
A plastic surgeon at Manhattan's Mount Sinai Medical Center confirmed to New York Daily News that it's the likely explanation.
"It does look like [she may have had] an umbilical hernia as a child that was either fixed or not fixed, which can distort the belly button," said Dr. Matthew Schulman.
Victoria's Secret Angel Karolina Kurkova shows off her invisible belly button on the runway at the 2008 Victoria's Secret Fashion Show at the Fontainebleau Hotel Miami Beach, Florida, on November 15, 2008 (Credit: WENN)
In November 2014, Karolina Kurkova attended a Fashion for Kids charity event in Prague.
The fashion show raises money for the Tereza Maxová Foundation, which benefits orphanages and children's homes in the Czech Republic.
Karolina Kurkova wearing a vintage black lace gown featuring flapper fringing on the bottom of the skirt (Credit: WENN)
Hopefully, there were no children present as Karolina's outfit left little to the imagination.
In tune with the event's Great Gatsby theme, the then 30-year-old Czech model donned a vintage black lace gown featuring flapper fringing on the bottom of the skirt.
She styled the backless dress with a pair of black patent leather ankle-strap pumps.
Karolina Kurkova at the Fashion for Kids charity fashion show in Prague, Czech Republic, on November 28, 2014 (Credit: WENN)
Do you agree that the dress looked tacky?
While we've not been able to identify her black pointy-toe pumps, you can find similar styles from $10 at Kim Kardashian's ShoeDazzle and Zappos.
Black Ayla Studded Pointy-Toe Pumps, $10
Ivanka Trump "Chatty" Pumps, $150
Black Monavi Sculptural Pointy-Toe Pumps, $10