After an impressive Gucci Premiere gown and Casadei sandals ensemble on the first day of Cannes 2014, Blake Lively failed to clear the high bar she set for herself on the second day of the film festival. Hitting the red carpet at the 'Mr. Turner' premiere on Thursday, Blake disappointed our fashion expectations in a sequined, sheer-skirted, awkwardly mermaid-cut Chanel Couture gown. She also went back to her Serena van der Woodsen–inspired bedhead hairstyle. A prom shawl and glaring white pumps added to the confusion of her mish-mash look.
Blake Lively at the 'Mr. Turner' premiere at the 2014 Cannes Film Festival held in Cannes, France, on May 15, 2014
What made it even more confusing was the dress' optical illusion cut that made Blake's already tiny waist look even tinier. Combined with the generous proportions of Blake's chest, the former 'Gossip Girl' star was truly a real, live, walking Barbie doll on the Cannes red carpet. Keira Knightley and Kristen Stewart also wore Chanel optical-illusion waist dresses before, and they weren't successful either.
What a fall from the top of our best dressed list. Oh well, at least what we said about Blake knowing how to expertly present a look still holds true with this picture:
Blake Lively twirling for the cameras at the 'Mr. Turner' premiere at the 2014 Cannes Film Festival
Thanks to the awkward ankle-length cut of the Chanel gown, we got to see the sparkly heels of Blake's white pumps: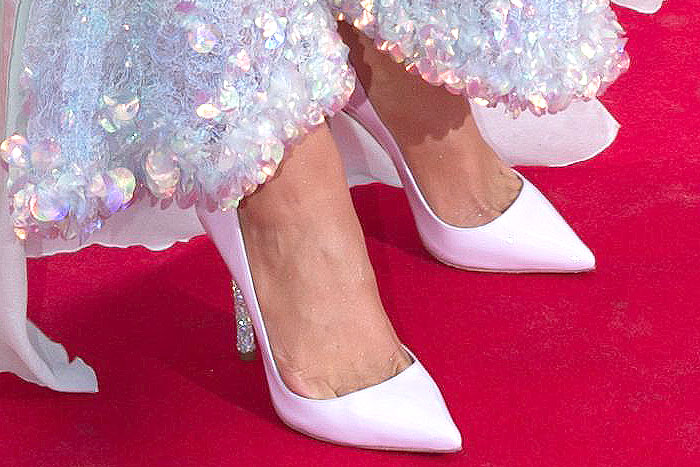 The heels identify the shoes as these Sophia Webster "Etta" pumps with a trio of bows at the back matching the crystal-encrusted stilettos:
Sophia Webster "Etta" Pumps, £460
Credit: ZIHNIOGLU KAMIL/SIPA