Paris Hilton Footwear: Shoes, Boots, Heels, Pumps, and Sandals
Please subscribe to
our newsletter
to receive updates from Your Next Shoes. This post may contain affiliate links. Please see our
disclosure
for more details.
Scroll down to see celebrities wearing footwear by Paris Hilton.
The American media personality launched her eponymous footwear collection at Macy's South Coast Plaza, in Orange County, California, in 2008. She also promoted her shoe brand at other Macy's locations.
Paris Hilton promotes her footwear line at Macy's in Las Vegas on July 29, 2008 (Credit: WENN / Judy Eddy)
She shared the following statement on Myspace, an American social networking website that was still popular at the time.
Hi Everyone! I wanted to let you all know about something I am so excited about–my new Footwear Collection launching at Macy's South Coast Plaza on February 8th!!

I have always loved shoes and after working on my recently launched sportswear and fragrance lines, this seemed like a natural next step. The Paris Hilton Footwear Collection is perfect for the fashion-forward young woman who wants to look and feel great from head-to-toe without spending a fortune.

I love these shoes; they come in a range of styles that are totally chic and trendy – from sexy stilettos and platforms to must-have flats, wedges and boots. I personally chose the styling, design, materials and colors for the line and also wanted to make sure it was super comfortable! Each shoe has a heart shaped comfort pad sewn into the inner sole, so you can dance all night long! I also made the soles of the shoes pink so no matter how you look at them, they are super cute!

We are launching The Paris Hilton Footwear Collection at Macy's at South Coast Plaza (in Orange County, CA) on February 8th from 3-6pm! Plus, from January 29th to February 8th, girls can not only get a sneak peak of the line at Macy's South Coast Plaza, but the first 200 customers to make a purchase from the Paris Hilton Footwear Collection will be guaranteed a space in line where we can meet at the February 8th launch event.

Don't worry, if you aren't in Orange County, you can also get the shoes at Kitson, Zappos, Endless, Bakers, Lord & Taylor and select specialty boutiques across the country.

Hope you like them as much as I do!

Xoxo, Paris"
The hotel heiress signed a deal with Antebi Footwear Group to create her signature shoe collection. She was reportedly paid 8 percent of net sales in royalties for her signature shoe line.
Antebi Footwear's Chief Executive Joseph Antebi said: "Paris has been a pleasure to work with and we are very excited to be able to translate her vision into reality. Her previous ventures, such as her fragrance line, have proven to be extremely successful and we are confident that this venture will exceed her previous success."
6 years later, in 2014, Cosmopolitan reported that Antebi Footwear Group had hit Hilton with a $2 million breach-of-contract suit after she allegedly allowed a rival footwear company, Retouch, to release a competing line of shoes.
Best Paris Hilton Heels, Sandals and Shoes
Fashion has come full circle and everything from the 2000s is hot again. And who better to represent that decade…
Paris Hilton lent her face and fame to Totalee Hair Care for the brand's store opening in Beverly Hills on Thursday….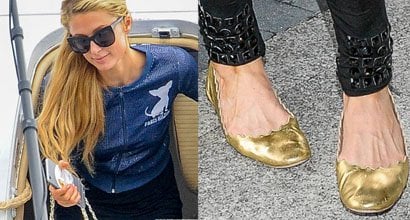 If there's one thing Paris Hilton loves as much as the limelight, it just might be glitter. The former reality…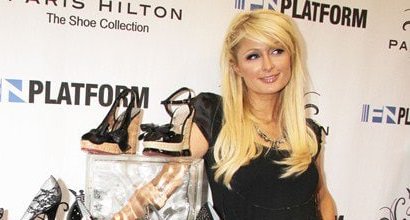 Paris Hilton's shoe choices normally aren't particularly exciting. She is often seen in classic pumps, but rarely in shoes from…
Paris Hilton recently revealed the inside of her shoe closet on Diana Madison's new AOL show 'The Lowdown with Diana…
Nina Dobrev has an unbelievably small waist. That's the first thing that crossed my mind when I saw this picture…
I was going through pictures of the 2010 Golden Globe Awards when I noticed something – a lot of the…