Brighton Collectibles was started by high school sweethearts Terri Kravitz and Jerry Kohl in 1991. What first began with a collection of belts ultimately extended to include other accessories such as handbags, perfumes, watches, eyewear, wallets, footwear, and jewelry.
Known as a one-stop destination for dressing women from head to toe, Brighton's purses and handbags are some of the label's more popular products that are highly sought-after and collected by chic women worldwide.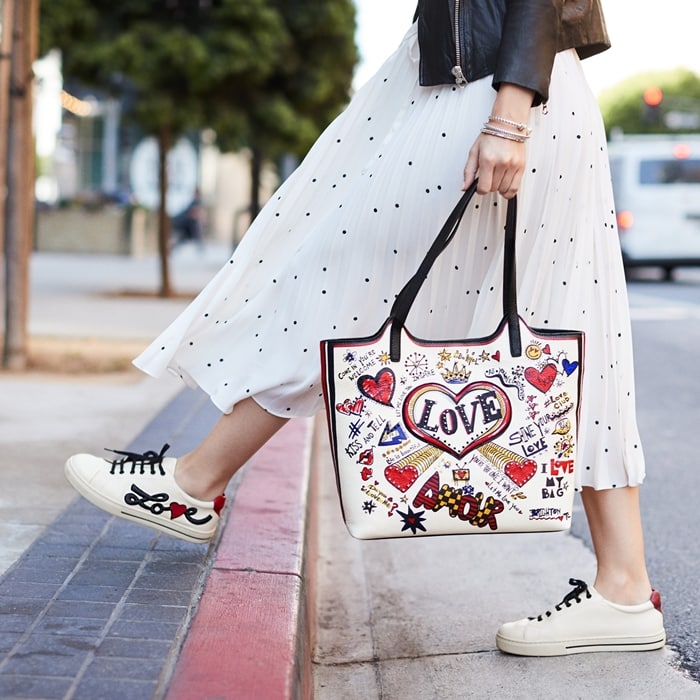 Brighton Collectibles (Brighton) is an American accessories manufacturer and retailer (Credit: Brighton)
Yet, just like other labels with a stylish following, many Brighton bags are copied and counterfeited.
A December 2019 report by CBS claimed that over $130,000 worth of counterfeit handbags were seized in Philadelphia by Customs and Border Protection officers. In August 2021, WSB-TV reported that nearly $140 million in counterfeit items were found in Georgia.
"You've got purses, watches, handbags, belts from all the high-end manufacturers like Prada, Louis Vuitton, Gucci, except they're not really? No, no they're not. They look like it, but they're not," Corporal Jonathan Cornelius told the ABC-affiliated television station.
Brighton's hand-braided Vega mini crossbody bag is inspired by the clean lines and architecture of Santorini, Greece (Credit: Brighton)
With each Brighton handbag lovingly sketched by a designer and manufactured by hand, you definitely won't want to end up with a counterfeit version!
Luckily, plenty of ways will enable you to see whether a bag is real or fake. The main rule is that you should never forget to be vigilant when you purchase Brighton bags, especially if it's from a reseller or a secondhand store.
Where to buy Brighton bags
Brighton bags are the perfect finishing touches to elevate everyday looks, whether you have your eye on a luxe leather bag or a bohemian chic embroidered tote.
If you're unsure where to get your Brighton handbag, you can safely purchase real bags from trusted online retailers like Brighton, Zappos, and Amazon.
Over 180 stores in the United States and Canada and 5,000 specialty retailers carry Brighton's stylish handbags.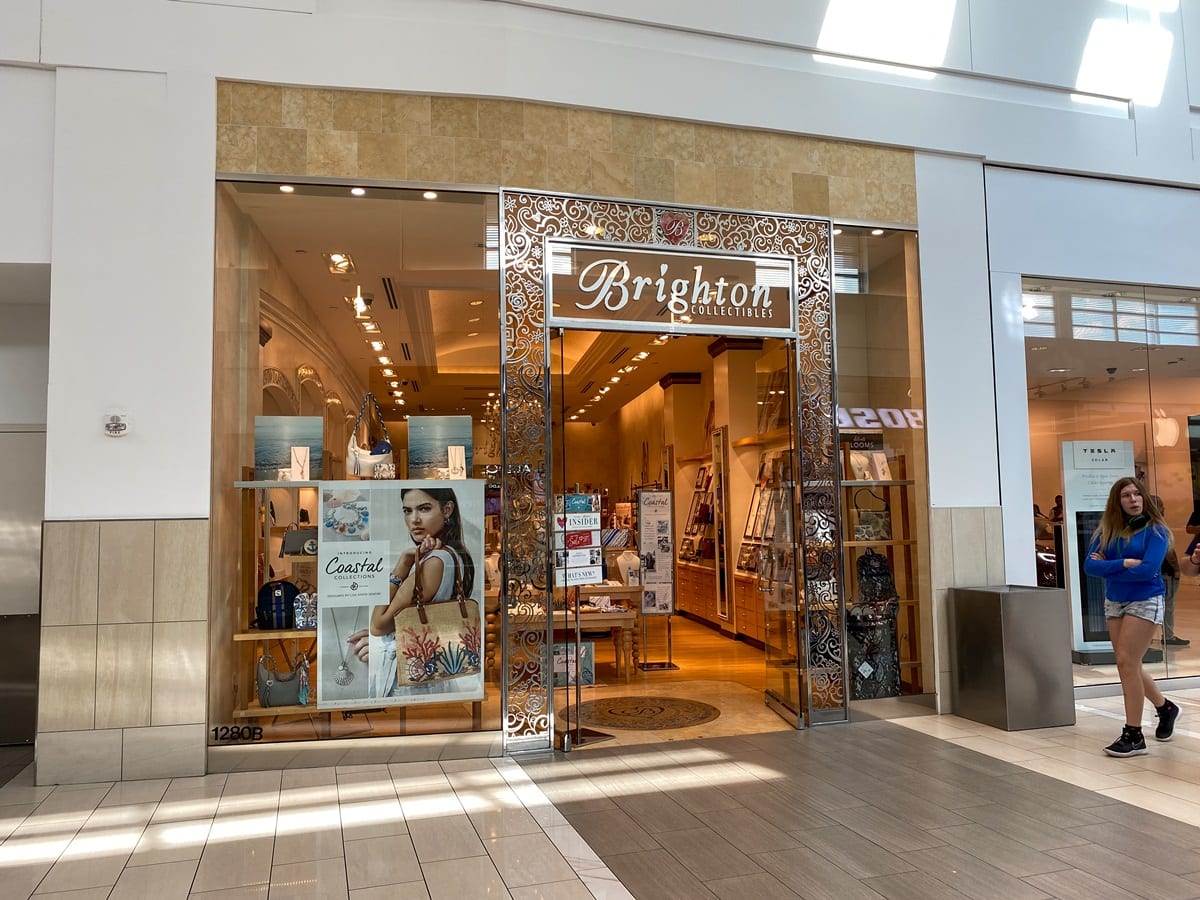 The best way to be sure that you are buying an authentic Brighton handbag is to buy it from an authorized retailer (Credit: Joni Hanebutt / Shutterstock)
While it's common to spot Brighton bags in vintage and secondhand stores, it's important to remember that the counterfeit versions look almost as good as the authentic ones.
Here are some main points to check out if you find yourself in a tricky situation wherein you can't tell if the Brighton bag is real or not:
1. Look up the registration number
Each Brighton handbag is equipped with a registration number that can be found on a square leather patch that is stitched inside the purse's interior. This comprises a unique and varied combination of letters and numbers.
You can verify the registration number by contacting Brighton's attentive customer service or visiting one of their many boutiques.
By registering your Brighton handbag, you'll get a warranty for two full years from the date of your purchase (Credit: Brighton)
Once you register your handbag, Brighton automatically gives you the Brighton Promise, a guaranteed bag warranty of two years from your purchase date. All registered leather bags also qualify for free cleaning and conditioning.
If you are concerned about the authenticity of your Brighton handbag, you can contact Brighton customer service for assistance. They will be able to help you verify the authenticity of the bag.
2. Examine the hardware and the stitching
Every Brighton bag is renowned for its unparalleled craftsmanship and superior quality, so you should be able to gauge a handbag's authenticity by simply looking at the hardware and the stitching.
While most Brighton bags are meticulously hand-stitched, this varies greatly with the designs and collections. However, if you notice uneven stitching or frayed stitching, this is an indication that the product might be fake.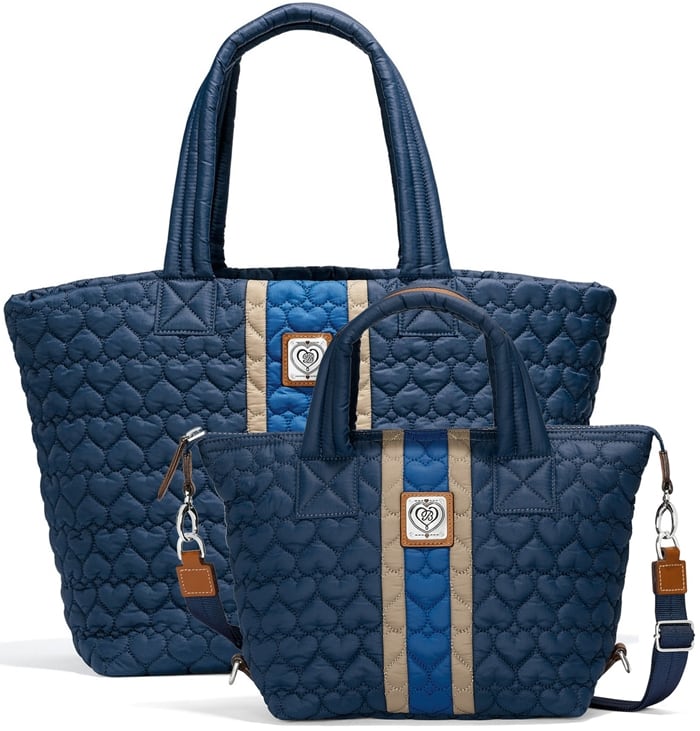 Brighton's Heart to Heart Collection features multi-pocketed, featherweight bags (Credit: Brighton)
The same applies to the zippers and the heart-shaped charms hanging from the bag's handles- if the hardware feels lightweight and has signs of chipping and tarnishing, it is likely a counterfeit product.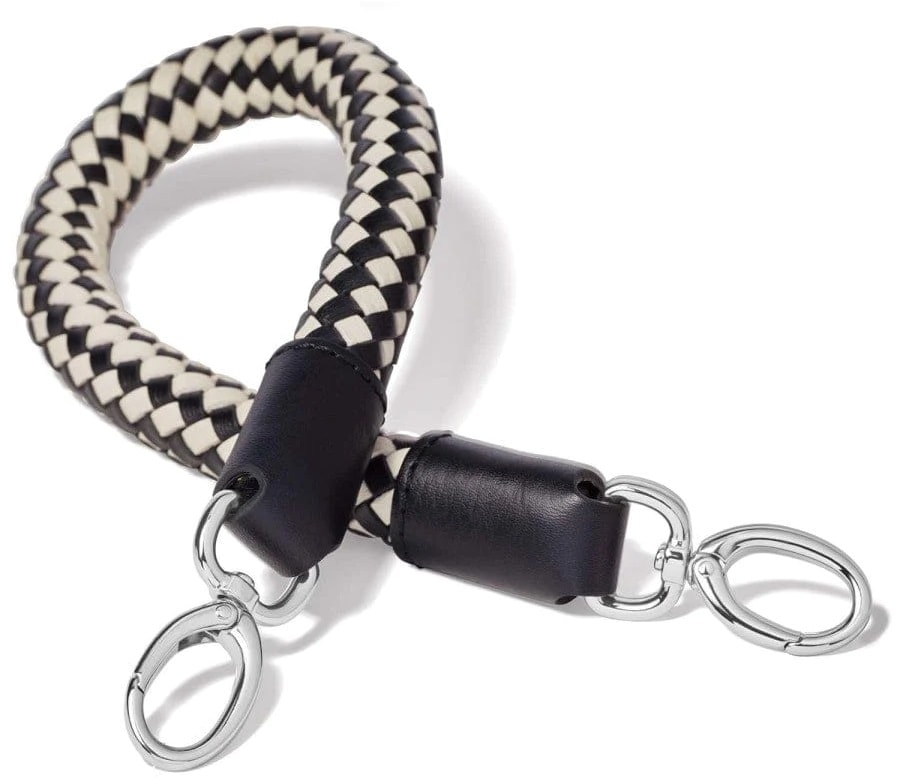 The hardware on a Brighton handbag is made of high-quality metal, such as brass or nickel
3. Check the price points
In general, Brighton bags usually range from $100 to $600. If you're offered a Brighton bag at a much lower rate, you should take the time to investigate before taking the plunge.
For example, if it's from an online reseller, review past reviews to check whether the vendor has had many happy customers and watch out for unsatisfactory comments and reviews.
4. Consider the material
Brighton bags are made from various materials, from supple leather for daily adventures to sturdy nylon, ideal for rainy days.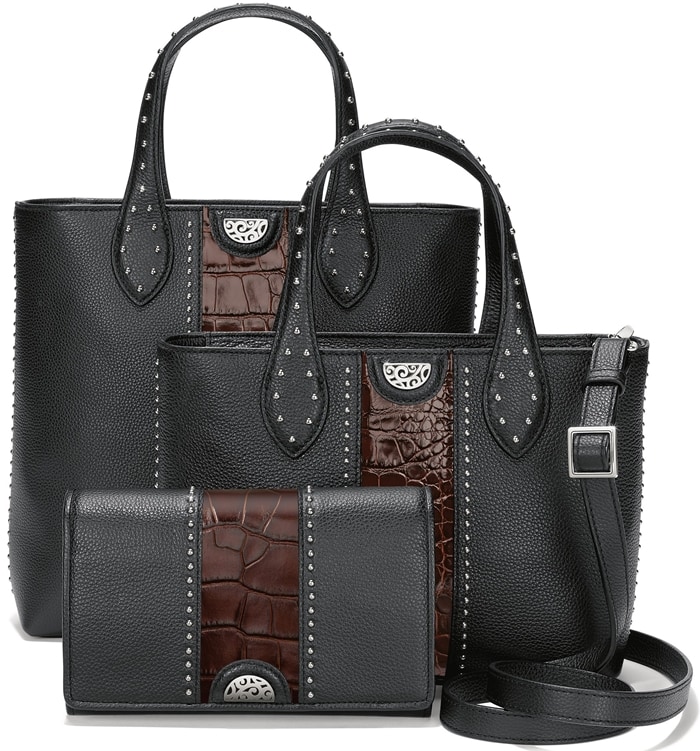 Brighton's Pretty Tough Collection features handbags made from soft, supple leathers that are punctuated by silver studs and finished with silver-plated hardware (Credit: Brighton)
An easy way to tell whether your Brighton bag is a counterfeit product is by examining whether the leather feels rough against your skin or if the material isn't up to par with Brighton's high standards.
5. When in doubt, go check out Brighton's website
If you're still unsure about the authenticity of your Brighton bag, look no further than the label's website to compare and contrast your item with the many bag styles found there.
From evaluating the standard of workmanship, such as the interior lining and the seams, to looking at the places of manufacture, you should be able to get a good sense of what you should expect from a real Brighton handbag.
Where are Brighton handbags made?
The company's headquarters are still in Redondo Beach, California, but Brighton Collectibles is not believed to have any manufacturing facilities in the United States. Unfortunately, the company makes it difficult to see where its products are made.
Brighton handbags and leather accessories are hand-assembled in China and often require as many as 140 individual manufacturing steps using up to 40 different parts. Brighton jewelry is made in Taiwan.
The company's footwear line is manufactured in Italy or Brazil. A few specialty items, such as flip-flops, sneakers, and espadrilles, are produced in China and India.
Brighton claims that the people who craft their products abroad are treated with the same high level of respect as those who work in the company's offices in the United States.
Is Brighton jewelry real silver?
Each piece is cast in solid brass or zinc alloy and is plated in pure silver. Since silver has a natural tendency to tarnish (oxidize) and scratch, a protective layer of lacquer is added to assist in retarding this natural process.
Brighton earring posts, French wires, and lever backs are composed of sterling silver, an alloy of silver containing 92.5% by weight of silver and 7.5% by weight of other metals, usually copper.
Clip-on earrings are not sterling silver; they are stamped brass with a plating finish. Brighton does manufacture certain ring styles with sterling silver. These rings have a stamp of 925 on the inside.
Do Brighton purses have a lifetime warranty?
No, Brighton purses do not have a lifetime warranty. However, they do have a two-year warranty against workmanship and structural defects. If your purse breaks due to a defect in the materials or construction, Brighton will repair or replace it for free within two years of purchase.
Each Brighton registered handbag has a registration number on a leather patch stitched on the handbag's inside. This number is used to identify the handbag and to track its warranty status.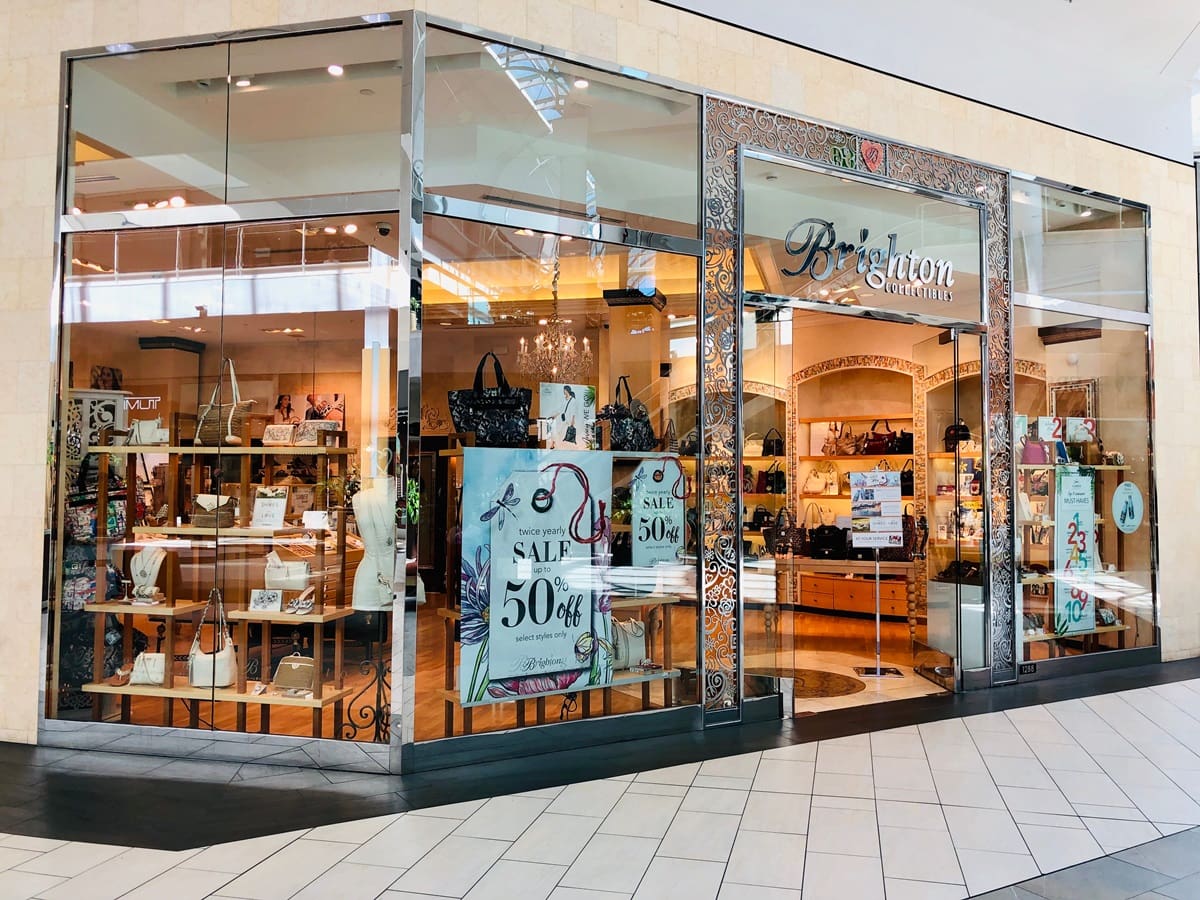 Brighton is a global brand with stores in major cities around the world (Credit: ZikG / Shutterstock)
The registration number is not a serial number. A serial number is a unique identifier that is assigned to each individual product. The registration number is used to identify a Brighton handbag, but it is not unique to each handbag.
You must register your purse with Brighton to be eligible for the warranty. You can do this online or by mail. Once your purse is registered, you must provide proof of purchase when you make a warranty claim.
The warranty does not cover damage caused by normal wear and tear, abuse, or neglect. It also does not cover damage caused by accidents, such as spills or dropped objects.