Camila Mendes made an unforgettable impression at the 80th Venice International Film Festival in Venice, Italy, showcasing her impeccable fashion sense and red-carpet prowess.
The 29-year-old actress wowed the audience at the 2023 amfAR Gala on Sunday night, gracing the event in a mesmerizing Miu Miu creation that epitomized the essence of summer.
Her breathtaking ensemble featured a pristine white backdrop adorned with a delicate print of dainty blossoms, their wispy green stems gently trailing across the fabric.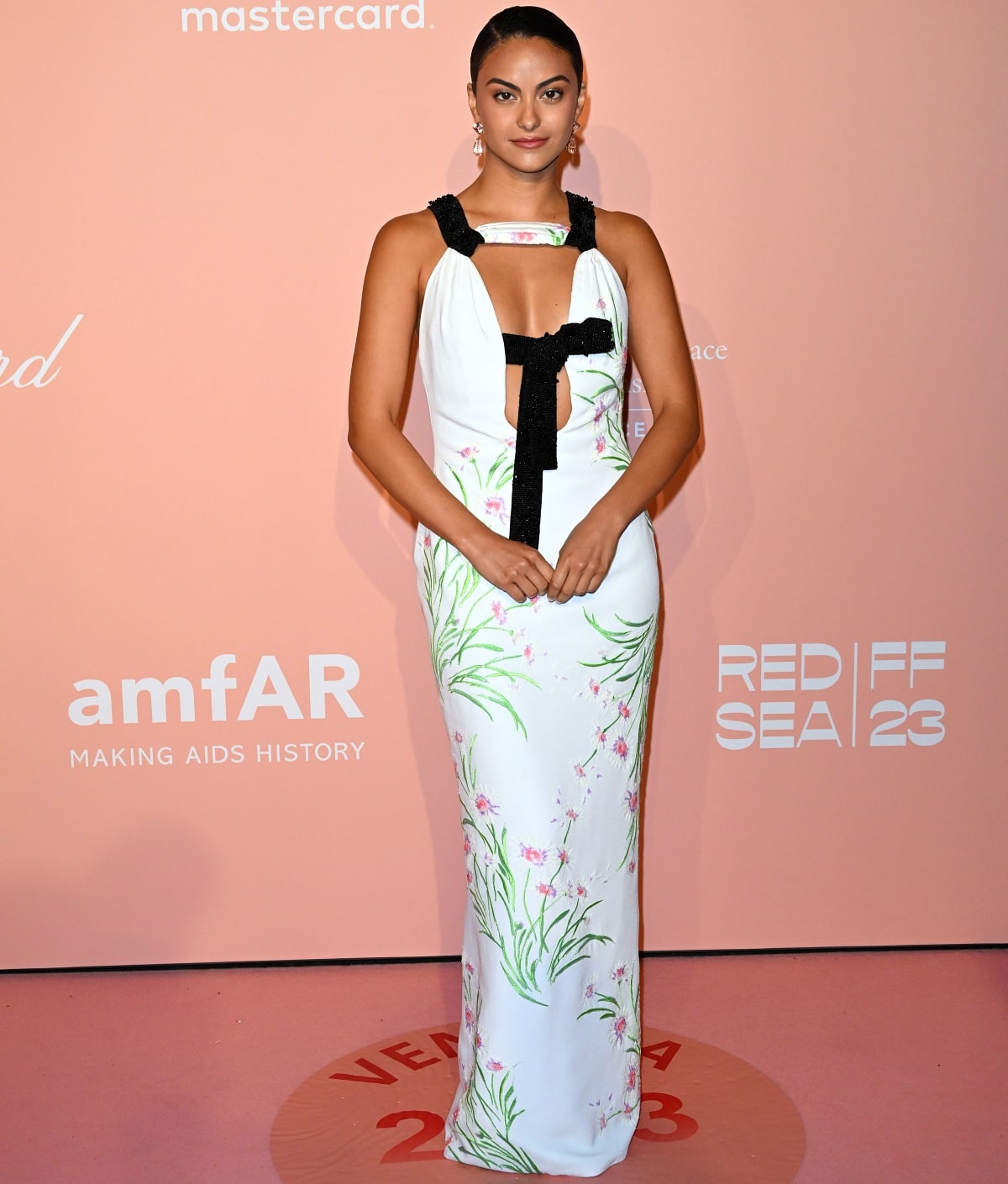 Camila Mendes making a stunning entrance at the amfAR Gala during the 80th Venice International Film Festival in Venice, Italy on September 3, 2023 (Credit: IPA / INSTARimages)
A work of art in its own right, Mendes' floor-length attire showcased a rounded bodice with two broad black straps, each adorned with dark, glistening sequins that caught the light with every step.
The dress' keyhole bodice was cinched with a tied bow, creating a sleek and romantic silhouette that perfectly suited the occasion.
Molly Dickson, Mendes' stylist, understood the power of simplicity. She let the dress shine by pairing it with rose gold-backed diamond Kallati teardrop earrings.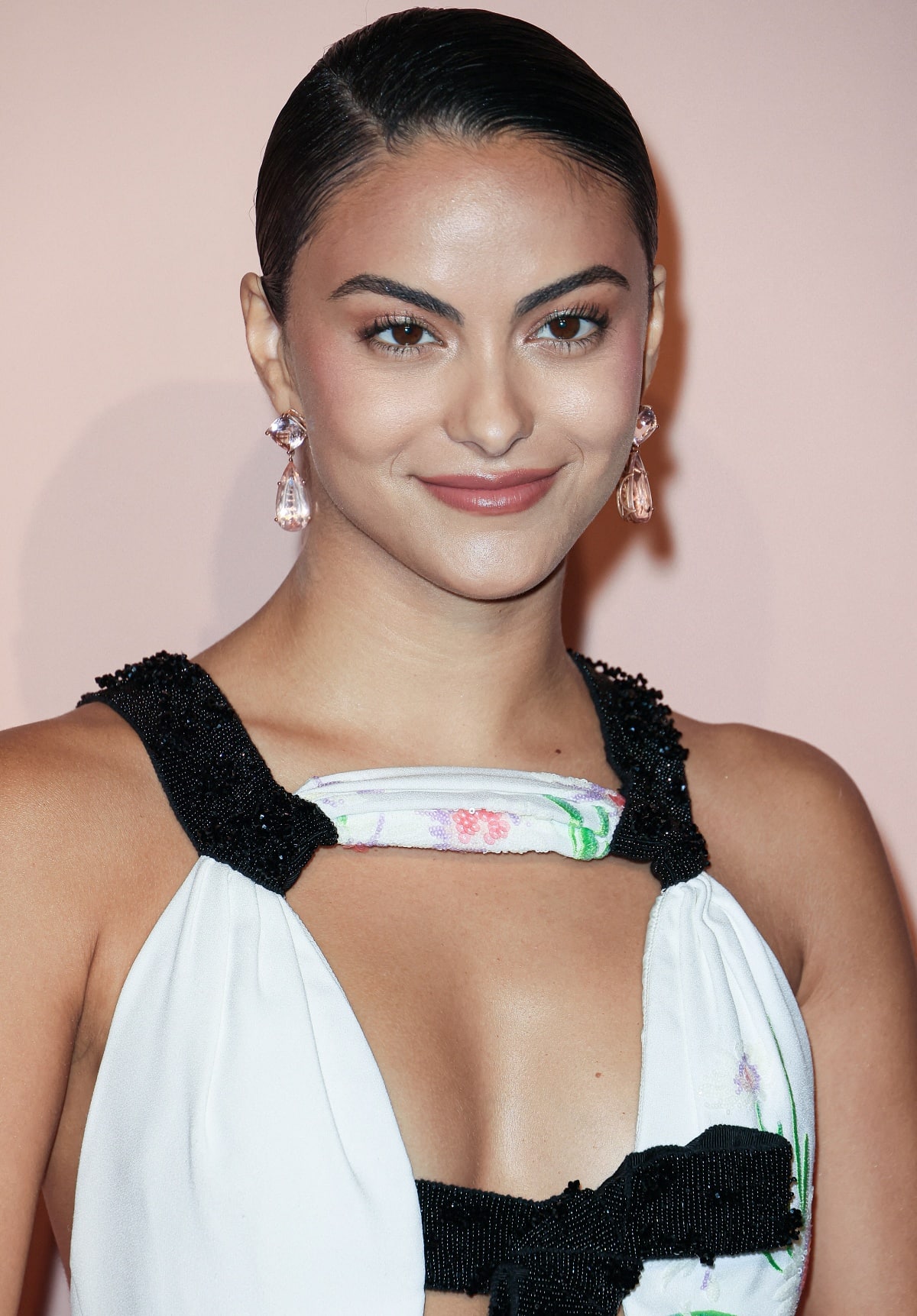 Camila Mendes showcasing her rose gold-backed diamond Kallati teardrop earrings (Credit: Abaca Press / INSTARimages)
These elegant accessories seamlessly complemented the outfit's tonal pink details while enhancing the overall glamour with their radiant sparkle.
While her footwear remained hidden beneath her dress' long train, it's safe to assume that the Riverdale star opted for pointed-toe pumps or high-heeled sandals – a signature choice for her red carpet appearances.
Camila Mendes wearing a Miu Miu creation that oozed romance and feminine charm (Credit: Abaca Press / INSTARimages)
Camila Mendes continued captivating the fashion world when she attended Giorgio Armani's "One Night Only" fashion show, taking her place among A-listers like Kerry Washington, Jessica Chastain, Lili Reinhart, and Kelsea Ballerini in the coveted front row.
For this occasion, the Do Revenge actress donned a show-stopping black gown from Armani Prive's Fall 2009 Couture collection, proving she is a true fashion icon.
This form-fitting masterpiece showcased a sheer nude base with an elegant round beaded neckline. What set it apart was the clever use of thin matte black silk strips, creating the illusion of a striking cutout bodice.
Mendes' ensemble gracefully cascaded into a shiny fishnet floor-length skirt adorned with gleaming black beads and captivating sequin work around the waist.
Styled again by Molly Dickson, she accented her attire with diamond stud earrings, ensuring that the gown's textures and silhouette remained the center of attention.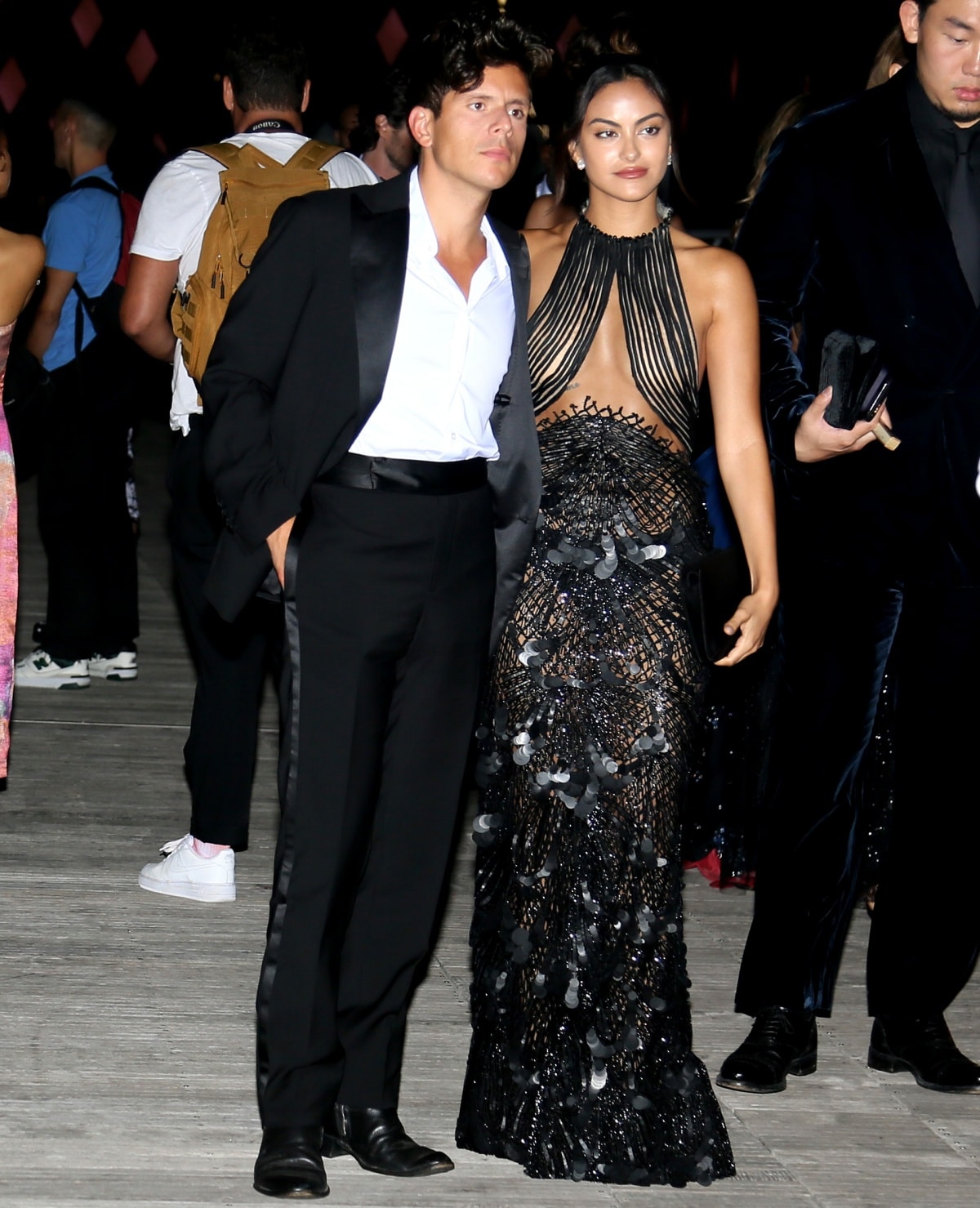 Camila Mendes with boyfriend Rudy Mancuso in matching black ensembles at Giorgio Armani's "One Night Only" fashion show in Venice, Italy on September 2, 2023 (Credit: IPA / INSTARimages)
Completing her all-black outfit was a black satin clutch, minimal makeup, and a top bun updo with a few free strands for that effortlessly chic look.
As with her previous red carpet appearance, Mendes' choice of footwear remained a mystery, hidden beneath her gown's long hem.
However, Mendes was not alone in turning heads at the event. She graced the red carpet alongside her boyfriend, Rudy Mancuso, forming a stylish power couple that captured everyone's attention.
The 31-year-old internet personality was impeccably dressed in a sleek black suit featuring silky lapels, complemented by black leather boots and a timeless white collared shirt.
Following the event, Mendes took to Instagram to share glimpses of her time at the Venice Film Festival. She shared captivating photos with fellow stars like Lili Reinhart and Sydney Sweeney, giving her followers a sneak peek into the glamorous world of film festivals.
View this post on Instagram
In her caption, she wrote, "day two of VFF 🖤 attending the @giorgioarmani show with @armanibeauty (last slide was meant to be a photo, put the sound on for maximum discomfort) 👍🏽."
On the first day of the Venice Film Festival, Camila Mendes made an unforgettable entrance, gracing the occasion in a strapless Giorgio Armani gown.
The dazzling ensemble embraced her elegant silhouette, and its flowing, full-length design exuded timeless sophistication. She wore a striking statement necklace and effortlessly chic heels to complete her ensemble.
View this post on Instagram
Mendes commemorated the moment with captivating snapshots shared on her Instagram, accompanied by the caption, "day one of venice film festival with @armanibeauty ⚓️ #luminoussilk #armanibeauty #venezia80."