The new Netflix dark comedy teen movie Do Revenge, directed by Jennifer Kaytin Robinson, arrived on Netflix on Friday and has since become a hot topic on social media.
Set in Miami, Do Revenge is about an unlikely friendship between Rosehill high school's queen bee Drea (played by Camila Mendes) and an awkward, gay transfer student Eleanor (played by Maya Hawke).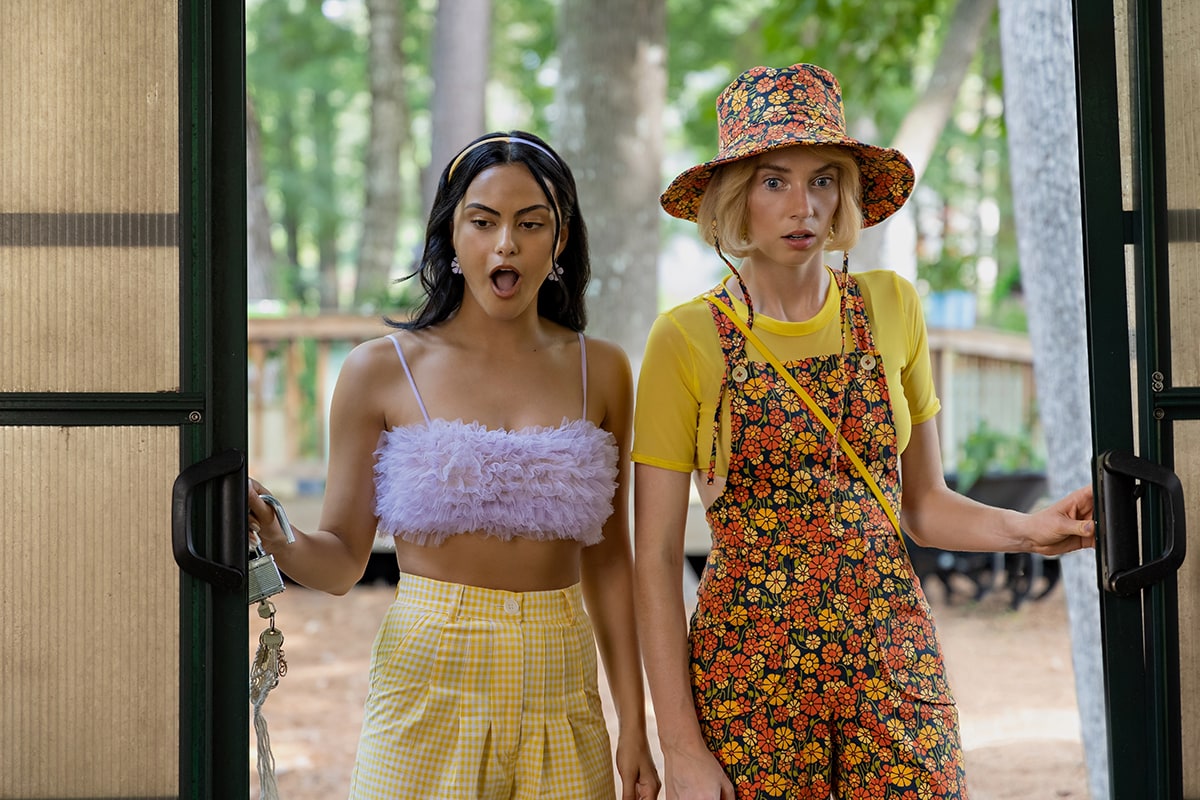 Camila Mendes and Maya Hawke star in the new Netflix dark comedy teen movie Do Revenge (Credit: Netflix)
Drea wants to get back at her boyfriend for leaking her sex tape, while Eleanor becomes an outcast after she was outed as a lesbian by her former crush. The two form a friendship and team up to seek revenge on one another's bullies.
On Wednesday, lead stars Camila Mendes and Maya Hawke led the glamour at the premiere of Do Revenge held at the Tudum Theater in West Hollywood. The rest of the cast were also out in full force, showing off their red-carpet fashion A-game.
1. Camila Mendes in Green Corset Top and Satin Skirt
With the help of her stylist Molly Dickson, Camila Mendes stood out in a lime green ensemble from Versace's Autumn/Winter 2022 collection.
She showcased her hourglass figure in a see-through mesh corset top with satin cups, Medusa-embellished straps, built-in gloves, and a curved hem.
Recreating the runway look, Camila put her taut tummy on display and paired the sculpted top with its matching low-rise ruched satin skirt.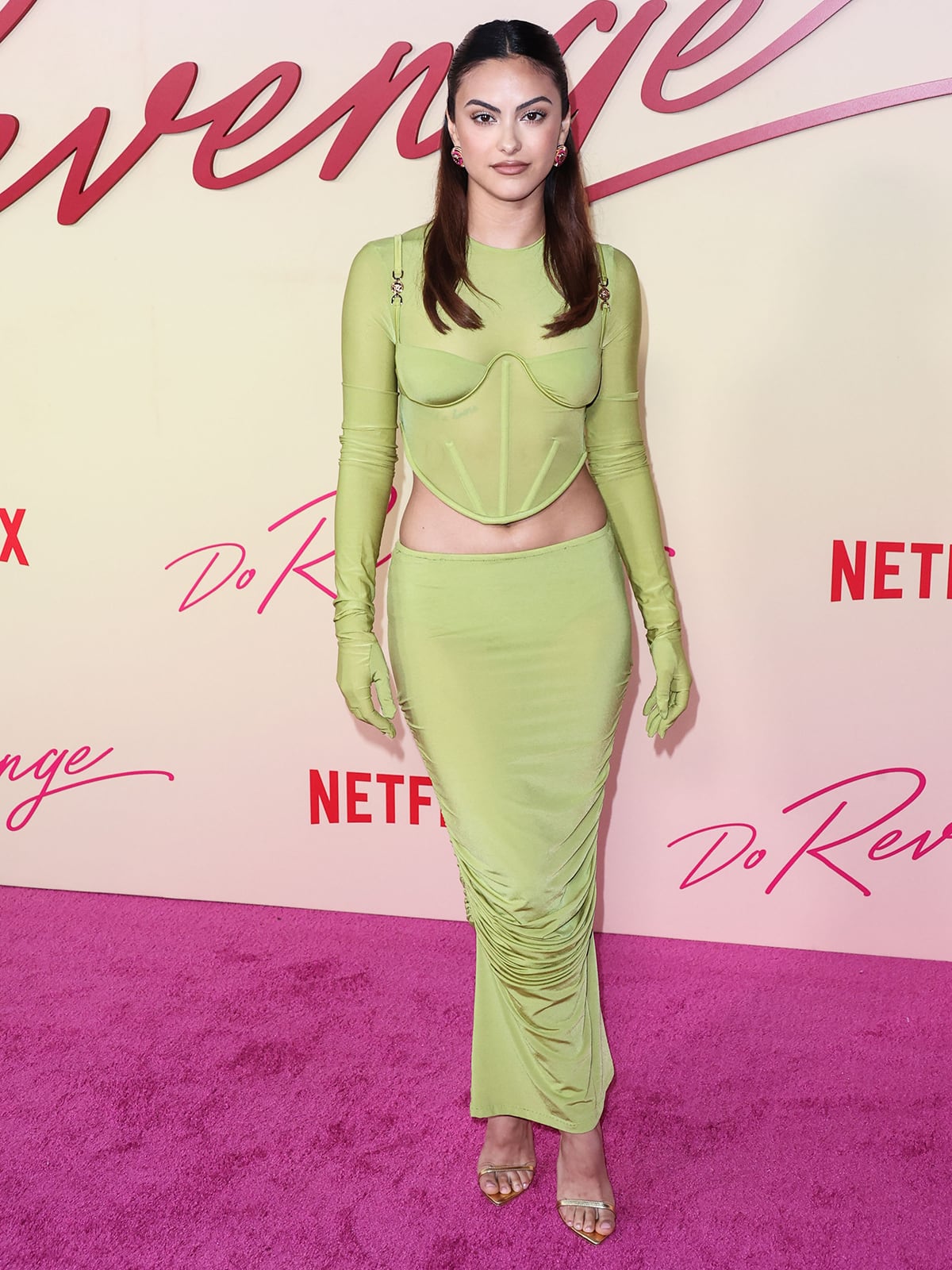 Camila Mendes shows off her hourglass curves in a Versace Autumn/Winter 2022 lime green corset top and satin skirt (Credit: Xavier Collin / ABACA / INSTARimages / Cover Images)
Drawing attention to her monochromatic outfit, the full-blooded Brazilian actress wore a sleek half-up hairstyle with soft bends on the ends, care of celebrity hairstylist Matthew Collins.
Makeup artist Jen Tioseco, meanwhile, used Armani Beauty to give Camila a luminous look. She applied neutral-tone makeup with mascara and satin lipstick.
The Riverdale star accessorized her look with Versace Medusa textured earrings, available for $635 at Farfetch.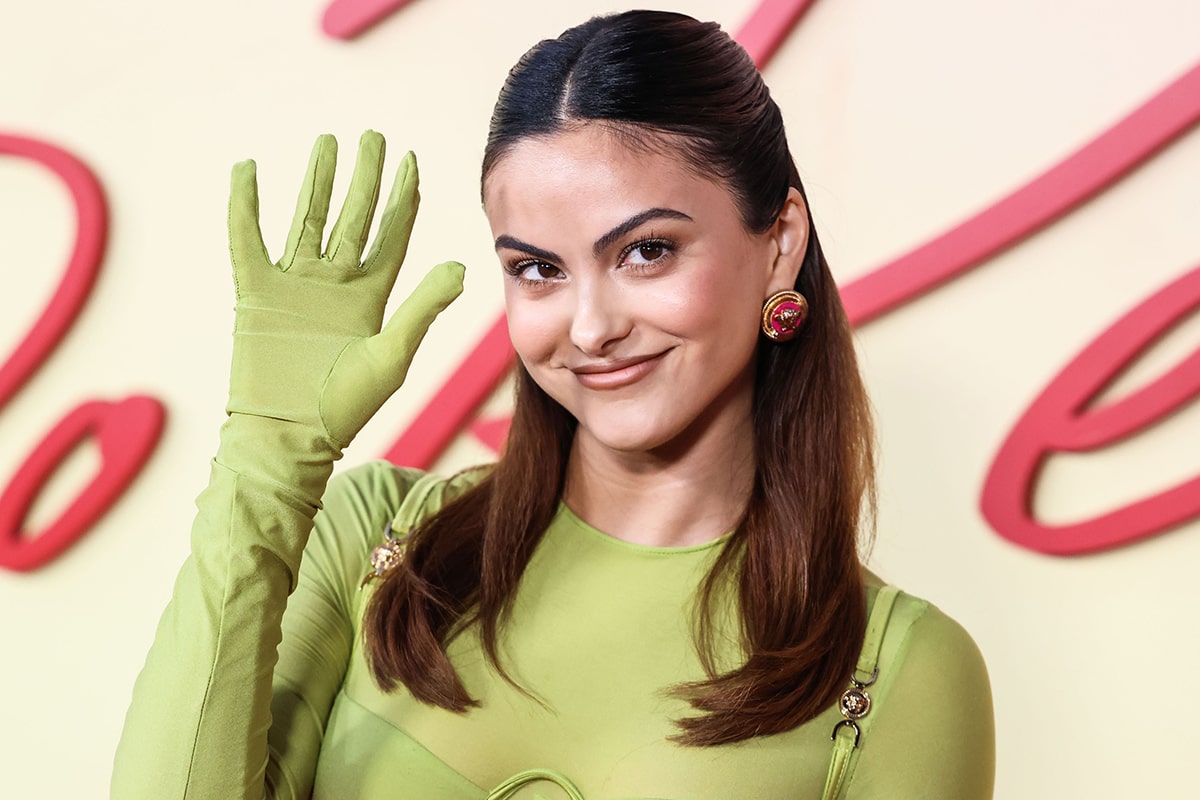 Camila Mendes styles her tresses in a sleek half-up 'do and wears neutral tone makeup with fluffy lashes (Credit: Xavier Collin / ABACA / INSTARimages / Cover Images)
She then created a cohesive look, and further styled her outfit with a $1,525 gold La Medusa mini bag and a pair of "The London" lace-up sandals from Los Angeles-based fashion footwear brand Femme LA that we've previously spotted on Chrissy Teigen.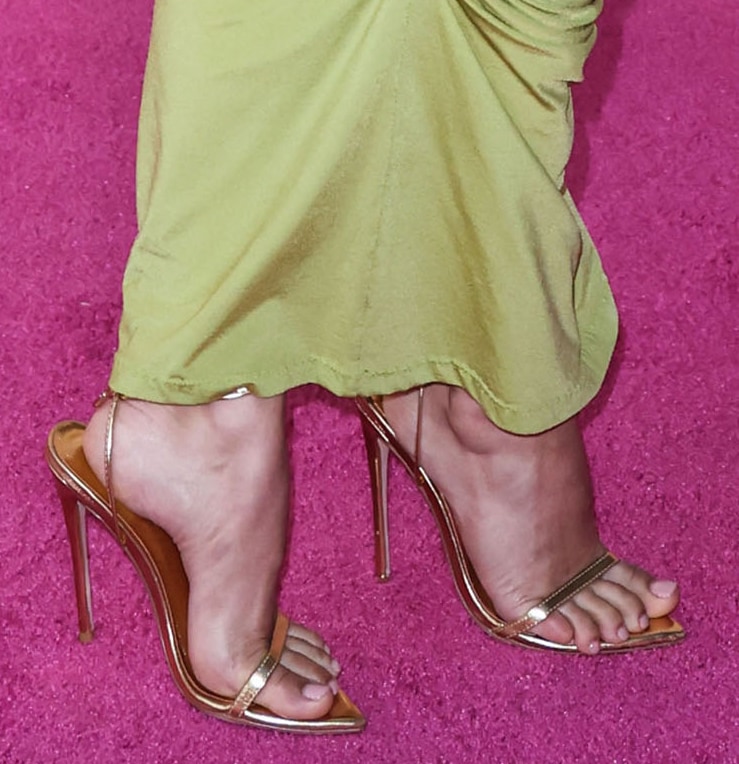 Camila Mendes shows off her feet in gold Femme LA The London sandals (Credit: Xavier Collin / ABACA / INSTARimages / Cover Images)
These minimalist vegan sandals are handmade from metallic vegan leather and feature wraparound lace-up straps, open toes, and 4.75-inch self-covered spiked stiletto heels.
Femme LA 'The London' Lace-Up Oro, $199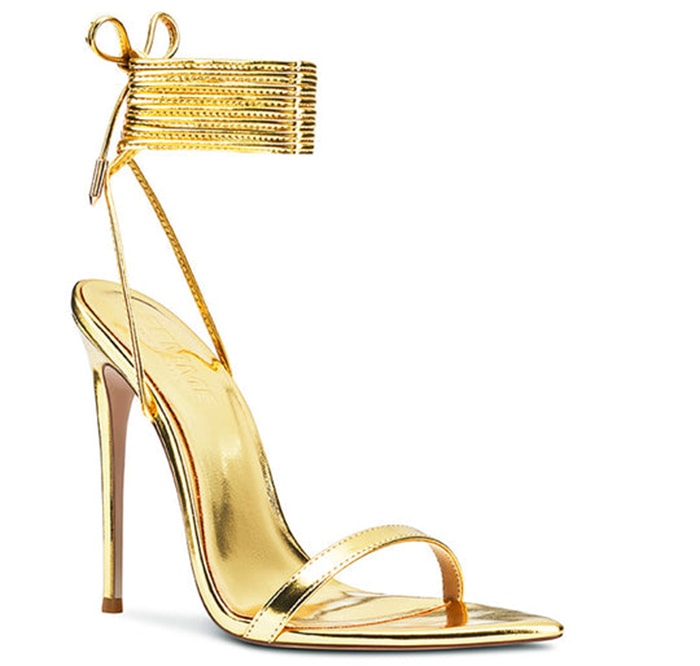 Femme LA's The London sandals are crafted from metallic gold leather and feature a sexy lace-up leg strap
2. Maya Hawke in Pink Velvet Dress
Ethan Hawke and Uma Thurman's daughter, Maya, went the retro route and opted for a pink velvet Alaia dress that featured an '80s-style argyle print around the neck.
The 24-year-old actress appeared braless underneath the fitted long-sleeved number, which she got from the Aralda Vintage store.
While straight in real life, Maya also portrays the lesbian character Robin Buckley on Stranger Things. Since February 2022, Maya Hawke has reportedly been dating musician Spencer Barnett.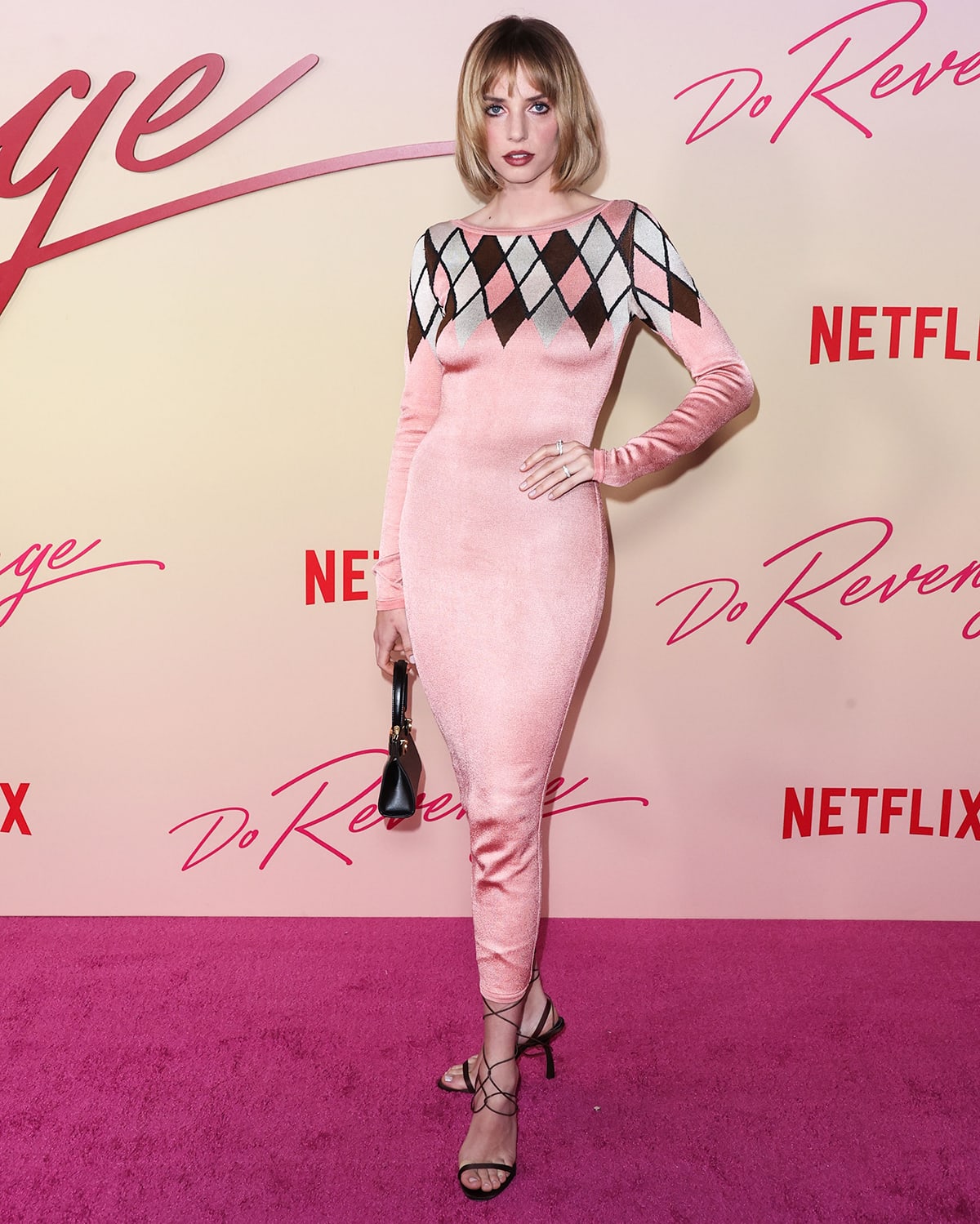 Maya Hawke embraces the '80s in a pink velvet dress with an argyle print around the neck (Credit: Xavier Collin / ABACA / INSTARimages / Cover Images)
Adding some sparkle to the look, Maya accessorized with a pair of drop earrings and a few silver-toned rings.
She kept the retro theme going by styling her blonde hair in a bob with '80s fringe and wearing mascara, pink blush, and mauve lip color.
Maya Hawke keeps the retro theme of her look going by wearing a fringed bob hairstyle, kohl-rimmed eyes, and mauve lipstick (Credit: Xavier Collin / ABACA / INSTARimages / Cover Images)
Carrying a black purse, Maya displayed her feet in Piferi "Izma" strappy open-toe sandals featuring crisscross straps and high heels.
Maya Hawke adds a sexy element to her vintage dress by showing off her feet in Piferi's Izma strappy heels (Credit: Xavier Collin / ABACA / INSTARimages / Cover Images)
3. Sophie Turner in Black Figure-Skimming Dress
It's only been two months since she gave birth to her second daughter with singer Joe Jonas, but Sophie Turner is already showing off her snatched waist in a black figure-skimming dress by Louis Vuitton.
Her stylist Kate Young selected a black satin tea-length dress with a sweetheart neckline and a cinched-in waist to flatter the mother-of-two's stunning post-baby curves. It's designed with zips on the sides of the bodice, finished with shoulder straps and a side slit.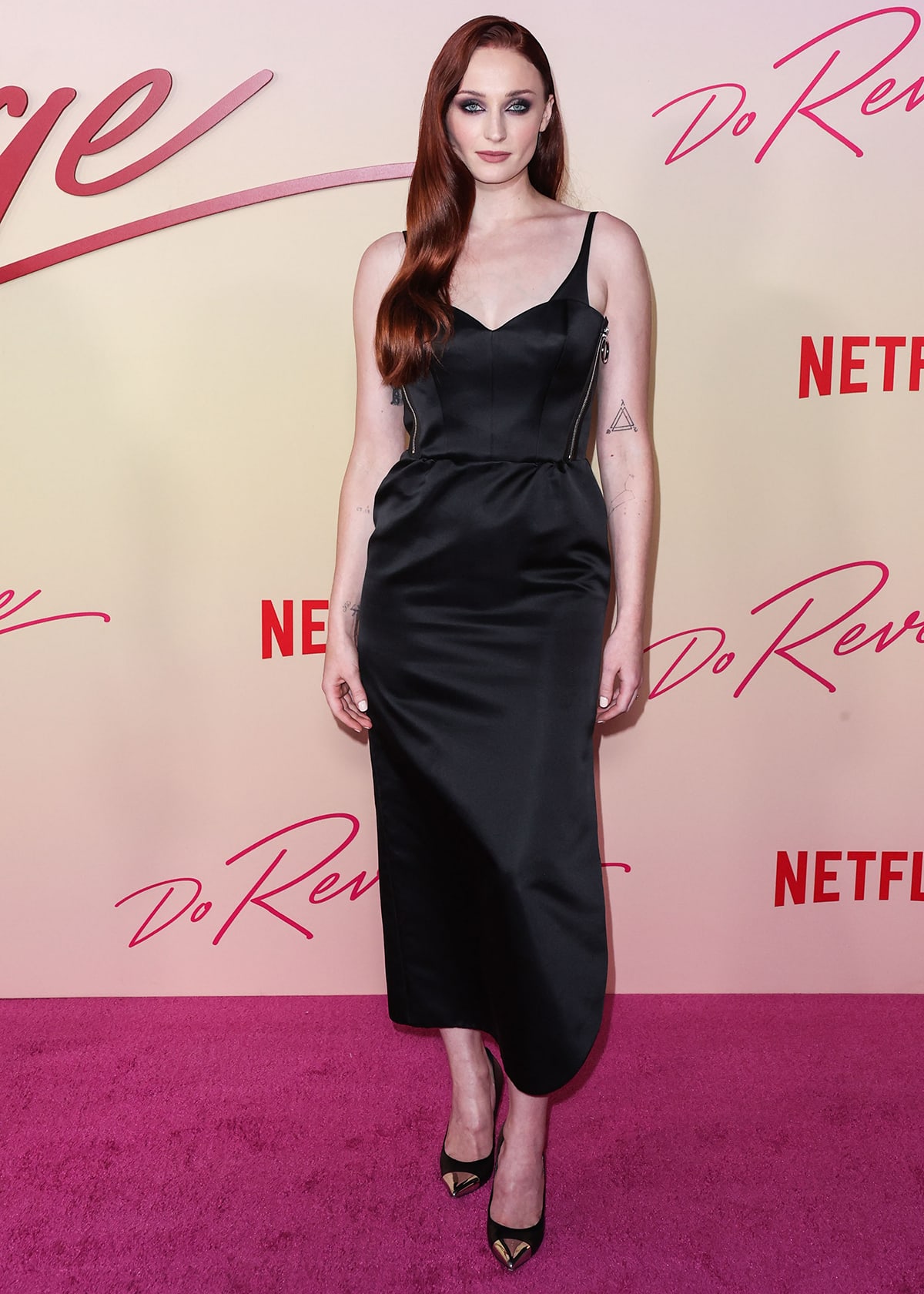 Sophie Turner flaunts her post-baby curves in a Louis Vuitton black dress and cap-toe pumps (Credit: Xavier Collin / ABACA / INSTARimages / Cover Images)
Sophie, who plays Erica Norman in the movie, skipped the jewelry to allow her dress to do the talking. She only wore her engagement ring and paired her frock with Louis Vuitton black pumps with gold-tone cap toes.
Creating a dark vampy look, makeup artist Georgie Eisdell gave the Game of Thrones star smokey eyeshadow with brushed-up eyebrows and mascara. Hairstylist Gregory Russell simply set her long red tresses in soft, glossy waves.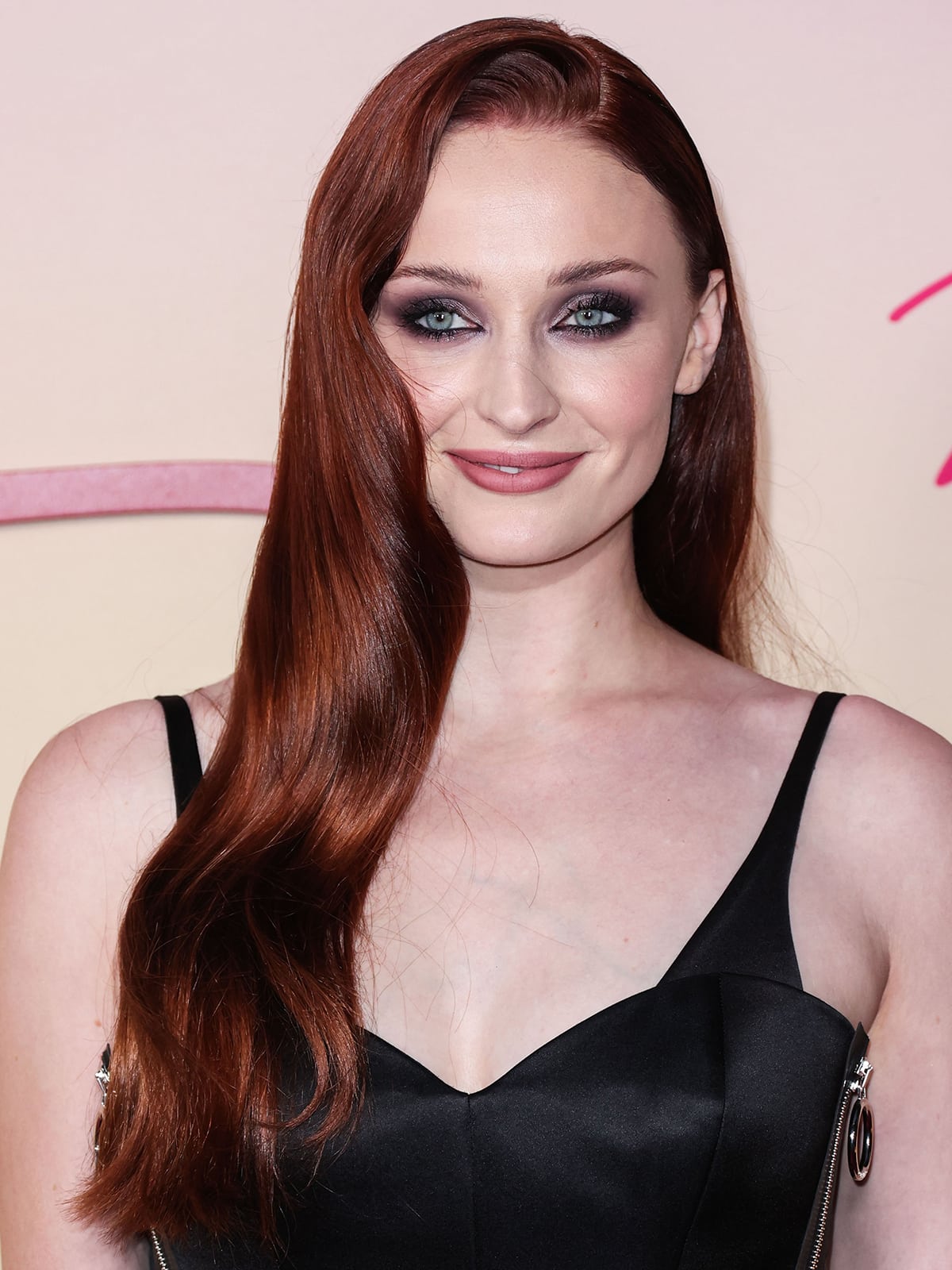 Sophie Turner creates a vampy look with smokey eyeshadow and long wavy red tresses (Credit: Xavier Collin / ABACA / INSTARimages / Cover Images)
4. Sarah Michelle Gellar in Copper Sequin Mini Dress
Director Robinson revealed that she dreamed of having Sarah Michelle Gellar in her teen comedy.
"She was my first dream choice. And it was one of those things where you don't think she's going to do it. I was like, 'Yeah, of course, let's offer it to her and see what happens,'" Jennifer Kaytin Robinson told Indiewire.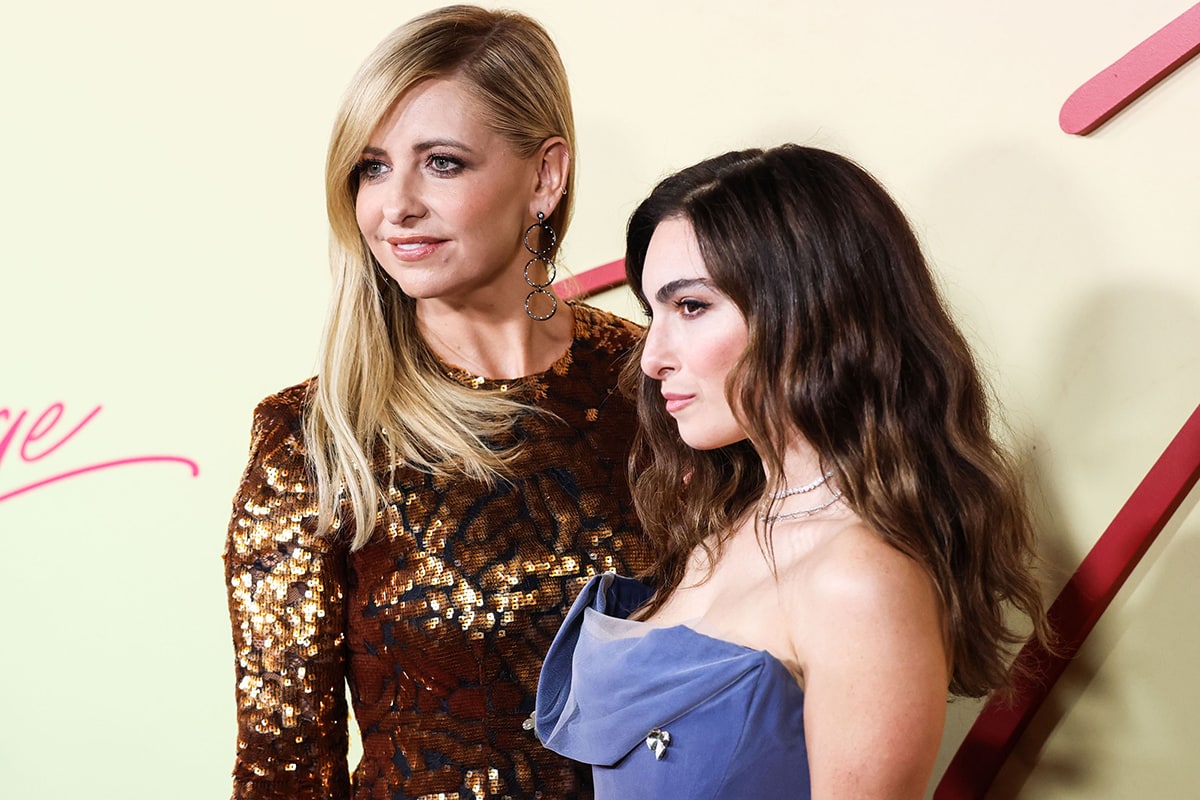 Do Revenge director Jennifer Kaytin Robinson reveals Sarah Michelle Gellar was her first dream choice for the dark comedy teen movie (Credit: Xavier Collin / ABACA / INSTARimages / Cover Images)
Although Gellar is only making a cameo as the Headmaster in Do Revenge, her role in the 1999 teen romantic drama film Cruel Intentions influenced the film.
Maya Hawke's mother, Uma Thurman, starred in the 1988 American period romantic drama Dangerous Liaisons, which influenced the 1999 American teen romantic drama film Cruel Intentions. During the welcoming day at school in "Do Revenge," one of the students is reading the novel "Dangerous Liaisons."
High school seniors Camila Mendes as Drea and Maya Hawke as Eleanor become good friends in the American teen comedy film Do Revenge (Credit: Netflix)
After Sarah Michelle signed on, Robinson rewrote all of the Headmaster's dialogue.
"I just heard her and sat there and literally thought about Kathryn from Cruel Intentions, like, if she was the headmaster of the school, what advice would she give?"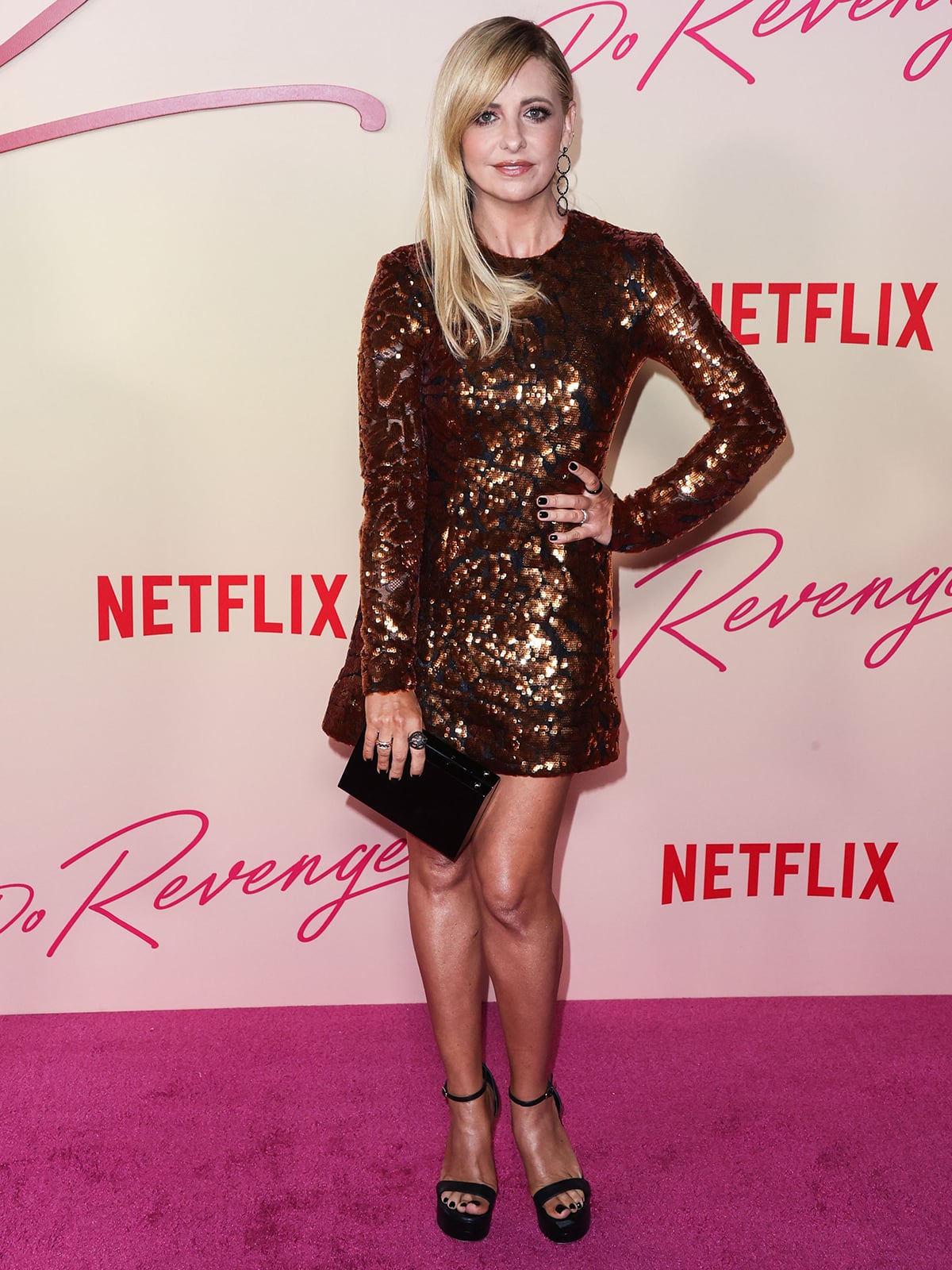 Sarah Michelle Gellar sparkles in a copper sequin Prabal Gurung mini dress (Credit: Xavier Collin / ABACA / INSTARimages / Cover Images)
Sarah Michelle Gellar was hard to ignore in a copper sequin mini dress from Prabal Gurung's Fall 2022 collection.
It's entirely covered in sparkling sequins and features long sleeves and a thigh-grazing hem.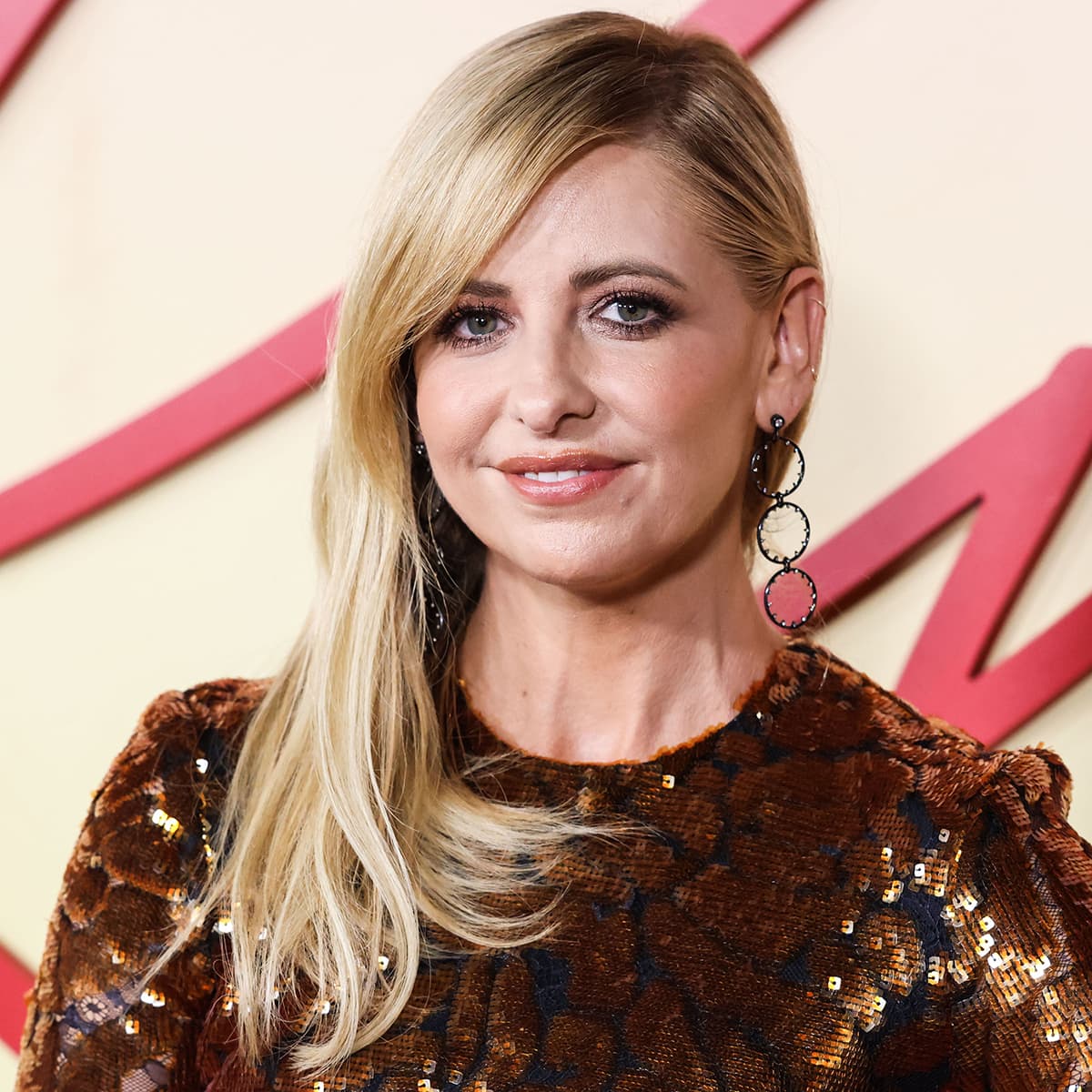 Sarah Michelle Gellar parts her blonde tresses to the side and styles her look with Nancy Newberg circle earrings (Credit: Xavier Collin / ABACA / INSTARimages / Cover Images)
The 45-year-old short actress styled the look with $3,400 Nancy Newberg diamond circle earrings in polished black ruthenium over silver. She also accessorized with several Bondeye Jewelry rings and a black clutch.
Wearing a side-parted hairstyle and fluttery eyelashes, Sarah Michelle teetered on a pair of black Dolce & Gabbana platform sandals.
Sarah Michelle Gellar shows off her pedicured feet in Dolce & Gabbana platform sandals (Credit: Xavier Collin / ABACA / INSTARimages / Cover Images)
5. Paris Berelc in Body-Hugging Sequin Dress
Similar to Sarah Michelle Gellar, Paris Berelc, who's playing Meghan Perez in the film, also glimmered in a sequin-embellished dress.
The 23-year-old Mighty Med actress, known for her role in the Netflix sitcom Alexa and Katie, highlighted her curves in a Galvan dress with a body-hugging silhouette, a racerback, and a floor-sweeping hem.
Paris Berelc wears a Galvan sequin dress that clings perfectly to her hourglass body (Credit: Xavier Collin / ABACA / INSTARimages / Cover Images)
She kept her accessories to a minimum, wearing just a pair of diamond stud earrings and statement rings by Bondeye Jewelry. Adding extra inches to her height, Paris slipped into a pair of Tom Ford heels.
Her hairstylist Lea Journo gave her voluminous, bouncy curls, while makeup artist Pauly Blanch created a sultry beauty look with bronze smokey cat eyeshadow and matching lipstick.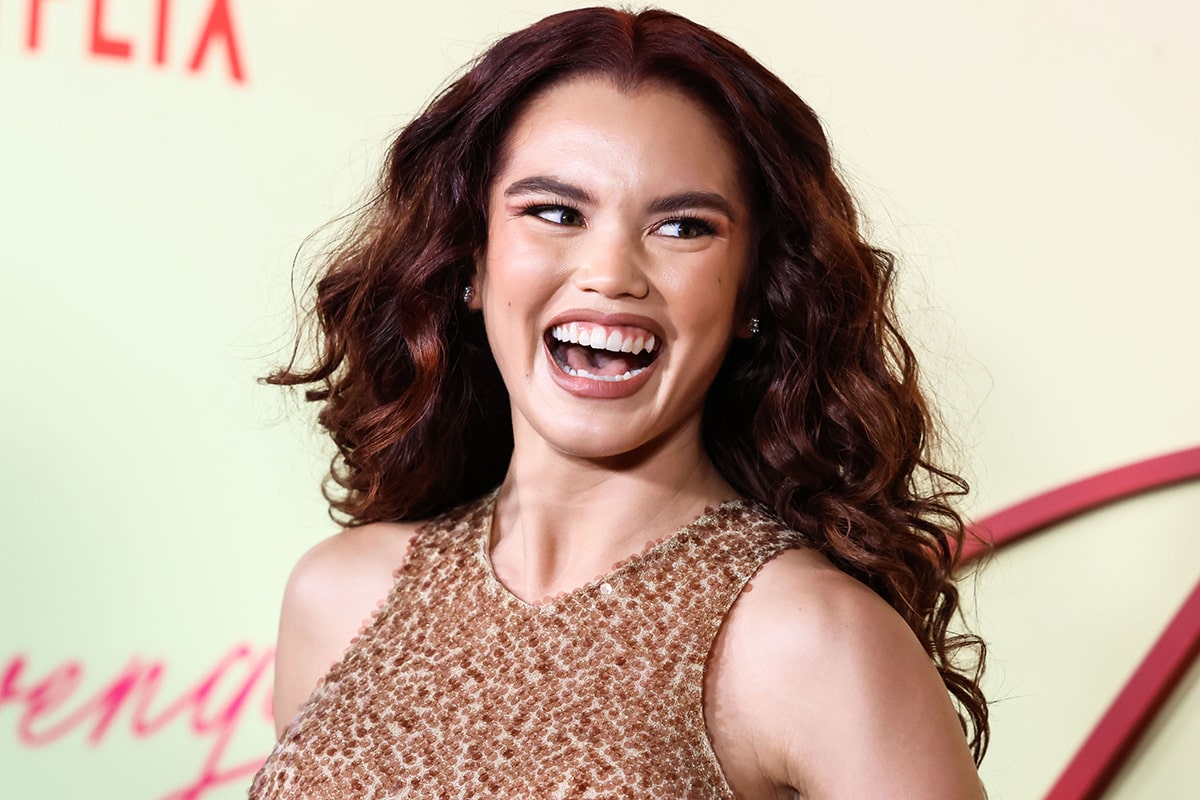 Paris Berelc styles her hair in voluminous curls and wears bronze smokey cat eyeshadow (Credit: Xavier Collin / ABACA / INSTARimages / Cover Images)
6. Olivia Sui in Orange Blazer and Mini Skirt
Chinese-American actress Olivia Sui made an edgy arrival as she showed up in a color-blocked orange blazer with white lapels and black trims.
Underneath, the 29-year-old actress wore a black bandeau top and a low-rise mini skirt, showcasing her flat abs and shapely legs.
Olivia Sui flashes her abs and legs in a color-blocked orange blazer and a matching mini skirt (Credit: Xavier Collin / ABACA / INSTARimages / Cover Images)
She styled her long wavy tresses in a half-up style with a chiffon bow and rounded out her look with platform sandals, featuring a bow and a high block heel.
Olivia Sui wears fake lashes and styles her long tresses in a wavy half-up hairstyle with a chiffon bow (Credit: Xavier Collin / ABACA / INSTARimages / Cover Images)
Do Revenge's '90s Film References
While the plot of Do Revenge was inspired by Alfred Hitchcock's 1951 psychological thriller Strangers on a Train, in which two men decide to swap murders, Jennifer Robinson put a GenZ spin on the classic film by filling the movie with several Easter eggs that pay homage to a number of classic teen movies of the 1990s.
"I'm obsessed with high school movies. But very specifically, this type of film that I just feel like doesn't get made anymore," Robinson told New York Times. The movie pays homage to classic teen revenge movies such as Jawbreaker (1999), Cruel Intentions (1999), Heathers (1988), Mean Girls (2004), John Tucker Must Die (2006), 10 Things I Hate About You (1999), and Clueless (1995)
Director Jennifer Robinson fills Do Revenge with Easter eggs that pay homage to classic 1990s teen movies (Credit: Netflix)
"I feel like what's funny and great about this film is that people pick up on Easter eggs I didn't even mean. I feel like there are more of them that are literal accidents that are just in my brain… and I made choices that were influenced by the films that I grew up on," Robinson said in an interview with Tudum.
In the movie, the Rosehill high school students are clad in pastel plaid uniforms—a nod to the 1995 coming-of-age teen comedy Clueless.
In addition, a school parking space sign says Horowitz, which is a reference to Cher Horowitz, a character in Clueless plaid by Alicia Silverstone.
Maya Hawke and Camila Mendes wearing dresses similar to Romy and Michele's High School Reunion outfits (Credit: Netflix)
Drea is also seen in a birthday dress similar to the reunion outfits worn by the lead stars in the 1997 comedy Romy and Michele's High School Reunion.
There are also references from the 1999 teen black comedy crime Jawbreaker (the use of "DUMBTCH" license plate), the 1988 black comedy Heathers (croquet sport), and the 2004 teen comedy Mean Girls.
Do Revenge Reviews
Released on September 16, Do Revenge has received generally favorable reviews from critics, with an average rating of 6.5/10.
"Once a decade, there comes a high school comedy so stylish, so witty, and so instantly influential that it cannot be topped. Netflix's colorful new romp is that movie," said The Daily Beast's Coleman Spilde of the movie, which he defined as a "generation-defining masterpiece."
Amy Nicholson of The New York Times said Do Revenge is "a playful, sharp-fanged satire that feels like the '90s teen comedy hammered into modern emojis: crown, knife, fire, winky face."
It also managed to impress netizens and has become one of the top trends on Twitter during its release.
do revenge was perfect, 10/10, gaslight gatekeep girlboss for life, obsessed w drea and eleanor pic.twitter.com/Y6npBB2ZMd

— d'ani | baseball lesbian fanclub (@ppandani) September 16, 2022
https://twitter.com/juliettesfang/status/1571156093908180992
https://twitter.com/Iedtasso/status/1570706767746863105