Being no different from any other mother, it's not surprising to discover that Uma Thuman also worries about her 24-year-old daughter, Maya Hawke, who has become famous after her successful role in the hit series Stranger Things.
This was especially the case when her lookalike daughter decided to take a brave plunge into the acting industry, which has always been and will continue to be an intense public arena.
Uma Thurman and Ethan Hawke met on the set of 1997's Gattaca, married the following year, and divorced in 2005 (Credit: Startraks Photo)
Describing Hawke as sensitive, only viewing her daughter's talent for herself allowed Thurman to accept her daughter's worrying step into the public eye.
"It's a complicated career. She's a sensitive person. Any protective parent would be anxious for their child to go into the public arena, not because they want to be in the public arena, but because they're so creative. You just wish they'd find any other way to be creative," the Pulp Fiction actress told Access.
"She's, in the end, such a brilliant actress. Obviously, there's nothing else that she would have ever done," Thurman added.
"Her talent was so big. It's what she had to do." Maya confirmed her mom's reservations in an interview with Nylon in April 2020.
"Because this industry is so much tougher on women, my mom had reservations about me not becoming an actor, but becoming a public figure," Maya said.
Maya Hawke, Kathryn Newton, Willa Fitzgerald, and Annes Elwy in the British 2017 BBC television historical drama adaptation of Little Women (Credit: BBC)
"My mom understands in a different way from my dad how difficult that is," she added. "Because the voices are not as strong, the whispers are not as strong in men's ears."
After Thuman had initial reservations about her daughter following her and her ex-husband's career paths, Hawke actually went on to make a successful name for herself, starring in Stranger Things, Fear Street, and Once Upon A Time In Hollywood.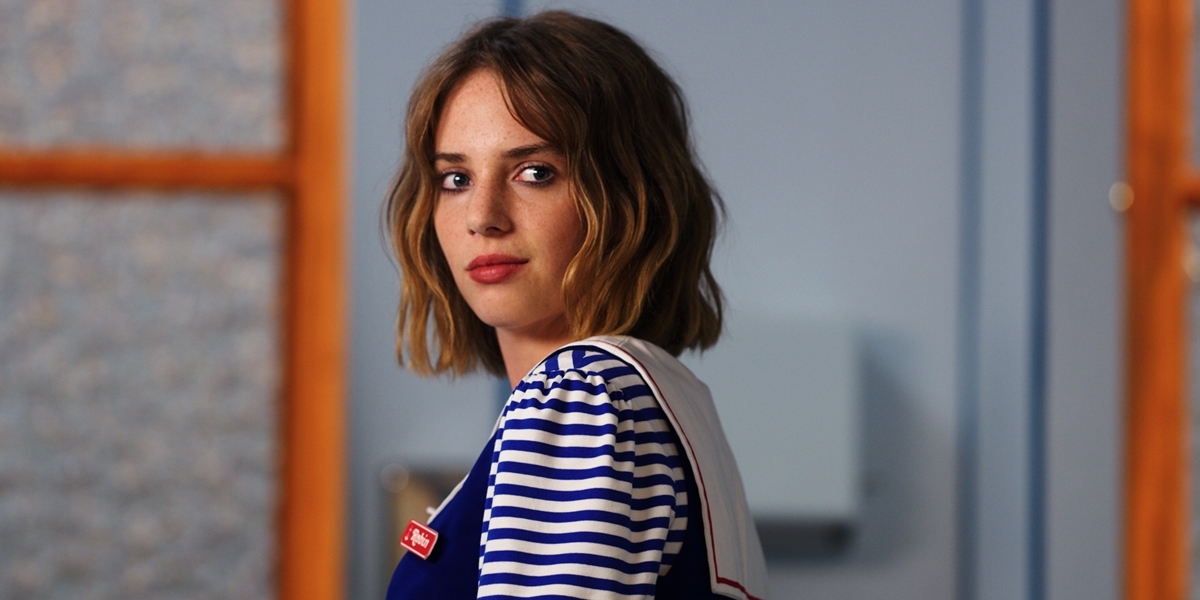 Maya Ray Thurman Hawke portrays Robin Buckley in the third (2019) and fourth (2022) seasons of the science fiction horror drama television series Stranger Things (Credit: Netflix)
Yet Thurman claims that this line of work isn't as straightforward as playing a part in a series or film – it appears that you must constantly play the part for the cameras whether you like it or not.
Whilst wishing that Hawke could have found a way to express herself creatively in any other way to avoid the prying eyes and ears of the public, the concerned mother eventually came around to Hawke's acting pursuits.
This was due to the daughter's pure talent in the industry, with the notion that no career would have suited her as ideally as acting.
Thurman's Personal Relationships
Thurman married fellow actor Gary Oldman in 1990 before they divorced in 1992. A few years later, in 1998, she married Ethan Hawke, an American actor who she met on the 1977 film set of Gattaca.
Maya Thurman-Hawke and her mother Uma Thurman attend "The Theory of Everything" New York Premiere at the Museum of Modern Art on October 20, 2014, in New York City (Credit: Roger Wong / INFphoto)
They welcomed daughter Maya Hawke into the world in 1998 when Thurman was just 28 years old, followed by son Levon in 2002.
Despite this, the couple soon separated in 2003, with the divorce finalized in August 2005.
Maya Hawkes' Family Situation and Growing Up
While Hawkes' parents divorced, nothing could stop them from co-parenting their daughter and son, offering Hawke the support she needed to become the success she has blossomed to be today.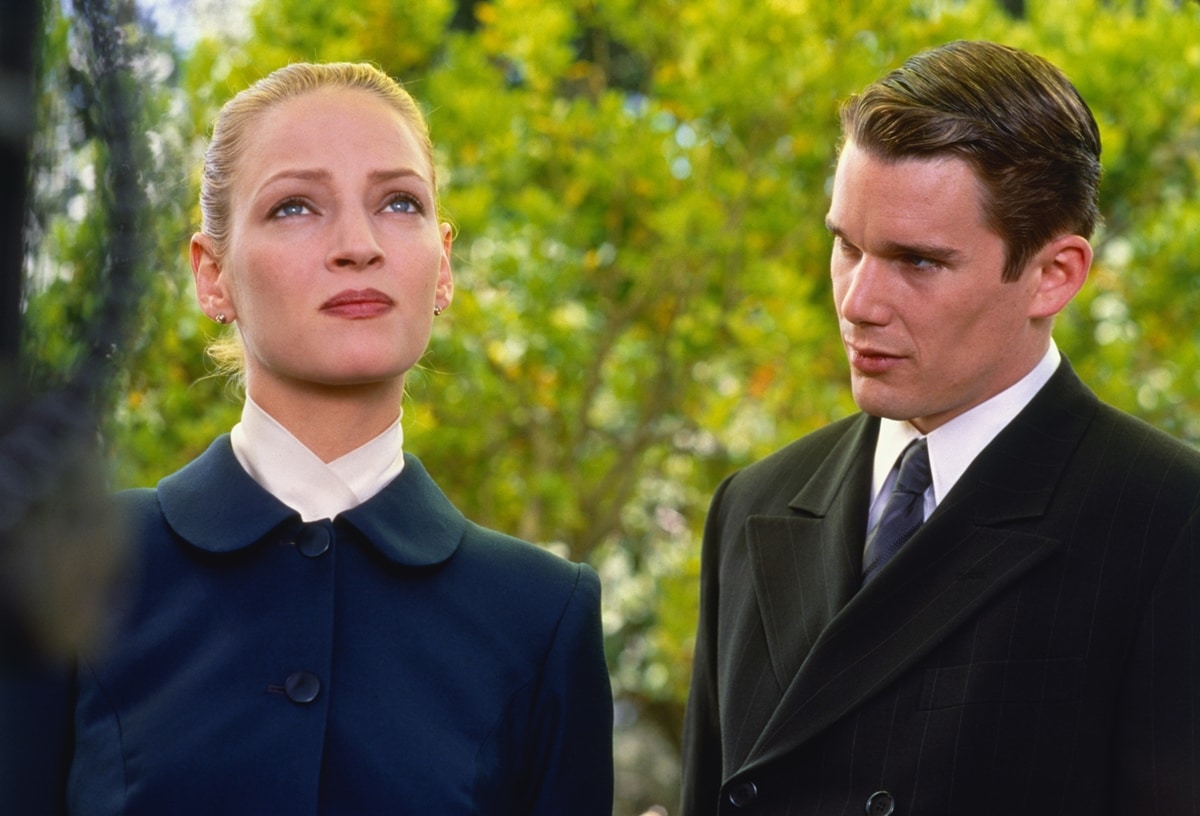 Uma Thurman and Ethan Hawke started dating after meeting on the set of the 1997 American dystopian science fiction thriller film Gattaca (Credit: Sony Pictures Releasing)
Growing up in a public celebrity family with two famous parents didn't deter Hawke in terms of her acting career. Indeed, she admitted that aside from a few embarrassing high school situations when growing up, she wasn't really aware of her parents' celebrity statuses.
Living a relatively normal childhood of playing games and taking trips, Hawke claimed that it didn't matter what her parents did – as long as they were loving parents.
Mother and Daughter to Star Together
The Kill Room, an upcoming dark comedic thriller, will allow both Thurman and Hawke to share the big screen along with Larry Pine, Debi Mazar, and Samuel L Jackson.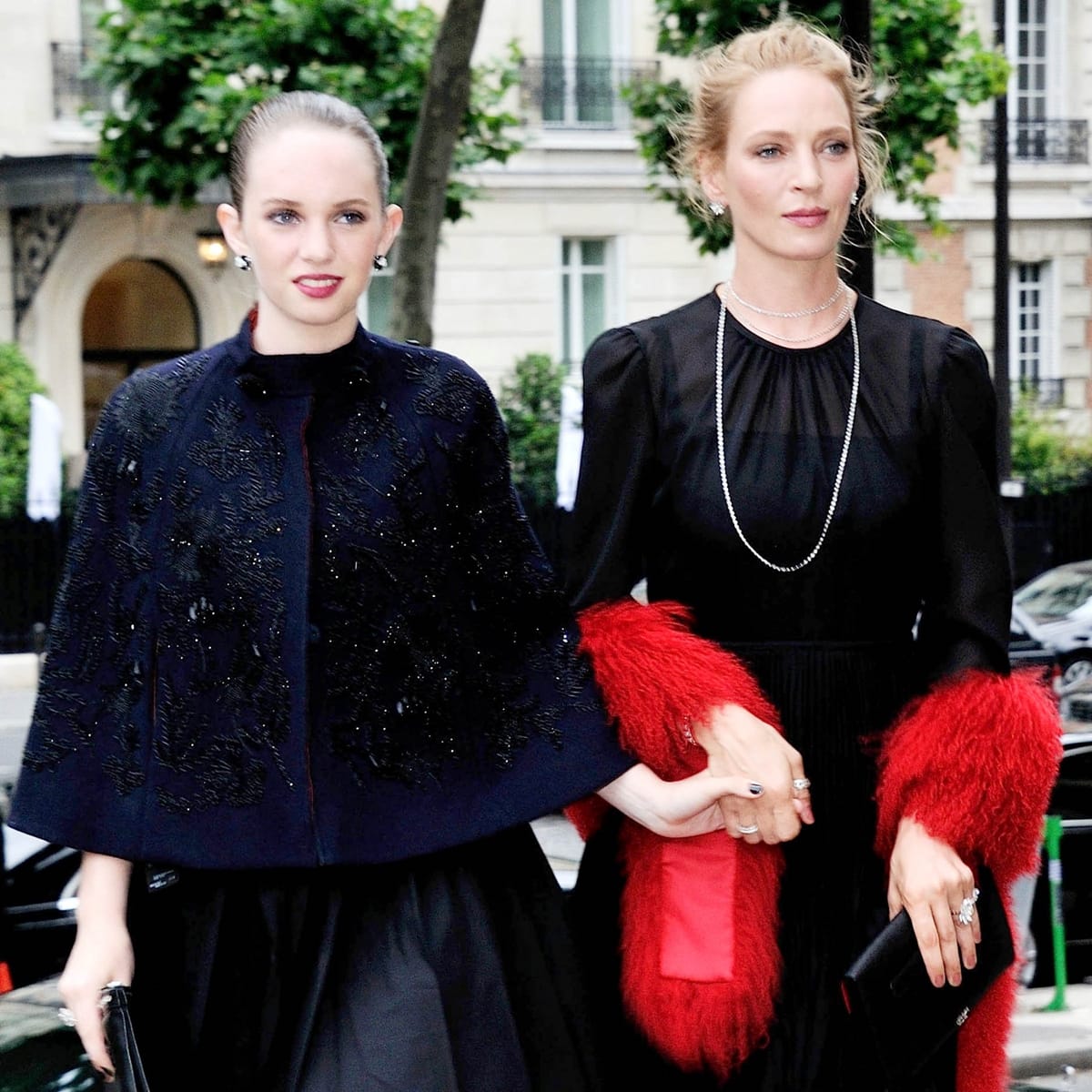 Uma Thurman and her daughter Maya Hawke attend the Miu Miu Resort Collection 2015 at Palais d'Iena on July 5, 2014, in Paris, France (Credit: Aurore Marechal / Abaca / Startraksphoto)
Encompassing a hitman, his boss, and an art dealer, this film follows the story of a money-laundering scheme. Thurman is set to be the producer of the movie as well as starring in it alongside her daughter. It appears that acting does run in the family!
Conclusion
As you can probably tell, Maya Hawke's acting talent has flourished into something which makes both Uma Thurman and Ethan Hawke incredibly proud of their daughter.
While raised by a pair of fantastic actors, it's evident that Hawke's career was pursued from her individual passion for it.
In May 2016, Uma Thurman made a stunning entrance on the red carpet at the 2016 Met Gala held at the Metropolitan Museum of Art in New York City.
Uma Thurman wears her hair back at the 2016 Metropolitan Museum of Art Costume Institute Gala – Manus x Machina: Fashion in the Age of Technology held May 2 at the Metropolitan Museum of Art in New York City (Credit: WENN)
The then-46-year-old American actress and model exuded elegance in an ivory Tommy Hilfiger gown that featured a single thigh-high-slit and crystal-encrusted bird on her shoulder.
She styled the trailing dress with a Cartier museum diamond brooch and a pair of "Vivien" sandals from Jimmy Choo.
Uma Thurman wears an ivory Tommy Hilfiger gown and feathered Jimmy Choo sandals on the red carpet of the 2016 Met Gala (Credit: WENN)
Her delicate ankle-strap sandals featured an intricate feathered bow across the top. How do you like Uma's elegant ensemble?
You can find Uma's graceful sandals at Farfetch and Mytheresa.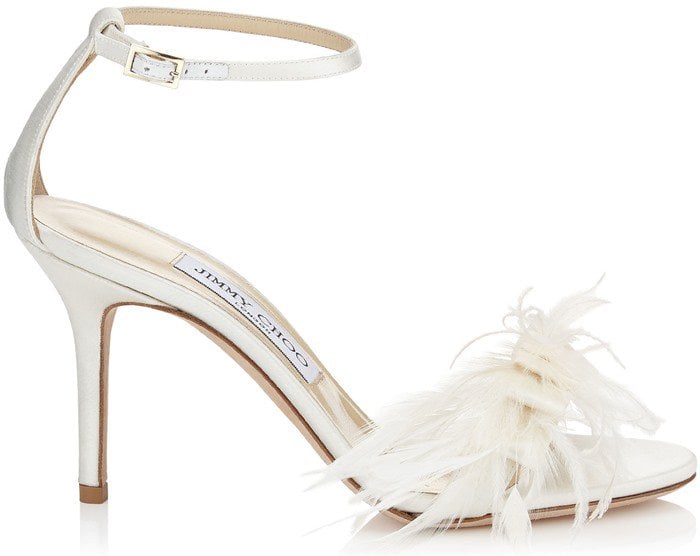 Jimmy Choo Beige 'Vivien' Ostrich Feather-Bow Satin Sandals, $950