Sing 2 hit the theaters a day after the first movie's fifth anniversary, and fans of Sing raved about the sequel's musical extravaganza.
The movie brings back the lovable ensemble cast of characters, along with some fresh new faces, as they embark on a journey to take their musical talent to the big stage.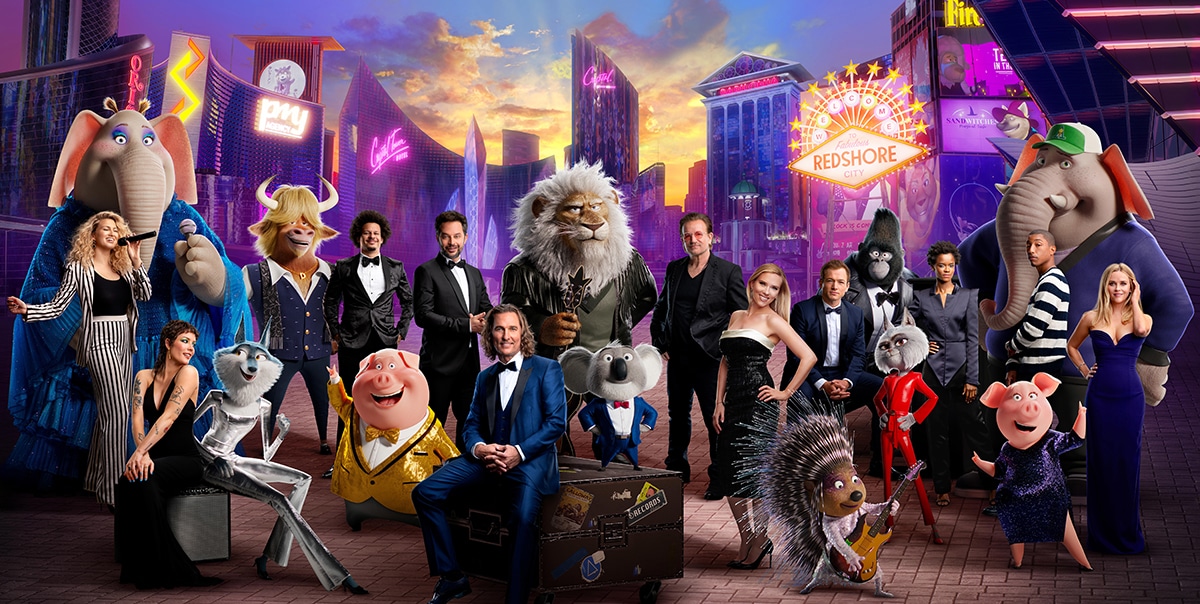 Sing 2 is the sequel to the 2016 animated musical comedy Sing and the second film in the franchise (Credit: Universal Pictures)
Featuring an endearing cast, catchy tunes, and a heartwarming storyline, it's no surprise that Sing 2 is a must-see for anyone who loves a good musical comedy.
But what about the actors behind these beloved characters?
While their voices may be familiar, what do the stars of Sing 2 look like in real life?
Let's take a closer look at the talented actors who brought these characters to life and discover what they look like outside of the animated world.
1. Matthew McConaughey as Buster Moon
Buster, the New Moon Theater's owner, director, and primary playwright is an upbeat, show-running koala bear. In this film, he aspires to appear on a larger stage than before.
When his talent agency turns him down, Buster takes matters into his own hands by attending an audition under pretenses and impressing Jimmy Crystal. He is so determined to achieve his goals that he is willing to put his life in danger to accomplish his masterpiece.
Matthew McConaughey lends his voice for the second time in the Sing sequel as anthropomorphic koala Buster Moon (Credit: Abby Grant / Cover Images / Illumination)
Oscar award winner Matthew McConaughey lends his voice for the third time in the animated feature Sing 2. In addition to the two Sing movies, Matthew also provided the voice of Beetle in the 2016 film Kubo and the Two Strings.
The 53-year-old actor had a career revival after featuring in rom-coms like How to Lose a Guy in 10 Days and Ghosts of Girlfriends Past with spectacular twists in movies and tv shows like Interstellar and Dallas Buyers Club, for which he earned an Academy Award.
2. Reese Witherspoon as Rosita
After having 25 piglets, Rosita is taking bolder steps toward realizing her lifelong ambition of becoming a famous performer in Redshore City.
She gave up her acting dreams to be a stay-at-home mom. But she has broken out of her rut and is now advocating a return to the scene.
After the critically acclaimed The Trumpet of the Swan and the box office hit Monsters vs. Aliens and Sing, Reese Witherspoon returns to the animation genre with Sing 2.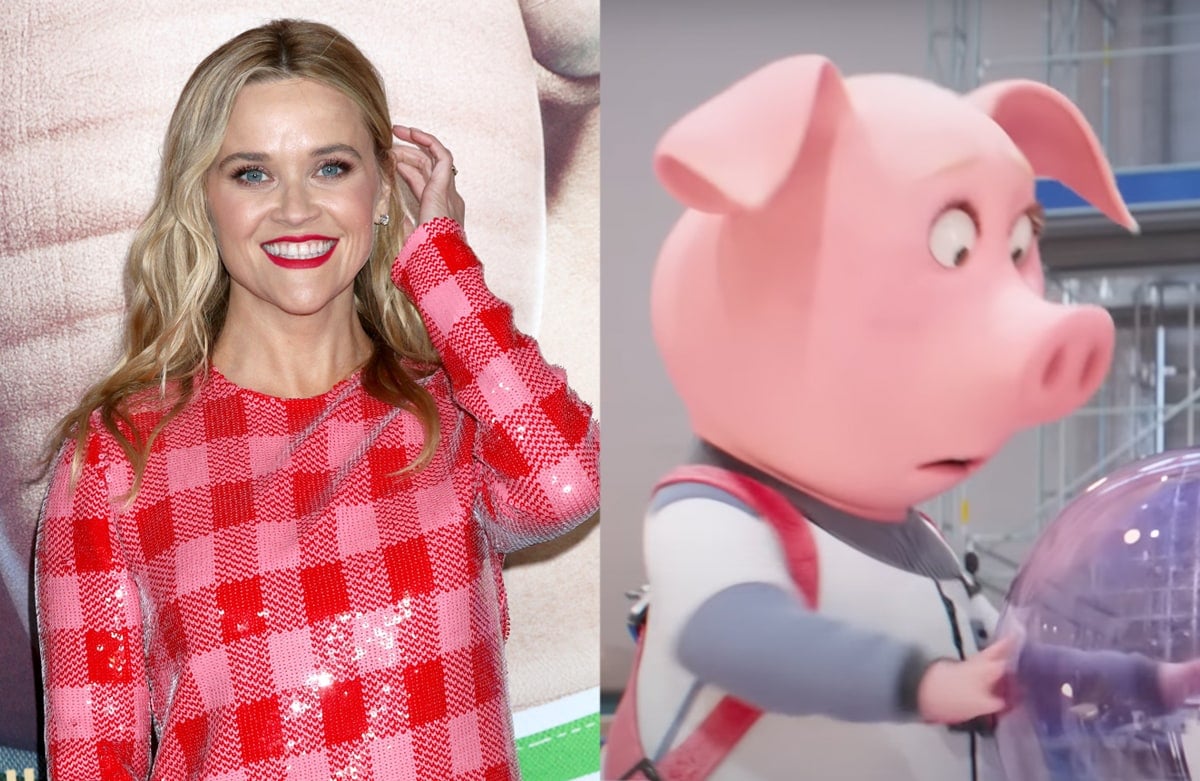 Reese Witherspoon voices Rosita, a pig who dreams of becoming a famous performer in Redshore City (Credit: Abby Grant / Cover Images / Illumination)
Popular as Elle Woods in the Legally Blonde flicks, Reese made her acting debut at 15 in the 1991 film The Man in the Moon. For her role as June Carter Cash in the Johnny Cash biopic Walk the Line, she was nominated for and ultimately won the Academy Award for Best Actress.
The 46-year-old actress became a producer, working on such shows as the HBO drama Big Little Lies and Apple TV+'s The Morning Show, and appeared in the miniseries Little Fires Everywhere.
3. Scarlett Johansson as Ash
After leaving to pursue a solo music career, Buster asks porcupine Ash to rejoin the band. She assists Buster in covering up his major fib to Jimmy, in which he claims to know famed singer Clay Calloway and obtains consent for using his songs and performing with them.
Despite her sharp demeanor, Ash demonstrates her softer side by listening to a new acquaintance through a tough time.
Scarlett Johansson is the voice of the prickly porcupine teenager Ash who rejoins the band in Sing 2 (Credit: RobinLori / INSTARimages / Illumination)
Scarlett Johansson's legal dispute in 2021 with the Walt Disney Company over unpaid royalties from the cinematic run of Black Widow is comparable to the scenario in which her persona complains to a venue owner for shortchanging her for her show.
The 38-year-old star has become a household name thanks to her portrayal of Black Widow in numerous MCU movies, including Iron Man 2, Captain America: The Winter Soldier, Captain America: Civil War, Captain Marvel, and the Avengers. With the films Marriage Story and Jojo Rabbit, she was nominated for an Oscar for the first time in 2020.
4. Bono as Clay Calloway
Clay Calloway, a middle-aged lion with a white mane, was a rock star before the death of his wife, Ruby. Then he isolated himself, stopped appreciating music, and rejected everyone he knew. Finally, he gives the music another shot and finds a renewed sense of vitality onstage.
Rock artist and Oscar nominee Bono, lead singer of the Irish band U2, provides the voice of the legendary musician. Bono's character is named Clay Calloway in homage to the real-life performer Cab Calloway.
Irish singer-songwriter Bono voices rockstar legend Clay Calloway, who withdrew from society after the death of his wife in Sing 2 (Credit: Abby Grant / Cover Images / Illumination)
For the 62-year-old Irish singer-songwriter, Song 2 is his debut animated film. He also recorded the original version of the song "Where The Streets Have No Name," which appears in the movie.
In addition to his work with theater, Bono has also dabbled in film, acting as Dr. Robert, the singer of "I Am The Walrus" by the Beatles in Across The Universe and developing the 2000 film The Million Dollar Hotel.
5. Pharrell Williams as Alfonso
Alfonso, the elephant, owns an ice cream truck and becomes close to Meena. Even though Alfonso doesn't join Meena onstage, he's there in spirit as she performs.
Oscar award-nominated music producer Pharrell Williams contributes his voice to Sing 2's ensemble as Alfonso.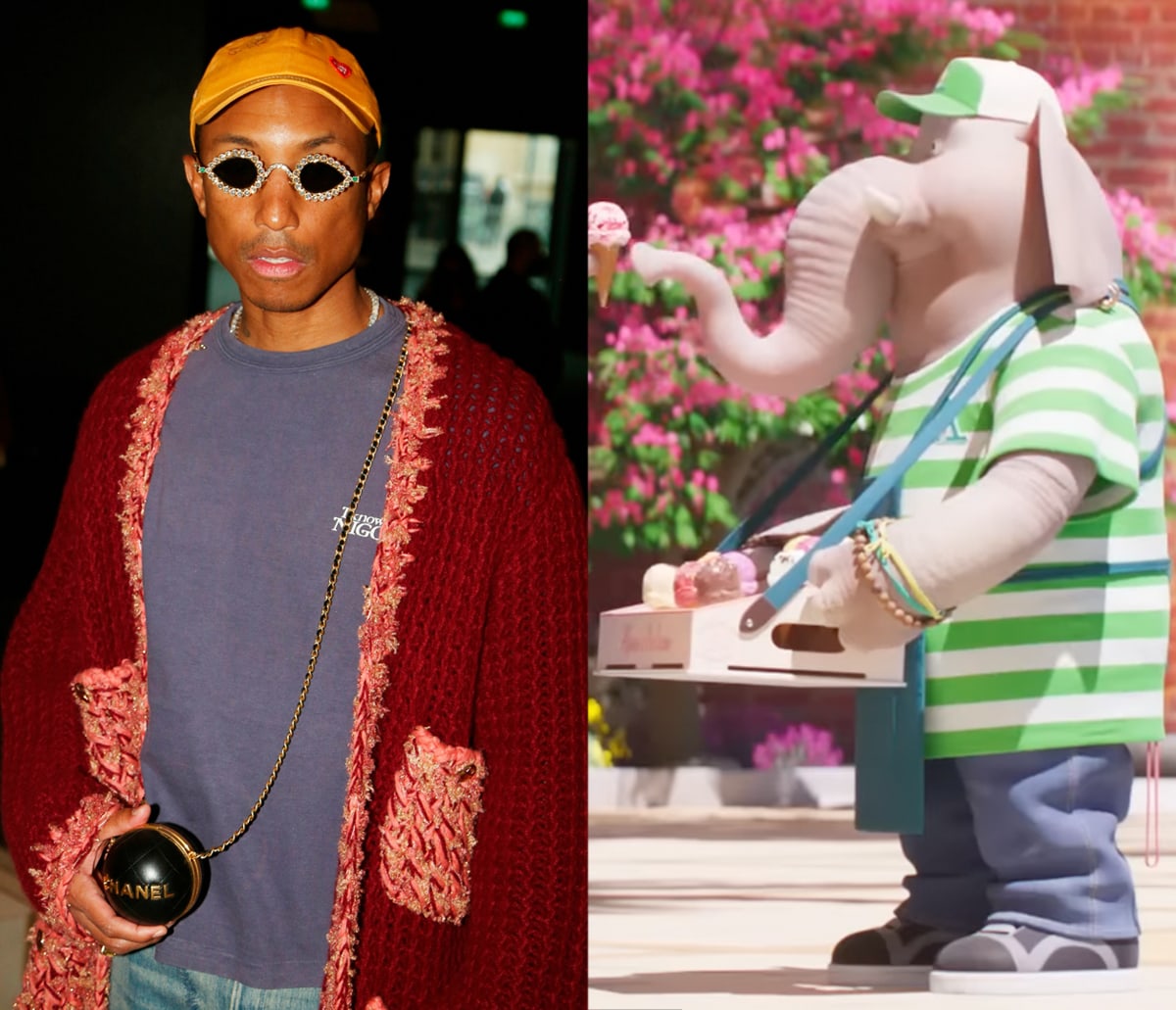 Record producer, rapper, and fashion designer Pharrell Williams is elephant Alfonso who's selling ice cream in Redshore City (Credit: Domine Jerome / Abaca / INSTARimages / Cover Images / Illumination)
Pharrell has been successful for quite some time in a variety of fields, including those rapping, singing, songwriting, and entrepreneurship.
The 49-year-old award-winning singer and songwriter is best known for his 2013 single "Happy," but he has also contributed to previous Illumination films as a composer for the Despicable Me trilogy.
6. Tori Kelly as Meena
Meena, a teenage elephant, is afflicted by a new fear after conquering a former one, extreme performance anxiety. Alfonso, an elephant who sells ice cream, is the guy she has a crush on.
She alternates between being overly nervous about speaking to Alfonso and being too hesitant to act like she's in love with Darius (Eric André), a quirky Yak who is a little too outgoing for Meena's timidity onstage.
American Idol 2010 finalist Tori Kelly provides the voice for female elephant Meena, who develops a crush on Alfonso in Sing 2 (Credit: Abby Grant / Cover Images / Illumination)
Tori Kelly, a finalist on American Idol in 2010, voices Meena. Tori has won two Grammys and is a well-respected musician, songwriter, record producer, and actress.
Following the release of her debut extended play in 2012, the 30-year-old singer-songwriter was contracted to Capitol Records. Her first major cinematic roles were in the first two Sing movies.
7. Eric André as Darius
Darius, a vain yak with blond locks, is hired as Meena's love interest. His co-star finds him uninteresting because of his attitude and vanity, although he meets the criteria for a gorgeous love interest.
Eric André has been in several films and television shows, but he is most widely known as the host of his self-titled comedy series, The Eric Andre Show, and the countless memes that have emerged from it. Eric has wild, frantic conversations with celebrities and showcases musical guests.
TV host Eric André contributes his voice to the supporting character Darius, an egocentric yak (Credit: @ericfuckingandre / Instagram)
The 39-year-old comedian is no stranger to voice acting for theatrical films. He also provided his talents for Azizi in The Lion King and Mark Bowman in The Mitchells vs. The Machines, which were entirely animated.
His other credits include Don't Trust the B—- in Apartment 23, 2 Broke Girls, and Man Seeking Woman.
8. Letitia Wright as Nooshy
Johnny stumbles across Nooshy, a slender lynx who dances on the streets. When he spots her, he assumes he's found the one who can restore his dancing self-assurance and show him the steps.
She accepts the task and wagers that after she is done with the old teacher, Johnny will be able to outdance him.
Guyanese-British actress Letitia Wright voices Nooshy, a lanky, free-spirited dancer in Sing 2 (Credit: Suzan Moore / PA Images / INSTARimages / Cover Images / Illumination)
Letitia Wright makes her animated feature picture debut in Sing 2. She became famous for playing Shuri in the Marvel Cinematic Universe film Black Panther, a character she again played in Black Panther: Wakanda Forever.
The 29-year-old Guyanese-British actress co-starred with Scarlett Johansson in Avengers: Infinity War and Avengers: Endgame.
9. Nick Kroll as Gunter
Gunter, Rosita's spirited performer and on-stage companion, returns with a more rousing sense of assurance thanks to his Piggy Power.
The pig isn't hesitant to demonstrate his joy for life when performing, but his latest performance could be the proverbial wrench in his road to popularity.
Nick Kroll is Rosita's on-stage companion Gunter in Sing 2 (Credit: RobinLori / INSTARimages / Illumination)
Nick Kroll is best known for his work as a comedian on Comedy Central's Kroll Show and FX's The League. He also co-created the Netflix series Big Mouth, in which he provides the voices of several characters.
Sing 2 is the 44-year-old actor's seventh animated feature. He has a few voice-acting credits, such as roles in Sausage Party, Sing, Captain Underpants: The First Epic Movie, The Secret Life of Pets 2, The Addams Family, and The Addams Family 2.
10. Chelsea Peretti as Suki Lane
Suki Lane is Jimmy's snobbish canine sidekick and talent agent. This film gives her a small but significant part. After learning how nasty Jimmy can be, she tries to protect Buster by telling him he can't tolerate the vast leads.
This Saluki dog may initially let the gang down, but she could end up helping out when the team is in a jam.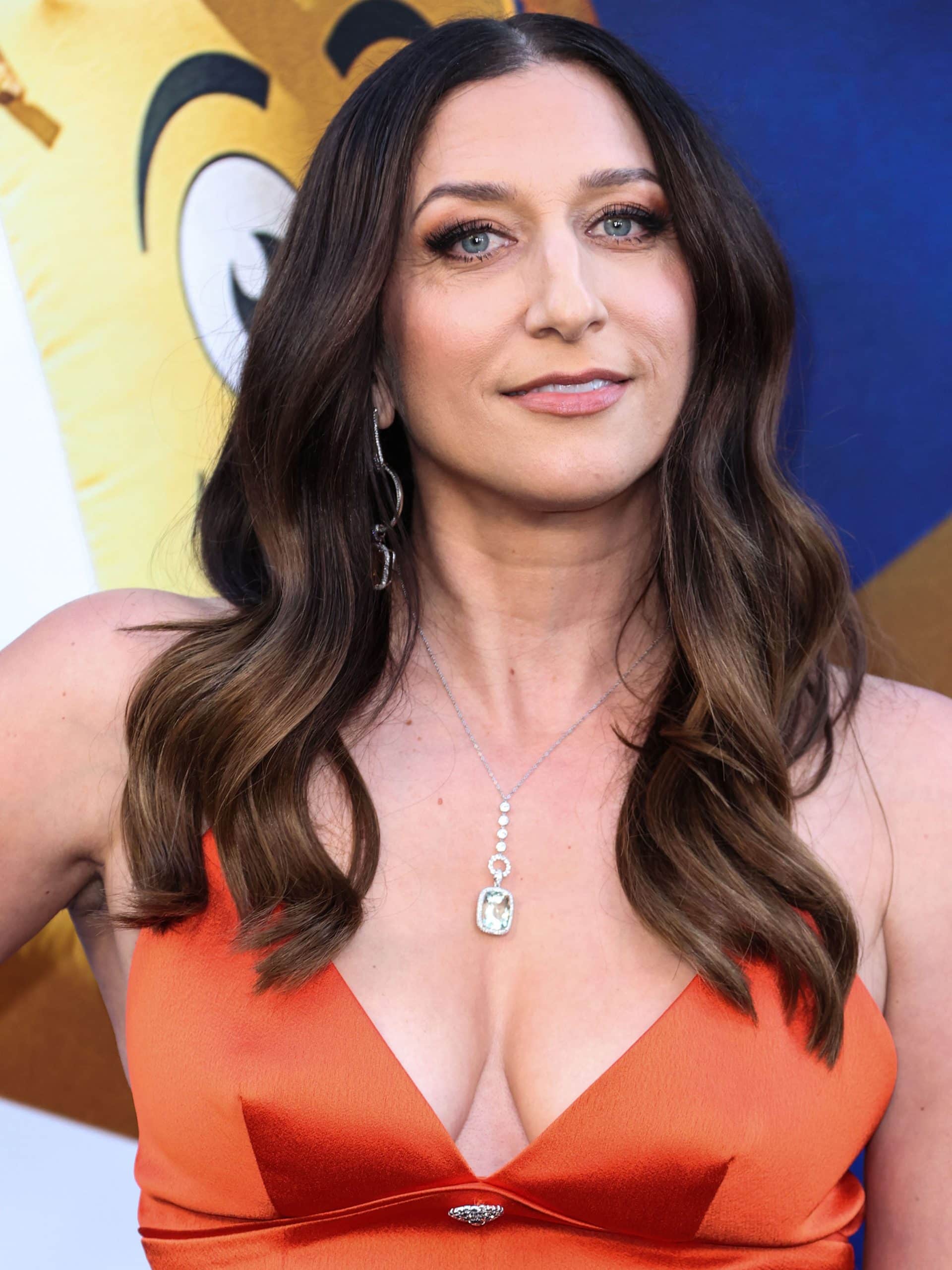 Comedian Chelsea Peretti is Suki Lane, Jimmy's snobbish canine sidekick and talent agent, in Sing 2 (Credit: Xavier Collin / ABACA / INSTARimages / Cover Images)
Chelsea Peretti's Sing 2 is her first full-length animated film. Her portrayal as Gina Linetti on Brooklyn Nine-Nine, for which she also wrote, has brought her widespread recognition.
Starting as a writer for shows like Parks and Recreation and Saturday Night Live, the 44-year-old comedian has since appeared as a guest star on a wide range of comedic programs like Key & Peele, Drunk History, American Dad, and Big Mouth.
11. Halsey as Porsha Crystal
Porsha Crystal, the privileged child of industry tycoon Jimmy Crystal and a massive fan of Clay Calloway, manages to force her way into a performance by the group by shoving past its star.
At first, she looks just as self-centered as her dad and to be granted all of her wishes. Later on, though, she expresses a desire for independence from her father and hopes to one day be independent of him and his firm.
Singer Halsey voices the privileged child of industry tycoon Jimmy Crystal, Porsha Crystal, in Sing 2 (Credit: Abby Grant / Cover Images / Illumination)
Sing 2 is Halsey's second voice-acting performance. In Teen Titans GO! to the Movies, she voiced Wonder Woman in 2018. Badlands, Halsey's first studio album, was rated double platinum shortly after its premiere and quickly became a critical and commercial success.
The 28-year-old singer-songwriter has launched an hour-long video, If I Can't Have Love, I Want Power, to coincide with the debut of her album of the same name. She is most known for her featured appearance on the Chainsmokers' 2016 song "Closer."
12. Bobby Cannavale as Jimmy Crystal
In Sing 2, Jimmy Crystal plays a pivotal role as the film's main antagonist. He is the wolfish media mogul at the helm of Crystal Entertainment.
Jimmy is a demanding corporation CEO and will stop at nothing to protect his reputation and public standing.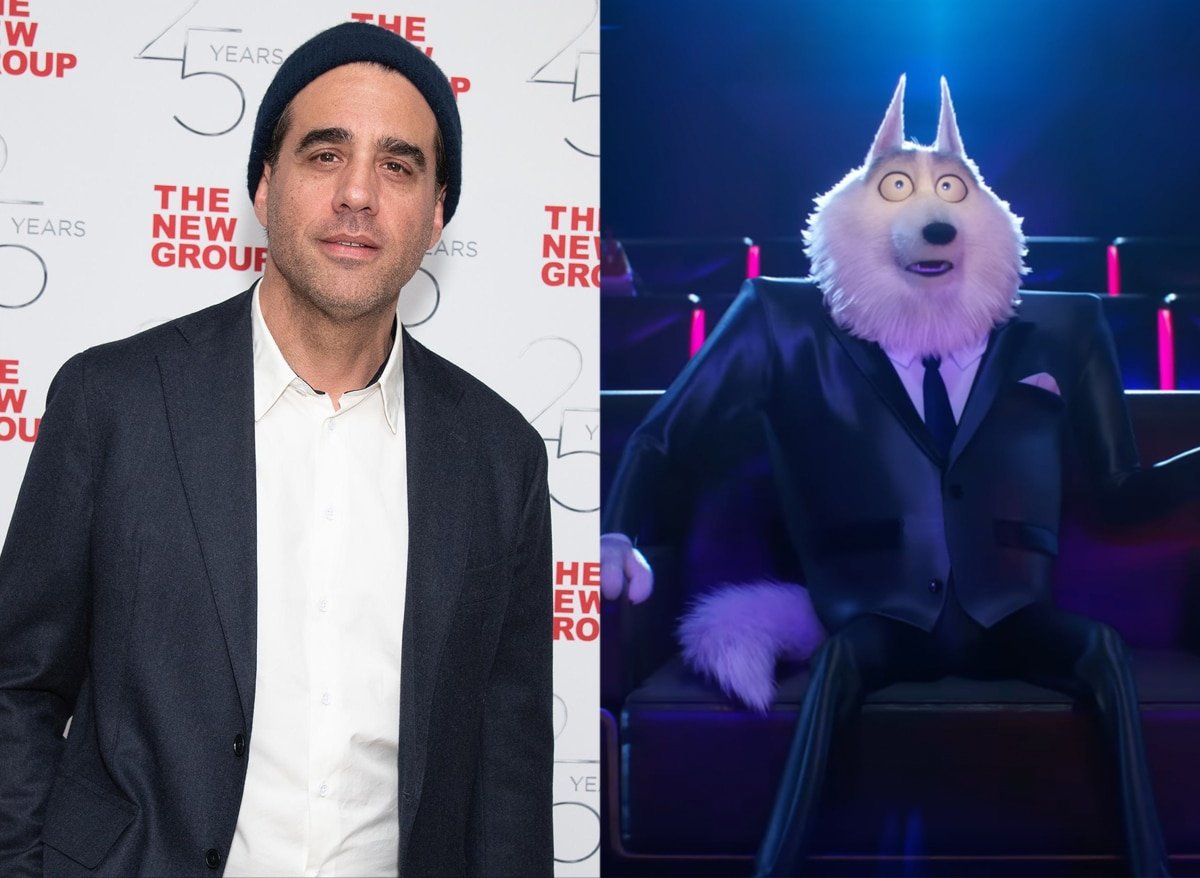 Sing's main antagonist Jimmy Crystal is voiced by actor Bobby Cannavale (Credit: Janet Mayer / startraksphoto / Illumination)
After The Nut Job 2: Nutty by Nature, Ferdinand, and Tom & Jerry, Sing 2 marks Bobby Cannavale's fourth time providing his voice in a feature film. Awards have been given to him for both his film and theatrical work.
Most people recognize the 52-year-old American actor from his reoccurring roles in popular shows like The Boardwalk and Will & Grace, as well as movies like Mr. Robot and Jumanji: Welcome to the Jungle.
The cast of Sing 2 brings a diverse group of talented actors to the table who have made significant contributions to the entertainment industry.
While their animated characters have captured our hearts and imaginations, it's always fascinating to see what these talented individuals look like in the real world.
Whether you're a fan of an animated film or simply enjoy seeing talented individuals bring their skills to life, this cast is sure to impress. So, let's raise a glass to these incredible actors and the memories they have created in both the animated and natural worlds.