After celebrating this year's Vanity Fair Oscar party on Sunday with her husband, musician John Legend, Chrissy Teigen has once again made a statement with her fashion choice.
On Monday night, Teigen appeared at The Glasshouse in New York City to attend Planned Parenthood's Benefit Gala in a striking yellow Monique Lhuillier belted coat from the 2023 Spring collection.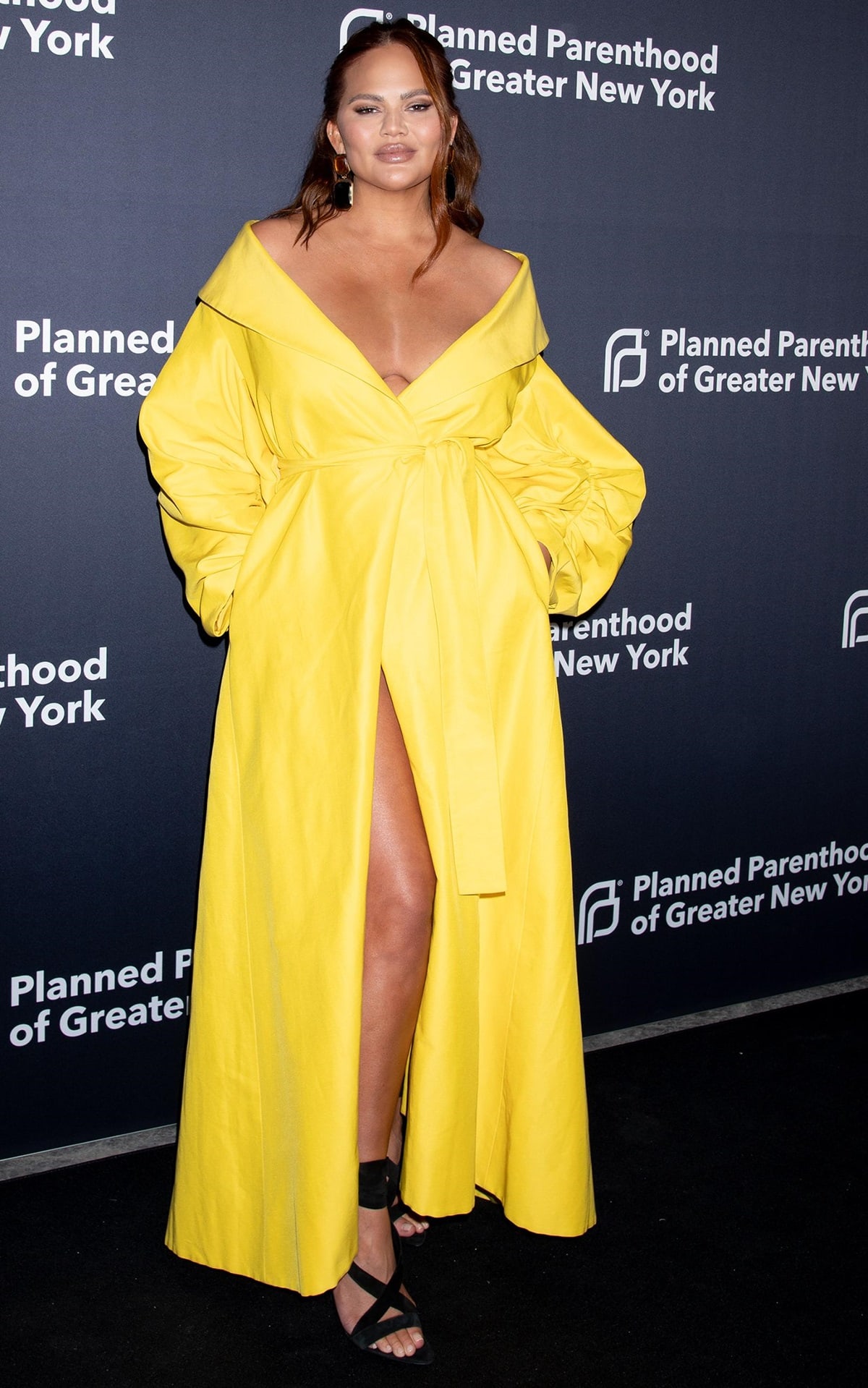 Chrissy Teigen graced the red carpet in a striking yellow dress designed by Monique Lhuillier at Planned Parenthood's New York Spring Benefit Gala at The Glasshouse on March 13, 2023, in New York City (Credit: Janet Mayer / Startraksphoto / Cover Images)
The 37-year-old author stunned in the robe-like gown, which featured a plunging neckline, off-the-shoulder silhouette, and billowing long sleeves. The slit that reached the thigh added elegance to the outfit, while the belted waistline accentuated Teigen's curves.
Teigen's outfit was completed with double octagon drop clip-on earrings from Saint Laurent, which delicately accented the model's look. You can buy her earrings at Nordstrom for $1,255.
Her choice of footwear, the suede Saint Laurent Deva sandals, perfectly complemented the ensemble with their crossed front straps, which looped and tied around her ankles for a boho cutout effect. You can buy her sandals at Farfetch for $1,250.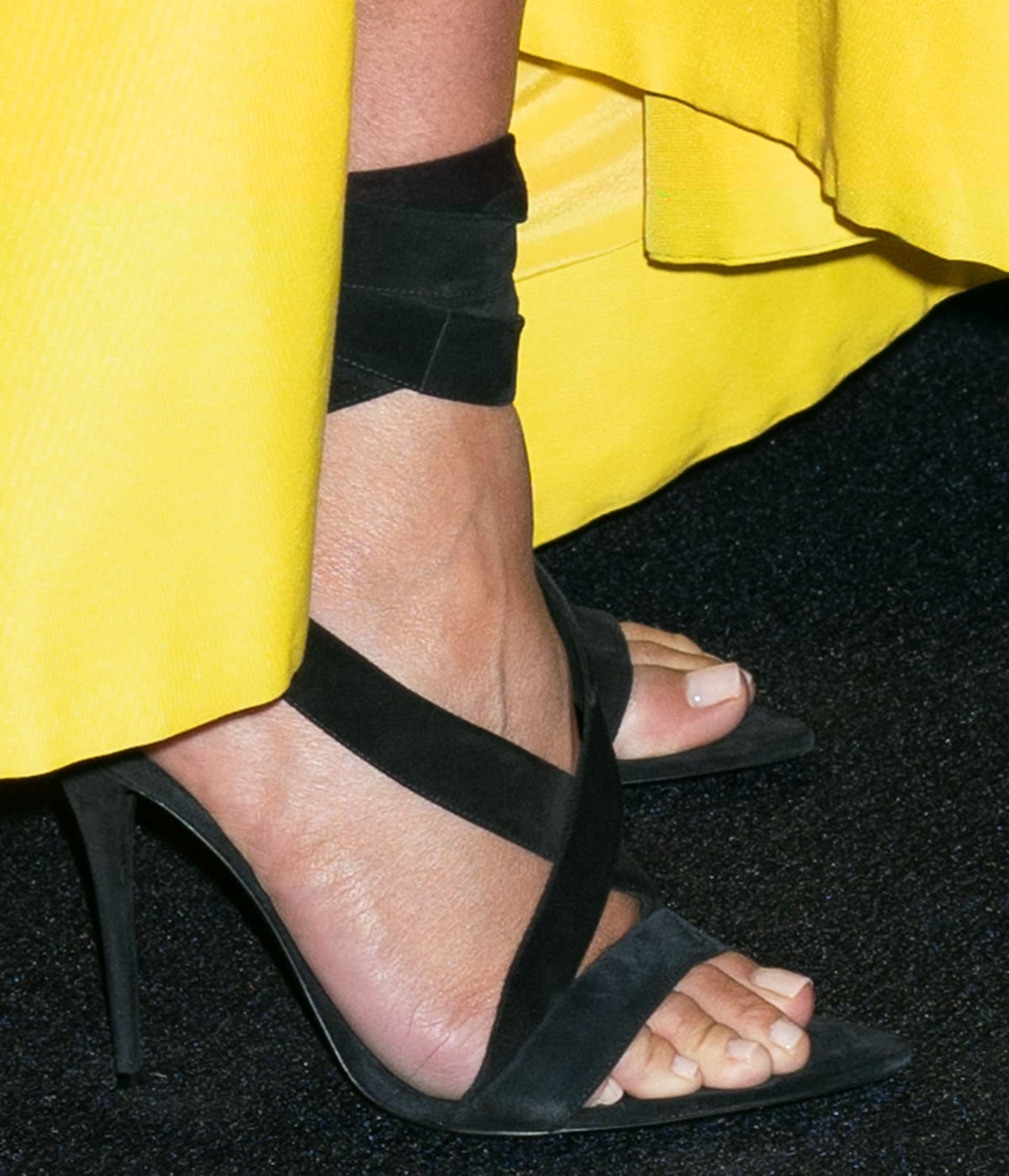 Chrissy Teigen shows off her feet in Saint Laurent's Deva 115mm sandals featuring a tie-fastening ankle strap and a crossover strap at the toe (Credit: Janet Mayer / Startraksphoto / Cover Images)
These sandals boast a striking design, featuring a tie-fastening ankle strap and a crossover strap at the toe, providing both comfort and style. They also feature an open-toe design and a high heel, adding elegance to any outfit.
Teigen attended the annual Planned Parenthood New York Spring Benefit Gala, which raises funds for the organization and promotes sexual and reproductive health. This year's gala is the first to occur in person since the Covid-19 outbreak started.
The event recognized Chrissy Teigen and Padma Lakshmi, who both have deep connections to the various services offered by the medical centers, the most contentious of which is abortion.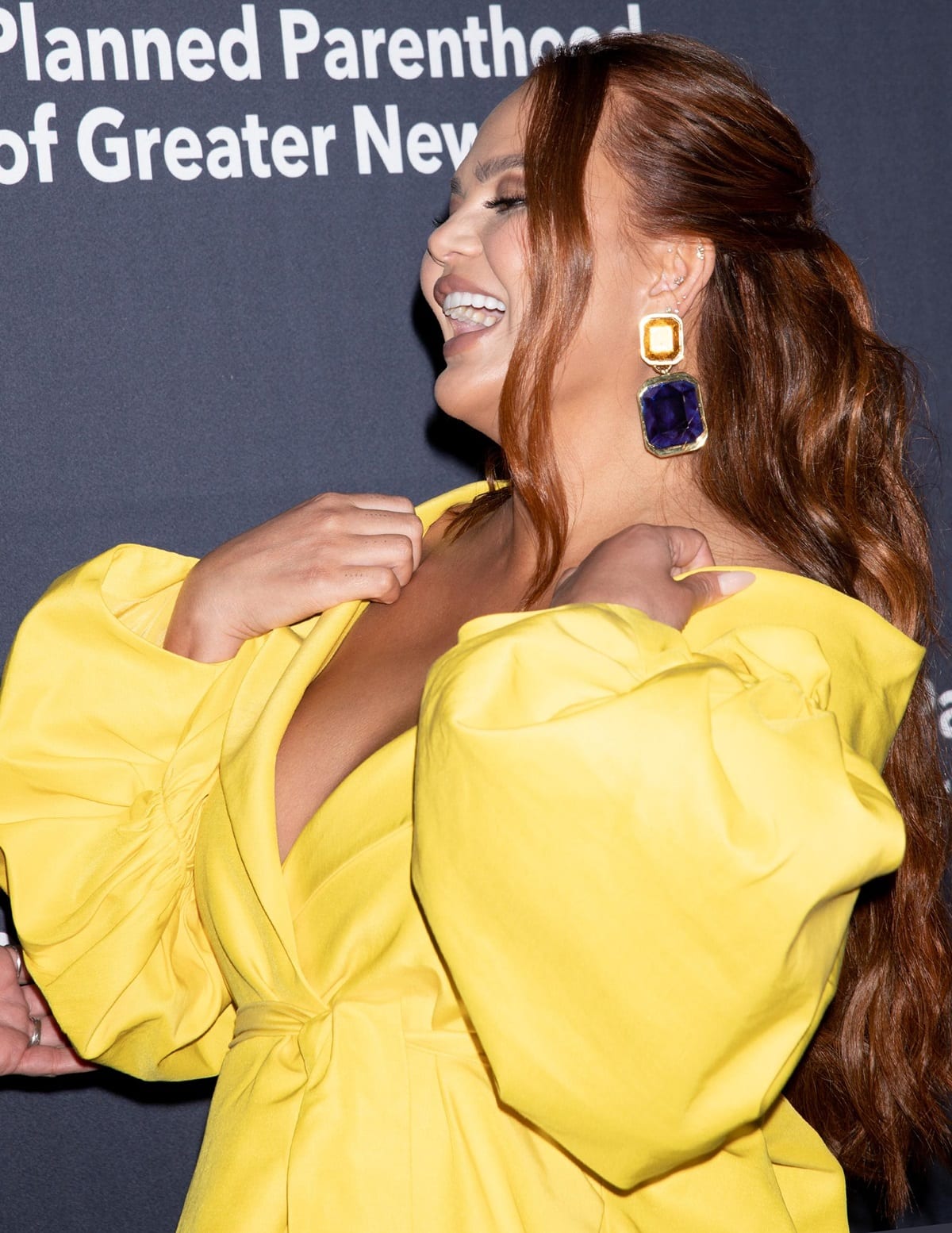 Chrissy Teigen's yellow dress featured an off-the-shoulder neckline that formed a wide V complemented by voluminous sleeves (Credit: Janet Mayer / Startraksphoto / Cover Images)
During her speech, Teigen talked about the miscarriage she had while carrying her son Jack in 2020 and how an abortion saved her life.
Teigen said, "I am one of the millions of people in this country who has had an abortion. My doctor and I had to make that painful decision to end my pregnancy so I could stay alive for my family."
She continued, "Today I am able to parent our three beautiful children because an abortion quite literally saved my life and, let's face it, John's [Legend] life as well because they would f***ing destroy him."
Chrissy Teigen's clip-on earrings from Saint Laurent feature a resin-replica faceted stone design that adds texture and depth to any outfit while keeping the earrings lightweight (Credit: Janet Mayer / Startraksphoto / Cover Images)
John Legend and Chrissy Teigen have three children – Luna, Miles, and Esti Maxene, whom they welcomed in April 2016, May 2018, and January 2023, respectively. Luna was born with the help of in vitro fertilization after the couple struggled with infertility, and they chose her gender before birth.
In 2020, Teigen suffered a pregnancy loss, and the couple has been open about their fertility struggles as they underwent IVF to expand their family. In August 2022, they announced they were expecting another child, their daughter Esti Maxine.
On March 14, Teigen posted several images to Instagram with a touching message honoring the reproductive health organization.
She wrote, "honored to be given the catalyst for change award last night from @plannedparenthood. we will continue to fight for you just as hard as you fight for us and our bodies."
View this post on Instagram
Teigen congratulated "one of the world's greatest women," Padma Lakshmi, for receiving the Champion of Change Award.
She concluded, "Dream human, dream mom, dream woman."
Aside from her public appearances, Teigen has also been busy with her television endeavors. In October, her Roku series Chrissy's Court debuted its third season, where she plays the title role in the arbitration-based court comedy. Meanwhile, her mother, Vilailuck "Pepper Thai" Teigen, portrays the bailiff.