The 52-year-old singer, who's known for sporting her signature red lipstick, made an appearance on Jimmy Kimmel Live! recently to promote her new makeup line, GXVE Beauty.
Launched in March, the makeup collection features four eyeshadow palettes, 24hr waterproof gel eyeliners, eyebrow pencils, a priming face oil, and three formulations of her red lipstick: one matte, one satin, and one liquid matte.
Pronounced as "give," GXVE was inspired by the idea of giving back, with the letters G and X representing the way Gwen Stefani signed her name—"G" and an "X" for kiss.
Gwen Stefani arriving at Jimmy Kimmel Live! studios to promote her new makeup line GXVE on March 24, 2022 (Credit: BauerGriffin / INSTARimages)
The former No Doubt vocalist arrived on the set in a black-and-white checkered ensemble from New York-based denim-driven brand R13.
She showcased her cleavage in the $450 Surf set, composed of a checkered bikini top and matching knee-length Surf shorts made from Japanese printed cotton.
For some coverage, she layered the look with a sheer white bodysuit and an $895 oversized faux fur jacket in the same black-and-white checkered pattern.
Gwen Stefani flaunts cleavage in R13 checkered bikini, white bodysuit, checked shorts, and faux fur jacket (Credit: BauerGriffin / INSTARimages)
Keeping the look coordinated, the Hollaback Girl hitmaker continued the check print on her nails.
She then pulled her two-tone blonde-and-black tresses back into a tight high ponytail and wore her signature bright red lip color with eyeliner, bronzed eyeshadow, and false eyelashes.
Not one to skimp on accessories, Gwen added gold bling to her look. She stacked multiple gold bangles on her wrist, wore a pair of stud earrings, and layered several necklaces around her neck, including Philip Rickard's Old English Name necklace with diamonds.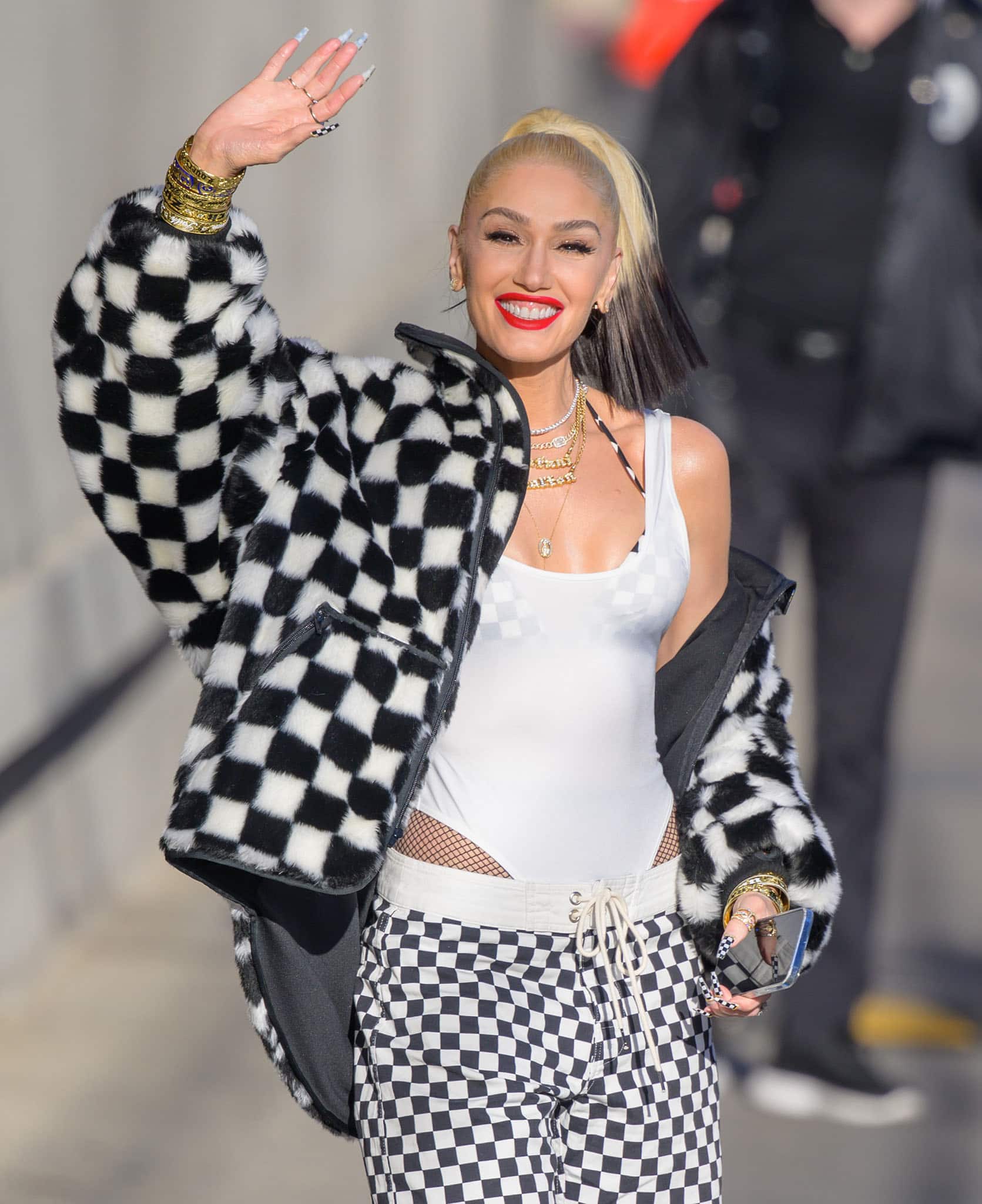 Gwen Stefani pulls her two-tone blonde and black hair into a tight ponytail and wears her signature bright red lipstick (Credit: BauerGriffin / INSTARimages)
She further accessorized with a ring on each of her fingers, but noticeably missing was her wedding ring. Gwen, however, quickly assured her fans that she's still very much married to Blake Shelton.
"I forgot to wear my ring," she explained. "It's like the first time. I was like, 'Okay, I'm gonna put it in the jewelry cleaner so Jimmy sees how sparkly and amazing my ring is,' and then boop! Hello, empty finger," she added.
Saying she's embarrassed, Gwen apologized to Blake for forgetting her ring. "I'm sorry, Blakey. I love my husband, and I love being married to him. It's just the greatest thing that's ever happened to me."
View this post on Instagram
Gwen then wore a pair of fishnet stockings and bright blue Western boots, which gave her monochromatic black-and-white look a pop of color.
Also from R13, these now sold-out electric blue mid cowboy boots feature leather pointed toes, slouchy sleeves, and 2-inch Cuban heels.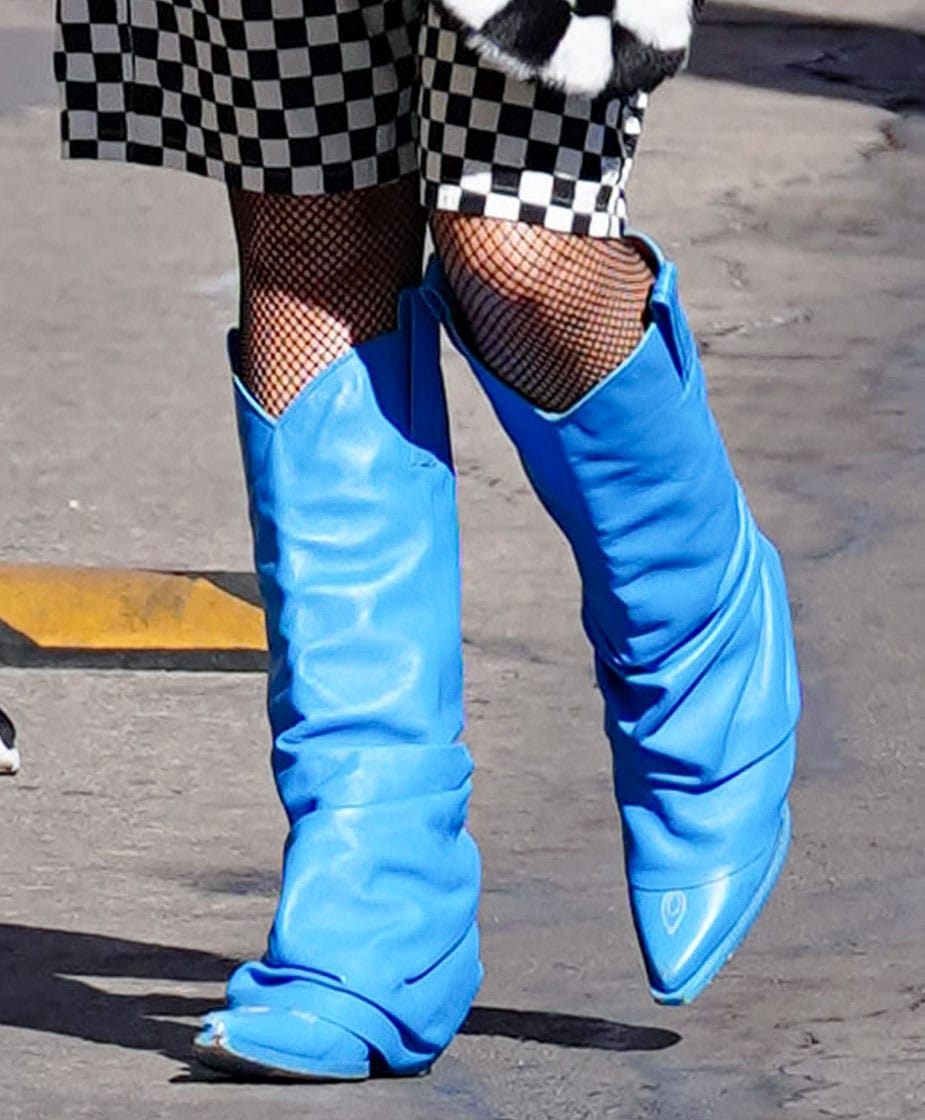 Gwen Stefani completes her look with fishnets and electric blue R13 Mid Cowboy boots (Credit: BauerGriffin / INSTARimages)
In April 2016, Gwen Stefani went grocery shopping with her sons, Kingston and Zuma, at Bristol Farms in Los Angeles.
Gwen Stefani wears her bleached hair up as she visits Bristol Farms grocery store with her sons on April 9, 2016 (Credit: WENN)
The "What You Waiting For?" singer went for a laid-back sporty look.
Gwen Stefani helps her sons into a car while out shopping in Los Angeles (Credit: WENN)
Zuma Nesta Rock Rossdale donned a Nike hoodie in a black-and-red combination, black shorts, high red socks, and a pair of trainers.
Kingston Rossdale, on the other hand, wore a gray Nike tee, blue basketball shorts, and a pair of black rubber shoes.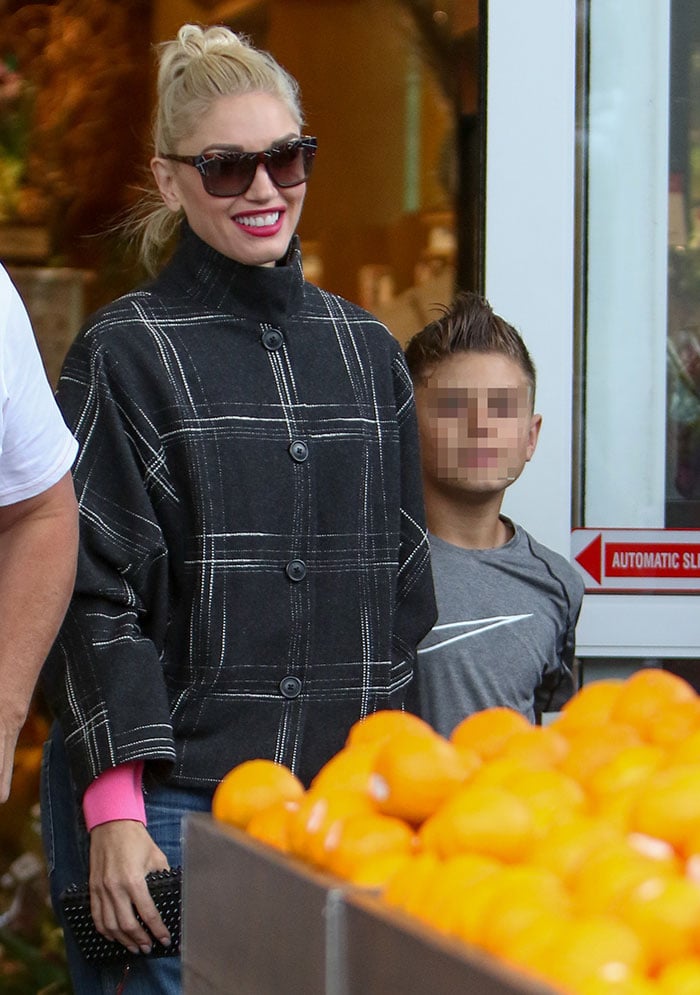 Gwen Stefani wears a black-and-white coat while out shopping with her sons (Credit: WENN)
The then 46-year-old mom-of-three looked equally cool in a baggy ensemble. She wore a checked, cropped coat over a pink long-sleeved top paired with cuffed jeans.
She hid her eyes behind a pair of square-framed sunglasses and kept her accessories to a minimum. The Trolls actress traded her signature red pout for a swipe of pink lipstick and pulled her blonde locks into a high bun.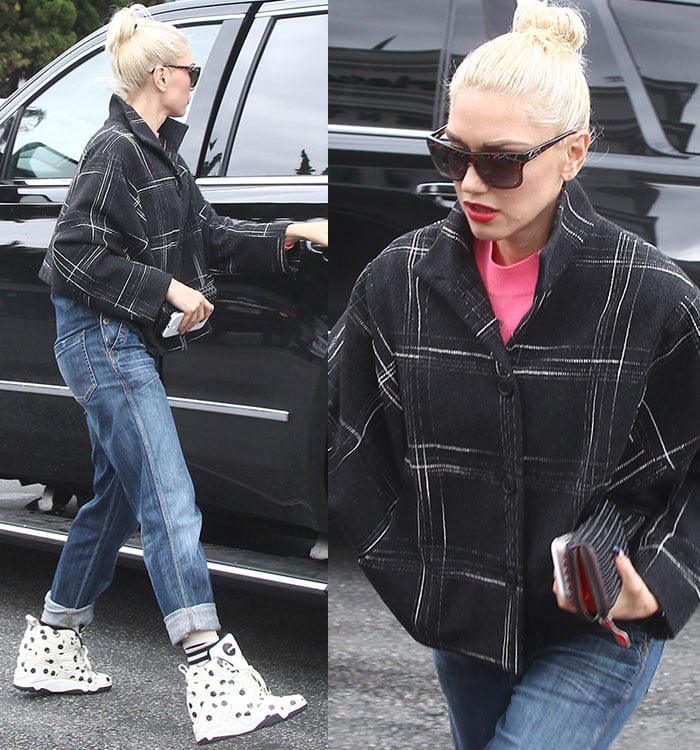 Gwen Stefani cuffs her jeans while out shopping in Los Angeles (Credit: WENN)
Gwen rounded out her look with a pair of shoes from the collaborative collection between Melody Ehsani and Reebok Classics.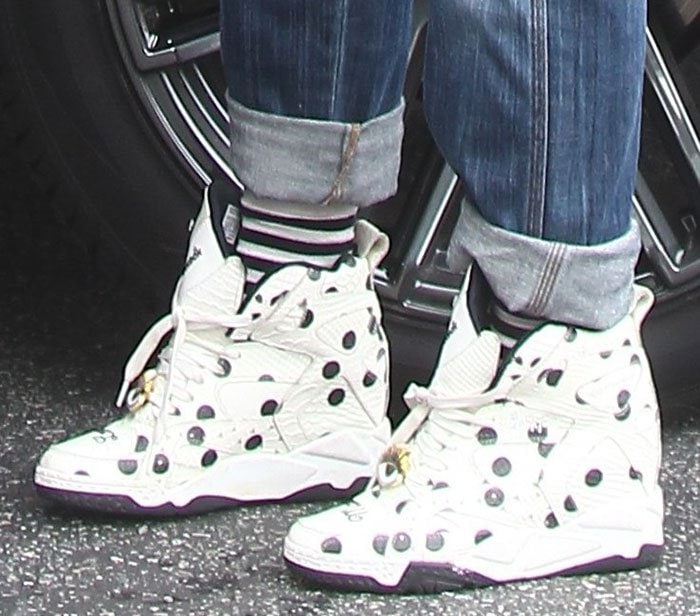 Gwen Stefani wears a pair of polka-dotted Melody Ehsani x Reebok sneakers (Credit: WENN)
She picked the M.E. Blacktop pumps, which are made of python-embossed leather with gel-printed polka dots, lace-up fastenings, and embroidered toe beds. These limited edition shoes are no longer available online.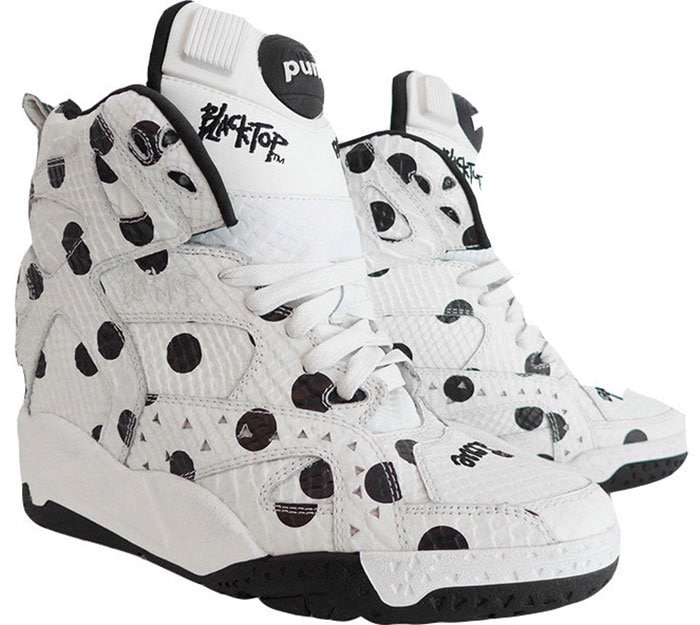 Melody Ehsani x Reebok Polka-Dot Blacktop Pumps, $220