Voicing DJ Suki, a supporting character in the 2016 American computer-animated jukebox musical comedy film Trolls, Gwen Stefani made an impact despite having just one line in the film.
"When I was in the Trolls (movie), for some reason that was a big deal," she told Us Weekly in August 2017 about her children's reactions to the film.
"They still talk about it. They'll be like, 'Mom! When you did Trolls, did you…?' I'm barely in it. I have like one line or something. They get pretty excited about that!"
Gwen Stefani voices the cool troll DJ Suki in Trolls
Portraying an average-sized Troll with hot pink skin who uses DJ equipment made of insects, she doesn't return in Trolls Holiday and Trolls World Tour.
For the film's soundtrack, Gwen Stefani performs "Hair Up" with Justin Timberlake and American comedian Ron Funches.
Gwen Stefani has just one line as DJ Suki in Trolls (Credit: Gwen Stefani's Twitter)
In December 2013, it looked like a pregnant Gwen Stefani couldn't get enough of her workwear-inspired L.A.M.B. "Nichol" booties.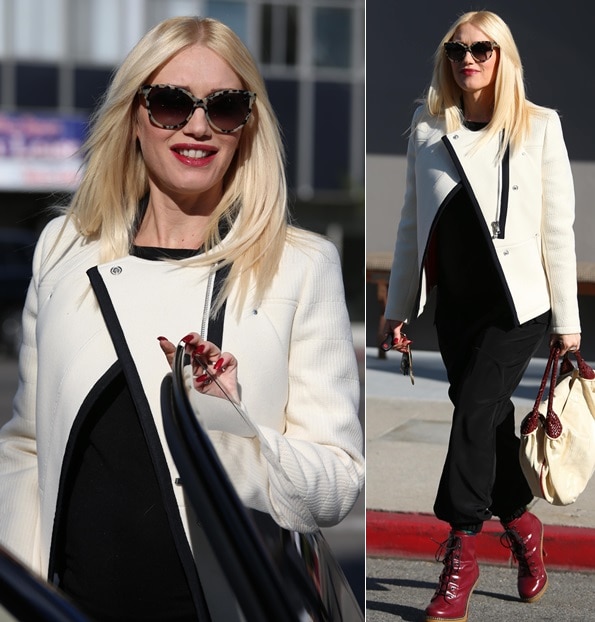 Gwen Stefani wears her blonde hair down while out and about in West Hollywood on December 5, 2013
We spotted her wearing the black pair one month earlier.
While running errands in West Hollywood, the ultra-fashionable rocker mom sported a red version with another black-and-white ensemble.
Gwen Stefani rocks a red pair of L.A.M.B. booties
The red boots perfectly complimented the singer's red-handled Fendi purse. And with her signature red lips and nails, you could say Gwen's outfit was perfectly coordinated.
Gwen Stefani wears a pair of lace-up heeled "Nichol" booties

Unfortunately, the red version of Gwen's "Nichol" booties doesn't seem to be available online.
L.A.M.B. "Nichol" Booties in Black, $395
If you're looking for a less-feminine — and cheaper — version of Gwen's boots, give Dr. Martens a try.
The brand's "Sadie 8-Eye" style has chunkier heels, and they're significantly less expensive at Zappos and Nordstrom.
Dr. Martens "Sadie 8-Eye" Boots, $160
Credit: WENN