Jennifer Connelly continued her stylish streak this week while on the promo tour for Top Gun: Maverick, which officially arrives in US theaters on Friday.
Showcasing a preppy spring style, the actress, who's been a longtime Louis Vuitton ambassador, opted for a full look from the luxury fashion house.
She donned a polka dot mini shirtdress on her way to the Good Morning America studios on Tuesday, where she talked about flying and being Tom Cruise's love interest in the movie.
Jennifer Connelly at the Good Morning America studios to promote Top Gun: Maverick on May 24, 2022 (Credit: ROGER WONG / INSTARimages)
The Noah star, who had never worked with Tom Cruise prior to the Top Gun sequel, told host Michael Strahan that Tom Cruise is "a great actor" and "he makes it just a joy working with him."
The 51-year-old actress plays Penny Benjamin in the film, whose name was mentioned though she didn't physically appear in the original 1986 Top Gun movie.
"I love the idea of their relationship," she shared of their characters. "So these characters have known each other for a long time, so I think it was a fun place to start their relationship. They've clearly known each other for many years."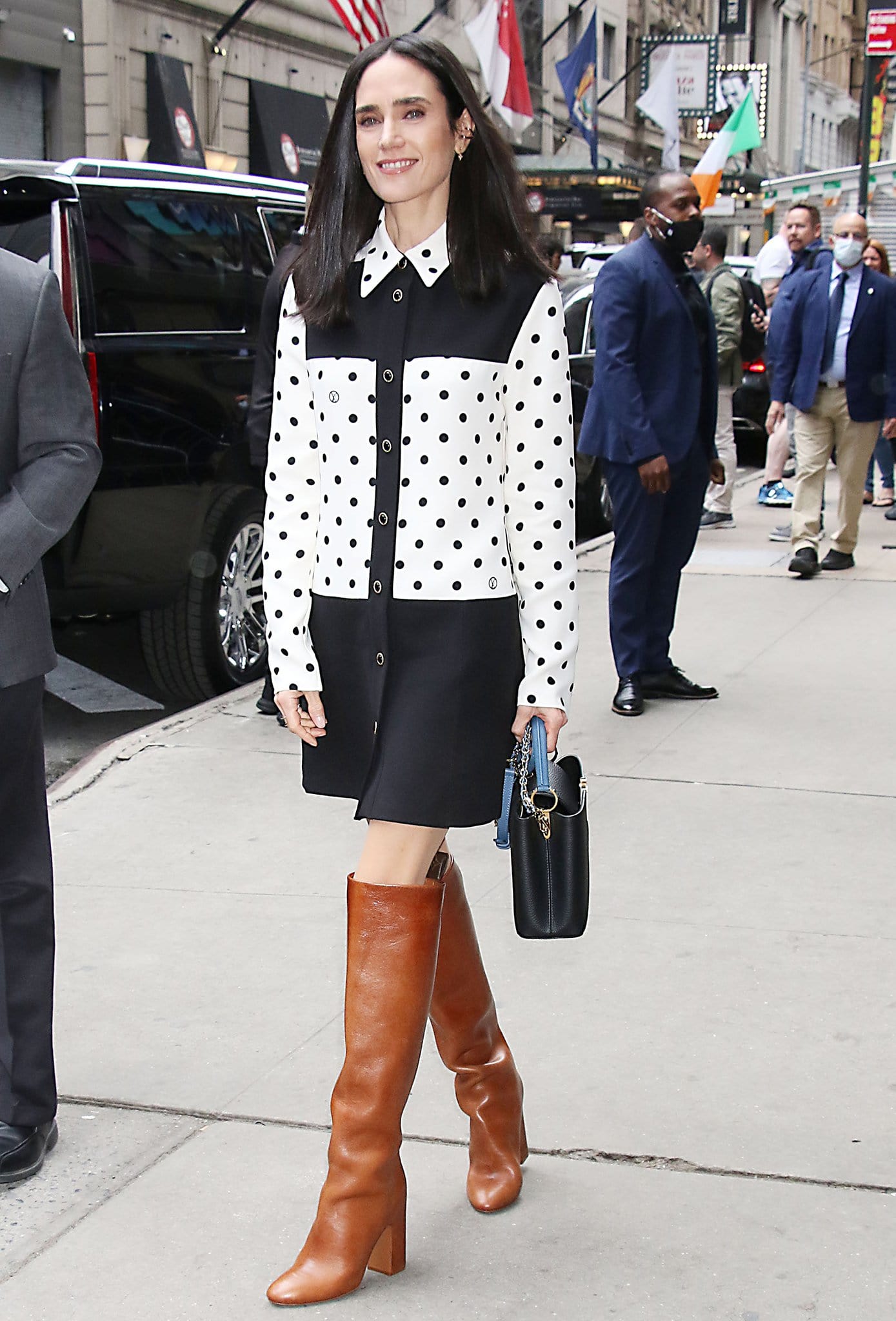 Jennifer Connelly parades her slender pins in a Louis Vuitton polka-dot shirt dress (Credit: ROGER WONG / INSTARimages)
Jennifer also shared that flying isn't her favorite thing to do but mentioned flying with Tom Cruise "was an extraordinary experience."
"It was a P-51, which is like a World War II plane, and it was pretty extraordinary. We were flying, skimming the top of the mountains, and there was a jet right off our wing that was filming us. It was definitely flying, unlike any flying I've done before."
Sharing her experience with Tom Cruise, Jennifer added, "He's such a good pilot, and he's so meticulous and absolutely everything that he does, so it was kind of therapeutic for me. As someone who doesn't really love to fly, to do that kind of flying with someone like him, I could just enjoy it."
Jennifer Connelly talks about her experience flying with Tom Cruise aboard a P-51 (Credit: ROGER WONG / INSTARimages)
The Career Opportunities actress showed a glimpse of her slender legs in the button-down mini dress that features black buttons, black polka dot prints on the collar, long sleeves and bodice, and a slightly flared thigh-skimming skirt.
She accessorized the look with multiple earrings and rings and carried her essentials in a black Louis Vuitton bag with a blue top handle.
Wearing her tresses down, Jennifer rounded out her preppy ensemble with knee-high cognac boots that feature almond toes and block heels.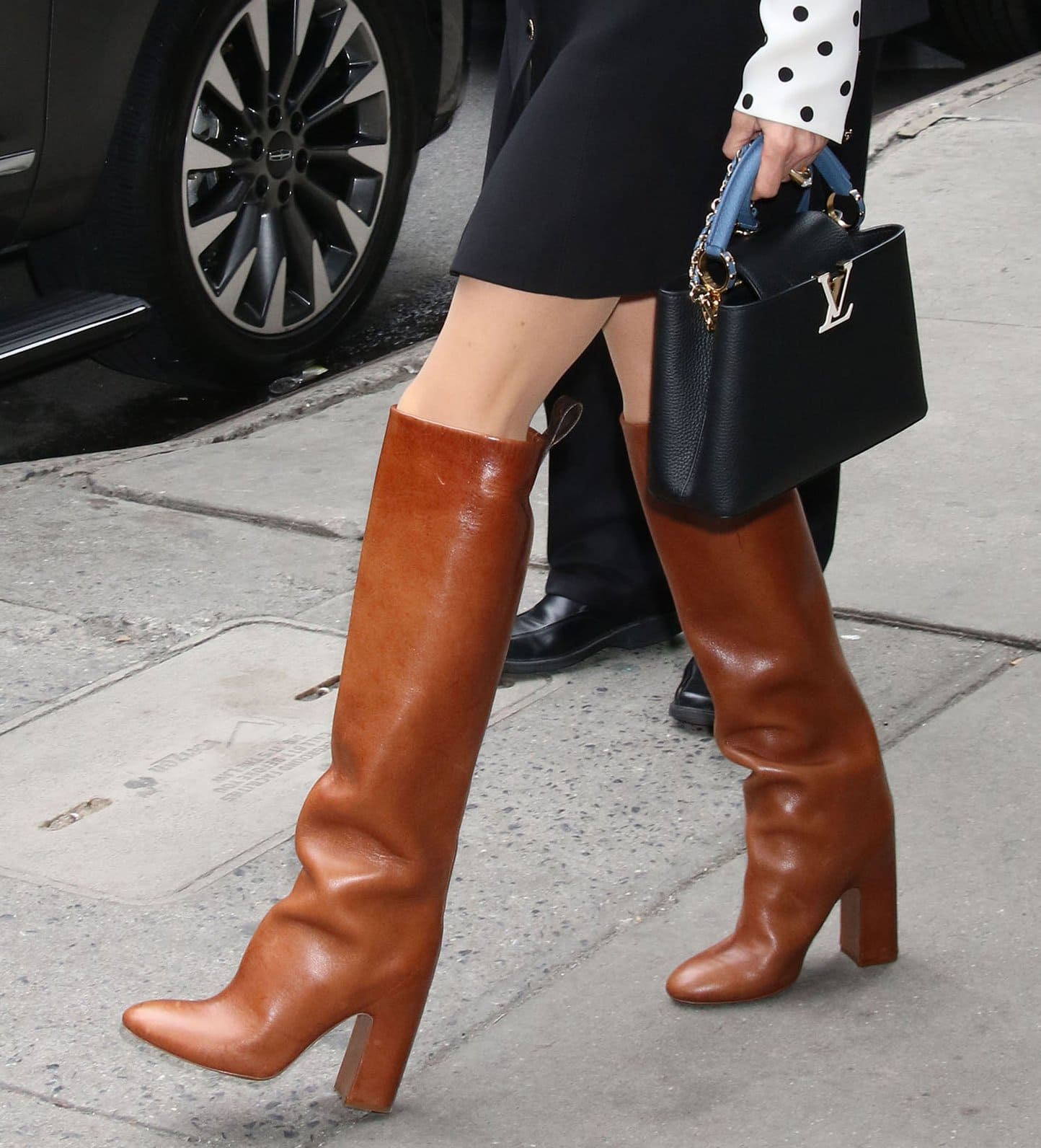 Jennifer Connelly completes her Louis Vuitton look with cognac knee-high boots with block heels (Credit: ROGER WONG / INSTARimages)
On Monday, Paul Bettany's wife dropped by the Ed Sullivan Theater for a guest appearance on the Late Show with Stephen Colbert.
She donned a similar look, with a black Louis Vuitton monogram jacquard button-down shirt tucked into a structured, flared mini skirt.
For her accessories, Connelly wore the same multiple gold earrings and rings and slipped her feet into a pair of chocolate brown knee-high boots that feature the same slouchy construction as the cognac boots she wore to GMA.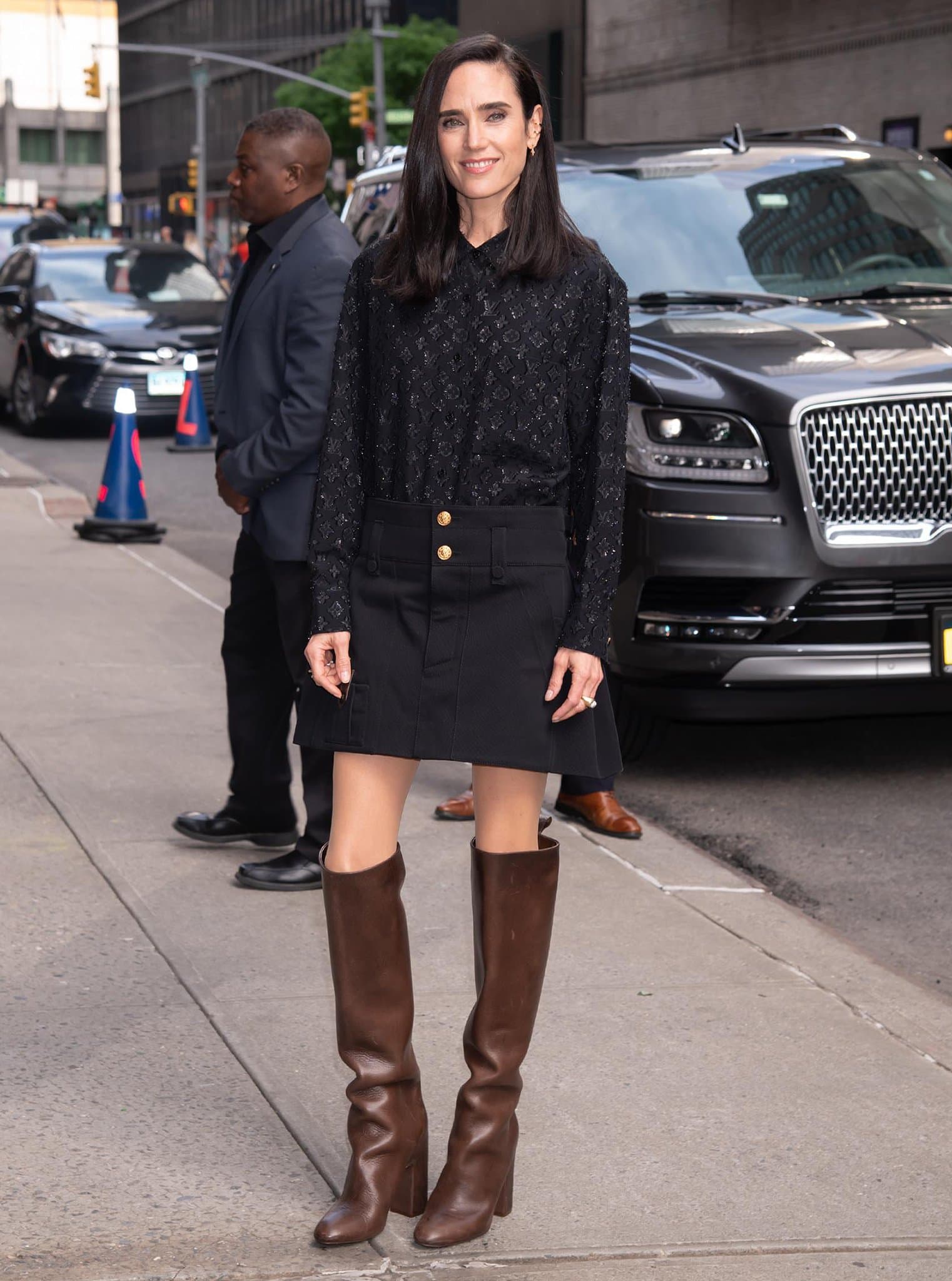 Jennifer Connelly outside the Late Show with Stephen Colbert studios in a Louis Vuitton blouse, mini skirt, and brown knee-high boots (Credit: Janet Mayer / Startraksphoto)
On Thursday, the Dark Water actress graced the UK premiere of Top Gun: Maverick, which was also attended by British royals, the Duke and Duchess of Cambridge.
Of course, Jennifer donned yet another Louis Vuitton outfit, this time a black-and-white chiffon maxi dress.
The floor-sweeping number is embellished with black bead florals and features a keyhole detail, bell sleeves, and a draped silhouette with a waist-defining black leather belt.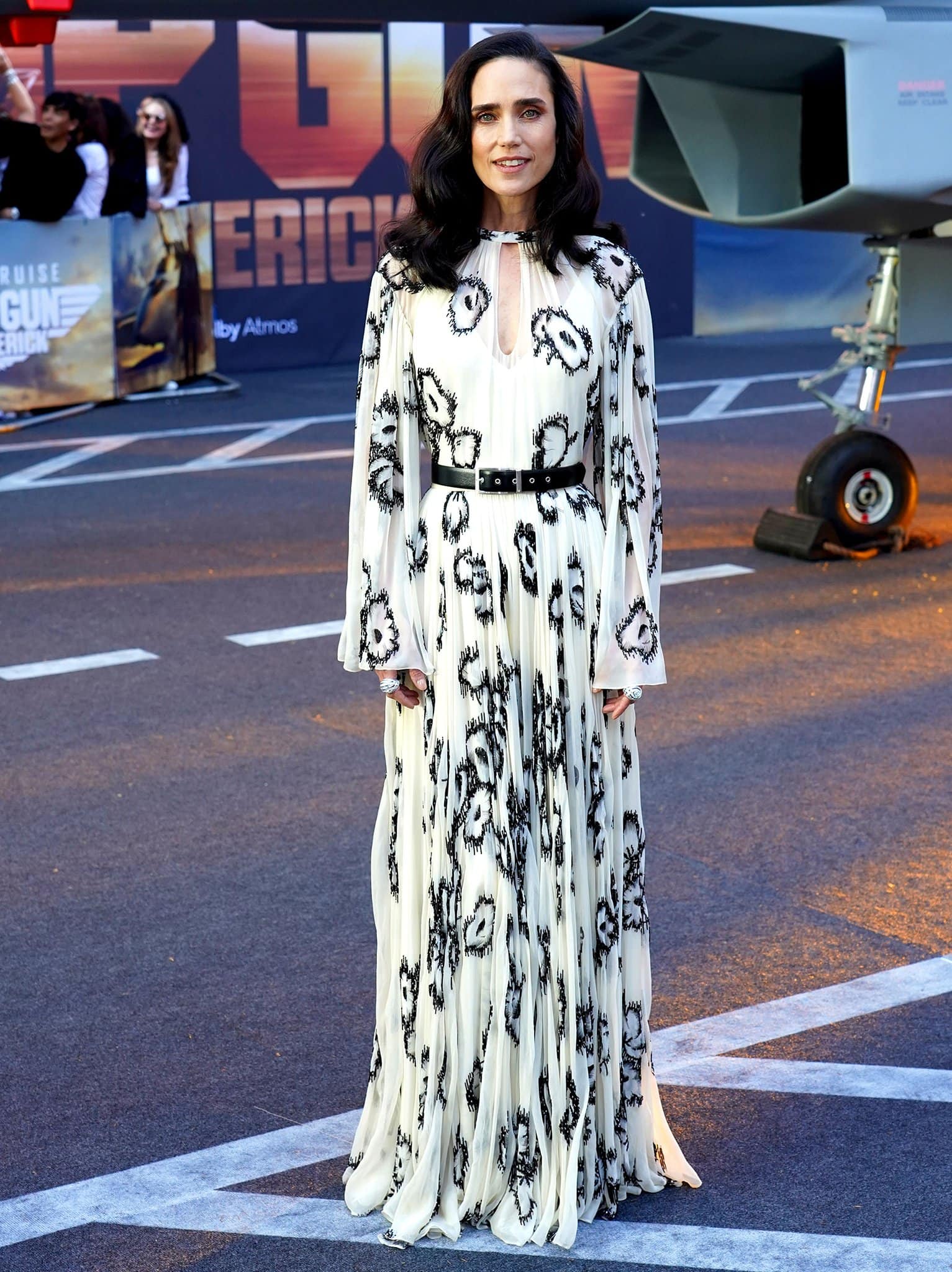 Jennifer Connelly attends the UK premiere of Top Gun: Maverick in a Louis Vuitton draped maxi dress on May 19, 2022 (Credit: Ian West / PA Images / INSTARimages)
In a recent interview with Entertainment Tonight, Jennifer revealed that meeting Prince William and Kate Middleton was already her second royal experience.
Thirty-five years ago, she met Prince William's mother, Princess Diana, at the Royal Command Premiere of her movie Labyrinth.
View this post on Instagram
"[In] 1986, yes, for the premiere of Labyrinth, which was a movie I did when I was a teenager. And I got to meet William's mom, [Princess] Diana."
"It was, you know, it's a very special occasion. You think about the protocols that they ask you to be mindful of when meeting them, and of course, you know, Kate and William were both so gracious and reached out and shook our hands, and they are just impeccable."
Jennifer Connelly meets royals Prince William and Kate Middleton 35 years after meeting the late Princess Diana (Credit: Ian West / PA Images / INSTARimages)
Last week, Jennifer Connelly attended the star-studded premiere of Top Gun: Maverick at the Palais des Festivals during the 75th Cannes Film Festival.
The mom-of-three stunned in an elegant off-the-shoulder silver gown that perfectly clung to her slender figure. Unsurprisingly, it's another custom creation by French luxury brand Louis Vuitton.
It's a jacquard floor-sweeping gown with metallic silver threads, a structured neckline, a cinched-in waist, long sleeves, and a modest train.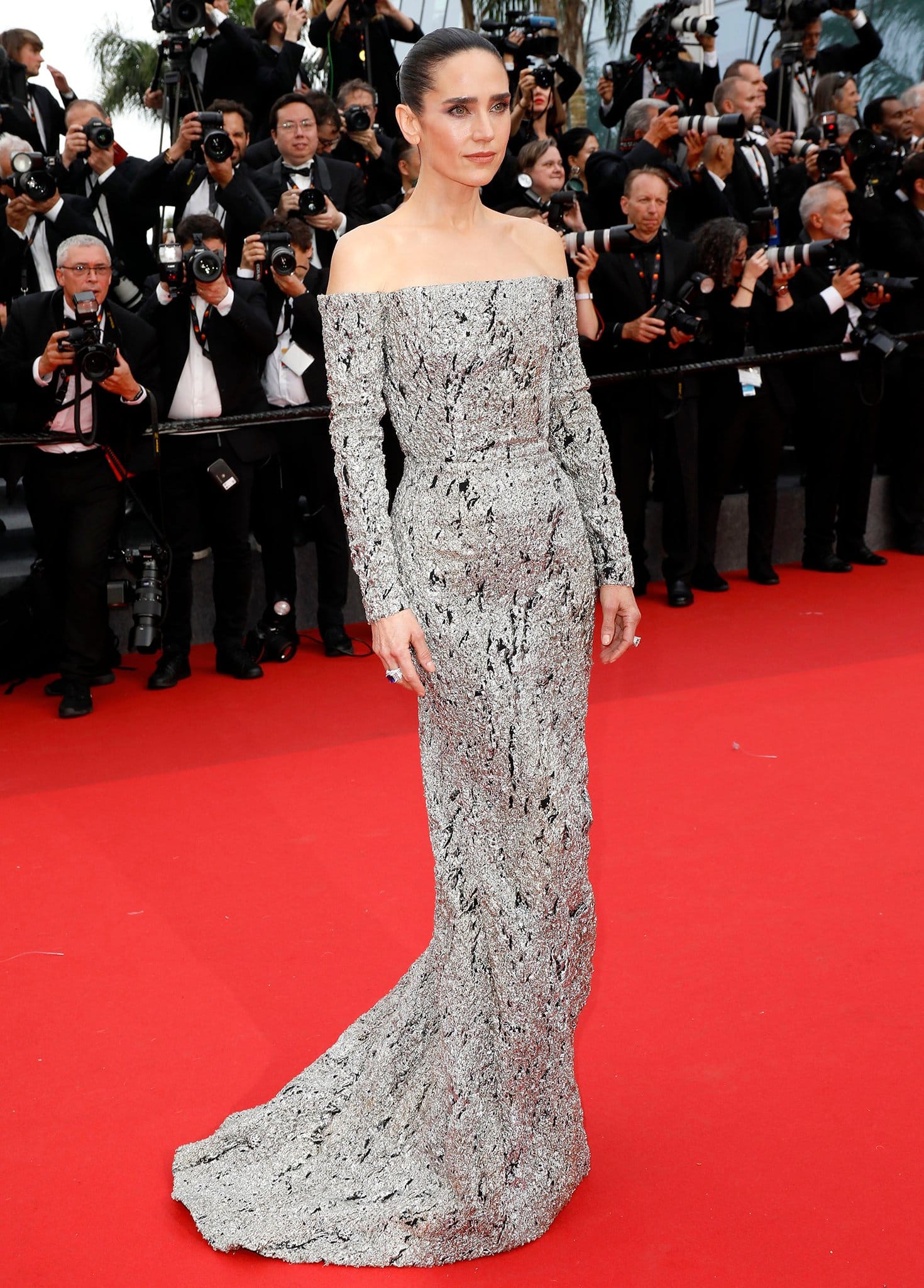 Jennifer Connelly stuns in a custom Louis Vuitton off-the-shoulder silver jacquard gown at the Cannes Film Festival premiere of Top Gun: Maverick on May 18, 2022 (Credit: DDP / INSTARimages)
Styled by Leslie Fremar, Connelly went bare neck, accessorizing with just two statement rings in white gold and diamonds from Maison's High Jewelry collection.
Keeping the look elegant, hairstylist Renato Campora pulled her black tresses into a neat slicked-back bun while makeup artist Kay Montano enhanced her features with subtle smokey eyeshadow and neutral matte lip color and blush.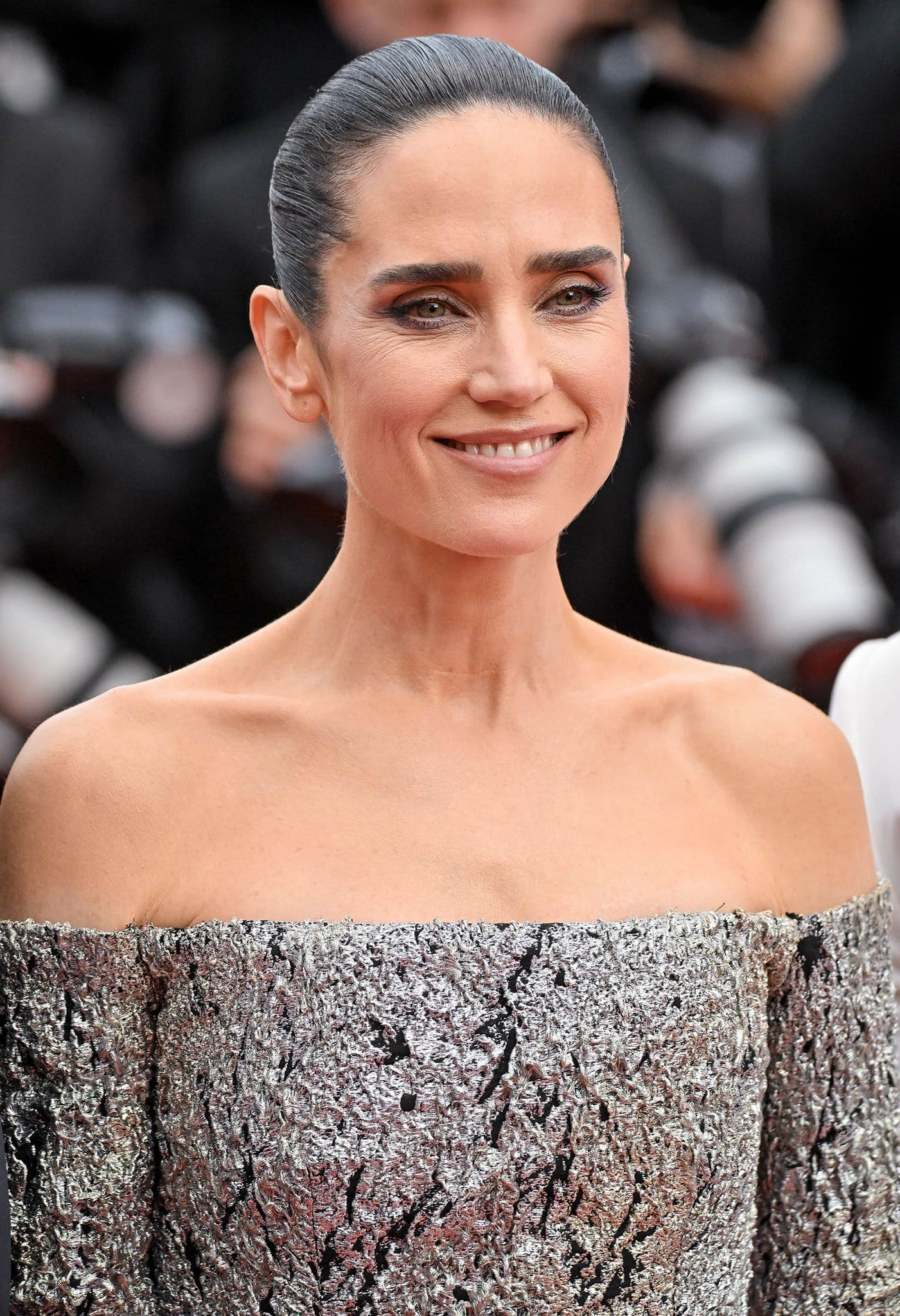 Jennifer Connelly wears a slicked back bun with subtle smokey eyeshadow and nude lipstick (Credit: ABACA / INSTARimages)
Prior to the premiere, Jennifer showed off her fashion credentials in another Louis Vuitton look as she stepped out for the Top Gun: Maverick photocall.
She wore a white long-sleeved blouse with a frilly collar underneath a Fall 2022 glittery nude tweed dress adorned with sequins and bead embellishments.
The look appeared a little heavy as she opted to finish it off with red knee-high boots, which added a pop of bold color to her ensemble.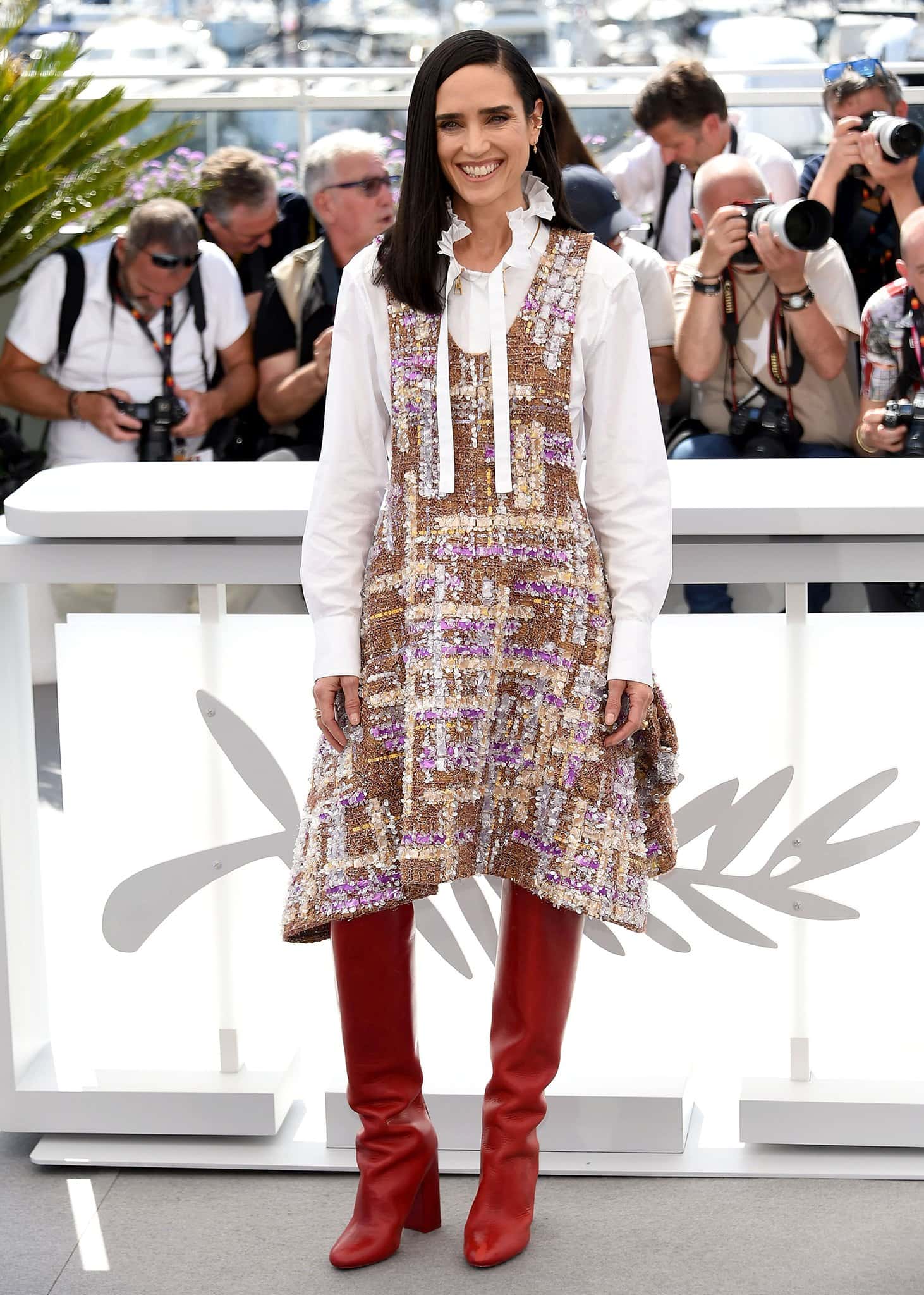 Jennifer Connelly dons a Louis Vuitton white ruffled shirt underneath a tweed dress with red knee-high boots (Credit: IPA / INSTARimages)
In October 2010, Jennifer Connelly's Balenciaga dress for the 27th Annual Night of Stars got a lot of mixed reviews, but we're not here for that — as always, we were primarily interested in her shoes.
Jennifer Connelly in an asymmetrical Balenciaga Spring 2011 print dress (Credit: WENN)
Her dress needed an on-the-spot alteration that night but her shoes were all prepped up and ready for the cameras right from the get-go.
At the event, she presented Balenciaga's Nicolas Ghesquiere with the evening's Superstar Award.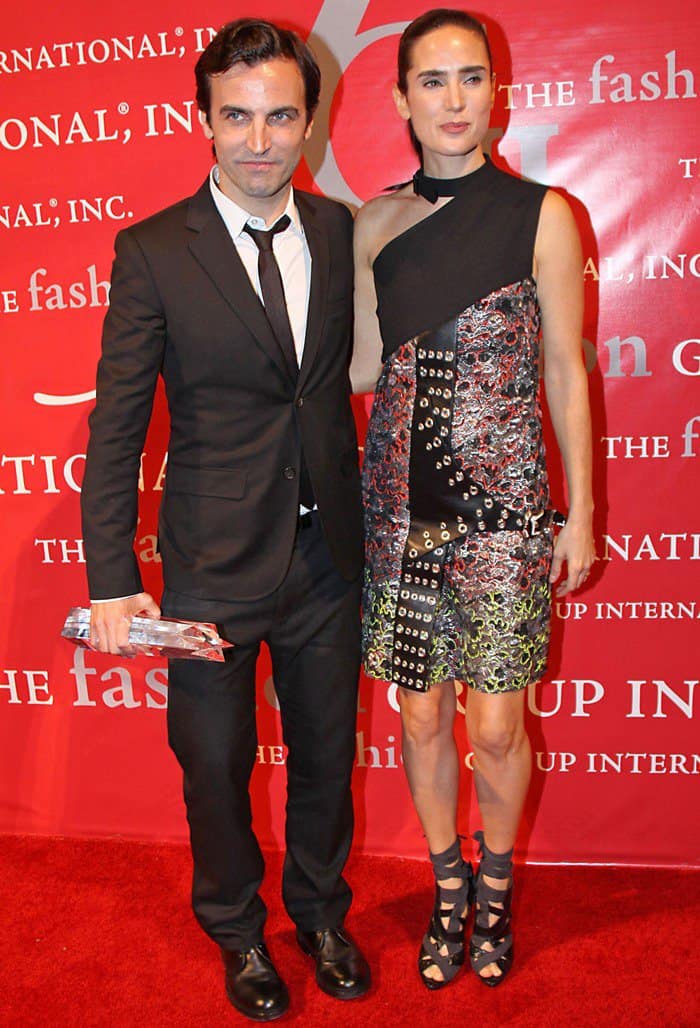 Designer Nicolas Ghesquiere and actress Jennifer Connelly attend the 27th Annual Night of Stars at Cipriani, Wall Street on October 28, 2010, in New York City (Credit: WENN)
It's a good thing Jennifer Connelly chose to wear those awesome edgy strappy sandals for that evening.
It gave us something else to focus on aside from how much the white panel over her print and leather grommet dress had got us confused.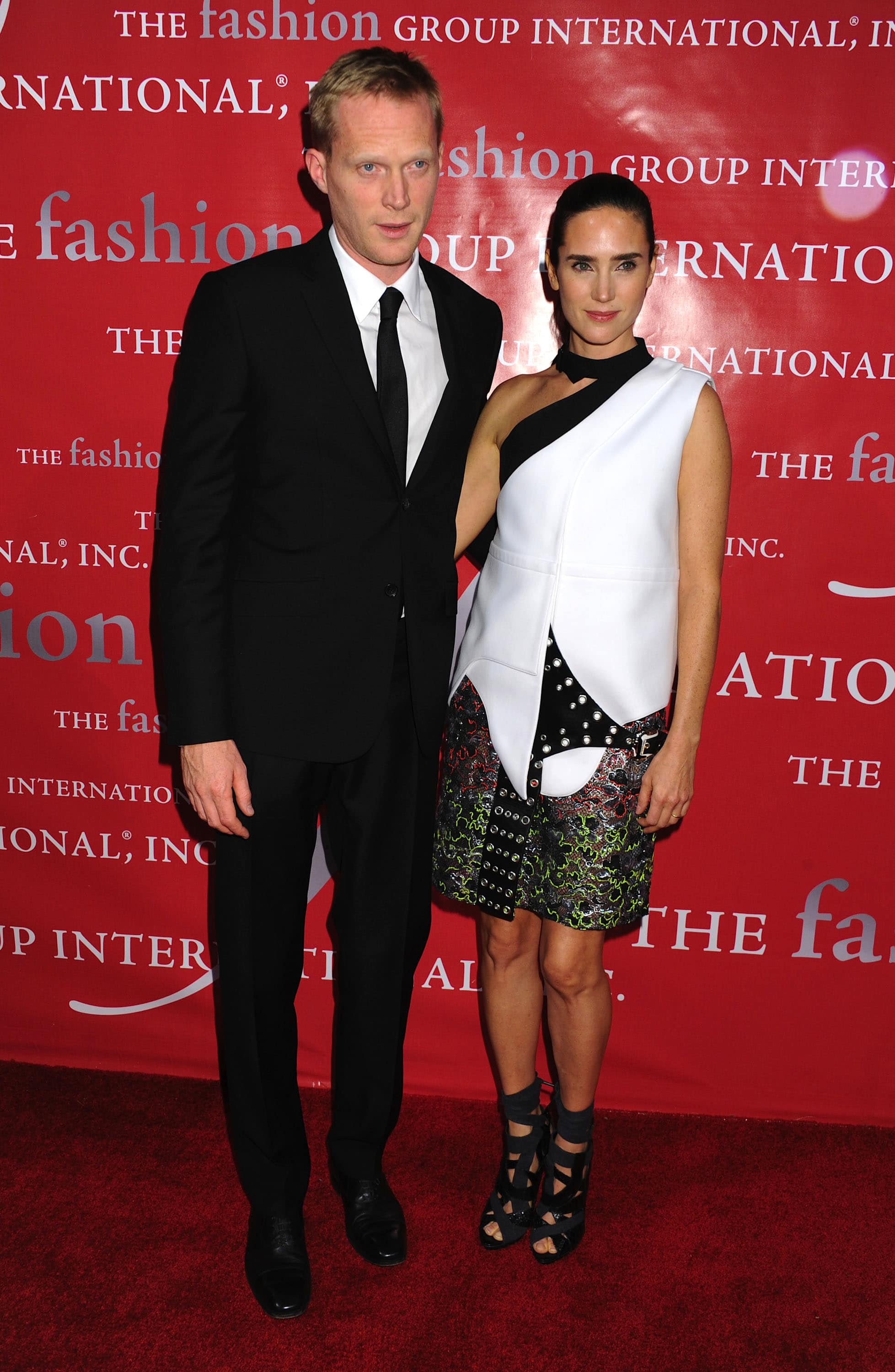 Joined by her husband Paul Bettany, Jennifer Connelly later decided to take off the white asymmetrical top (Credit: INFevents)
Jennifer Connelly's two-tone sandals are a combination of reptile-embossed black leather and grey suede straps that curve and crisscross over the foot.
The longer grey straps tie around the ankles, giving the otherwise formal evening sandal a more casual sneaker-lace vibe.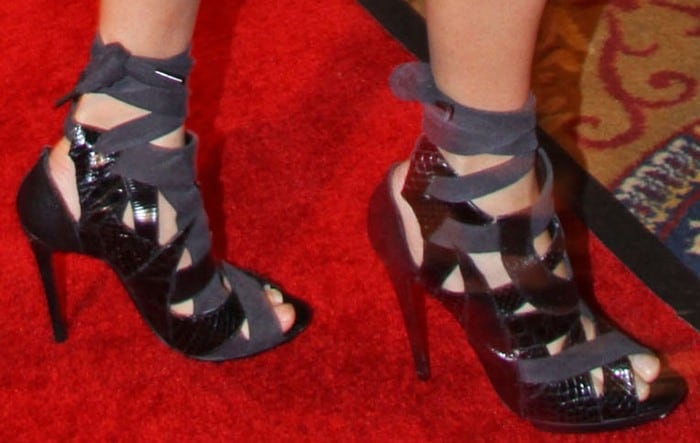 Jennifer Connelly's awesome edgy strappy sandals (Credit: WENN)
These shoes are undoubtedly a winning fashion choice for Jennifer.