Kelly Rowland is one of the most iconic Hip-Hop stars of our generation. Rising to fame alongside Beyoncé Knowles in the most notable girl's group to date, Destiny's Child, Rowland became a female symbol in the music industry.
While her music career has been illustrious and is still ongoing, Rowland has proven to be a true triple threat. Following the disbandment of Destiny's Child in 2005, Rowland went on to build a successful acting career for herself, starring in both hit television shows and films.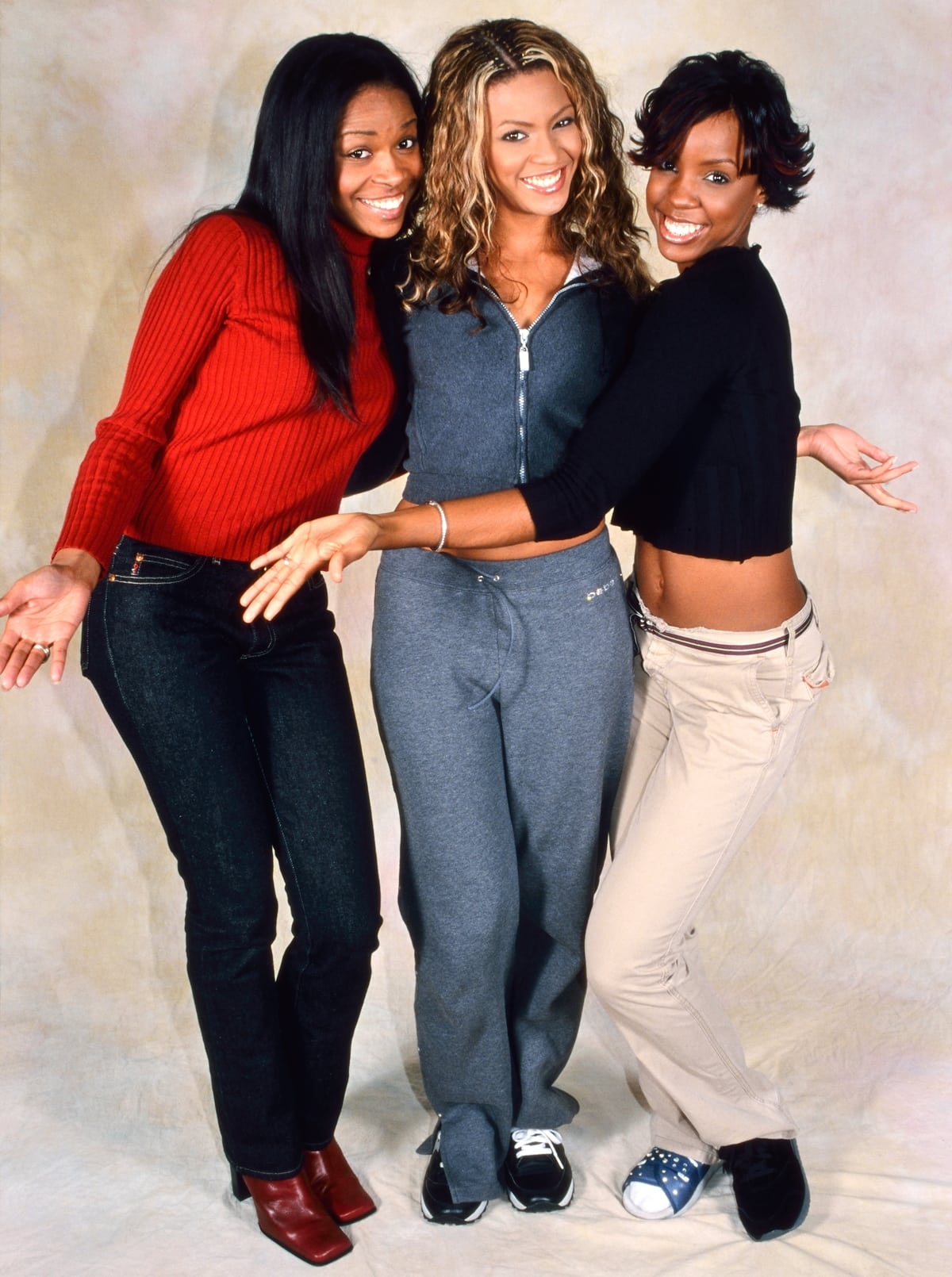 Destiny's Child was an American girl group comprised Beyoncé Knowles, Kelly Rowland, and Michelle Williams (Credit: Robert Hoetink / Shutterstock)
She's also taken her legendary musical skills and become a coach on several seasons of X-Factor and The Voice on an international level and continues to be an advocate for those who are underprivileged. But just how much net worth has Rowland accumulated over her career?
To date, Kelly Rowland has an anticipated $30 million net worth. She remains to be the second wealthiest member of Destiny's Child, behind Beyoncé Knowles who is worth $400 million.
The third member of Destiny's Child, Michelle Williams, also has an impressive net worth of $20 million.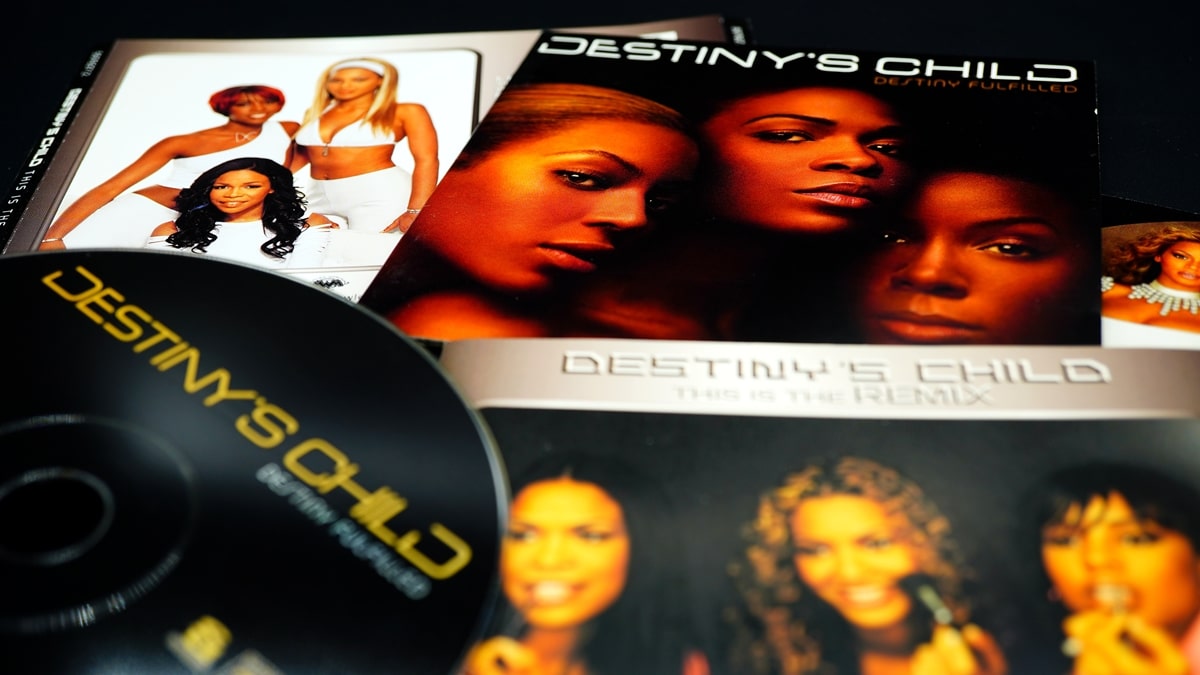 One of the greatest musical trios of all time, Destiny's Child has sold more than sixty million records worldwide to date (Credit: Kraft74 / Shutterstock)
Rowland can be seen as the breadwinner of her family, with her husband Tim Witherspoon's net worth at $12 million. Of course, the talent manager is doing very well for himself, but it is Rowland who has amassed their large fortune due to her years of success in the industry as a singer, actress, and TV personality.
So how exactly did Rowland build her fortune and how did she maintain her wealth, after the disbandment of Destiny's Child?
A Star is Born
While it is hard to imagine Kelly Rowland as anything but a glamorous and highly successful Grammy-Award Winning icon, she actually rose to fame from extremely humble beginnings.
Born in 1981 under her given name, Kelendria Trene Rowland, Rowland grew up in Atlanta Georgia with her parents and older brother, Orlando. Rowland's mother left her abusive father when she was six-year-old and relocated their family to Houston, Texas.
Beyoncé Knowles, Kelly Rowland, and Michelle Williams performing during 2005 World Children's Day on November 15, 2005, at The Los Angeles Ronald McDonald House at Ronald McDonald House in Hollywood, California (Credit: Tinseltown / Shutterstock)
During her teenage years, she had a very tumultuous relationship with her mother and eventually moved in with Beyoncé Knowles and her family. Rowland became very close with Beyoncé and her younger sister Solange as if they were her own blood sisters.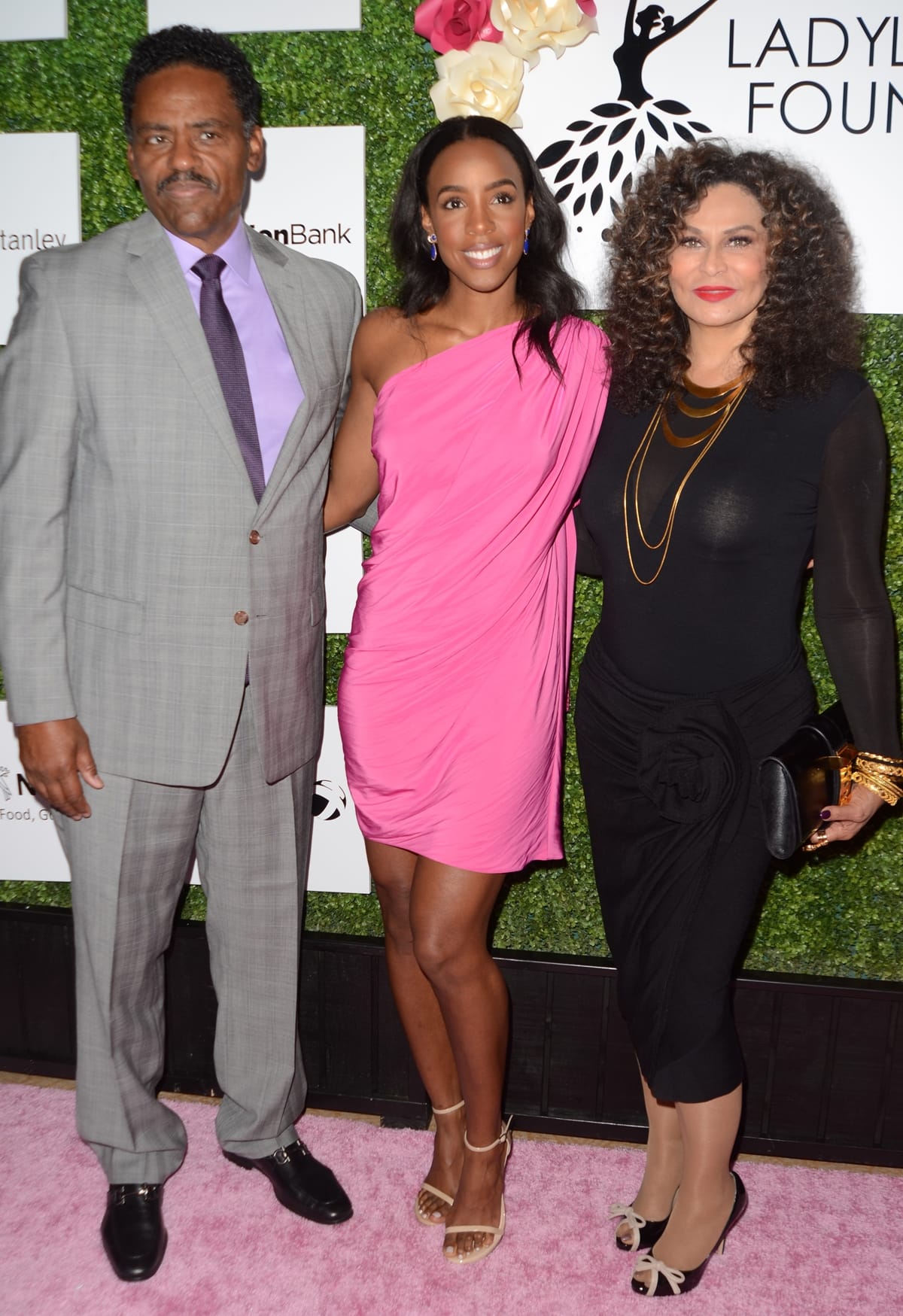 Richard Lawson, Kelly Rowland, Tina Knowles at the 2016 Ladylike Women of Excellence Awards Gala at the Beverly Hilton Hotel on June 4, 2016, in Beverly Hills, California (Credit: Kathy Hutchins / Shutterstock)
She also developed a deep bond with Beyoncé's mother, Tina Knowles, who would later walk Rowland down the aisle at her wedding. Rowland lovingly refers to Tina Knowles as "Mama T" to this day.
Destiny's Child Shakes the World
Kelly Rowland and Beyoncé Knowles became friends after they first met in the early 1990s, during rehearsals for the music group, Girl's Tyme.
They sang alongside the group's other main members, LeToya Luckett-Walker and LaTavia Roberson, and competed in the televised talent show, Star Search.
Unfortunately, the girl group would not win the national talent show but their story was only just beginning. Beyoncé's father, Mathew Knowles, began managing the music group and in 1995, they had their big break and signed with Elektra Records. Sadly, they would be dropped a few months later, but there was nowhere to go but up for the budding girl's group.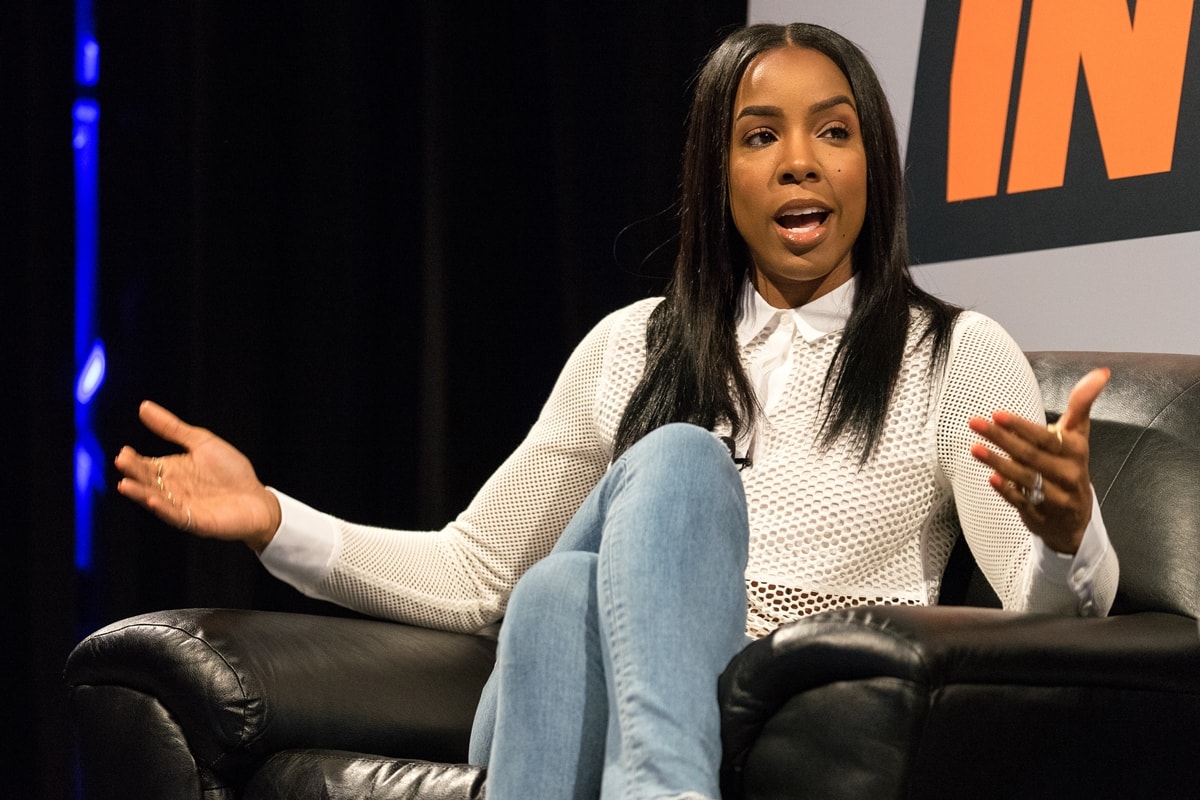 Kelly Rowland talked about her Destiny's Child days during her Chasing Destiny interview held during the 2016 SXSW Festival at Austin Convention Center on March 19, 2016, in Austin, Texas (Credit: Stock Photo World / Shutterstock)
It took several name changes before Destiny's Child came to be, including Cliché, Something Fresh, Dolls, and Destiny. Eventually, the music group landed on Destiny's Child after being signed by Columbia Records in 1997 and the rest was history.
In 1998, the group released their self-titled album and peaked at number 67 on the Billboard 200 but did manage number 14 on the Billboard Top R&B/Hip-Hop Albums. The lead single of the album, No, No, No, was eventually remixed and reached number one on the Billboard Hot R&B/Hip-Hop Singles and Tracks and was number three on the Billboard Top 100.
Upon the release of their second album The Writings on the Wall in 1999, Destiny's Child reached commercial success with their number one singles Bills, Bills, Bills, and Say My Name.
As their music success grew, internal tension brewed amongst the members of Destiny's Child. Roberson and Luckett wanted to split from Mathew Knowles as their manager, citing he showed clear favoritism towards Knowles and Rowland.
Mathew Knowles, Beyoncé's father and former manager, claims "colorism" negatively affected Kelly Rowland's career (Credit: DFree / Shutterstock)
A lawsuit was eventually filed by Luckett and Roberson for a breach of contract, but legal action only led to Roberson and Luckett being replaced with Michelle Williams and Farrah Franklin.
Franklin would eventually leave the group after 5 months claiming negative energy in the band, leading Destiny's Child to be solidified as a trio.
Rowland, Knowles, and Williams released their first album as a trio, Independent Women Part 1, which had their best charting single remaining at the top of the Billboard Hot 100 for eleven consecutive weeks.
The Beginnings of a Solo Career
Destiny Child's third album, Survivor, went number one on the US Billboard 200 and has sold over twelve million copies worldwide to date. In 2002, the group announced a temporary break to pursue solo projects, which is exactly what Rowland did.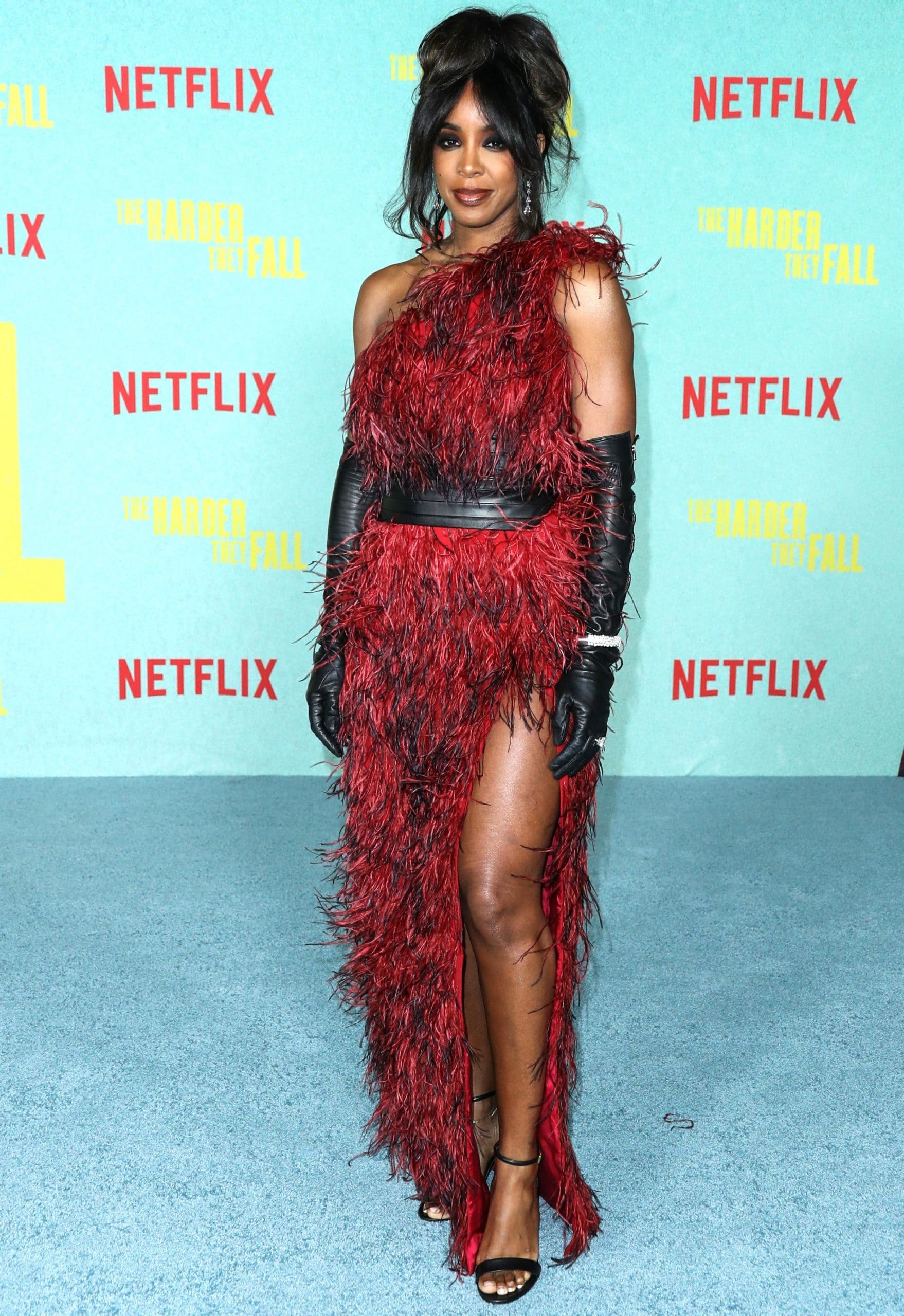 Kelly Rowland in a red Marcell Von Berlin Fall/Winter 2021 feather gown and jewelry from Gismondi at the premiere of The Harder They Fall held at Shrine Auditorium and Expo Hall on October 13, 2021, in Los Angeles (Credit: Collin Xavier / ABACA / INSTARimages)
In 2002, Rowland won a Grammy alongside Nelly for her feature on his single, Dilemma, which became Rowland's first number-one single as a solo artist. Later that year, Rowland would release her debut solo album, Simply Deep.
The album ranked number 12 on the Billboard 200 and number three on the R&B/Hip-Hop Albums chart, eventually being certified gold by the RIAA. Simply Deep is still the best-selling album for Rowling to date.
Following a three-year hiatus, Destiny's Child came together again to record their last album, Destiny Fulfilled. The album was number two on the Billboard 200 and Destiny's Child took the album on a worldwide tour, where they announced their breakup. Following their disbanding, Destiny's Child received a star on the Hollywood Walk of Fame in 2006.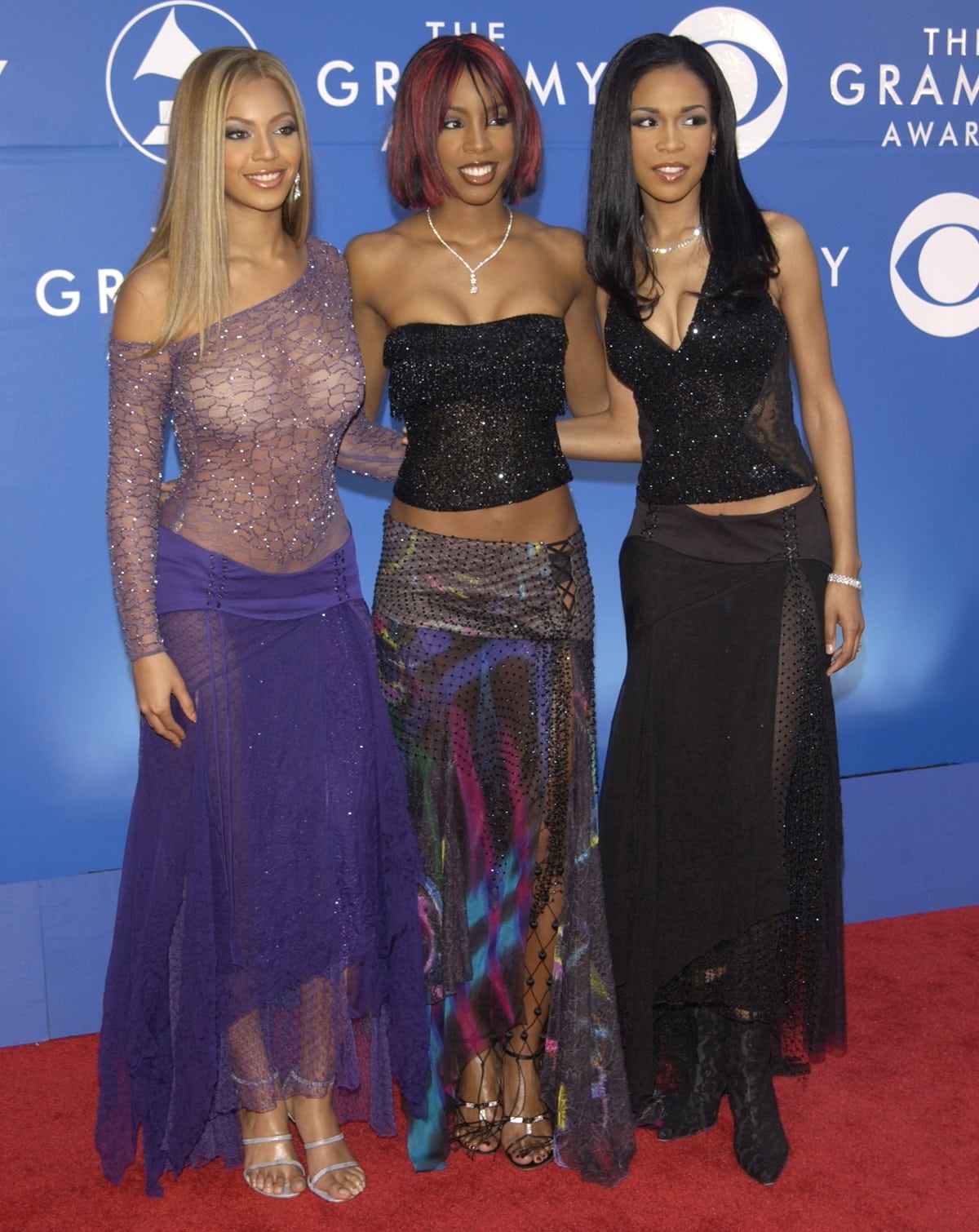 Destiny's Child won the Grammy Award for Best R&B Vocal by Duo or Group for the song "Survivor" at the 44th Annual Grammy Awards were held on February 27, 2002, at the Staples Center in Los Angeles, California (Credit: Jaguar PS / Shutterstock)
In 2007, Rowland went on the Ms. Kelly Tour to support the release of her second solo album, Ms. Kelly. The album debuted at number six on the Billboard 200 and number two on the R&B/Hip-Hop albums chart.
After leaving Columbia Records, Rowland was signed with Universal Motown Records and released her third album Here I Am in 2011. Her single Motivation, featuring Lil Wayne, topped the R&B/Hip-Hop Songs for seven weeks and was double platinum-certified.
One of her biggest successes as a solo artist was her vocals on David Guetta's hit track, When Love Takes Over. Rowland is still working on music today, with her fifth album anticipated to launch soon.
From the Stage to the Screen
In 2002, during the break from Destiny's Child, Rowland dived into the world of acting. She played a recurring role in the fourth season of the sitcom The Hughleys and had guest roles on the NBC drama series American Dreams.
She made her big-screen debut in 2003, starring in the horror film, Freddy vs. Jason. In 2005, Rowland landed another movie role playing opposite Duane Martin in the romantic comedy The Seat Filler.
In 2015, Rowland landed the part of Luscious Lyon's mother in the hit drama Empire. Rowland would continue to act in drama roles, earning the part of Gladys Knight in the BET series, American Soul and in the movie Think Like a Man. She most recently appeared in the Hulu Original, Bad Hair.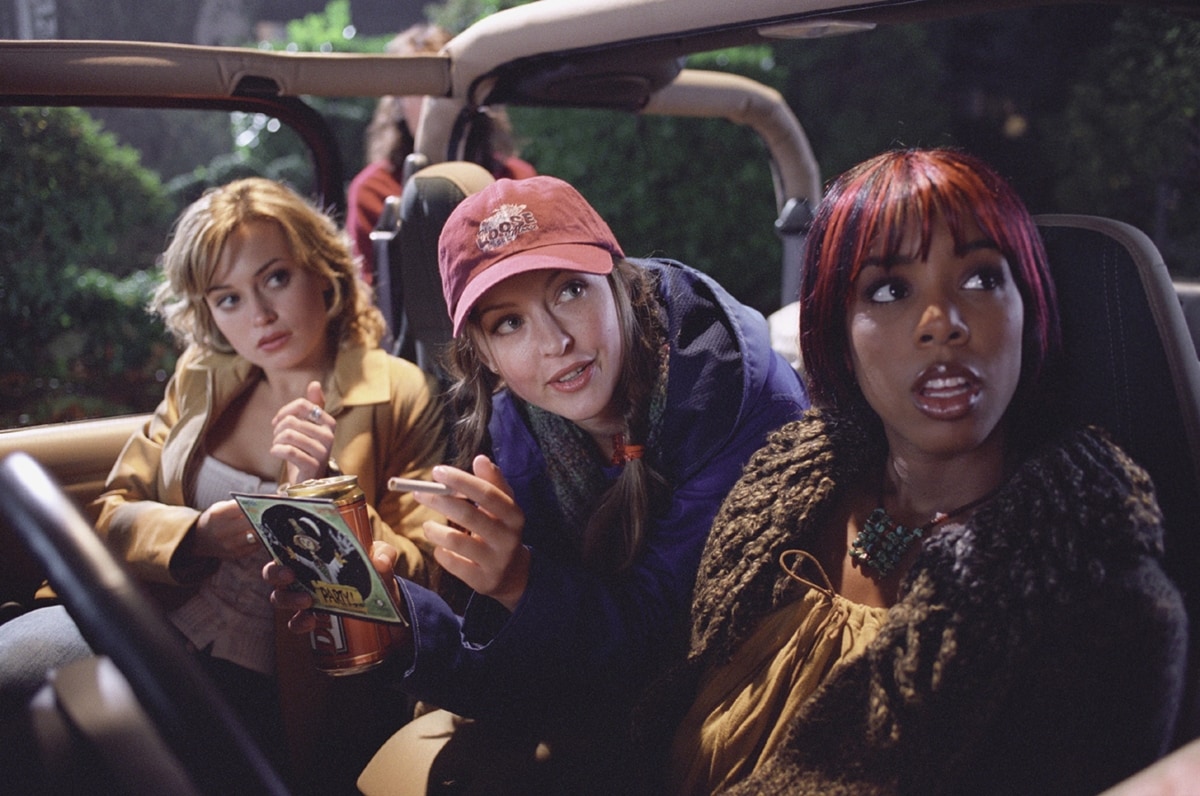 Monica Keena as Lori Campbell, Katharine Isabelle as Gibb Smith, and Kelly Rowland as Kia Waterson in the 2003 American slasher film Freddy vs. Jason (Credit: New Line Cinema)
A considerable portion of Rowland's fortune can also be attributed to her brand deals. She became the face of Diddy's women's fragrance, was the worldwide ambassador for TW Steel, the watchmaker's company and in 2012, she became the face of Bacardi.
Rowland also became a guest judge on several seasons of the X-Factor internationally, most notable was her time on the 2013 US season. She took her musical talents also to become a coach on The Voice Australia in 2017, where she earns several million dollars per season.
Family Life
On May 9th, 2014 Rowland married Tim Weatherspoon in an intimate ceremony in Costa Rica. Only 30 guests were in attendance at the nuptials, one of which was of course Beyoncé.
Weatherspoon is an entertainment talent manager and has an estimated net worth of $12 million. He and Rowland welcomed their first child, Titan, together in 2014 and just welcomed their second child, Noah, in January of 2021. The family lives together happily in Los Angeles.
A Forever Icon
Kelly Rowland was born into a life of instability and poverty and turned it into a life of wealth and prosperity. Through her talent and determined work ethic, she became a Hip-Hop icon and successful solo artist.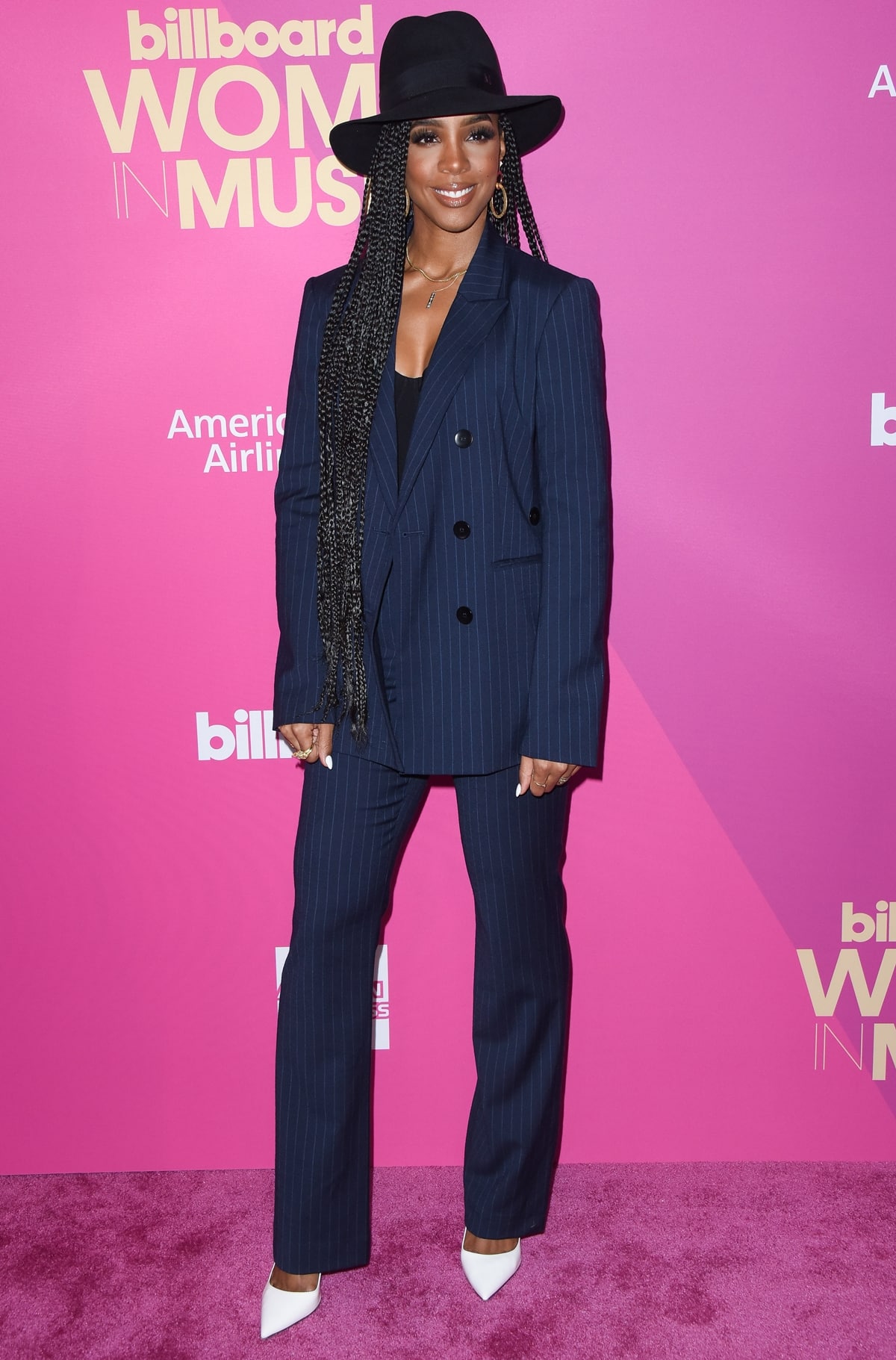 Singer Kelly Rowland in a suit from the Tibi Fall 2017 RTW Collection at the Billboard Women In Music 2017 at The Ray Dolby Ballroom at Hollywood & Highland Center on November 30, 2017, in Hollywood, California (Credit: DFree / Shutterstock)
She fostered a passion for acting and starred in several acclaimed television shows and films. Her intoxicating persona led her to become a beloved TV personality and she hosted several international singing competitions since the disbandment of Destiny's Child.
She has amassed an enormous fortune of $30 million and has maintained and grown her wealth through continued hard work and an abundance of raw talent. We're excited to see what she does next.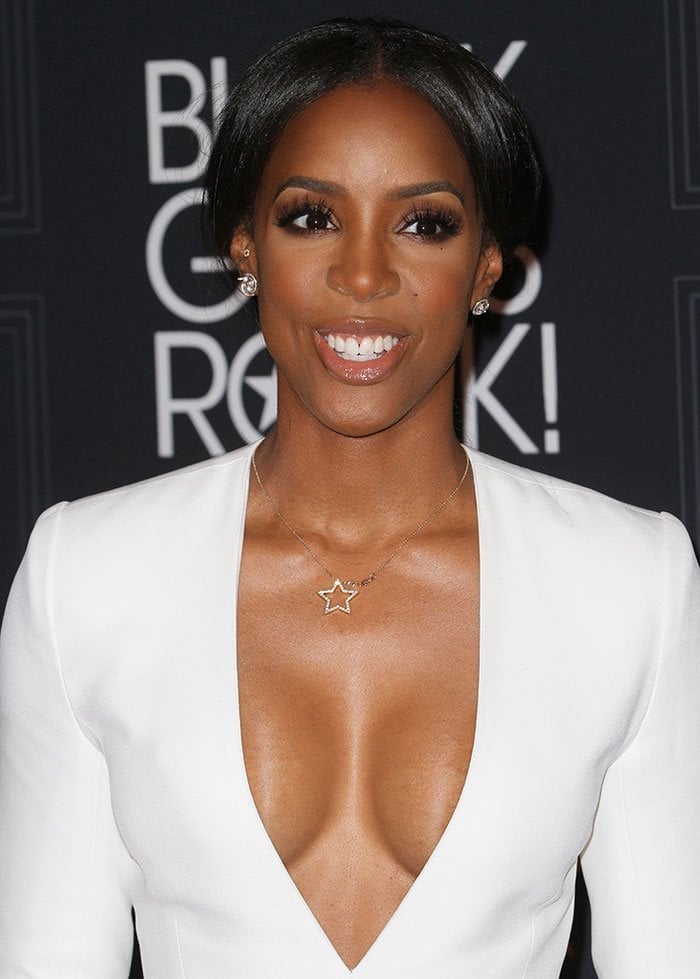 Kelly Rowland wears her hair back at the 2016 BET Black Girls Rock! event held at New Jersey Performing Arts Center on April 1, 2016, in Newark, New Jersey (Credit: Derrick Salters / WENN)
In April 2016, Kelly Rowland slayed the red carpet at the 10th annual BET Black Girls Rock event held in New Jersey.
All eyes were firmly on the then 35-year-old singer as she stepped out in a white-hot jumpsuit that put quite the generous amount of cleavage on show.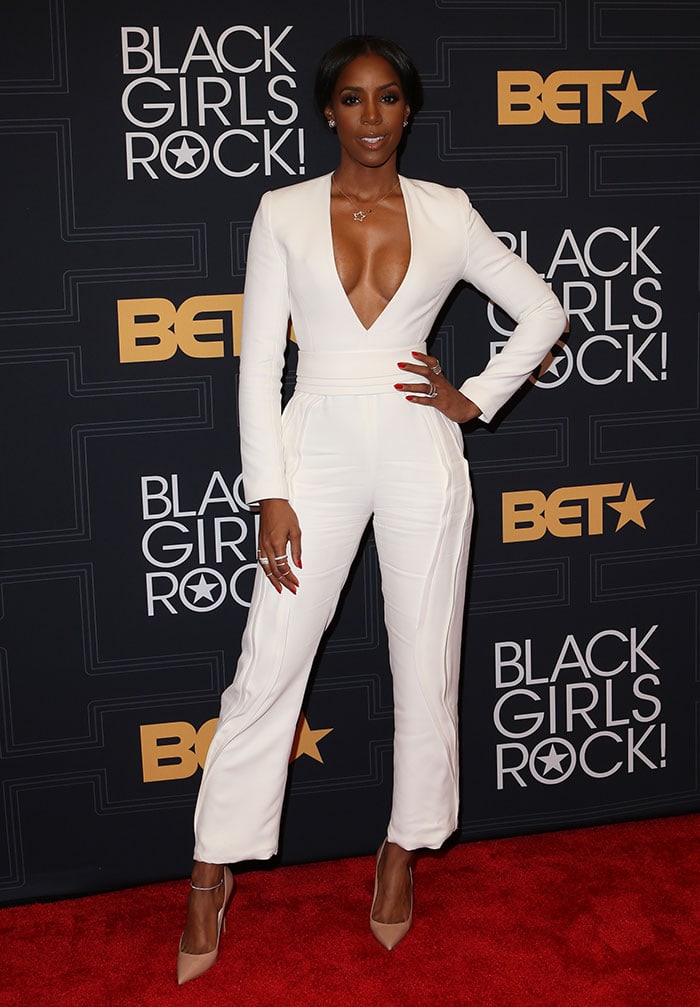 Kelly Rowland puts her chest on full display in a plunging Brandon Maxwell jumpsuit (Credit: Derrick Salters / WENN)
The former Destiny's Child member covered up everything else in a Brandon Maxwell creation, which had a deep (and wide!) plunging neckline, a cinched waist, long sleeves, and cropped pants.
Kelly let her assets do the talking by keeping her accessories simple. She wore a star-shaped pendant necklace, a pair of earrings, and a couple of rings.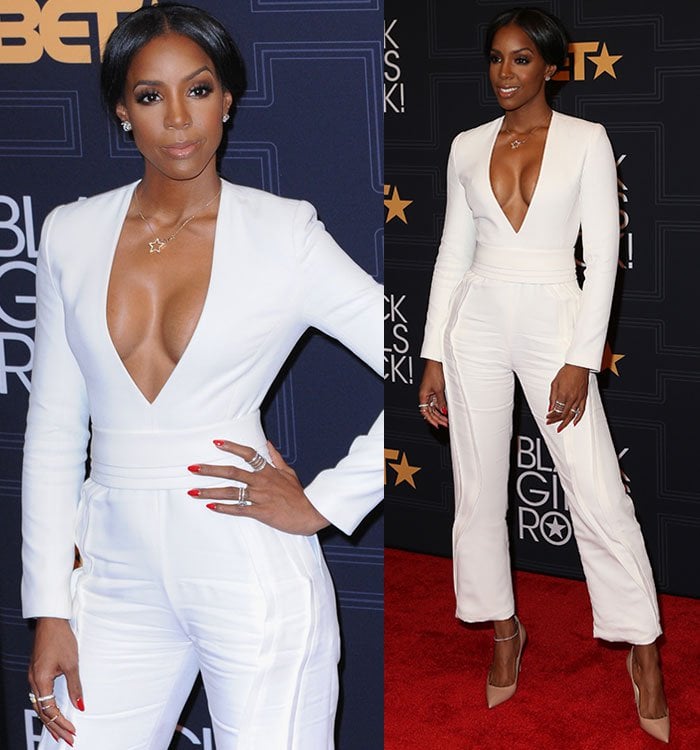 Kelly Rowland wears a star-shaped pendant necklace as an accessory to her cleavage (Credit: Derrick Salters / WENN)
She kept the look classy by pulling her hair back off her face into a chic updo with a center parting. The hairstyle showcased her facial features, which were highlighted with neutral makeup.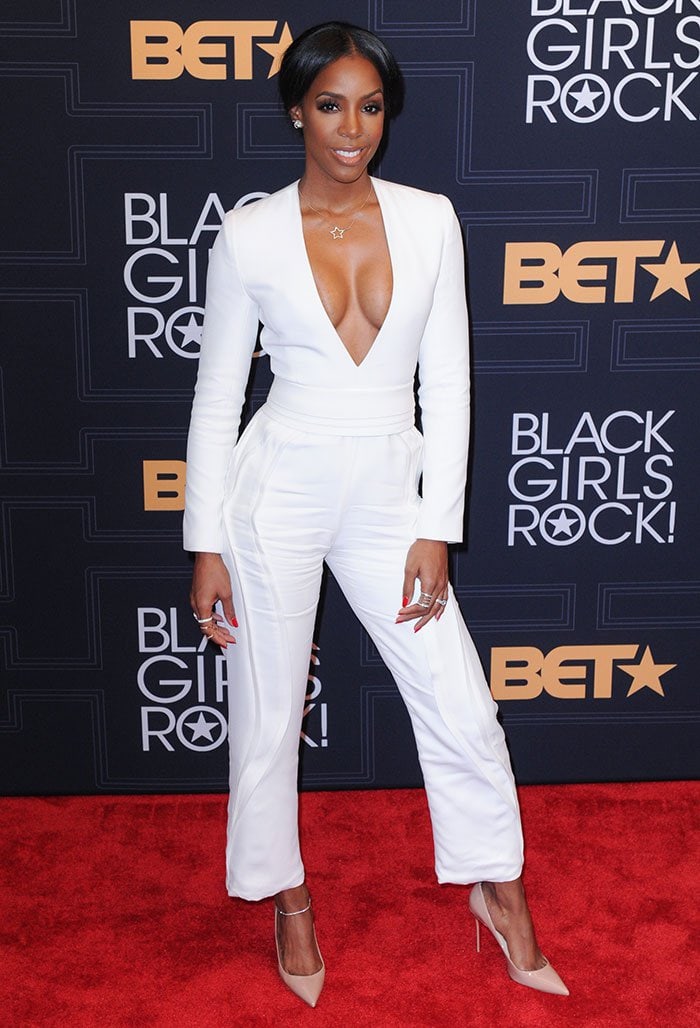 Kelly Rowland bares her cleavage in a plunging Brandon Maxwell jumpsuit (Credit: Derrick Salters / WENN)
Kelly took to the stage with Dionne Warwick to present the Living Legend award to the Empress of Soul, Gladys Knight.
Kelly Rowland takes the stage at the 10th Annual BET Black Girls Rock event (Credit: Derrick Salters / WENN)
She didn't change ensembles from the red carpet to the stage, opting to show off her cleavage throughout the entire event.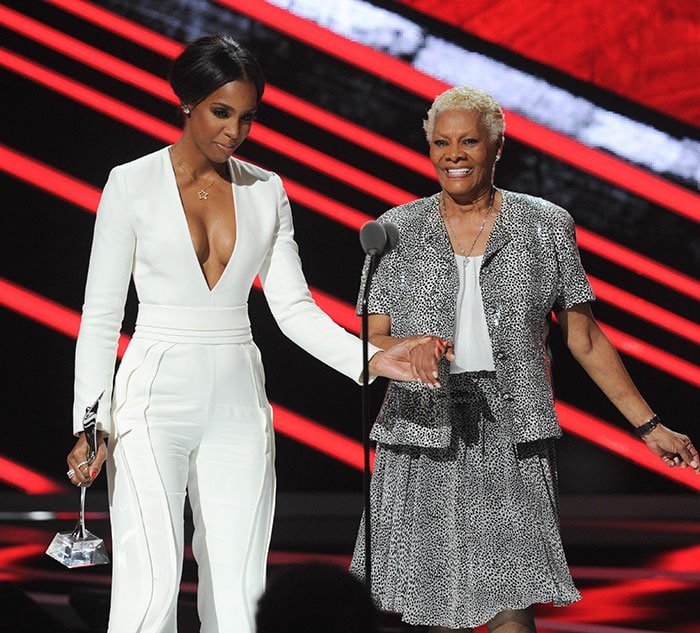 Kelly Rowland takes the stage with Dionne Warwick to present an award (Credit: Derrick Salters / WENN)
Kelly completed her sexy — but classy — ensemble with a pair of nude patent leather Christian Louboutin "So Kate" pumps.
These classic shoes have pointed toes and about 4.75-inch slim stiletto heels.
Kelly Rowland's feet and foot tattoos in nude patent leather Christian Louboutin pumps (Credit: Derrick Salters / WENN)
You can purchase these popular Christian Louboutin pumps in a variety of versions at Mytheresa and Nordstrom.
Christian Louboutin So Kate Pumps, $675 – $825