The momager is back at it again with the fur coats.
This time, the fashionista and mom-of-six moved her signature sleek style to Europe for Paris Fashion Week, where she seemed to prefer bundling up in an extra layer of fur. In lieu of the success of her talented model daughter, Kendall, Kris appeared to have an extra glow about her as she attended the various fashion house shows that Kendall walked in.
Each show was literally dripping with high-fashion celebs, and the 60-year-old Kardashian matriarch managed to steal some spotlight for her signature chic and furry ensembles. Which one of these fur fashions do you like best?
Furrrst Up: Brown for the Balmain Show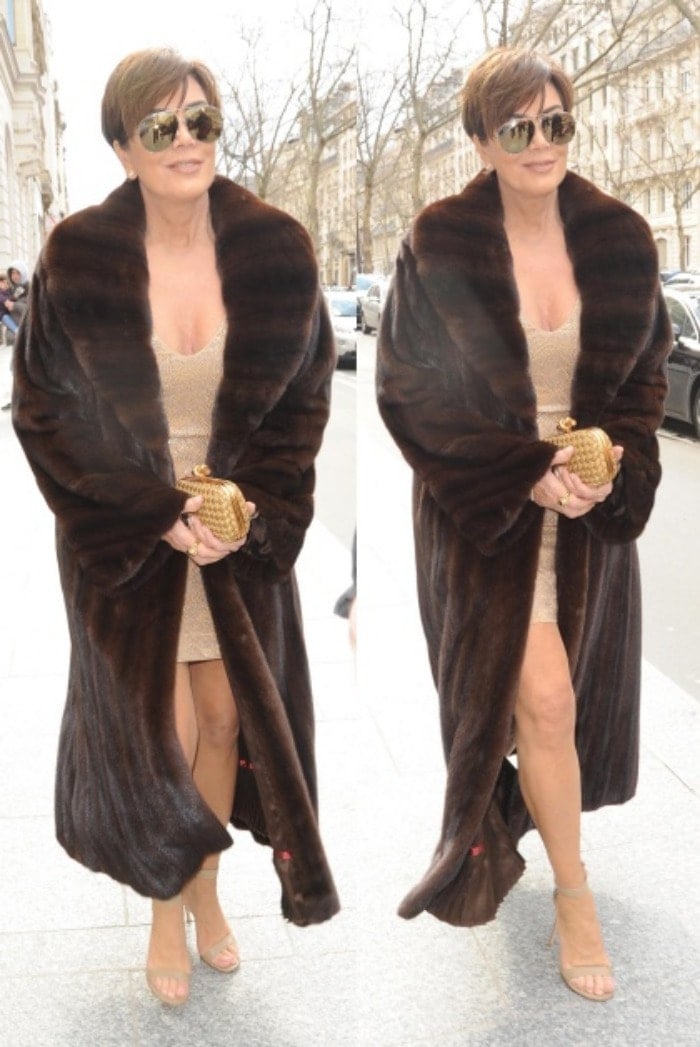 Kris Jenner stepping out of her Parisian hotel on the way to the Balmain show held at the Hôtel Potockion in Paris on March 3, 2016
On the way to the Balmain show to watch Kendall strut her stuff, Kris stepped away from her signature modest black style to take on a rather sexy gold and brown display. Perhaps inspired by her daughter Kim's fashion choices, Kris opted for a gold mini dress which hugged her figure and showed off her legs and cleavage.
Proving age is just a number, this mama looked confident as she hid from the Parisian chill under a large brown fur coat. Despite the minimal coverage of her dress, this oversized coat seemed to keep her warm enough. Her sparkling long-sleeve embellished dress is from Balmain, and it features a plunging neckline, stretch fabric, and the label's signature padded shoulders.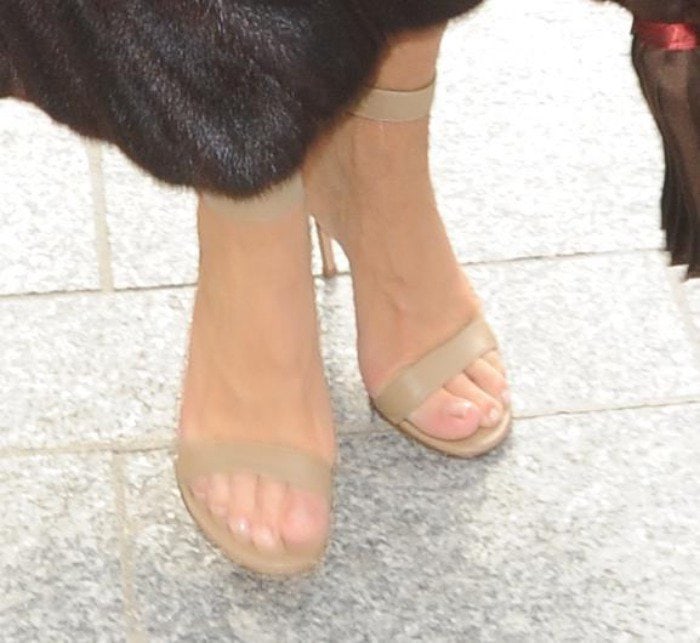 She styled the daring display further by hiding her eyes behind a pair mirrored aviators, and wore neutral toned makeup and dark eyeliner. For her feet, the momager chose a nude pair of Gianvito Rossi 'Portofino' sandals. These classic shoes feature calf leather, high ankle straps with circular buckles, toe straps, and about 4-inch heels.
Shop her shoes:
Gianvito Rossi 'Portofino' Nude Calf Leather Sandals, $790.00 at Mytheresa
Then, It Was Back to Black for Dior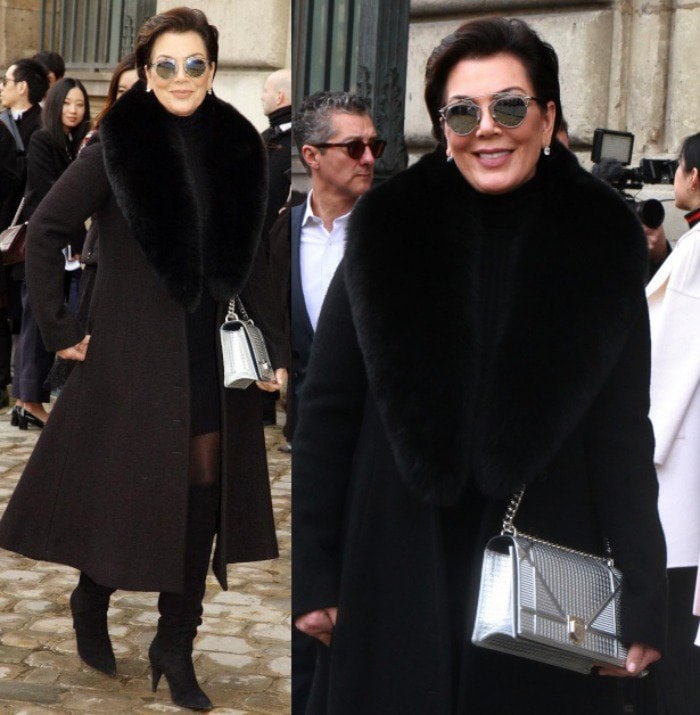 Kris Jenner is all smiles as she heads into the Dior show held inside the Cour Carree at the Louvre Museum on March 4, 2016
The next day, for the Dior show, Kris was back to black and mirroring the fashions that dominated the French fashion house's runway. Apparently Kris received some inside style tips from Kendall who wore a similar-looking long black coat with a fur collar while on the catwalk. Brimming with pride, the supportive mom looked chic in a tight black dress covered by a calf-length, fur-collared coat and thigh-high boots.
Adding a touch of Dior flair, Kris sported bold sunnies and a silver clutch that were both from the designer's collection. Her tall black suede boots completed her sleek ensemble. We're not certain, but we think this pair is the Saint Laurent thigh-high cat suede boots. These classic beauties feature suede uppers with leather soles, pointed toes, and 3.5-inch heels.
Grab a pair for yourself at Forward: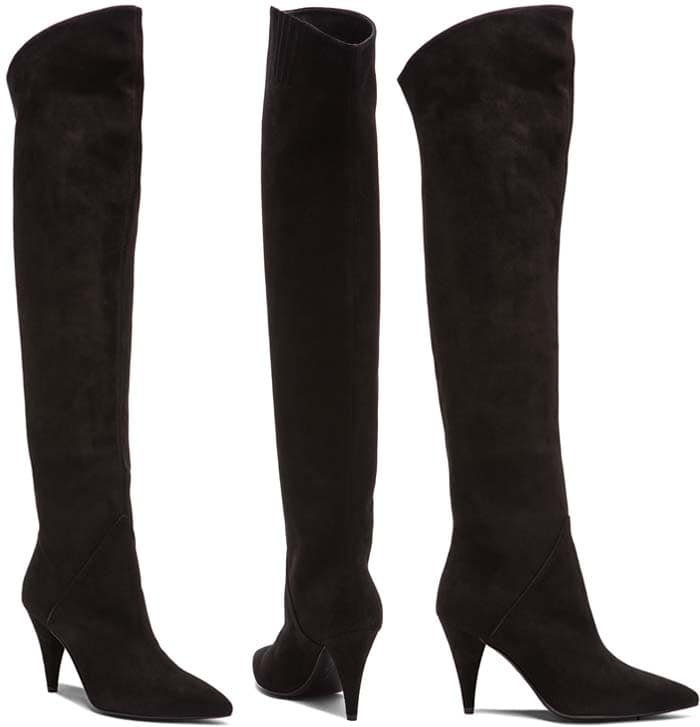 Saint Laurent Thigh High Cat Suede Boots, $1,495.00 at Forward
Next Up: Hand Muffs for Chanel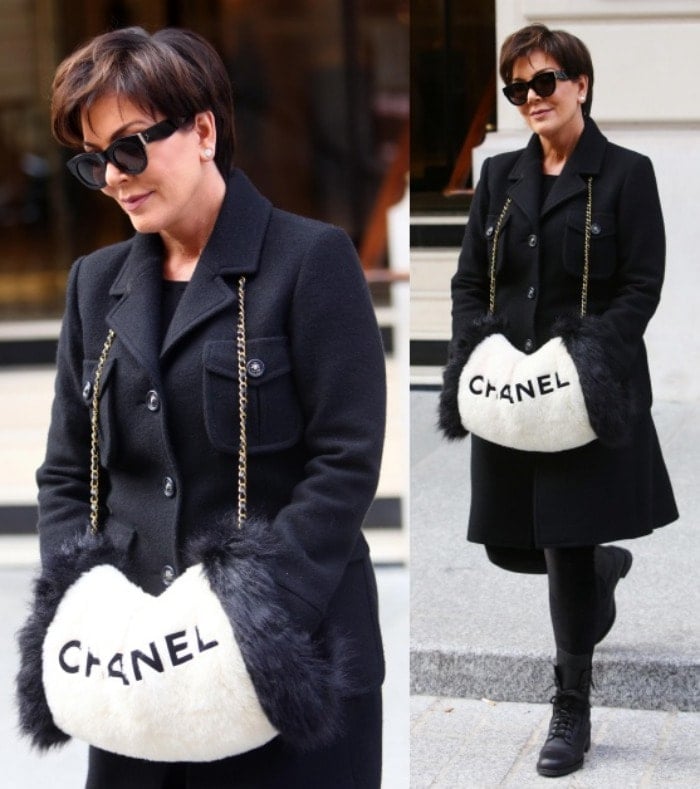 Kris Jenner heads out to attend the Chanel show during Paris Fashion Week, held at the city's Grand Palais on March 8, 2016
Continuing her fur frenzy but altering the pace, Kris stepped out for the Chanel show on March 8 in a black wool pea coat and a fur-lined hand warmer. Draped around her neck, the gold-chained white and black furry hand muff was glaringly Chanel's, as indicated by the bold brand name emblazoned across the front.
The rest of her ensemble was kept more subtle with a biker chick edge. She chose plain black sunglasses for the look, and wore a sleek pair of black leggings tucked into some classic combat boots. These closet staples are, appropriately, by Chanel, and feature laces up the front with zips and buckles at the sides.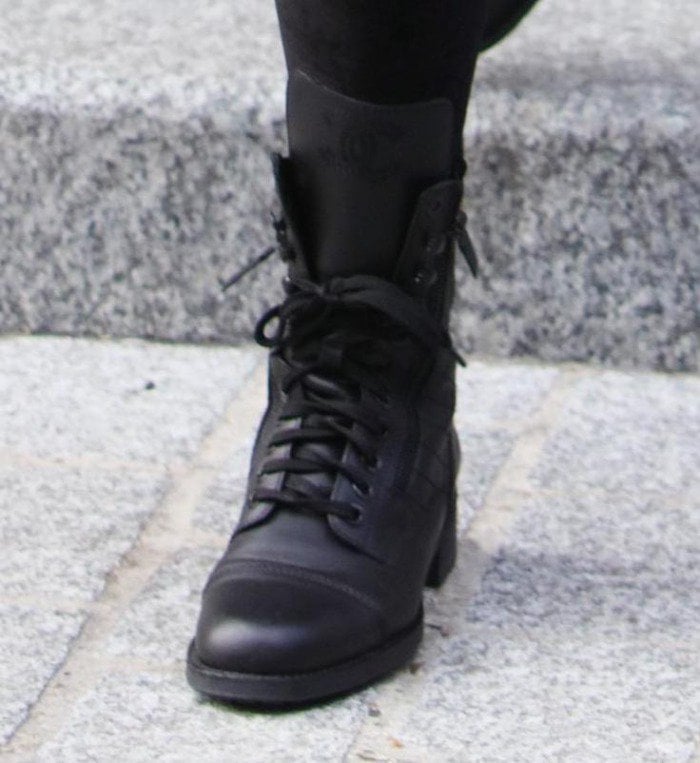 Unfortunately, this exact pair is currently sold out. But you can browse similar sleek styles by the brand at Chanel.
And Finally, Full-On Kim K. for Luis Vuitton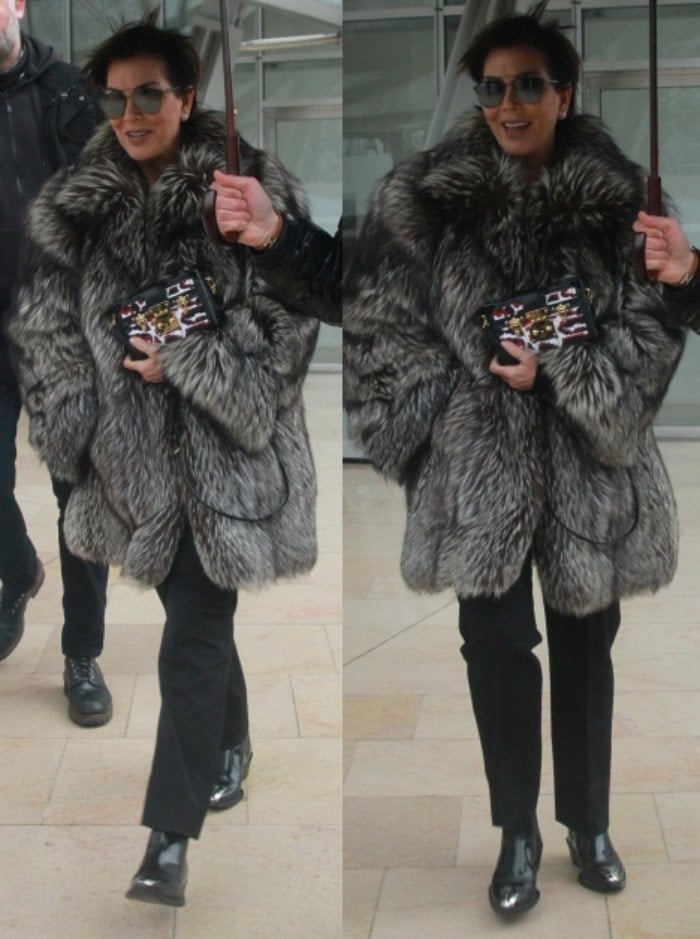 Kris Jenner hides from the Paris weather on her way to the Luis Vuitton show during Paris Fashion Week on March 9, 2016
For the Louis Vuitton show, Kris turned to a fur coat that could have easily come from Kim's collection. Over sized to the point of looking like a giant blanket, this gray-and-brown tinged coat certainly did its job of keeping Kris warm. Beneath it, she wore quite an age-appropriate pair of tailored black dress pants and a classy pair of black boots. Adding some extra glam, Kris wore a pair of chic sunnies and carried a colorful clutch.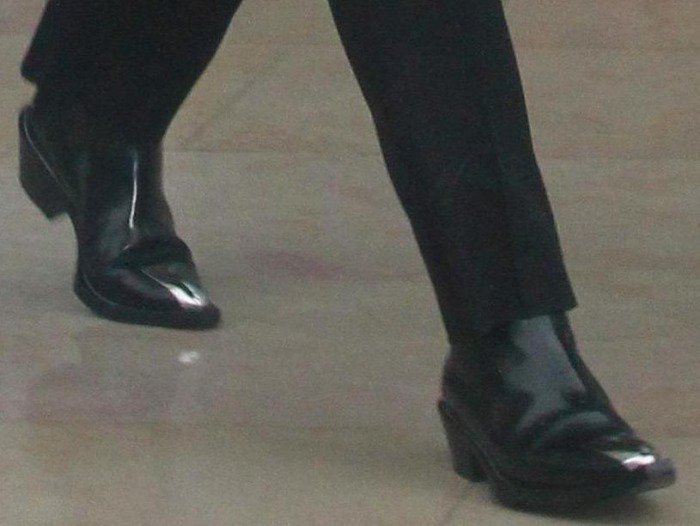 Can you help us ID Kris's shoes? They feature pointed toes, chunky heels, and patent leather.
Credit: WENN