Top names in art, film, fashion and entertainment industries gathered at the Los Angeles County Museum of Art on Saturday for the 9th annual Art + Film Gala.
Presented by Gucci and co-chaired by Leonardo DiCaprio and LACMA trustee Eva Chow, the event honored Academy Award-winning filmmaker Alfonso Cuarón Orozco and African-American artist Betye Saar.
As expected, most of the A-listers and other guests arrived in stunning Gucci looks.
1. Salma Hayek Shimmers in Gucci Dress and Heels
Salma Hayek shimmered in a custom Spring 2020 halter dress that's entirely embellished with pink microcrystals.
Its body-hugging silhouette looked flattering on the Mexican-American actress, who paired the look with diamond drop earrings and a bracelet from the Gucci High Jewelry collection.
Salma Hayek shows off her figure in a crystal-embellished Gucci gown
The 53-year-old actress, who arrived with her husband Francois-Henri Pinault, looked gorgeous with a high bun, rose-colored eyeshadow, lipstick, blush, and mascara.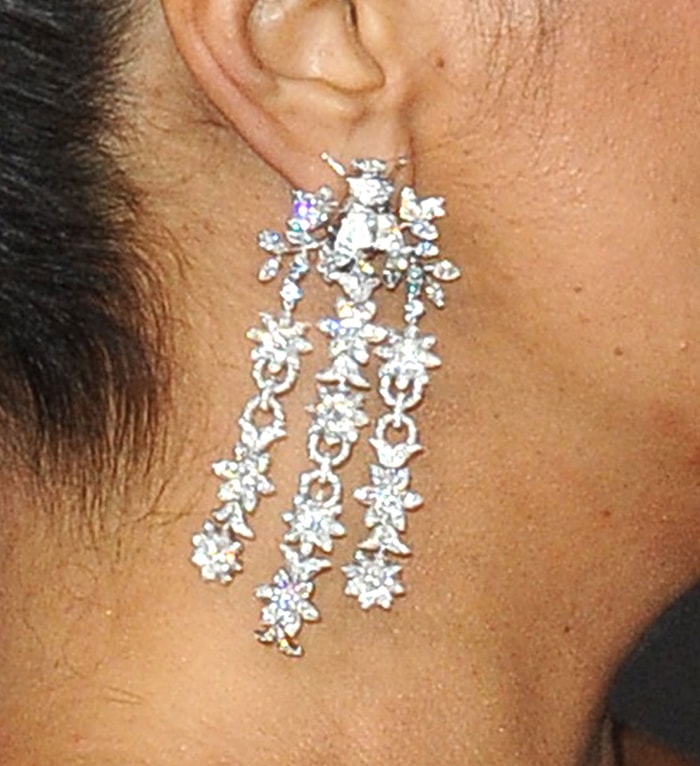 Salma Hayek wears diamond earrings from Gucci's high jewelry collection
She carried a small leather clutch and did her best not to fall down in towering platform sandals featuring t-straps, ankle straps, front cutouts, 2.25-inch platforms, and 6-inch heels.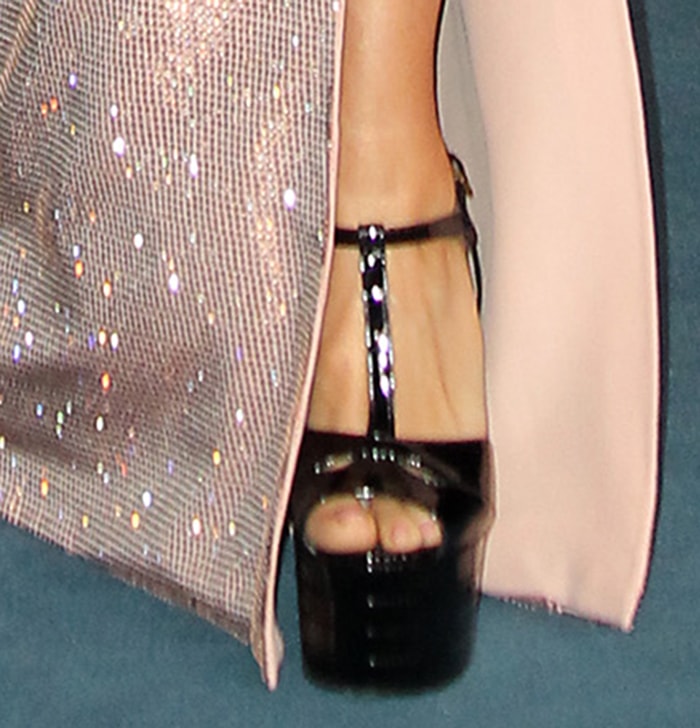 Salma Hayek in a towering pair of Gucci platform sandals
Seeing Salma Hayek in a Gucci creation is not surprising. Aside from being an obvious fan, her husband is the chairman and CEO of Kering, the parent company that owns Gucci and other luxury fashion brands.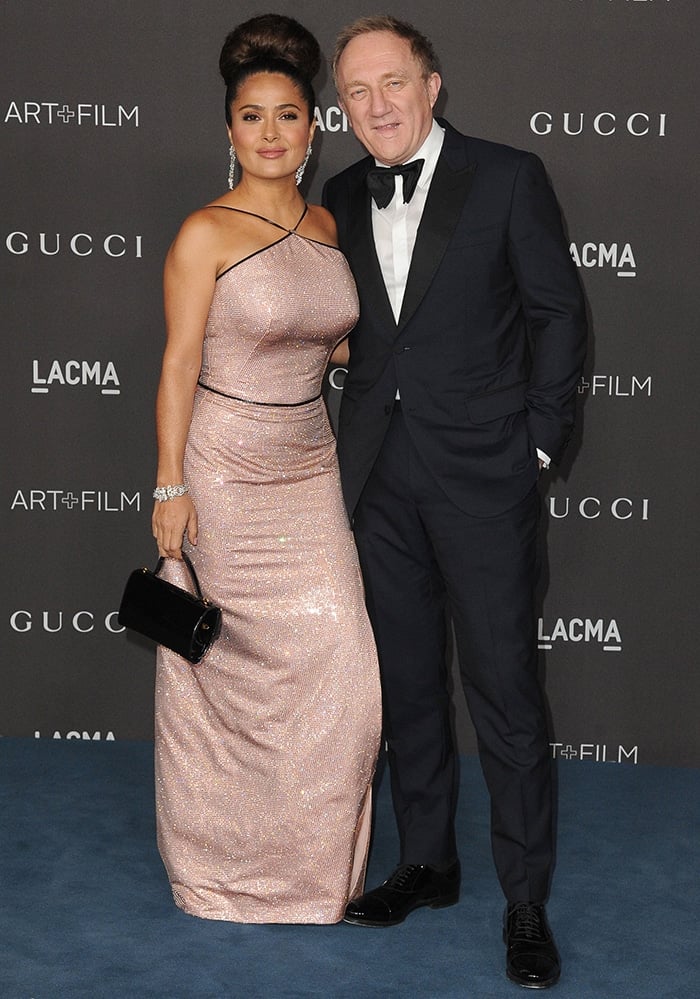 Salma Hayek poses with her husband Francois-Henri Pinault at the 2019 LACMA Art + Film Gala
Gucci Leather Platform Pumps, $1,100 at Nordstrom
2. Zoe Saldana in a Quirky Gucci Gown
Zoe Saldana was probably in a Halloween mood when she decided to wear this quirky dress by Gucci. There's just a lot going on in this ensemble, which features a black lace bodice with a cleavage-baring v-neckline, red frills, red lace cuffs, and exaggerated shoulders.
It's complemented with a green pleated skirt with a black lace overlay that's adorned with butterfly embroideries.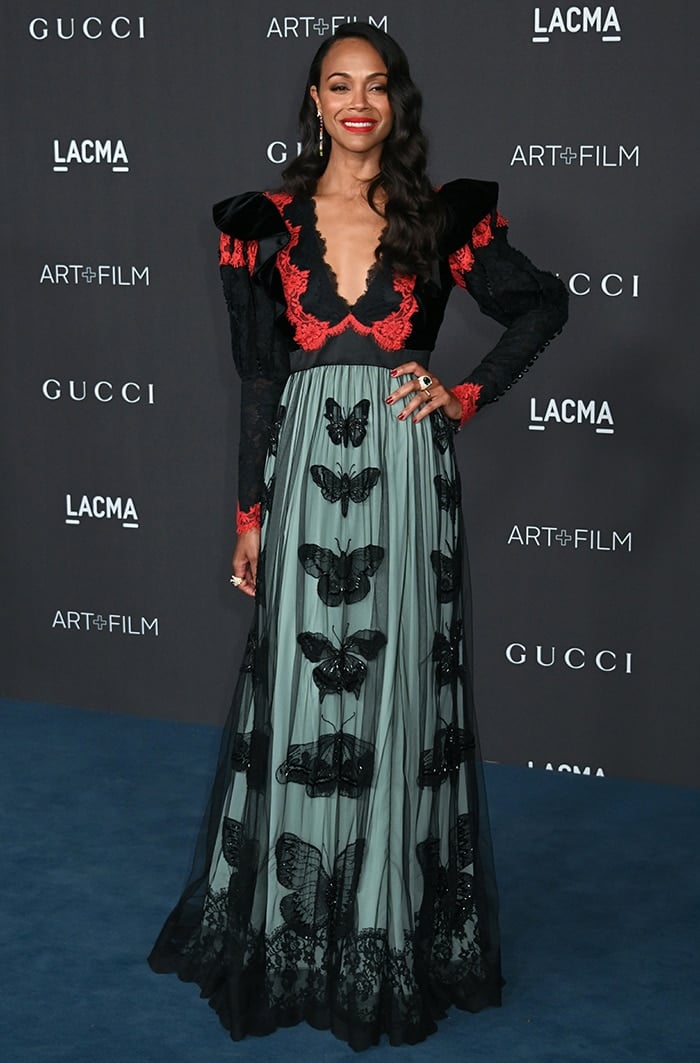 Zoe Saldana wears a quirky Gucci color-blocked lace dress
It's clearly a tricky dress to wear but Zoe somehow managed to pull it off. She looked beautiful with her long dark hair styled in romantic waves and her face made-up with mascara and bold red lipstick.
Zoe Saldana looks beautiful with her hair styled in romantic waves
The 41-year-old actress accessorized with statement jewelry also from Gucci. It included a pair of Hortus Deliciarum Lion Head earrings, Rubellite Lion's Head ring, and a Serpent Solitaire ring.
Zoe Saldana wears rings from Gucci's high jewelry collection
3. Sienna Miller Wears Gucci's Most Expensive Jewelry
Sienna Miller was glistening in a custom Gucci Spring 2020 dress that's entirely embellished with black sequins. It's clearly an understated dress to wear to the gala. However, the cherry on top of this sartorial sundae was her one-of-a-kind Gucci necklace.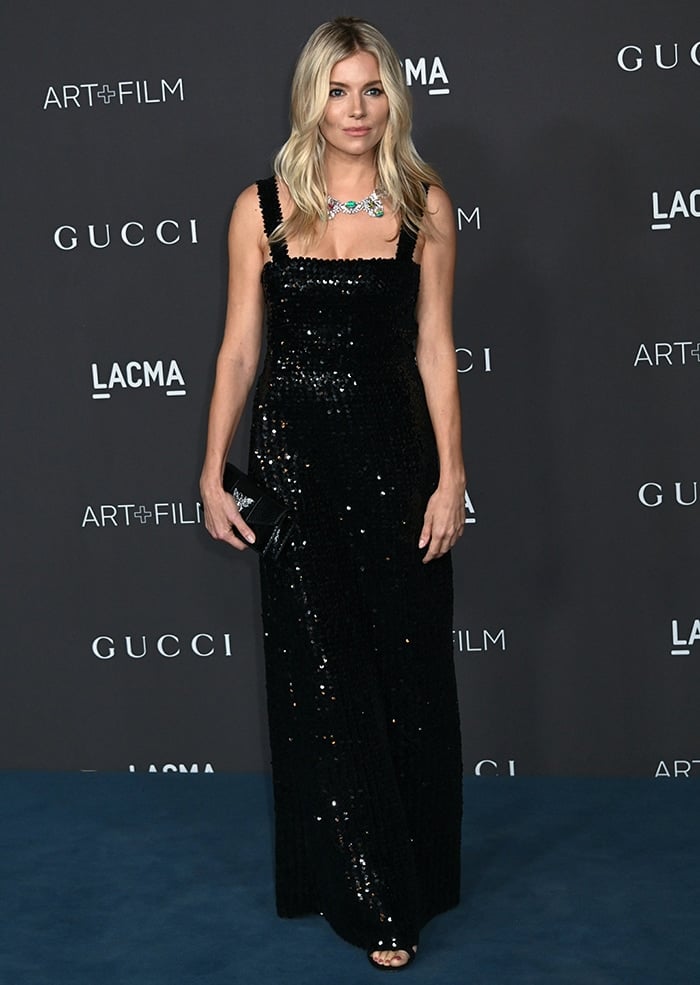 Sienna Miller wears an understated Gucci sequin-embellished black dress
Valued at over $500,000, the Gucci Hortus Deliciarum Lion Head necklace is the most expensive jewelry from the fashion house's new High Jewelry collection.
The white gold necklace features a mixture of diamonds, colored gemstones and opals, adding a much-needed pop of color to Sienna's otherwise dark outfit.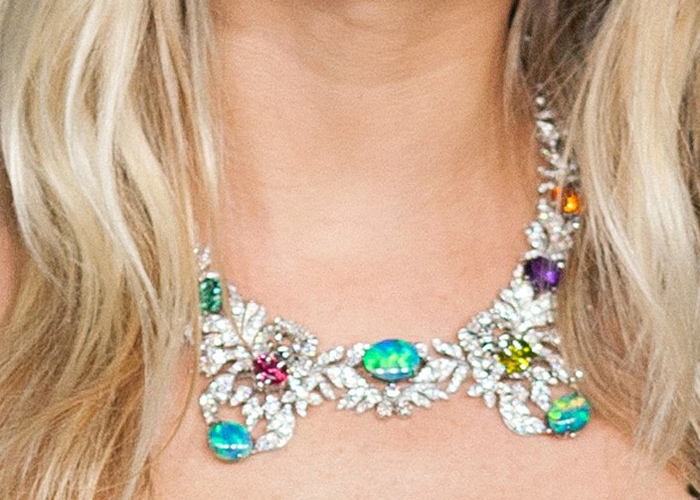 A close up of Sienna Miller's expensive Gucci necklace worth over $500,000
Allowing her fine jewelry to take center stage, Sienna kept the beauty department simple. She wore her blonde tresses down in soft waves, framing her face that's made-up with pink lipstick and dark eyeliner.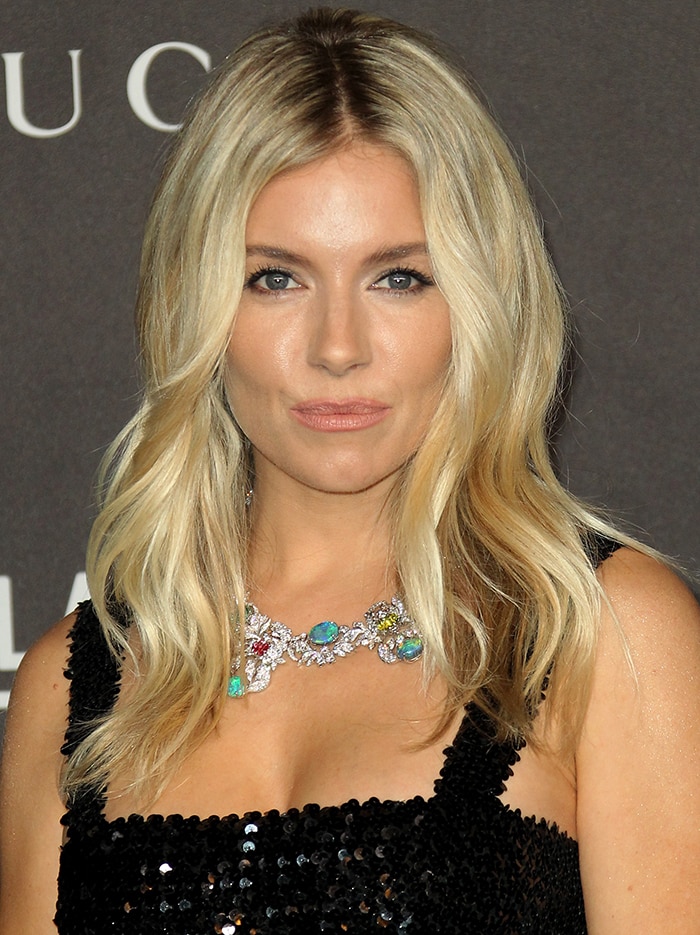 Sienna Miller wears soft makeup and styles her hair in loose waves
The 37-year-old actress rounded out her look with a pair of Gucci suede sandals, which feature ankle straps with crystal-embellished Double G buckles, three front straps, and 4.5-inch thin heels.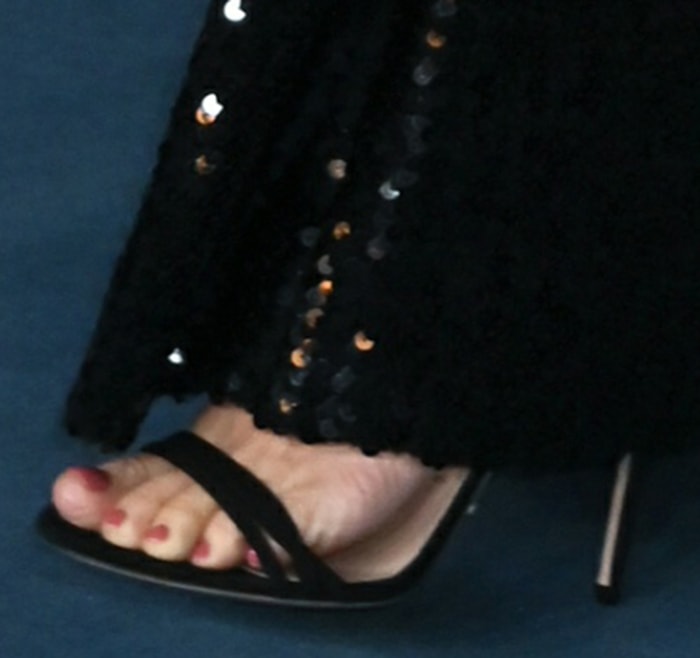 Sienna Miller shows off her red pedicure in Gucci heels
Gucci Suede Sandals, $790 at Farfetch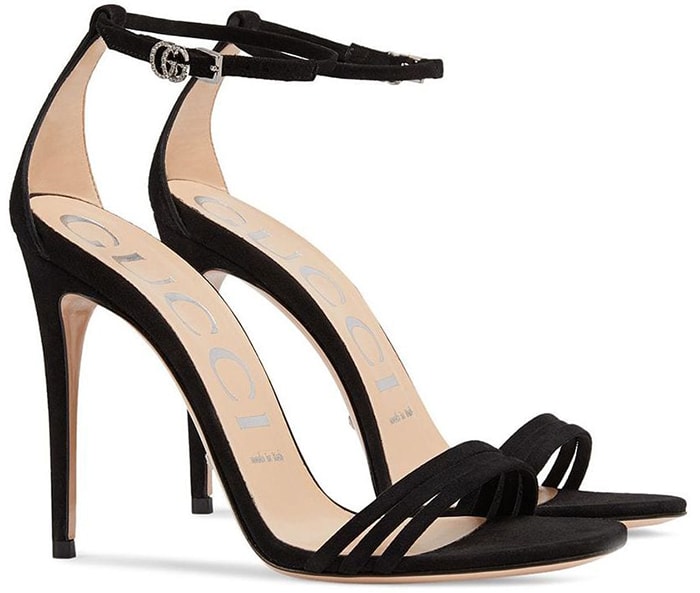 4. Greta Gerwig in a Fun and Feminine Gucci Dress
Greta Gerwig opted for a more feminine pink dress from Gucci's Spring 2019 collection. This pink silk layered dress features colorful metallic beading and embroideries throughout.
Greta Gerwig wears a Gucci pink silk layered dress
She kept her beauty look simple with her short blonde hair styled with a slicked side parting and her face simply made-up with soft blush and a pop of bold lipstick.
Greta Gerwig sports a slicked side-parted hairstyle with bold red lipstick
For her accessories, she opted for Nikos Koulis jewelry, a pink Gucci clutch, and showed off her pretty feet in Christian Louboutin sandals.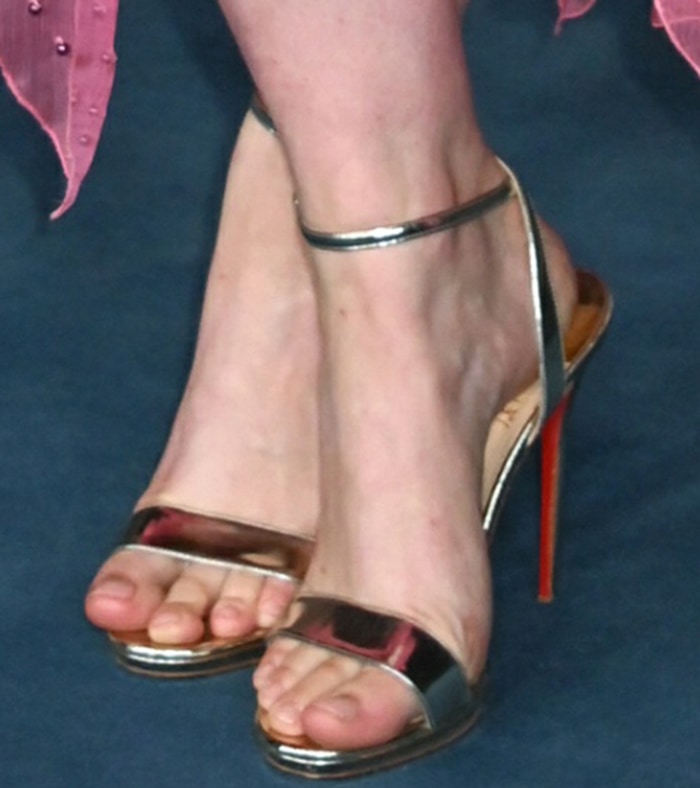 Greta Gerwig displayed her sexy feet in Christian Louboutin sandals
Christian Louboutin 'Loubi Queen' sandals, $655 – $845 at Saks and Selfridges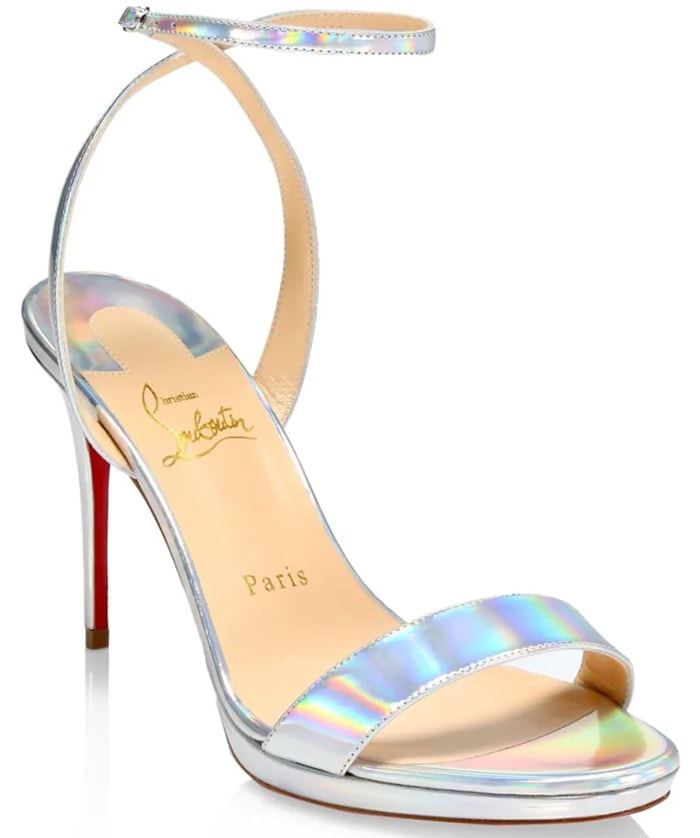 5. Brie Larson in a Whimsical Gucci Gown
Brie Larson looked like a princess in a fairytale scene in this whimsical Gucci gown. The striking number features a black velvet sleeveless bodice and a floor-sweeping ivory organza skirt with scattered crystal embellishments.
It's sweet and feminine, especially with the two-tone satin bows on the waist and the beaded heart detail applique on the bodice.
Brie Larson is a princess in Gucci velvet and organza dress
We just didn't like her slicked side-parted waves and makeup, which seemed a bit off for this rather youthful gown.
Her Gucci jewelry, which included a pair of 18-carat white gold and diamond earrings, bracelet and rings, rounded out her look.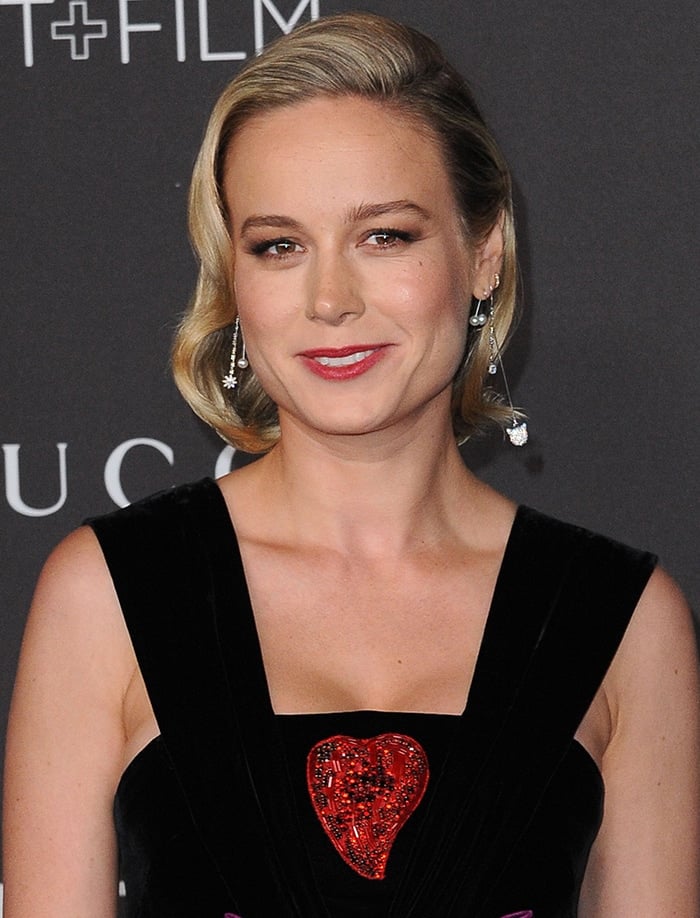 Brie Larson wears her hair in side-parted waves
6. Nicky Hilton Kicks Off Holiday Season in Dolce & Gabbana Dress
Nicky Hilton was one of the very few who opted not to wear Gucci. She kicked off the holiday season in a Dolce & Gabbana red sequin-embellished dress, which showed off her slender figure.
It features a slightly flared hem with flattering off-the-shoulder v-neckline and shoulder ties.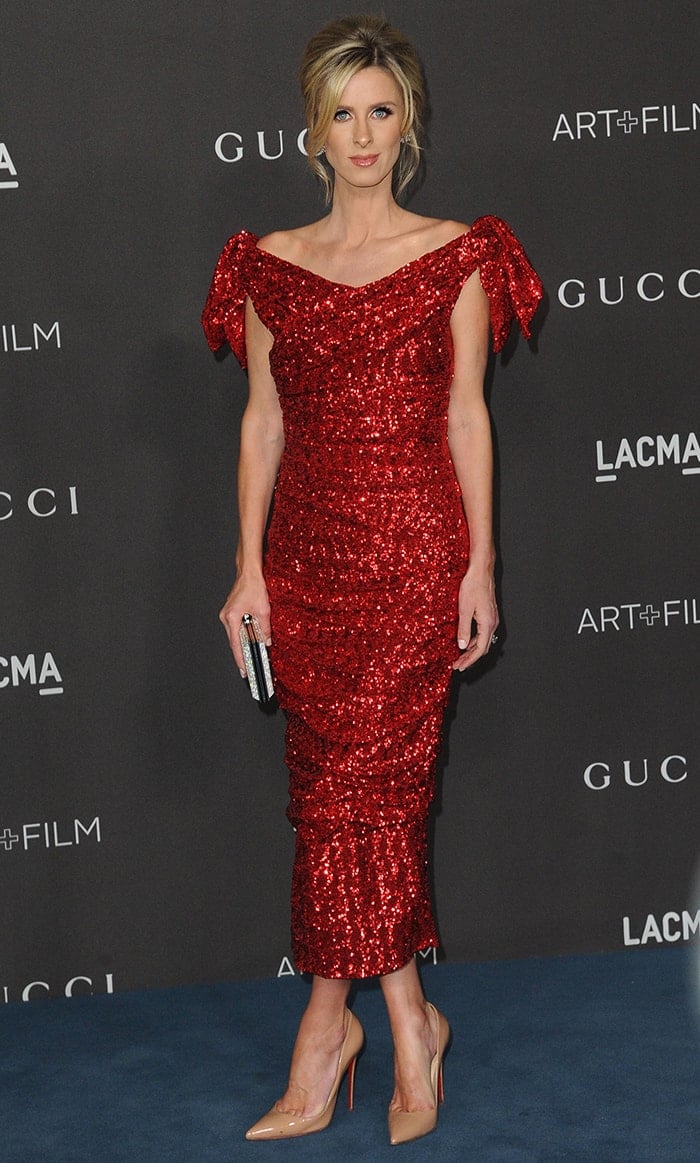 Nicky Hilton opts for a Dolce and Gabbana red sequin-embellished dress
She accentuated her eyes with dark mascara and liner and styled her blonde hair in an elegant updo with few strands framing her face.
The hotel heiress wears her hair in an elegant updo with complementing makeup
Nicky kept the rest of her look simple, accessorizing with just a pair of diamond earrings, a glittery custom clutch, and a pair of nude Christian Louboutin pumps.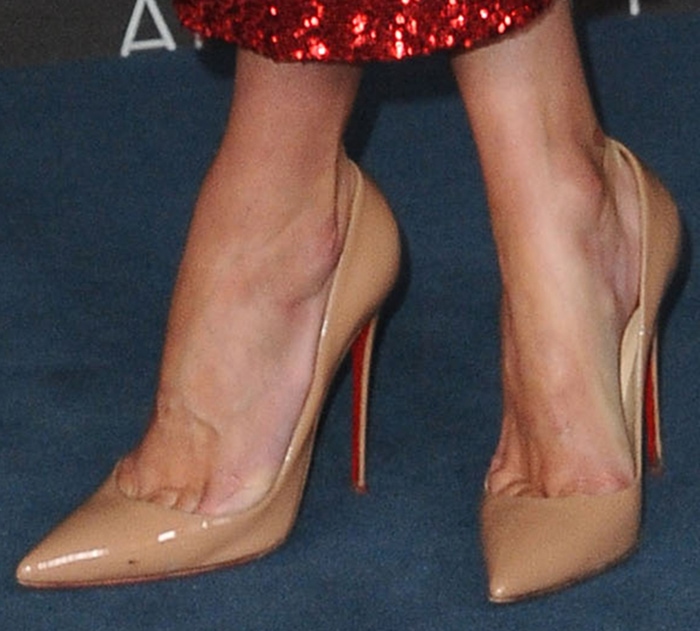 Nicky Hilton keeps it classic in Christian Louboutin nude pumps
7. Suki Waterhouse Is a Goddess in Gucci
Model and actress Suki Waterhouse was like a Greek goddess in this nude pink one-shoulder draped dress from Gucci's resort 2020 collection. It has a draping panel on one side and a center slit that allowed her to flaunt her legs.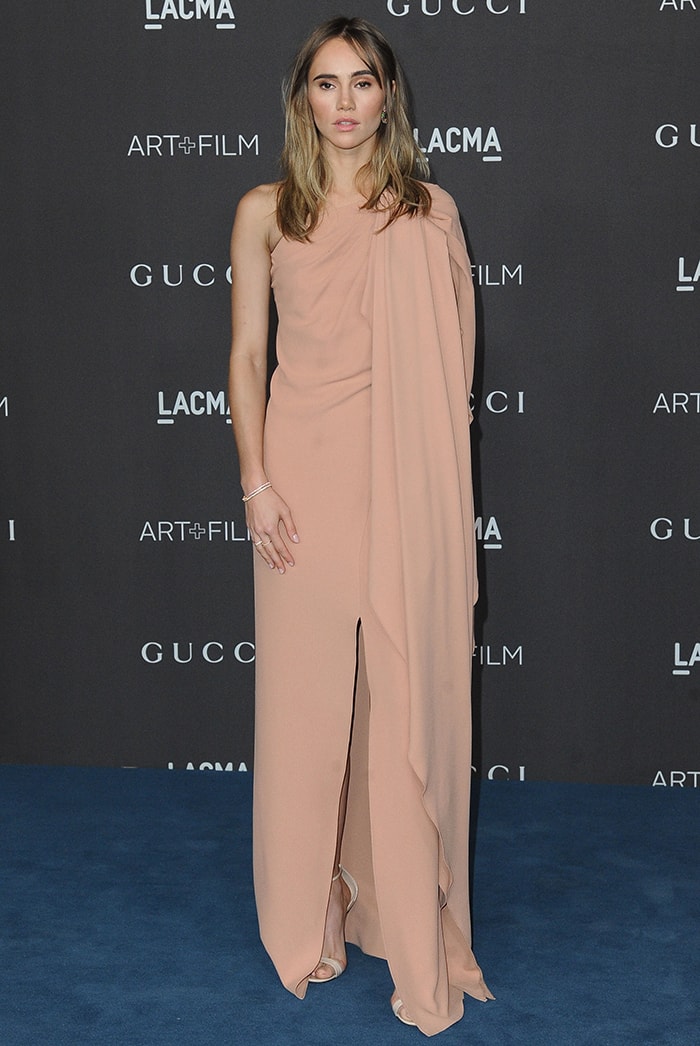 Suki Waterhouse keeps it simple but classy in a Gucci one-shoulder drape dress
She wore complementing soft pink makeup and styled her tresses down in loose waves, although an updo or an off-the-shoulder hairstyle would have looked better.
Suki Waterhouse wears glittery eyeshadow and pink lipstick
The 27-year-old model accessorized with Anita Ko jewels and slipped into the same pair of Gucci shoes as Sienna Miller in beige patent leather.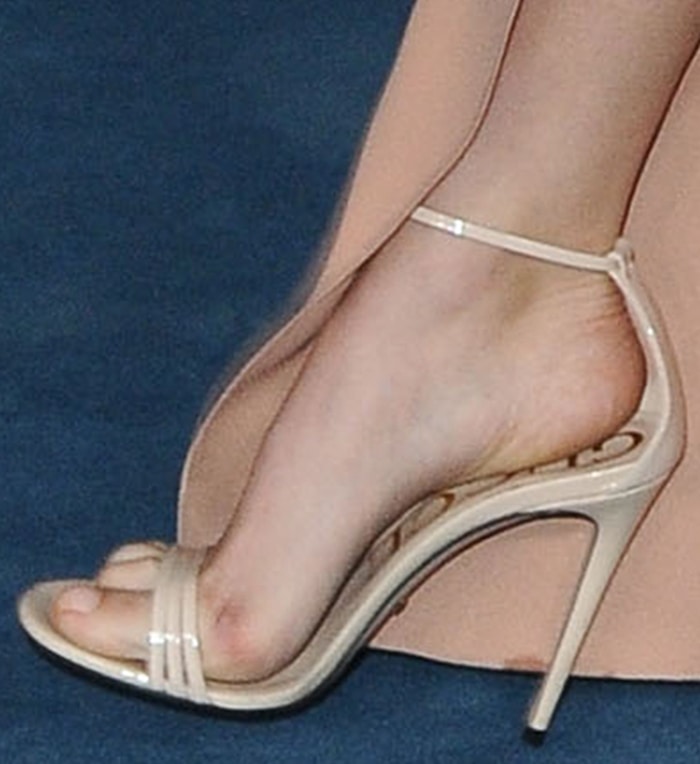 Suki Waterhouse teams her nude pink dress with beige Gucci sandals
Gucci Suede 110 Sandals, $790 at Farfetch
8. Naomi Campbell Channels Jessica Rabbit in Atelier Versace
Naomi Campbell made sure all eyes were on her as she showed off her toned figure in a red gown that's entirely encrusted with Swarovski crystals by Atelier Versace.
Channeling Jessica Rabbit, the form-fitting sleeveless dress features see-through panels on the bodice that gave a peek at her cleavage and a back slit that showed her enviable legs.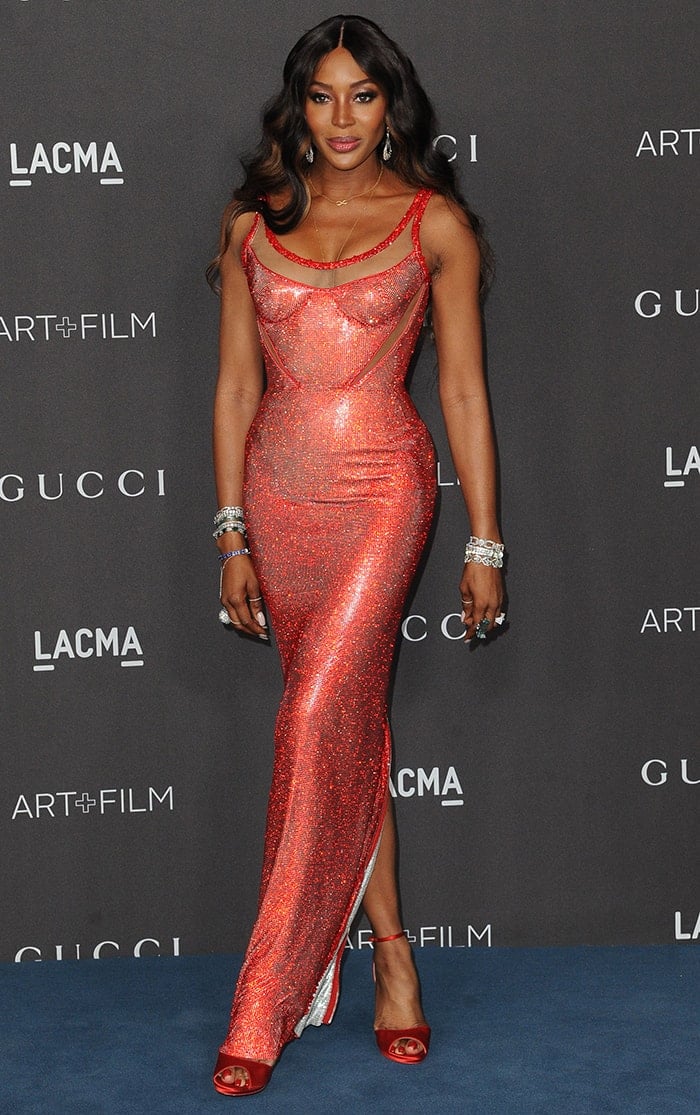 Naomi Campbell is a bombshell in Atelier Versace red crystal-encrusted dress
The bombshell beauty wore her long brunette hair down in voluminous waves and highlighted her features with glittery eyeshadow and pink lipstick.
Naomi Campbell wears her long hair in gorgeous waves
She upped the glamour stakes as she accessorized with Neil Lane jewelry. A pair of Christian Louboutin sandals in matching red color boosted her 5'10" height further.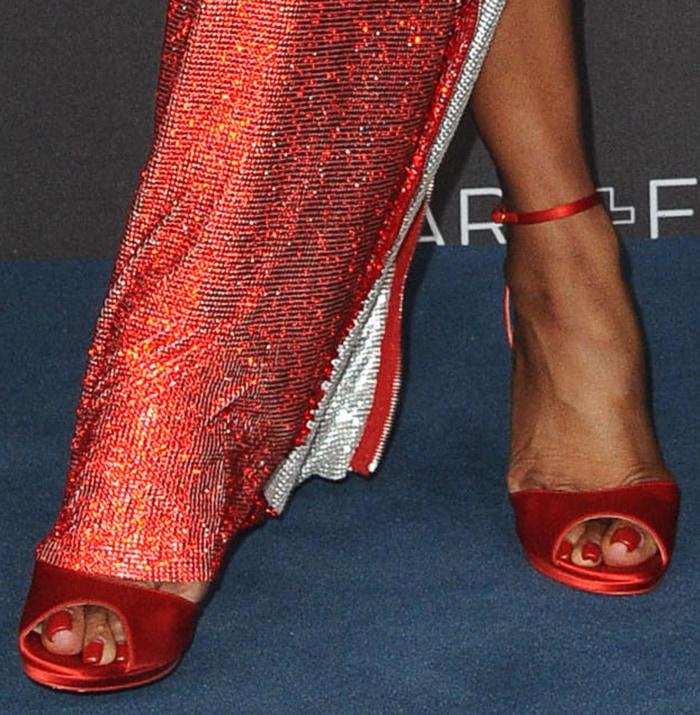 Naomi Campbell finishes off her head-to-toe red look with Christian Louboutin sandals
9. Billie Eilish Keeps It Laid-Back in Gucci Pantsuit
Artist of the moment Billie Eilish stuck to her usual laid-back look for the occasion. She wore a Chinese style-inspired pantsuit by Gucci, which included an oversized bowling shirt and matching loose-fitting jogger pants.
The custom blue and silver two-piece look features Gucci's signature GG lamé pattern with floral sequin embroideries and Swarovski crystal appliques along the sides.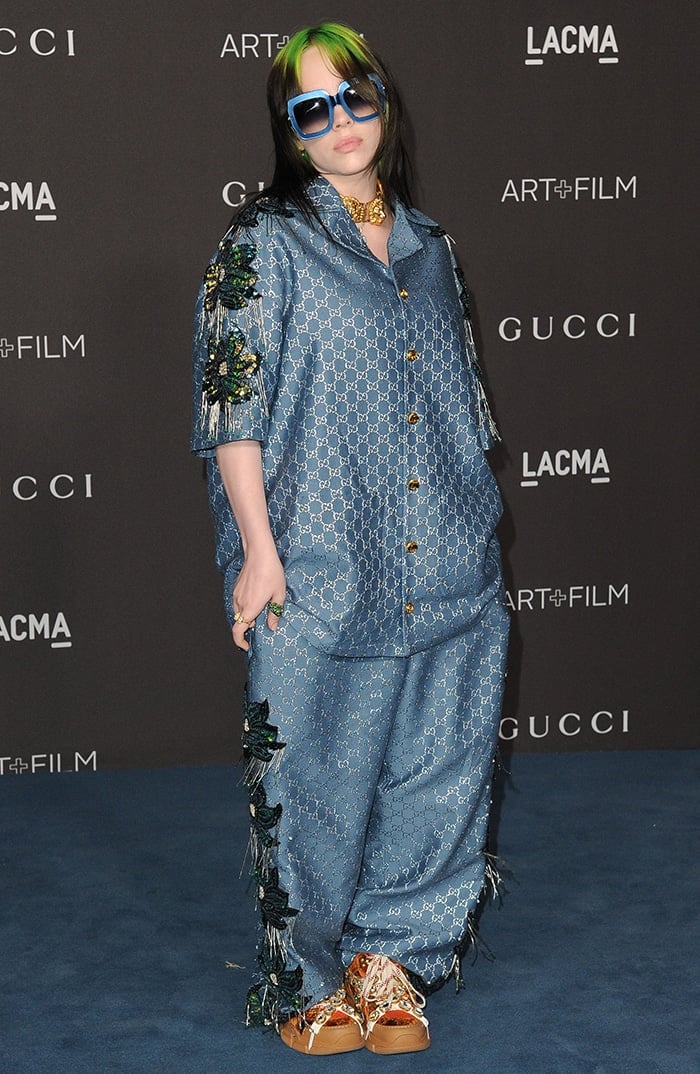 Billie Eilish chooses a more casual look in Gucci pantsuit
The 17-year-old singer sported a color-blocked green and black mullet, which she recently admitted was just a result of a hair-burning accident.
She accessorized with Gucci jewels, including a massive gold lion's head choker, and hid her eyes behind a pair of square frame acetate shades.
Billie Eilish wears her green and black accidental mullet
To round off her rather sporty look, Billie slipped into Gucci's 'Flashtrek' sneakers.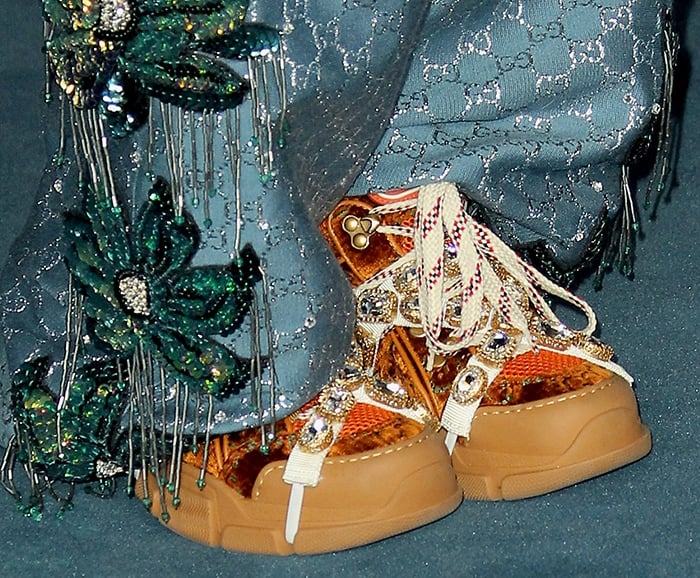 Billie Eilish completes her sporty look with Gucci sneakers
Gucci 'Flashtrek' Embellished Sneakers, $1,590 at Mytheresa
Credit: Adriana M. Barraza / Instar / WENN