Two of the biggest names in the entertainment industry brought some Hollywood glamour to the inauguration ceremony of President Joe Biden and Vice President Kamala Harris on Wednesday.
Lady Gaga, who wowed in a Schiaparelli Haute Couture, kicked off the historic event by performing the US national anthem.
Following her rendition of The Star-Spangled Banner, Jennifer Lopez hit the balcony stage to perform a medley of patriotic songs.
The Anaconda actress sang a flawless version of Woody Guthrie's This Land Is Your Land and Ray Charles' America the Beautiful.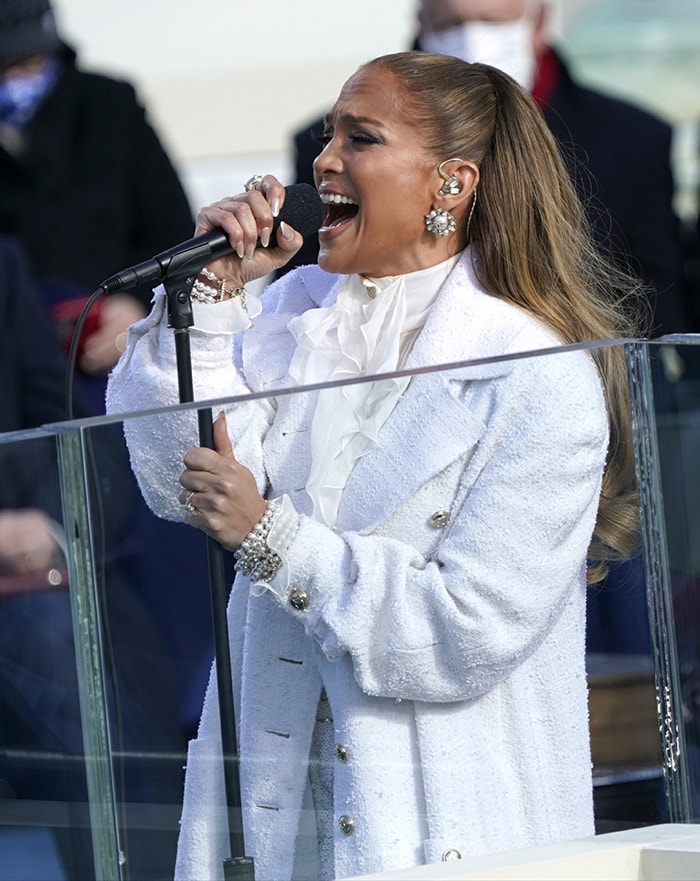 Jennifer Lopez performs This Land Is Your Land and America the Beautiful at the 2021 Inauguration on January 20, 2021
Halfway through her performance, J.Lo recited a part of the Pledge of Allegiance in Spanish.
"Una nación, bajo Dios, indivisible, con libertad y justicia para todos," which translates to "One nation, under God, indivisible, with liberty and justice for all."
She then smoothly transitioned back into the last part of This Land Is Your Land to end her performance.
The 51-year-old Selena showstopper looked polished in her suffragette white look. Opting for a Chanel ensemble, she wore a Fall 2019 sheer blouse with a ruffled front teamed with a pair of white sequined high-waisted wide-leg pants.
J.Lo then layered the look with a white tweed double-breasted coat from Chanel's Fall 2020 collection.
Jennifer Lopez dons a sheer white Chanel blouse with a Chanel Fall 2020 overcoat
The mom-of-two pulled her hair back into a sleek ponytail, showcasing her oversized Chanel Fall 2019 earrings. She accessorized with pearl bracelets, a diamond ring on one hand, and her engagement ring on the other.
Jennifer Lopez pulls her hair back into a ponytail and styles her look with oversized Chanel earrings
After her performance, Jennifer Lopez shared with her Instagram followers a photo of her and her fiancé Alex Rodriguez posing on the steps of the Capitol.
View this post on Instagram
Clad in a black coat, Alex wrapped his arms around J.Lo, who added a white Chanel Cruise 2018 beret and a pair of white gloves to her look.
To complete her head-to-toe white outfit, Jennifer carried a Judith Leiber Slim Slide clutch and slipped into a pair of Jimmy Choo Max platform sandals.
Credit: Instar / WENN