She's portraying Lucille Ball in the biographical drama Being the Ricardos, which offers a behind-the-scenes look into the personal lives and real-life marriage of I Love Lucy stars Lucille Ball and Desi Arnaz.
A new poster for Being the Ricardos shows an up-close look at Nicole Kidman and Javier Bardem as Lucille Ball and Desi Arnaz (Credit: Amazon)
Last weekend, Nicole Kidman revealed she was terrified about portraying Lucille Ball in the upcoming biopic, which also stars Javier Bardem as Desi Arnaz.
Following the preview screening of the movie, the actress admitted she had "massive trepidation" a month before they started filming.
"I had massive trepidation about a month prior, and Aaron had to get on the phone and send me emails saying, 'You've got this.' He had to sort of champion me through. And this whole cast, actually, we were really, really championing each other through the whole show because it was frightening, but incredibly exciting."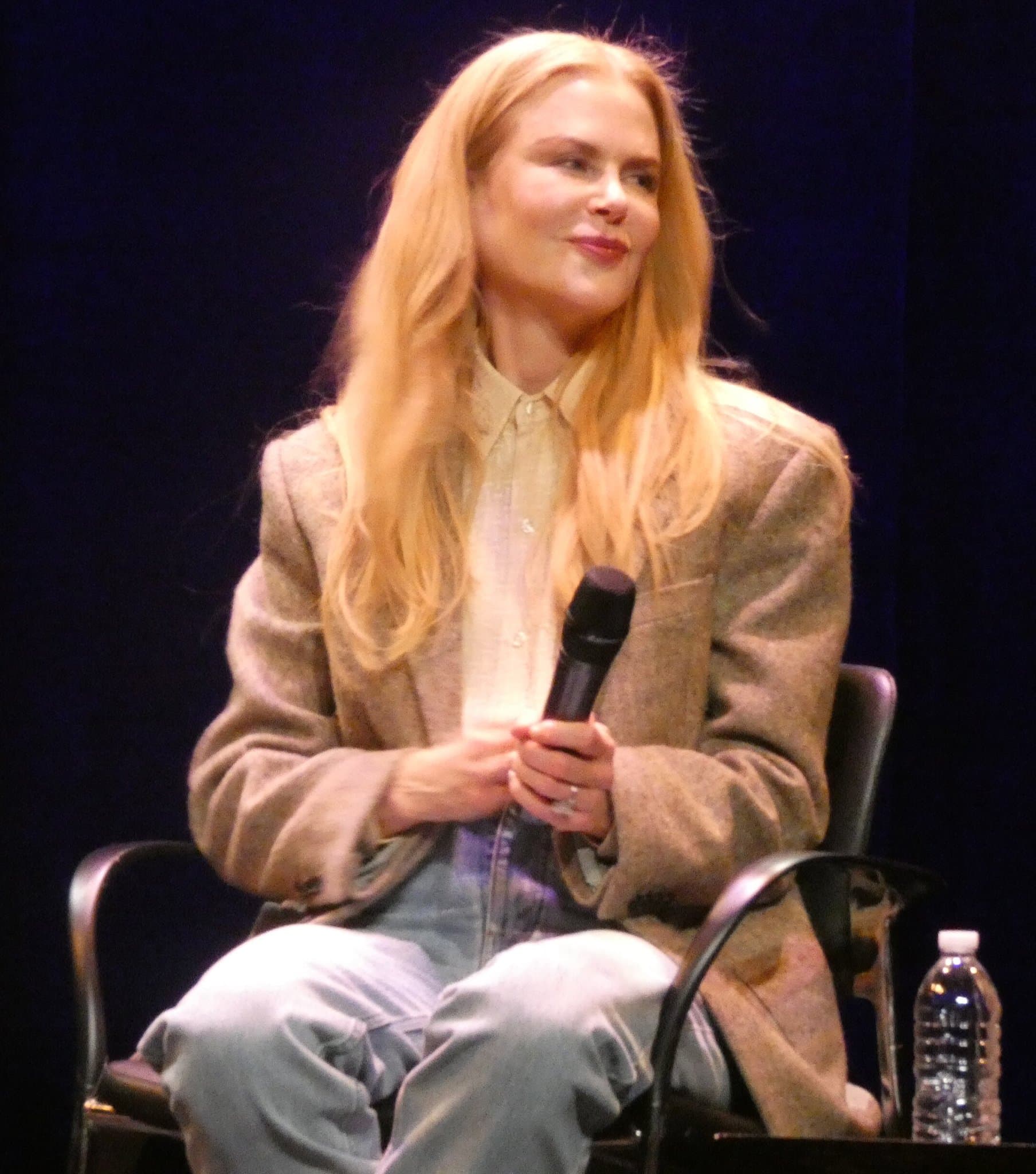 Nicole Kidman had massive trepidation a month before filming Being the Ricardos (Credit: Mega / WENN)
The initial critical reception to the film has been positive overall, with many praising the 54-year-old actress for her performance, earning her an Oscar buzz.
On Wednesday, Nicole Kidman attended a Q&A screening for the movie in New York City. She went with the grandpa-style outfit, pairing a tailored brown tweed jacket with a beige shirt and light blue straight-leg denim jeans.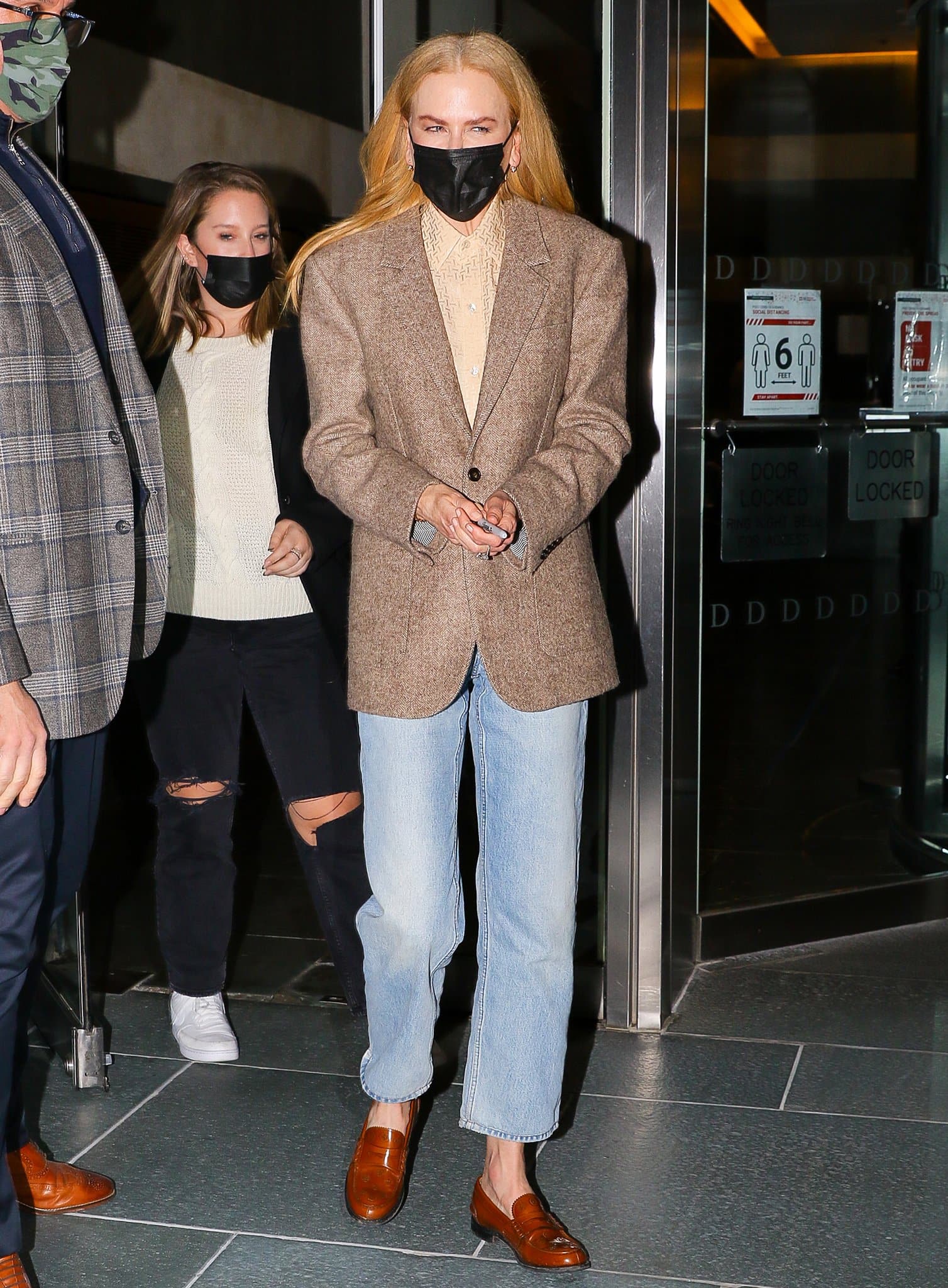 Nicole Kidman wears a grandpa-style outfit with a brown blazer, straight-leg jeans, and cognac brown loafers at the post-screening Q&A of Being the Ricardos in New York City on November 17, 2021 (Credit: Mega / WENN)
She kept the rest of the look simple, accessorizing with just a pair of stud earrings and a diamond ring. A pair of shiny cognac brown leather loafers completed her menswear-inspired ensemble.
For her beauty look, the Moulin Rouge star wore her natural red tresses down over her shoulders and sported a natural makeup look with red lipstick and a hint of eyeliner.
Nicole Kidman wears a natural makeup look and lets her natural red hair fall freely over her shoulders (Credit: Mega / WENN)
Lucille Ball Fans Upset Over Nicole Kidman Casting
While critics were impressed by Nicole Kidman's performance, fans of the late comedy icon were upset that the actress was chosen for the role instead of Debra Messing.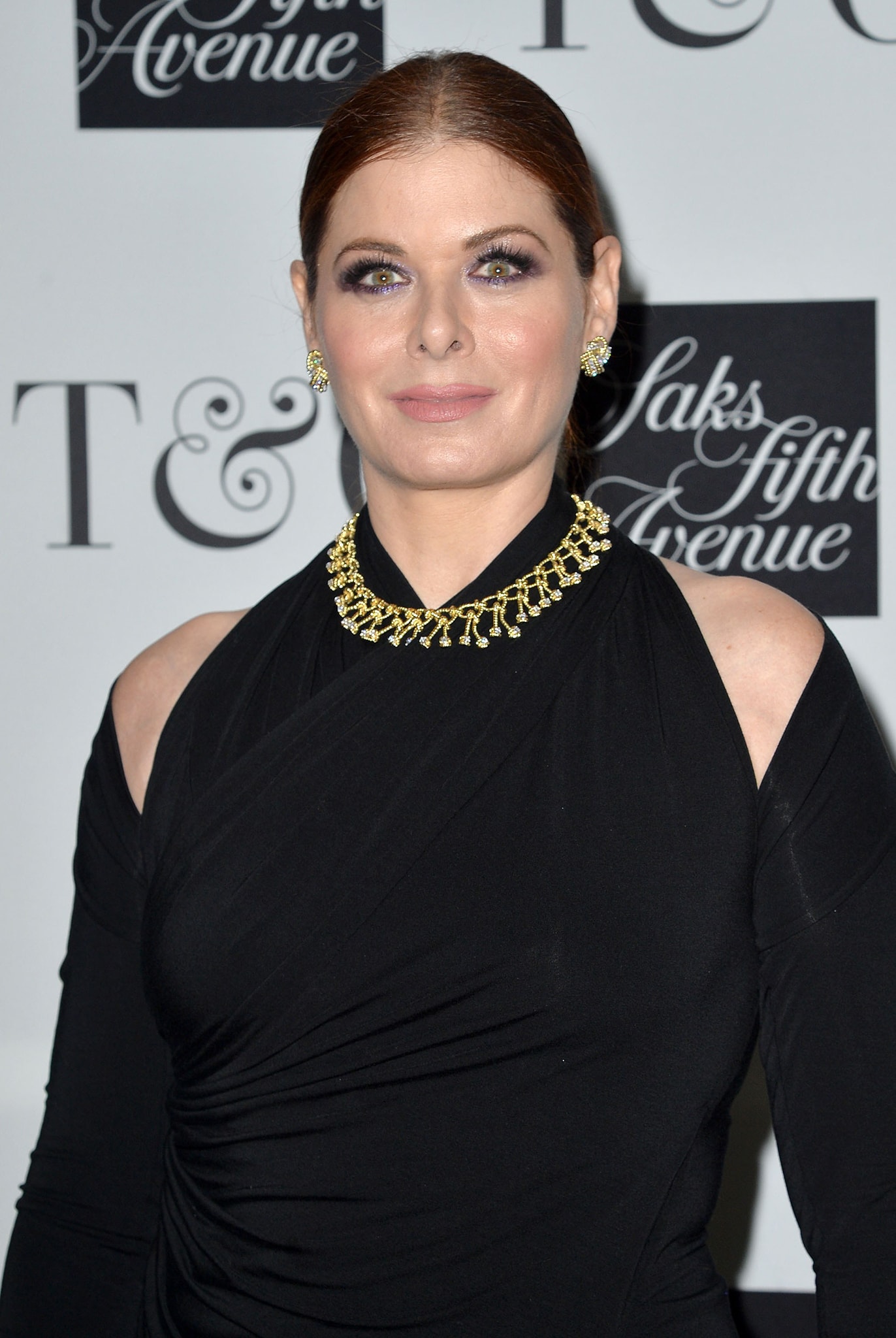 Fans want Debra Messing to portray Lucille Ball in the biopic Being the Ricardos (Credit: Avalon / WENN)
"Nicole Kidman as Lucille Ball makes ZERO SENSE in a world where Debra Messing exists," one wrote on Twitter.
Another said: "Debra Messing has uncanny resemblance and comedic chops but they really cast Nicole Kidman because she's more of a name. Lucille deserves better honestly."
"Debra Messing as Lucille Ball could've been a SELLER…."
"Debra Messing was robbed of that role. She should truly play Lucille Ball. Miss me with Kidman," stated another.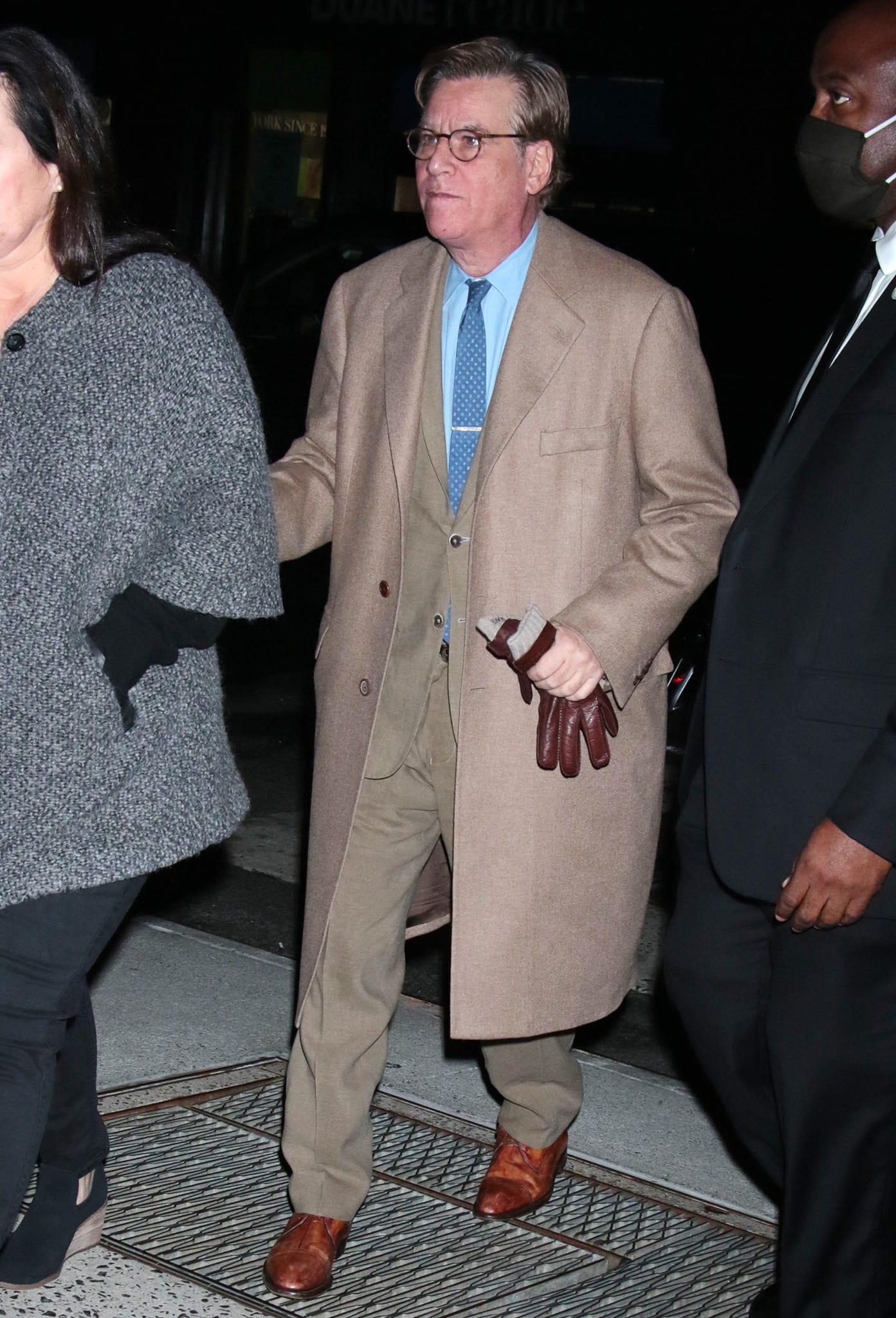 Director Aaron Sorkin defends casting Nicole Kidman as Lucille Ball in the upcoming biopic (Credit: Mega / WENN)
In an interview with The Hollywood Reporter, Aaron Sorkin, the movie's director and writer, defended his decision to cast Nicole Kidman as Lucille.
"We made this movie during COVID, and so in Zooming with Nicole and Javier and everyone else, I'd make it very clear to them that I am not looking for a physical or vocal impersonation of these people," he explained.
One of America's top comedic actresses in the 1950s, Lucille Désirée Ball was nominated for 13 Primetime Emmy Awards and won five times (Credit: WENN)
"Leading up to the first rehearsal, I'd write to them every day, 'Just play the characters who are in the script.' I know that Nicole was working on Lucy's voice for a while, and I wanted to relieve her of that," Aaron Sorkin added.
Responding to Lucille Ball fans who wanted to have Debra Messing play the comedy actress, Aaron said: "As far as audience anticipation, that's something I'm just not worried about. I'm certain that when people see the movie, they'll leave feeling that Nicole has made a very solid case for herself, but moreover, I've found that you can really leverage low expectations."
Nicole Kidman at the 2021 InStyle Awards at the Getty Center on November 15, 2021 (Credit: Mega / WENN)
Last week, the Days of Thunder star joined Kaia Gerber and Cindy Crawford as well as Lucy Hale and Elle Fanning at the InStyle Awards 2021 red carpet in Los Angeles.
With the help of her stylist Julia von Boehm, Tom Cruise's ex dazzled in a holiday-ready sparkly dress from Armani Prive's Spring 2009 Couture collection.
The enchanting number is entirely covered in purple sequins and features a form-fitting silhouette, curved straps, and a peplum hem adorned with bead embellishments. She also brought with her a black blazer in case things get chilly.
Nicole Kidman dazzles in Armani Prive Spring 2009 purple sequin dress (Credit: Mega / WENN)
Amping up the glam factor, Nicole accessorized with delicate Harry Winston diamond jewelry. She wore two necklaces, a chain bracelet, a pair of earrings, and some rings.
Her tresses were perfectly coiffed by hairstylist Kylee Heath, with several wavy strands framing her gorgeously made-up face.
Highlighting her eyes, makeup artist Kate Synnott gave her a smokey smudge look with glowy sun-kissed cheeks and a swipe of neutral lipstick.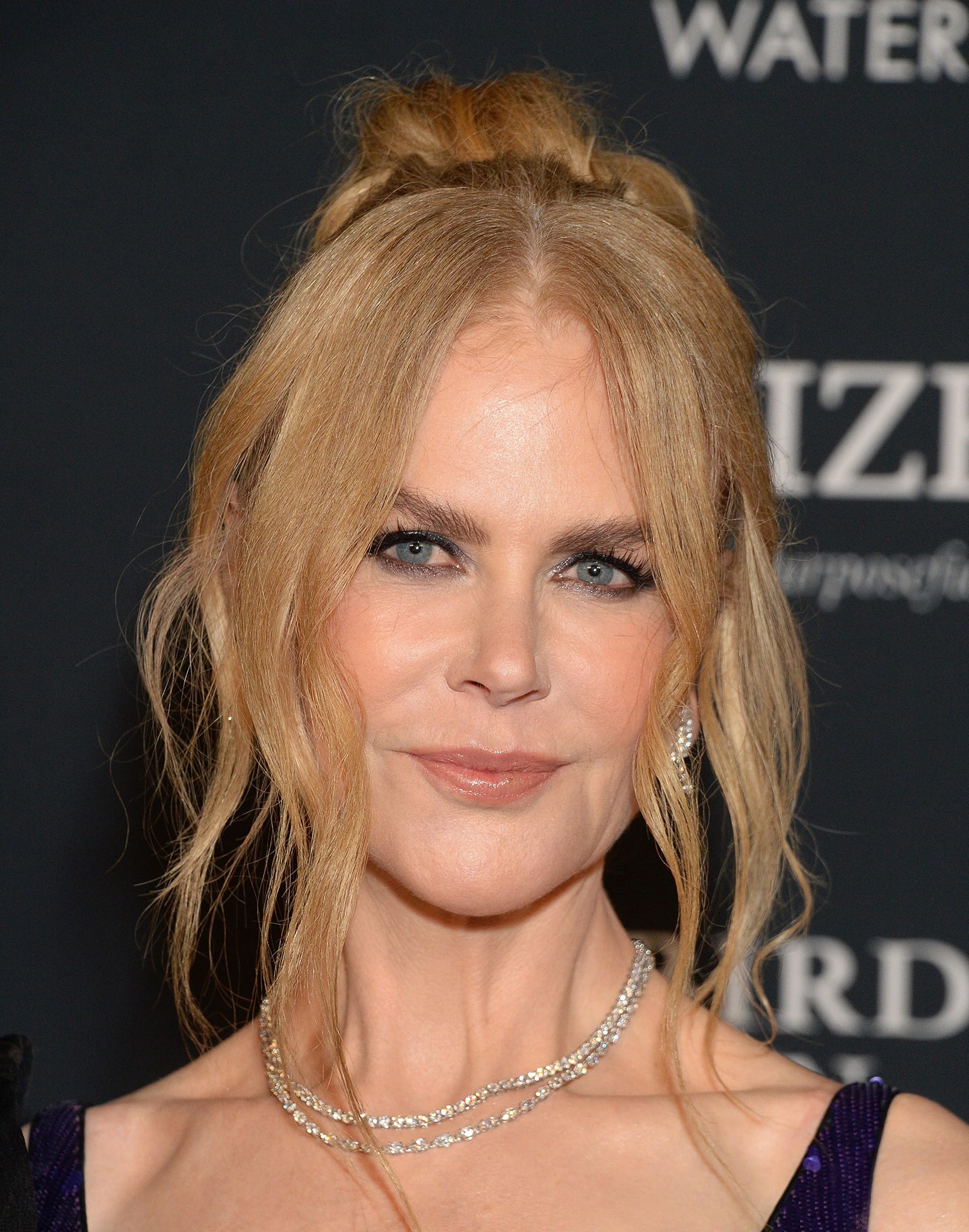 Nicole Kidman wears her red tresses up into a chic bun with loose tendrils framing her gorgeously made-up face (Credit: Mega / WENN)
Adding more sparkles to her glam look was a pair of Aquazzura "Tequila" sandals. Her shoes from the popular women's footwear label are embellished with round-cut crystals and have suede and leather-lined straps set atop a 4-inch stiletto heel.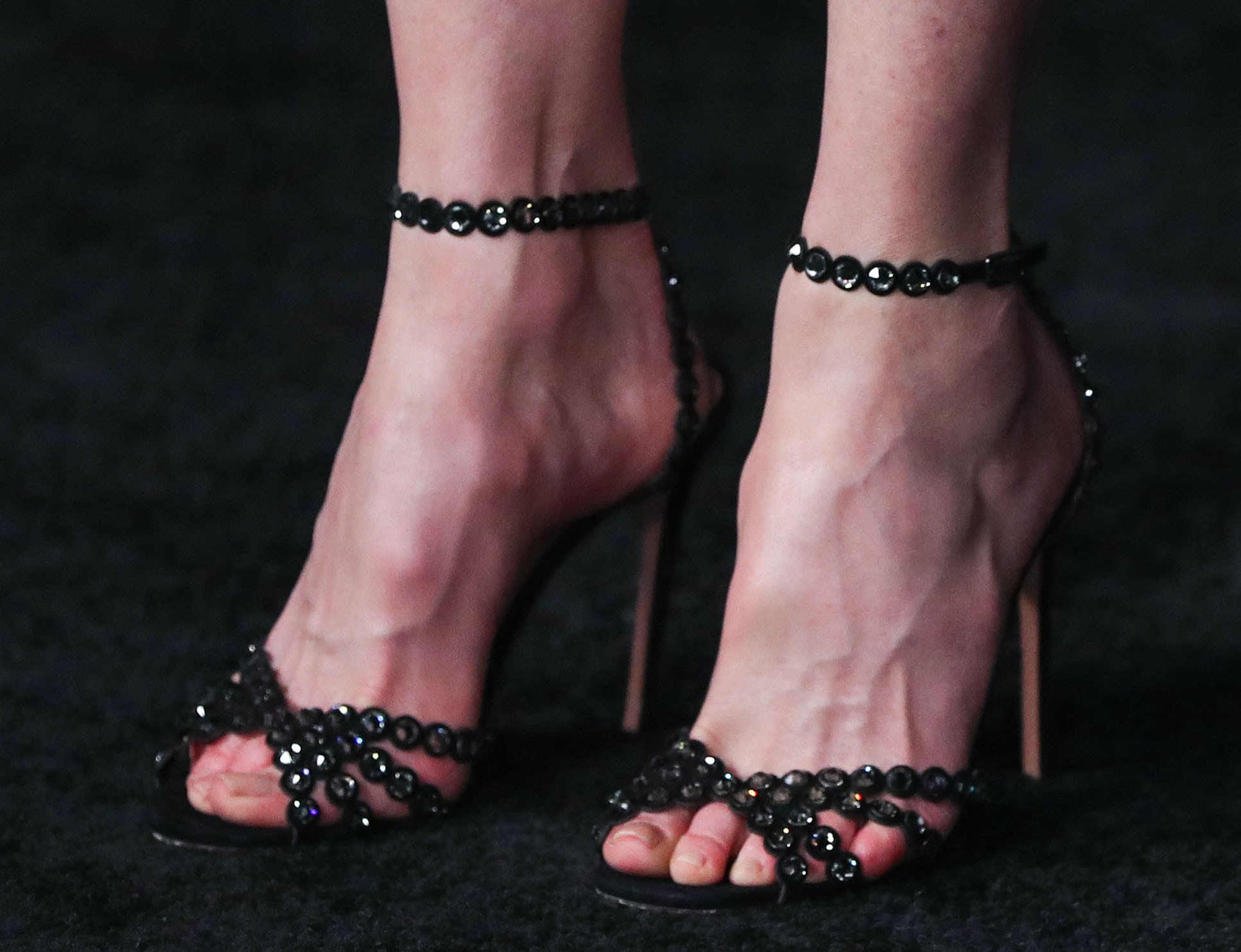 Nicole Kidman pairs her sparkly purple dress with Aquazzura Tequila crystal-embellished sandals (Credit: Mega / WENN)