After opening up about her sobriety journey a few weeks back, Lucy Hale made a stunning red carpet appearance at the Fashion Trust Awards Wednesday in a floral gown with a daring side slit.
The Pretty Little Liars alum appeared to channel romantic goth in the black floor-length Versace dress covered in the fashion house's Orchid Barocco jacquard print.
Its structured bodice highlighted her slim frame and a dangerously high slit that allowed her to parade her toned legs.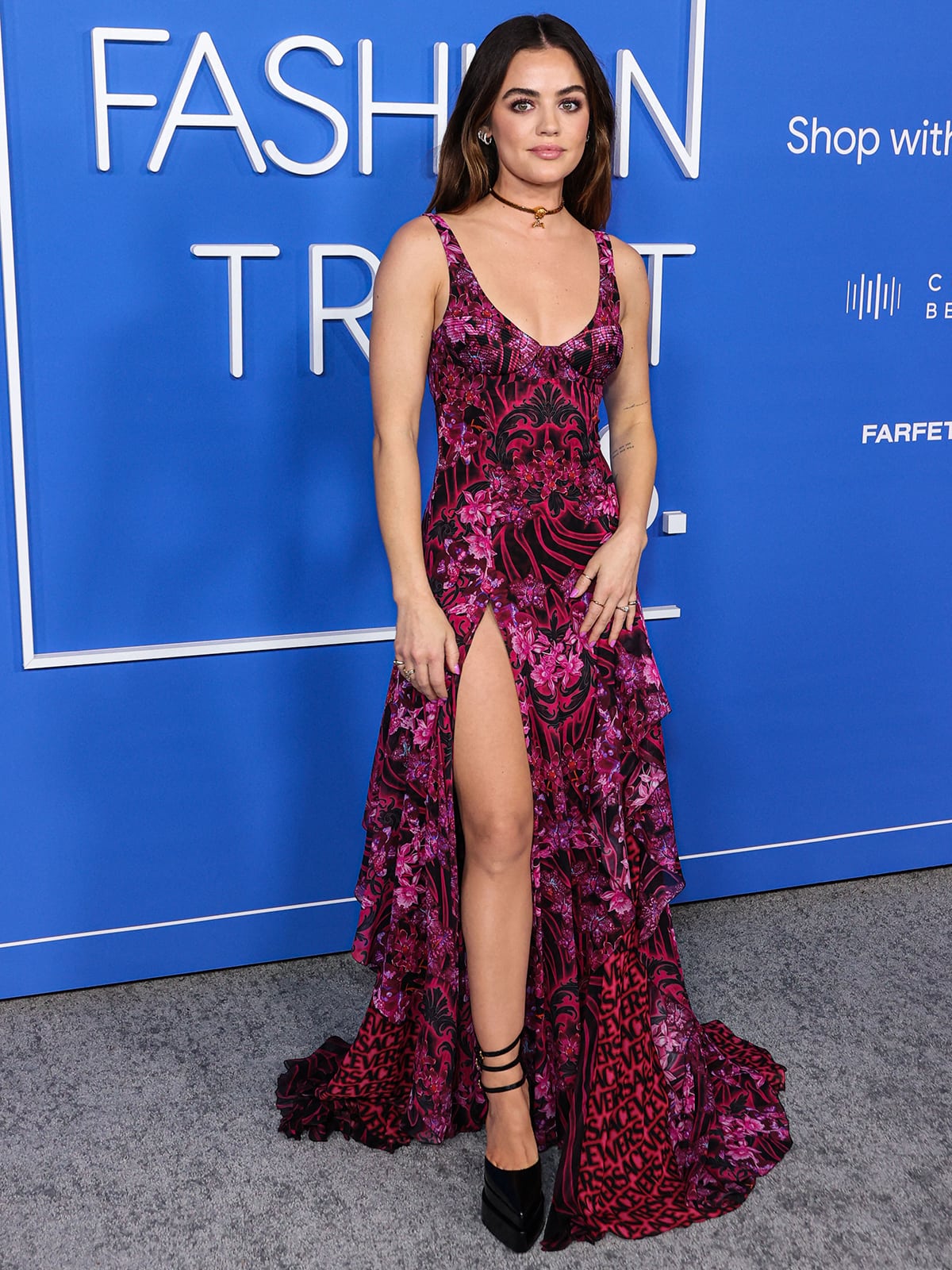 Lucy Hale attends the Fashion Trust US Awards at Goya Studios in Hollywood on March 21, 2023 (Credit: Abaca Press / INSTARimages)
Hailing from the Spring/Summer 2023 collection, the feminine number also had a cleavage-baring low-cut scoop neckline, shoulder straps, and a dramatic ruffled skirt.
The Sisterhood of the Traveling Pants actress stayed true to the look's goth aesthetic by securing a gold-tone Versace Greca choker around her neck and adding multiple earrings and a selection of rings selected by stylist Erin Walsh.
Elizabeth Banks, Anne Hathaway, and Jameela Jamil were just some of her high-profile celebrity clients.
Lucy Hale channels romantic goth in a pink and purple Versace dress with a scoop neck and a thigh-high slit (Credit: Abaca Press / INSTARimages)
Lucy Hale completed her lavish head-to-toe Versace outfit with the "Aevitas" platform pumps, adding several inches to her short 5'1" height.
These celebrity-favorite pumps – recently spotted on Kathy Hilton and Jenna Ortega and available at Farfetch – have 2.6-inch double platforms and 6.3-inch block heels.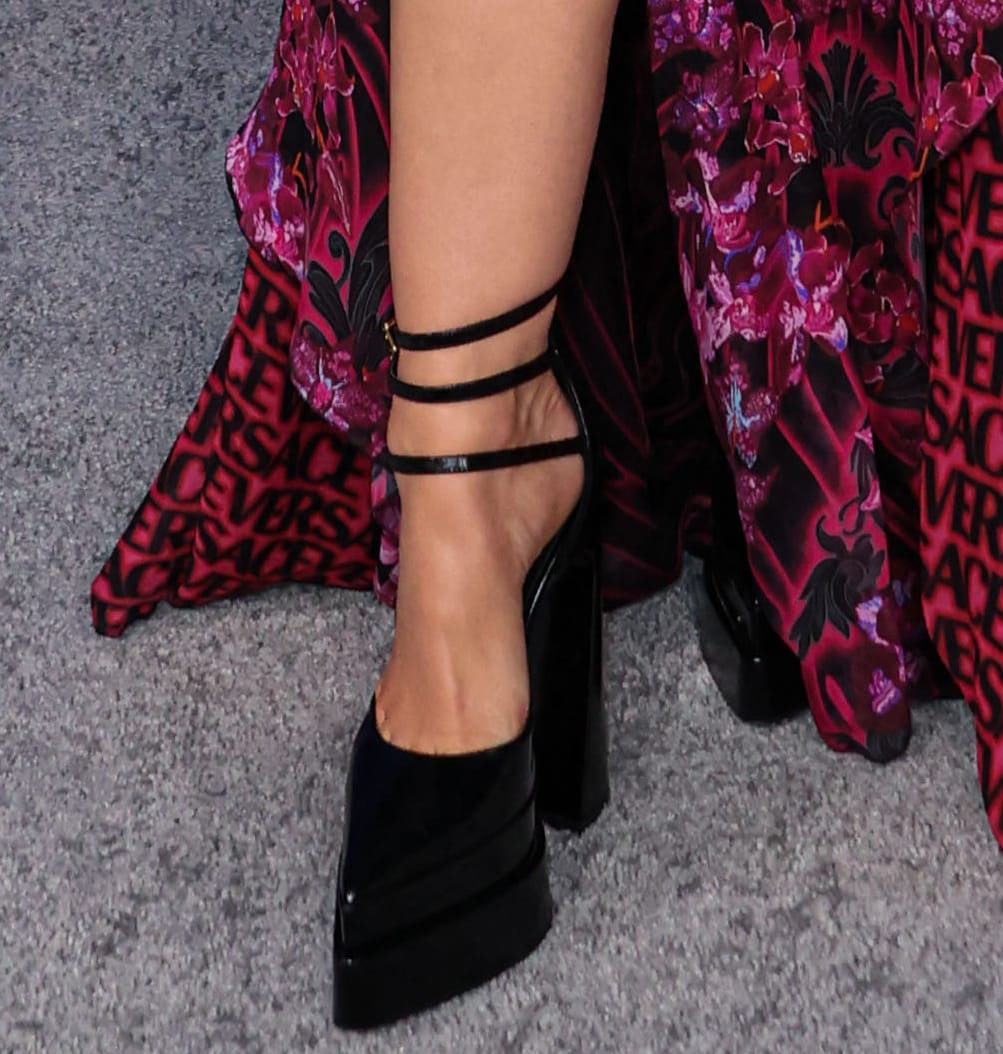 Lucy Hale completes her head-to-toe Versace look with the celebrity-favorite Aevitas platform pumps (Credit: Abaca Press / INSTARimages)
They're cut from shiny black leather and feature triple ankle straps with gold-tone V-shaped hardware, branded insoles, and the signature Medusa charms.
Versace "Aevitas" Pointy Leather Platform Pumps, $1,352 at Mytheresa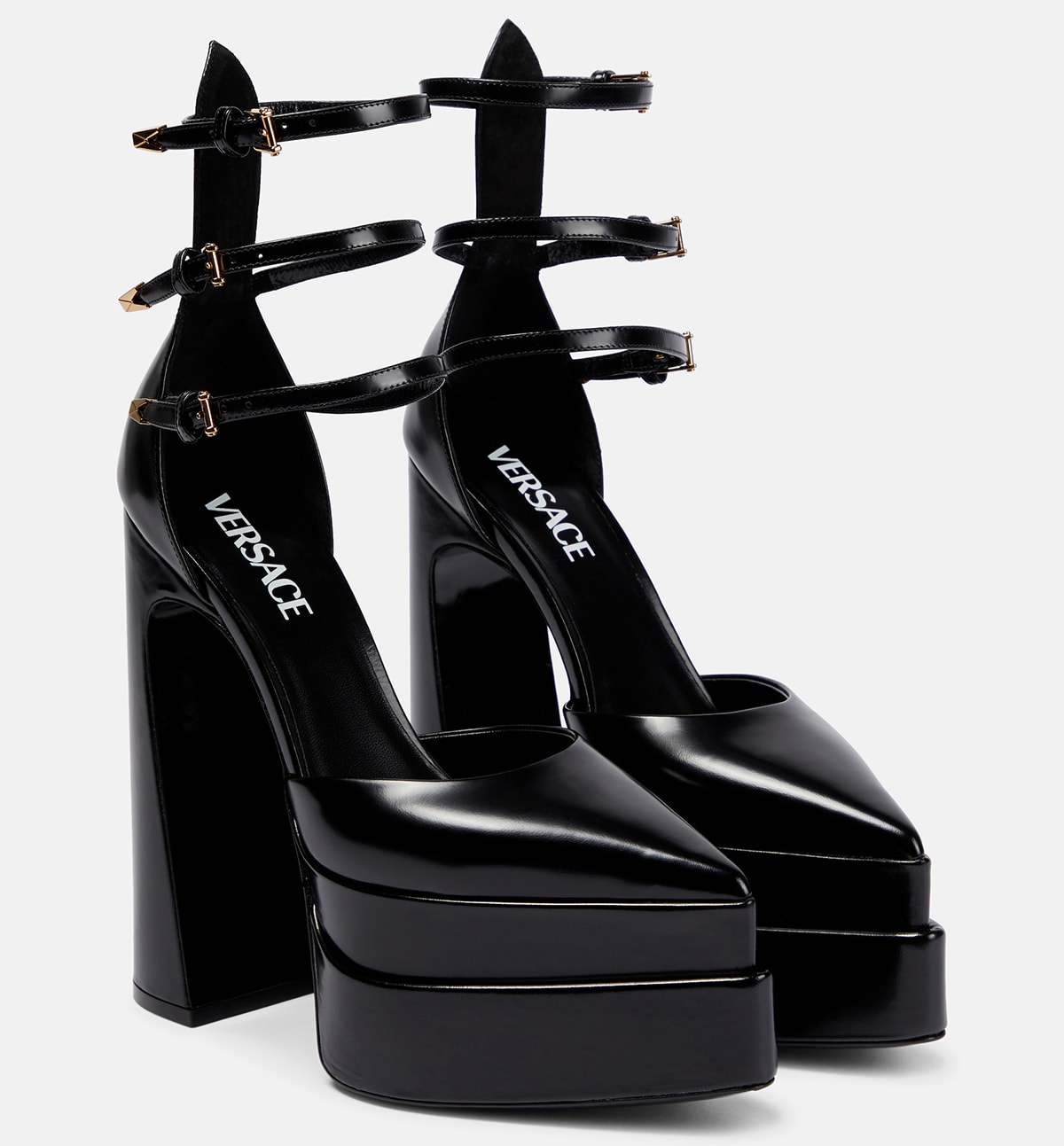 The Versace Aevitas pumps have two-tiered platforms, a trio of ankle straps, and high block heels
For her glam, the Katy Keene star highlighted her eyes with aubergine eyeshadow and volumizing mascara with the help of Kelsey Deenihan Fisher, who also gave her matching blush and lipstick.
Hairstylist John D. let Hale's dark tresses cascade down her back in loose waves as she strutted her stuff on the red carpet.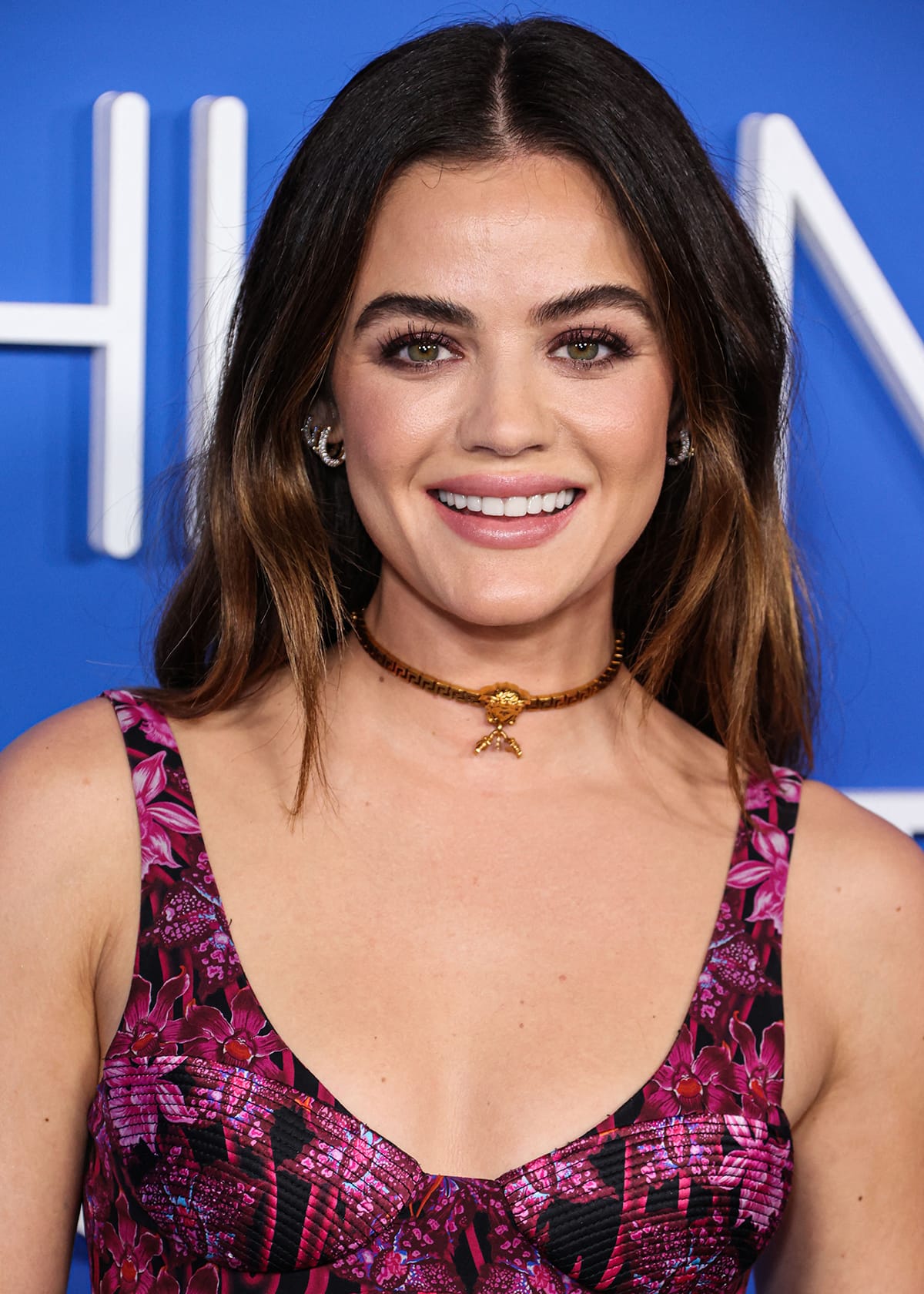 Lucy Hale completes her look with goth-glam makeup, featuring aubergine eyeshadow and brush-up brows, and loose waves hairstyle (Credit: Abaca Press / INSTARimages)
Lucy Hale Celebrates One Year of Sobriety
Last month, Lucy Hale opted to celebrate Valentine's Day differently.
The How I Met Your Mother actress took to Instagram to share a message of self-love and celebrate one year of sobriety, commemorating the major milestone with a special cake.
"Bear with me, this is an alternative Valentine's Day post. This is a post about self-love and about the greatest thing I've ever done. On January 2, 2023 I celebrated one year of sobriety," she captioned her post.
"While this journey has mostly been private, I felt compelled tonight to let anyone who is struggling know that you are not alone and you are loved."
View this post on Instagram
Two weeks later, Lucy Hale felt the need to share her sobriety journey as a way to help other people.
On a podcast episode of The Diary of a CEO with Steven Bartlett, Hale spoke candidly of her struggle with alcohol addiction for the first time, admitting that her sobriety took 13 years in the making.
"I have never talked publicly about being sober—I have a little over a year of sobriety. I have been working on getting sober since I was 20. I'm 33. It took time. It took patience with myself," she said.
She also clarified that she first tried drinking at age 14, adding she was not a "normal moderate drinker."
View this post on Instagram
"I just held on to that belief that real Lucy came out when she was drinking," she continued. "Guess what? Real Lucy did come out but it was that rage and pain that I had been holding on to for so long, but it also quieted my mind. My brain just doesn't shut off, and it's exhausting."
She called herself a "textbook binge drinker" who would "blackout" and "wouldn't remember what I did or what I said, which is scary."
She went on to say that she tried to change for her boyfriends, her mom, her career, and "vain reasons," thinking she would look "younger" and "skinnier."
"One of my best friends died of alcoholism, and that still didn't make me want to get sober. None of that sh** works. Alcohol isn't the problem. The problem is this feeling inside of me."
Lucy Hale, pictured in Vagabond "Alina" ankle boots, opened up about her struggles with alcoholism and her 13-year-long sobriety journey on a podcast episode of The Diary of a CEO with Steven Bartlett in February (Credit: BG020 / BauerGriffin / INSTARimages)
Finally on January 2, 2022, Lucy Hale realized she "deserves more out of this life."
"I have to try it a different way. And I have to be willing to just commit to it."
For the actress, being alcohol-free after nearly two decades was "peaceful," and being able to share her sobriety journey is "freeing."