Jennifer Lopez and Ben Affleck looked more in love than ever as they posed on the red carpet ahead of the premiere of Affleck's latest movie, Air, held at the Regency Village Theatre on Monday.
The couple, who married eight months ago on July 16, 2022, could barely keep their hands off each other, with J.Lo grabbing Ben's behind as they shared a kiss in front of the photographers.
Jennifer Lopez grabs Ben Affleck's butt as they kiss on the red carpet ahead of the premiere Affleck's latest film, Air, at the Regency Village Theatre on March 27, 2023 (Credit: Faye's Vision / Cover Images)
Showing her support for her husband, the 53-year-old multihyphenate arrived at the movie premiere in a two-tone turtleneck gown from Italian fashion designer Antonio Grimaldi's Fall 2021 collection.
The radiant number featured a sheer long-sleeved bodice covered in rows of sparkling crystal beads and contrasted with a neon green skirt with a hip-hugging silhouette and a convex-shaped high waist.
Wearing a flesh-colored bra underneath for some coverage, the Hustlers star paired her gleaming gown with Shiphra diamond stud earrings, a matching cocktail ring, and her Rahaminov Diamonds engagement ring set with an 8.5-carat green diamond that complemented her gown.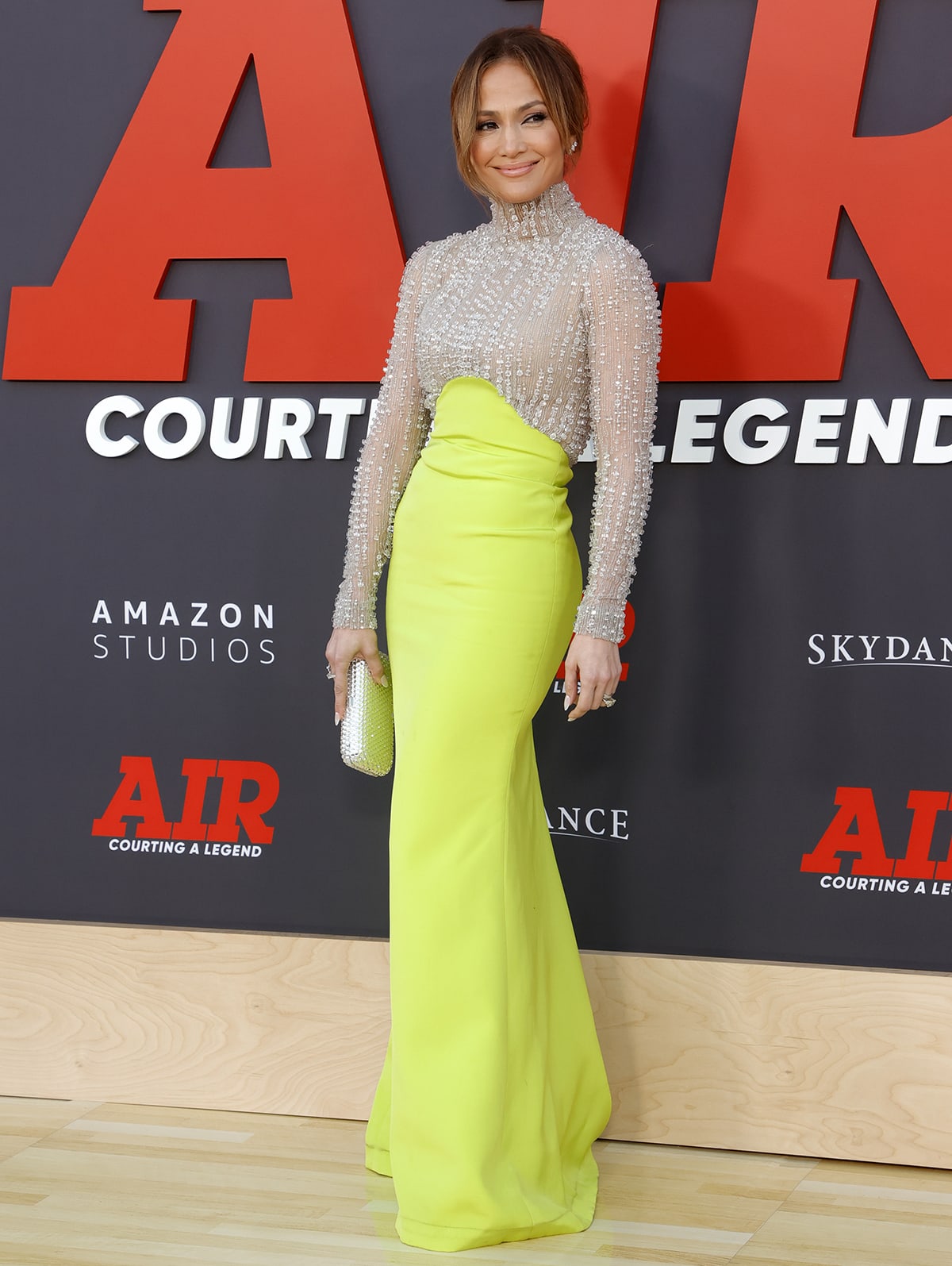 Jennifer Lopez looks radiant in an Antonio Grimaldi gown, featuring a crystal-embellished sheer bodice and a neon high-waist skirt (Credit: Faye's Vision / Cover Images)
The Shotgun Wedding actress carried a bedazzled pillbox clutch, highlighting her glazed manicure described as the "Micro French Fantasy" by celebrity manicurist Tom Bachik.
Styling pair Rob Zangardi and Mariel Haenn curated J.Lo's look, with Lorenzo Martin and Hrush Achemyan teaming up for her glam.
Martin coiffed her caramel tresses in an elegant bridal updo with loose strands to frame her face while Achemyan gave her delicate smokey-eye makeup, mascara, peach blush, and glossy nude lip color.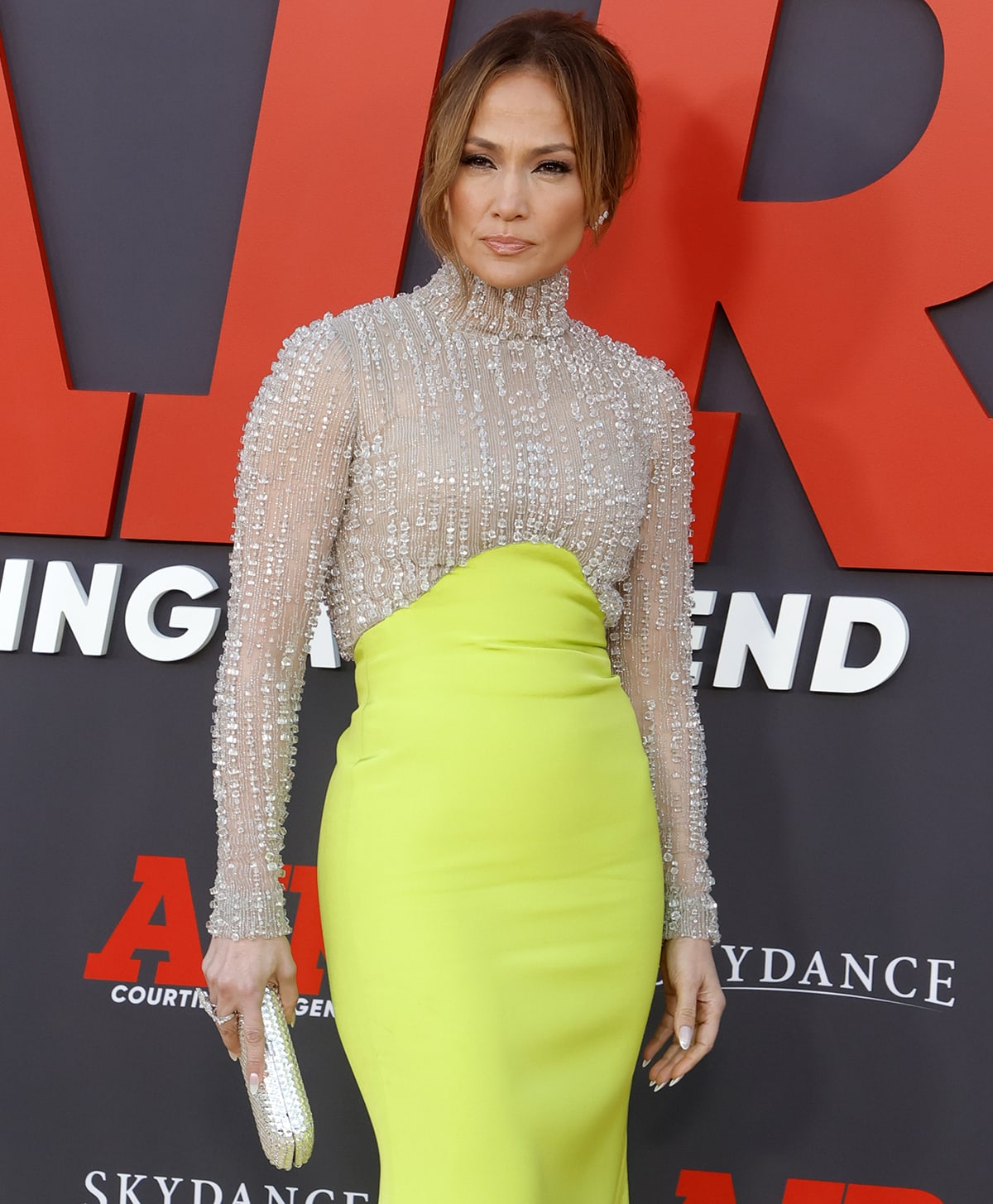 Jennifer Lopez styles her hair in a loose bridal updo and wears subtle smokey eyeshadow with nude lip gloss (Credit: Faye's Vision / Cover Images)
Affleck contrasted J.Lo's radiant ensemble with a navy velvet double-breasted suit by Thom Sweeney.
He wore it over a light blue shirt, which he completed with a textured navy necktie and brown dress shoes.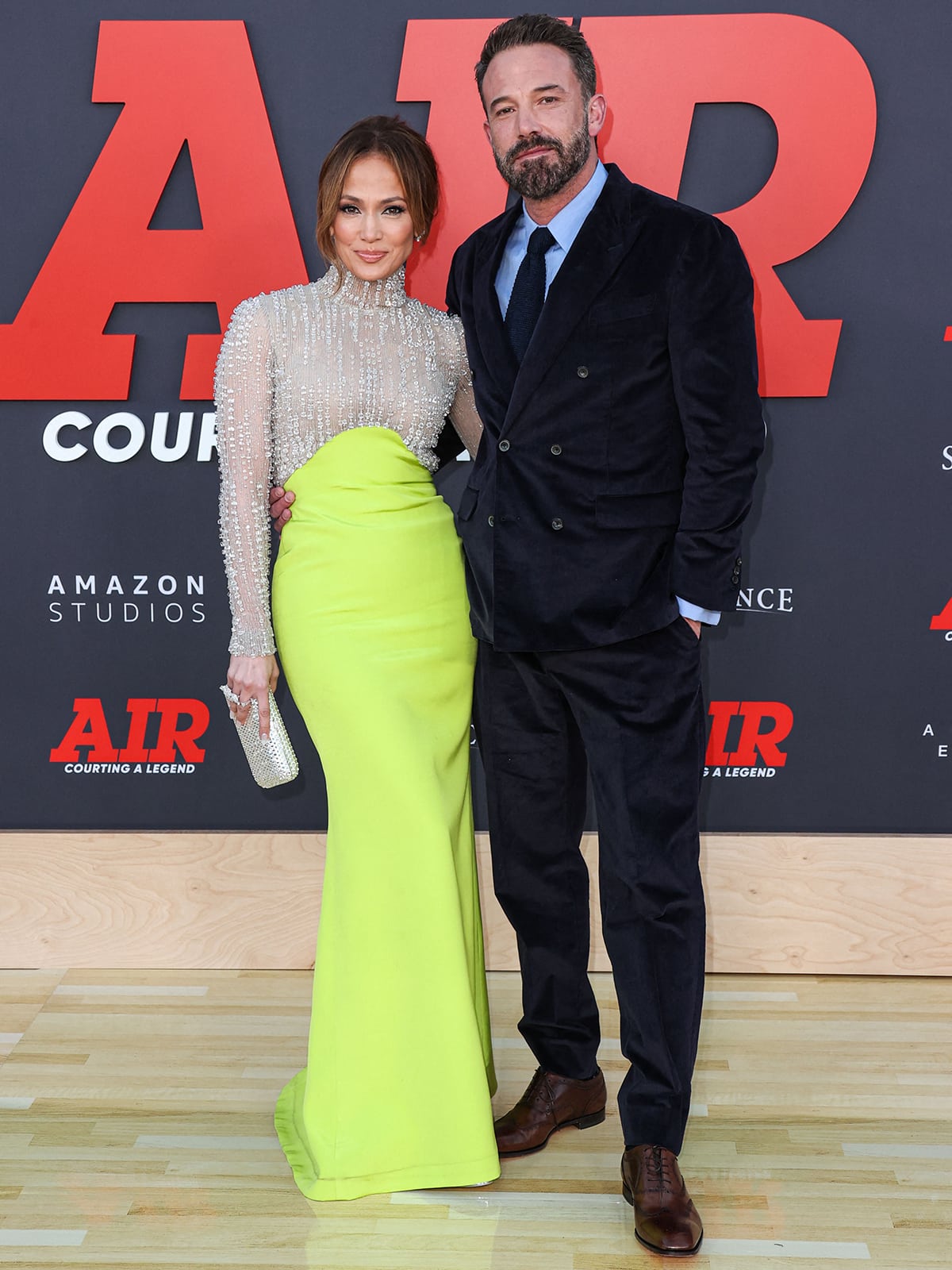 Ben Affleck looks handsome in a navy velvet suit by Thom Sweeney with a light blue shirt and a navy tie underneath (Credit: Abaca Press / INSTARimages)
Ben Affleck Is All Praises for Jennifer Lopez
Ben has nothing but praise for Jennifer, who has always been supportive of him.
Before the premiere began, the 50-year-old actor concluded his opening remarks by giving his wife a shout-out.
Then Ben Affleck turns his attention to wife Jennifer Lopez, "who means more to me than anything in the world. … You're fabulous, you're amazing, you're wonderful, good, kind, magnificent and I love you." pic.twitter.com/Xzi5jcM6bI

— Chris Gardner (@chrissgardner) March 28, 2023
"This has been a joy, and I want to just enjoy this moment for one second," he said. "And I want to say that none of it would be possible—this company, this movie, this joy tonight—without the love and support of my wife, who means more to me than anything in the world."
"I want to say thank you. I love you. You mean the world to me. You're fabulous, you're amazing, you're wonderful, good, kind, magnificent, and I love you."
He also spoke with Entertainment Tonight's Kevin Frazier about his wife, saying, "She's brilliant. And [she] helps me in every conceivable way."
What Is Air Movie About?
Air, marketed as Air: Courting a Legend, is a biographical sports drama that tells the origin of Air Jordan shoes and chronicles the journey of Sonny Vaccaro, a Nike shoe salesman, on his pursuit to sign then-rookie Michael Jordan and restore the company to its heyday.
Ben Affleck serves as the movie's director and co-star, portraying Phil Knight, the co-founder and chairman emeritus of Nike, Inc.
He stars alongside his best pal Matt Damon, who plays Sonny Vaccaro, a former sports marketing executive who helped sign NBA legend Michael Jordan to his first Nike contract in 1984 and subsequently launched the Air Jordan sneaker collection.
Set to hit theaters on April 5, the movie also stars Jason Bateman as Nike's director of marketing Rob Strasser, Viola Davis as Jordan's mom Deloris, Marlon Wayans as a former college basketball player and coach George Raveling, Chris Messina as sports agent David Falk, and Chris Tucker as Howard White.
Matt Damon and Ben Affleck star together in the biographical sports drama, Air (Credit: MGM / Amazon Studios / Warner Bros. Pictures)
Matt Damon and Ben Affleck Through the Years
Matt Damon and Ben Affleck have been best friends since they were kids. They graduated from the same high school and acted in multiple movies together.
The two gained wider recognition in 1998 when they won the Oscar for Best Original Screenplay for Good Will Hunting, which they co-wrote and starred in.
"I've known him for 35 years, and we grew up together," Damon told Entertainment Tonight in 2016.
"We were both in love with the same thing – acting and filmmaking. I think we fed on each other's obsession during really formative, important years, and that bonded us for life."
Ben Affleck and Matt Damon on the set of Air in Los Angeles on June 28, 2022 (Credit: BauerGriffin / INSTARimages)
While their latest film marks the first time Affleck directed Damon, the latter revealed in a recent interview with IndieWire that he's used to being coached by Affleck.
"Well, it might seem like the first time he's directed me," Matt said with a laugh. Ben butted in and jokingly said, "It's not the first time I've carried him!"
Damon continued, "I mean, we did high school plays where he was like, 'Dude, I think you should do it like this.' He's been directing me for like forty-something years."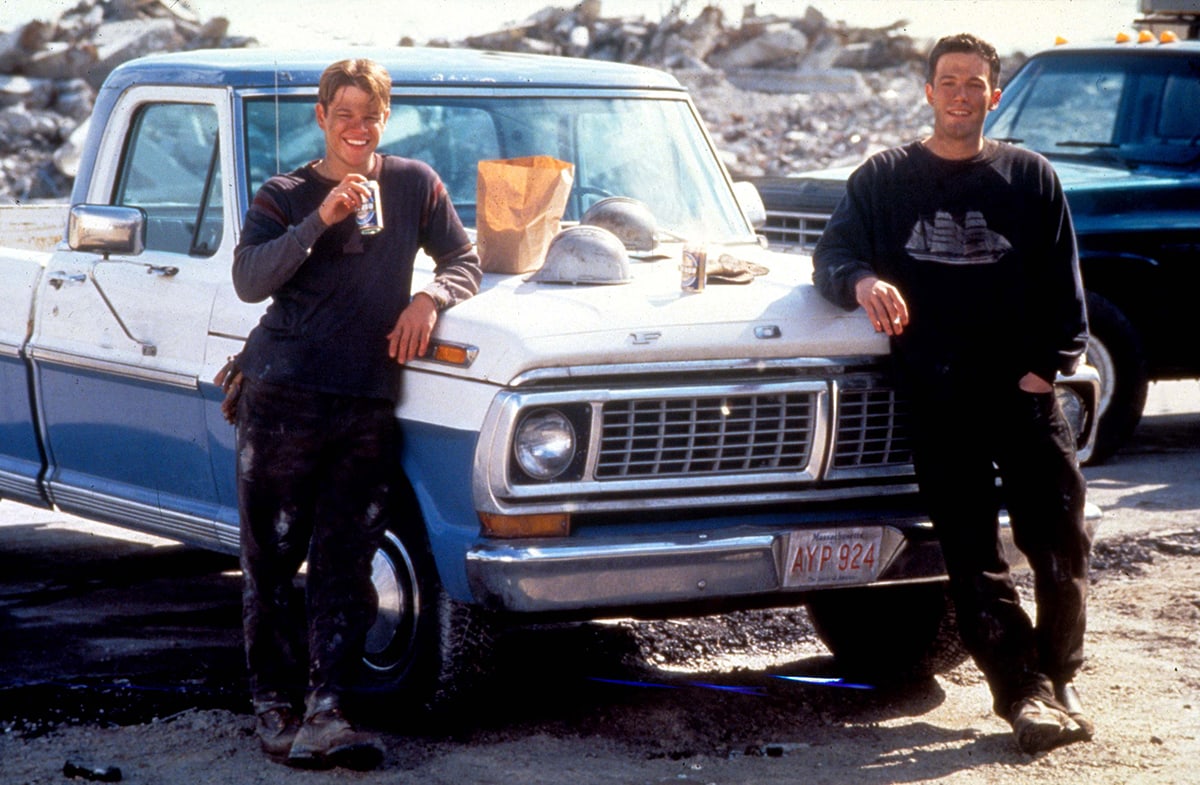 Matt Damon and Ben Affleck co-wrote the 1997 psychological drama film, Good Will Hunting, for which they won the Oscar for Best Original Screenplay (Credit: Cover Images)
Is Michael Jordan in Air Movie?
While one might assume that Michael Jordan would be in Air, considering that the biopic will feature real-life figures, His Airness won't appear in the movie because he's "too big."
Director Affleck told The Hollywood Reporter: "Jordan is too big. He exists above and around the story, but if you ever concretize him, if you ever say, 'Yes, that's Michael Jordan,' we know it's not, really. It's fake."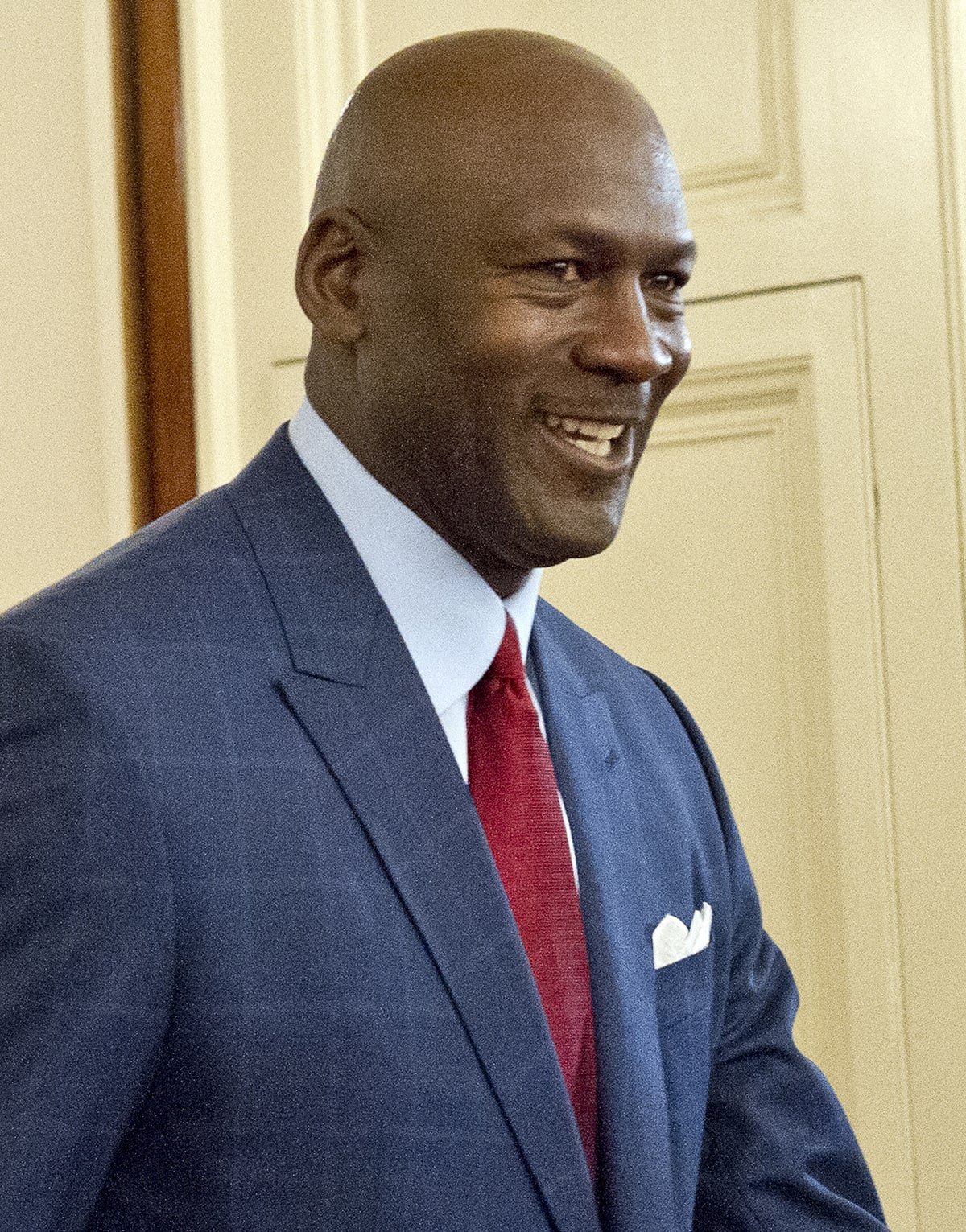 NBA legend Michael Jordan won't be appearing in Ben Affleck's Air movie (Credit: Consolidated News Photos / picture-alliance / Cover Images)
"I thought if the audience brought everything they thought and remembered about him and what he meant to them to the movie and projected it onto the movie, it worked better."
Affleck reportedly met with Jordan before the start of production and gave the project his blessing.