Malin Akerman kicked off the week by attending the world premiere of Marvel Studios' latest comic book adaptation, Eternals. Arriving at the El Capitan Theatre, the 43-year-old actress worked her angles while posing alongside her husband Jack Donnelly on the blue carpet.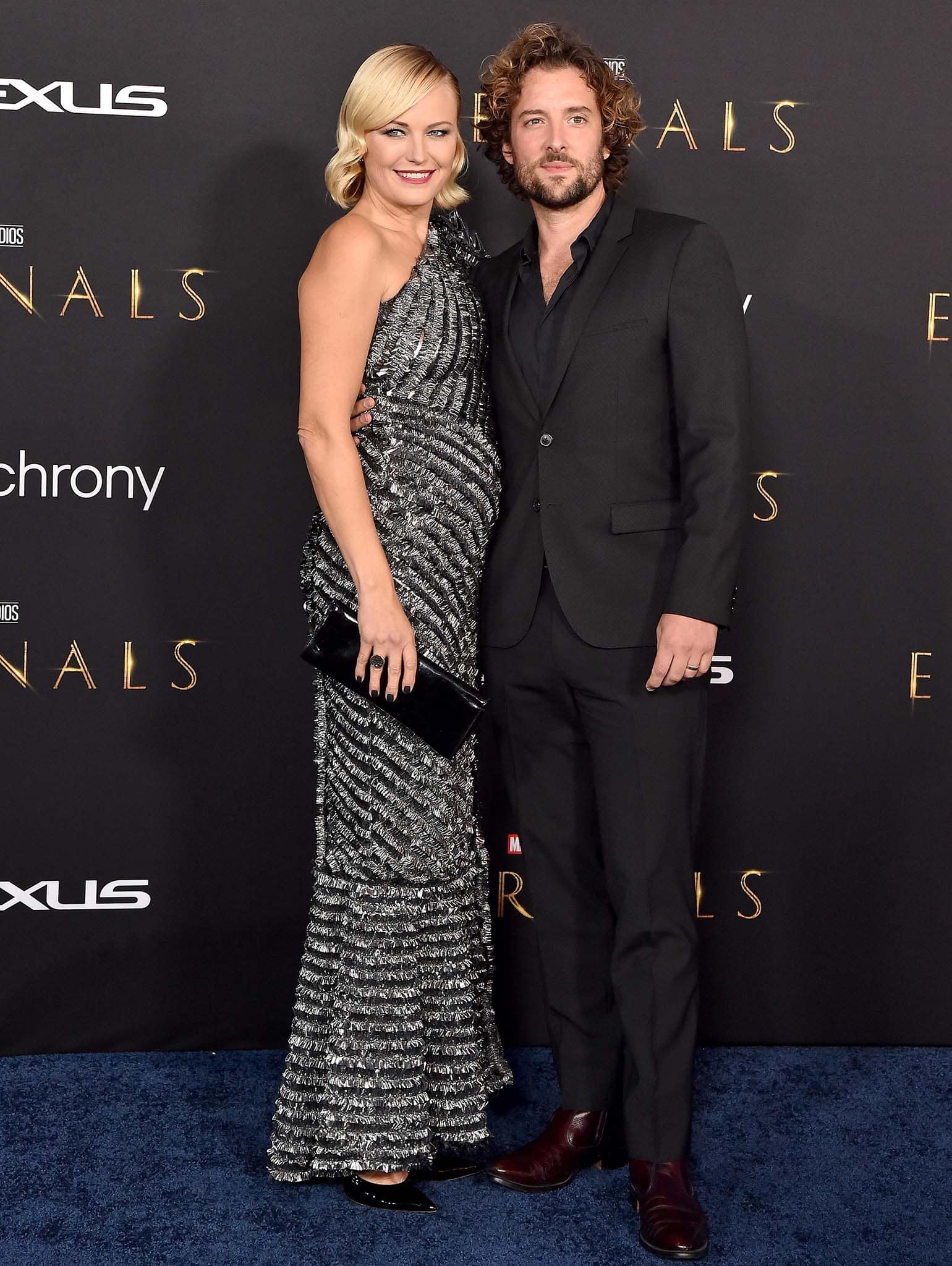 Malin Akerman and husband Jack Donnelly at the Los Angeles premiere of Marvel Studios' Eternals on October 18, 2021 (Credit: Mega / WENN)
The 35-year-old English actor, who's best known for his role in the BBC series Atlantis, looked handsome in head-to-toe black, pairing a suit with a shirt dress and brown shoes.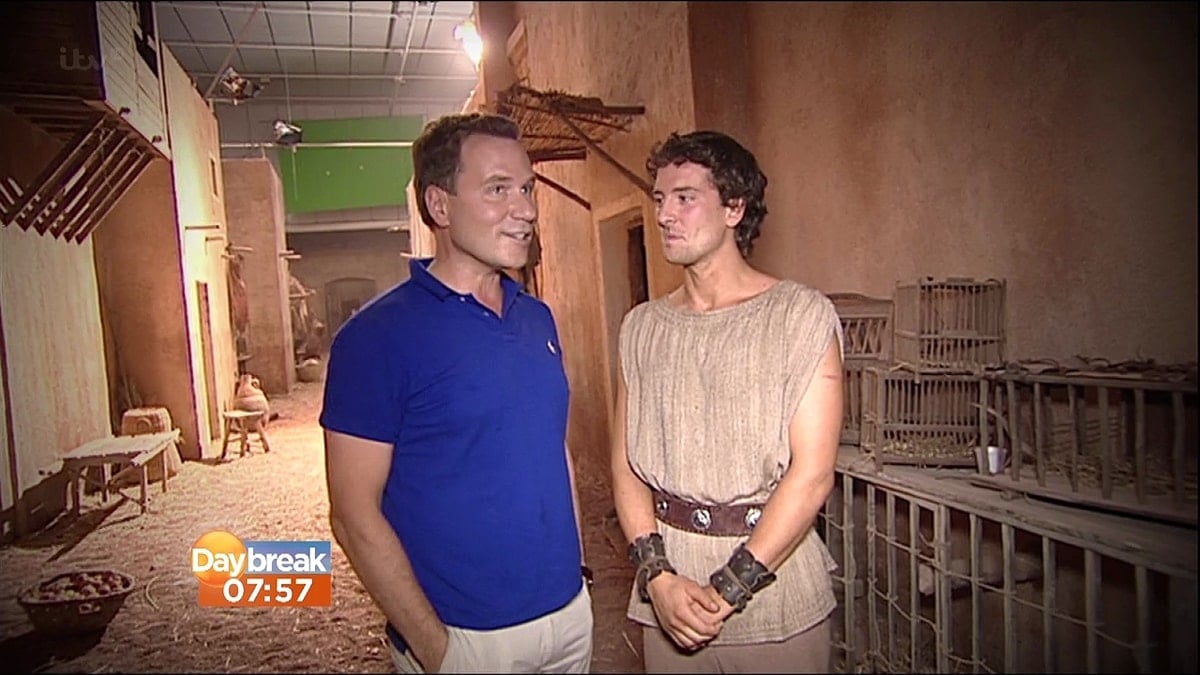 Daybreak's Richard Arnold interviews Jack Donnelly on the set of Atlantis about playing Jason in the British fantasy-adventure television series (Credit: ITV / WENN)
Meanwhile, the Billions star channeled a futuristic vibe in a sparkly black-and-silver gown from Abodi.
Founded by Transylvania-born designer Dora Abodi, the luxury womenswear fashion brand is known for its postmodern baroque futurism and fusing classic with ultra-contemporary style.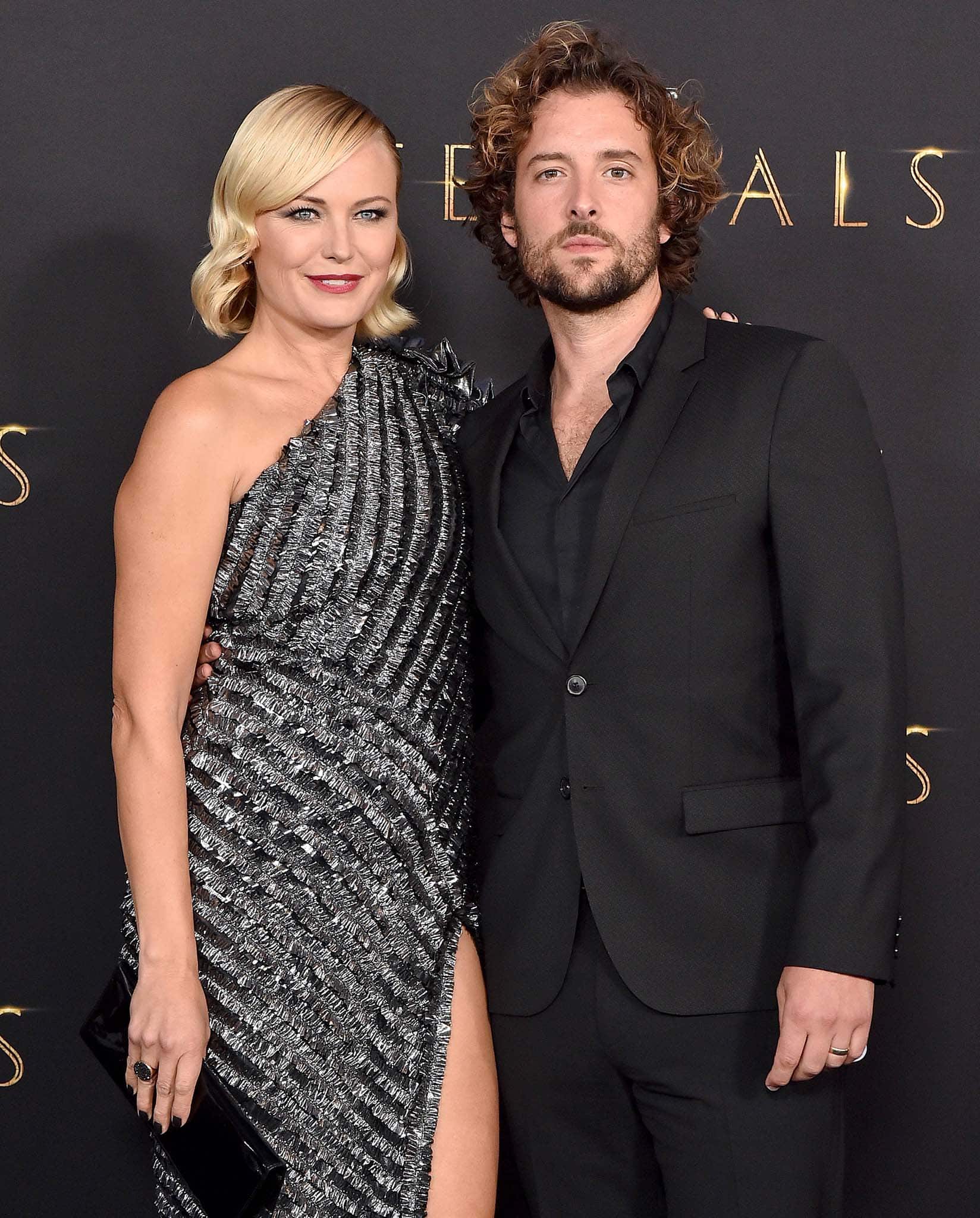 Malin Akerman opts for a sparkly futuristic dress, while her husband Jack Donnelly dons a classic all-black suit (Credit: Mega / WENN)
Meeting through Malin Akerman's younger sister's boyfriend, they were friends for two years before they started dating.
"When I first started dating Jack, I dared him to strip for me and my girlfriends poolside because he claimed he had worked as a Chippendales dancer for a summer in England – and he did! That's when I knew I was going to marry him," she said in an interview about daring Jack Donnelly to put on a strip show.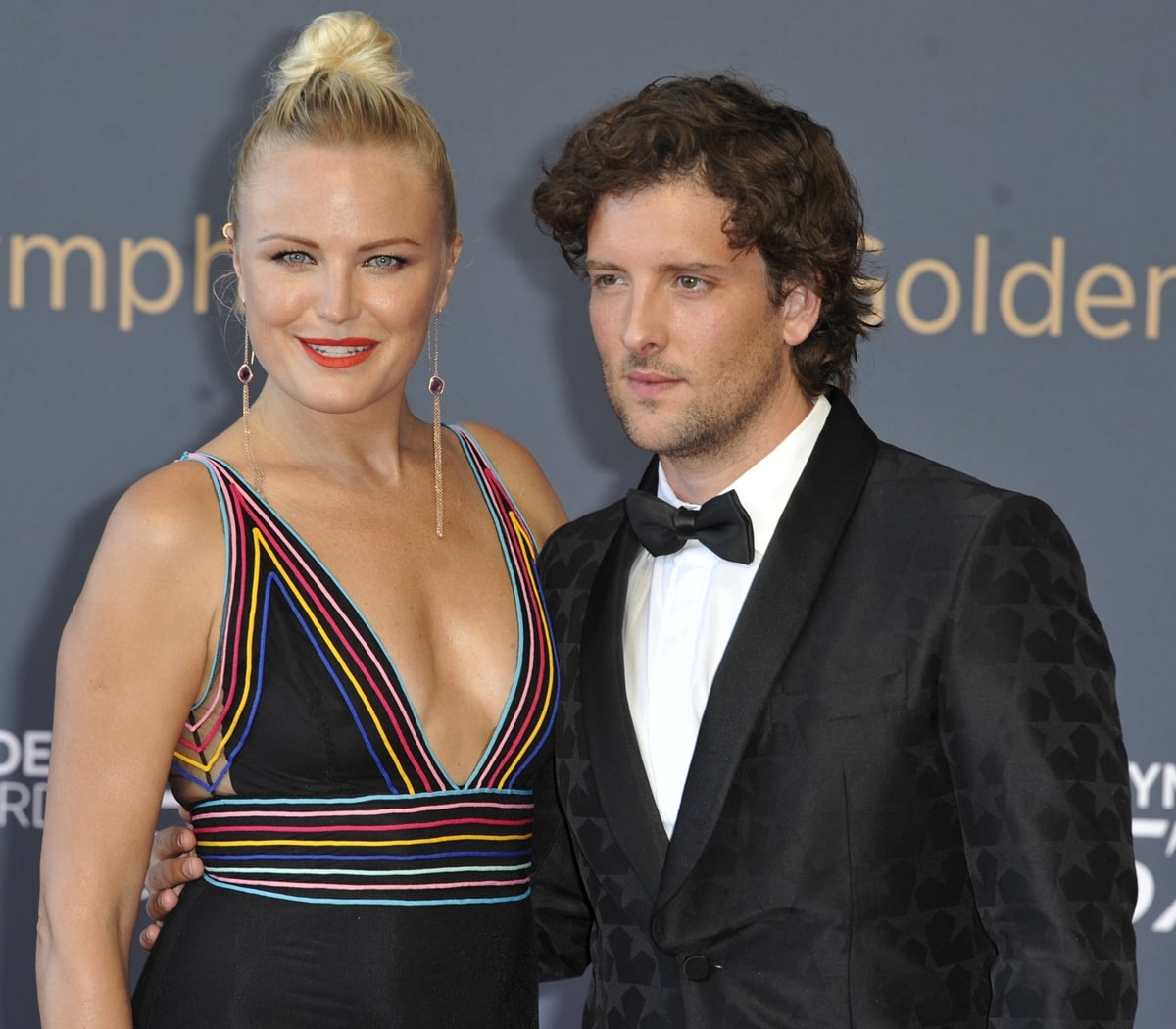 Jack Donnelly is 7 years younger than his wife Malin Akerman (Credit: WENN)
Announcing their engagement in October 2017, they married in a seaside ceremony on December 1, 2018, in Tulum, Mexico.
"[A year after that,] Jack came to the door with a beautiful bouquet of flowers and proceeded to take me out for dinner at my favorite spot in Brooklyn," Malin told Vogue.
"We sat in the garden and closed the place down. When we got home, he called me to our room, where he got down on one knee and asked the big question with a beautifully designed ring."
Malin Akerman met her younger husband Jack Donnelly through her younger sister's boyfriend (Credit: FayesVision / WENN)
Born on October 28, 1985, in the English coastal resort town Bournemouth, Jack Donnelly is 7 years younger than his wife, who was born on May 12, 1978, in Stockholm, Sweden. Measuring 5′ 10″ (178.0 cm), he's taller than his wife, whose height is 5′ 8″ (173.0 cm).
"2 years ago today I married this gem of a man. I want to go back and do it all again!!!," the actress wrote in December 2020 to celebrate their 2 year anniversary.
"Love this wonderful husband and father…I don't want to exist in a life without him. Thank you for asking me to marry you!"
View this post on Instagram
In 2007, Akerman married Italian musician Roberto Zincone, which whom she shares a son, Sebastian Zincone. She separated from the Petalstones drummer in 2013.
"We've talked about [siblings] before," Akerman told Us Weekly in 2019 about wanting another child. "He's curious about it. I don't think he actually knows what it means! I think he wants a sibling his age, which would be interesting. But we'll see."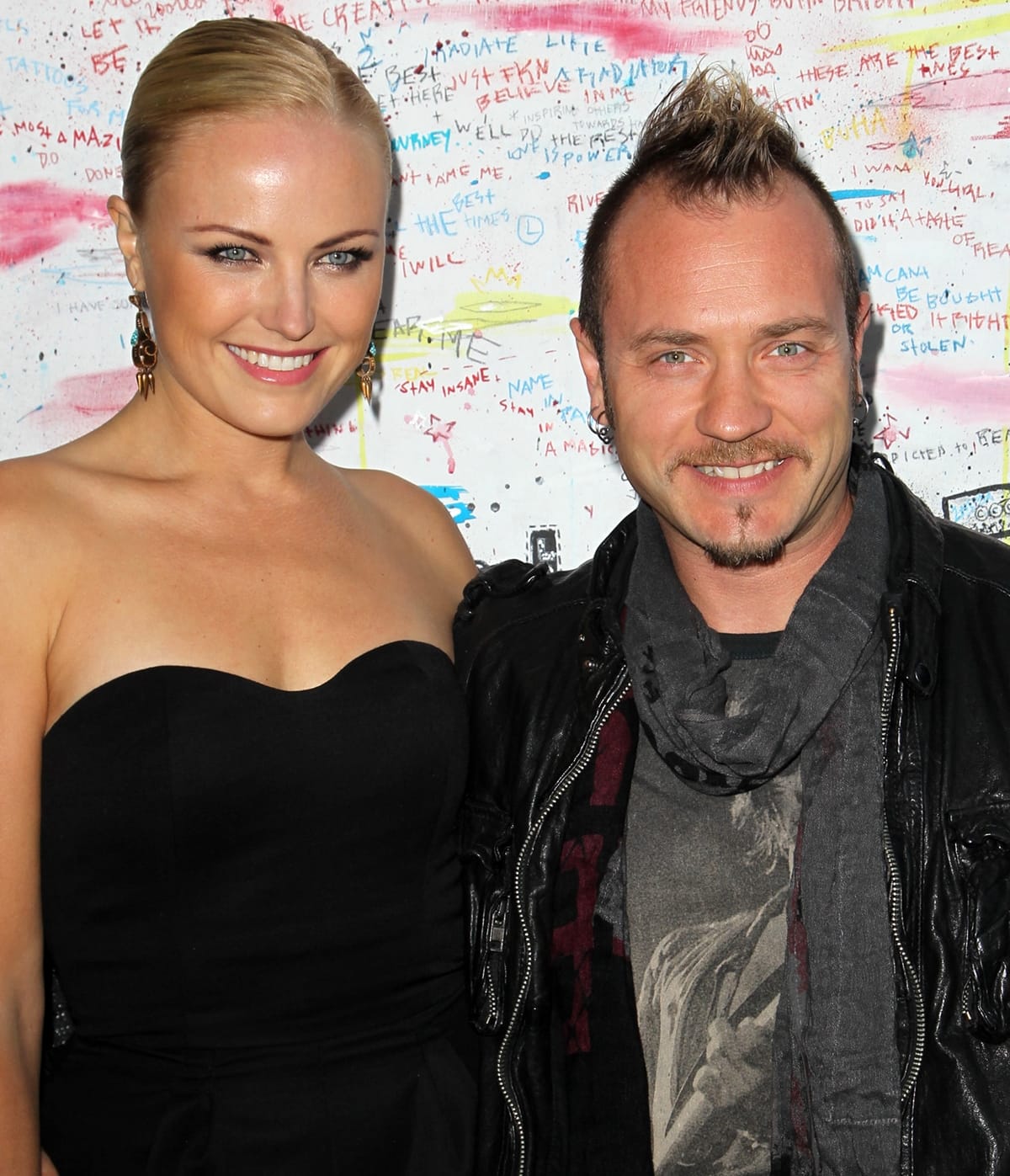 Malin Akerman and Roberto Zincone married in an Italian wedding in 2007 and split in late 2013, just months after she gave birth to their baby boy Sebastian Zincone (Credit: FayesVision / WENN)
Malin Akerman and Jack Donnelly both star in the 2020 American comedy-drama film Friendsgiving, which is streaming on Netflix. They'll next be seen in the upcoming American comedy horror film Slayers and the rom-com titled A Week In Paradise.
Putting on a leggy display, the Rampage actress opted for a one-shoulder floor-length gown that boasts a daring thigh-high split. The striped number also features metallic fringes, a metallic ruched detailing along the sleeve, and a fluted hem.
She then opted for classic footwear, teaming the dazzling dress with a simple pair of black patent pumps.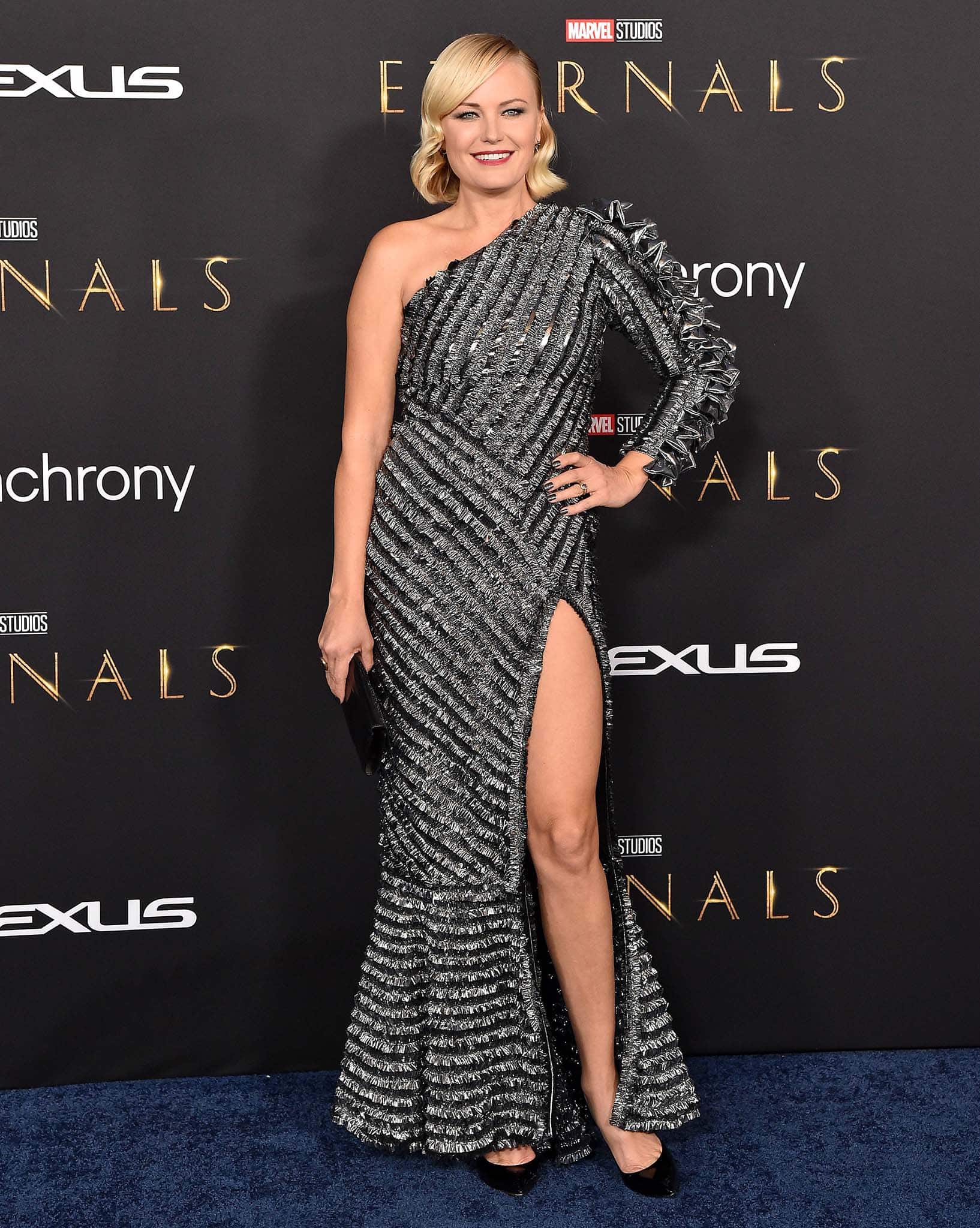 Malin Akerman showcases her legs in a sparkly black-and-silver Abodi fringe gown (Credit: Mega / WENN)
Injecting a hint of vintage glamour to the look, Malin swept her blonde lob to the side and styled it in old Hollywood waves. She then wore a swipe of bold red lip color and highlighted her eyes with mascara and eyeliner.
For her accessories, the mom-of-one wore a pair of spiky silver earrings, a couple of rings, and a black clutch.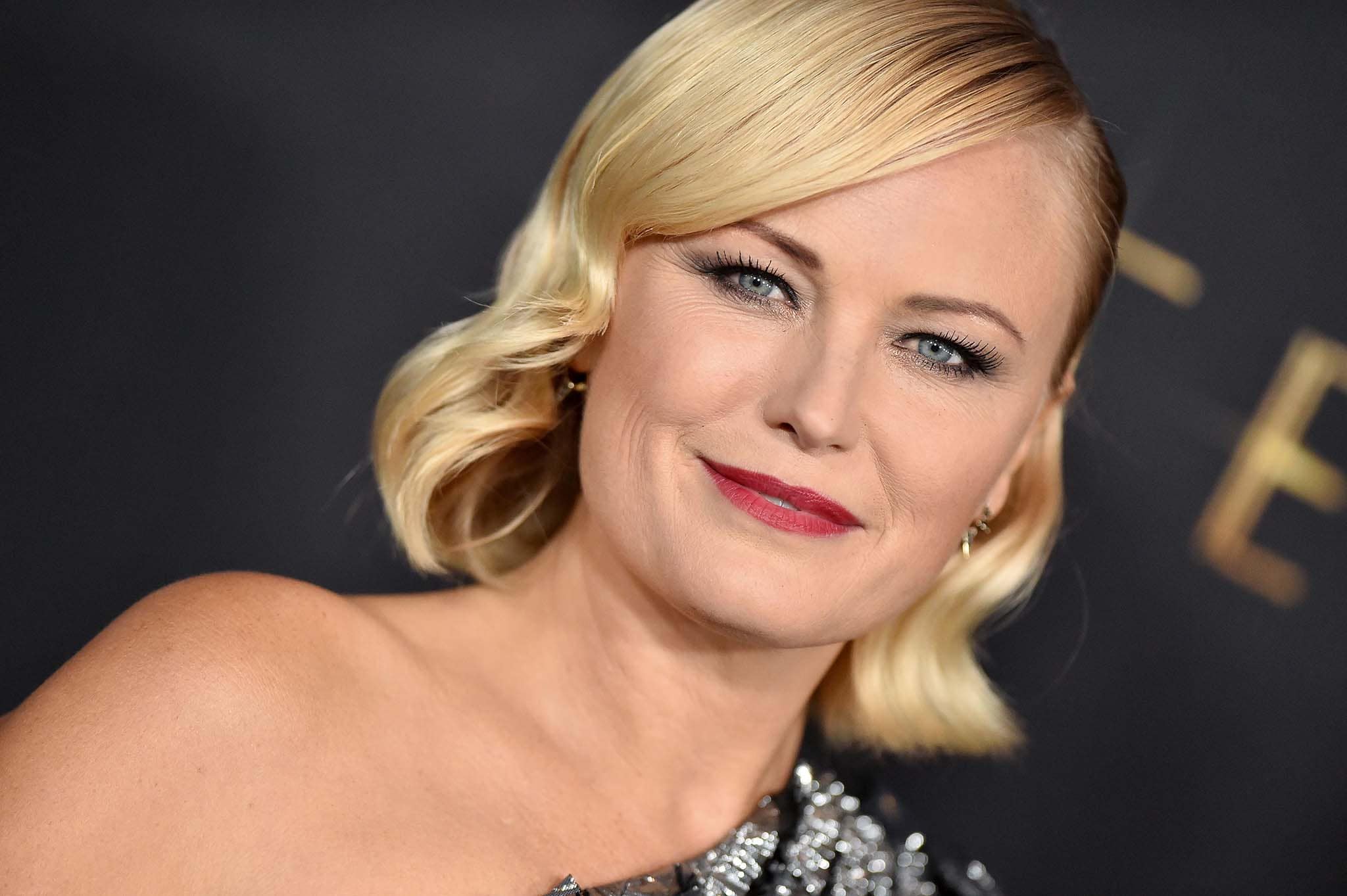 Malin Akerman adds retro glam to her ultra-modern outfit with old Hollywood waves and red lipstick (Credit: Mega / WENN)
On Saturday, the couple graced the green carpet at the 2021 Environmental Media Association Awards Gala.
Jack Donnelly was dapper in a brown suit with a black shirt underneath and a pair of black shoes.
His wife of almost three years, on the other hand, went the edgy route in a black leather dress that features a fitted bodice and a softly pleated ankle-length skirt.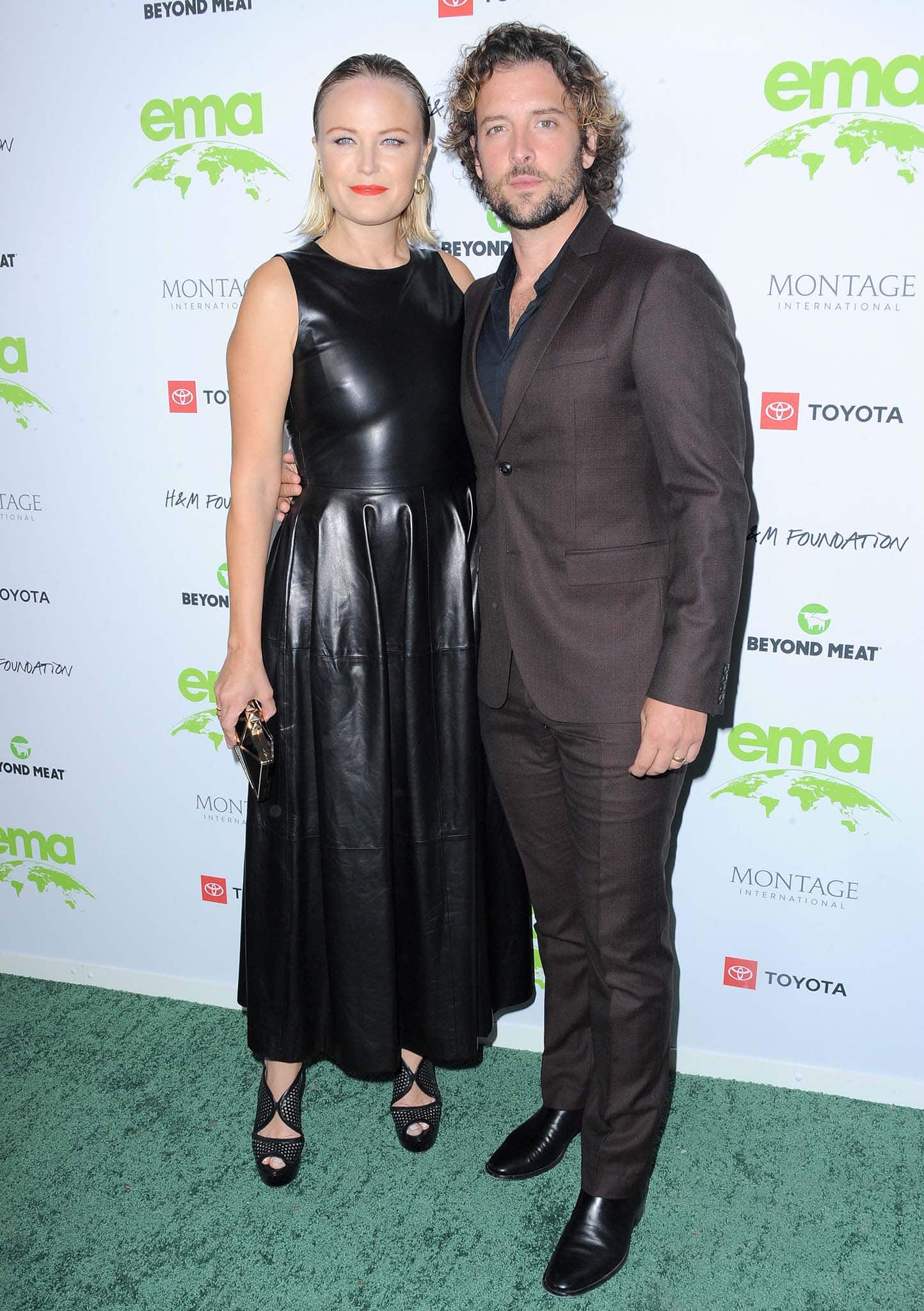 Malin Akerman and Jack Donnelly at the 2021 Environmental Media Association Awards Gala on October 16, 2021 (Credit: Mega / WENN)
Continuing with her edgy look, Malin wore a slicked-back hairstyle and a pop of matte red lipstick. She accessorized with a pair of gold hoop earrings and a matching mirrored gold clutch.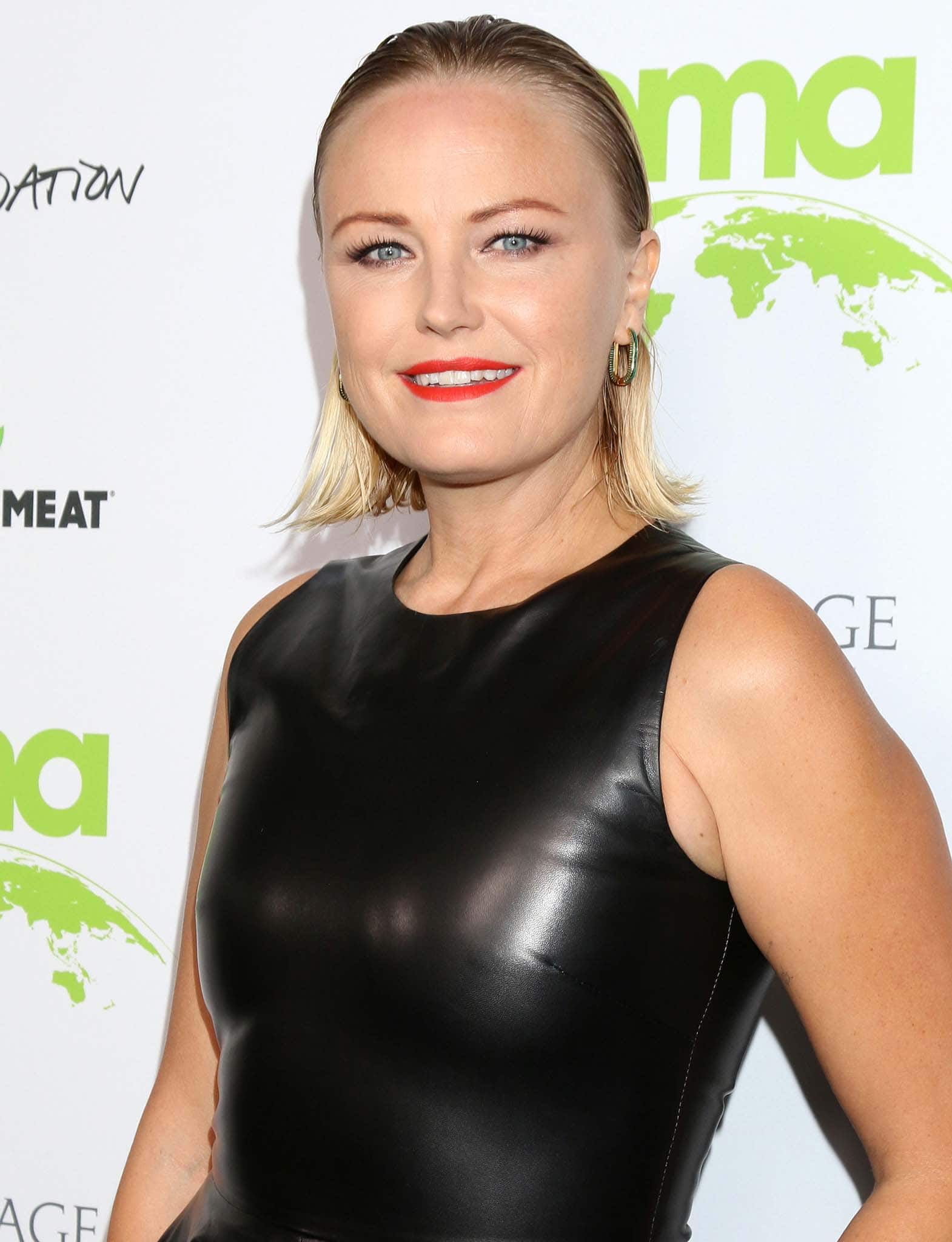 Malin Akerman opts for an edgy look with a black leather sleeveless dress and a slicked-back hairstyle (Credit: Nicky Nelson / WENN)
A pair of Prada mesh cage platform sandals with peep toes, slingback ankle straps, platforms, and about 4-inch heels completed her sleek all-black look.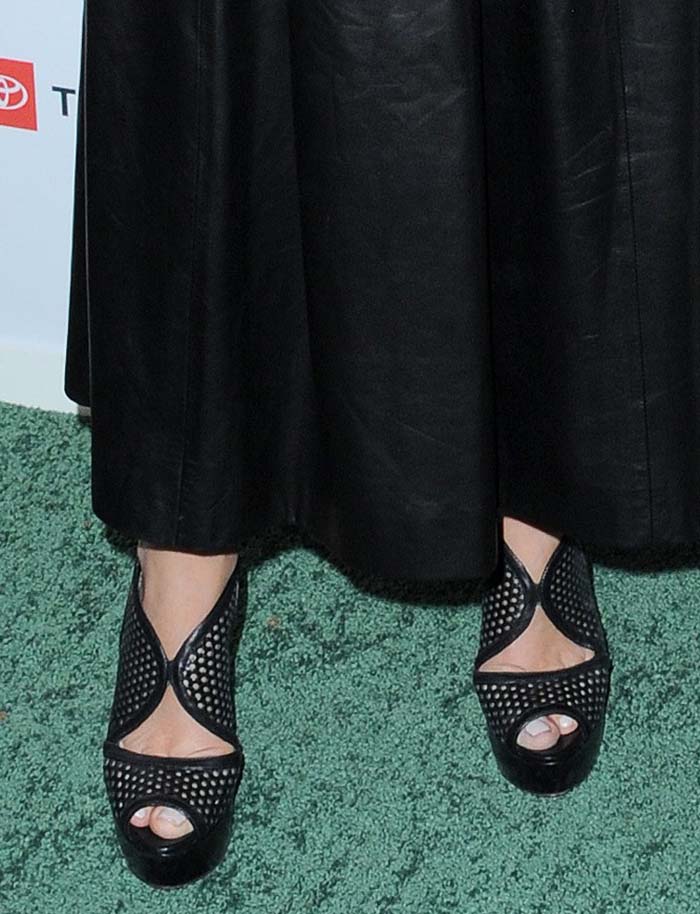 Malin Akerman completes her head-to-toe edgy black outfit with Prada mesh cage platform sandals (Credit: Mega / WENN)