Dita Von Teese has opened up on Instagram about her experience with Marilyn Manson, to whom she was married for about a year in the early 2000s.
The 48-year-old burlesque dancer and designer first thanked "those who have expressed your concerns of my well-being, I appreciate your kindness," before making clear that her experience with the American singer-songwriter was much different than Evan Rachel Wood's.
"Please know that the details made public do not match my personal experience during our seven years together as a couple," Dita wrote.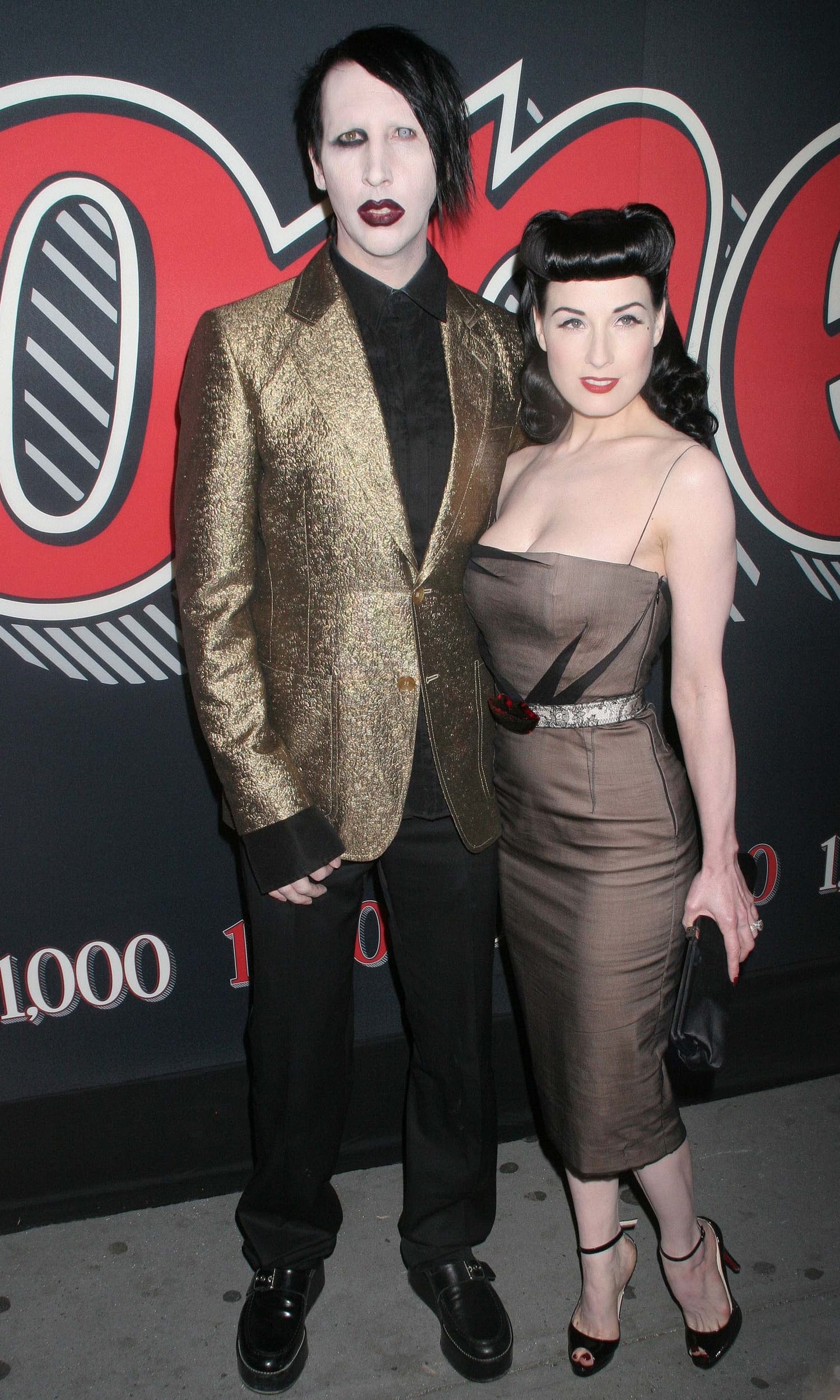 Marilyn Manson and Dita Von Teese during Rolling Stone Magazine Celebrates their 1,000th Issue at Hammerstein Ballroom in New York City, New York, United States (Credit: Dara Kushner / INFGoff)
"Had they, I would not have married him in December 2005. I left 12 months later due to infidelity and drug abuse."
Dita concluded, "Abuse of any kind has no place in any relationship. I urge those of you who have incurred abuse to take steps to heal and the strength to fully realize yourself."
Several women have stepped forward to share their Marilyn Manson abuse stories. He has been dropped by CAA, the talent agency known as Creative Artists Agency, and an FBI investigation into the sexual and emotional abuse allegations against Marilyn Manson has been requested by California State Senator Susan Rubio.
"I was brainwashed and manipulated into submission," Evan Rachel Wood said in a statement on her Instagram.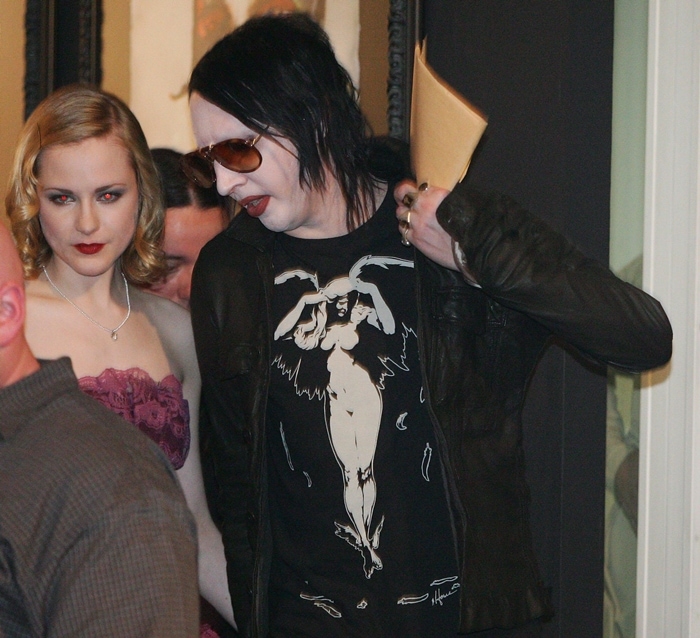 Marilyn Manson and his girlfriend Evan Rachel Wood leaving the opening of his exhibition at Brigitte Schenk Gallery in Cologne on June 27, 2007 (Credit: WENN)
"I am done living in fear of retaliation, slander, or blackmail. I am here to expose this dangerous man and call out the many industries that have enabled him before he ruins any more lives."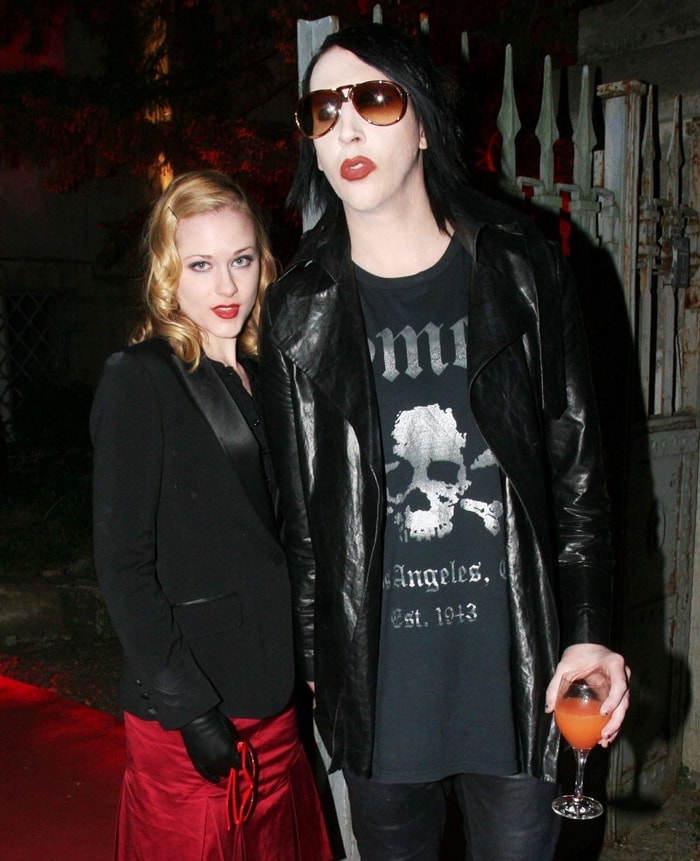 Evan Rachel Wood met Marilyn Manson at the age of 18 and they were engaged in 2010 for seven months (Credit: WENN)
She met Manson at the age of 18 when he was 36 and married to Dita Von Teese. The now 33-year-old Westworld actress concluded the statement by saying, "I stand with the many victims who will no longer be silent."
View this post on Instagram
Manson, whose real name is Brian Warner, issued a denial on Instagram. "Obviously, my art and my life have long been magnets for controversy, but these recent claims about me are horrible distortions of reality," he said.
"My intimate relationships have always been entirely consensual with like-minded partners. Regardless of how — and why — others are now choosing to misinterpret the past, that is the truth."
View this post on Instagram
Rose McGowan, who was engaged to Marilyn for two years until their relationship ended in 2001, has also spoken out in support of Evan Rachel Wood.
"My statement: I am profoundly sorry to those who have suffered the abuse & mental torture of Marilyn Manson. When I say Hollywood is a cult, I mean the Entertainment industry including the music industry is a cult. Cults protect the rot at the top. Theirs is a sickness that must be stopped. The industrial fame complex chooses who they protect & who they'll let be their victims. For profit." the 41-year-old former Charmed actress said in an Instagram post.
View this post on Instagram
Rose continued, "I stand with Evan Rachel Wood and all of those who have or will come forward. And please don't pull out the 'why did they take so much time to come forward?' question that shames victims/survivors, it's what stops others from coming forward. And to all of those who have covered for monsters, shame on you. Rise and say no more."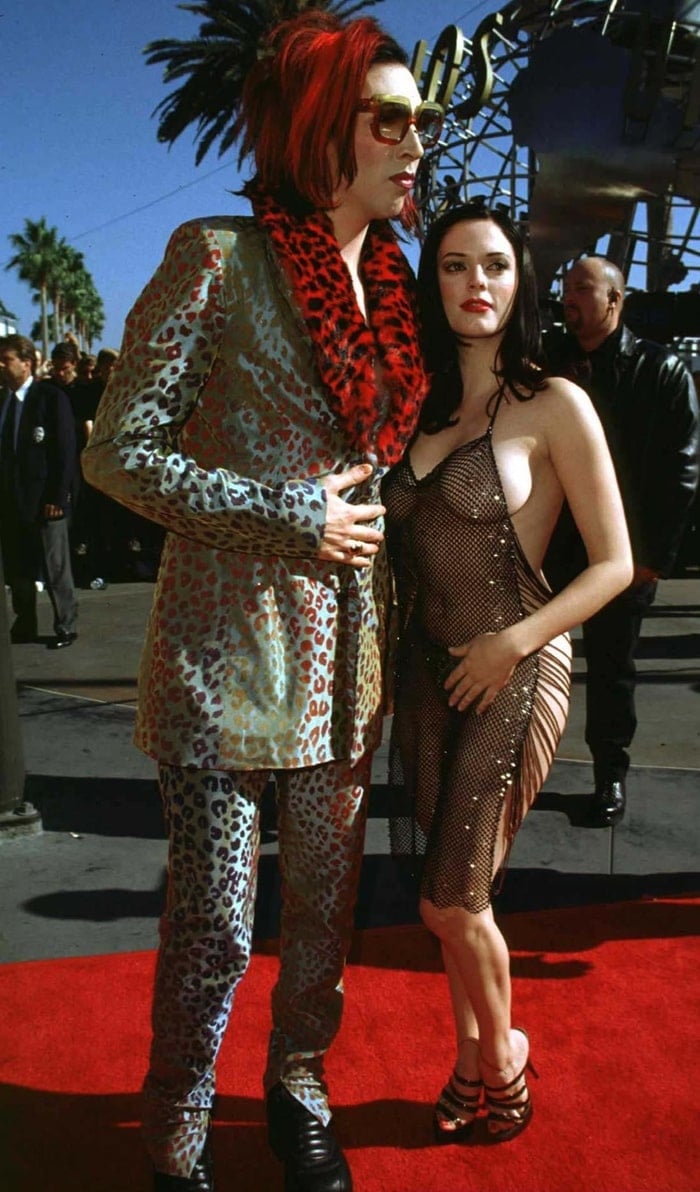 Rose McGowan had a three-and-a-half-year relationship with rock musician Marilyn Manson that ended in 2001 over "lifestyle differences" (Credit: WENN)
Dita Von Teese has always had a flair for drama and a passion for all things glamorous. At the November 2013 launch of her perfume line called "Erotique" in West Hollywood, she looked the part of a fabulous femme fatale as she sizzled and scorched in a dangerously sexy all-black ensemble.
Dita wore a seductive Maria Lucia Hohan gown and a pair of black platform pumps from Christian Louboutin.
She also turned to the powerhouse shoe label for the launch of her fragrance in December of last year, and she was spotted wearing the "Escandria" pumps from the designer a month before that.
We know that Dita looks fabulous in everything, but she looks even more elegant and glamorous when she's wearing Christian Louboutin.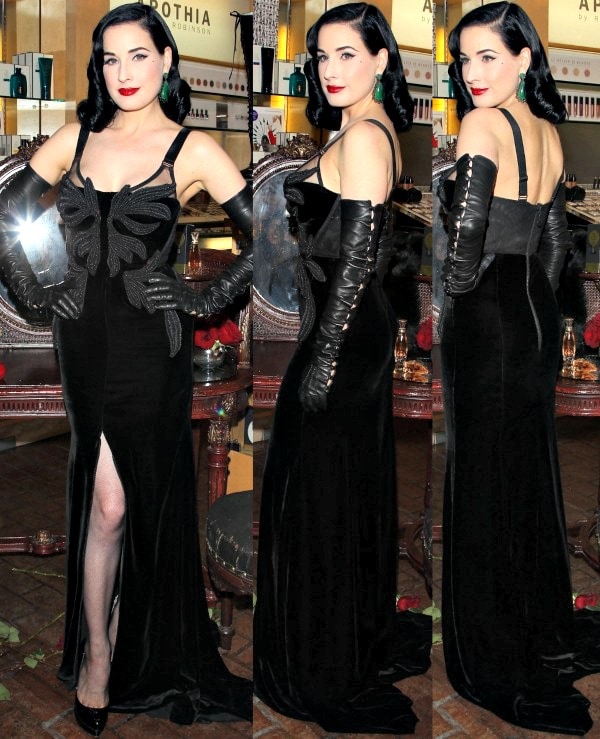 Dita Von Teese at the "Erotique" fragrance launch at Fred Segal in West Hollywood, Los Angeles, California, on November 21, 2013 (Credit: WENN)
The burlesque queen always manages to look effortlessly sexy and classy.
For her big day, she selected a beautiful black velvet gown from Maria Lucia Hohan that features intricate embroidery on the bodice, sheer inserts, and a flirty thigh-high slit.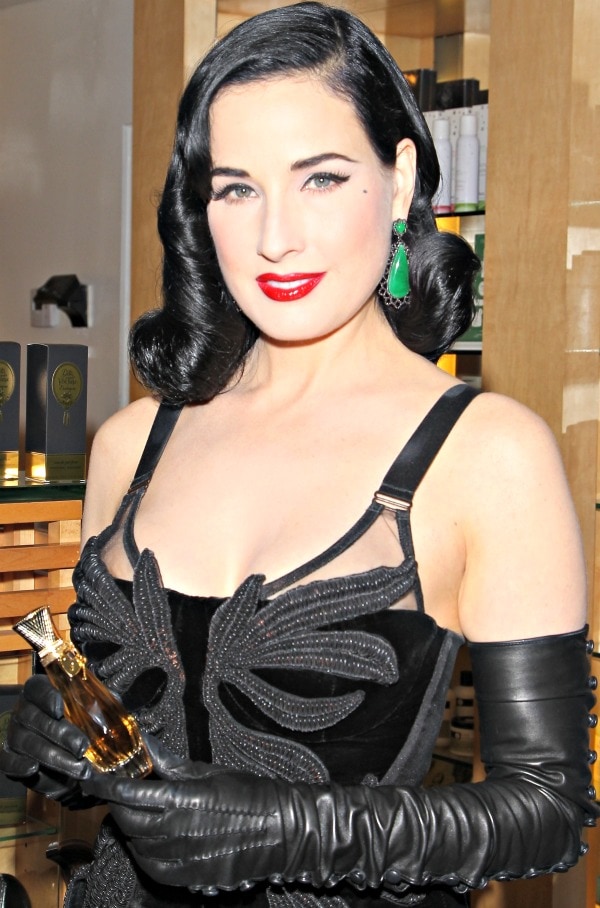 Dita Von Teese carries a bottle of her Erotique Dita Von Teese perfume (Credit: WENN)
Her hair was styled in romantic waves, and she added drama to her ensemble by wearing black leather gloves with button details.
She finished off her look with black fishnet stockings, bright red lipstick, emerald earrings from Carla Amorim, and sleek platform pumps from Christian Louboutin.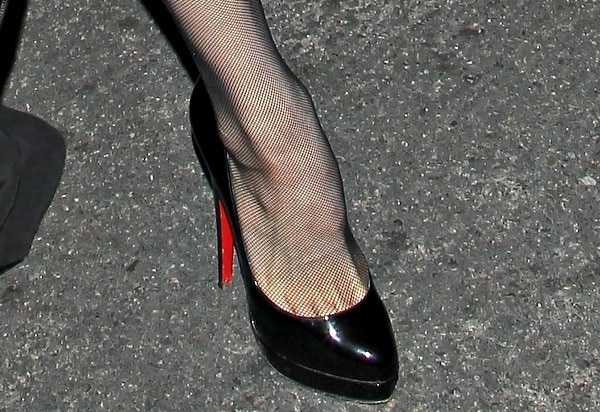 Dita Von Teese shows off her feet in Christian Louboutin pumps and black fishnet stockings (Credit: WENN)
Dita wore the "Alti" platform pumps from Christian Louboutin. They feature almond toes, tapered platforms, stiletto heels, and glossy black patent leather.
These shoes are unfortunately sold out, but you can shop for other shoe styles from the brand at Mytheresa, Nordstrom, and Matches Fashion.
Black Christian Louboutin Alti Platform Pumps, $471