Some people are born to play a role. For Martin Henderson, that role was Jack Sheridan—the ruggedly handsome bartender who runs a local bar in the small town of Virgin River in the popular series based on the books by Robyn Carr.
The main character of "Virgin River," Mel Monroe (played by Alexandra Breckenridge), leaves Los Angeles for the small town of the same name, hoping to start over and escape her troubled past.
While Mel is the main character in the Netflix show, her new acquaintances and foes in Virgin River, California, are just as crucial to the plot. The most notable is Martin Henderson's dazzling portrayal of Jack Sheridan.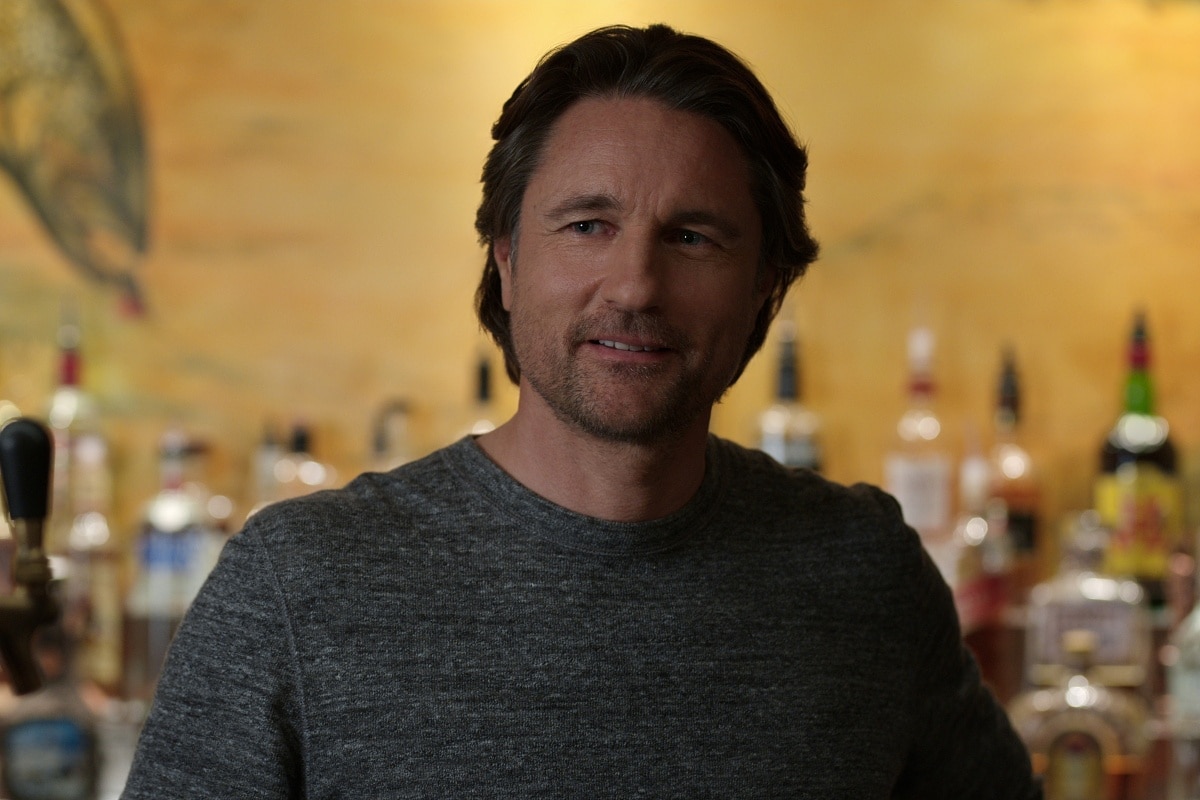 Martin Henderson as Jack Sheridan in the romantic drama television series "Virgin River" (Credit: Netflix)
If you're interested in learning more about Martin Henderson, how he landed the part of Jack Sheridan, and what kind of character he plays on "Virgin River," then you've come to the right place.
The actor is impressive, as he has a resume to back up his talents. In this article, we will reveal all of the information we have on the male protagonist of the popular show.
Where Did Actor Martin Henderson Begin His Career?
Martin Henderson, son of Ian Henderson and Veronica Henderson, was born in Auckland, New Zealand. At age 13, he made his acting debut in the small-scale TV movie "Strangers" (1989).
He went to both Birkenhead Primary and Westlake Boys High School. In the early to mid-1990s, he rose to fame in his native country thanks to his role as Stuart Neilson in the soap opera Shortland Street.
After that, he relocated to Australia, where he starred in the short-lived soap Echo Point and the film Sweat, which also featured a teenage Heath Ledger. After hitting it off, Henderson talked Ledger into relocating to Sydney to pursue his job, and the two ended up sharing an apartment.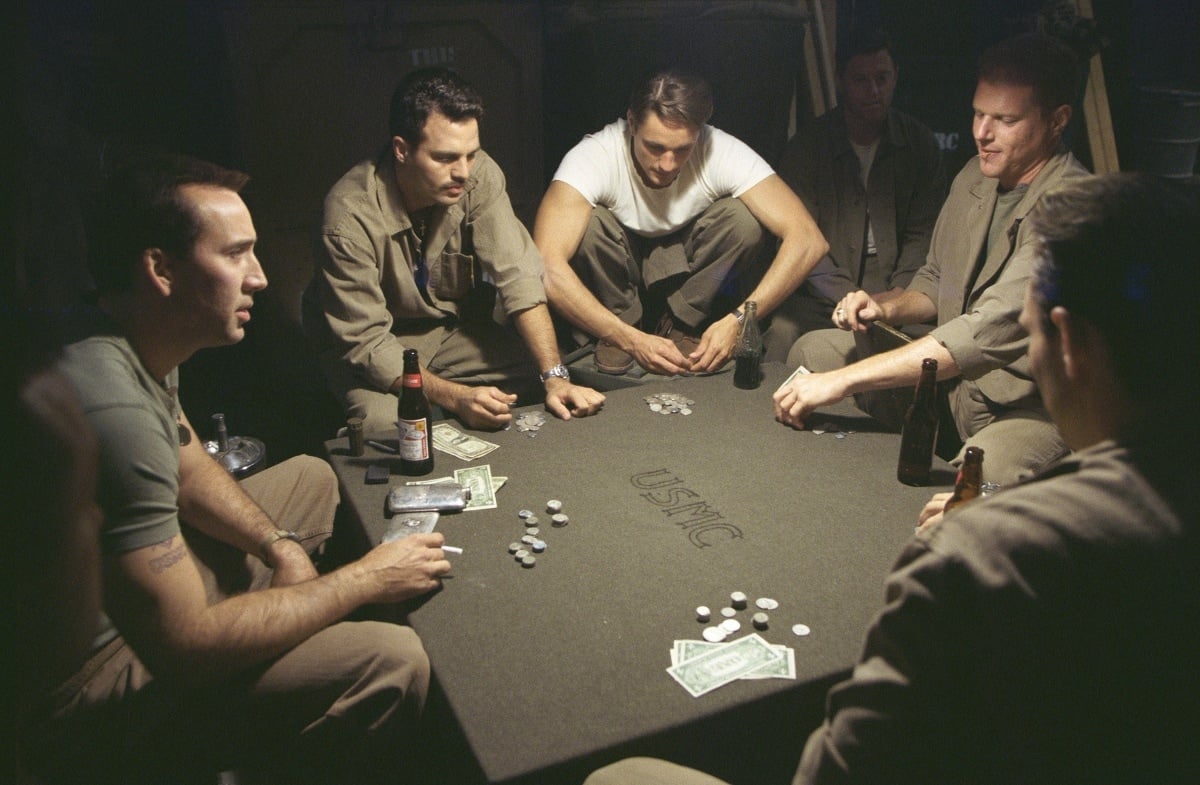 The cast of the 2002 war film "Windtalkers" (Credit: MGM Distribution Co. / 20th Century Fox)
Henderson left Australia to pursue a career in acting in New York. After more than a year of unsuccessful auditions in Los Angeles, Henderson was cast as a supporting character in the 2002 war film "Windtalkers," directed by John Woo.
How Did Martin Henderson Snag His Role in Virgin River?
Martin Henderson's portrayal of Jack is a masterclass in small-town acting. He perfectly encapsulates the trope of "brusque on the surface, shockingly sympathetic on the inside" small-town romantic lead popularized by Hollywood.
All signs point to Henderson thoroughly enjoying his role as Jack Sheridan and contributing to "Virgin River." He has mentioned baking sourdough bread with his co-stars and posting thrilling updates from the set in virtually every interview he has given about the show.
"It's refreshingly romantic, particularly in an era where so much of what we find on television, particularly on cable and on streaming, is this tendency to keep pushing the envelope toward darker, more sinister material," Henderson noted to Entertainment Weekly.
Alexandra Breckenridge as Mel Monroe and Martin Henderson as Jack Sheridan in the romantic drama television series "Virgin River" (Credit: Netflix)
The actor added, "When I read this, I thought it would be quite nice to just play someone who is wholesome. People do still want some goodness. It feels like an honor to be bringing that to people's homes right now."
He has also stated in several interviews that he takes a personal interest in Jack and reacts strongly to his activities. For instance, when Henderson learned that Jack had an ex-wife, he "just about spat [his] coffee out when [he] read that in the script," he said to TVLine in a 2021 interview.
Talking about his reaction, Henderson said, "Like most of the audience, and certainly like Mel, I was shocked and confused. I called [Tenney] and I was like, 'He was married? Why didn't I know that?' I got kind of offended on Mel's behalf. Why wouldn't he have shared something so relevant?"
Henderson also acknowledged that he felt emotionally affected while filming the scenes in which his character struggled with post-traumatic stress disorder (PTSD) due to his service in the Marines and the loss of his younger brother.
He told Glamour magazine in a 2022 interview, "Those scenes are a mixture of excitement because they're big moments for the characters," adding, "You're aware that you are revealing stuff that's been latent and in the dark, so to then bring it to light, there's something exciting about that. It's very revealing of who this man is and what he's dealing with."
Martin Henderson manages to find the balance between playing a romantic lead and making sure that his character shows emotional depth (Credit: Netflix)
"Creatively, I find it really exciting, but psychologically it's a bit scary," Henderson said. "No one really likes touching on that stuff in their own life, right? We're all really, really good at avoiding the darker, more painful emotions. As an actor, it's your job, but there's a fear of it not working or of not being able to get there emotionally."
Fans may have trouble imagining any other in the role of Jack, but actor Mark Ghanimé has revealed he tried out for the part of the bartender. He said, "I actually auditioned back in season one for the pilot, I auditioned for Jack. Clearly, I didn't get the part, and it went to a very well-deserved actor Mr. Henderson," he stated during an appearance on the Chatting with B podcast.
The Canadian actor who played Dr. Cameron Hayek was right when he said that Henderson earned the part since he is a terrific actor, and his prior works back up that claim.
What Has Martin Henderson Appeared in?
The Kiwi actor Martin Henderson has appeared in many film and TV productions.
In 1996, Henderson landed the role of Geoff Thomas in the Australian soap opera "Home and Away," which became one of his first prominent roles.
He co-starred with Naomi Watts in the 2002 horror mystery The Ring, a role for which Henderson claims he didn't even have to audition.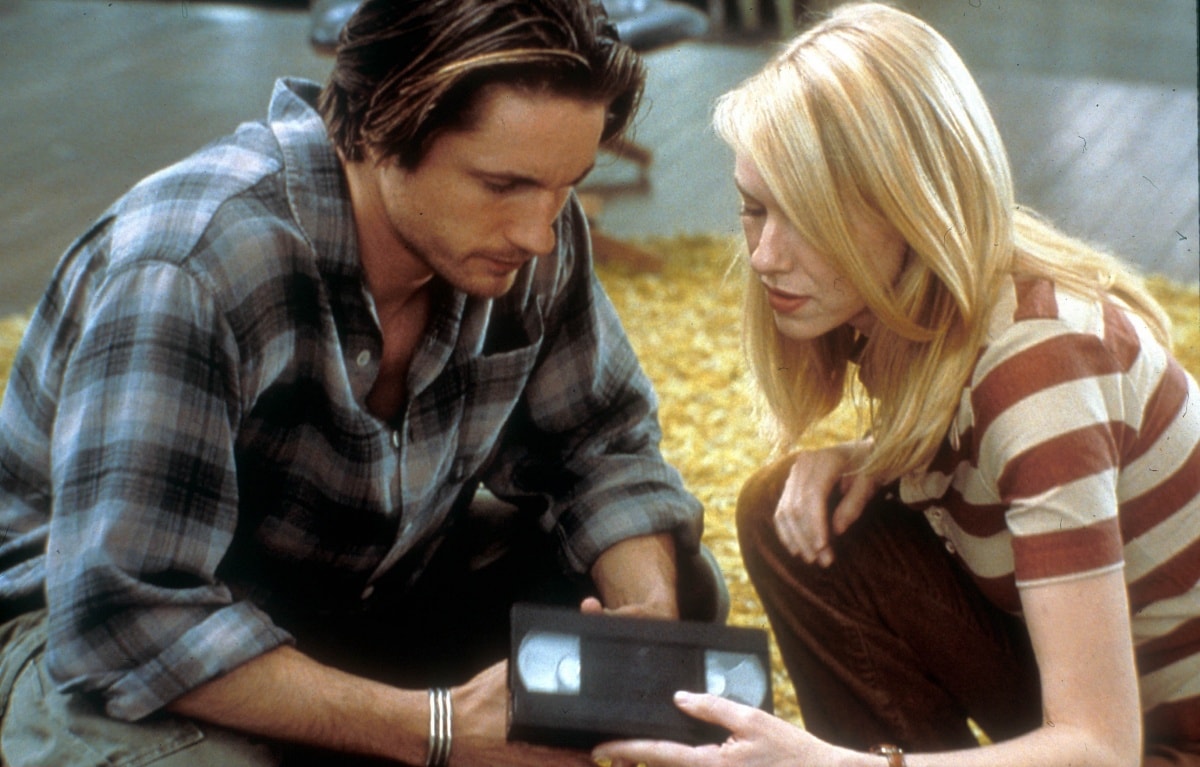 Martin Henderson as Noah Clay and Naomi Watts as Rachel Keller in the 2002 supernatural horror film "The Ring" (Credit: DreamWorks Pictures)
A few years later, in 2004, he scored a cameo role in Britney Spears's "Toxic" music video, becoming one of the most memorable of his career. He also acted with his "Virgin River" co-star Daniel Gillies in "Bride & Prejudice" in the same year.
"Smokin' Aces" (2006), "Off the Map" (2011), "Secrets and Lies" (2014), "The Red Road" (2014), and "Everest" (2015) are just a few of the films and shows in which he appeared up to 2015.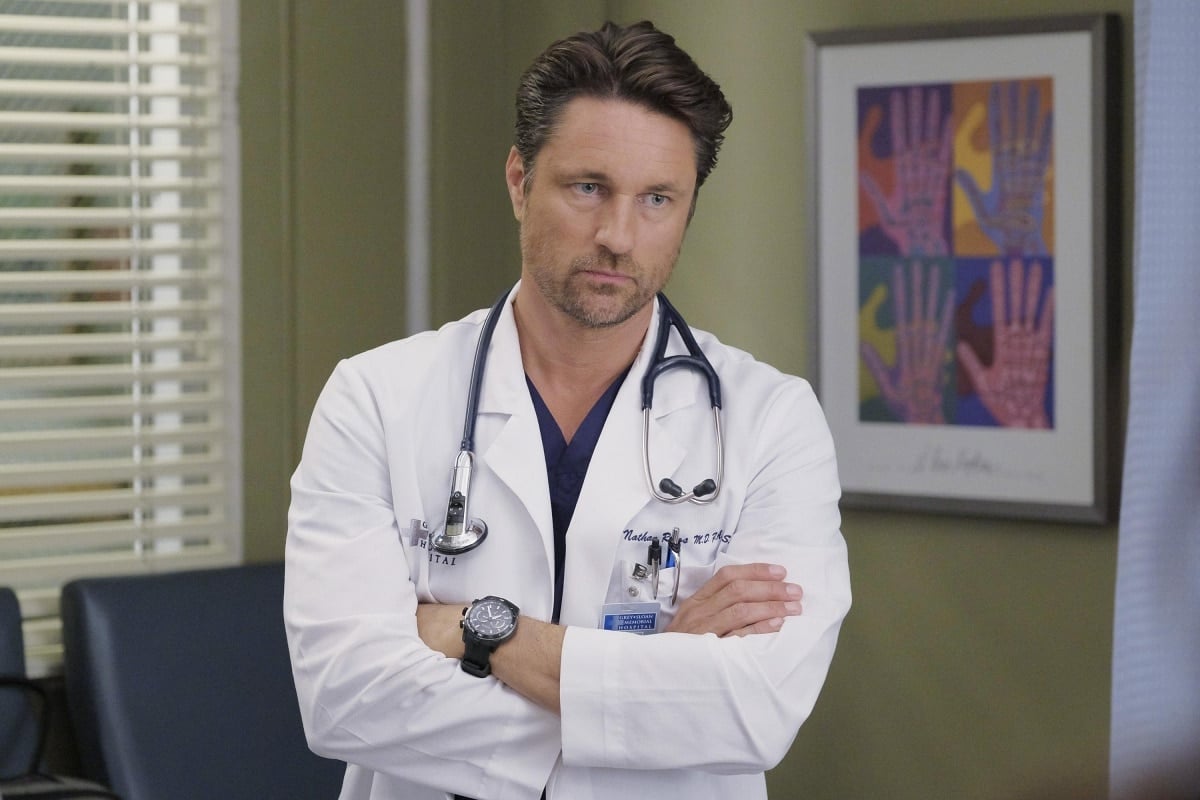 Martin Henderson as Dr. Nathan Riggs in the medical drama television series "Grey's Anatomy" (Credit: ABC)
Before his work on "Virgin River," one of his most memorable appearances was as Dr. Nathan Riggs, Meredith's love interest on "Grey's Anatomy" for two years (2015 to 2017).
His most recent role was as the film's producer Wayne in the horror flick "X," which stars Mia Goth and Jenna Ortega.
Is Martin Henderson in a Relationship?
Fans of the Netflix hit "Virgin River" were left wondering if Martin Henderson, who played the ruggedly handsome bar owner Jack Sheridan, had a leading lady off-screen. Is it safe to assume that Martin Henderson has tied the knot?
Although he has never been married, the 47-year-old actor was in a relationship with the 29-year-old model Aisha Mendez as recently as January 2021. The two were even sequestered in a New Zealand hotel together.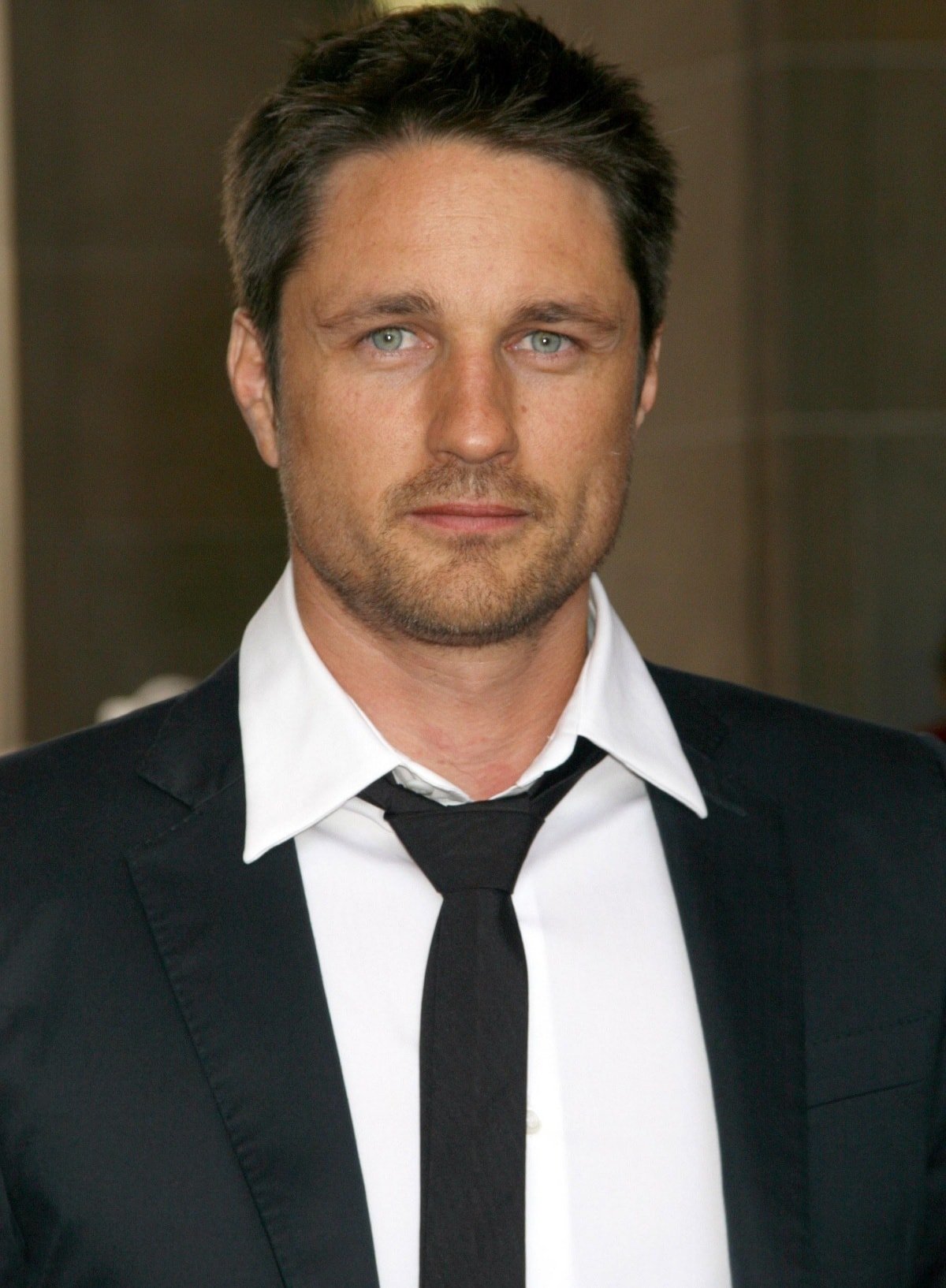 Martin Henderson at the premiere of "Battle in Seattle" during the Toronto International Film Festival on September 8, 2007 (Credit: Dara Kushner/INFphoto)
Despite this, reports indicate that the pair split up earlier this year. It's unclear why they split up, while some media outlets have speculated that age gap concerns played a role in the couple's inability to raise a family.
Henderson rarely discusses his personal life publicly. However, he has been linked to several famous women, including Nicky Watson, Alicia Silverstone, Radha Mitchell, Marnette Patterson, and Aishwarya Rai.
At the time of this writing, Martin Henderson is single and committed to his role as the lead in "Virgin River." However, Hello! reports that he is "rumored to be dating a New Zealand-based interior designer," but the actor has not made any public references to a relationship.
Did Martin Henderson Date Demi Moore?
It's interesting to note that the last time Henderson's romantic life made headlines was in 2012 when he was revealed to be the "younger man" dating Demi Moore following her breakup with Ashton Kutcher.
But Martin complained to Herald Sun in 2014 that it was "not fun" to be a part of the tabloid circus that followed Moore's numerous relationships.
"I feel for her," Henderson said. "I feel for anybody who has that level of celebrity where you can't lead a normal life."
Martin Henderson at the "Miracles from Heaven" Los Angeles premiere on March 9, 2016 (Credit: Sara De Boer/Startraksphoto)
He informed the press that the public's opinion of his connection with the "Ghost" actress was irrelevant. "You've got to not care about what people think. You learn that as an actor."
Henderson remarked, "If you get a bad review, will you be destroyed by it? Or will you think you're God's gift when you get a rave review? I try not to invest time in what other people think of me."
At some point, although when is unclear, the couple decided to split up.
Are Alexandra Breckenridge and Martin Henderson a Couple?
His on-screen chemistry with Alexandra Breckenridge is so well-received that some viewers have even wondered if the two are an item in real life.
Alexandra Breckenridge and Martin Henderson have crackling chemistry onscreen that has sparked dating rumors (Credit: Netflix)
However, the fans shouldn't expect too much because, in 2015, Alexandra Breckenridge wed Casey Hooper, the guitarist for Katy Perry. The couple now has two children: a daughter named Billie and a son named Jack.
How Tall Is Martin Henderson?
Martin Henderson is 5 feet 10 inches tall or 178 cm.
How Old Is Martin Henderson?
Martin Henderson was born on October 8, 1974. He is currently 48 years old.
Does Martin Henderson have a child?
Henderson may not have any human children, but he appears to be a proud parent to his dog Sammy, who goes everywhere with him and is constantly on his Instagram.
View this post on Instagram
Martin Henderson is a talented actor who has been around for many years. He has starred in many movies and TV shows during his career, and we are excited to see more of what he can offer!