It is truly a rare and incredible talent to transform oneself into an entirely new character in a way that is both haunting and beautiful.
Many actors attempt to become one with the roles they play, but it takes a rare kind of skill to captivate your audience so profoundly that your performance is forever remembered.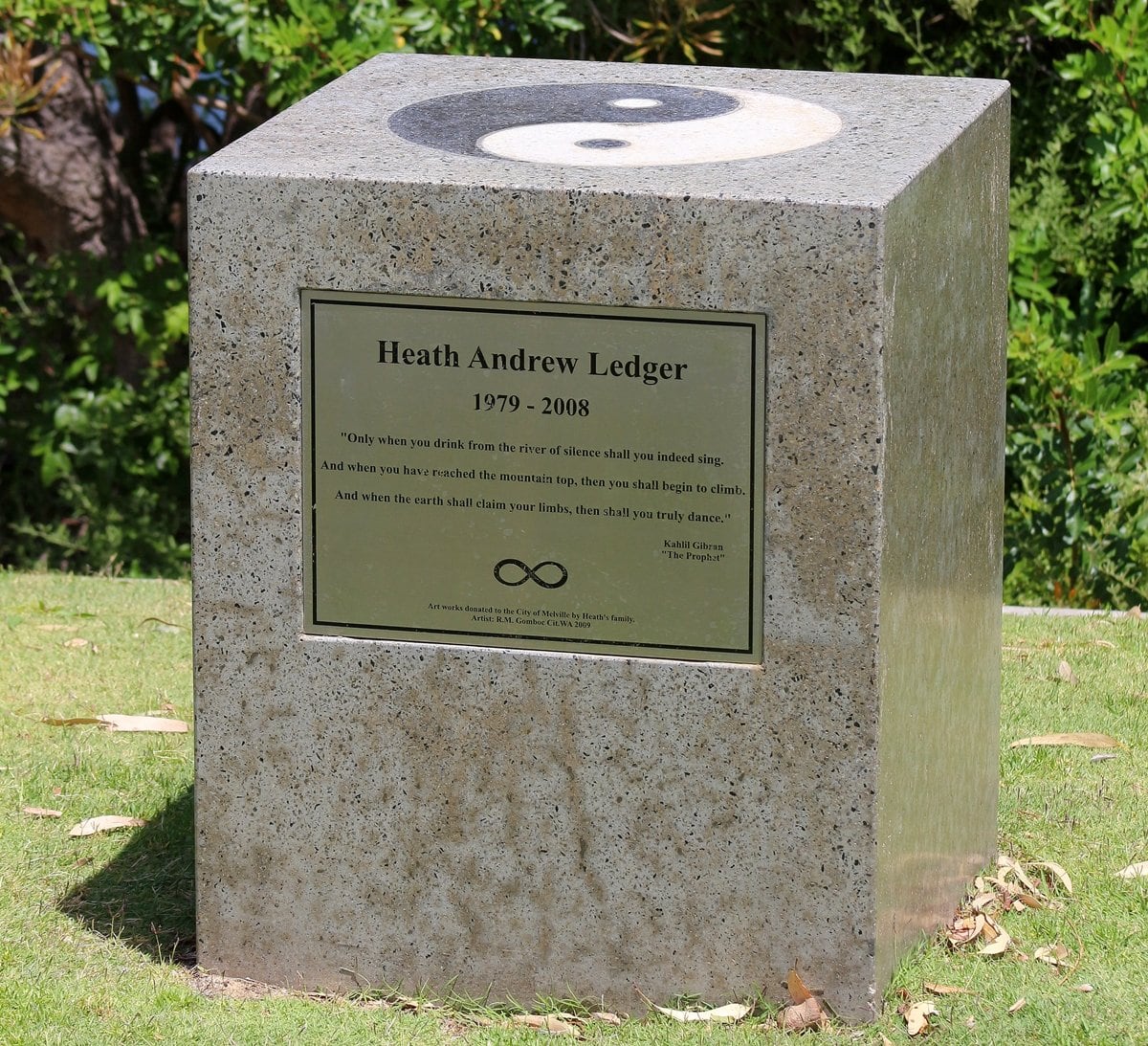 Concrete block dedicated to Perth resident Heath Ledger in a park located on Perth's Swan River (Credit: SAPhotog / Shutterstock)
Heath Ledger was one of these unique actors with the incredible gift of being able to play a vast range of characters with conviction and art. From the moment his career began taking off in the late 90s, it was clear he was someone to keep an eye on, as he was destined for greatness.
Sadly, not all stories can end with triumph, and Heath Ledger's career and life were cut dramatically short when he was found unresponsive in a Manhattan apartment building on January 22nd, 2008.
As if magnetically attracted by a force of extraordinary acting abilities, Ledger was reportedly dating the child actress Mary-Kate Olsen at the time of his passing.
Heath Ledger and his girlfriend Rhona Mitra at the premiere of Detroit Rock City in Los Angeles on August 9, 1999 (Credit: Featureflash Photo Agency / Shutterstock)
"Mary-Kate and Heath were casually dating for three months before Heath's death," a source told People.
"They were hooking up, but neither were particularly interested in making it exclusive… They had a bond that was based on partying, and they had the same tastes in partying … like, in terms of where they liked to hang out in New York, what time they would want to go out. They just had the same sensibility."
While the exact relationship between Olsen and Ledger was never fully confirmed by either party, she was the first person called after Ledger's body was discovered by his masseuse and housekeeper.
Whether friends or lovers, to be the first person contacted after a tragedy, even before the authorities, demonstrates just how influential Olsen was to Ledger.
So, what exactly happened that fateful day in late January, and how does America's darling, Mary-Kate Olsen, fit into it all?
How Did Heath Ledger Rise to Stardom?
Ledger was born in Perth, Australia, in 1979 to a French-teaching mother and a father who was a racecar driver and mining specialist. As if destined for tragedy, he was named after Emily Brontë's tortured character Heathcliff from the 1847 novel Wuthering Heights.
Ledger first dived into the world of acting by starring as Peter Pan in his school play at just ten years old. When he was a teenager, he traveled to Sydney and became the guest star on the emotional drama Blackrock.
At 19, Heath made the big move to America, where he'd find his breakout role in 1999, starring alongside Julia Stiles and Gabriele Union in 10 Things I Hate About You.
Julia Stiles as Katarina "Kat" Stratford and Heath Ledger as Patrick Verona in the 1999 American romantic comedy film 10 Things I Hate About You (Credit: Buena Vista Pictures)
From there, Ledger quickly became a star in Hollywood and beat out tenured actors for elite movie roles. In 2000, Mel Gibson cast Ledger to play Gabriel Martin in The Patriot.
In 2005, Ledger played his most controversial role in Brokeback Mountain. Ledger starred alongside Jake Gyllenhaal and became the youngest Oscar nominee for Best Actor at age 26.
Heath Ledger as Wyoming sheepherder Ennis Del Mar and Jake Gyllenhaal as fellow sheepherder Jack Twist in the 2005 American Neo-Western romantic drama film Brokeback Mountain (Credit: River Road Entertainment / Focus Features)
This role also led to Ledger being nominated for a Golden Globe for Best Actor in a Drama. Before his passing, Ledger would complete his most notable role as the Joker in The Dark Knight.
This role led Ledger to receive a Golden Globe and an Academy Award for Best Supporting Actor. Unfortunately, Ledger would not be alive to see the success of his incredible work.
Dating History
Before dating Mary-Kate Olsen, Ledger was tied to several of Hollywood's most beautiful actresses. His longest relationship was with Michelle Williams, with whom he shared his only daughter.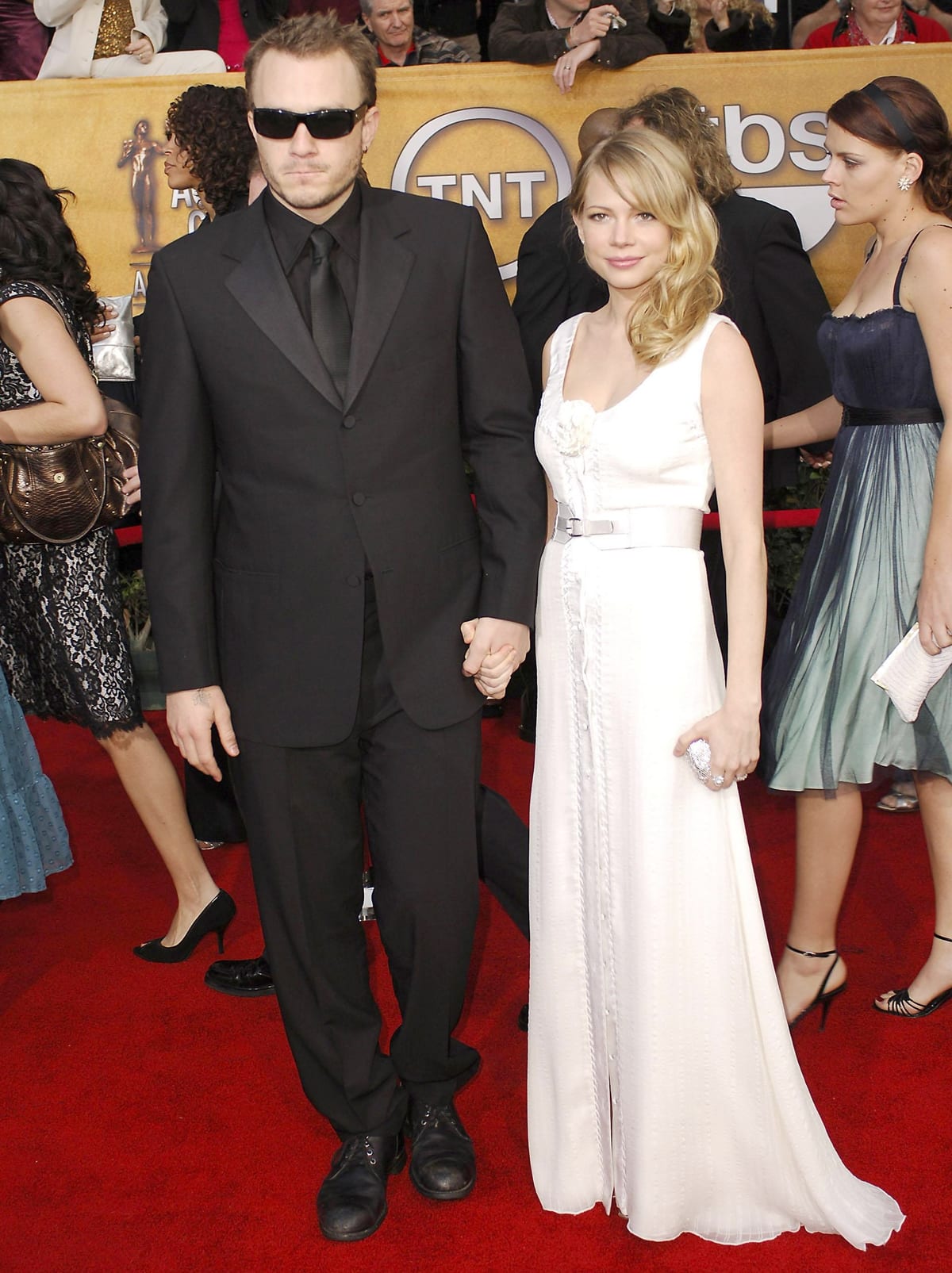 Heath Ledger and Michelle Williams dated for three years, and their daughter Matilda Rose was born in October 2005 (Credit: Everett Collection / Shutterstock)
It was rumored that Williams and Ledger split due to Ledger's ongoing drug abuse. It was only a few months following their breakup that Ledger would tragically pass from his accidental overdose of prescription drugs.
1. Julia Stiles (1999)
During the filming of the teen drama 10 Things I Hate About You, it was rumored that Stiles and Ledger had sparked a brief relationship.
2. Heather Graham (2000-2001)
Graham and Ledger met in Prague while filming separate movies. Their relationship only lasted one year, but Graham reported it was full of laughter.
3. Naomi Watts (2002-2004)
On the set of Ned Kelly, Ledger began a relationship with his co-star, Naomi Watts. The relationship went on for three years, and after Ledger's passing, Watts spoke publicly about the deep impact Ledger left on her life.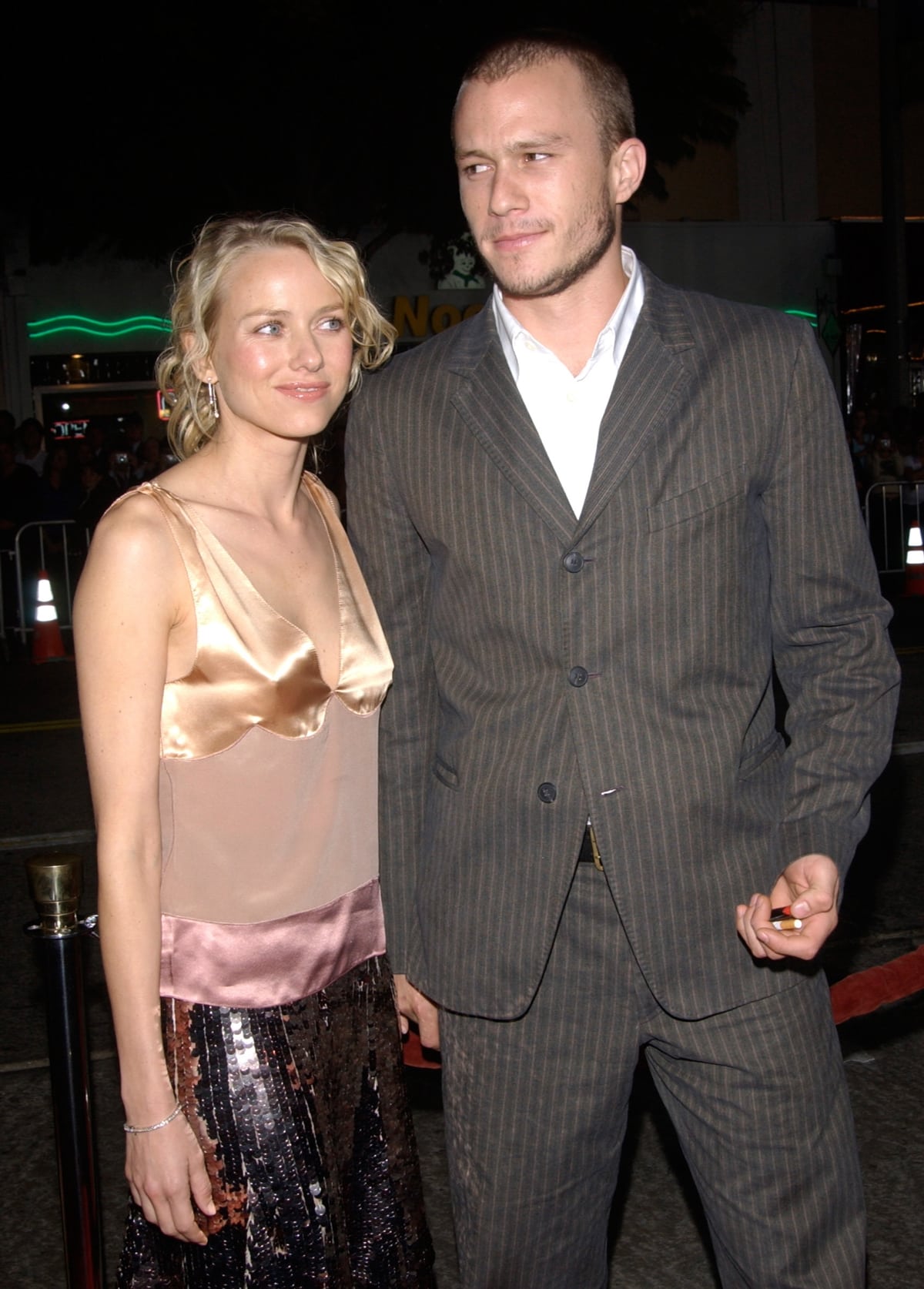 Naomi Watts and Heath Ledger met on the set of action/adventure film Ned Kelly and dated from 2002 to 2004 (Credit: Featureflash Photo Agency / Shutterstock)
4. Michelle Williams (2004-2007)
The true love of his life, Ledger began dating Williams on the set of his film Brokeback Mountain. After one year of dating, the two welcomed their daughter, Matilda Rose. Matilda would sadly be the only child of Ledger.
5. Kate Hudson (2007)
Following his split from Wiliams, Ledger began a brief relationship with Kate Hudson. The two had met five years prior on the set of Four Feathers, and Hudson later recalled that Ledger was her favorite on-screen kiss.
6. Gemma Ward (2007)
Ledger dated the Australian model briefly in 2007, and following his passing, Ward took a break from the spotlight to grieve his tragic accidental overdose.
7. Mary-Kate Olsen (2007-2008)
Ledger and Olsen were tied together romantically during the time of his tragic passing. While Olsen has never confirmed their romantic relationship, she did express her sympathy following her friend's passing. But how exactly did Heath's passing affect Olsen?
The Fateful Day and the Aftermath
In order to transform into the psychopathic and schizophrenic character of the Joker for his role in The Dark Knight, Ledger fully immersed himself into the darkness of the role.
He was having trouble sleeping and was reportedly prescribed Ambien for his insomnia. When his masseuse, Diana Wolozin, discovered Ledger unresponsive in a Manhattan apartment, she called Olsen 3 times before contacting the police.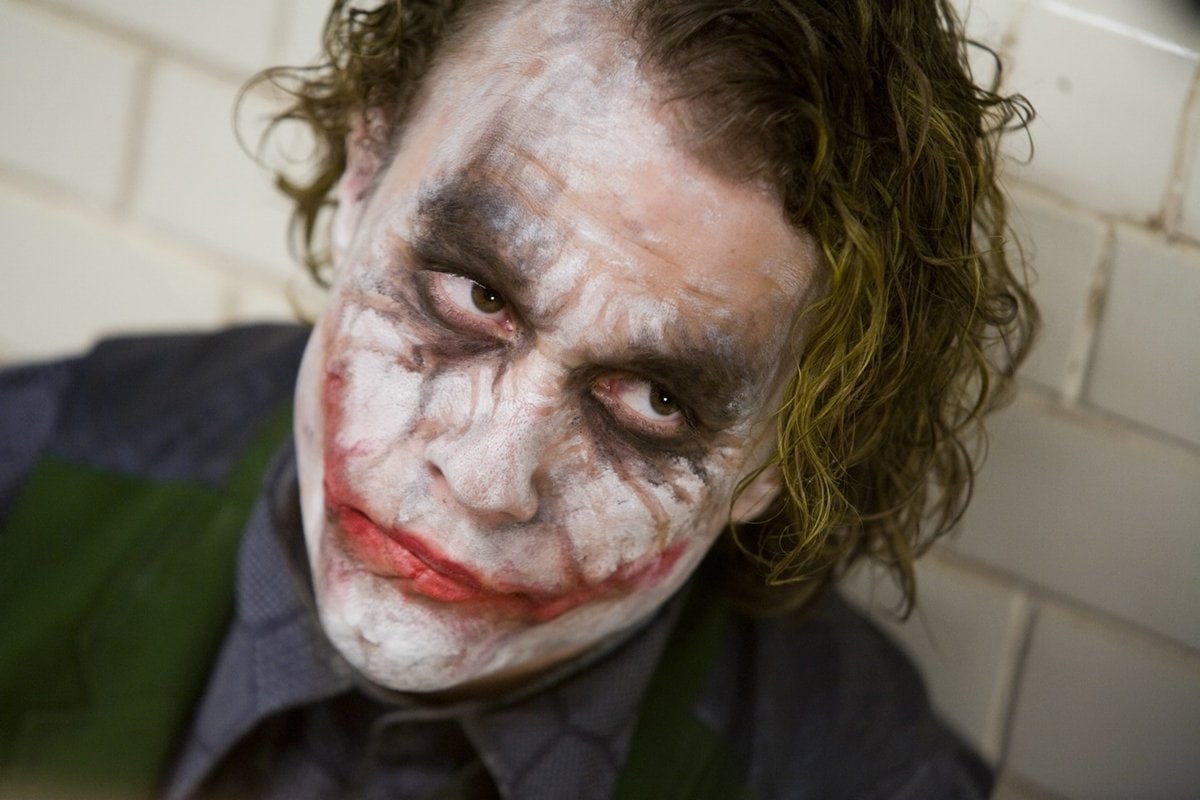 Heath Ledger battled insomnia for years and had problems sleeping while filming both "The Dark Knight" and "The Imaginarium of Doctor Parnassus" simultaneously (Credit: Warner Bros. Pictures)
Olsen reportedly sent a few of her own personal security team to the apartment to check on Ledger, as she was in California at the time of his passing.
Paramedics could not revive Ledger, and his death was reportedly due to an overdose of sleep aids and other prescription drugs.
Olsen was initially blamed by the media for having provided Ledger with the drugs that met his end, and it was rumored that it was within her own apartment that he passed.
It was quickly proven that the apartment where Ledger overdosed was not owned by either Olsen twin, and an intense government investigation also proved Olsen had no ties to the drugs found in Ledger's system.
Following his death, Olsen was reported to be completely devastated and was caught on camera on the streets of Manhattan having an emotional breakdown only blocks away from where Ledger passed.
Heath Ledger and Mary-Kate Olsen allegedly dated right before his death (Credit: Sky Cinema / Carrie Nelson / Shutterstock)
Olsen was reported to be crying uncontrollably, grieving the loss of her friend, Heath Ledger. Following the devastating loss of Heath Ledger and after battling the demons of Hollywood for her entire life, Mary-Kate Olsen officially quit Hollywood and social media.
Opting for a life of privacy, she focuses on her fashion business and no longer indulges in the celebrity lifestyle. While we cannot tie Olsen's departure from Hollywood directly with Ledgers' death, it is clear that his tragic passing was one of the many dark parts of the industry she no longer wanted to be a part of.
After getting married in November 2015, a few months later, it looked like everything was still peachy for Mary-Kate Olsen and divorced father-of-two Olivier Sarkozy. They split in 2020 and reached a divorce settlement in January 2021.
Mary-Kate Olsen arrives at Los Angeles International Airport with unwashed hair on April 1, 2016 (Credit: WENN)
In April 2016, the former child star and the French banker — 17 years her senior — landed on Los Angeles soil, with Olivier carrying the bags like a gentleman.
Mary-Kate arrived at the Los Angeles International Airport with her husband, heading straight to the car while trying to avoid the cameras.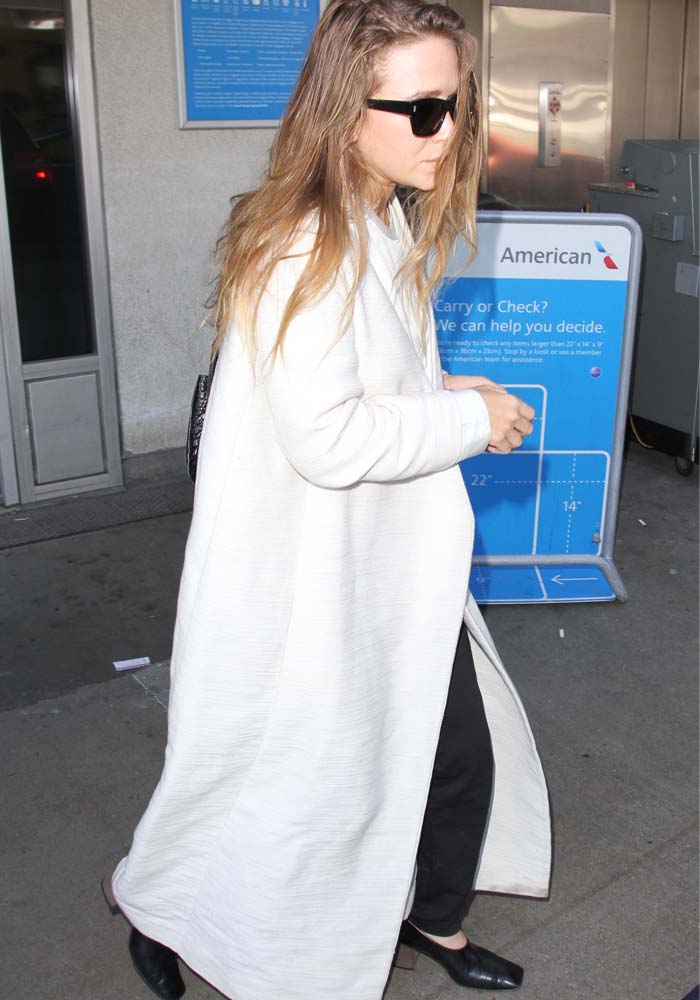 Mary-Kate Olsen wears a full-length coat as she arrives at LAX (Credit: WENN)
The Full House actress wore a white shirt and black pants underneath a chic-looking full-length coat.
The celebrity-turned-entrepreneur hid her eyes behind a pair of sunglasses and polished her look off with square-toed mules and a black tote.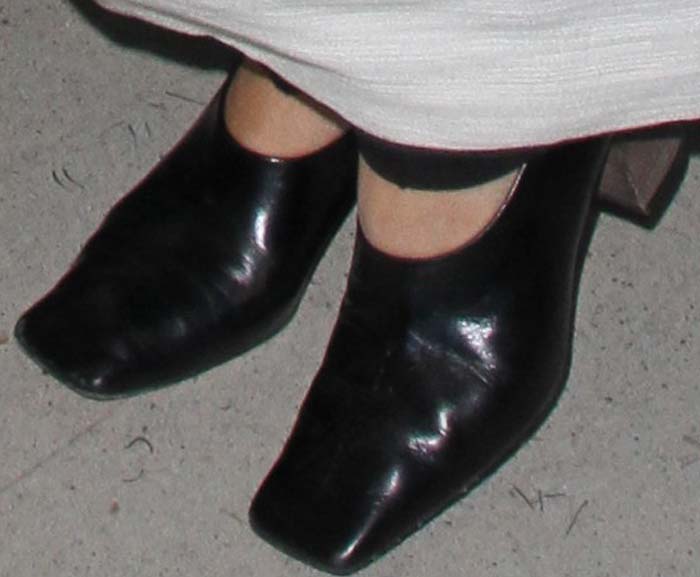 Mary-Kate Olsen's feet in square-toed slip-on mules (Credit: WENN)
While we don't know why Mary-Kate flew into Los Angeles, we're assuming it was to check on the first brick-and-mortar location of Elizabeth and James, a fashion line she founded with her twin sister Ashley.
You can order Mary-Kate's airport look by grabbing similar leather mules from Aerosoles at Zappos and Amazon.
Aerosoles Cincture Faux Leather Mules, $39.95 – $74.99