Megan Fox wore a low-cut bodycon dress from Alex Perry for her solo appearance on Jimmy Kimmel Live!, where she shared how she "went to hell for eternity" during a recent trip to Costa Rica with her boyfriend Machine Gun Kelly.
Megan Fox heading to Jimmy Kimmel Live! studio in Los Angeles on July 12, 2021 (Credit: Guillermo Proano / WENN)
Opting for her signature simple yet sexy style, the 35-year-old actress wore a dark gray crepe bodycon dress that features a structured corset bodice with a low-cut scoop neckline, allowing her to showcase ample cleavage.
The fitted knee-length number also has long sleeves with structured shoulder pads that create a trendy puff effect.
Megan Fox shows a glimpse of cleavage in a gray Alex Perry corset-style bodycon dress (Credit: Mega / WENN)
Drawing more attention to her sensational look, the mom-of-three highlighted her full lips with a bold red lip color with matching heavy blush and eyeliner. She also wore her hip-length dark brown hair down in loose curls cascading over her shoulders.
Megan kept her jewelry simple, wearing just a pair of $375 Jennifer Fisher Baby Jennifer silver hoop earrings. She then carried her belongings in a Peter Do x Medea black leather tote bag with silver handles, which is now on sale for $1,146 (from $1,190) at Farfetch.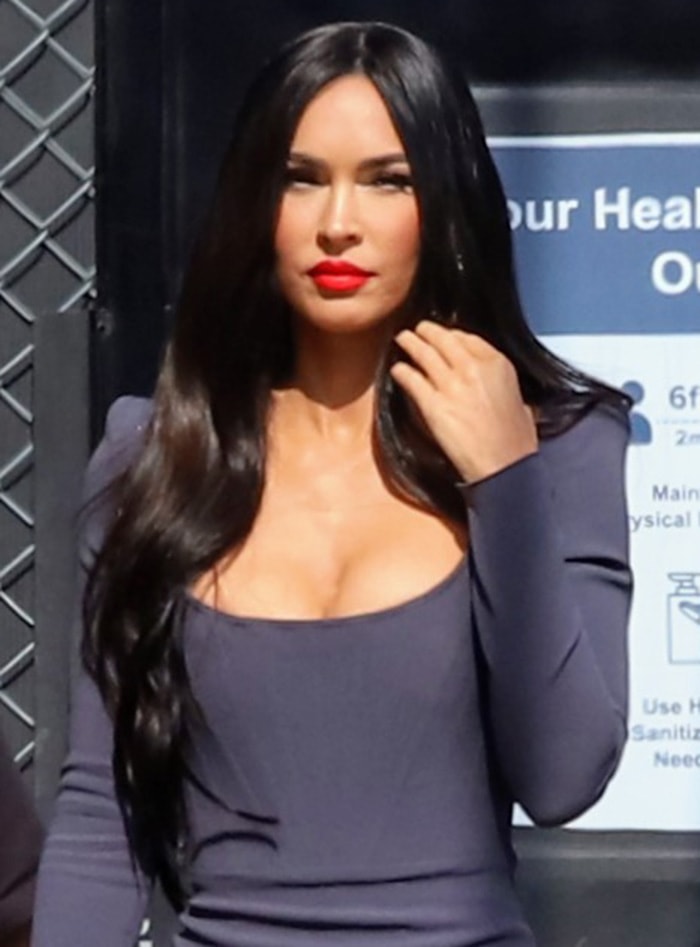 Megan Fox opts for a sultry look with bold red lipstick and hip-length hair in loose curls (Credit: Mega / WENN)
Continuing with the sultriness of her look, the TMNT star slipped her feet into a pair of ankle-wrap stilettos, which are one of this season's must-haves.
Megan wore the "Luce Minimale" sandals in stone color from Femme LA, previously spotted in nude colorway on Hailey Bieber. These hand-made shoes feature sexy thin straps that wrap the ankles, pointed toes, and 4.5-inch towering heels.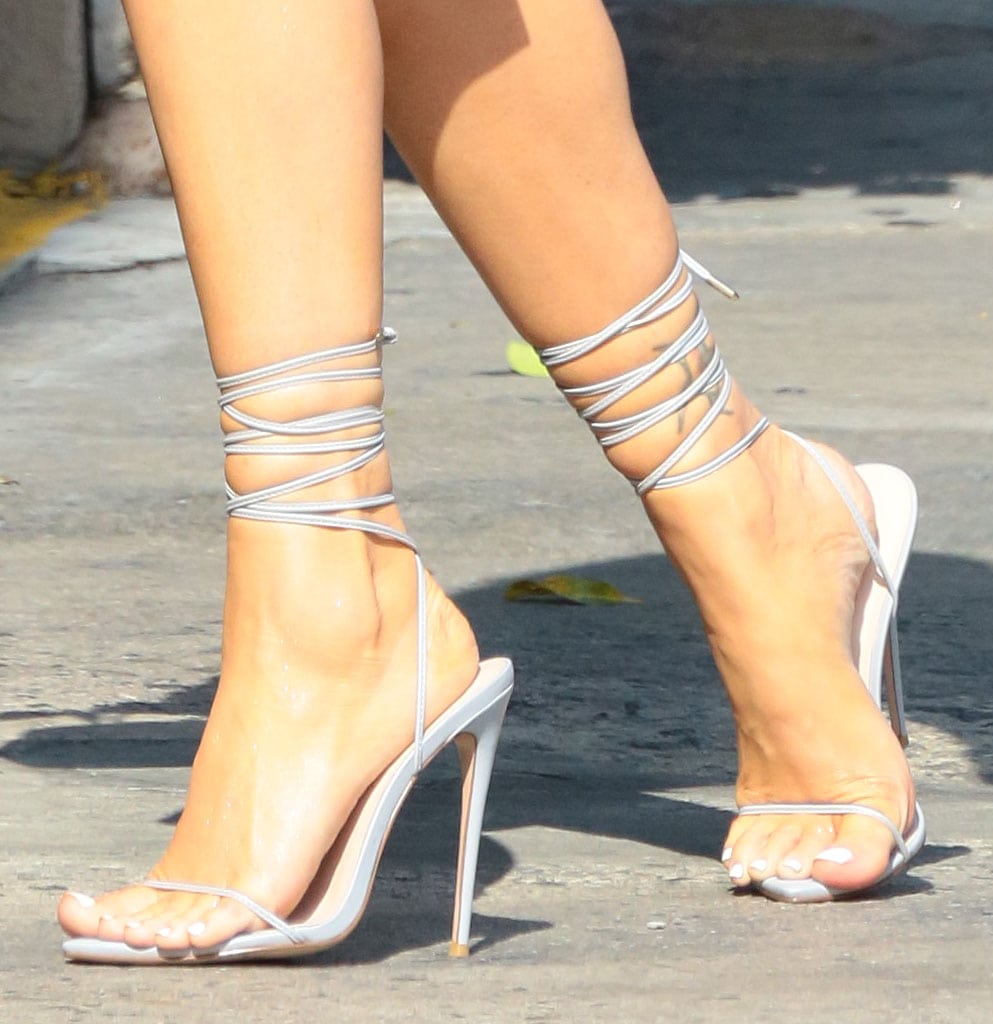 Megan Fox completes her sexy look with Femme LA Luce Minimale wraparound stilettos (Credit: Guillermo Proano / WENN)
Femme LA 'Luce Minimale' Stone Sandal, $189
The Femme LA Luce Minimale has sexy thin straps with wraparound ankle ties and pointed toes
Megan Fox's Ayahuasca Experience
During her interview with guest host Arsenio Hall, Megan shared that she and MGK flew to Costa Rica "to do ayahuasca in a proper setting with indigenous people."
"So I was thinking it was like glamping, like it was gonna be some kind of five-star experience. But you get there, and you really are in the middle of the jungle, and you don't get to eat after like 1 PM. You have to walk a very far distance to get your water, and you can't shower because they're in a drought."
"There was nothing glamorous about it, and it's all part of making you vulnerable, so you sort of surrender to the experience," she added.
Explaining things further, Megan said the ceremony began with "vomitivo," where she, MGK, and 20 others drank lemongrass tea to induce vomiting. "You have to vomit a certain amount before they let you get back with everyone," Megan said.
While she was skeptical about vomiting in front of other people, she added that it was "a good bonding experience." "My vanity is gone, I've just done this in front of all of these strangers, and now I'm ready to really open up."
The journey lasted for three days and three nights, and on her second night, she "went to hell for eternity."
"Everybody's journey is different, but on the second night, I went to hell for eternity. Just knowing it's eternity is torture in itself, because there's no beginning, middle, or end. So you have a real ego death."
Machine Gun Kelly and Megan Fox head out to dinner with his daughter Casie Colson Baker in Santa Monica on June 19, 2021 (Credit: MEGA / WENN)
Ayahuasca is a psychoactive, hallucinogenic substance made from brewing certain vines and leaves traditionally used for religious and spiritual purposes. It is also said to be used as a healing medicine to open minds and cure past trauma.
According to WebMD, ayahuasca is also used for "suicide prevention, depression, severe and disabling grief lasting for 6 months, and other conditions," but noted that there's no scientific evidence to support the claims.
In the end, Megan Fox said it was a transformative experience. "It surpasses anything you could do with talk therapy or hypnotherapy, any of those things. It just goes straight into your soul and takes you into your psychological prison you hold yourself in. It's your own version of hell. And I was definitely there."