No Strings Attached actress Mindy Kaling is one funny girl taking Hollywood by storm.
Mindy repeatedly reminds us why we love and adore her, and her appearance in August 2016 at the Hulu TCA Summer 2016 event held at the Beverly Hilton was just one more example.
Mindy Kaling wears her hair down at the Hulu TCA Summer 2016 event held on August 5, 2016, at The Beverly Hilton in Beverly Hills, California (Credit: FayesVision / Adriana M. Barraza / WENN)
Five years earlier, she played the role of Dr. Shira, a roommate/colleague of the main character Emma (played by Natalie Portman) in the 2011 American romantic comedy film No Strings Attached.
Natalie Portman started as a producer rather than a cast member for the project, and even after being cast as Emma, she remained an executive producer. The film was produced by Portman's production company, Handsomecharlie Films.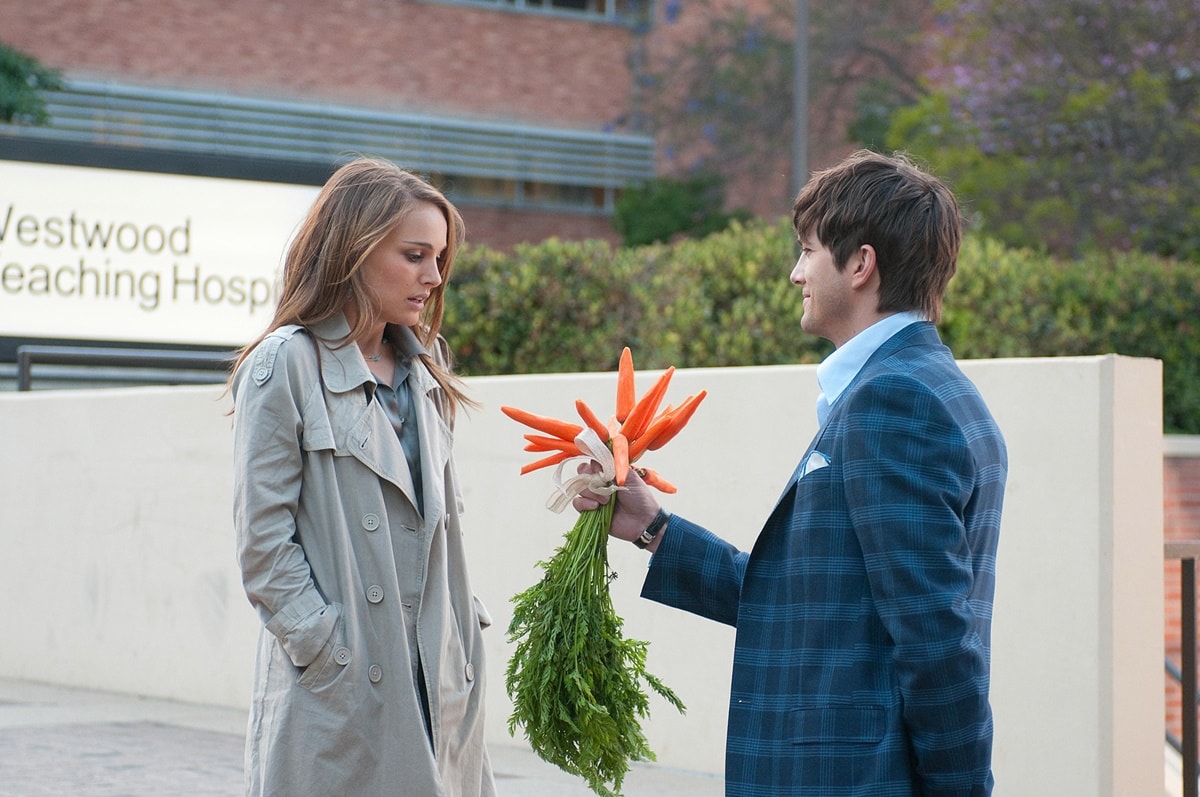 Ashton Kutcher says filming the No Strings Attached sex scenes with Natalie Portman was tiring and tedious, despite her attractiveness, due to the number of scenes that had to be shot (Credit: Paramount Pictures)
Natalie Portman was 29, Ashton Kutcher was 32, Mindy Kaling was 31, and Greta Gerwig was 27 years old when the film "No Strings Attached" premiered on January 21, 2011.
In a later interview, Ashton Kutcher admitted that he found the sex scenes with Portman difficult to film due to their length and tediousness. Despite his co-star's allure, Kutcher found himself exhausted by the number of sex scenes he had to shoot.
Natalie Portman played the character Emma Kurtzman, Ashton Kutcher played Adam Franklin, Mindy Kaling played Shira, and Greta Gerwig played Patrice in the 2011 American romantic comedy film No Strings Attached (Credit: Paramount Pictures)
"I was shooting so many sex scenes I was getting tired of it," he told The Sydney Morning Herald. "I never thought that anything related to sex would be something I'd get tired of!
"You're there and you're doing the scene and you're like, 'Do we have to shoot another sex scene?'
When asked about the sex scenes in an interview with Collider, Natalie Portman said "I'm pretty immature, so I get pretty embarrassed still. But yeah, you … I would, like, check out once in a while, certain shots to make sure I felt OK. Because sometimes once you see it, like, there was one of the panties coming off that we did, and after I watched it I was like, Oh that's not bad, because it was really quick. It wasn't like, lingering on anything that I felt, you know, modest about or anything. I checked a little. You do sort of go the opposite direction between takes. 'Oh, what are you doing this weekend?' Like, totally benign conversation between to make it a little normal."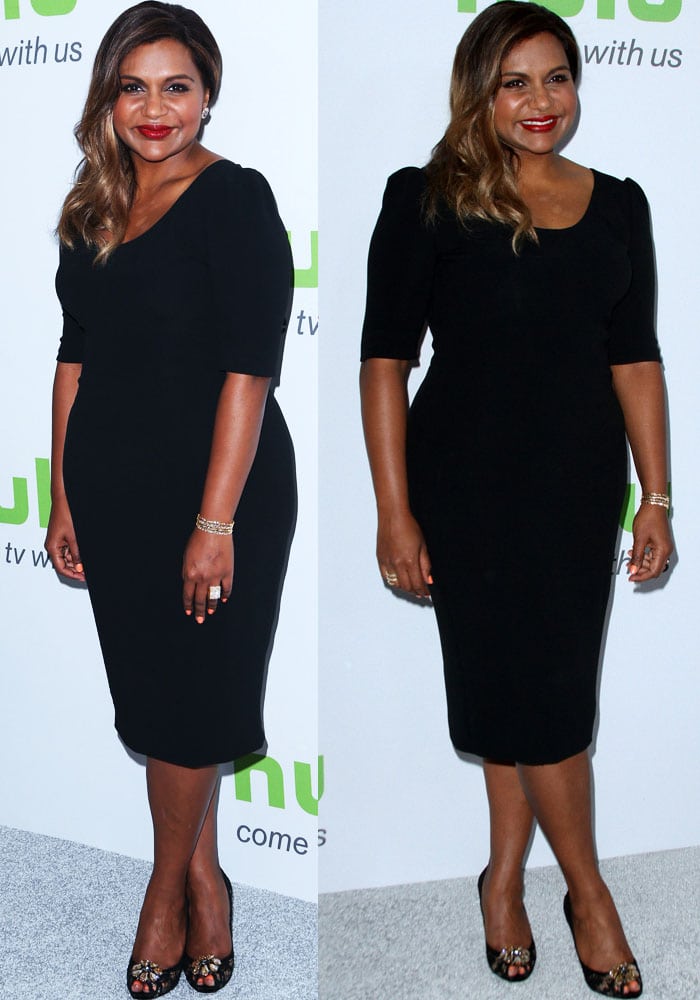 Mindy Kaling wears a Dolce & Gabbana dress on the carpet of the Hulu TCA Summer 2016 event (Credit: FayesVision / Adriana M. Barraza / WENN)
For the Hulu TCA Summer Party held during the 2016 Television Critics Association Summer Tour at The Beverly Hilton Hotel, Mindy dressed glamorously in Dolce & Gabbana. She spoke on stage about the romantic comedy television series The Mindy Project for a panel discussion.
"The single best improvement in my life is not working for people who are focused on the number of people who are watching [the show]," Mindy said about the show moving from Fox to Hulu.
Mindy selected a simple little black dress and added extra touches of sophistication to her look with jewelry from Suzanne Kalan.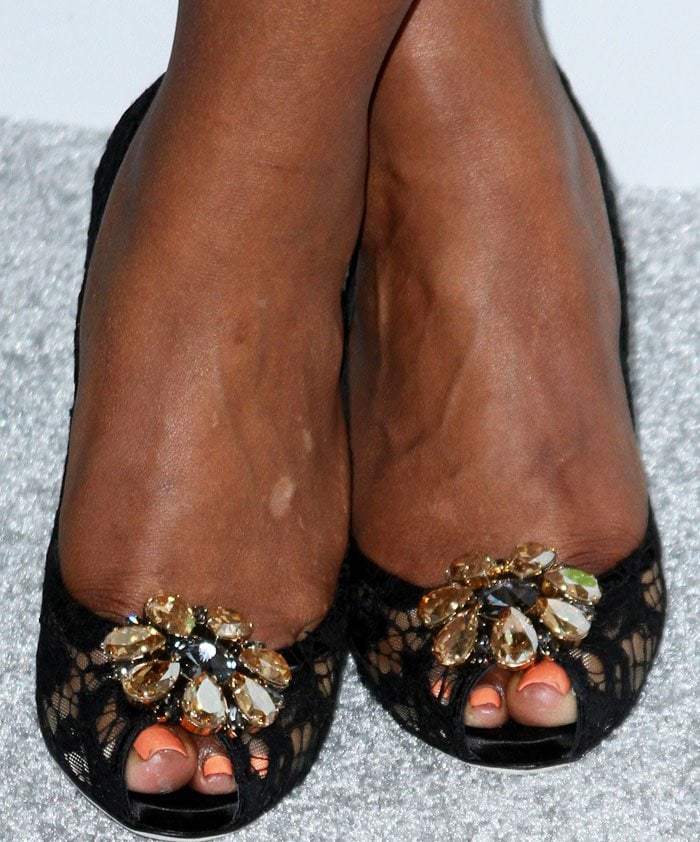 Mindy Kaling's feet in embellished lace Dolce & Gabbana pumps (Credit: FayesVision / Adriana M. Barraza / WENN)
The wealthy comedian finished her look with a luxurious pair of crystal-embellished lace peep toe pumps for the event.
The flattering peep toes showed off her coral-colored pedicure.
Mindy Kaling displays her feet in black and ecru pumps crafted from corded lace and mesh (Credit: FayesVision / Adriana M. Barraza / WENN)
Mindy later took a formal photo in her Dolce & Gabbana ensemble and uploaded it to her Instagram account.
The photograph was retouched to show off a Quentin Tarantino movie finish, which Mindy captioned with four words that brought the house down: "In memoriam as hell."
We love her so much.
View this post on Instagram

You can order Mindy's Dolce & Gabbana embellished pumps in different colors at Mytheresa and Farfetch.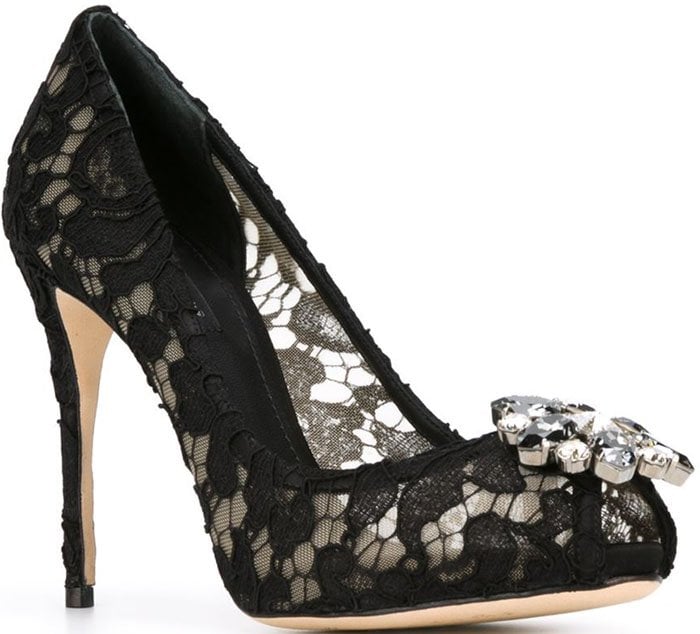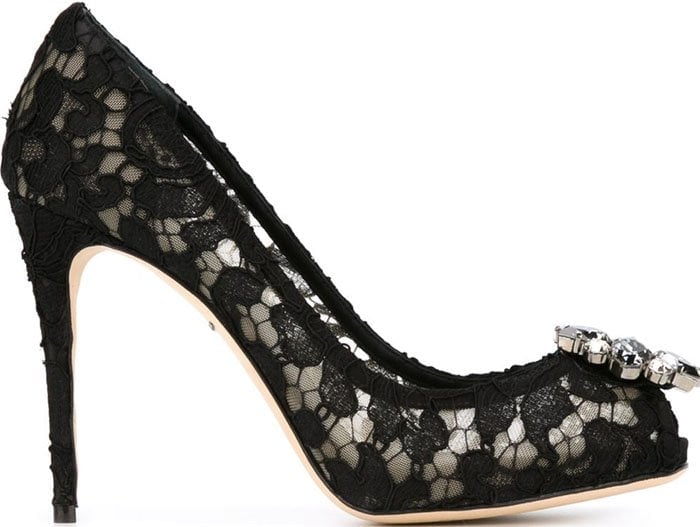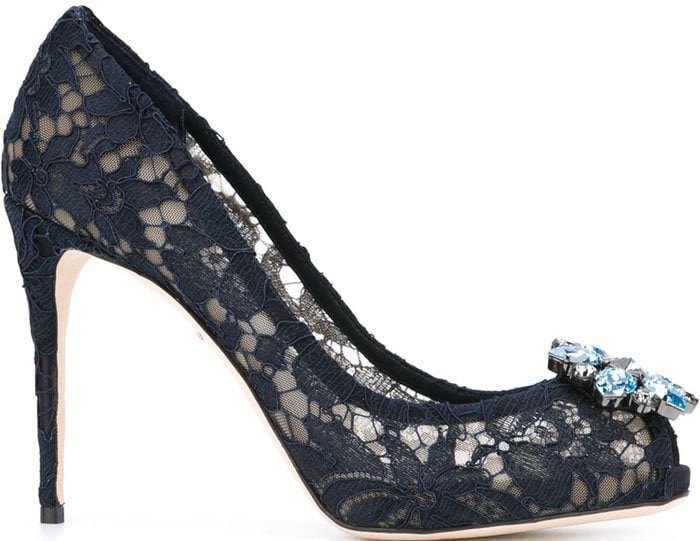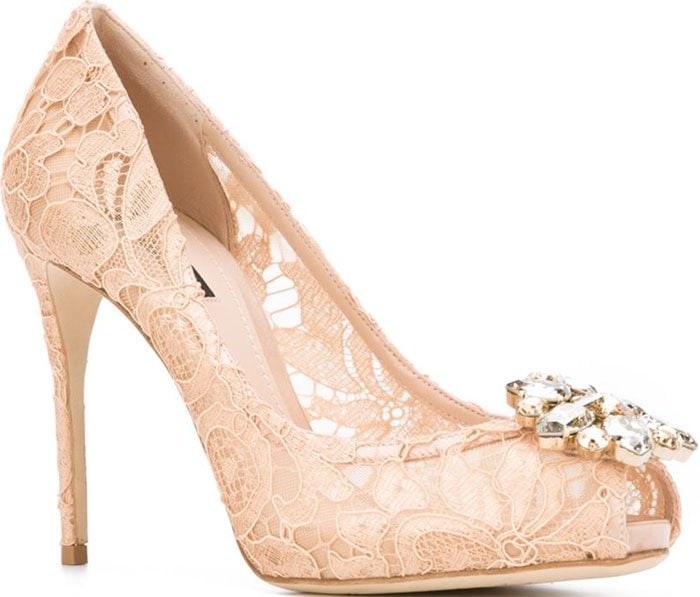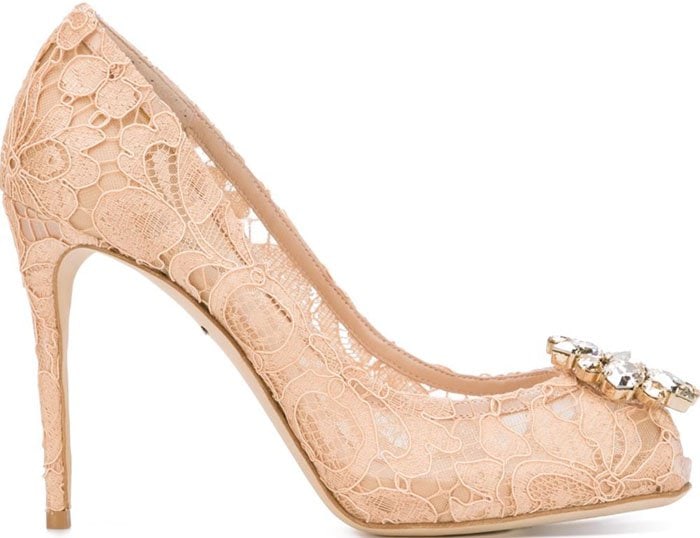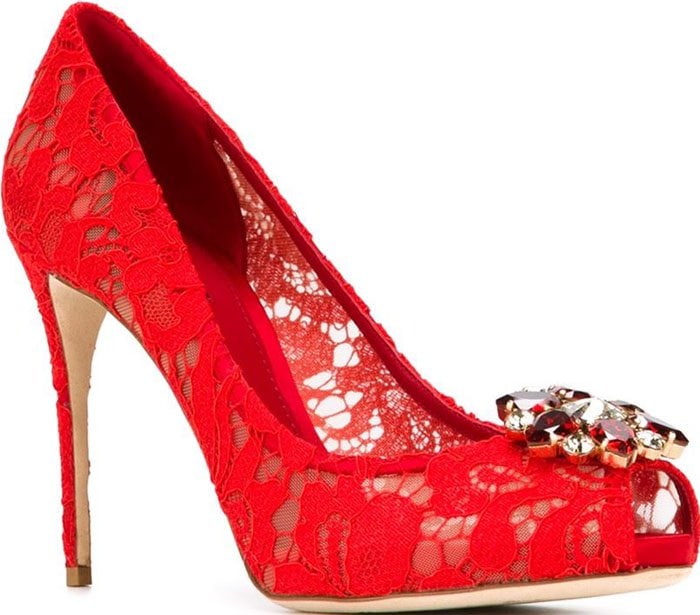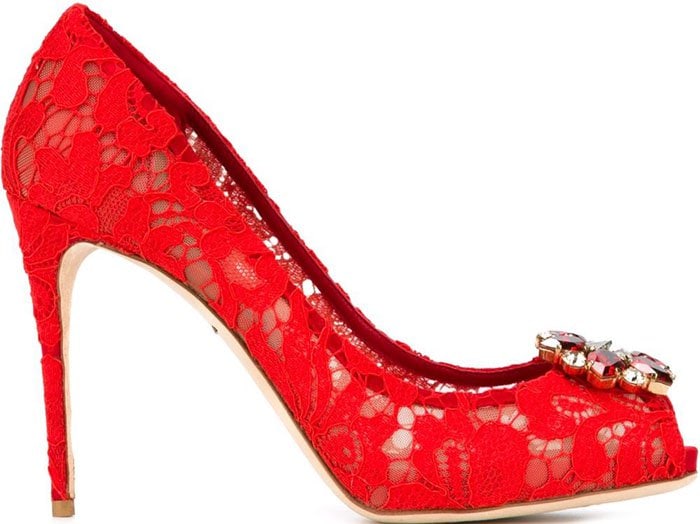 Dolce & Gabbana Embellished Lace Pumps, $1,145