After much anticipation, the royal wedding finally arrived. Everyone appeared in his or her highest fashions and extravagant hats were everywhere as if it were a Lady Gaga concert.
Just like the millions that tuned in to the wedding, I watched as Kate Middleton said her vows in front of the world in a stunning dress by Sara Burton for Alexander McQueen and shoes to match. The couple truly looked happy and the customary balcony appearance was just too cute!
While looking at the pictures of arrivals, it was clear that many attendees were on the same page when it came to footwear. Nude heels and pumps were the major color being donned at the wedding. We spotted Carole Middleton, Queen Elizabeth and Camilla showcasing this style.
I'm pretty confident that this style is one that will catch on fast. Not only does it help elongate your legs but it can actually be other colors too. With 'Nude' usually being associated as a tannish color, it can also refer to light beiges, pinks, and silvers which allows you to find a shade you can coordinate with any outfit.
It's a versatile color that can be used with jeans for a night out on the town but can also be worn for more elegant occasions such as weddings, cocktail parties to name a few.
After scouring the internet for similar pumps and heels worn at the royal wedding, I have finally found some similar styles of those worn on the big day.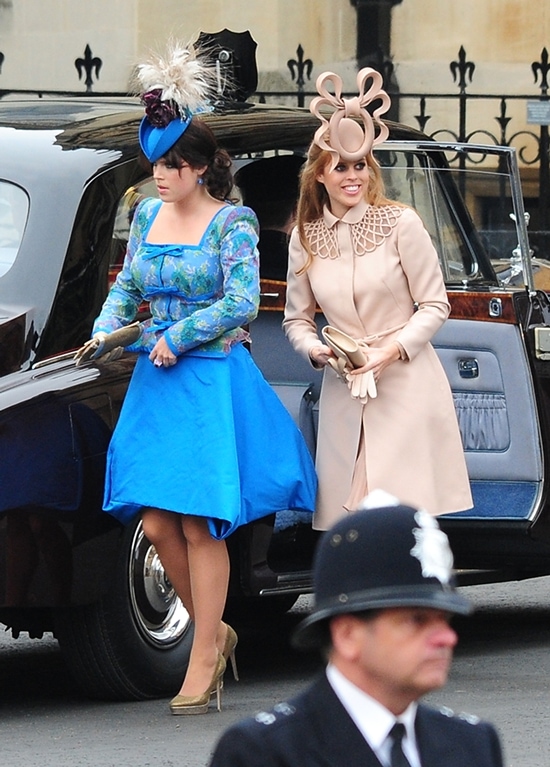 Princess Eugenie and Princess Beatrice at the Wedding of Prince William and Catherine Middleton at Westminster Abbey in London on April 29, 2011
Princess Eugenie and Beatrice arrived at the wedding looking like they were on their way to a Lady Gaga concert, but the one thing they got right was their shoes. Princess Eugenie's bronze colored pumps really accented her outfit acting as a nude color, while Princess Beatrice went with a softer cream.
For Princess Eugenie's shoes, try these fun bronze platform pumps: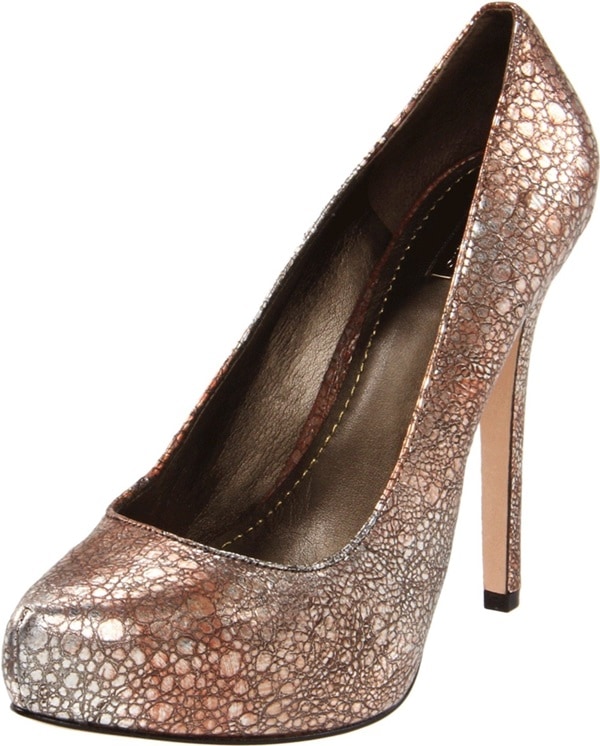 Report Signature "Gilles" Platform Pumps in Bronze Leather, $36.99 – $40.99

When trying to identify Princess Beatrice's shoes, it was nearly impossible to find anything remotely like them. However, I discovered these fun slingbacks that may interest you instead:
Juicy Couture Danika Glittered Slingback
The bride's mother Carol Middleton
Carol Middleton was a proud mother wearing these edgy pointed toe heels. With her powder blue dress, these heels matched perfectly with her outfit showing just another reason why any nude shoes can go with just about everything!
Stuart Weitzman Bridal Naughty in White Satin
Prince Charles, Prince of Wales and Camilla, Duchess of Cornwall
Camilla arrived at the wedding in these simple beige pointed toe heels that complemented her outfit perfectly. You would think a simple shoe would be easy to find, definitely not. After looking through tons of shoes, this is the closest I could find:
Stuart Weitzman Poco in Toasted Linen, $275

Chelsey Davy, best known as Prince Harry's on-again-off-again girlfriend, arrived at the Royal Wedding in a more normal outfit compared to others.
The outfit was young and chic and the minimalistic hat brought the whole ensemble together. We also love how the cream colored heels and the tan clutch complemented each other perfectly.
Below I've found very similar shoes to those of Chelsey's:
BCBGirls Tinas Heel in Tapioca, $39.00 – $83.76
So there you have it, nude was definitely the color statement of shoes at the wedding of the century and will for sure be a trend that catches on fast. I know I'll be going to buy my nude pumps soon!

Credit: Anthony Stanley / WENN / Anwar Hussein