All eyes were on Olivia Wilde as she paraded around in her risqué sheer gown at the 2nd Annual Academy Museum of Motion Pictures Gala.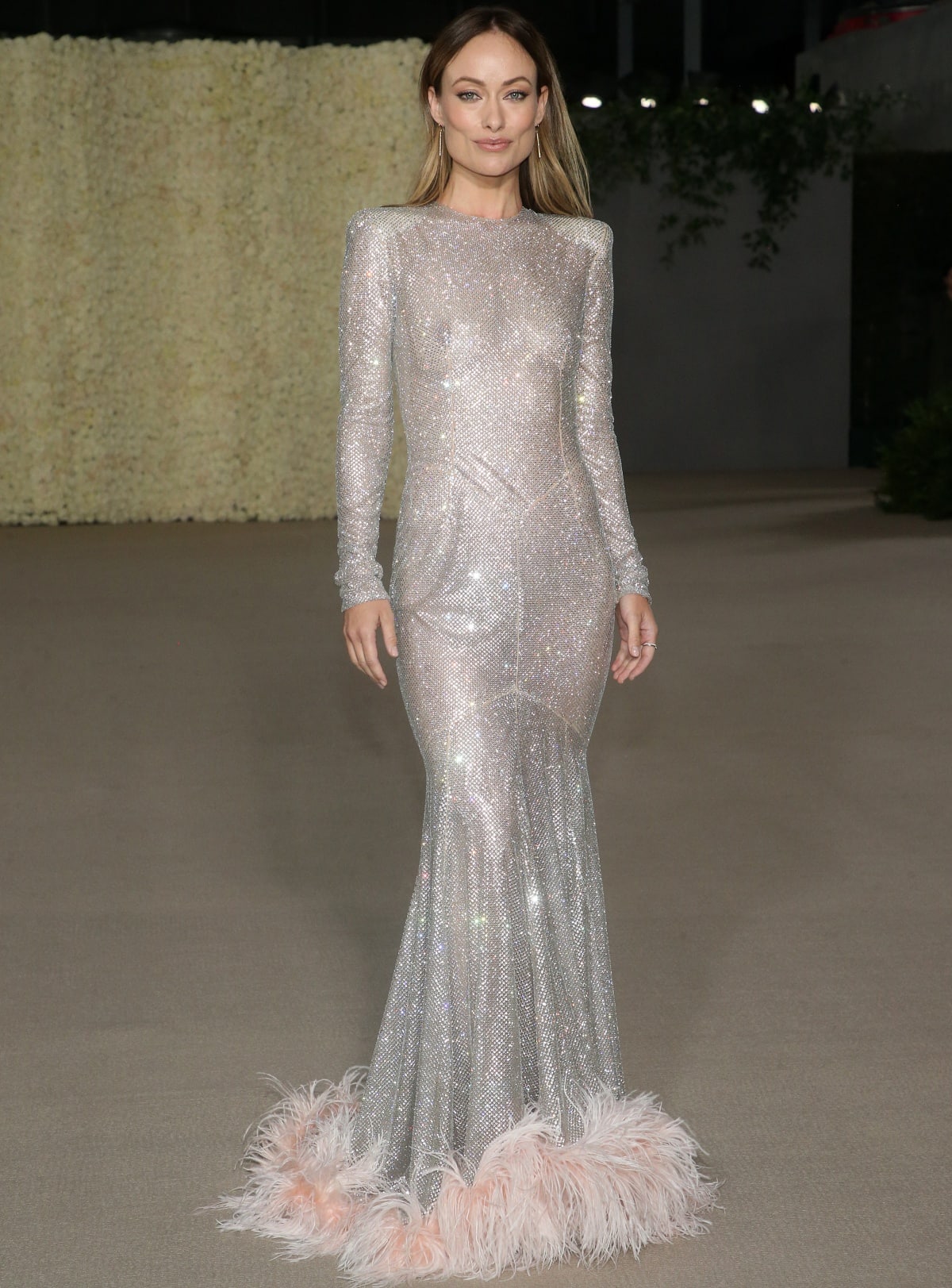 Olivia Wilde demanding attention in a risqué Alexandre Vauthier Spring 2022 Haute Couture sheer gown at the 2nd Annual Academy Museum of Motion Pictures Gala in Los Angeles, California on October 15, 2022 (Credit: Faye's Vision / Cover Images)
She wore a Spring 2022 Haute Couture gown from Alexandre Vauthier, which featured crystal embroidery and pink feather trim on the hem. It also had long sleeves and visible white shoulder pads.
Her shoes aren't visible due to the length of the dress, but Olivia was wearing a pair of Jimmy Choo Gaia silver liquid metal leather platform heels.
Set atop 140mm block heels and platform soles, they're available at Farfetch and feature crossover straps across the toes and ankles.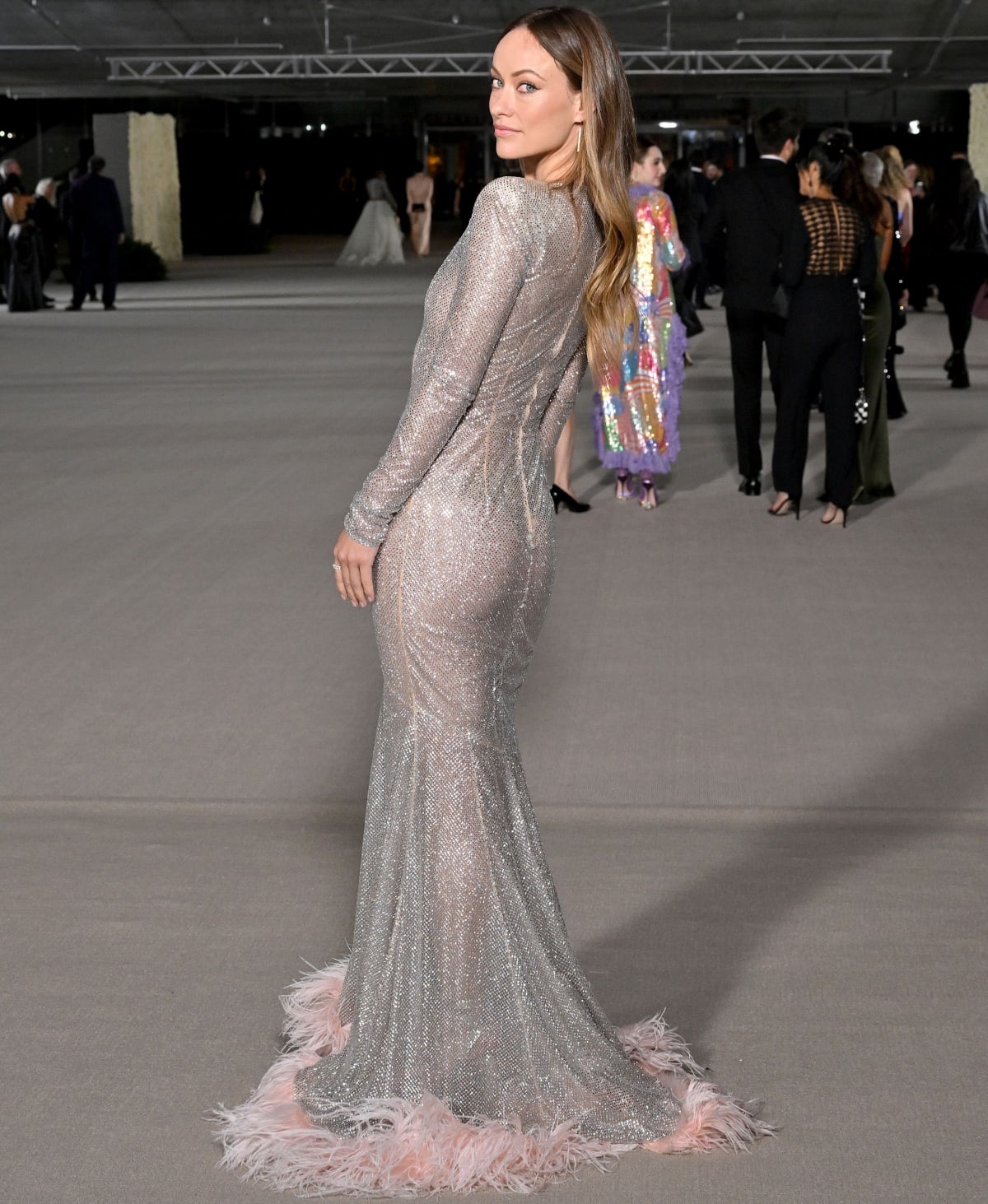 Olivia Wilde turning heads in her sheer Alexandre Vauthier gown with Jimmy Choo heels (Credit: Axelle Woussen / BauerGriffin / INST / Cover Images)
The gown left nothing to the imagination, baring her nipples ala Florence Pugh at the Valentino show during Rome Fashion Week.
She finished off her look with Jennifer Meyer diamond earrings, as well as sleek, straight hair and minimal makeup.
Taking a page from Florence Pugh, Olivia Wilde bares her nipples in a risqué sheer gown (Credit: Xavier Collin / ABACA / INSTARimages / Cover Images)
A Busy Year for Olivia Wilde
Olivia Wilde is having a busy year, and it doesn't seem like it's going to slow down any time soon.
After her successful directorial debut, she moved on to directing the highly-publicized thriller Don't Worry Darling. She also has several future projects under her belt, including a female-centric Marvel feature.
Olivia also has two kids with ex-partner Jason Sudeikis and a new romance with superstar Harry Styles.
In addition, Olivia has taken to clearing up rumors surrounding her latest film more than talking about the nature of it as it's completely overtaken by controversy.
The cast of Don't Worry Darling: Nick Kroll, Florence Pugh, Chris Pine, Olivia Wilde, Sydney Chandler, Harry Styles, and Gemma Chan (Credit: Hubert Boesl / DPA / Cover Images)
But aside from a rumored feud with leading lady Florence Pugh and a controversial exit by Shia LaBeouf, Olivia also has to deal with a custody battle and alleged claims from a former nanny.
You Got Served
At this year's CinemaCon in Las Vegas, Olivia Wilde was handed a mysterious envelope marked "Personal and Confidential" while presenting the film to the audience.
Court documents have been released with each party's statement. In Olivia's filing, she mentioned the reason why her ex filed those papers.
"Jason decided that he wanted to go to New York for the next year while he is not working, and wanted the children to be with him there during this time off. When I did not agree, since the children have not lived in New York for several years, Jason filed these papers."
Olivia Wilde with a black shirt, Lululemon leggings, Adidas Ultraboost sneakers, Ray-Ban shades, and a Gucci shoulder bag while out and about in Los Angeles, California on October 12, 2022 (Credit: BauerGriffin / INSTARimages / Cover Images)
She mentioned that his "actions were clearly intended to threaten [her] and catch [her] off guard." Olivia also said that Jason "could have served me discreetly, but instead he chose to serve me in the most aggressive manner possible."
According to the released court documents, Olivia mentioned that the way she was embarrassed professionally and "put [their] personal conflict on public display in this manner is extremely contrary to [their] children's best interests."
Olivia continued, "Since Jason has made it clear that we will not be able to work this out for our children's sake outside of the court system, I filed a petition for custody in Los Angeles."
Jason Regrets the Way the Custody Papers Were Served
Meanwhile, the Ted Lasso star enumerated the reasons why he served Olivia custody papers.
"First, Olivia said that if I did not reside full-time in Los Angeles, she would allow me to spend time with Otis and Daisy on weekends and during vacation periods – thus depriving me of my right to parent the children during important periods of their lives… Second, Olivia said that she intended to relocate with the children to London following the close of school in 2023."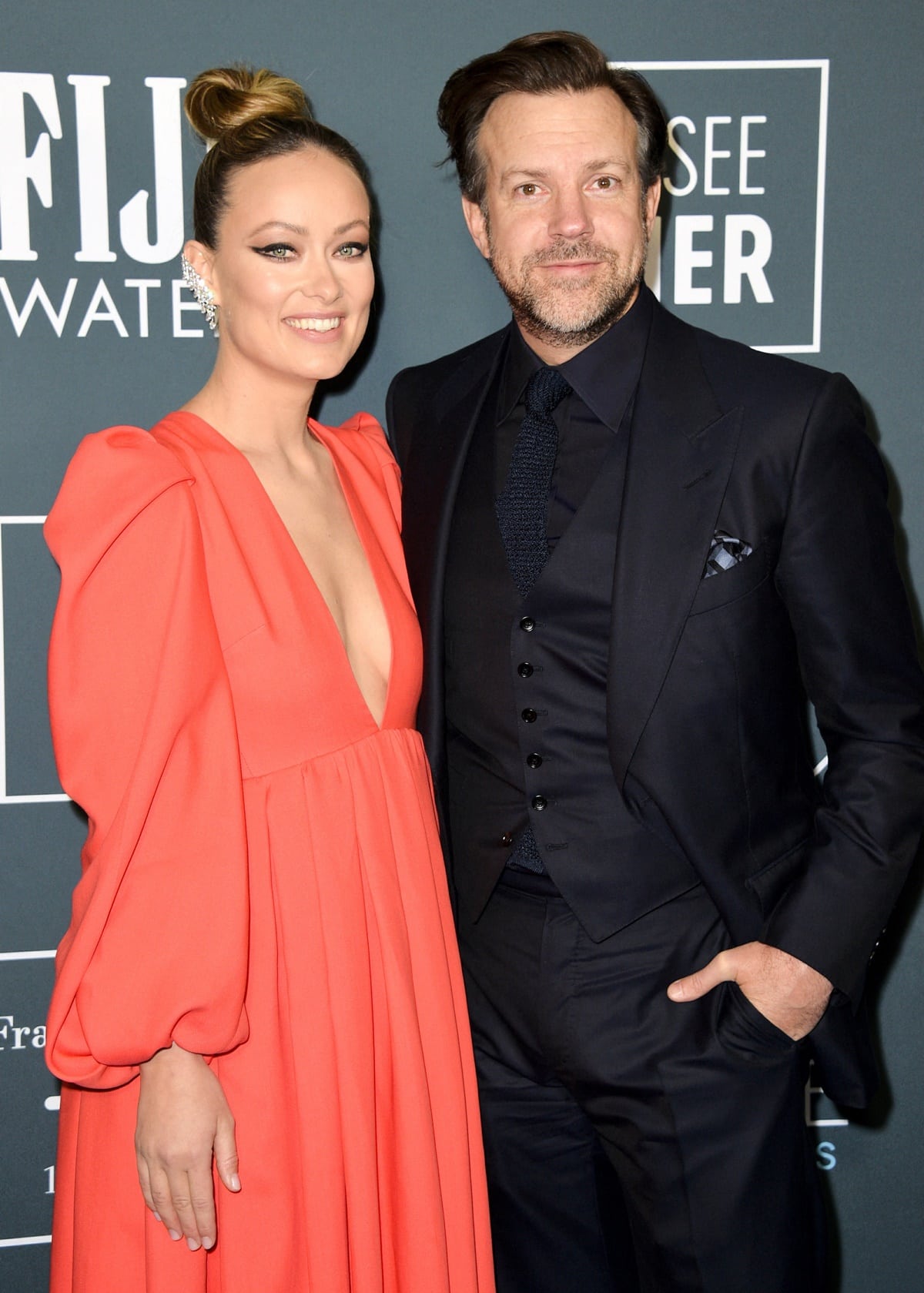 According to Jason Sudeikis, he split from former partner Olivia Wilde in November 2020, which aligns with the filming of Don't Worry Darling with Harry Styles (Credit: Hahn Lionel / ABACA / INSTARimages)
Harry Styles was also seemingly referred to in Jason's filing. "I did not want service to take place at the home of Olivia's current partner because Otis and Daisy might be present. I did not want service to take place at the children's school because parents might be present."
With regard to the way that the custody papers were served, Jason had this to say:
"I understand that the process server had only done her job; however, I deeply regret what happened. Olivia's talk was an important event for Olivia, both professionally and personally, and I am very, very sorry that the incident marred her special moment."
The Nanny
Another bombshell was dropped recently when the ex-couple's former nanny spoke to Daily Mail about Olivia's relationship timeline with Harry Styles and how Jason Sudeikis reacted to news of their romance.
Through text messages and stories, the woman claiming to be their former nanny shared bombshells like Jason allegedly finding out about the new relationship through Olivia's Apple Watch or that he lay under Olivia's car to stop her from seeing her new boyfriend.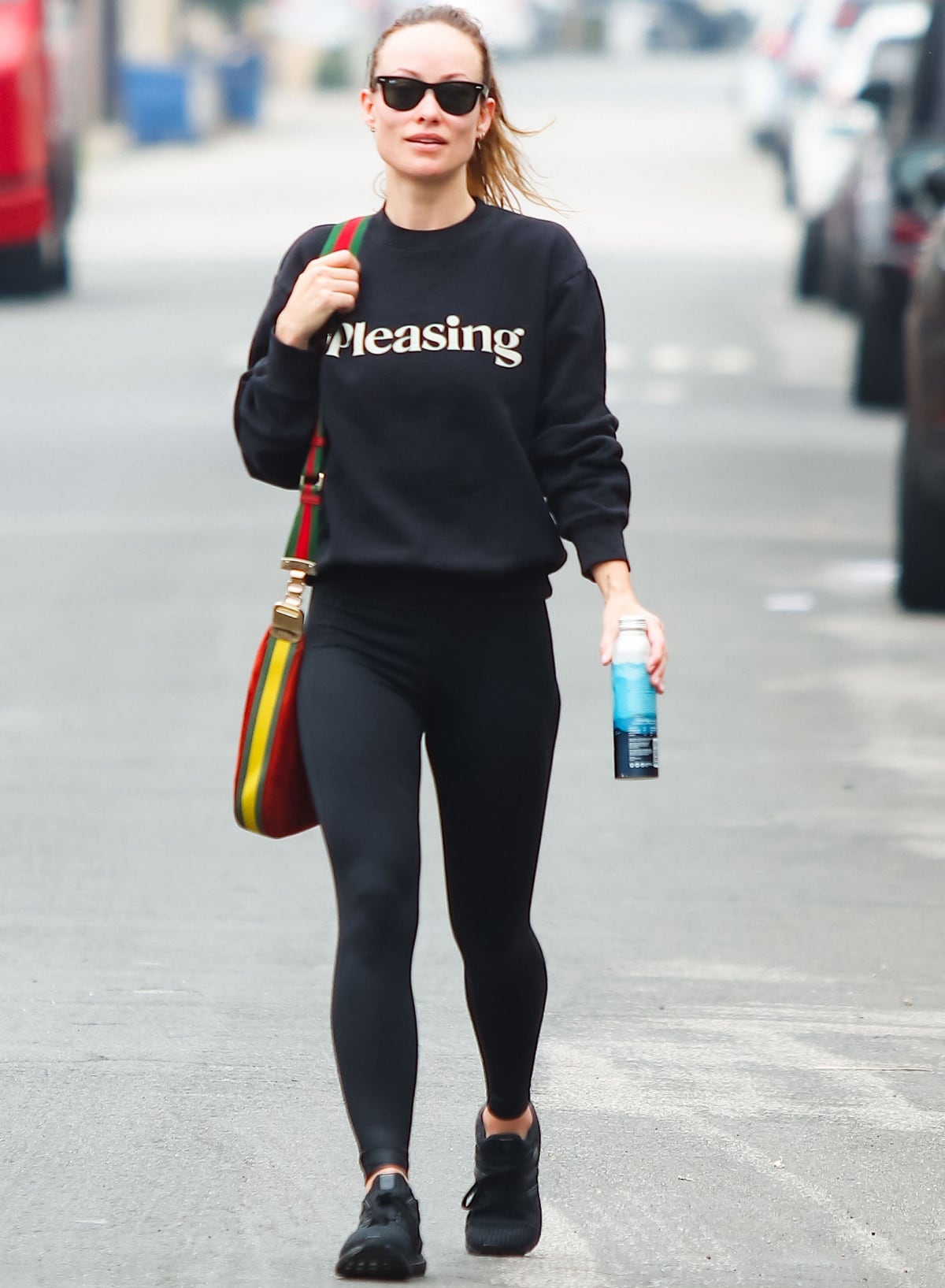 Olivia Wilde wearing a Pleasing crewneck sweatshirt, Lululemon leggings, Ray-Ban sunglasses, a Gucci shoulder bag, and Adidas Ultraboost black sneakers in Los Angeles, California on October 13, 2022 (Credit: BauerGriffin / INSTARimage / Cover Images)
According to the woman, Jason was furious when he found out about Harry Styles, claiming that Olivia "put the move on" him while at a cast dinner in Palm Springs.
"It was supposed to be a temporary break for Covid but that turned out to be how she left us," the nanny said. "He thought it was a temporary break."
She mentioned that Jason was "crying a lot" and that he started sharing details to her about Olivia's relationship with Harry.
Olivia Wilde's Special Salad Dressing
At one point, the former nanny mentioned that she found Jason "ranting furiously" at four in the morning about Olivia making a salad for Harry using her "special dressing" in their own kitchen.
The woman explained that "Jason said: 'She made this salad and she made her special dressing and she's leaving with her salad to have dinner with [Harry].'"
When she inquired about the salad dressing, Jason allegedly replied, that Olivia "has a special salad dressing she makes for [them] and she's taken it to have it with him now."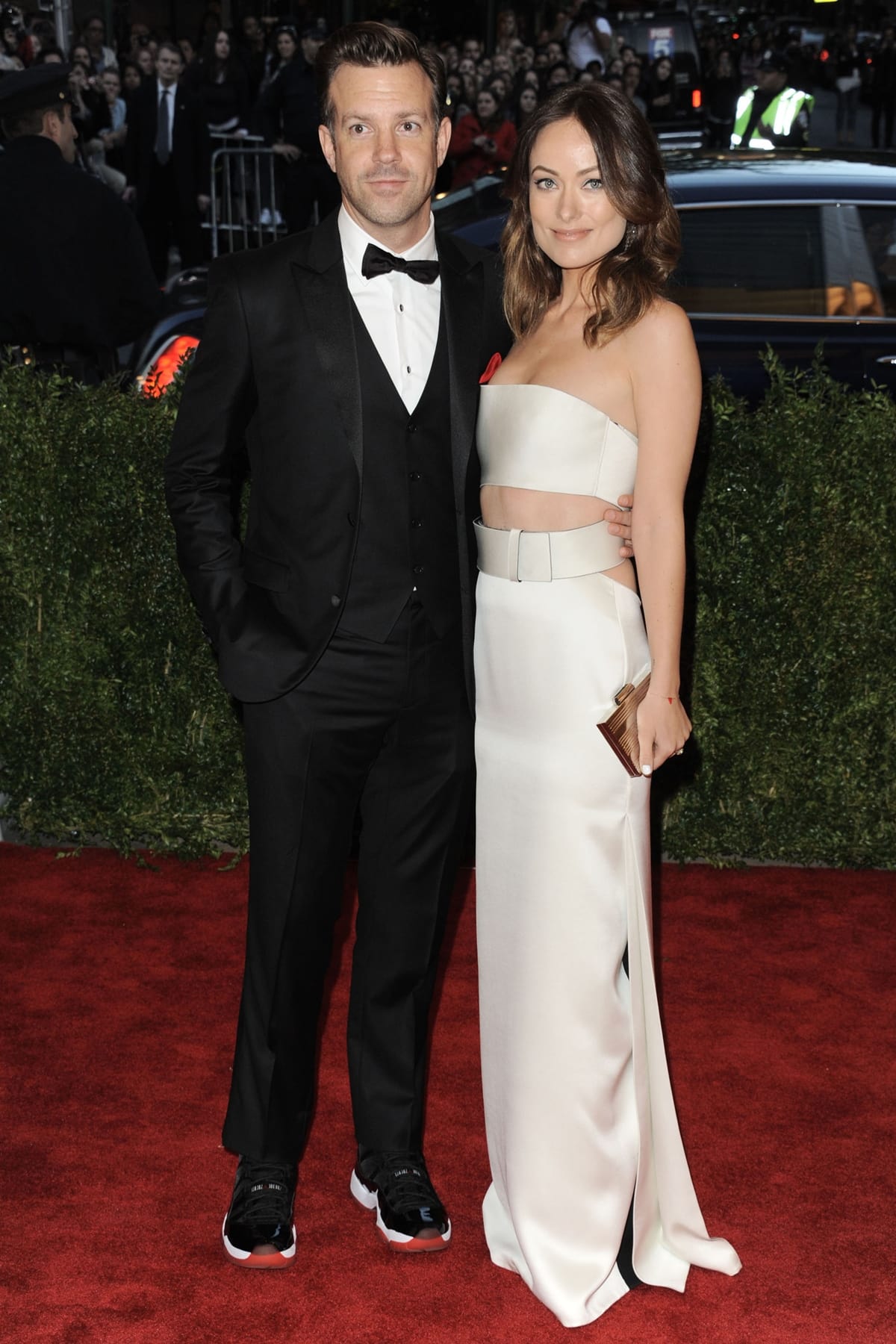 Jason Sudeikis and Olivia Wilde in a Calvin Klein Collection ivory satin dress at the Costume Institute Gala for the "PUNK: Chaos to Couture" exhibition held at the Metropolitan Museum of Art in New York City on May 6, 2013 (Credit: Bill Davila / Startraksphoto)
"The night she left with her salad, Jason had chased after her, videotaping her in the house," the nanny continued. "She was saying: 'I'm scared of you, Jason, I'm scared of you.' And he said: 'If you're scared of me, why are you leaving your kids with me?'"
"So then, Jason went outside and lay under her car so she wouldn't leave," the woman added.
Sign of the Times
On the day that Olivia Wilde and Harry Styles were photographed for the first time holding hands on January 2021, the nanny said that she "couldn't believe it."
View this post on Instagram
She continued, "Just a month before when we were in LA, she was sending Jason messages saying she loved him. So, it was like, how can she be in this relationship, and then holding hands with someone else a month later? It was a lot of mixed messages."
The former nanny then shared that "there were some days where [Jason] was just angry and cursing names at her to me." She added that Jason would say, "I'm tired of this f*cking sh*t. It's because of Olivia. She left us."
Ultimately, she claimed she was fired because Jason discovered her correspondence with Olivia. However, Daily Mail reported that "a representative for Wilde has claimed the nanny was not fired, but chose to resign."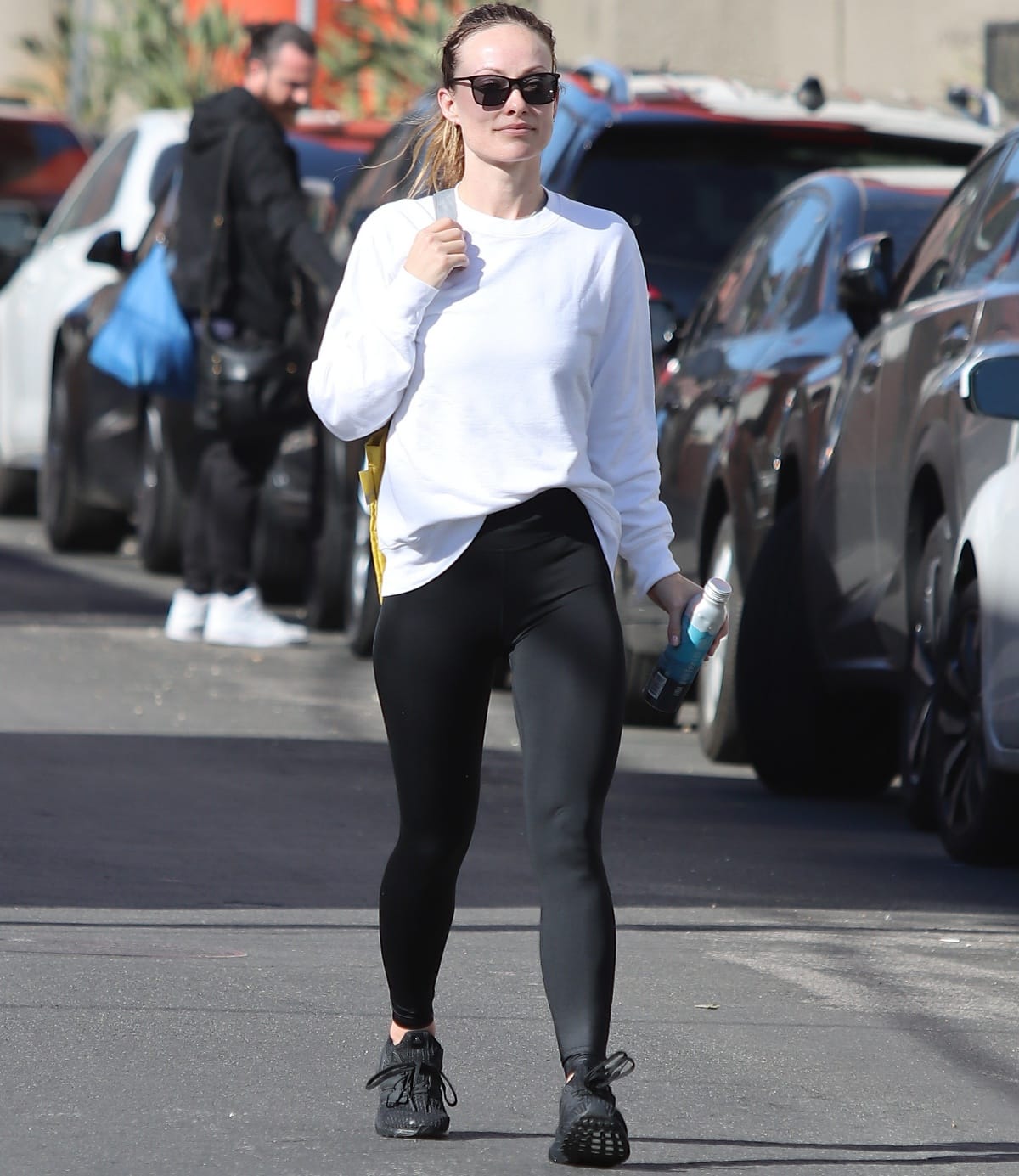 Olivia Wilde in a white sweatshirt, Lululemon leggings, Chanel shades, and her favorite Adidas Ultraboost sneakers on her way to the gym in Los Angeles, California on October 18, 2022 (Credit: BauerGriffin / INSTARimages / Cover Images)
In light of the recent allegations from their former nanny, the ex-couple released a joint statement to Access Hollywood to address the claims.
"As parents, it is incredibly upsetting to learn that a former nanny of our two young children would choose to make such false and scurrilous accusations about us publicly," the statement read.
"Her now 18 month long campaign of harassing us, as well as loved ones, close friends and colleagues, has reached its unfortunate apex. We will continue to focus on raising and protecting our children with the sincere hope that she will now choose to leave our family alone."