If there was ever a boot that was made for walking, it was probably designed by Paris Texas. The footwear brand, best known for its bold over-the-knee boots, has become the go-to choice for it girls and influencers all over the world.
With their exceptional craftsmanship, premium materials, and arresting designs, Paris Texas designs are the epitome of must-have statement shoes. You can find their most recent designs at Farfetch and Mytheresa. Learn all about the footwear world's latest darlings below!
Three Worlds Collide
Paris Texas has a slightly misleading name. The brand was born in neither the French capital nor the Lone Star state but on the outskirts of Milan, Italy.
Founded by sisters Annamaria and Margherita Brivio in 2015, the two wildly different locations were chosen to represent a striking contrast of style. Paris was selected as an embodiment of sophistication, while Texas symbolizes an audacious, playful attitude.
Paris Texas is a luxury footwear brand that was founded by sisters Annamaria and Margherita Brivio (Credit: Annamaria Brivio's Instagram)
The label was founded at the height of the minimalist shoe era – naked heels and plain white sneakers reigned supreme in the mid-2010s – as somewhat of a protest.
Annamaria and Margherita found themselves underwhelmed by the footwear world's abundant assortment of barely-there beige shoes and decided to take matters into their own hands.
Paris Texas was founded as a protest at the height of the minimalist shoe era (Credit: Paris Texas)
But it wasn't just about aesthetics for the Brivios. The sisters also wanted to uphold the traditions of fine Italian craftsmanship and timeless style.
Their mission was to create high-quality, fashion-forward shoes that didn't feel like an impossible investment. Paris Texas shoes can be considered an accessible luxury, with prices generally ranging from $500 to $1,900.
Special bejeweled styles are $3100, but they are not common throughout the general collections. You might have to save up a bit for a coveted pair of Paris Texas boots, but they definitely won't set you back as much as other Italian footwear brands.
Paris Texas shoes are considered an accessible luxury, with prices generally ranging from $500 to $1,900
From Small Town Streets To Fashion Week
Paris Texas boots were first introduced to the world in Annamaria's boutique Norrgatan, in the small town of Monza, Italy.
The economics graduate and entrepreneur had noticed a distinct gap in the market for stylish and accessible luxury footwear that outshone seasonal trends. Annamaria's first few styles of Paris Texas boots sold out immediately – and the brand would only go uphill from there.
The label enjoyed local success for its first few years until being catapulted to fame in 2018. Model and trendsetter Emily Ratajkowski wore a pair of the label's signature knee-high croc-skin leather boots during Milan Fashion Week, which promptly inspired other style icons to follow suit.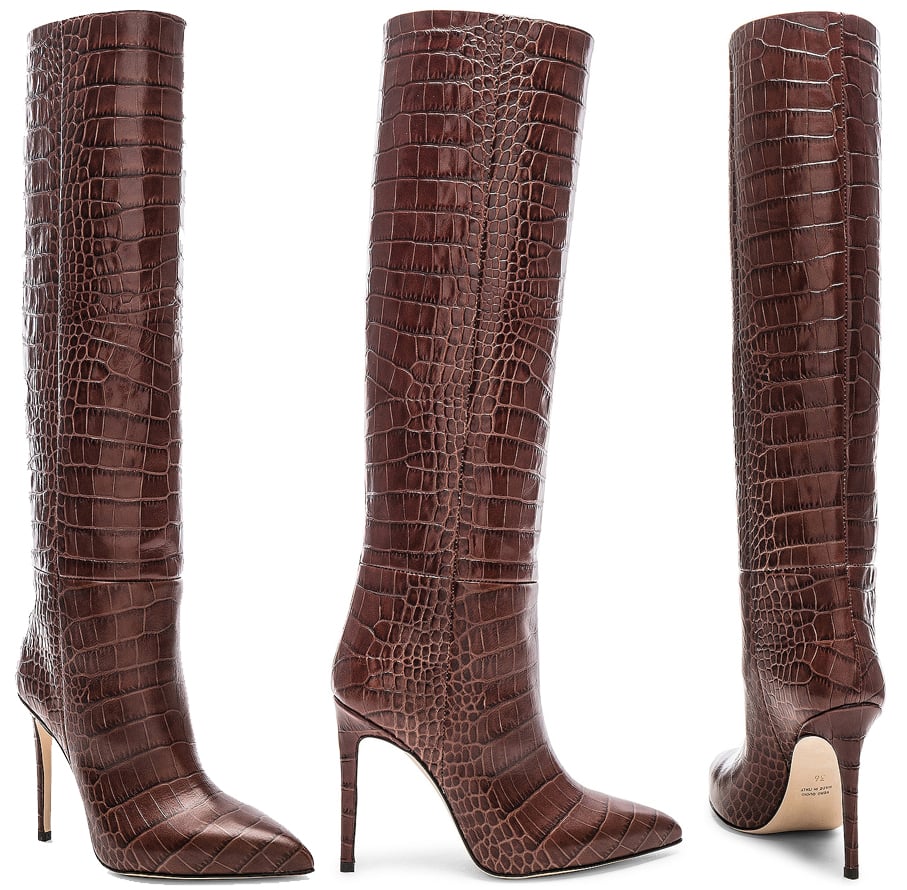 These were the boots that catapulted Paris Texas to fame after they were spotted on Emily Ratajkowski during the Milan Fashion Week in 2018
The same boots were soon spotted on fellow model Candice Swanepoel, influencers Chiara Ferragni and Aimee Song, and fashion editor Eva Chen. Unsurprisingly, the boots immediately sold out after all these celebrity sightings.
Paris Texas boots quickly became a fashion week hit, gaining many more celebrity fans. In recent years the brand's show-stopping boots have been worn by Charli XCX, Selena Gomez, Alessandra Ambrosio, Florence Pugh, Janelle Monáe, Ashley Graham, Hailee Steinfeld, and Miley Cyrus.
As the brand continues its rise to fame, we can only expect its ultra-stylish fanbase to keep expanding.
Florence Pugh, Selena Gomez, Emily Ratajkowski, Alessandra Ambrosio, and Kendall Jenner wearing Paris Texas heels (Credit: Darla Khazei / BauerGriffin / Roger Wong / INSTARimages / Cover Images / Michael Simon / Startraksphoto)
Stepping Into Luxury With Italian Craftsmanship
Paris Texas' bold designs – think cowboy boots, glitter heels, and crystal-embellished satin mules – are what drew fans in, but their remarkable quality is what keeps them coming back.
All their boots are handmade in the brand's Italian factory, using only the finest leathers, suedes, and other animal skins (the brand's croc and snakeskin designs are among their best sellers).
True to their roots, the Brivio sisters ensure that every component of Paris Texas shoes is sourced in Italy, from the soles to the packaging.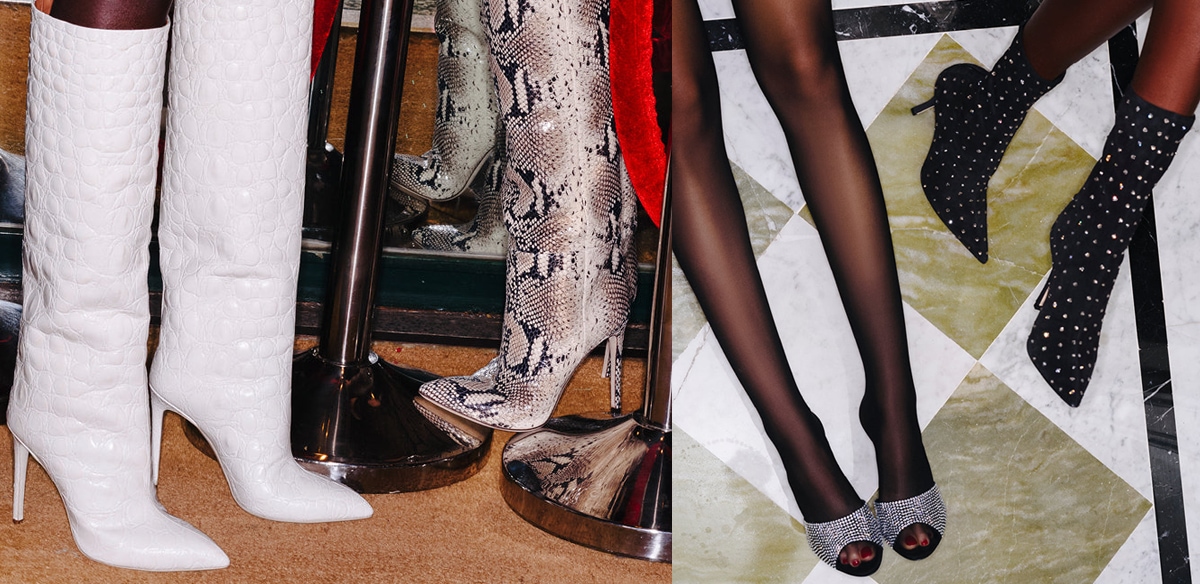 Paris Texas shoes are handmade in Italy using the finest leathers, suedes, and other animal skins (Credit: Paris Texas Brand)
These are boots that are truly meant for walking; the brand's fans generally agree that the designs fit true to size. One can say that Paris Texas footwear has it all: comfort, durability, and impeccable style.
Going Against The Grain
The Brivio sisters have proved that the easiest way to make yourself seen is to simply go against the grain, something they have advocated since the beginning.
According to Annamaria, Paris Texas shoes are designed for daring women who love fashion but prefer dressing for themselves instead of following trends.
This is a principle that the sisters follow themselves. They trust instinct over trend and will happily add maximalist details such as vibrant colors and glitter even when the fashion world favors simplicity.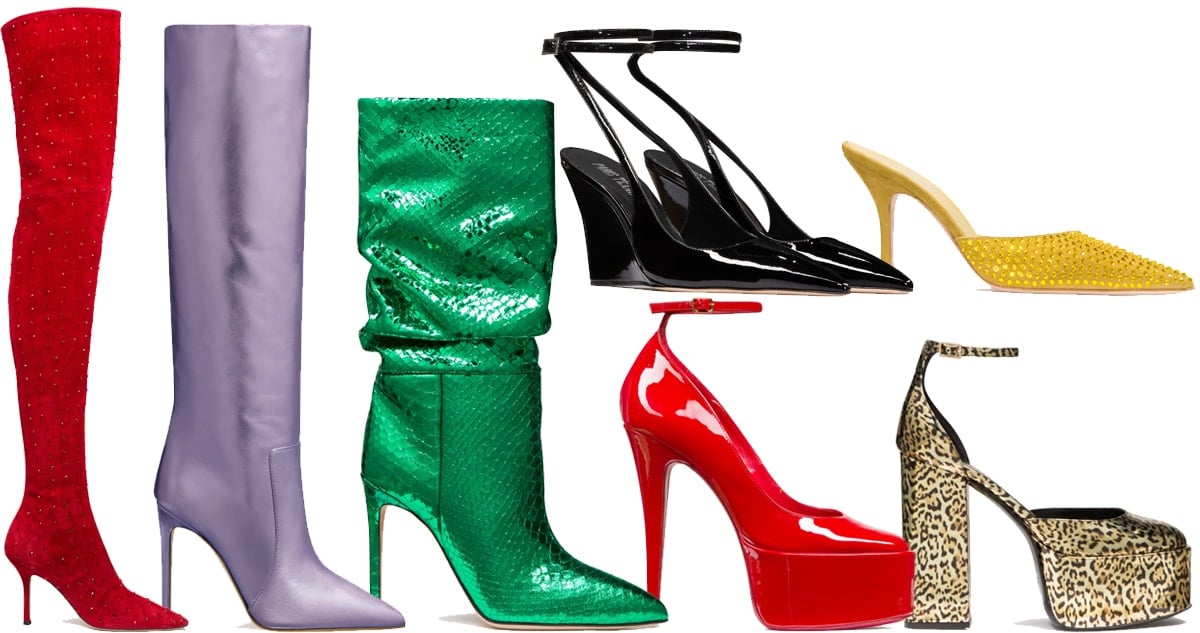 Designed for daring women, Paris Texas is known for going against the grain, offering maximalist designs and silhouettes
At the same time, the Brivios understand the importance of versatility. They classify their shoes as essentials with an edge – classic silhouettes that have been recreated in striking materials and colors that seamlessly transition from day to night. Or, as Annamaria says, from "breakfast to aperitivo time."
Everyday Luxury
The sisters and their tribe of cool girl fans are changing our perceptions of stilettos through their multifaceted designs, proving that this glamorous style is not just restricted to the evening.
Annamaria and Margherita want women to feel more comfortable wearing heels during the day, and stars like Sofia Richie are providing plenty of inspiration for fashion lovers.
The designers recommend embracing Paris Texas' dazzling details for enhancing everyday outfits. Instead of saving diamanté designs for special occasions, why not use them to spice up a casual denim look? According to Annamaria, they can be used to make even the simplest outfits more glamorous.
Paris Texas shoes' dazzling details can help elevate everyday outfits (Credit: Paris Texas Brand)
In any case, Paris Texas designs are extremely open to interpretation. Their broad customer base ranges from women who stick to classic designs to those with an ultra-edgy style, reflecting the respective aesthetics of the brand's namesake regions.
The Brivio sisters genuinely believe that there is a Paris Texas shoe out there for every woman, and their diverse collections certainly appeal to customers of all ages and lifestyles.
With their eye-catching designs, high-quality materials, and meticulous craftsmanship, it's no wonder that Paris Texas has won over the fashion world. In five years, their designs have become must-haves for the world's most stylish women, and we can't wait to see what the rest of their first decade will bring.