Salma Hayek is best known for her roles in Like a Boss, Bliss, From Dusk Till Dawn, and Hitman's Bodyguard's Wife. She brings a powerful, sultry presence to each film she stars in, and this sexy energy is also channeled through her Instagram account.
The actress is 54 years old and has a staggering 21.3 million followers on Instagram. She has been known to post pictures in bikinis, showing off her toned body.
View this post on Instagram
In some, she can be seen meditating by the ocean, swimming in the pool, or lounging across a sun chair. In every picture, Salma has a natural glow and a free-spirited look that her followers seem to be enamored by.
View this post on Instagram
Under one poolside picture, where Salma sported a purple two-piece, she wrote the caption: "Never been more grateful for being healthy and in contact with nature." On another, she wrote, "go with the flow."
View this post on Instagram
Her adoring fans seem to be in support of her body confidence. Just one of her bikini shots has reached as many as 2 million likes.
When asked about the snaps on Entertainment Tonight, Salma said "I'm glad I took a lot of pictures, I have no shame on it, because it was the first week of vacation."
She went on to say that celebrating her body online was "liberating" for her.
View this post on Instagram
Salma enjoys sharing pictures of times when she was in her best shape."I saved my pictures; I'm not in the same condition today." We love how transparent she is about how her physique naturally changes over time.
The actress is aware that some people hate her for her revealing posts. "People are sick of it, but I'm going to let them take a break."
It seems that Salma couldn't care less if some people hate her photos, and she doesn't let this limit her.
View this post on Instagram
Salma is married to French businessman Francois-Henri Pinault and together they share a child, Valentina Paloma Pinault, who turned 14 on September 21, 2021.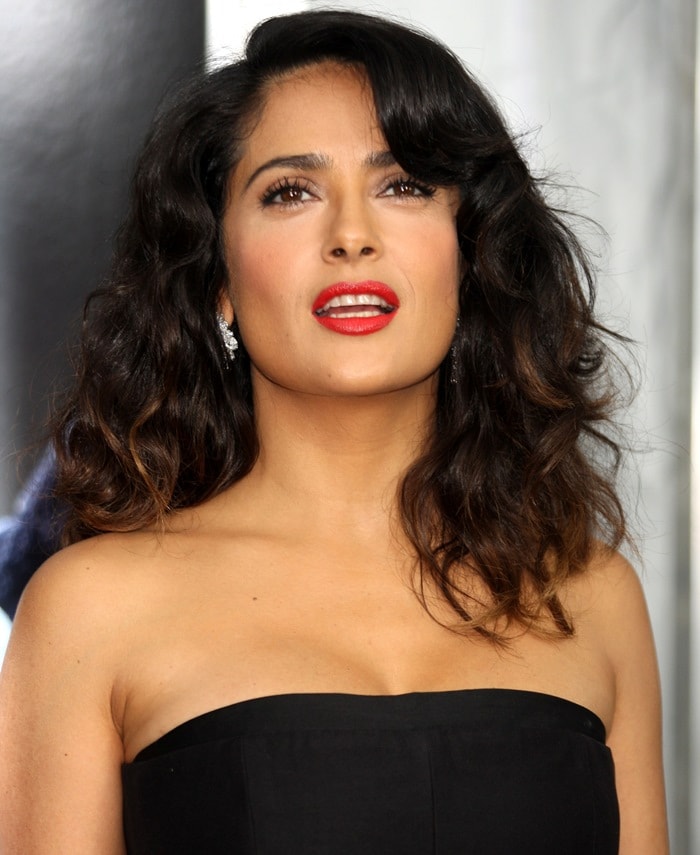 Salma Hayek at the premiere of her upcoming film "Here Comes The Boom" held at the AMC Lincoln Square in New York City on October 9, 2013 (Credit: WENN)
In October 2013, Salma Hayek sizzled at the premiere of her American sports comedy film "Here Comes The Boom" held at the AMC Lincoln Square in New York City.
The bombshell sported a pair of Brian Atwood heels paired with a gorgeous black strapless lace-trimmed gown and a wavy mane.
Salma Hayek paraded her legs in a Stella McCartney dress (Credit: Anthony Dixon / David Bodrick / WENN)
A red Bottega Veneta clutch added some much-needed color to Salma's Stella McCartney Spring 2013 dress while her red lips exuded old Hollywood glam.
Salma Hayek's Brian Atwood Yvesse peep-toe pumps (Credit: WENN)

Salma's Brian Atwood "Yvesse" peep-toe pumps feature glittery crystal-coated heels and black satin uppers. What do you think of her shoe choice?
We searched high and low, but they seem to be sold out everywhere online!