It looks like Hollywood (apart from Victoria Beckham and Kim Kardashian) has finally gotten the memo: more and more celebrities are being spotted wearing comfortable sweatpants to the airport. But they're not quite "just like us" just yet; these famous faces are not risking looking like slobs when they know they're going to be greeted by paparazzi at the gates! They bring out their oversized sunglasses, carry designer handbags, and, most importantly, put on cute, cool-looking, or chic shoes.
Check out the following celebrities' footwear choices that made their sweatpants look camera-ready and fashionable enough to wear at the airport.
1. Sleek Flat Sandals
Eva Longoria erased all Cheetos-related notions you may get from her Lauren Moshi "Alana" cheetah-print sweatpants by wearing it with a tailored blazer, a perfectly knotted scarf, a pristine fedora, and an Hermes Birkin handbag. Barely there toe-ring sandals with gold chain embellishments completed her expensive-looking outfit.
Sleek flat sandals cancel out sweatpants' bagginess and slouchiness. Pick a pair with minimal straps and designs to further streamline your look.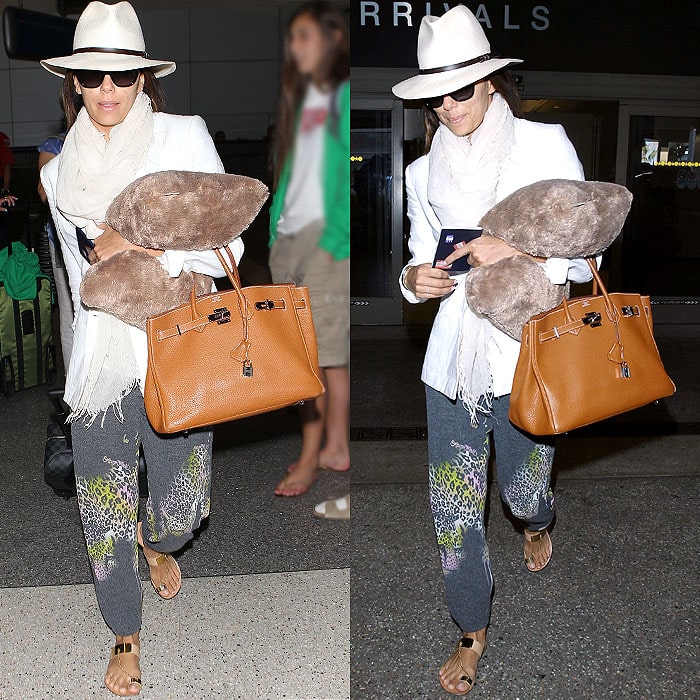 Eva Longoria arriving at Los Angeles International Airport in California on July 21, 2014
Casadei Chained Toe-Ring Sandals, $590
Our picks:
From L to R: Matisse Coconuts "Jungle" Sandals, $50 / Stuart Weitzman "Shackle" Sandals, $298) / Dolce Vita "Franzen" Sandals, $109
2. Sexy Stiletto Pumps
Jessica Simpson upgraded her gray Splendid sweatsuit with a $3,490 Saint Laurent studded handbag and white Saint Laurent "Janis" pumps.
The sweatpants and pumps combination is for you glamazons out there. It's best to rock with a pair of sweats that have banded leg cuffs so they don't slouch down and cover your shoes. For an even more fashion-forward look, pick pumps with ankle straps and buckle them over your sweatpants' leg bands.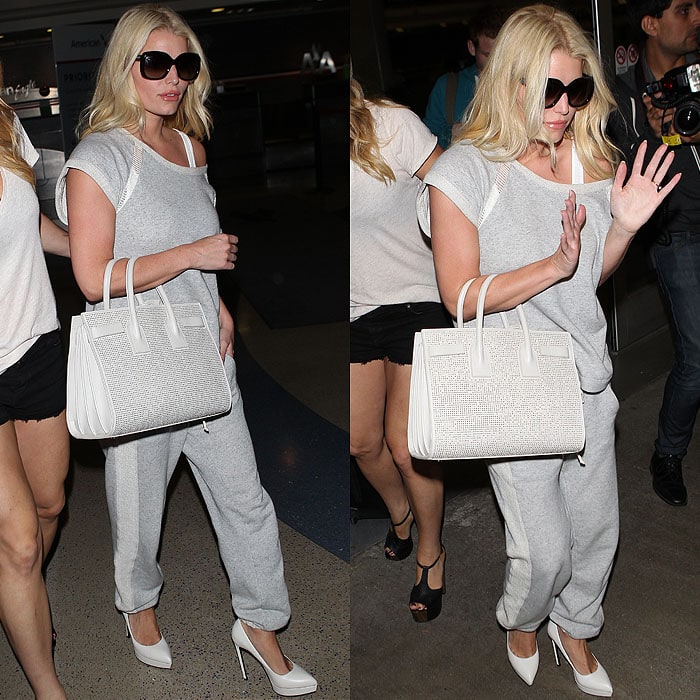 Jessica Simpson at the Los Angeles International Airport in California on June 12, 2014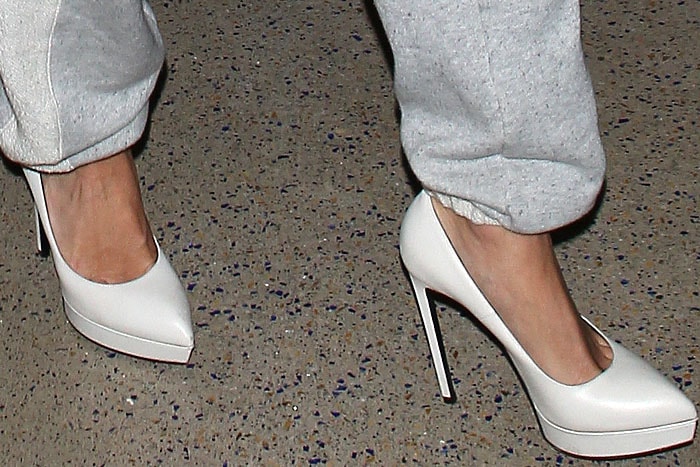 Saint Laurent "Janis" Pumps in White, $736.08
Our picks: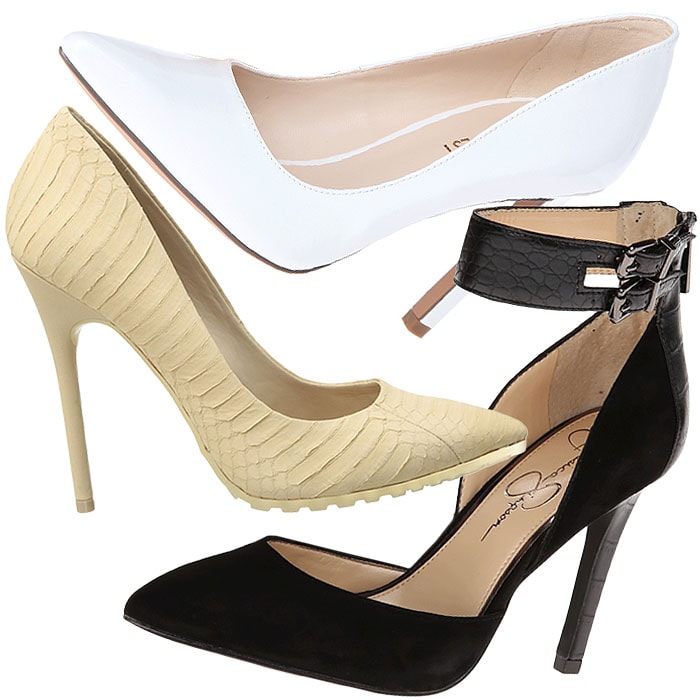 Clockwise from left: BCBGMAXAZRIA "Osture" Pumps, $240 / Nine West "Tatiana" Pumps, $79 / Jessica Simpson "Veday" Ankle-Strap Pumps, $98
3. Retro-Classic Sneakers
Rose Leslie fired up rumors of a real-life romance with her 'Game of Thrones' co-star Kit Harington in a styled-down silk top, pushed-up sweatpants, and classic Nike "Air Max 90" sneakers.
Retro sneakers, unlike regular trainers or even your trust gym shoes, have that cool factor. The more retro-looking they are, the better!
Rose Leslie waiting for luggage at the Los Angeles International Airport in California on July 23, 2014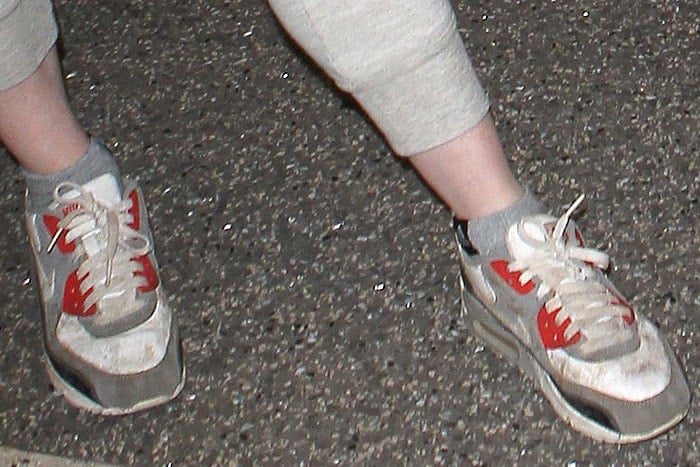 Nike "Air Max 90" Sneakers, $100—$110
Our picks: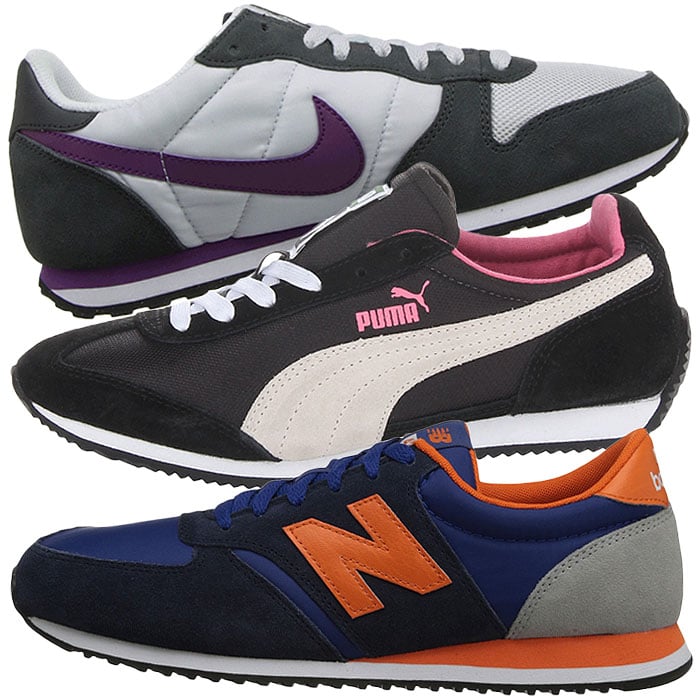 From top to bottom: Nike "Genicco" Sneakers, $55 / Puma "SF77" Sneakers, $65 / New Balance Classics "U420" Sneakers, $64.95
4. Trendy Fashion Sneakers
On the other end of the scale, Rita Ora styled her sweatsuit with one of the trendiest fashion sneakers, the Chanel "Camellias" hi-tops. Hot shoe trends and luxury designer brands can perk up even regular gray sweatpants almost instantly.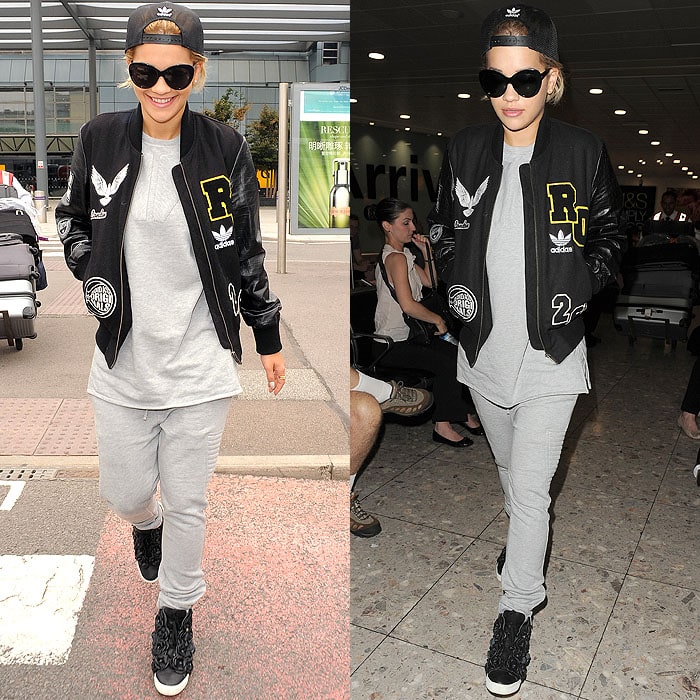 Rita Ora catching a flight out of the London Heathrow Airport and arriving at the Los Angeles International Airport in California on June 19, 2014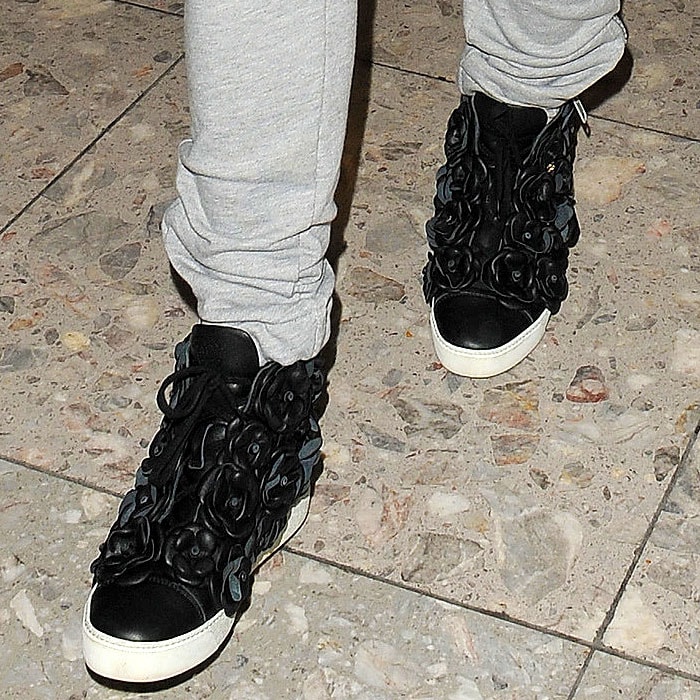 Chanel "Camellias" sneakers on Rita Ora
Our picks:
From top to bottom: DSquared2 Chain-Flower Denim Sneakers, $750 / Ted Baker "Merip2" Sneakers, $175 / MICHAEL Michael Kors "Robin" High-Top Sneakers, $195
5. Fierce Ankle-Strap Sandals
Rihanna demonstrated the perfect tomboy chic look in a satin bomber jacket, a cropped hoodie, slim sweatpants, and Manolo Blahnik "Chaos" sandals.
As Rihanna has shown, the right pair of ankle-strap sandals can make sweatpants look sexy and fierce. Is there anything this fashion's favorite shoe of the moment cannot do?
Rihanna catching a flight out of the London Heathrow Airport in England on September 27, 2012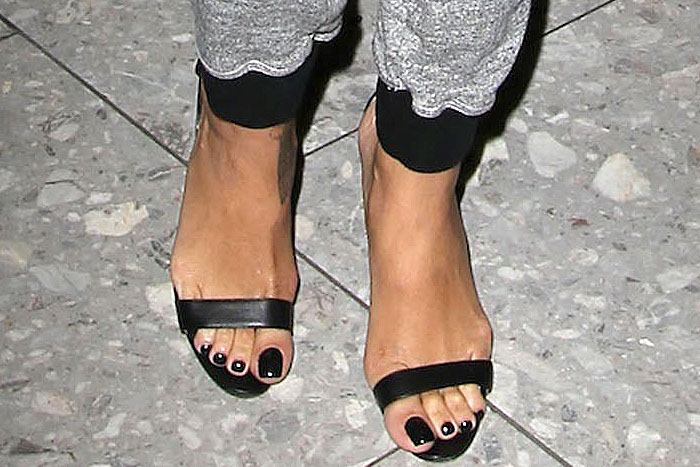 Manolo Blahnik "Chaos" sandals on Rihanna
Our picks:
From top to bottom: G by GUESS "Makense" Ankle-Strap Sandals, $59 / Pour La Victoire "Yaya" Sandals, $250 / Steve Madden "Stecy" Ankle-Strap Sandals, $79.95
Credit: WENN