On March 28, Sofia Vergara and Heidi Klum arrived at America's Got Talent studios in Los Angeles in style, ready for the show's upcoming season.
Returning to the judges' table for the fourth time, Sofia Vergara made a statement with her colorful power suit, perfect for the spring season.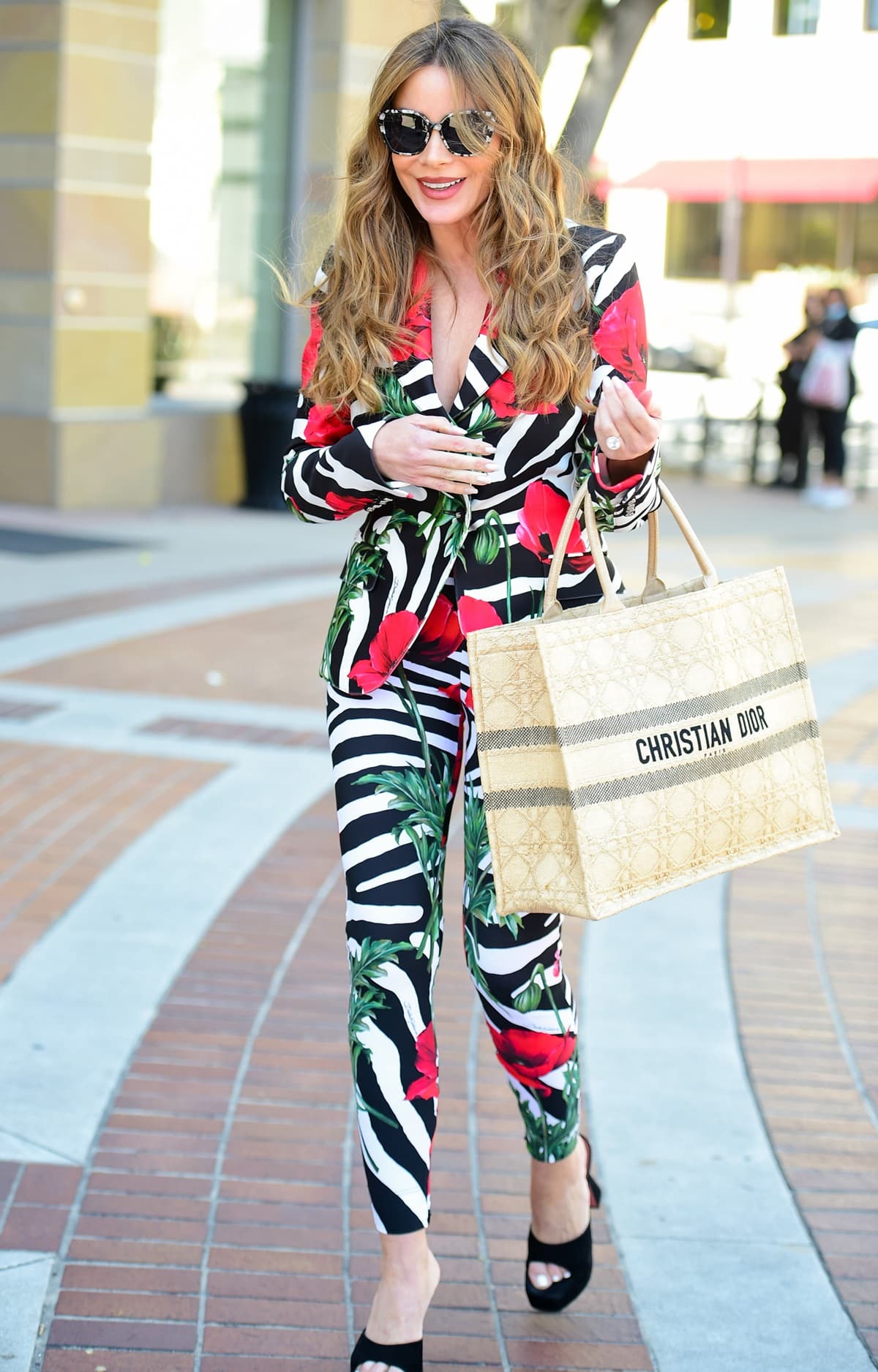 Sofia Vergara in playful Dolce & Gabbana leggings and blazer featuring painterly floral and zebra prints arrives at America's Got Talent Show on March 28, 2023, in Pasadena, California (Credit: BauerGriffin / INSTARimages)
The Modern Family actress donned a Dolce & Gabbana zebra and floral print blazer paired with matching Dolce & Gabbana poppy and zebra print leggings adorned with dramatic red flowers.
She opted for oversized printed sunglasses and a medium tan Christian Dior Book Tote handbag to accessorize, giving her business-chic fashion an edge. Vergara chose subtle makeup and matte beige lip color for her glam look.
Her footwear was a pair of Amina Muaddi Bianca sandals with an open toe, a platform sole, and a tall, sculpted pyramid heel in black calf suede. You can check out her popular shoes at Farfetch.
Sofia Vergara shows off a young child's fan art and styles her Dolce & Gabbana outwith with square sunglasses, black Amina Muaddi Bianca pumps, and a Christian Dior Book Tote (Credit: BauerGriffin / INSTARimages)
As Vergara approached the studio doors, she received a young child's fan art, which she proudly held up for photographers. The drawing featured her alongside two other AGT judges, showcasing her impact on her young fans.
Meanwhile, returning to the judges' panel for the tenth time, Heidi Klum opted for a business-casual look.
The former Victoria's Secret model sported a Camila Coelho Raina top, featuring a cropped pink and yellow sweater with sheer black paneling and a black sheer corset top that lined her bodice.
Her top had busk closures running down its middle and boning throughout. She paired these with high-waisted black pants that had pleating on the wide-leg trousers.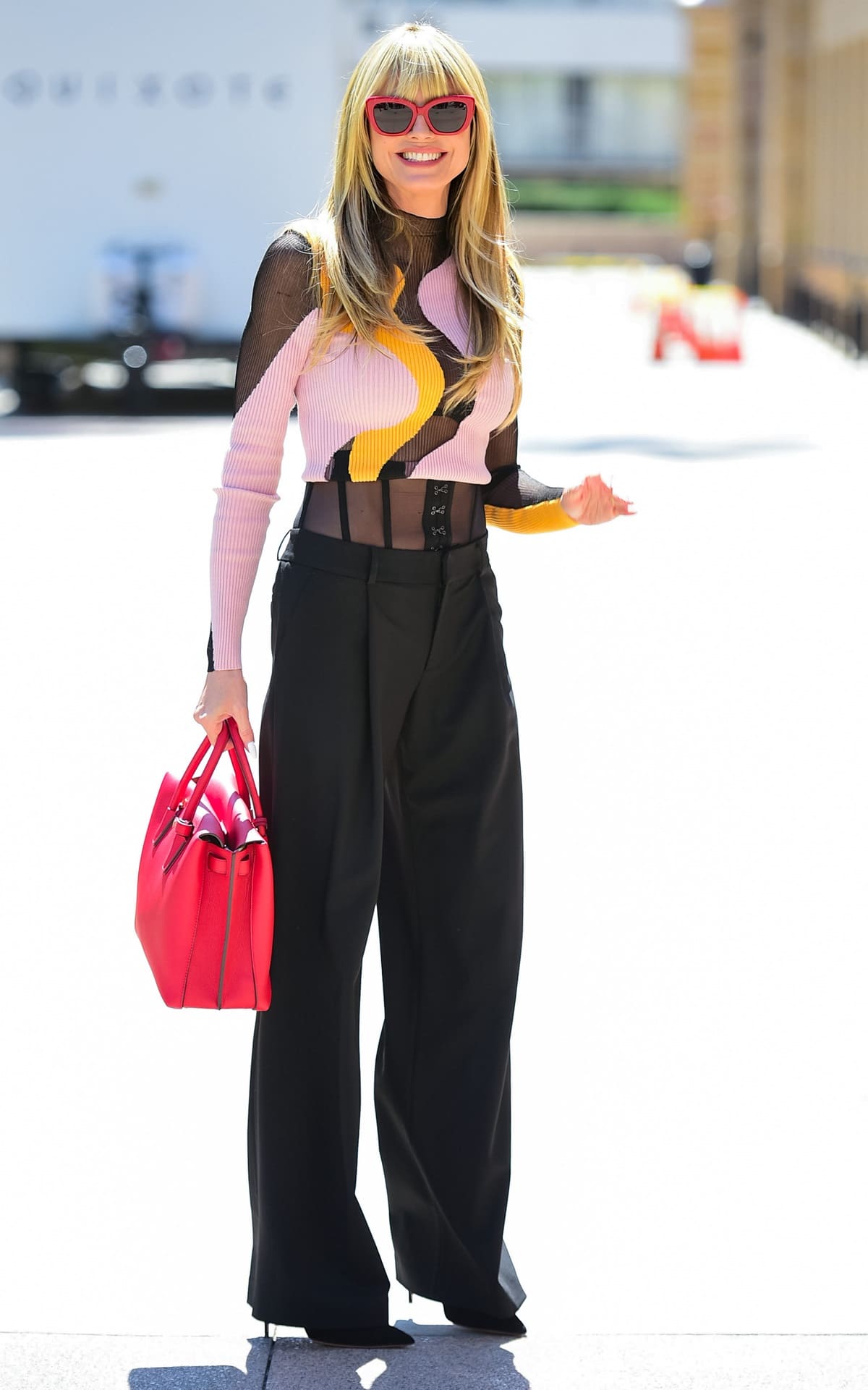 Heidi Klum wears bold oversized red Kilian Kerner x Fielmann 018 Fa sunglasses as she arrives at America's Got Talent Show on March 28, 2023, in Pasadena, California (Credit: BauerGriffin / INSTARimages)
Klum's accessories included a ruby red MCM Milla tote bag and red-framed sunglasses from Kilian Kerner x Fielmann. She wore a pair of sleek black pumps with a pointed toe to complete her ensemble.
Despite their stunning outfits, the duo found themselves amidst April Fool's backlash after their "tacky" prank went wrong.
They shared a photo on social media where the German supermodel held her stomach in a dressing room while wearing a long skirt, a cropped black sweater, and a pair of tan UGG slippers, and Vergara was seen kissing Klum's fictitious baby bump, leading people to believe that she was pregnant.
Heidi Klum effortlessly exuded style in a pink and orange Camila Coelho Raina sweater featuring semi-sheer panels on the front and left sleeve paired with sleek black pants and a red MCM Milla tote bag (Credit: BauerGriffin / INSTARimages)
Her colleague Howie Mandel, also back in his 14th season, posted the photo on Instagram along with the caption, "Congratulations @heidklum. Coworkers @sofiavergara and I are the first to know."
Vergara then shared the same picture on social media, saying, "I'm going to be an aunt!!"
However, hours later, Klum shared a photograph of Mandel with a prosthetic baby bump on his stomach, proving it was just an innocent prank.
She jokingly said, "From me to you, congratulations."
Unfortunately, their followers disapproved of the joke, with many saying that since "so many women experience infertility," "being pregnant isn't a funny April Fools' joke."
View this post on Instagram
The 18th season of America's Got Talent will feature a new lineup of aspiring performers, including vocalists, dancers, comedians, magicians, and death-defying and high-flying acts to win the $1 million grand prize and the opportunity to open an AGT live show in Las Vegas.
It will air on NBC on May 30, with Terry Crews returning as the presenter and Simon Cowell as a judge on the summer talent competition series for his eighth season, along with co-judges Vergara, Klum, and Mandel.
As we gear up for another exciting season of America's Got Talent, we can't wait to see what Sofia Vergara and Heidi Klum have in store for us in fashion and entertainment.
They may have faced backlash for their prank, but they will undoubtedly continue bringing their unique style and personalities to the show.