Anna Faris starred in a Super Bowl commercial for Avocados From Mexico this year. The commercial aired during the big game on February 12, 2023, and featured Faris as Eve in a modern-day Garden of Eden.
In the ad, Faris takes a bite of an avocado and is instantly transported to a world where everything is perfect. She is surrounded by beautiful scenery, delicious food, and friendly people.
Avocados From Mexico is drawing inspiration from biblical tales for its Super Bowl advertisement, featuring Anna Faris as a unique take on Eve in the story of Original Sin (Credit: Avocados From Mexico)
The commercial ends with Faris declaring that avocados "make everything better." Described by the brand as "a timeless tale," the ad showcases the transformative power of a single avocado, capable of changing the world as we know it.
To fully embrace her role, Faris fearlessly embraces her natural self. "When I realized that the wardrobe in my trailer was a tiny little thong and these jelly-like bra things, I guess they're just nipple covers, I thought to myself, all right, this is what my beautiful day is going to look like," Faris told People about appearing naked.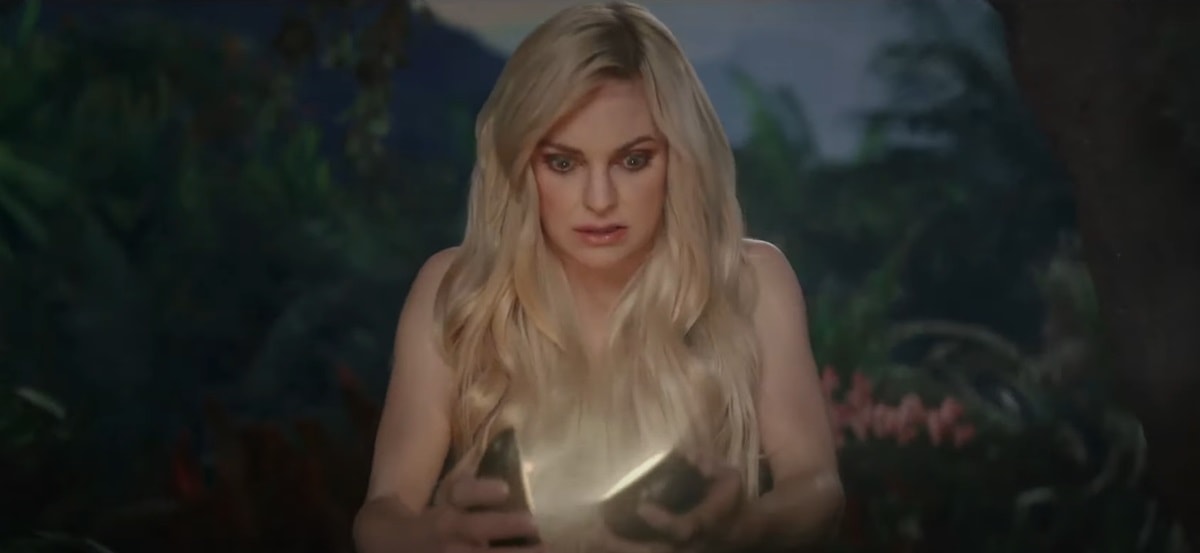 In the commercial, Anna Faris portrays the biblical character Eve in a fresh interpretation of what might have transpired had she consumed an avocado instead of an apple (Credit: Avocados From Mexico)
"I felt really proud that I'm kind of at this place in life where I could spend a lot of time feeling modest and insecure, or I just embrace it."
Faris reveals that she found comfort in the abundant hair she had to don for the shoot, saying, "I was able to find security in the massive amount of hair."
The commercial includes the presence of Eduardo Esquivel, an actor and model, portraying a hot shirtless guy.
Anna Faris takes part in Avocados From Mexico's Make It Better campaign, portraying the biblical character Eve in a fresh interpretation of what might have transpired had she consumed an avocado instead of an apple (Credit: Avocados From Mexico)
She goes on to describe the scene, saying, "There was also a lot of other minimally dressed young, very beautiful people. And I just thought, I'm just accepting this is just rad. We're just in the Garden of Eden, which is glorious. They created the most beautiful set, and we were all in it together."
Reflecting on the experience, she expresses, "It felt liberating — for the first time in my life I was like, 'maybe I could be a part of a nudist colony if I take all the hair with me.'"
The commercial was well-received by viewers and helped raise awareness of avocados' benefits. Avocados are a good source of healthy fats, fiber, and vitamins. They are also low in calories and cholesterol.
As a result, avocados have been linked to several health benefits, including improved heart health, weight loss, and skin health.
"For this to be a Super Bowl commercial feels like one of those moments of, like, high school revenge," Faris joked during an appearance on NBC's "Today."
"Our ad tells the story of what would happen if Eve took a bite of an avocado instead of an apple," Faris explained.
"I could either fight this all day and feel modest and, like, 'ahh, covering up,' but I didn't feel like Eve would ever … she's an innocent," Faris explained, adding, "It's all method acting!"
"I'm so excited to be starring in my first Big Game commercial," she said. "Working with Avocados from Mexico was the perfect fit because I get to promote — and eat — a product I really love. I can't wait for the rest of the world to see the amazing world of good we've dreamed up."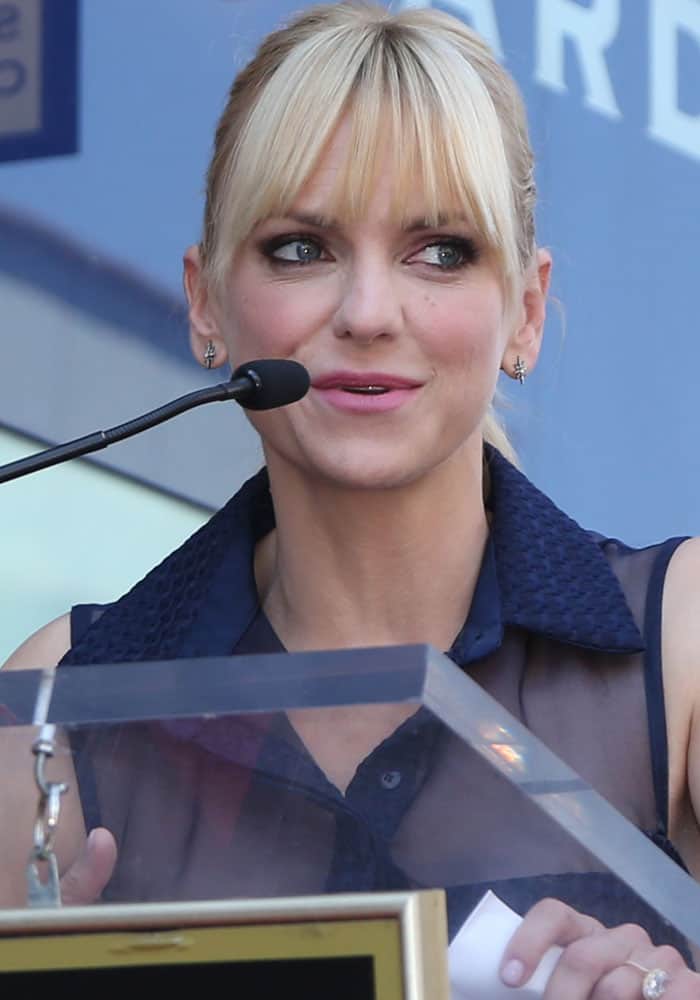 Anna Faris attends her husband Chris Pratt's star ceremony at the Hollywood Walk of Fame in Los Angeles on April 21, 2017 (Credit: Nicky Nelson / FayesVision / WENN)
Anna Faris and Chris Pratt were married for eight years and had one son, Jack. They announced their separation in August 2017 and finalized their divorce in October 2018.
In April 2017, she stood by his side as Chris Pratt cemented his place in Hollywood history as he was honored with a star along the Hollywood Walk of Fame.
Expressing humility, the star of "Guardians of the Galaxy" admitted to feeling unworthy of the honor bestowed upon him. "I am humbled. I know it's seen as a token of success and of accomplishment," Pratt said.
"To me it means I have the opportunity to hear some of my favorite people in the world say really nice things about me and try to get me to cry in front of 1,000 strangers and it worked."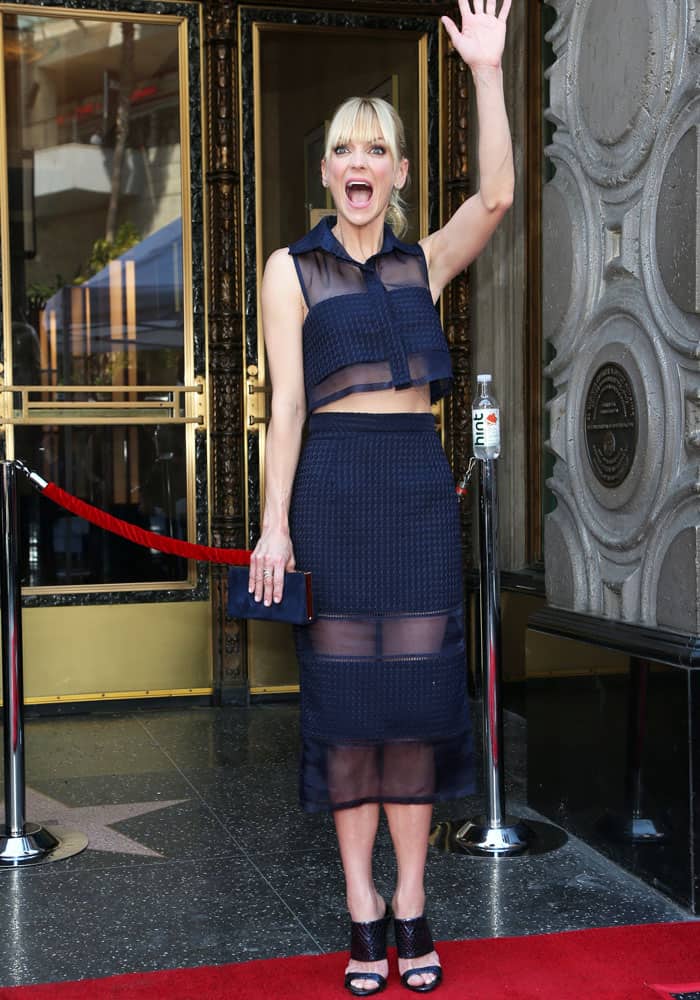 Anna Faris gives the fans an ecstatic wave in a two-piece ensemble from the Vivien Chan Spring 2017 collection (Credit: Nicky Nelson / FayesVision / WENN)
Anna spoke at her then-husband's star unveiling surrounded by friends, family members, and their son Jack.
"This is actually a thank-you speech," she said. "I'm the beneficiary of all this because I get to spend every day with this wonderful man … I know that if our circumstances were different and we weren't as fortunate to be standing here and living our Hollywood life, we would be happy in the woods together, I think."
Anna Faris discussed her son, Jack, who was born prematurely and faced health challenges.
She expressed gratitude for Chris Pratt's unwavering support, describing him as her rock during that difficult time. The couple's 4-year-old son, Jack, was also present at the event and effortlessly stole the spotlight when it was time to capture memorable photographs.
"At the premiere of Guardians 2, on the red carpet he whispered something unbelievably inappropriate into my ear and it was awesome. Honey, I want to thank you for being the most incredible person. I love you so much," she added.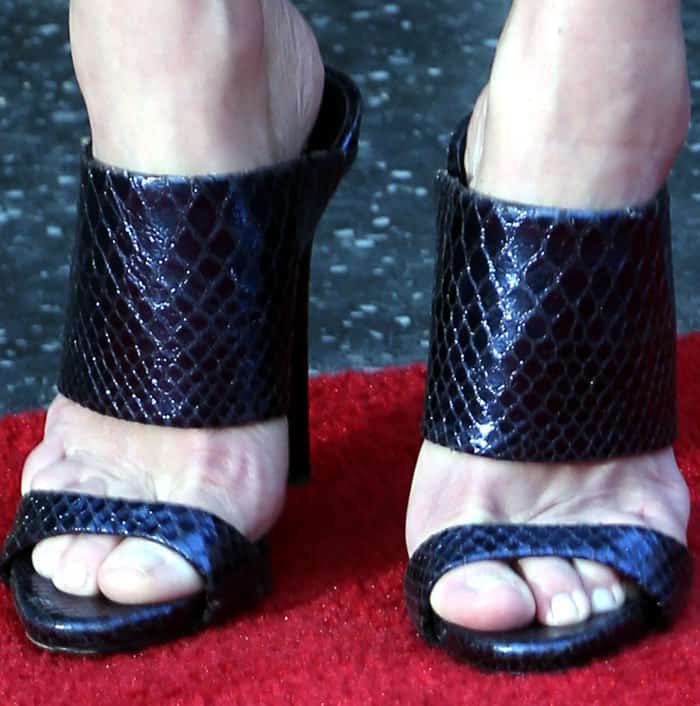 Anna Faris shows off her feet in Giuseppe Zanotti "Andrea" mules (Credit: Nicky Nelson / FayesVision / WENN)
Anna showed off her impressive abs with a two-piece creation by designer Vivian Chan.
The Hot Chick actress mixed fun into her semi-formal attire with mesh panels and textured fabric. The gorgeous navy blue shade and collar detail still make the outfit speech-appropriate.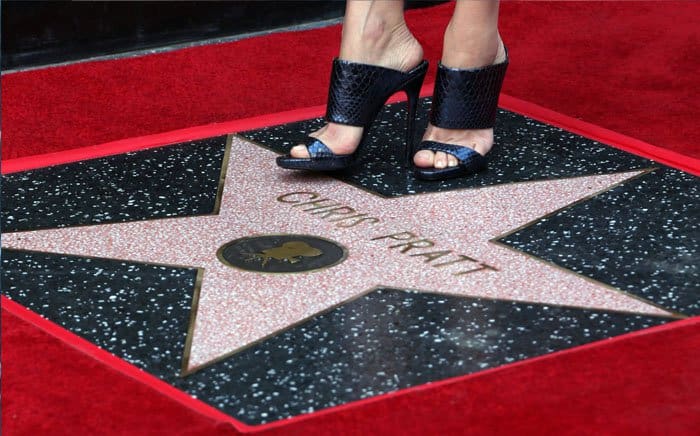 Anna Faris proudly stands by her husband's Hollywood Walk of Fame Star (Credit: Nicky Nelson / FayesVision / WENN)
The House Bunny actress slipped her feet into a pair of Giuseppe Zanotti "Andrea" mules, providing the right casual and formal mix.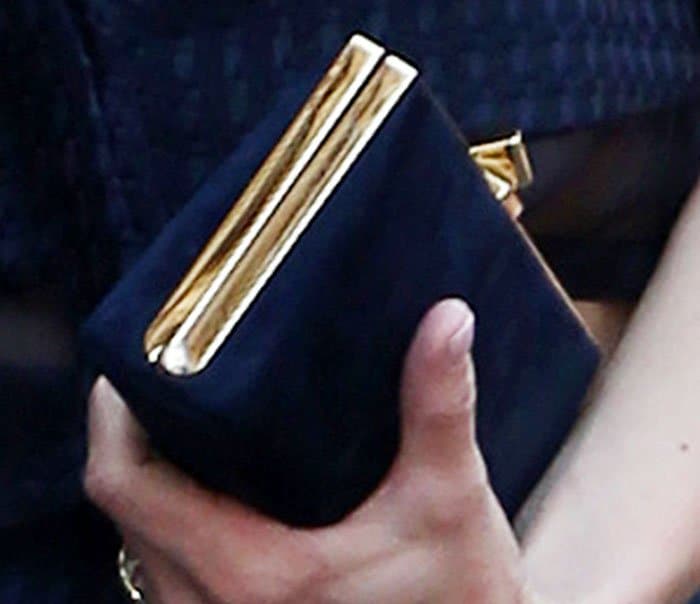 Anna Faris holds on to a blue velvet clutch (Credit: Nicky Nelson / FayesVision / WENN)
Anna chose a black pair embossed with a reptile print. These shoes are also available in materials such as metallic and patent leather.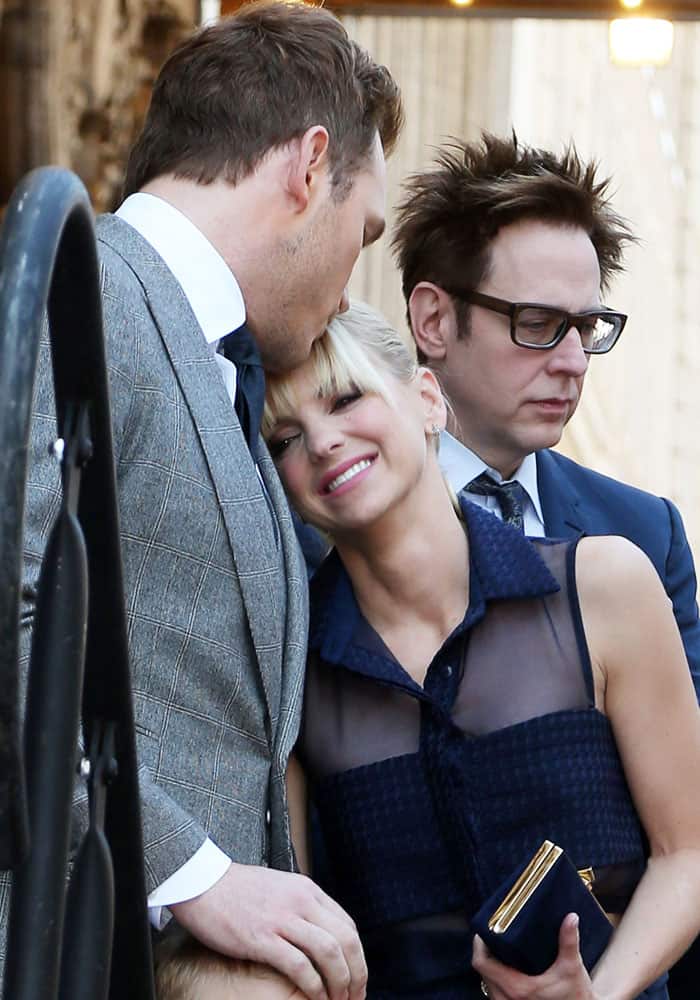 Anna Faris gets an adorable kiss on the forehead from her husband, Chris Pratt (Credit: Nicky Nelson / FayesVision / WENN)
The "Mom" actress finished her look with a blue velvet clutch.
Anna Faris makes her husband, Chris Pratt, laugh as she delivers her speech (Credit: Nicky Nelson / FayesVision / WENN)
Anna was nervous as she stepped up to deliver a speech for her husband. The actress started by unfolding a piece of paper with Chris' unicorn drawing.
Later, Anna eased into her speech, which had Chris laughing at some parts.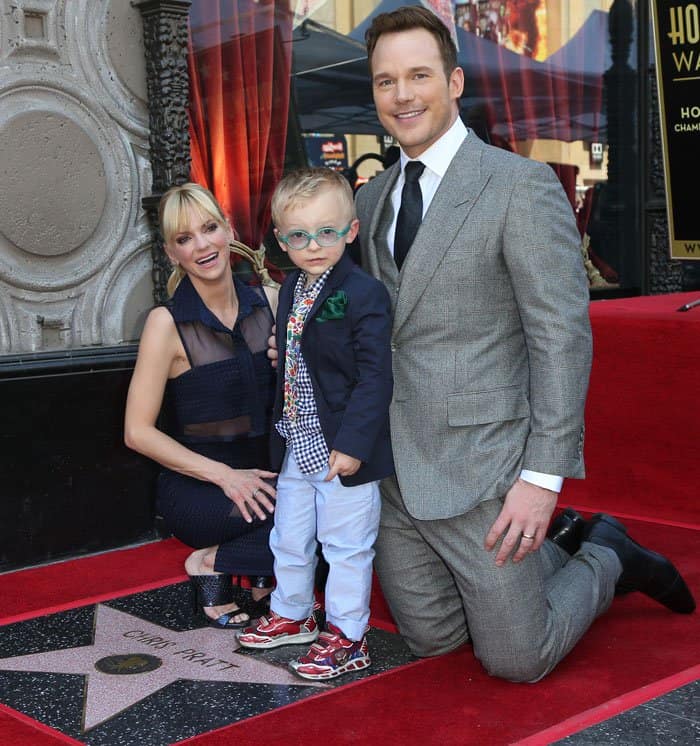 Anna Faris poses with her husband, Chris Pratt, and their son Jack (Credit: Nicky Nelson / FayesVision / WENN)
Things got emotional as Chris took the stage and thanked the people who helped him succeed.
"I'm a man of faith and I believe that God works in mysterious ways and gives us signs and gifts in life — and those gifts oftentimes come in the form of people," he said. "So I'll just spend the rest of my time expressing gratitude for the people in my life who are gifts."
"She gave absolutely everything she had to raise us, every fiber of her being. And oftentimes we weren't cash-rich, but we were never love-poor. You gave everything and you were always proud of me, way before this. When I was a waiter at Coco's you just couldn't get enough of me," he said about his mother, Kathy Pratt.
"He is my star and always has been. He played a major supporting role in raising me, and was a big fan of mine and always guided me and I love you," he thanked his brother, Daniel "Cully" Pratt, a sergeant with the Solano County Sheriff's Office,
To his sister Angie, Pratt added, "She taught me how to fight, she taught me how to value emotions, she taught me how to have a backbone and she made some profound sacrifices for our family, so that I could be down here chasing my dreams."
Anna Faris signs autographs for her fans in a sleeveless Vivienne Chan Spring 2017 two-piece design (Credit: Nicky Nelson / FayesVision / WENN)
Chris thanked Anna for being by his side the entire time. "I want to thank my wife Anna, I love you. You've given me so much. You gave me the greatest star in the galaxy in my little boy, I love him and I love you."
"We have bonded to make this molecule that is more important to me than air or water, and without it none of this means anything to me. With every challenge, with every day, week, month, decade, we become more bonded. You make me laugh like nobody else. You're very caring, and thank you for your trust and your sacrifice — and for your dedication and your heart. I will do my best to protect it, and in return I will give you all of those things as well. You have my heart, my dedication, my trust."
You can purchase Giuseppe Zanotti's "Andrea" mules on Farfetch and SSENSE.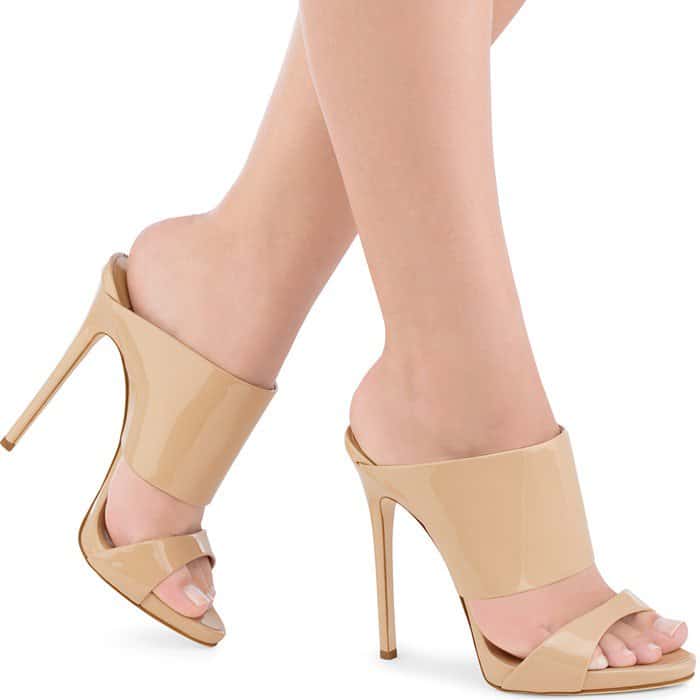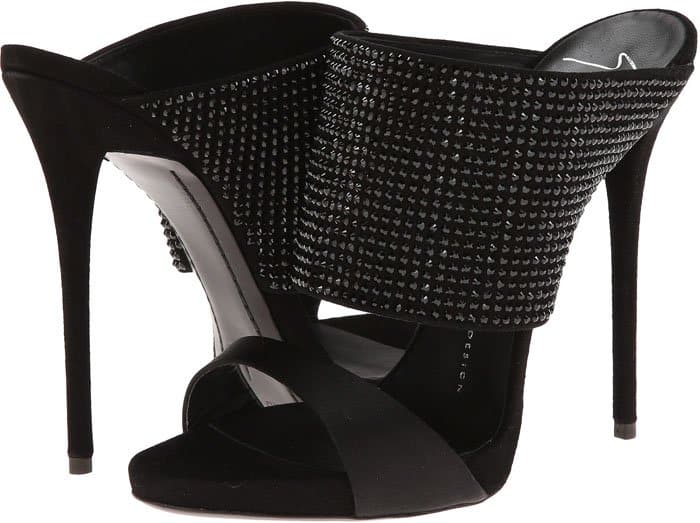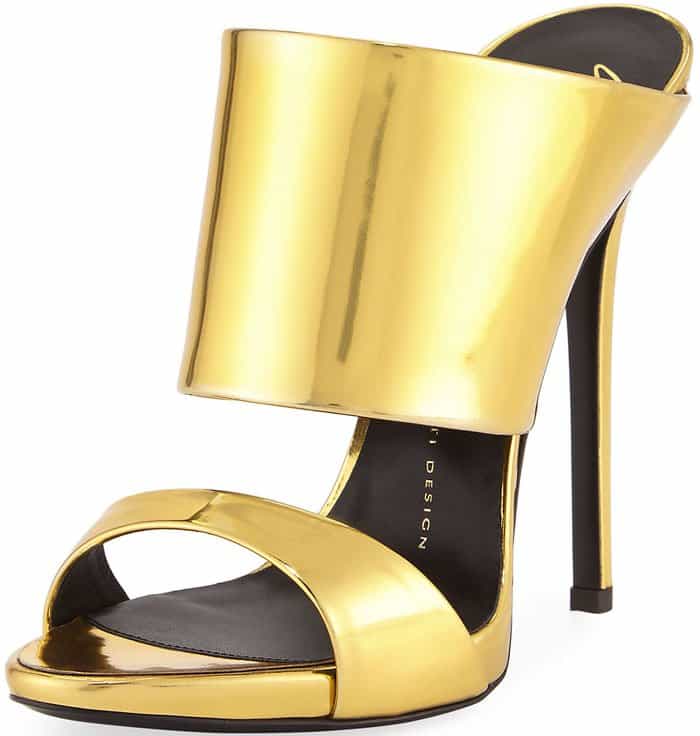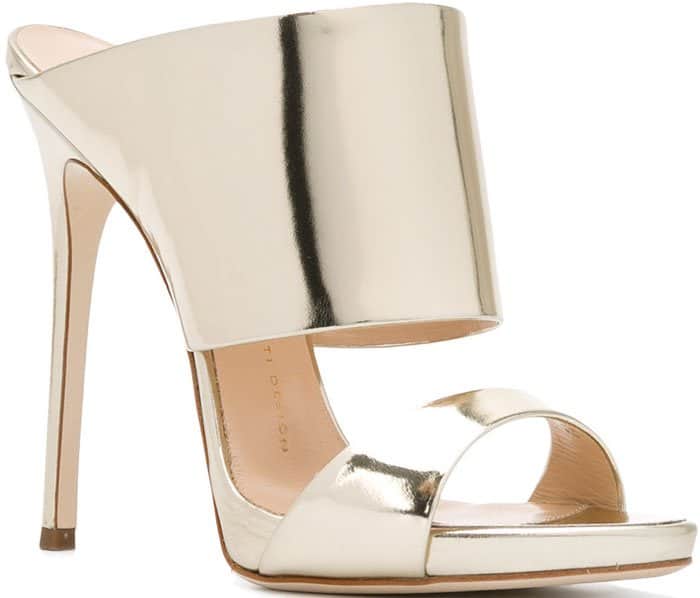 Giuseppe Zanotti "Andrea" Mules, $450 – $675