The actress continues to excel in gritty roles.
Sydney Sweeney has proven her acting chops by taking on gritty roles in critically acclaimed series like Euphoria, The Handmaiden's Tale, and The White Lotus, to name a few. She's taken on a myriad of roles in dramas, comedies, and even romances.
Sydney told Nylon in 2018 about taking on so many different roles, which has a lot to do with her appearance.
Sydney Sweeney shows a glimpse of her boobs in LaQuan Smith Spring/Summer 2023 gown at the GQ Men of the Year Awards on November 16, 2022 (Credit: PA Images / INSTARimages / Cover Images)
"It is a way to challenge myself, and I also never wanted to be typecast. I was always worried that I would just play the girlfriend or the cute next-door neighbor and not have these characters with depth. But I've been really lucky to be able to find and play different roles that are completely different from myself and completely different from each other."
She never wants to be reduced to a blonde-haired, big-boobed character in her acting roles or life. But despite becoming a household name in 2019, thanks to her impeccable portrayal of Cassie in Euphoria, the star has been exposed to the dark side of fame, which has focused on critiquing her physical appearance.
Sydney Calls Out Her Fans
We couldn't imagine Euphoria without Sydney Sweeney. The actress captures all of Cassie's chaos perfectly. She has filmed several sex and nudity scenes in the role and is now calling out fans for sexualizing her because of it.
Sydney Sweeney has filmed several sex and nudity scenes as Cassie Howard in the HBO teen drama series Euphoria (Credit: Warner Bros. Domestic Television Distribution)
During her interview with Christina Ricci in Variety's Actors on Actors, she commented on the sexualization of her body through her character.
"There was a storyline of what is happening in Cassie and the sexualization that's happening in Cassie because of her nude photos that got leaked, and just the perception of others on her because she has boobs. I see that happening to me in real life, even though everyone watched Euphoria. I go, 'Did you not learn?'"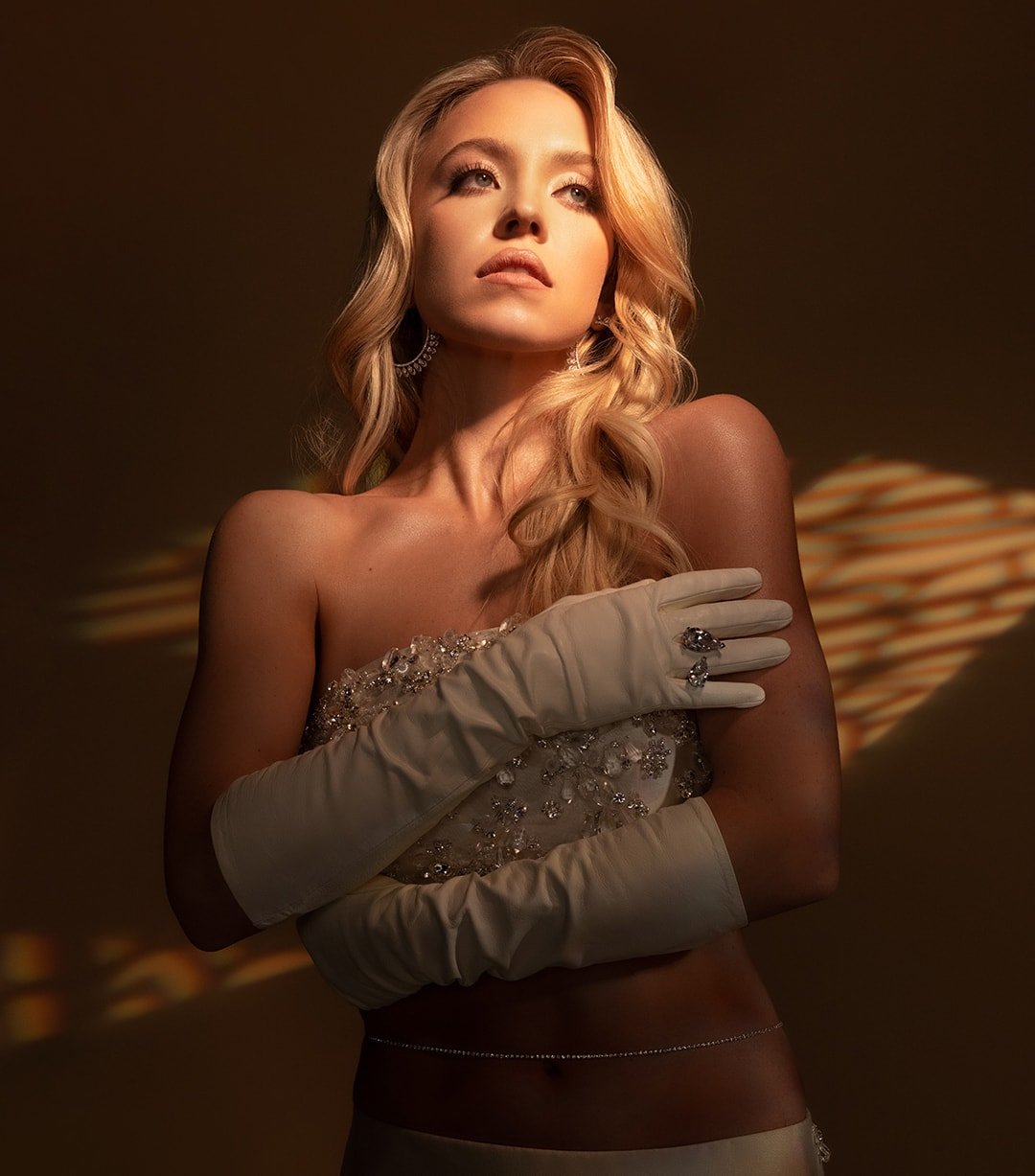 Sydney Sweeney sees the sexualization in her on-screen character, Cassie, happening to her in real life (Credit: Warner Bros. Domestic Television Distribution)
In tears, the star addressed her fans about comments on her appearance in an Instagram Live in May 2021: "Apparently, I am trending on Twitter right now for being ugly. I would never actually do this, ever, but I think it's really important for people to see how words actually affect people."
The Euphoria star continued, "I know everyone says, like, 'You can't read things, you shouldn't read things.' But like, I'm a f–king person. I'm just sitting here with my dog Tank, watching HGTV, wearing my Snuggy. People need to be nicer on social media because it's really f–ked up."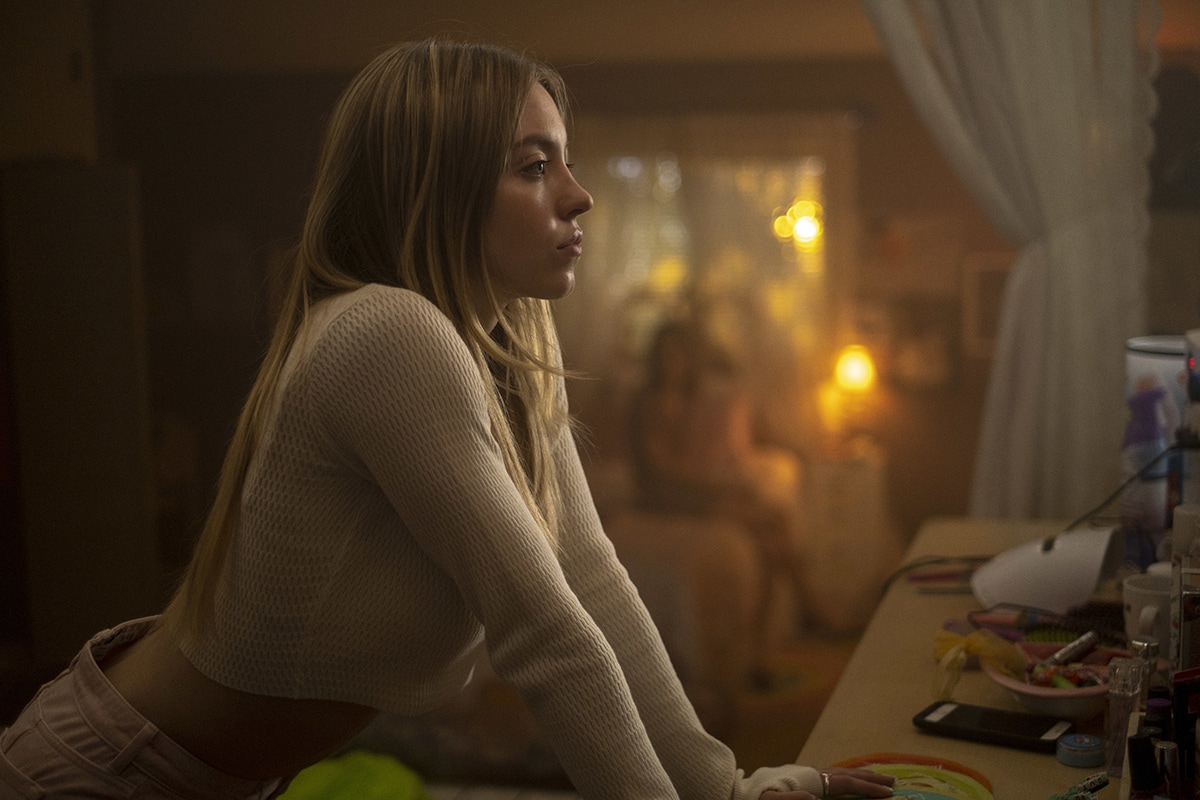 Sydney Sweeney has called out her fans for sexualizing her body because of her role in Euphoria (Credit: Warner Bros. Domestic Television Distribution)
Sydney Was Bullied in High School Because of Her Appearance
Sydney has made a name for herself by playing characters that are a director's dream for messing with an audience.
Her roles as Olivia (The White Lotus) and Cassie (Euphoria) appear cliché at first glance, but as the characters are unpacked, they are shown to be anything but.
These characters perfectly sum up how Sydney feels about her own appearance. "I like finding characters who challenge the viewer," Sydney told GQ Magazine during an interview.
"I dyed my hair blonde and started dressing up for photoshoots, and people thought that is who I am. I worked really hard to change that perception of myself, especially in high school."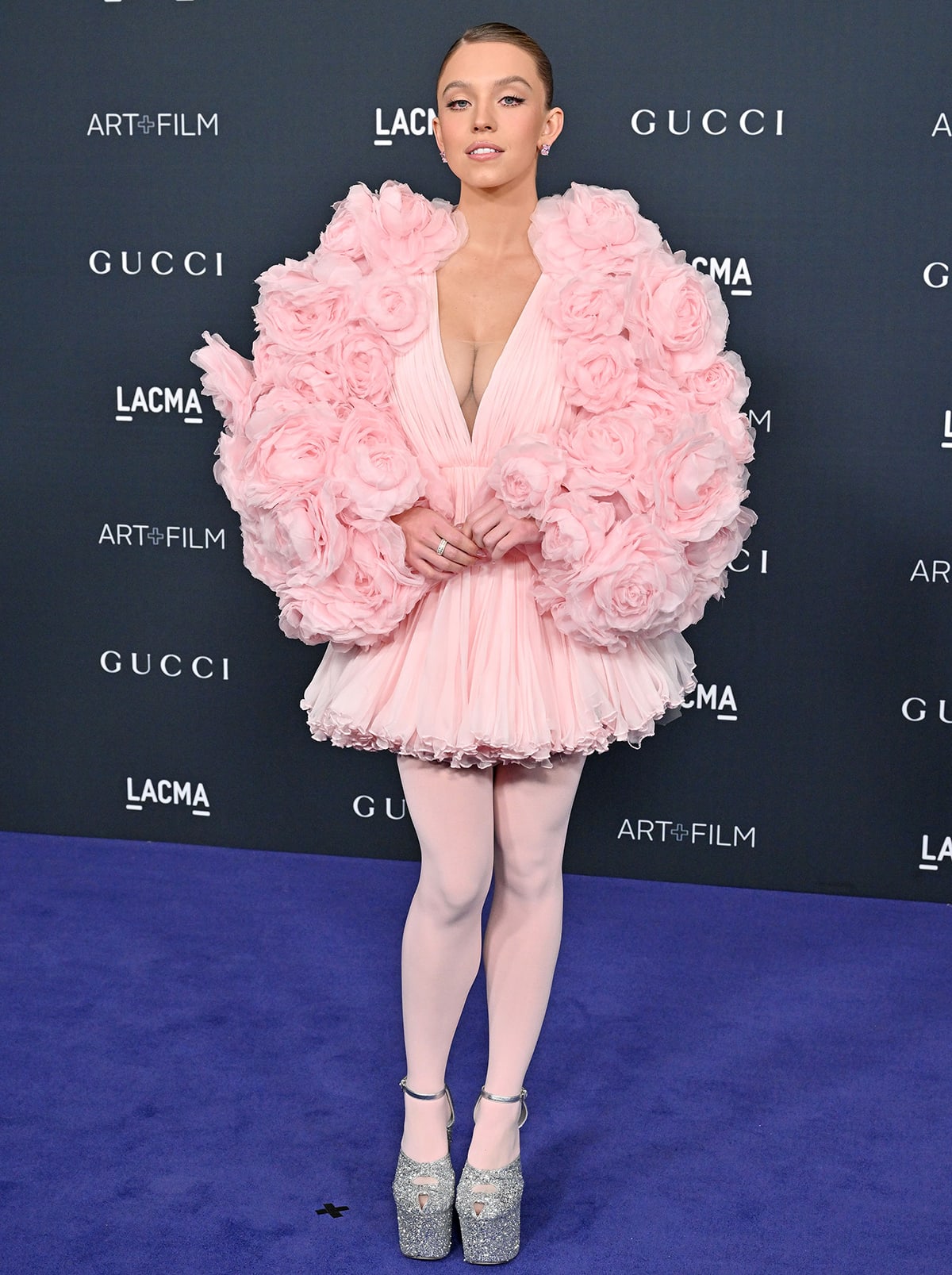 Sydney Sweeney reveals being bullied in high school because of her appearance (Credit: Axelle Woussen. /BauerGriffin / INST / Cover Images)
"I had boobs before other girls, and I felt ostracized for it," Sweeney explained.
"I was embarrassed, and I never wanted to change in the locker room. I think that I put on this weird persona other people had of me because of my body. So I did play every sport and I studied really hard and I did everything that people wouldn't think I would do, to show them that my body doesn't define who I am."
The star has continued to defy the norm after high school. She owns her own production company, Fifty-Fifty Films, she's trained in martial arts, and she restores vintage cars. The star also pursued a business degree in college so that she could read contracts as an actor.
Sydney Sweeney now owns her own production company, Fifty-Fifty Films, and has a business degree (Credit: Faye's Vision / Cover Images)
Sydney Gets Unwanted Attention Because of Her Looks
Despite her impressive presence onscreen, Sydney feels she is often reduced to her looks, specifically her blonde hair and big boobs. Despite playing such nuanced characters, her body and looks are often brought into consideration.
During an interview, the star was asked about the biggest misconception about her.
"I'm trying to work out how to word it because I know exactly what I want to say, but I'm sitting in the car with my dad right now. Okay, it's that I have big boobs, I'm blonde, and that's all I have."
Sydney Sweeney feels she's often reduced to her looks, specifically her blonde hair and big boobs (Credit: Sara De Boer / startraksphoto)
It's been questioned whether she had plastic surgery to enhance her breasts. Considering the star has received a lot of unwanted attention due to her body, she likely hasn't undergone any kind of breast augmentation surgery.
Sydney has also revealed that she is considering exploring other facets of the entertainment industry away from acting and misconceptions about her looks, such as writing, directing, or entertainment law.
Whatever she chooses to turn her hand to, she isn't going to let anyone stick her in a box according to her looks.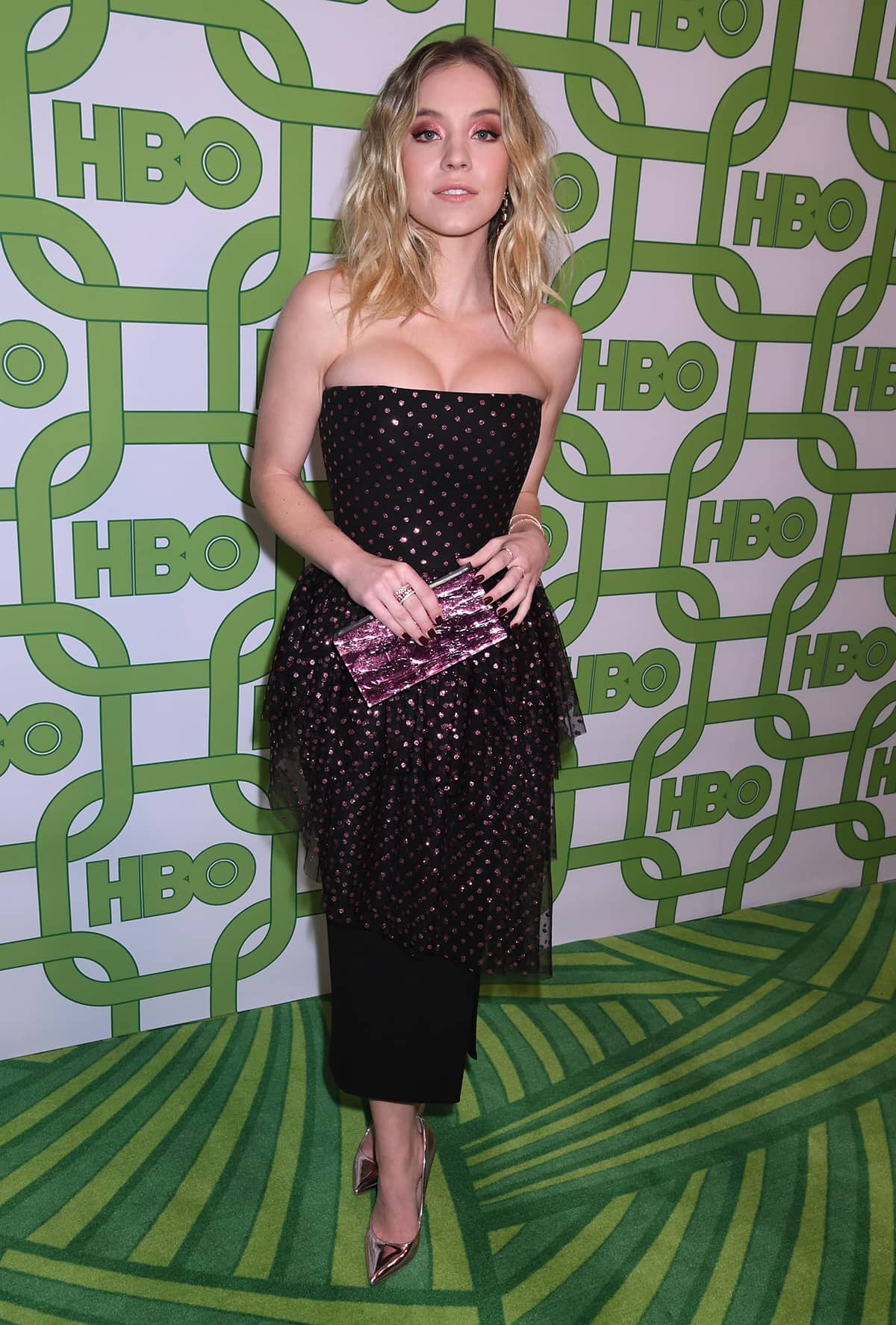 Sydney Sweeney considers exploring other facets of the entertainment industry, such as writing, directing, or entertainment law (Credit: Jennifer Graylock / INSTARimages)
Her Grandparents Don't Mind Her Onscreen Nudity
In her excitement about the Euphoria premiere, Sydney invited her whole family to watch the show's premiere. However, she didn't think about the fact that her grandparent, uncles, and more would be seeing her in a state of undress during the screening.
Her grandparents didn't think too much of the nudity. In fact, they think she has the best boobs in all of Hollywood.
Sydney Sweeney reveals watching the premiere of Euphoria with her entire family, with her grandparents saying she has the best tits in Hollywood (Credit: Warner Bros. Domestic Television Distribution)
"I invited my entire family and I didn't really think about it," Sydney told Ellen while being interviewed on The Ellen Degeneres show. "My grandparents, my uncles, my… I was like, 'It's a Hollywood premiere! You've got to come!' We were all sitting next to each other on and giant screen, like a ginormous screen."
Sydney's grandparents responded, "They said I have the best tits in Hollywood."