After Taraji P. Henson secured the lead role in the 2016 American biographical drama film Hidden Figures, she had the incredible opportunity to meet the real-life Katherine Johnson, who was 98 years old at the time, to delve into the character she was about to portray.
In their meeting, Henson discovered Johnson's extraordinary academic achievements, including graduating from high school at age 14 and college at age 18. She was amazed by her sharpness of mind that defied her age.
Hidden Figures is a 2016 biographical drama film that tells the inspiring story of three African-American female mathematicians – Katherine Goble Johnson (Taraji P. Henson), Dorothy Vaughan (Octavia Spencer), and Mary Jackson (Janelle Monáe) – who played crucial roles at NASA during the Space Race (Credit: 20th Century Fox)
Following a screening of the film for Johnson, she genuinely praised Henson's portrayal but humbly questioned why her life would be worthy of a movie adaptation.
Katherine Johnson, who had the unique privilege of witnessing her extraordinary achievements brought to life on the big screen at the age of 98, was the only survivor of the Hidden Figures trio. She passed away on February 24, 2020, at 101 years old.
Her contributions to NASA were not only recognized by Hollywood but also by President Barack Obama, who awarded her the prestigious Presidential Medal of Freedom in November 2015.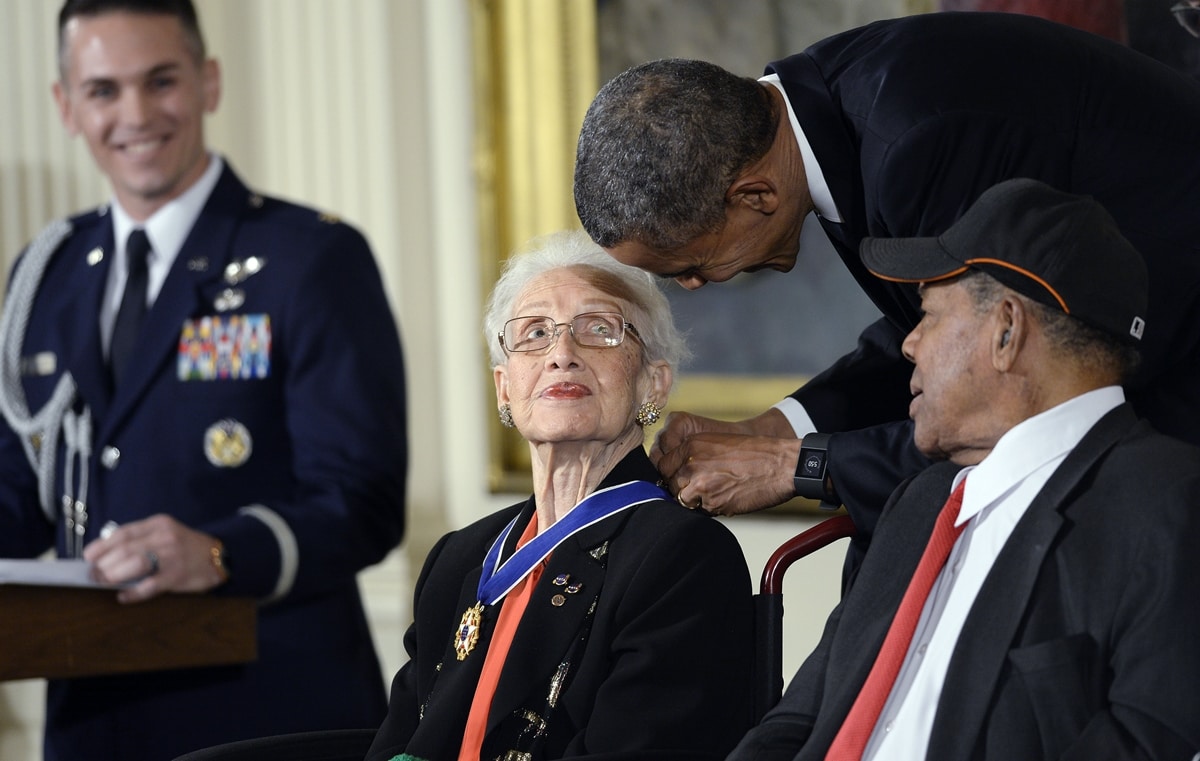 Katherine Johnson was awarded the Presidential Medal of Freedom by Barack Obama in 2015 (Credit: Ron Sachs / Startraksphoto)
In another remarkable tribute, a new state-of-the-art NASA building, the Katherine G Johnson Computational Research Facility, was named in her honor the following year, solidifying her legacy in the world of science and mathematics
Astronaut John Glenn requested Katherine Johnson to review all the calculations for the Friendship 7 mission, as depicted in the film, which was based on actual NASA transcripts. However, this review took place a few weeks before the launch, not during the moments leading up to the launch, as portrayed in the film.
Additionally, the film condensed the timeline, and in reality, Katherine Johnson's calculations took approximately three days to confirm, reflecting a more realistic timeline. The director provided this information in the DVD commentary.
NASA mathematician Katherine Johnson (C) and director Ezra Edelman (R), and producer Caroline Waterlow (L), winners of Best Documentary Feature for 'O.J.: Made in America' pose in the press room during the 89th Annual Academy Awards at Hollywood & Highland Center on February 26, 2017, in Hollywood, California (Credit: Featureflash Photo Agency / Shutterstock)
Hidden Figures garnered critical acclaim and received multiple award nominations, including three Oscars for Best Picture, Best Adapted Screenplay, and Best Supporting Actress for Octavia Spencer.
Taraji P. Henson and Octavia Spencer previously appeared together in the film "Best Seller: Revelações de Família" (2010), making this their second collaboration.
It also received two Golden Globe nominations for Best Supporting Actress for Spencer and Best Original Score. Hidden Figures ultimately won the Screen Actors Guild Award for Outstanding Performance by a Cast in a Motion Picture, further recognizing the film's exceptional ensemble cast.
Taraji P. Henson and Mahershala Ali previously portrayed love interests in the film "The Curious Case of Benjamin Button" (2008), making this their second time working together in such roles.
Taraji P. Henson Stuns in '50s Red Carpet Bombshell Look
Leave it to Taraji P. Henson to work a red carpet. In February 2017, the "Hidden Figures" star joined Brie Larson in strutting her stuff in an all-velvet ensemble on the red carpet of the 2017 Academy Awards.
Taraji P. Henson showcased her dramatic range as an actress on the Oscars red carpet, donning a custom midnight blue velvet gown by Alberta Ferretti that exuded strength, brilliance, and a nod to the glamour of Old Hollywood (Credit: Apega / Adriana M. Barraza / WENN)
Taraji wowed the crowd and paparazzi as she showed off her gorgeous toned physique in a skin-tight velvet dress at the 2017 Academy Awards.
At the 2017 Oscars, the stars of 'Hidden Figures,' Taraji P. Henson, Octavia Spencer, and Janelle Monáe, had the honor of introducing Katherine Johnson, the real-life inspiration behind Henson's character, to the stage.
As Johnson, then 98 years old, made her way to the podium, the audience rose in a standing ovation, recognizing her immense contributions and impact.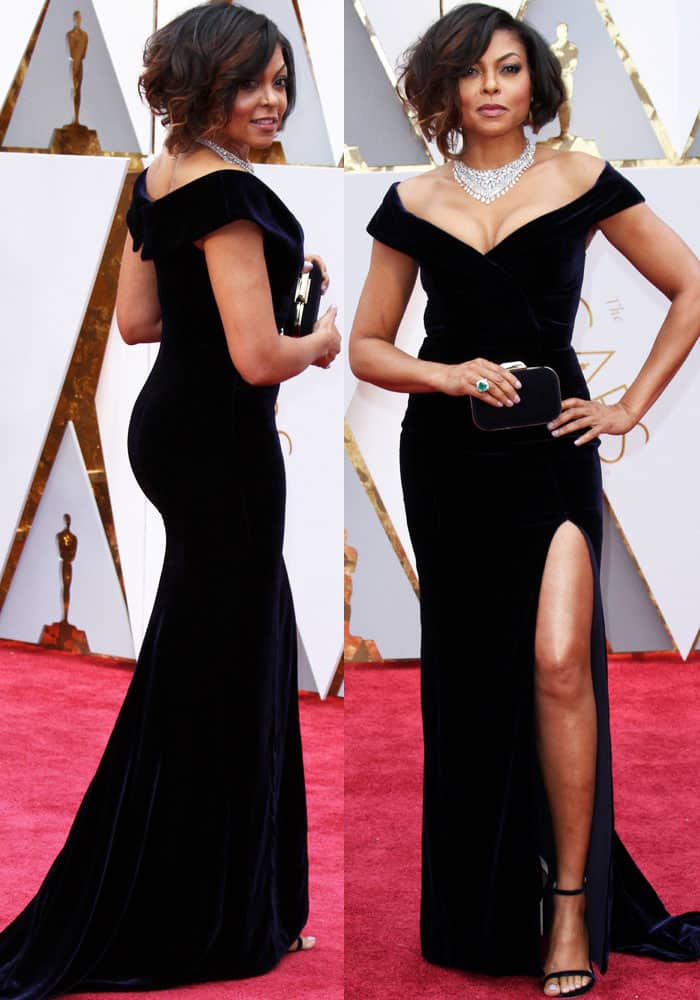 Taraji P. Henson wearing a custom navy off-the-shoulder velvet gown with exquisite jewelry from Nirav Modi at the 89th annual Academy Awards held at the Dolby Theatre at the Hollywood & Highland Center in Los Angeles on February 26, 2017 (Credit: Apega / Adriana M. Barraza / WENN)
The actress came to support her "Hidden Figures" team, which garnered nominations for Best Picture, Best Supporting Actress and Best Writing Adapted Screenplay. The film ultimately won no Oscars but was still a critical and commercial success.
Many were surprised Taraji P. Henson did not receive an Oscar nomination for her portrayal of NASA human computer Katherine Johnson in Hidden Figures.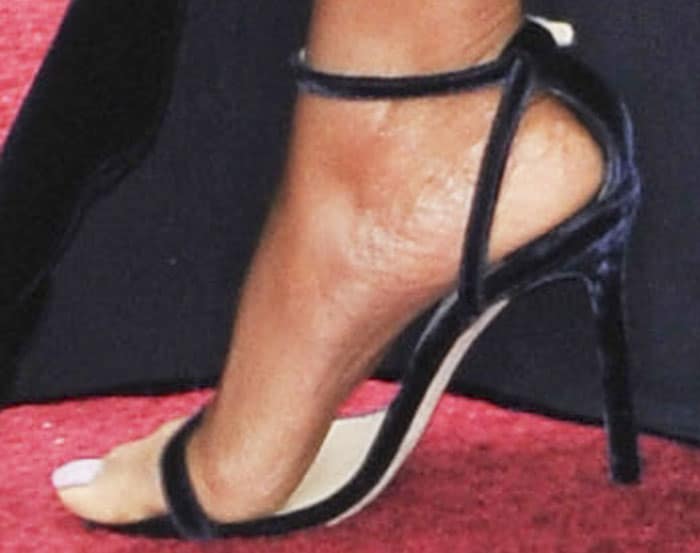 Taraji P. Henson foot jumps on the velvet train in a classic pair of Jimmy Choo "Minny" sandals (Credit: Apega / Adriana M. Barraza / WENN)
Taraji showed off a lot of cleavage in her off-shoulder velvet dress by Alberta Ferretti. The dress also featured a thigh-high slit, which completed the '50s red carpet bombshell look.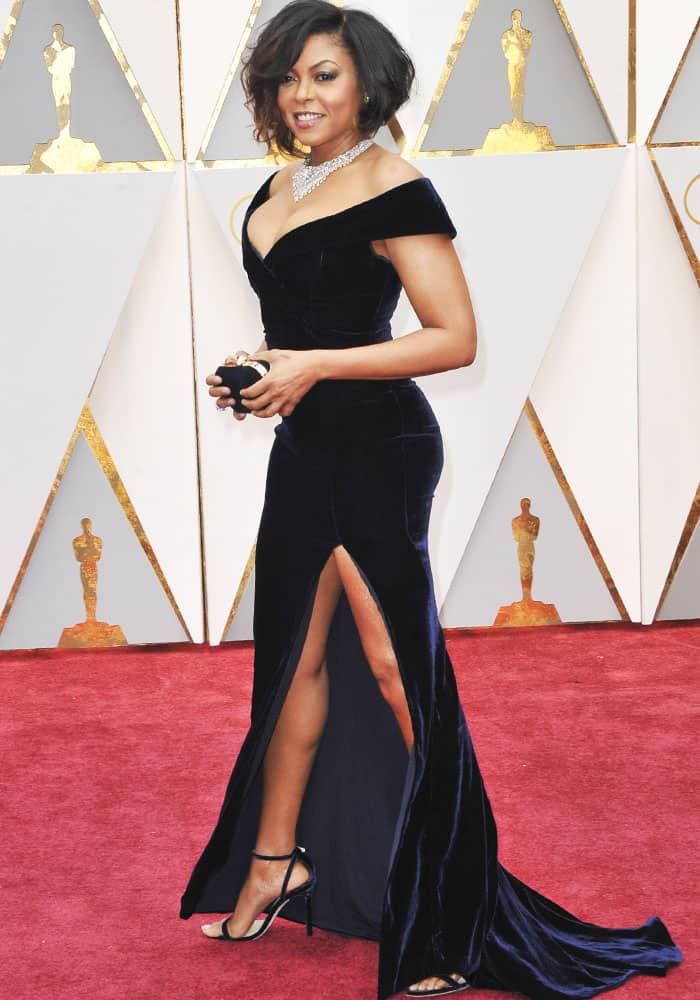 Taraji P. Henson is a velvet bombshell in an Alberta Ferretti gown and accessories from Jimmy Choo (Credit: Apega / Adriana M. Barraza / WENN)
The Empire actress went minimal on the dress but all-out on the bling. Taraji accessorized her look with royalty-worthy diamonds from Nirav Modi and a clutch and velvet "Minny" sandals from Jimmy Choo.
Taraji P. Henson was 46 years old, Janelle Monáe was 31, and Octavia Spencer was 46 when Hidden Figures had a limited release on December 25, 2016, by 20th Century Fox.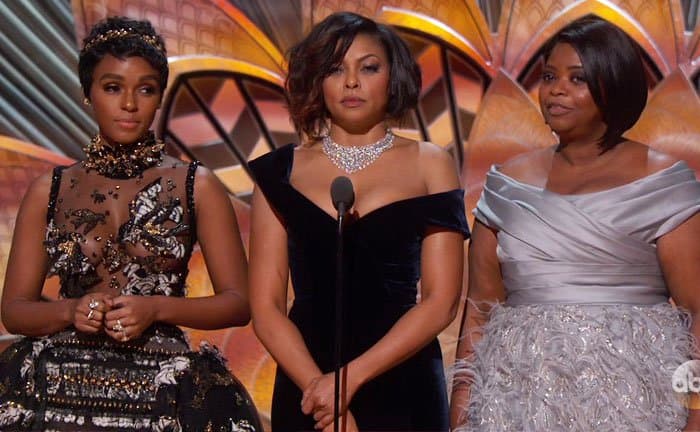 Taraji P. Henson with her "Hidden Figures" co-stars Janelle Monáe and Octavia Spencer (Credit: Apega / Adriana M. Barraza / WENN)
Taraji briefly chatted with Ryan Seacrest about her selection process for "Hidden Figures." The actress said it only took ten pages of script reading before she realized that she had something special in her hands.
The film was such a passion project for Taraji that the actress said she even didn't care how much she was getting paid.
The single mom also said that growing up, she was fed up with the mindset that math and science were only for boys. Taraji claims that she felt "robbed of a dream."
You can shop Taraji's classic Jimmy Choo "Minny" sandals on Mytheresa and Farfetch.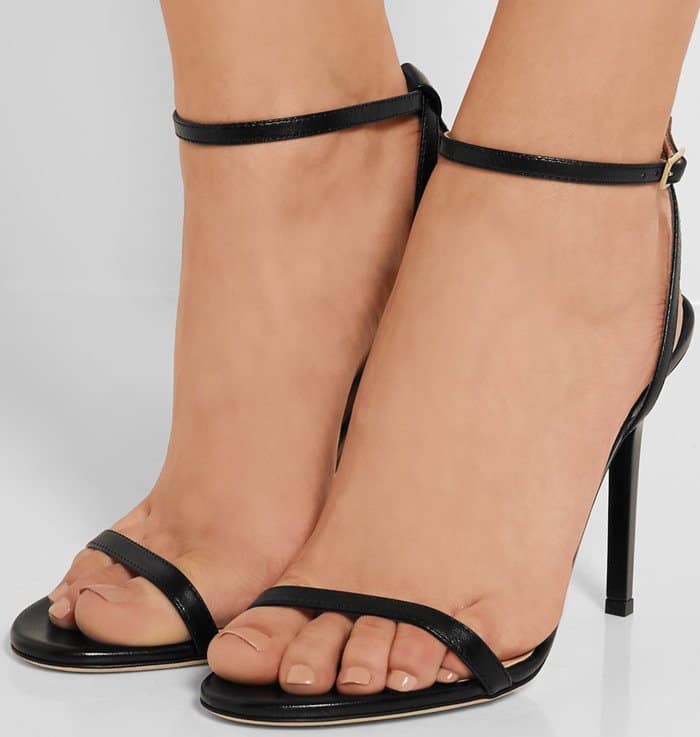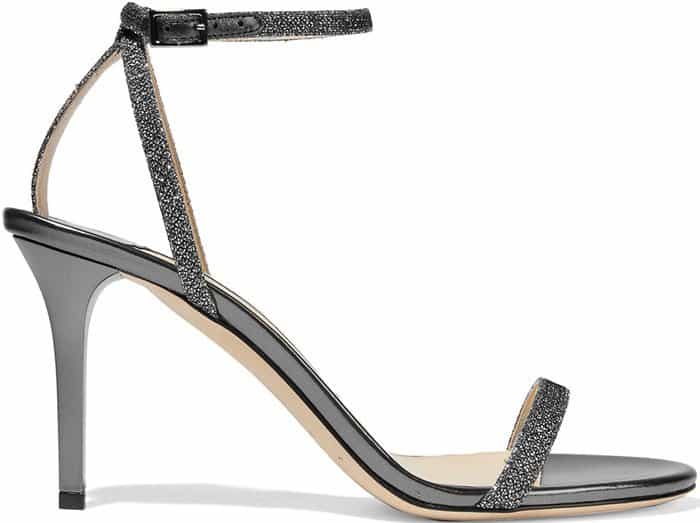 Jimmy Choo "Minny" Sandals, $329.99 – $850