On February 25th, Gabrielle Union and her husband, Dwyane Wade, made a fashion statement and advocated for LGBTQ rights at the 54th NAACP Image Awards in Pasadena, California.
Gabrielle Union shone elegantly in a vintage Gianni Versace Haute Couture beaded circus novelty gown with a tight bodice that flowed into an A-line skirt that ended at her ankles.
Gabrielle Union turned heads at the 2023 NAACP Image Awards in Pasadena, California, wearing a vintage Atelier Versace gown from the fall 1989 collection (Credit: Koj Sojer / Startraksphoto / Cover Images)
The vibrant dress had a variety of quirky designs, such as stars, swirls, and even horses covered in beautiful beading that reminded one of stained glass art.
Union had a long, black bob parted in the center and chose matte pink lips, smoky eye shadow, and face-warming blush for her makeup. She accessorized with a sparkling Bulgari choker necklace, Panthère de Cartier midi ring, and pointed-toe heels that contrasted with her incredibly bright outfit.
Meanwhile, Dwyane Wade sported an Atelier Versace tailored suit with a matching fitted jacket over a black button-down shirt and recognizable gold-tone Medusa accents, looking as dapper as ever.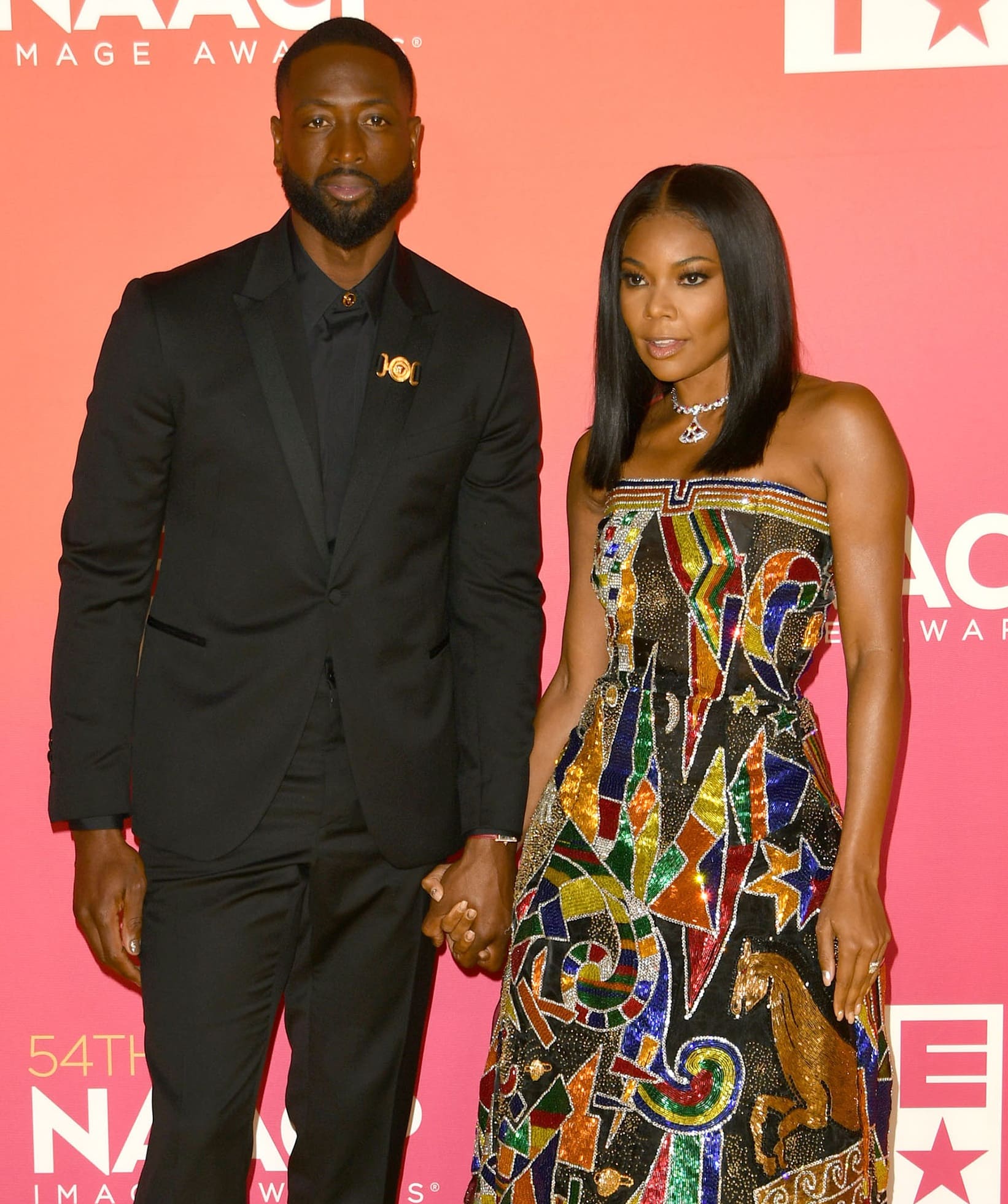 Gabrielle Union and Dwyane Wade were awarded the President's Award at the 54th NAACP Image Awards in recognition of their distinguished public service, advocacy for LGBTQ+ rights, and support of their daughter, Zaya (Credit: Koj Sojer / Startraksphoto / Cover Images)
The 41-year-old professional athlete's bottoms were made up of shiny black dress shoes and black pants and accentuated his outfit with a watch from Tank Louis Cartier.
Union and Wade received the prestigious President's Award at the ceremony for their work supporting children, women's rights, and LGBTQIA youth. The President's Award honors individuals for their exceptional achievement and public service.
The couple became well-known personalities as advocates for the LGBTQ+ community when they presented their daughter, Zaya Wade, to the world in February 2020 with a moving video starring Wade and then-12-year-old Zaya on a golf cart together, speaking about being true to oneself.
Along with Wade's 20-year-old son, Zaire, 15-year-old daughter, Zaya, and 8-year-old son, Xavier, Union and Wade are parents to Kaavia, a 4-year-old daughter.
In their acceptance speech, Dwyane Wade highlighted how the couple has been privileged regarding access to resources and opportunities. He recognized that it is their job to uplift the voices of others and share their access and resources.
Wade said, "We don't stand up here alone. As we know, it takes a village; it takes community. We stand up here today as two people who have worked tirelessly to have resources and access. As two people willing to use our microphones for what we believe and what other families are going through."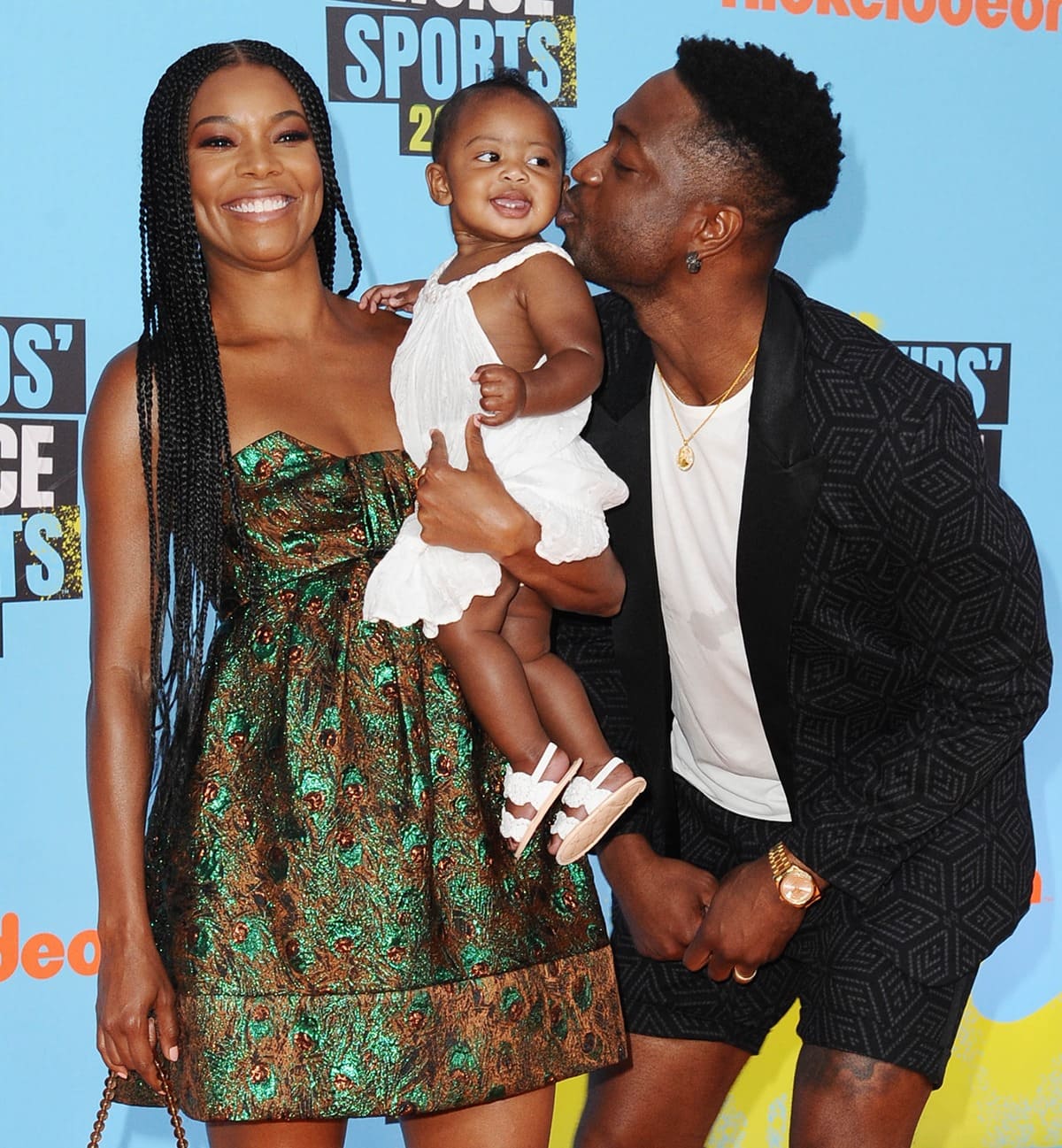 Gabrielle Union, Kaavia James Union Wade, and Dwyane Wade attend Nickelodeon Kids' Choice Sports 2019 at Barker Hangar on July 11, 2019, in Santa Monica, California (Credit: Sara De Boer / Startraksphoto)
He spoke to Zaya personally, expressing his admiration for how she handled the public scrutiny with grace and dignity. Wade said, "I want to take this moment to publicly speak to our daughter Zaya. Zaya, as your father, all I've wanted to do is get it right. I have sat back and watched how gracefully you've taken on the public scrutiny. And even though it's not easy, I've watched you walk out of the house every morning as yourself."
The proud dad continued, "I admire how you've handled the ignorance in our world. To say that your village is proud of you is an understatement. Thank you for showing me that there is more than just one way to communicate. You've taught me that communicating with my mouth isn't enough. I have to communicate with my ears and my two eyes."
Wade elaborated, "As your father, my job isn't to create a version of myself or direct your future. My role is to be a facilitator to your wishes, your hopes, and your dreams. Zaya, you've made me a better human by simply being who you were born to be: our baby girl, Zaya Wade. Thank you for showing the world what courage looks like. I am proud that I was chosen to stand in place as your father."
Gabrielle Union's dress featured bold colors and intricate geometric embroidery and was complemented by her black bob hairstyle, smokey eye makeup, and statement accessories (Credit: Koj Sojer / Startraksphoto / Cover Images)
Gabrielle Union stepped in and praised the NAACP for leading black people "through over a century of relentless challenge, pain, triumph, and change."
She praised the organization that "now stands with us again at the foot of a very new era of activism. A new era that demands a collective answer to one simple question. Will we fight for some, or will we fight for all of our people?"
The 50-year-old "10 Things I Hate About You" actress also highlighted "the intersection of black rights and the rights of LGBTQIA, trans, and gender non-conforming people," which "continues to be rough."
She continued, "Even as we demand equality at the top of our lungs, we consistently fail to extend our advocacy to some of the most vulnerable among us. And second, black trans people are being terrorized, targeted, and hunted in this country every day. And there's rarely a whisper about it."
During their acceptance speech the 54th Annual NAACP Image Awards at Pasadena Civic Auditorium on February 25, 2023, in Pasadena, California, Gabrielle Union and Dwyane Wade addressed the challenges faced by black trans people and emphasized the importance of fighting for justice for everyone (Credit: Koj Sojer / Startraksphoto / Cover Images)
Union expressed passionately, "We honestly don't approach this work as activists or leaders as much as we do the work as parents. Parents who love our children and will do whatever the hell we can to keep them seen and secure and safe."
She added, "This is a conversation worth having in ways that can actually build bridges. That don't fan the flames of hatred or division. That don't enable lawmakers or justice systems to look the other way when black trans people are under attack. That don't drive more young people to hate themselves or harm themselves. That don't cost people their lives."
The tall actress concluded, "So. we are humbled, and we are hopeful for the future. We are hopeful that we will witness a real shift in the fight for justice the moment the movement makes room for everyone. Everyone. Thank you."